Charles Wilkins
by Wikipedia
Accessed: 8/22/20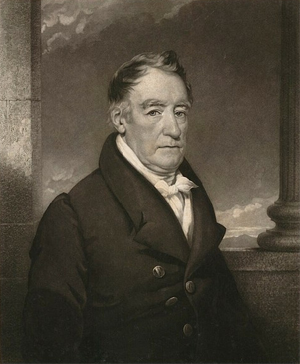 Sir Charles Wilkins KH FRS
Charles Wilkins, in an mezzotint engraving by John Sartain, after a painting by James Godsell Middleton. Published in 1830.
Born: Charles Wilkins, 1749
Died: 13 May 1836 (aged 86–87)
Nationality: England
Citizenship: England
Occupation: Orientalist, typographer
Sir Charles Wilkins, KH, FRS (1749 – 13 May 1836), was an English typographer and Orientalist, and
founding member of The Asiatic Society
. He is notable as the first translator of
Bhagavad Gita
into English, and as the creator, alongside Panchanan Karmakar,[1] of the first Bengali typeface.[2][3]
Karmakar was born in Tribeni village in Hooghly district. His ancestors were calligraphers; they inscribed names and decorations on copper plates, weapons, metal pots, etc. panchanan himself was a wordsmith at tribani.

Andrews, a Christian missionary, had a printing press at Hughli. In order to print Nathaniel Brassey Halhed's A Grammar of the Bengal Language, he needed a Bangla type.

Nathaniel Brassey Halhed (25 May 1751 – 18 February 1830) was an English Orientalist and philologist.

Halhed was born at Westminster, and was educated at Harrow School, where he began a close friendship with Richard Brinsley Sheridan.

While at Oxford he undertook oriental studies under the influence of William Jones. Accepting a writership in the service of the East India Company, he went out to India, and there, at the suggestion of Warren Hastings, translated the Hindu legal code from a Persian version of the original Sanskrit. This translation was published in 1776 as A Code of Gentoo Laws. In 1778 he published a Bengali grammar, to print which he set up the first Bengali press in India.

In 1785 Halhed returned to England, and from 1790–1795 was Member of Parliament for Lymington, Hants. For some time he was a disciple of Richard Brothers, and a speech in parliament in defence of Brothers made it impossible for him to remain in the House of Commons, from which he resigned in 1795.

Richard Brothers (25 December 1757 – 25 January 1824) was an early believer and teacher of

British Israelism

, a theory concerning the Lost Ten Tribes of Israel...

He entered the Royal Navy and served under Keppel and Rodney. In 1783, he became lieutenant, and was honourably discharged on 28 July 1783, receiving a pension which amounted to half-pay (54 pounds per year). He then travelled on the continent of Europe and later married Elizabeth Hassall in 1786. His marriage was reported as being "unhappy" and so he returned to service in the Royal Navy.

Because he came to believe that military service was not compatible with his new calling to serve Christianity, in 1789 he once again left the Navy.

Built upon the principle of individual revelation, Brothers believed that he could not serve the King as head of the Church of England.

In 1791, he began to question the oath he had been required to take for receipt of his military half-pay, and he found himself with little income as a result of his subsequent actions. Brothers then divided his time between the open air and the workhouse, where

he developed the idea that he had a special divine commission. Brothers claimed to hear the voice of an attending angel which proclaimed to him the fall of Babylon the Great, which was in fact London. Apparently upon Brothers's plea for mercy, God decided to spare London for a time and the destruction was halted. Around this time, Brothers was also expectant of a heavenly lady who would descend from the clouds showering him with money, love and happiness. In February 1792 Brothers declared himself a healer and claimed he could restore sight to the blind. He drew large crowds, but not due to his healing ability as much as his small gifts of money to those he prayed for.

In 1793 Brothers declared himself to be the apostle of a new religion. He began to see himself as possessing a special role in the gathering of the Jews back into Palestine, in particular, the "Jews" who were hidden amongst the population of Great Britain. In similarity to modern British Israelists, Brothers asserted that the "hidden Israel" had no notion of its biological lineage and that part of his role would be to teach them of their true identity and lead them to the land of Canaan. Brothers proclaimed himself to be Prince of the Hebrews, literal descendant of the Biblical House of David, and the Nephew of the Almighty, who would rule over Israel until the return of Jesus Christ. Brothers declared he would achieve all this using a rod he had fashioned from a wild rosebush, with which he would perform miracles, as Moses had done...

Brothers began to attract quite a following, but due to his rejection of organisational work, and eccentric nature, he did not develop any sort of social movement. In consequence of prophesying the death of the King and the end of the monarchy, he was arrested for treason in 1795, and imprisoned on the grounds of being criminally insane. His case was, however, brought before Parliament by his ardent disciple, Nathaniel Brassey Halhed, an orientalist and a member of the House of Commons. As a result Brothers was removed to a private asylum in Islington.-- Richard Brothers, by Wikipedia

He subsequently obtained a home appointment under

the East India Company

. He died in London on 18 February 1830.[2]

-- Nathaniel Brassey Halhed, by Wikipedia

Under the supervision of English typographer Charles Wilkins, Karmakar[3] created the first Bengali typeface for printing.[4]

In 1779, Karmakar moved to Kolkata to work for Wilkins' new printing press.[1] in chuchura, Hoggly .In 1801, he developed a typeface for British missionary William Carey's Bangla translation of the New Testament.[5] In 1803, Karmakar developed a set of Devnagari script, the first Nagari type to be developed in India.[1]

-- Panchanan Karmakar, by Wikipedia
In 1788, Wilkins was elected
a member of the Royal Society
.[4]
Biography
He was born at Frome in Somerset in 1749.[5] He trained as a printer. In 1770 he went to India as a printer and writer in the East India Company's service. His facility with language allowed him to quickly learn Persian and Bengali. He was closely involved in the design of the first type for printing Bengali.[6] He published the first typeset book in the language, earning himself the name "the Caxton of India".[7] He also designed type for publications of books in Persian. In 1781 he was appointed as translator of Persian and Bengali to the Commissioner of Revenue and as superintendent of the Company's press. He successfully translated a Royal inscription in Kutila characters, which were thitherto indecipherable.
In 1784, Wilkins helped William Jones establish the Asiatic Society of Bengal.[6]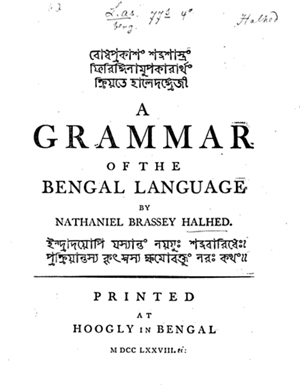 Title page of the first Bengali typeface printed book A Grammar of the Bengal Language, 1778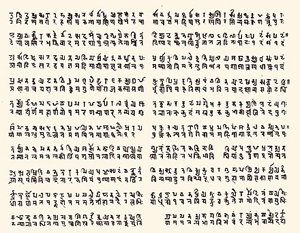 Decipherment of the Gopika Cave Inscription (6th century CE, Late Brahmi), with the original script in Late Brahmi, and proposed Devanagari line-by-line transliteration by Charles Wilkins in 1785.[8]
Wilkins moved to Varanasi, where he studied Sanskrit under Kalinatha, a Brahmin pandit. At this period he began work on his translation of the Mahabharata, securing strong support for his activities from the governor of British India, Warren Hastings. Though he never completed the translation, portions were later published. The most important was his version of the Gita, published in 1785 as Bhagvat-geeta, or Dialogues of Kreeshna and Arjoon (London: Nourse, 1785). In his preface Wilkins argued that the Gita was written to encourage a form of monotheist "unitarianism" and to draw Hinduism away from the polytheism he ascribed to the Vedas.[9]
He had a hobby to learn about other religions. He was also a scholar of Islam. He stayed in India for 16 years (1770–1786). He also made visits to holy shrines of other religions to learn about their customs.
During a visit to Varanasi, he made a stop at Patna, and visited Patna Sahib Gurudwara, the birthplace of Guru Gobind Singh Ji. He wrote his account of this visit titled as 'Sikhs and their College at Patna'. He writes about Dasam Granth there and notes in this article.[10]
Meanwhile, inscriptions of the 6th century CE in late Brahmi script were deciphered in 1785 by Charles Wilkins, who published an essentially correct translation of the Gopika Cave Inscription written by the Maukhari king Anantavarman.[11][12] Wilkins seems to have relied essentially on the similarities with later Brahmic scripts, such as the script of the Pala period and early forms of Devanagari.[11]
His translation of the Gita was itself soon translated into French (1787) and German (1802). It proved to be a major influence on Romantic literature and on European perception of Hindu philosophy. William Blake later celebrated the publication in his picture The Bramins, exhibited in 1809, which depicted Wilkins and Brahmin scholars working on the translation.
With Hastings' departure from India, Wilkins lost his main patron. He returned to England in 1786, where he married Elizabeth Keeble. In 1787 Wilkins followed the Gita with his translation of The Heetopades of Veeshnoo-Sarma, in a Series of Connected Fables, Interspersed with Moral, Prudential and Political Maxims (Bath: 1787). He was elected
a fellow of the Royal Society
in 1788. In 1800, he was invited to take up the post of the first director of the India House Library, which became over time the world-famous 'India Office Library' (now British Library – Oriental Collections).[13][14] In 1801 he became librarian to the East India Company, He was named examiner at Haileybury when a college was established there in 1805. During these years he devoted himself to the creation of a font for Devanagari, the "divine script". In 1808 he published his Grammar of the Sanskrita Language. King George IV gave him the badge of the Royal Guelphic Order and he was knighted in recognition of his services to Oriental scholarship in 1833.[13] He died in London at the age of 86.
In addition to his own translations and type designs, Wilkins published a new edition of John Richardson's Persian and Arabic dictionary – A Vocabulary Persian, Arabic, and English; Abridged from the Quarto Edition of Richardson's Dictionary as Edited by Charles Wilkins, Esq., LL.D., F.R.S. – By David Hopkins, Esq., Assistant Surgeon on the Bengal Establishment in 1810.[15] He also published a catalogue of the manuscripts collected by Sir William Jones, who acknowledged his indebtedness to Wilkins.
See also
•
Royal Society
—Wilkins was elected to membership in the Society in 1788.[4] Those signing that nomination letter were: James Rennell, William Marsden, Charles Blagden, Alexander Dalrymple, Samuel Harper, George Staunton, Thomas Astle.
Notes
1. Ezra Greenspan; Jonathan Rose (2003). Book History. Penn State Press. pp. 26, 50. ISBN 9780271023304. Retrieved 2 June 2015.
2. Rost, Ernst Reinhold (1865). "Works [ed. by E.R. Rost]. – Horace Hayman Wilson –". Retrieved 2 June 2015.
3. Ross, Fiona G. E. (1999). The printed Bengali character and its evolution. Curzon. ISBN 070071135X. OCLC 40588429.
4. "Wilkins, Sir Charles". Oxford Dictionary of National Biography. Retrieved 13 October 2015.
5. "DServe Archive Persons Show". Royalsociety.org. Retrieved 2 June 2015.[permanent dead link]
6. . (1837). "No. VIII, Sir Charles Wilkins, K.H.; D.C.L.; F.R.S.," The Annual biography and obituary for the year 1817–1837, pp. 69–72. Google Books
7. Franklin, William, Introduction to The Bhǎgvǎt-Gēētā; The Hěětōpǎdēs of Veěshnǒǒ-Sǎrmā, [translated by] Charles Wilkins, London : Ganesha Pub., c2001. pp.xxiv-v
8. Wilkins, Charles (1788). Asiatic Researches. London : Printed for J. Sewell [etc.] pp. 278-281.
9. "Questions and Answers". Bhagavad-gita.org. Retrieved 2 June 2015.
10. "Rebuttal of gurdarshan Dhillon comment about sikh scripture Sri Dasam Granth". sikhsangat.org. Retrieved 28 December 2016.
11. Salomon, Richard (1998). Indian Epigraphy. pp. 206-207.
12. Wilkins, Charles (1788). Asiatic Researches. London : Printed for J. Sewell [etc.] pp. 278-281.
13. "About". India9.com. Retrieved 2 June 2015.
14. "Charles Wilkins in India". India9.com. 14 December 2005. Retrieved 2 June 2015.
15. Zenker, Julius Theodor (1846). "Bibliotheca orientalis – Julius Theodor Zenker". Retrieved 2 June2015.
References
• ____________. (1837). The Annual biography and obituary for the year 1817–1837. London: Longmans. OCLC 162110842
• Rost, Reinhold. (1865). Works by the late Horace Hayman Wilson. London: Trubner. OCLC 65757936
External links
• Charles Wilkins at Banglapedia