Henry Thomas Colebrooke
by Wikipedia
Accessed: 8/23/20
The

Dayabhaga

itself was only translated once before, by

H.T. Colebrooke

in 1810, reprinted by Parimal Publications (Delhi, 1984). In Colebrooke's time, the Dayabhaga and the

Mitakshara

were virtually declared by him to be Hindu law on the subject of succession and inheritance in Bengal and the rest of British India. The frustrating process of seeking to ascertain "Hindu law" through new compilations of texts had earlier been abandoned as unworkable, and Colebrooke was deeply unhappy with the confusing array of responses from the pundits (experts on dharma who were asked leading questions about "law", a classic case of failed cross-cultural communication). While the pundits still produced their learned opinions as part of the standard legal process, Colebrooke was desperate to procure a codified source of Hindu law. Ultimately he performed this task himself, fully aware that a British pandit's work might not be acceptable to the Hindus. Evidently, British colonial agenda, rather than socio-legal sensitivity, were driving this astonishing enterprise….

Today, as

Rocher

states in the Preface, the present translation and edition are no longer primarily aimed at lawyers and the goal is purely academic: "to present, not only to Sanskritists and Indologists but also to legal historians, a translation of a text of a Sanskrit book that, for about one century and a half, has regulated all questions of partition and inheritance for Hindus living in Bengal" (p. vii).

All questions, really? While there can be no doubt about the place of the Dayabhaga as a key text in Anglo-Hindu law, Rocher himself had earlier (1972) questioned to what extent the Dayabhaga was actually "current in Bengal" (p. 20). How much of its eventual practical application reflects just the formal "official" law? Given the central role of patriarchy and of various customs all over India, the assumption that two texts could entirely govern "the law" seems inflated. What about the central role of family arrangements, to which

Derrett

– also from a practical angle – gave so much importance in his numerous writings? When a matter goes to court – if it ever comes to a final hearing – Anglo-Indian judges often deliberately overlooked social reality and textual variety in their desire to create a uniform system (as Rocher confirms at p. 39 n. 18). In recent litigation over Hindu property law, succession, and so-called "dowry disputes", family arrangements have been upheld in an effort to achieve equity – and such arrangements might follow neither the principles of the Dayabhaga nor its rival text. Indeed, Colebrooke's colonial construct is no longer operative in practice – not because it was superseded by the Hindu law reforms of 1956, but because formal legal approaches have never ruled the field to the total exclusion of family practices, covered by sadacara, the informal assessment of dharma.

In his detailed, learned introduction (pp. 1-50), Rocher first locates the Dayabhaga as "part of a long tradition of Sanskrit texts concerned with legal matters" (p. 1). But are we just dealing with "law" here, or with dharma? Without wishing to detract for a moment from the excellence of Rocher's philological project, I must register some protest here over lack of legal clarity. When Rocher asserts that "[t]he oldest legal prescriptions in India are contained in the dharma-sutras (p. 1), are we to understand that the old texts were written by "jurists" for "lawyers" and were really prescriptive, rather than discussing and recommending various alternatives? Later, it becomes obvious that Rocher himself does not accept that view.

Further we read that "[w]hat is understood as "law" in the West is expressed in Sanskrit by the terms vivada and vyavahara, the former corresponding to substantive law, the latter to legal procedure" (p. 4). There is, however, no agreement in the West as to how we should understand or define "law" (see now Brian Tamanaha, A general jurisprudence of law and society. Oxford, 2001). More seriously, Robert Lingat, in The Classical law of India (Berkeley et al. 1973, p. 285) saw vivada as dispute or private litigation, and vyavahara as the more formal judicial process and procedure. Thus, both terms are "litigation" rather than substantive law, or merely "law", as the Sanskrit-English dictionary of Monier-Williams also suggests.

When it comes to British colonial interference, Rocher is crystal clear that Colebrooke was desperate to have a code-like text and even doctored the manuscript to achieve that impression (p. 36). Rocher's new translation cannot ignore this, so entrenched is the colonial pattern. Colebrooke created legal facts in 1810 by elevating these two Sanskrit texts above all others "as the Main representatives of two distinct systems of inheritance" (p. 21). This constructed duality gave rise to many questions about dates and mutual influence of the two authors.

While the Mitakshara must have been composed around 1120-1125 (p. 24), there has been much discussion about the date of the Dayabhaga. Rocher concludes with Derrett that the two authors must have been contemporaneous, working independently of each other in the beginning of the twelfth century.

Next, Rocher tackles the differences between Dayabhaga and Mitakshara law. In a nutshell, the Mitakshara principle has the effect that any male member of the joint family becomes a co-owner of the property from birth. Under the Dayabhaga, ownership of property only arises on the death of the estate's owner, which clearly favours patriarchal authority; it is no surprise that there should have been various objections to this (p. 29). Rocher shows that Jimutavahana cannot have been the original inventor of the principles of the Bengal school, because they were known to Vijnanesvara, the supposed rival author, who rejected them at great length (p. 31). Thus, Jimutavahana cannot have been the founder of the Bengal School, nor was there anything Bengali about the Dayabhaga principles before Colebrooke intervened to make life easier for British lawyers. An old text was simply given a new lease of life.

Commenting on the text itself, in essence a commentary on earlier smriti works, Rocher highlights that there is actually little nyaya [justice] in this work, while the omnipresence of mimamsa techniques [critical investigation] is remarkable, making Colebrooke's translation cumbersome to read. Rocher decided to include those tortuous passages, since his main endeavour was to let the original text speak for itself, while the commentaries are given less prominence. This is sound scholarly technique, and Rocher's translation reads very well indeed as a result.

Researching over many years, Rocher found 44 manuscripts useful for collation. However, he argues that preparing a truly critical edition of the text is no longer possible, given the multitude of manuscripts and their highly conflated [many becoming one] nature.

-- Review of Jīmūtavāhana's Dāyabhāga. The Hindu Law of Inheritance in Bengal by Ludo Rocher, by Werner Menski
As criticism of the India Museum mounted, its star fell in the scholarly firmament of the metropole. Most of this criticism circulated privately among individuals who still sought consideration of one kind or another from the Company. But the pamphleteer Peter Gordon, after having his access to the museum revoked in 1835, launched a scathing attack in the open. Gordon's portrayal of the directors as "the 24 men who are the most inimical to knowledge" might have been dismissed as hyperbole. Nonetheless, there was something in his observation that William Marsden, Wilkins' son-in-law and an old servant of the Company, had presented his oriental collections not to the India Museum but to the British Museum and King's College, London.165 Nor were these the only other institutions to which a metropolitan orientalist might now turn. After being rebuffed by the directors, William Francklin adopted the increasingly popular course of donating his manuscripts and antiquities to the Royal Asiatic Society.166 With the founding of this learned body in 1823, Wilkins' vision of a London counterpart to the Asiatic Society in Calcutta had finally been realized—under the auspices not of the Company but of the Crown. The Royal Asiatic Society not only maintained a library and museum, but held meetings, printed a journal, and offered support to scholars: everything, in other words, that Wilkins had sought in vain from the directors. While the society's prospectus did not cite a particular source of inspiration, it expressed "surprise" that such a body had not been established sooner.167 Any implied rebuke to the directors here could only have been reinforced by this founding document's omission to mention them or the Company. If this were not enough, the society counted two sometime adversaries of the court, Wellesley and Moira, as its vice-patrons, and another, Henry Thomas Colebrooke, as its de facto head. The society did request the directors' "countenance and support," but only as an afterthought when it was already up and functioning.168 Nor did the directors appear eager to comply: it took three years and a pointed reminder by Colebrooke to obtain from them a small annual grant.169 Inevitably, the society maintained links with formal and informal networks of Company personnel. Yet even here, it set an independent course, establishing its own Committee of Correspondence to serve as "a medium through which persons in Asia may obtain from Europe, and persons in Europe may obtain from Asia, such information relative to the East as they cannot otherwise obtain with the same degree of facility."170 The Company's channels of communication, such language implied, were inadequate to the needs of scholarship. The advent of the Royal Asiatic Society thus both signaled and speeded the movement of scholarly activity away from the directors' political orbit.

-- The East India Company and the Politics of Knowledge, A dissertation presented by Joshua Ehrlich to the Department of History, in partial fulfillment of the requirements for the degree of Doctor of Philosophy in the subject of History, Harvard University, August 2018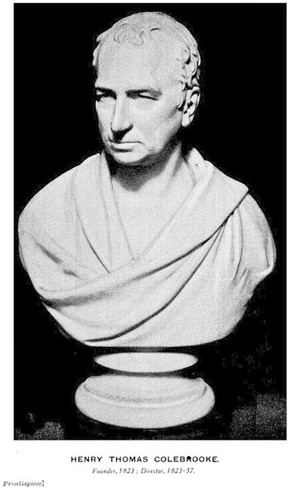 Henry Thomas Colebrooke
A bust of Henry Thomas Colebrooke currently owned by the Royal Asiatic Society
Born: 15 June 1765, London, England
Died: 10 March 1837 (aged 71), London, England
Nationality: British
Occupation: Orientalist
Known for: Sanskrit scholar,
one of the founders of the Royal Asiatic Society
, one of the founders and second president of the
Royal Astronomical Society
Henry Thomas Colebrooke FRS FRSE (15 June 1765 – 10 March 1837) was an English orientalist and mathematician. He has been described as "the first great Sanskrit scholar in Europe".[1]
Biography
Henry Thomas Colebrooke was born on 15 June 1765.
His parents were Sir George Colebrooke, 2nd Baronet, MP for Arundel and Chairman of the East India Company from 1769, and Mary Gaynor, daughter and heir of Patrick Gaynor of Antigua.
Sir George Colebrooke, 2nd Baronet (14 June 1729 – 5 August 1809), of Gatton in Surrey, was an English merchant banker, chairman of the East India Company and Member of Parliament, who bankrupted himself through unwise speculations.

He acquired Arnos Grove house in 1752 on the death of his father.

The house was built after the London banker James Colebrooke bought the Arnolds estate in 1719[4] or 1720.[5] The estate was previously owned by William Whitmore, inherited via Thomas Whitmore from the daughter of William Acton, who purchased from Sir John Weld.[6] The house was later inherited by George Colebrooke and sold to Abraham Hume...

The mansion was described in 1821 by Edward Mogg in Paterson's Roads as:[9]

containing many apartments, equally conspicuous for size, elegance, and that air of close domestic comfort so extremely desirable in the ever-varying climate of this country; these were highly adorned by the refined taste and liberality of the late proprietor [Mr Walker] and exhibit, besides a select and valuable collection of paintings, numerous Etruscan vases and other antiquities from Herculaneum and Pompeii, about 4000 specimens of choice minerals, scientifically arranged, and a beautiful cabinet of maple-wood, in which there is a vast number of scarce and estimable shells. The paintings of the staircase, executed by Lanscroon, a pupil of Verrio, in 1723, and representing the triumphal entry of Julius Caesar into Rome, and the apotheosis of that hero, are in good preservation, and may be considered, with the exception of those in the royal palaces, the best staircase decorations now remaining in Middlesex. Several of the principal apartments are fitted up in a costly but delicate style; there is a fine chimneypiece of Sicilian jasper in the dining room, which was executed in Italy, and comprises a beautiful mask of Apollo, in statuary marble; the chimneypiece of the drawing room is likewise of Sicilian jasper, and this apartment is adorned with pillars and pilasters, imitative of the same material.

-- Arnos Grove house, by Wikipedia

After the death of his father and an older brother, George was left in sole charge of the family bank in Threadneedle Street, and invested some of his wealth in buying up control of the borough of Arundel in Sussex, where the family lived. Arundel was not a classic pocket borough, where the power to return MPs was literally tied to property rights that could be freely bought and sold, but a thoroughly corrupt one where bribery was routine and where maintaining influence of the elections required constant expenditure. Nevertheless, Colebrooke kept control for twenty years, sitting himself as its MP from 1754 to 1774 and for most of the period being able to choose also who held the other seat. Meanwhile, his brother, James had bought control of one seat in another rotten borough, Gatton in Surrey, for £23,000, and was also sitting in Parliament.

Both brothers were at first Opposition Whigs, but switched support to the Duke of Newcastle's government and were rewarded in 1759 with the creation of a baronetcy for James (who had daughters but no son) and a special remainder of the baronetcy to George. When James died in 1761, George inherited both the baronetcy, Gatton Park and the Lordship of the Manor at Gatton with its guaranteed control of one of the parliamentary seats there. He had Gatton Park landscaped by Capability Brown between 1762 and 1768

More valuably, however, Colebrooke's support for Newcastle ensured his eligibility for lucrative government contracts. By 1762, he held two of these contracts, one for remitting money to the British forces in the American colonies and the other for victualling the troops there. But with Newcastle's fall from power in that year, Colebrooke was immediately ejected from one contract by the new government, and the other was not renewed when it expired in 1765. Though offered compensation or new contracts on the formation of the Rockingham government, he preferred instead to accept a well-paid post as chirographer to the Court of Common Pleas. From this point onwards although he retained his seat in Parliament he was rarely active there.

Colebrooke's business interests were diverse. He speculated in land, buying large estates in Lanarkshire, and purchased plantations in Antigua (where his wife already had interests), Grenada and Dominica; he was also a member of a syndicate to settle the Ohio Valley in 1768, and had interests in New England. (Colebrook, New Hampshire is named in his honour.) Two interests in particular, however, led to his eventual downfall: his involvement in the East India Company and his speculations in raw materials.

Colebrooke was a Director of the East India Company from 1767–1771, Deputy Chairman 1768-69 and was elected Chairman three times, in 1769, 1770 and 1772. His final year in office was a disastrous one: the company got into financial difficulties (which led to the passing of the Regulating Act of 1773), he was accused of speculating in its stock while Chairman, and was left heavily in debt to a number of the other leading figures in the company, partly through arrangements to procure votes in the Company's elections. He lost much larger sums, however, speculating on prices of raw materials - hemp, flax, lead, logwood and alum among others. In 1771 he lost £190,000 dealing in hemp; from 1772 he was attempting to corner the world's supply of alum, buying up mines in Yorkshire and Lancashire, and saw much of the remainder of his fortune swallowed up when the market collapsed as part of a wider financial crisis.

At first, Colebrooke was able to stay in business with assistance from the Bank of England, but his bank temporarily stopped payment on 31 March 1773, and permanently (after three years in the control of trustees appointed by his creditors) on 7 August 1776. Yet at the same period he was spending considerable sums on the rebuilding of his London house in Soho Square. Most of his property, including his share in the rotten borough at Gatton, was sold to meet his liabilities, and a commission of bankruptcy was taken out against him in 1777.

-- George Colebrooke, by Wikipedia
He was educated at home.[2]
In 1782 Colebrooke was appointed through his father's influence to a writership with the East India Company in Calcutta. In 1786 and three years later he was appointed assistant collector in the revenue department at Tirhut. He wrote Remarks on the Husbandry and Commerce of Bengal, which was privately published in 1795, by which time he had transferred to Purnia. This opposed the East India Company's monopoly on Indian trade, advocating instead for free trade between Britain and India, which caused offence to the East India Company's governors.[2]
He was appointed to the magistracy of Mirzapur in 1795 and was sent to Nagpur in 1799 to negotiate an allowance with the Raja of Berar. He was unsuccessful in this, due to events elsewhere, and returned in 1801. On his return
was made a judge of the new court of appeal in Calcutta, of which he became president of the bench in 1805. Also in 1805, Lord Wellesley appointed him honorary professor of Hindu law and Sanskrit at the college of Fort William.
In 1807 he became a member of council, serving for five years, and was elected
President of the Asiatic Society of Calcutta
. He returned to England in 1815.[2]
In 1816 he was elected to the fellowship of both
the Royal Society
and the Royal Society of Edinburgh[1] In 1820 he was a founder of the
Royal Astronomical Society
. He often chaired the society's meetings in the absence of the first president, William Herschel, and was elected as its second president on Herschel's death, serving 1823–1825. In 1823 he was also a
founder of the Royal Asiatic Society
, chairing its first meeting although he declined to become its president.[2][3][4][5]
Works
After eleven years' residence in India, Colebrooke began the study of the Sanskrit language; and to him was entrusted the translation of the major Digest of Hindu Laws, a monumental study of Hindu law which had been left unfinished by Sir William Jones. He translated the two treatises, the Mitacshara [Mitaksara] of Vijnaneshwara ...
The Mitākṣarā is a vivṛti (legal commentary) on the

Yajnavalkya Smriti

best known for its theory of "inheritance by birth." It was written by Vijñāneśvara, a scholar in the Western Chalukya court in the late eleventh and early twelfth century.

Vijnaneshwara was a prominent jurist of twelfth century India. His treatise, the Mitakshara, dealt with inheritance, and is one of the most influential legal treatises in Hindu law. Mitakshara is the treatise on Yājñavalkya Smṛti, named after a sage of the same name.

Vijnaneshwara was born in the village of Masimadu, near Basavakalyan in Karnataka.

He lived in the court of king Vikramaditya VI (1076-1126), the Western Chalukya Empire monarch.

-- Vijñāneśvara, by Wikipedia

Along with the Dāyabhāga, it was considered one of the main authorities on Hindu Law from the time the British began administering laws in India.

The Dāyabhāga is a Hindu law treatise written by Jīmūtavāhana which primarily focuses on inheritance procedure. The Dāyabhāga was the strongest authority in Modern British Indian courts in the Bengal region of India, although this has changed due to the passage of the Hindu Succession Act of 1956 and subsequent revisions to the act.[1] Based on Jīmūtavāhana's criticisms of the Mitākṣarā, it is thought that his work is precluded by the Mitākṣarā. This has led many scholars to conclude that the Mitākṣarā represents the orthodox doctrine of Hindu law, while the Dāyabhāga represents the reformed version.[2]

The central difference between the texts is based upon when one becomes the owner of property. The Dāyabhāga does not give the sons a right to their father's ancestral property until after his death, unlike Mitākṣarā, which gives the sons the right to ancestral property upon their birth. The digest has been commented on more than a dozen times.[3]

-- Dāyabhāga, by Wikipedia

The entire Mitākṣarā, along with the text of the Yājñavalkya-smṝti, is approximately 492 closely printed pages.[1]

-- Mitākṣarā, by Wikipedia
and the Dayabhaga of Jimutavahana, under the title Law of Inheritance. During his residence at Calcutta he wrote his Sanskrit Grammar (1805), some papers on the religious ceremonies of the Hindus, and his Essay on the Vedas (1805), for a long time the standard work in English on the subject.
• The Agriculture and Commerce of Bengal (1792)
• Bible translations into Persian Calcutta (1804)
• Kosha, Or Dictionary of the Sanscrit Language by Umura Singha with an English Interpretation and Annotations by H.T. Colebrooke. (1807)
• Algebra, with Arithmetic and mensuration: from the Sanscrit of Brahmegupta. By Brahmagupta, Bhāsakārācārya. (translated by Colebrooke 1817)
• Miscellaneous Essays. (1837) London: W.H. Allen & Company.
• On the Religion and Philosophy of the Hindus. (published 1858) London: Williams & Norgate.
The standard author abbreviation Colebr. is used to indicate this person as the author when citing a botanical name.[6]
• Translated Mithakshara into English
A posthumous essay on his father's life was published by Sir T. E. Colebrooke in 1873 as part of a reprinting of Miscellaneous Essays.
Family
Colebrooke married Elizabeth Wilkinson in 1810. The marriage was short-lived and she died in 1814.[1]
Colebrooke had several illegitimate children from Indian women
.[7]
References
1. Former Fellows of The Royal Society of Edinburgh 1783 – 2002 (PDF). Royal Society of Edinburgh. p. 194.
2. Lane-Poole, Stanley (1887). "Colebrooke, Henry Thomas (DNB00)" . In Stephen, Leslie (ed.). Dictionary of National Biography. 11. London: Smith, Elder & Co.
3. Herbert Hall Turner. "The Decade 1820–1830". History of the Royal Astronomical Society 1820–1920. pp. 11, 18–19.
4. "Past RAS Presidents". Royal Astronomical Society. Retrieved 18 August 2018.
5. G. H. Noehden (1824). "Report of the Proceedings of the Asiatic Society of Great Britain and Ireland, at Its First General Meeting, on the 15th of March, 1823". Transactions of the Royal Asiatic Society of Great Britain and Ireland. 1(1): vii–x. JSTOR 25581688.
6. IPNI. Colebr.
7. Prior, Katherine; Brennan, Lance; Haines, Robin (2001). "Bad Language: The Role of English, Persian and other Esoteric Tongues in the Dismissal of Sir Edward Colebrooke as Resident of Delhi in 1829". Modern Asian Studies. 35(1): 75–112. doi:10.1017/s0026749x01003614. ISSN 1469-8099.
Further reading
• Buckland, C. E., ed. (1906). "Colebrooke, Henry Thomas" in Dictionary of Indian Biography. London: Swan Sonnenschein & Company. Pp. 87–88. Also available online at: "Colebrooke, Henry Thomas", archive.org.
• Colebrooke, Thomas E. (1873). "Life of Colebrooke" in Frederick Max Müller's Chips from a German Workshop, (1875). Vol. IV, pp. 377–317. London: Longmans, Green & Company. Also available here in reprint edition (1881): "Life of Colebrooke", archive.org.
• Higgenbothom, J. J. (1874). "Colebrooke, Henry Thomas" in Men Whom India Has Known: Biographies of Eminent Indian Characters. Madras: Higgenbothom & Company. Pp. 75–79. Also available online: "Colebrooke, Henry Thomas", archive.org.
• Rocher, Rosane and Ludo (2011). The Making of Western Indology: Henry Thomas Colebrooke and the East India Company. London: Routledge for the Royal Asiatic Society. ISBN 978-0415336017