Alfred Percy Sinnett
by Wikipedia
Accessed: 8/28/20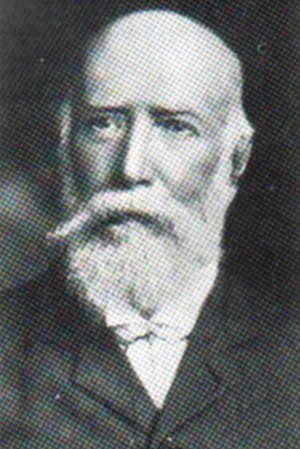 Alfred Percy Sinnett
Born: Alfred Percy Sinnett, 18 January 1840, London, England
Died: 26 June 1921 (aged 81)
Occupation: Writer
Period: 19th century
Literary movement: Theosophy
Alfred Percy Sinnett (18 January 1840, in London – 26 June 1921) was an English author and theosophist.
Biography
Sinnett's father died while he was young, as in 1851 Sinnett was listed as a "Scholar – London University", living with his mother Jane, who is listed as a widow and whose occupation is listed as "Periodical Literature"; his older sister Sophia, age 22, was a teacher. Jane's sister Sarah, age 48, was also a teacher.[1]
In 1870 Sinnett married his wife Patience, probably in the London area. He is listed in the 1871 England Census at age 31, as a Journalist, born in Middlesex. His wife Patience is 27, and her mother Clarissa Edenson a "Landowner", is living with them.
By 1879, Sinnett had moved to India where he was "... the Editor of The Pioneer, the leading English Daily of India..."[2]
The Pioneer is an English language daily newspaper in India. It is published from multiple locations in India, including Delhi. It is the second oldest English language newspaper in India still in circulation after The Times of India...

The Pioneer was founded in Allahabad in 1865 by George Allen, an Englishman who had had great success in the tea business in north-east India in the previous decade. It was brought out three times a week from 1865 to 1869 and daily thereafter. In 1866, a supplement, the Pioneer Mail, consisting of "48 quarto-size pages," mostly of advertisements, was added to the publication.

In 1872, Alfred Sinnett became the editor of the newspaper. Although he was later to be known for his interest in theosophy, he oversaw the transformation of the newspaper to one of exercising great influence in British India. In 1874, the weekly Pioneer Mail became the Pioneer Mail and India Weekly News and began to also feature short stories and travel writings. Author Rudyard Kipling (1865-1936), in his early 20s, worked at the newspaper office in Allahabad as an assistant editor from November 1887 to March 1889.

-- The Pioneer (India), by Wikipedia
He relates in his book, The Occult World that: "...on the first occasion of my making Madame Blavatsky's acquaintance she became a guest at my home at Allahabad and remained there for six weeks..."[3]
In 1880
Helena Blavatsky
and
Henry Steel Olcott
visited the Sinnetts at their summer home in Simla. The Mahatma Letters, which generated the controversy that later helped lead to the split of the Theosophical Society were mostly written to Sinnett or his wife Patience. The letters started at this time when Sinnett asked Blavatsky whether if he wrote a letter to her Mahatmas, she could arrange to have it delivered.
By 1884 Sinnett was back in England, where that year
Constance Wachtmeister
states that she met Blavatsky at the home of the Sinnetts in London.[4]
Sinnett asked
Charles Webster Leadbeater
to come back to England to tutor his son Percy and
George Arundale
. Leadbeater agreed and brought with him one of his pupil Curuppumullage Jinarajadasa.
Curuppumullage Jinarajadasa (16 December 1875, Sri Lanka–18 June 1953, United States) was

a Sri Lankan author, occultist, freemason and theosophist. The fourth president of the Theosophical Society, Jinarajadasa was one of the world's foremost Theosophical authors, having published more than 50 books and more than 1600 articles in periodicals during his life. His interests and writings included religion, philosophy, literature, art, science and occult chemistry. He was also a rare linguist, who had the ability to work in many European languages.

Jinarajadasa was born on 16 December 1875 in Sri Lanka to a family of Sinhalese parents. He was one of the first students of Ananda College, Colombo.

Ananda College (Sinhala: ආනන්ද විද්‍යාලය) is a Buddhist school for Sri Lankan boys, with classes from primary to secondary, on a campus of 10 acres (40,000 m2) in Maradana, Colombo.

Following a meeting of Buddhists at Pettah, under the patronage of

Hikkaduwe Sri Sumangala Thera

, an English-Buddhist school was inaugurated at 19 Prince Street on 1 November 1886 by

the Buddhist Theosophical Society

. The first session was attended by 37 students. In 1888, when about 130 boys were attending, it moved to 61 Maliban Street.

C. W. Leadbeater

was appointed the first principal of Ananda today.

By the time the school was officially registered in March 1889, there were 120 students. That same year, J. P. R. Weerasuriya became the first Anandian to pass the Cambridge junior examination. The Cambridge graduate and confessed Buddhist A. E. Bultjens became principal...

Olcott oration is an annual event organized by the old boys association of Ananada College, which commemorate

the founder Colonel Henry Steel Olcott of Ananda College and other leading Buddhist schools in Sri Lanka. Every year famous personalities who educated at Ananda College, share their own experience for the "Olcott oration"

and renowned dignitaries who have delivered the oration in the past, include Prof. Nimal Rajapakshe, Prof. Sumedha Chandana Wirasinghe and Prof. Ravindra Fernando.

-- Ananda College, by Wikipedia

In 1889, when

Charles Webster Leadbeater

, the first principal of Ananda College was asked by

A.P. Sinnett

to come back to England to tutor his son, Leadbeater agreed and also brought one of his pupils, Jinarajadasa, to England with him. Thanks to Leadbeater, Jinarajadasa went to St John's College, Cambridge where he studied oriental languages and four years later took his Degree in the Oriental Languages Tripos.

St John's College is a constituent college of the University of Cambridge (the full, formal name of the college is the College of St John the Evangelist in the University of Cambridge) founded by the Tudor matriarch Lady Margaret Beaufort. In constitutional terms, the college is a charitable corporation established by a charter dated 9 April 1511. The aims of the college, as specified by its statutes, are the promotion of education, religion, learning and research. It is one of the larger Oxbridge colleges in terms of student numbers. For 2018, St. John's was ranked 9th of 29 colleges in the Tompkins Table (the annual league table of Cambridge colleges) with over 30 per cent of its students earning first-class honours.[5]

The college's alumni comprise the winners of 11 Nobel Prizes (including physicists Paul Dirac and Max Born, the latter having been affiliated with the college in the 1930s), seven prime ministers and 12 archbishops of various countries, at least two princes and three saints. The Romantic poet

William Wordsworth

studied at St John's, as did

William Wilberforce

and Thomas Clarkson, the two abolitionists who led the movement that brought slavery to an end in the British Empire. Prince William was affiliated with the college while undertaking a university-run course in estate management in 2014.

St John's is well known for its choir, its members' success in a wide variety of inter-collegiate sporting competitions and its annual May Ball.

The Cambridge Apostles

and the Cambridge University Moral Sciences Club were both founded by members of the college. The Oxford and Cambridge Boat Race tradition furthermore began with a St John's student and the college boat club, Lady Margaret Boat Club, is the oldest in the university. In 2011, the college celebrated its quincentenary, an event marked by a visit of Queen Elizabeth II and Prince Philip, Duke of Edinburgh.

-- St John's College, Cambridge, by Wikipedia

He then came back to Ceylon and became the vice principal of Ananda College in Colombo. Jinarajadasa returned to Europe, to study at the University of Pavia, Italy. He soon became proficient in Italian, French, Spanish and Portuguese. Around 1904 he visited Chicago, where he met and influenced Weller van Hook, the well-known surgeon and author, who then became a theosophist. During his lifetime, Jinarajadasa traveled to many countries despite all the war difficulties of that era for his devoted service to Theosophy.

He was one among four Convention Lecturers, including G.S. Arundale, B.P. Wadia, and T. Sadasivier, who spoke in Calcutta at the Forty-Second Anniversary of the Theosophical Society in December, 1917. In his lecture, The Problem of Religion And Philosophy, he stressed the need to serve others, saying

"We have a perennial need of God, of understanding the mystery of the I . . . When the heart and brain are ready, the hand will be guided by a Divine Architect to build according to His Plan. Each of you must help in this day to come. Not the smallest child but can help in some tiny action, not the poorest now who cannot heap up wealth of hope for that future. For within us is the Light of the World and the Power of the World –– if only we knew how to find. But the doors of all the treasure-houses will open if we know the right mantra to repeat, the open sesame of this newer day. It is the new word of power: 'Brother, thou art I.

"He also traveled to South America, where he lectured in Spanish and Portuguese and founded branches of the Theosophical Society (TS). He was the Vice-President of the Theosophical Society from 1921 to 1928. After the death of Dr. Arundale in 1945, Jinarajadasa became president of the Theosophical Society Adyar. In 1949 he founded the School of Wisdom in Adyar, which attracted students from many countries. He was also a Freemason, joining Le Droit Humain also known as Co-Masonry. Curuppumullage Jinarajadasa was the president of Theosophical Society until his death on 18 June 1953 in the United States.

In 1916, Jinarajadasa married the English feminist Miss Dorothy M. Graham, who founded the Women's Indian Association (WIA) in Adyar with

Annie Besant

in 1917.[7] She accompanied him in his travels around the world for some years. At one stage of his life, he resided in Brazil. By 1953 he declined renomination as president of the Theosophical Society due to poor health and installed Nilakanta Sri Ram as his successor.

Jinarajadasa wrote many works on Theosophy, Theology, philosophy, literature, art and science. He also participated in Annie Besant's and Charles Leadbeater's researches on

Occult Chemistry

. In 1913 Jinarajadasa was awarded the

Subba Row

Medal for his contribution to Theosophical literature.

-- Curuppumullage Jinarajadasa, by Wikipedia
Using "astral clairvoyance" Leadbeater assisted William Scott-Elliot to write his book The Story of Atlantis, for which Sinnett wrote the preface.
William Scott-Elliot (sometimes incorrectly spelled Scott-Elliott) (1849-1919) was a theosophist who elaborated Helena Blavatsky's concept of root races in several publications, most notably The Story of Atlantis (1896) and The Lost Lemuria (1904), later combined in 1925 into a single volume called The Story of Atlantis and the Lost Lemuria. In 1893 he married Matilda (Maude) Louise Travers (1859-1929), daughter of Dr Robert Boyle Travers F.R.C.S., of Farsid Lodge, Rostellan, County Cork, Ireland.

Scott-Elliot was an East India Merchant and amateur anthropologist. An early member of

the London Lodge

of the Theosophical society, in 1893 he wrote The Evolution of Humanity, issued as part of the Transactions of the London Lodge (issue 17).

Scott-Elliot came into contact with theosophist

Charles Webster Leadbeater

who said he received knowledge about ancient Atlantis and Lemuria from the Theosophical Masters by "astral clairvoyance." Leadbeater transmitted his clairvoyant findings to Scott-Elliot, who undertook scholarly research to back them up. Despite Leadbeater's contributions, Scott-Elliot was listed as the sole author of the resulting book The Story of Atlantis, which was published with a preface by Alfred Percy Sinnett.

In 1899 he was awarded the

T. Subba Row

Medal for his contributions to "esoteric science and philosophy". In 1904 he added detail on Lemuria in The Lost Lemuria, attempting to use contemporary scientific evidence to back up Leadbeater's claims.

-- William Scott-Elliot, by Wikipedia
Sinnett was later president of the London Lodge of the Society.
By 1901 Sinnett is listed as an author. His son Percy is also listed as an author and born in India.[5]
See also
•
https://en.wikiquote.org/wiki/The_Agele ... _Teachings
• Ascended masters
• Ascended Master Teachings
• Alice A. Bailey
• Helena Petrovna Blavatsky
• Benjamin Creme
• Esoteric Buddhism
• Incidents in the Life of Madame Blavatsky* Hodgson Report
• Initiation (Theosophy)
• Master K.H.
• Master Morya
• K.H. Letters to C.W. Leadbeater
• Mahātmā
• Helena Roerich
• Theosophy
• Sinnett as fiction writer
Notes
1. 1851 England Census
2. "Combined Chronology of The Mahatma Letters – Preface".
3. The Occult World,p42
4. Wachtmeister, Constance (1 January 1976). "Reminiscences of H. P. Blavatsky and The secret doctrine". Wheaton, Ill. : Theosophical Pub. House – via Internet Archive.
5. 1901 England Census
Works
• The Occult World (London: Trubner and Company, 1881)
• Esoteric Buddhism (London: Trubner and Company, 1883). Describes the concept of Root race, later adopted by Madame Blavatsky.
• Karma: A Novel (London: Chapman & Hall, 1885)
• Incidents in the Life of Madame Blavatsky: Compiled from Information Supplied by Her Relatives and Friends (1886)
• The Rationale of Mesmerism (Boston, Houghton, Mifflin and Company, 1892)
• The Growth of the Soul (Theosophical Publishing Society, London and Benares, 1896, 1905)]
• Occult Essays (Theosophical Publishing Society, London and Benares, 1905)
• Married by Degrees; A Play in 3 Acts (London, 1911)
• In the Next World: Actual Narratives of Personal Experiences by Some Who Have Passed On (Theosophical Publishing Society, London, 1914)
• The Spiritual Powers and the War (Theosophical Publishing Society, London, 1915)
• Unseen Aspects of the War: Two Articles by A.P. Sinnett (Theosophical Publishing Society, London, 1916)
• Super-Physical Science (Theosophical Publishing Society, London, 1919)
• Tennyson an Occultist, As His Writings Prove (Theosophical Publishing Society, London, 1920)
• The Early Days of Theosophy in Europe (Theosophical Publishing Society, London, 1922) (posthumous)
Literature
• Autobiography of Alfred Percy Sinnett, Theosophical History Centre Publications, London 1986 ISBN 0-948753-02-1
Letters
• Helena P. Blavatsky: The letters of H. P. Blavatsky to A. P. Sinnett and other miscellaneous letters, London 1925
• A. Trevor Barker. The Mahatma Letters to A.P. Sinnett London 1926 (ISBN 1-55700-086-7)
See also
•
https://en.wikiquote.org/wiki/The_Agele ... _Teachings
• Agni Yoga
• Alice Bailey
• Helena Petrovna Blavatsky
• Benjamin Creme
• Initiation (Theosophy)
• K.H. Letters to C.W. Leadbeater
• Master K.H.
• Master Morya
• Helena Roerich
• Theosophy
External links
• Works by Alfred Percy Sinnett at Project Gutenberg
• Works by or about Alfred Percy Sinnett at Internet Archive
• The Mahatma Letters to Sinnett
• The Letters of HP Blavatsky to Sinnett
• Esoteric Buddhism by A.P. Sinnett
• The Occult World by A.P. Sinnett
• The Mahatmas and Their Letters
• Photography of Sinnett
• Book Review of Karma
• Occult Investigations