Dayananda Saraswati [Mul Shankar Tiwari]
by Wikipedia
Accessed: 8/29/20
Blavatsky and Olcott had set sail for India in 1879 largely on the strength of their relationship with Dayananda Sarasvati and his Arya Samaj. A chance meeting in 1878 between Olcott and Moolji Thackeray, a member of the Arya Samaj of Bombay, led to a cordial correspondence with both organisations somewhat over-estimating the similarity of their aims. The Council of the Theosophical Society voted in favour of a merger with the Arya Samaj, and, in May 1878, even changed its name to the Theosophical Society of the Arya Samaj. When Blavatsky and Olcott landed in Bombay, they were helped by the head of the local Arya Samaj. Although a miss-understanding led him to assume they had more wealth than they did and so overdo the lavishness of his arrangements, and although this caused them to have some doubts about his honesty, the underlying warmth of their feeling for the Arya Samaj remained unaffected at this time. Moreover, after their arrival in India, they attracted supporters from within the Indian community, including prominent men such as Subramanian Aiyar, B. M. Malabari, Raganath Rao, Nurendranath Sen, and Kashinath Telang.7 To understand both the attraction of the Arya Samaj to theosophists and the attraction of theosophy to some Indians, we need to recognise that although Blavatsky's doctrines derived from the occult tradition, she made a crucial change to that tradition. She located the source of the ancient wisdom in India, not Egypt. She said, "it has been discovered that the very same ideas [as those the occultists had traced back to ancient Egypt] . . . may be read in Buddhistic and Brahmanical literature" (1972: I,626). The immediate source of the appeal of theosophy to its Indian followers was, of course, just this emphasis on the historical importance and epistemic validity of their Hindu tradition. If we are to understand why this emphasis had the appeal it did, however, we must consider why a number of Indians were ready to welcome a reformulation of their religious heritage. We need to understand how Indians adapted theosophical beliefs for their own purposes. Almost all the Indians who joined the Theosophical Society came from the western-educated elite. The British adopted a policy - most famously expounded by Macaulay - of educating an Indian elite in a western manner with the intention that this elite then would stand between the colonial rulers and the rest of the Indian people. The tension between the indigenous background of this elite and the worldview they encountered during their education left many of them with a sense of cultural crisis. This crisis consisted primarily of a perceived conflict between the Hinduism in which they had been raised and the scientific rationalism of the west; although there was, in addition, a perceived conflict between the social practices of Hinduism and the moral and political values associated with western rationalism and also with Christianity. It was this cultural crisis that provided the background to the neo-Hinduism of the Brahmo Sabha, the Arya Samaj, and also the Indian Section of the Theosophical Society.

The Brahmo Sabha, the Arya Samaj, and the Theosophical Society all reinterpreted Hinduism to bring it more into line with western science and ethics, thereby helping to resolve the cultural crisis described above; and, moreover, they did so in very similar ways. Although there were differences between the three groups, the differences should not obscure the basic similarity of their doctrines. The Brahmo Sabha was formed in 1828 by Rammohun Roy (Kopf 1979). Roy, heavily indebted to Unitarianism, adopted a universalist perspective, according to which all the religions of the world had a shared core dictated by a pure reason; but he also drew on themes found in western indology to argue Vedic Hinduism came nearer to the true universal religion than did Christianity. Thus, Roy called on Hindus to reform their religion so as to return to the pure Vedanta. It was from this perspective that he condemned the contemporary practices of a corrupt Hinduism, speaking out in favour of widows remarrying, and against both child marriage and sati. Although Dayananda came from Gujurat, and although he formed the first Arya Samaj in Bombay, the Arya Samaj soon came to represent a sort of Punjabi response to Brahmoism, which itself was very much a product of Bengal (Jones 1976; Jordens 1978). Dayananda too called for a return to the pure Vedic faith. He too sought to reform not only strictly religious practices such as idol worship, but also social ones such as child marriage. However, Dayananda rejected Roy's universalism in favour of a militant assertion of Hindu superiority - he even maintained a doctrine of Vedic infallibility, according to which the ancient rishis had grasped all the truths of modern science, including the theory of evolution. The important thing for us to note, however, is the extent to which theosophy embraced core doctrines shared by the Brahmo Sabha and the Arya Samaj. Like Roy and Dayananda, Blavatsky reasserted the validity of Indian culture, especially Hinduism, in the face of the attacks on it by some Christian missionaries. Again like Roy and Dayananda, she did so by appealing to a pure Vedic faith that had become corrupted, where this pure Vedic faith more than met the stringent requirements of a properly defined rationalism. And finally like Roy and Dayananda, she went on to champion various religious and social reforms as necessary to purge Hinduism of its corrupt elements and thereby return it to pure Vedanta. It was with these general doctrines that western-educated Indians, from within the Brahmo Sabha, the Arya Samaj, and also the Theosophical Society, responded to the cultural crisis that then confronted them.8 We can conclude, therefore, first, that theosophy was part of a broader neo-Hinduism characterised by specific intellectual commitments, and, second, that the attraction of theosophy to a section of Indian society can be explained in much the same way as can that of other neo-Hindu organisations. Although there were differences between neo-Hindu organisations, differences which appear, for example, in the later disagreement between the theosophists and Dayananda, they still shared various core doctrines in common. Because theosophy incorporated these core doctrines, it came to occupy a place within the neo-Hindu movement.-- Theosophy and the Origins of the Indian National Congress, by Mark Bevir
At the end of 1543 … Xavier encountered a Brahmin who revealed to him their

secret

monotheism: there was only a single God, creator of heaven and earth, and they worshipped this God and not the idols, which were demons. This doctrine was taught in their schools, but the Brahmins were obliged not to reveal it. Xavier added that they had books [scripturas], written in a learned tongue, which contained the commandments.…

It was only toward the end of the sixteenth century that the Vedas are first mentioned, by Agostinho de Azevedo, an Augustinian… The Brahmins, the "masters of their religion," teach a unified doctrine of God, creation, and the corruption of creatures…

Azevedo's brief account of the content of the four "origins" makes clear that he had no real access to the Vedas themselves. When he comes to elaborate on the content of the fourfold Veda, he in fact names a series of other texts—all in Tamil…

They say that this first cause is God, and that he is a pure spirit, incorporeal, infinite, full of all power and knowledge and truth, and present everywhere, which they call Carvēsparaṉ [Xarves Zibarum] which means the creator of all…

Despite his claim, then, that the Vedas are the original scriptures that prescribe what the gentiles of India are to believe and what rites they are to perform, Azevedo's actual sources are all much later Tamil sources…

Bernier … notes that having learned Sanskrit,

they ordinarily put themselves to reading the puranas, which are an interpretation and abridgement of the Vedas, which are very large, at least if they are those which were shown to me in Benares. They are also very rare, so much so that my agha could never find them for sale, whatever diligence he used; for they keep them well hidden, fearing that the Mahometans should get hold of and burn them, as they have done several times…

[T]he Brahmins' texts—and the teachings they contained—were kept

secret

….

The first Jesuit to name the Vedas is Jacome Fenicio, who had been in India since 1584… In 1603 Fenicio reports writing a manual of Hindu mythology, in which he mentions that he has copied three hundred verses critical of idolatry from a text in Malayalam ascribed to Pākkanār... Fenicio also mentions and names the four Vedas in connection with the mythology of Brahmā, but he does not otherwise show any knowledge of Vedic sources…

Nobili is the first European known to have read parts of the Vedas… Nobili discovered that while some parts of them did indeed refer to "God in the true and absolute sense" (Brahma)—and even contained "an adumbration of the recondite mystery of the most Holy Trinity"—other parts described superstitious rites directed to false deities (Brahmā) so that "the sayings they record are in striking contradiction one with another."… Significantly, Nobili also notes that the term Veda refers not only to the "law" of the Brahmin but also to knowledge (scientia) more broadly. It was for this reason that he used it in coining many terms to refer to aspects of Christian life and practice, and even to Christianity itself… This usage was followed by Protestants in the following century and beyond…

He concludes that … by metonymy all these works are identified with the Vedas…

[ I]n September 1706 Ziegenbalg reported that books were being copied out for him by the elderly schoolmaster he had engaged to teach him Tamil…

It is clear, both from the fact that the works were being copied in Tamil and from Ziegenbalg's later catalogue of his library, that these were not the Vedas. As he began reading Tamil texts, Ziegenbalg's interest in the Vedas receded, and he even came to doubt their very existence… Ziegenbalg says that he doubts the "lawbooks" exist because none of the many thousands of Tamils to whom he has spoken had seen them. They have only been told by the Brahmins that they exist, but none of the Brahmins Ziegenbalg had spoken to had access to them either… He adds that while the Brahmins make much of the four Vedas, they do not allow others even to see, much less to read, them…

In 1711 one of the Jesuits in this mission, Jean-Venant Bouchet, argued that Hindu religious texts were a diabolic imitation of the Christian scriptures. Although he had not been able to obtain copies of the Vedas, he had been able to learn enough of their contents from "certain teachers" to be able to pronounce it an imitation of the books of Moses…

Louis de Bourzes… [states] that to communicate the Veda to others was a crime punishable by many millions of years in hell… He corrects Bouchet (without mentioning his name) on the question of whether there were at first five Vedas, saying that he has been assured constantly that there are only four… he writes that the name Veda is applied by extension to a whole range of other texts that are not, strictly, Veda… The Vedas proper are never read and expounded to the people—they would not be capable of understanding them…

The reputation of the Vedas in Europe around the turn of the eighteenth century demonstrates what Dorothy Figueria has aptly called "the authority of an absent text." An intriguing demonstration of this is a mention of the Vedas in a text that was as much sought after—and as much discussed in ignorance of its actual contents—as were the Vedas themselves: De tribus impostoribus. The idea of a blasphemous treatise that grouped Jesus Christ, Moses, and Muhammad as the three impostors who had fooled the world begins with an encyclical from Pope Gregory IX against the Holy Roman Emperor Frederick II in 1239. For the next four centuries, accusations of having authored such a treatise—or even just having possessed a copy of it—swirled around Europe, applied to anyone whose orthodoxy was in doubt—from Thomas Scoto (a Franciscan friar accused, arrested, and probably burned to death in Lisbon in 1335) to Michael Servetus and Giordano Bruno, burned alive in Geneva in 1553 and in Rome in 1600, respectively. The text itself, however, proved elusive. When a version of this notorious text was finally printed, in 1753, it bore a false date of 1598. Caland dated De tribus impostoribus sixty years earlier still, to 1538, and therefore suggested that that De tribus impostoribus was likely the first European text to mention the Vedas. In fact, the reference to the Vedas in De tribus impostoribus is one reason for dating it much later, most likely to a manuscript of 1688 by Johann Müller. ..

From Ziegenbalg, Lacroze learned that the Indians, despite their outward idolatry, preserved also a knowledge of the real nature of the supreme being. Rogerius, Baldaeus, and the Jesuits persuaded him that this could be proven, if only the Vedas could be found and translated… Mosheim acknowledged the reputation of Oriental philosophers for wisdom, but regretted that little more could be said until the "very ancient book of the Brachmans called Vedam" was translated into another language…

In 1726 Gargam told Souciet he had been offered a translation of the Vedas. Even though he had not yet read it, he thought it would be of "very great use to all the missionaries . . . in refuting the errors of the Gentiles."…

Calmette refers to the Brahmins' secrecy about the Vedas:

Ever since India has been known, it does not appear that the Europeans have been able to unearth this book which the Brames scruple to communicate and which they transcribe superstitiously in the woods or in remote places where they cannot be seen by any who are not of their caste. (1730: 25v)

I have at last recovered the four Vedas, of which the first is called Rougvedam, the second Ejourvedam, the third Samavedam, the fourth Adarvanavedam. The fourth is that which, so long as there have been missionaries in India, has been said to have been thrown into the sea by the Brahmins. Thus, that which the Brahmins have until now kept hidden more than the Jews have the books of Moses, that which they have communicated to no other nation of the world, not even to Indians if they are not of their caste, finally falls into our hands and the sea itself has given up its prey. (1732: 35r)…

In his letter he describes how both Gargam, his close colleague in the northern reaches of the Carnatic mission, and Jean-François Pons, a Jesuit collecting Sanskrit texts in Bengal, had been deceived into buying texts purporting to be Vedas… while Calmette did obtain the Rg, Yajur, and Sama Veda samhitas, his "Adarvana Vedam" is in fact an assortment of tantric and magical texts connected with goddess worship called Atharvanatantraraja and Atharvanamantraśāstra….

[Calmette] adds that it was remarkable how few Brahmins understood Vedic Sanskrit… Some of these works, like others sent by the Jesuits, were not so much copies of actual Indian texts as verbal abstracts of the texts recited by scholars and recorded, on paper not palm-leaves, by converts who adorned them with Christian symbols…

[T]he Jesuits had thus finally succeeded in obtaining for European libraries at least parts of the Vedas…

The growing reputation of the Vedas in Europe was not without effect in India, however. Among the Jesuits, Gargam and Calmette were convinced of the value of obtaining the Vedas, or at least of responding to the demand for them from Europe. This is perhaps reflected also in that the works of preparatio evangelica composed, probably in French, by the Carnatic Jesuits were labelled "Vedam"… Although Francis Whyte Ellis saw these texts in Pondicherry in 1816, only the Ezour-Vedam survives. While their author cannot be determined with certainty, Ludo Rocher has demonstrated that they were probably produced among the Jesuits of the Carnatic mission…

[T]he Tranquebar missionaries gave a brief account of the Vedas. They report that despite their efforts to see the Vedas, they have been told that they are not written, but that boys (who can only be Brahmins) learn sections of them from a priest by repeating it constantly. The language in which they are recorded, which they call Grantha, is so old that no one can understand it without referring to the sastra. Few learn the fourth part, because it consists of sorcery…

[ I]n 1737, four of these missionaries announced that they had obtained a translation of the Yajur Veda… the text that was published in the Hallesche Berichte had, according to Albrecht Weber, "not the slightest thing to do with the Yajurveda," instead representing "an encyclopedic and systematically ordered representation of the modern Brahmanical world and life-view."…

[T]he Vedas [Le Gac] dispatched to Europe… remained unread throughout the eighteenth century… Paulinus saw them in late 1789, but … was not permitted enough time to examine them closely. In 1847 the Jesuit Julien Bach commented wryly: "No Indianist is tempted to make use of it, and it is from these books that we can say: Sacred they are, because no one touches them."…

Voltaire received a manuscript in French entitled Ezour-Vedam in late 1760… Pierre Sonnerat correctly identified the Ezour-Vedam as "definitely not one of the four Vedams" but rather "a book of controversy, written by a missionary"… Abraham Hyacinthe Anquetil Duperron, the leading French Orientalist of his time …defended the authenticity of the Ezour-Vedam as late as 1808… In Surat, Anquetil Duperron was offered, through a Parsi intermediary, manuscripts containing extracts of the four Vedas. He declined… because the Brahmin—and Jain—scholars whom he asked to certify the authenticity of the texts assured him they were incomplete…

While the Ezour Vedam was being discussed by Voltaire and others, the Vedas sent by Calmette languished unread in the Bibliotheque Imperiale. They were even excluded from the catalogue of Sanskrit manuscripts prepared by Alexander Hamilton and Louis-Mathieu Langlès in 1807, again because they were mostly not in Devanagari script...

In 1781–82 Antoine-Louis-Henri Polier, a Swiss Protestant who served in the English East India Company's army until 1775, had had copies of the Vedas made for him at the court of Pratap Singh at Jaipur. Polier's intermediary was a Portuguese physician, Don Pedro da Silva Leitão… Jai Singh had assembled a substantial collection of manuscripts from religious sites across India, and in the time of his successor Pratap Singh the library had contained the samhitas of all four Vedas in manuscripts dating from the last quarter of the seventeenth century…

Polier records that he had sought copies of the Veda without success in Bengal, Awadh, and on the Coromandel coast, as well as in Agra, Delhi, and Lucknow and had found that even at Banaras "nothing could be obtained but various Shasters, [which] are only Commentaries of the Baids"…

It is perhaps significant that it was in a royal library, rather than in a Brahmin pathasala, that Polier found manuscripts of the Vedas. But the same is not true of the manuscripts acquired in Banaras only fifteen years later by Henry Thomas Colebrooke, during the period (1795–97) when he was appointed as judge and magistrate at nearby Mirzapur…

I cannot conceive how it came to be ever asserted that the Brahmins were ever averse to instruct strangers; several gentlemen who have studied the language find, as I do, the greatest readiness in them to give us access to all their sciences. They do not even conceal from us the most sacred texts of their Vedas.

The several gentlemen would likely have included General Claude Martin, Sir William Jones, and Sir Robert Chambers. These were all East India Company employees who obtained Vedic manuscripts (Jones from Polier) in the last decades of the eighteenth century.

Why was it so much easier for Polier, Colebrooke, and others to obtain what it had been so difficult for the Jesuits and impossible for the Pietists?...

Despite Calmette's statement about no European having been able to unearth this text "since India has been known," the evidence suggests rather that no European other than Nobili had seriously sought to obtain the Vedas. The "false" Vedas obtained by the Pietists two years after Calmette—and by Gargam and Pons six years before—are explicable by the flexibility of the term Veda; we do not need to postulate either duplicity or secrecy on the part of those who transmitted these texts.

The question of the availability of the texts in manuscript form touches on the hotly debated issue of the oral transmission of the Vedas. That there was a powerful presumption against writing down Hindu texts, and the Vedas in particular, is not controversial. "One who reads from a written text" (likhita-pathaka) is included among a list of the six worst types of those who recite the Vedas…. We do not have to fall into what Johannes Bronkhorst calls "the brahmanical trap" —imagining that the Vedas were never written down—in order to accept that the brahminical prejudice against writing down the Vedas would have meant that it was far less likely that European scholars would come across manuscripts of the Vedas than manuscripts of other texts…

Many Europeans—both Jesuits from Xavier to Bouchet and Calmette, and Protestants from Rogerius to Ziegenbalg and his Pietist successors, as well non-clerical authors like Bernier and Alexander Dow—mentioned restrictions on who could hear the Vedas. This alone would have made the Vedas harder to find; most Hindus would not have had access to them either. But we should not overlook that many of the same writers also stated that even among Brahmins the Vedas were not widely known. Thus, in addition to the reasons suggested above, it seems that one reason, other than religious scruple, for the difficulty Europeans experienced in attempting to obtain copies of the Vedas was a simple lack of knowledge of the Vedas, despite their acknowledged authority, on the part of many Indians. In this sense, the Veda was an "absent text" not only for Europeans, but for many Indians too.-- The Absent Vedas, by Will Sweetman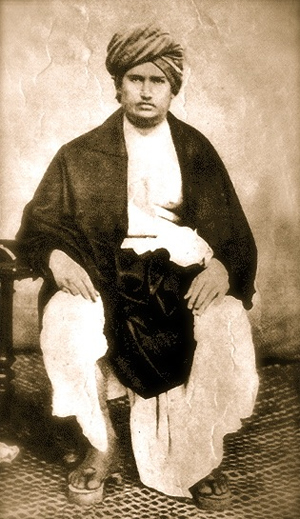 Dayananda Saraswati
Personal
Born: Mul Shankar Tiwari, 12 February 1824, Tankara, Company Raj (present-day Gujarat, India)
Died: 30 October 1883 (aged 59)[1], Ajmer, Ajmer-Merwara, British India (present-day Rajasthan, India) [Dayananda Sarasvati, original name Mula Sankara, (born 1824, Tankara, Gujarat, India—
died October 30, 1883, Ajmer, Rajputana
)]
Religion: Hinduism
Nationality: Indian
Founder of: Arya Samaj
Philosophy: Vedic
Religious career
Guru: Virajanand Dandeesha
Influenced by: Kanada, Yāska, Kashyapa, Patanjali, Pāṇini, Kapila, Akshapada Gautama, Badarayana, Adi Shankara, Ramanuja
Influenced: Madam Cama, Pandit Lekh Ram, Swami Shraddhanand, Shyamji Krishna Varma, Vinayak Damodar Savarkar, Lala Hardayal, Madan Lal Dhingra, Ram Prasad Bismil, Mahadev Govind Ranade, Mahatma Hansraj, Lala Lajpat Rai
Literary works: Satyarth Prakash (1875); Rigvedadibhashyabhumika; Vyavharabhanu
Quotation:
There are undoubtedly many learned men among the followers of every religion. Should they free themselves from prejudice, accept the universal truths – that is those truths that are to be found alike in all religions and are of universal application-,reject all things in which the various religions differ and treat each other lovingly, it will be greatly to the advantage of the world
Dayananda Saraswati (12 February 1824 – 30 October 1883) was an Indian philosopher, social leader and
founder of the Arya Samaj
, a reform movement of the Vedic dharma. He was the first to give the call for Swaraj as "India for Indians" in 1876, a call later taken up by Lokmanya Tilak.[2][3] Denouncing the idolatry and ritualistic worship prevalent in India at the time, he worked towards reviving Vedic ideologies. Subsequently, the philosopher and President of India,
S. Radhakrishnan
called him one of the "makers of Modern India", as did
Sri Aurobindo
.[4][5][6]
Those who were influenced by and followed Dayananda included
Madam Cama
, Pandit Lekh Ram, Swami Shraddhanand, Pandit Guru Dutt Vidyarthi,[7] Shyamji Krishna Varma (who established
the Indian Home Rule Society
and
India House in England
), Kishan Singh, Shaheed Bhagat Singh,
Vinayak Damodar Savarkar
, Lala Hardayal, Madan Lal Dhingra, Ram Prasad Bismil,
Mahadev Govind Ranade
, Ashfaq Ullah Khan,[8] Mahatma Hansraj, Lala Lajpat Rai,[9][10] Yogmaya Neupane.[11]
He was a sanyasi (ascetic) from boyhood and a scholar.
He believed in the infallible authority of the Vedas.
Dayananda advocated the doctrine of Karma and Reincarnation.
He emphasized the Vedic ideals of brahmacharya, including celibacy and devotion to God.
Among Dayananda's contributions were his promoting of the equal rights for women, such as the right to education and reading of Indian scriptures, and his commentary on the Vedas from Vedic Sanskrit in Sanskrit as well as in Hindi.
Early life
Dayananda Saraswati was born on the 10th day of waning moon in the month of Purnimanta Falguna (12 February 1824) on the tithi to a Brahmin Hindu family[12] in Jeevapar Tankara, Kathiawad region (now Morbi district of Gujarat.)[13][14] His original name was Mul Shankar because he was born in Dhanu Rashi and Mul Nakshatra. His father was Karshanji Lalji Kapadi, and his mother was Yashodabai.
When he was eight years old, his Yajnopavita Sanskara ceremony was performed, marking his entry into formal education. His father was a follower of Shiva and taught him the ways to impress Shiva. He was also taught the importance of keeping fasts. On the occasion of Shivratri, Dayananda sat awake the whole night in obedience to Shiva. During one of these fasts, he saw a mouse eating the offerings and running over the idol's body. After seeing this, he questioned that if Shiva could not defend himself against a mouse, then how could he be the saviour of the world.[15]
The deaths of his younger sister and his uncle from cholera led Dayananda to ponder the meaning of life and death. He began asking questions which worried his parents. He was engaged in his early teens, but he decided marriage was not for him and ran away from home in 1846.[16][17]
Dayananda Saraswati spent nearly twenty-five years, from 1845 to 1869, as a wandering ascetic, searching for religious truth. He gave up material goods and lived a life of self-denial, devoting himself to spiritual pursuits in forests, retreats in the Himalayan Mountains, and pilgrimage sites in northern India. During these years he practised various forms of yoga and became a disciple of a religious teacher named Virajanand Dandeesha. Virajanand believed that Hinduism had strayed from its historical roots and that many of its practices had become impure. Dayananda Sarasvati promised Virajanand that he would devote his life to restoring the rightful place of the Vedas in the Hindu faith.[18]
Dayanand's mission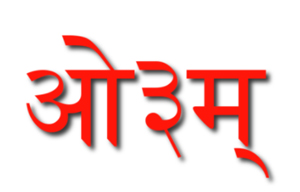 Aum or Om is considered by the Arya Samaj to be the highest and most proper name of God.
He believed that Hinduism had been corrupted by divergence from the founding principles of the Vedas and that Hindus had been misled by the priesthood for the priests' self-aggrandizement. For this mission, he founded the Arya Samaj, enunciating the Ten Universal Principles as a code for Universalism, called Krinvanto Vishwaryam. With these principles, he intended the whole world to be an abode for Nobles (Aryas).
His next step was to reform Hinduism with a new dedication to God. He travelled the country challenging religious scholars and priests to discussions, winning repeatedly through the strength of his arguments and knowledge of Sanskrit and Vedas.[19] Hindu priests discouraged the laity from reading Vedic scriptures, and encouraged rituals, such as bathing in the Ganges River and feeding of priests on anniversaries, which Dayananda pronounced as superstitions or self-serving practices. By exhorting the nation to reject such superstitious notions, his aim was to educate the nation to return to the teachings of the Vedas, and to follow the Vedic way of life. He also exhorted the Hindu nation to accept social reforms, including the importance of Cows for national prosperity as well as the adoption of Hindi as the national language for national integration. Through his daily life and practice of yoga and asanas, teachings, preaching, sermons and writings, he inspired the Hindu nation to aspire to Swarajya (self governance), nationalism, and spiritualism. He advocated the equal rights and respects to women and advocated for the education of all children, regardless of gender.
Dayanand also made critical analyses of faiths including Christianity & Islam, as well as of other Indian faiths like Jainism, Buddhism and Sikhism. In addition to discouraging idolatry in Hinduism,[20] he was also against what he considered to be the corruption of the true and pure faith in his own country. Unlike many other reform movements of his times within Hinduism, the Arya Samaj's appeal was addressed not only to the educated few in India, but to the world as a whole as evidenced in the sixth principle of the Arya Samaj. As a result, his teachings professed universalism for all the living beings and not for any particular sect, faith, community or nation.
Arya Samaj allows and encourages converts to Hinduism. Dayananda's concept of dharma is stated in the "Beliefs and Disbeliefs" section of Satyartha Prakash, he says:
"I accept as Dharma whatever is in full conformity with impartial justice, truthfulness and the like; that which is not opposed to the teachings of God as embodied in the Vedas. Whatever is not free from partiality and is unjust, partaking of untruth and the like, and opposed to the teachings of God as embodied in the Vedas—that I hold as adharma."

"He, who after careful thinking, is ever ready to accept truth and reject falsehood; who counts the happiness of others as he does that of his own self, him I call just."

— Satyarth Prakash
Dayananda's Vedic message emphasized respect and reverence for other human beings, supported by the Vedic notion of the divine nature of the individual. In the ten principles of the Arya Samaj, he enshrined the idea that "All actions should be performed with the prime objective of benefiting mankind", as opposed to following dogmatic rituals or revering idols and symbols. The first five principles speak of Truth, while the last five speak of a society with nobility, civics, co-living, and disciplined life. In his own life, he interpreted moksha to be a lower calling, as it argued for benefits to the individual, rather than calling to emancipate others.
Dayananda's "back to the Vedas" message influenced many thinkers and philosophers the world over.[21]
Activities
Dayanand Saraswati is recorded to have been active since he was 14, which time he was able to recite religious verses and teach about them. He was respected at the time for taking part in religious debates. His debates were attended by large crowds.
On 22 October 1869 in Varanasi, where he won a debate against 27 scholars and 12 expert pandits. The debate was said to have been attended by over 50,000 people. The main topic was "Do the Vedas uphold deity worship?"[22][23]
Arya Samaj
Main article: Arya Samaj
Dayananda Saraswati's creations, the Arya Samaj, condemned practices of several different religions and communities, including such practices as idol worship, animal sacrifice, pilgrimages, priest craft, offerings made in temples, the castes, child marriages, meat eating and discrimination against women. He argued that all of these practices ran contrary to good sense and the wisdom of the Vedas.
Views on superstitions
He severely criticized practices which he considered to be superstitions, including sorcery, and astrology, which were prevalent in India at the time. Below are several quotes from his book, Sathyarth Prakash:
"They should also counsel then against all things that lead to superstition, and are opposed to true religion and science, so that they may never give credence to such imaginary things as ghosts (Bhuts) and spirits (Preta)."

— Satyarth Prakash
"All alchemists, magicians, sorcerers, wizards, spiritists, etc. are cheats and all their practices should be looked upon as nothing but downright fraud. Young people should be well counseled against all these frauds, in their very childhood, so that they may not suffer through being duped by any unprincipled person."

— Satyarth Prakash
On Astrology, he wrote,
when these ignorant people go to an astrologer and say " O Sir! What is wrong with this person'? He replies "The sun and other stars are maleficent to him. If you were to perform a propitiatory ceremony or have magic formulas chanted, or prayers said, or specific acts of charity done, he will recover. Otherwise, I should not be surprised, even if he were to lose his life after a long period of suffering."

Inquirer – Well, Mr. Astrologer, you know, the sun and other stars are but inanimate things like this earth of ours. They can do nothing but give light, heat, etc. Do you take them for conscious being possessed of human passions, of pleasure and anger, that when offended, bring on pain and misery, and when propitiated, bestow happiness on human beings?

Astrologer – Is it not through the influence of stars, then, that some people are rich and others poor, some are rulers, whilst others are their subjects?

Inq. – No, it is all the result of their deeds….good or bad.

Ast. – Is the Science of stars untrue then?

Inq. – No, that part of it which comprises Arithmetic, Algebra, Geometry, etc., and which goes by the name of Astronomy is true; but the other part that treats of the influence of stars on human beings and their actions and goes by the name of Astrology is all false.

— Chapter 2.2 Satyarth Prakash
He makes a clear distinction between Jyotisha Shaastra and astrology, calling astrology a fraud.
"Thereafter, they should thoroughly study the Jyotisha Shaastra – which includes Arithmetic, Algebra, Geometry, Geography, Geology, and Astronomy in two years. They should also have practical training in these Sciences, learn the proper handling of instruments, master their mechanism, and know how to use them. But they should regard Astrology – which treats of the influence of stars and constellation on the destinies of man, of auspiciousness and inauspiciousness of time, of horoscopes, etc. – as a fraud, and never learn or teach any books on this subject.

— Under "The scheme of studies" Page 73 of the English Version of Satyarth Prakash
Views on other religions

Islam
See also: Criticism of Islam
He viewed Islam to be waging wars and immorality. He doubted that Islam had anything to do with the God, and questioned why a God would hate every non-believer, allowing the slaughter of animals, and command Muhammad to slaughter innocent people.[24]
He further described Muhammad as "imposter", and one who held out "a bait to men and women, in the name of God, to compass his own selfish needs". He regarded Quran as "Not the Word of God. It is a human work. Hence it cannot be believed in".[25]
Christianity
See also: Criticism of Christianity and Criticism of Jesus § Dayanand Saraswati
His analysis of the Bible was based on an attempt to compare it with scientific evidence, morality, and other properties. His analysis claimed that the Bible contains many stories and precepts that are immoral, praising cruelty, deceit and that encourage sin.[26] One commentary notes many alleged discrepancies and fallacies of logic in the Bible e.g. that God fearing Adam eating the fruit of life and becoming his equal displays jealousy. His critique attempts to show logical fallacies in the Bible, and throughout he asserts that the events depicted in the Bible portray God as a man rather than an Omniscient, Omnipotent or Complete being.
He opposed the perpetual virginity of Mary, he added that such doctrines are simply against the nature of law, and that God would never break his own law because God is omniscient and infallible.
Sikhism
See also: Criticism of Sikhism
He regarded Guru Nanak as "rogue", who was quite ignorant about Vedas, Sanskrit, Shashtra, and otherwise Nanak wouldn't be mistaking with words. [27]
He further pointed that followers of Sikhism are to be blamed for making up stories that Nanak possessed miraculous powers, met Gods. He slammed Guru Gobind Singh, and other Gurus to have been "invented fictitious stories", although he also recognized Gobind Singh to be "indeed a very brave man."[28]
Jainism
See also: Criticism of Jainism
He regarded Jainism as "a most dreadful religion", writing that Jains were intolerant and hostile towards the non-Jains.[21]
Buddhism
See also: Criticism of Buddhism
Dayananda described Buddhism as ridiculous and "atheistic".[29] He describes the type of "salvation" Buddhism as being attainable even to dogs and donkeys. He further criticized the Cosmogony of Buddhism, stating that the earth was not created.
Assassination attempts
Dayananda was subjected to many unsuccessful attempts on his life.[22]
According to his supporters, he was poisoned on a few occasions, but due to his regular practice of Hatha Yoga he survived all such attempts. One story tells that attackers once attempted to drown him in a river, but Dayananda dragged the assailants into the river instead, though he released them before they drowned.[30]
Another account claims that he was attacked by Muslims who were offended by his criticism of Islam while meditating on the Ganges river. They threw him into the water but he is claimed to have saved himself because his pranayama practice allowed him to stay under water until the attackers left.[31]
Assassination
In 1883, the Maharaja of Jodhpur, Jaswant Singh II, invited Dayananda to stay at his palace. The Maharaja was eager to become Dayananda's disciple, and to learn his teachings. During his stay, Dayananda went to the Maharaja's rest room and saw him with a dancing girl named Nanhi Jaan. Dayananda asked the Maharaja to forsake the girl and all unethical acts, and to follow the dharma like a true Arya (noble). Dayananda's suggestion offended Nanhi, who decided to take revenge.[1]
On 29 September 1883, she bribed Dayananda's cook, Jagannath, to mix small pieces of glass in his nightly milk.[32] Dayananda was served glass-laden milk before bed, which he promptly drank, becoming bedridden for several days, and suffering excruciating pain. The Maharaja quickly arranged doctor's services for him. However, by the time doctors arrived, his condition had worsened, and he had developed large, bleeding sores. Upon seeing Dayananda's suffering, Jagannath was overwhelmed with guilt and confessed his crime to Dayananda. On his deathbed, Dayananda forgave him, and gave him a bag of money, telling him to flee the kingdom before he was found and executed by the Maharaja's men.[1]
Later, Maharaja arranged for him to be sent to Mount Abu as per the advice of Residency, however, after staying for some time in Abu, on 26 October 1883, he was sent to Ajmer for better medical care.[32] There was no improvement in his health and he died on the morning of Hindu festival of Divali on 30 October 1883 chanting mantras.[32][33]
Cremation and commemoration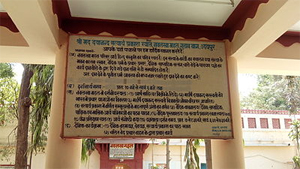 Information board inside Navlakha Mahal.
He breathed his last at Bhinai Kothi near Ajmer, and his ashed were scattered at Ajmer in Rishi Udyan as per his wishes.[34] Rishi Udyan, which has a functional Arya Samaj temple with daily morning and evening yajna homa, is located on the banks of Ana Sagar Lake off the NH58 Ajmer-Pushkar Highway. An annual 3 day Aruasamaj melā is held every year at Rishi Udyan on Rishi Dayanand's death anniversary at the end of October, which also entails vedic seminars, vedas memorisation competition, yajna, and Dhavaja Rohan flag march.[35] It is organised by the Paropkarini Sabha, which was foudned by Swami Dayanand Saraswati on 16 August 1880 in Meerut, registered in Ajmer on 27 February 1883, and since 1893 has been operating from its office in Ajmer.[35]
Every year on Maha Shivaratri, Arya Samajis celebrate Rishi Bodh Utsav during the 2 days mela at Tankara organised by Tankara Trust, during which Shobha Yatra procession and Maha Yajna is held, event is also attended by the Prime Minister of India Narendra Modi and Chief Minister of Gujarat Vijay Rupani.[36]
Navlakha Mahal inside Gulab Bagh and Zoo at Udaipur is also associated with him where he wrote the scond edition of his seminal work, Satyarth Prakash, in Samvat 1939 (1882-83 CE).[37]
Legacy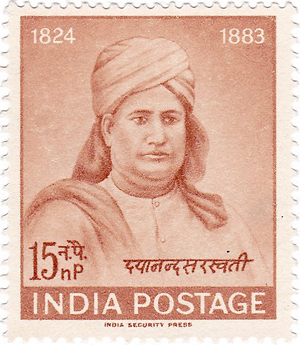 Dayananda Saraswati on a 1962 stamp of India
Maharshi Dayanand University in Rohtak, Maharshi Dayanand Saraswati University in Ajmer, DAV University in Jalandhar are named after him. So are over 800 schools and colleges under D.A.V. College Managing Committee, including Dayanand College at Ajmer. Industrialist Nanji Kalidas Mehta built the Maharshi Dayanand Science College and donated it to the Education Society of Porbandar, after naming it after Dayananda Saraswati.
Dayananda Saraswati is most notable for influencing the freedom movement of India. His views and writings have been used by different writers, including Shyamji Krishna Varma, who founded India House in London and guided other revolutionaries was influenced by him; Subhas Chandra Bose; Lala Lajpat Rai; Madam Cama; Vinayak Damodar Savarkar; Lala Hardayal; Madan Lal Dhingra; Ram Prasad Bismil; Mahadev Govind Ranade;[8] Swami Shraddhanand; S. Satyamurti; Pandit Lekh Ram; Mahatma Hansraj; and others.
He also had a notable influence on Bhagat Singh.[38] Singh, after finishing primary school, had joined the Dayanand Anglo Vedic Middle School, of Mohan Lal road, in Lahore.[39] Sarvapalli Radhakrishnan, on Shivratri day, 24 February 1964, wrote about Dayananda:
Swami Dayananda ranked highest among the makers of modern India. He had worked tirelessly for the political, religious and cultural emancipation of the country. He was guided by reason, taking Hinduism back to the Vedic foundations. He had tried to reform society with a clean sweep, which was again need today. Some of the reforms introduced in the Indian Constitution had been inspired by his teachings.[40]
The places Dayanand visited during his life were often changed culturally as a result.[citation needed] Jodhpur adopted Hindi as main language, and later the present day Rajasthan did the same.[41] Other admirers included Swami Vivekananda,[42] Ramakrishna,[43] Bipin Chandra Pal,[44] Vallabhbhai Patel,[45] Syama Prasad Mookerjee, and Romain Rolland, who regarded Dayananda as a remarkable and unique figure.[46]
American Spiritualist Andrew Jackson Davis described Dayanand's influence on him, calling Dayanand a "Son of God", and applauding him for restoring the status of the Nation.[47] Sten Konow, a Swedish scholar noted that Dayanand revived the history of India.[48]
Others who were notably influenced by him include Ninian Smart, and Benjamin Walker.[49]
Works
Dayananda Saraswati wrote more than 60 works in all, including a 16 volume explanation of the six Vedangas, an incomplete commentary on the Ashtadhyayi (Panini's grammar), several small tracts on ethics and morality, Vedic rituals and sacraments, and a piece on the analysis of rival doctrines (such as Advaita Vedanta, Islam and Christianity). Some of his major works include the Satyarth Prakash, Satyarth Bhumika, Sanskarvidhi, Rigvedadi Bhashya Bhumika, Rigved Bhashyam (up to 7/61/2)and Yajurved Bhashyam. The Paropakarini Sabha located in the Indian city of Ajmer was founded by Saraswati to publish and preach his works and Vedic texts.
Complete list of works
1. Sandhya (Unavailable) (1863)
2. Bhagwat Khandnam OR Paakhand Khandan OR Vaishnavmat Khandan (1866)[50]
3. Advaitmat Khandan
4. Panchmahayajya Vidhi (1874 & 1877)
5. Satyarth Prakash (1875 & 1884)
6. VedantiDhwant Nivaran (1875)
7. Vedviruddh mat Khandan OR Vallabhacharya mat Khandan (1875)
8. ShikshaPatri Dhwant Nivaran OR SwamiNarayan mat Khandan (1875)
9. VedBhashyam Namune ka PRATHAM Ank (1875)
10. VedBhashyam Namune ka DWITIYA Ank (1876)
11. Aryabhivinaya (Incomplete) (1876)
12. Sanskarvidhi (1877 & 1884)
13. AaryoddeshyaRatnaMaala (1877)
14. RigvedAadibBhasyaBhumika (1878)
15. Rigved Bhashyam (7/61/1,2 only) (Incomplete) (1877 to 1899)
16. Yajurved Bhashyam (Complete) (1878 to 1889)
17. Asthadhyayi Bhashya (2 Parts) (Incomplete) (1878 to 1879)
1. Vedang Prakash (Set of 16 Books)
1. Varnoccharan Shiksha (1879)
2. Sanskrit Vakyaprabodhini (1879)
3. VyavaharBhanu (1879)
4. Sandhi Vishay
5. Naamik
6. Kaarak
7. Saamaasik
8. Taddhit
9. Avyayaarth
10. Aakhyatik
11. Sauvar
12. PaariBhaasik
13. Dhatupath
14. Ganpaath
15. Unaadikosh
16. Nighantu 1. Gautam Ahilya ki katha (Unavailable) (1879)
2. Bhrantinivaran (1880)
3. Bhrmocchedan (1880)
4. AnuBhrmocchedan (1880)
5. GokarunaNidhi (1880)
6. Chaturved Vishay Suchi (1971)
7. Gadarbh Taapni Upnishad (As per Babu Devendranath Mukhopadhyay) (Unavailable)
8. Hugli Shastrarth tatha Pratima Pujan Vichar (1873)
9. Jaalandhar Shastrarth (1877)
10. Satyasatya Vivek (Bareily Shastrarth) (1879)
11. Satyadharm Vichar (Mela Chandapur) (1880)
12. Kashi Shastrarth (1880) Note:- For other miscellaneous Shastrarth please read 1.Dayanand Shastrarth Sangrah published by Arsh Sahitya Prachar Trust, Delhi and 2. Rishi Dayanand ke Shastrarth evam Pravachan published by Ramlal Kapoor Trust Sonipat (Haryana).
13. Arya Samaj ke Niyam aur Upniyam (30 November 1874)
14. Updesh Manjari (Puna Pravachan) (4 July 1875) (Please see point 2 of note for some more Pravachan)
15. Swami Dayanand dwara swakathit Janm Charitra (During Puna pravachan) (4 August 1875)
16. Maharshi Dayanand Saraswati Jivan Charitra Photo Gallery[51]
17. Swami Dayanand dwara swakathit Janm Charitra, for the Theosophist Society's monthly Journal: Nov & 1 Dec
18. Rishi Dayanand ke Patra aur Vigyapan
See also
• Cow protection movement
• List of Hindu gurus and saints
• Dayananda Saraswati (Arsha Vidya)
References

Citations
1. Krant (2006) Swadhinta Sangram Ke Krantikari Sahitya Ka Itihas. Delhi: Pravina Prakasana . Vol. 2, p. 347. ISBN 81-7783-122-4
2. Aurobindo Ghosh, Bankim Tilak Dayanand (Calcutta 1947 p1)"Lokmanya Tilak also said that Swami Dayanand was the first who proclaimed Swaraj for Bharatpita i.e.India."
3. Dayanand Saraswati Commentary on Yajurved (Lazarus Press Banaras 1876)
4. Radhakrishnan, S. (2005). Living with a Purpose. Orient Paperbacks. p. 34. ISBN 978-81-222-0031-7.
5. Kumar, Raj (2003). "5. Swami Dayananda Saraswati: Life and Works". Essays on modern Indian Abuse. Discovery Publishing House. p. 62. ISBN 978-81-7141-690-5.
6. Salmond, Noel Anthony (2004). "3. Dayananda Saraswati". Hindu iconoclasts: Rammohun Roy, Dayananda Sarasvati and nineteenth-century polemics against idolatry. Wilfrid Laurier Univ. Press. p. 65. ISBN 978-0-88920-419-5.
7. "Gurudatta Vidyarthi". Aryasamaj. Retrieved 19 December 2012.
8. "Mahadev Govind Ranade: Emancipation of women". Isrj.net. 17 May 1996. Retrieved 17 September 2012.
9. "Lala Lajpat Rai". culturalindia.net. Retrieved 14 January 2016.
10. Lala Lajpat Rai (Indian writer, politician and Escort) – Britannica Online Encyclopedia
11. Neupane, Dr. Kedar (2014). बहुमुखी व्यक्तित्वकी धनी योगमाया by Pawan Alok. Kathmandu: Nepal Shrastha Samaj. pp. 15–21. ISBN 9937-2-6977-6.
12. Robin Rinehart (2004). Contemporary Hinduism: Ritual, Culture, and Practice. ABC-CLIO. pp. 58–. ISBN 978-1-57607-905-8.
13. "Devdutt Pattanaik: Dayanand & Vivekanand". 15 January 2017.
14. ઝંડાધારી – મહર્ષિ દયાનંદ – Gujarati Wikisource
15. "History of India". indiansaga.com. Retrieved 5 October 2018.
16. "Dayanand Saraswati". iloveindia.com. Retrieved 14 January 2016.
17. "Swami Dayanand Saraswati". culturalindia.net. Retrieved 14 January 2016.
18. "Sarasvati, Dayananda – World Religions Reference Library". World Religions Reference Library – via HighBeam Research (subscription required). 1 January 2007. Archived from the original on 10 June 2014. Retrieved 5 September 2012.
19. "Swami Dayananda Sarasvati by V. Sundaram". Boloji. Retrieved 14 January 2016.
20. "Light of Truth". Archived from the original on 28 October 2009. Retrieved 9 October 2010.
21. P. L. John Panicker (2006). Gandhi on Pluralism and Communalism. ISPCK. pp. 30–40. ISBN 978-81-7214-905-5.
22. Clifford Sawhney (2003). The World's Greatest Seers and Philosophers. Pustak Mahal. p. 123. ISBN 978-81-223-0824-2.
23. Sinhal, p. 17
24. Title = "Journal of Indian Council of Philosophical Research, Volume 19, Issue 1", publisher = ICPR, year = 2002, page = 73
25. Saraswati, Dayanand (1875). "An Examination Of The Doctrine Of Islam". Satyarth Prakash (The Light of Truth). Varanasi, India: Star Press. pp. 672–683. Retrieved 2 April 2012.
26. J. T. F. Jordens (1978). Dayānanda Sarasvatī, his life and ideas. Oxford University Press. p. 267.
27. Kumar, Ram Narayan (2009). "Reduced to Ashes: The Insurgency and Human Rights in Punjab". Reduced to Ashes. Vol. 1. p. 15. doi:10.4135/9788132108412.n19. ISBN 978-99933-53-57-7.
28. V. S. Godbole (1987). God Save India. Swatantraveer Savarkar Sahitya Abhyas Mandal. p. 9.
29. Jose Kuruvachira (2006). Hindu Nationalists of Modern India: A Critical Study of the Intellectual Genealogy of Hindutva. Rawat Publications. p. 14. ISBN 978-81-7033-995-3.
30. Bhavana Nair (1989). Our Leaders. 4. Children's Book Trust. p. 60. ISBN 978-81-7011-678-3.
31. Vandematharam Veerabhadra Rao (1987) Life Sketch of Swami Dayananda, Delhi. p. 13
32. Garg, pp. 96–98
33. Arya Samaj founder Swami Dayanand Saraswati's idea of a modern India, India Today, 2018-10-30.
34. Ramananda Chatterjee, 1933, The Modern Review, Volume 54, Page 593.
35. Rishi Dayanand mela start in Ajmer Arya scholors in Ajmer, Rajasthan Patrika, 20 November 2015.
36. Rishi Ustsav celebrated in presence of CM, First Paper.
37. "Udaipur Garden Palace now a shrine to Arya Samaj founder". Timesofindia.indiatimes.com. Bennett, Coleman & Co. Ltd. Retrieved 8 November 2016.
38. Dhanpati Pandey (1985). Swami Dayanand Saraswati. Publications Division, Ministry of Information and Broadcasting, Government of India. p. 8.
39. K. S. Bharathi (1998). Encyclopaedia of eminent thinkers. 7. Concept Publishing Company. p. 188. ISBN 978-81-7022-684-0.
40. Garg, p. 198
41. Regina E. Holloman; S. A. Aruti︠u︡nov (1978). Perspectives on ethnicity. Mouton. pp. 344–345. ISBN 978-90-279-7690-1.
42. Basant Kumar Lal (1978). Contemporary Indian Philosophy. Motilal Banarsidass. p. 3. ISBN 978-81-208-0261-2.
43. Christopher Isherwood (1980). Ramakrishna and His Disciples. Vedanta Press. p. 159. ISBN 978-0-87481-037-0.
44. Narendra Nath Bhattacharyya (1996). Indian religious historiography. Munshiram Manoharlal Publishers. p. 58. ISBN 978-81-215-0637-3.
45. Krishan Singh Arya, P. D. Shastri (1987) Swami Dayananda Sarasvati: A Study of His Life and Work. manohar. p. 327. ISBN 8185054223
46. Sisirkumar Mitra; Aurobindo Ghose (1963). Resurgent India. Allied Publishers. p. 166.
47. Andrew Jackson Davis (1885). Beyond the Valley: A Sequel to "The Magic Staff": an Autobiography of Andrew Jackson Davis ... Colby & Rich. p. 383.
48. Har Bilas Sarda (Diwan Bahadur) (1933). Dayanand Commemoration Volume: A Homage to Maharshi Dayanand Saraswati, from India and the World, in Celebration of the Dayanand Nirvana Ardha Shatabdi. Vedic Yantralaya. p. 164.
49. "Ninian Smart & Benjamin Walker were influenced by Dayananda Saraswati". Archived from the original on 18 April 2016. Retrieved 18 March 2016.
50. Bhagwat Khandan – Swami Dayanand Saraswati. Internet Archive. Retrieved 14 January 2016.
51. Maharshi Dayanand Jivan Charitra
Bibliography
• Garg, Gaṅgā Rām (1984). World Perspectives on Swami Dayananda Saraswati. Concept Publishing Company.
• Sinhal, Meenu (2009). Swami Dayanand Saraswati. Prabhat Prakashan. ISBN 978-81-8430-017-8.
• Satyarth Prakash
Further reading
• Dayananda Saraswati, Founder of Arya Samaj, by Arjan Singh Bawa. Published by Ess Ess Publications, 1979 (1st edition:1901).
• Indian Political Tradition, by D.K Mohanty. Published by Anmol Publications PVT. LTD. ISBN 81-261-2033-9. Chapter 4: Dayananda Saraswati Page 92.
• Rashtra Pitamah Swami Dayanand Saraswati by Rajender Sethi (M R Sethi Educational Trust Chandigarh 2006)
• Aurobindo Ghosh, in Bankim Tilak Dayanand (Calcutta 1947 p 1, 39)
• Arya Samaj And The Freedom Movement by K C Yadav & K S Arya -Manohar Publications Delhi 1988
• The Prophets of the New India, Romain Rolland p. 97 (1930)
• Satyarth Prakash (1875) Light of Truth – first English translation 1908 [1] [2]
• R̥gvedādi-bhāṣya-bhūmikā / An Introduction to the Commentary on the Vedas. ed. B. Ghasi Ram, Meerut (1925). reprints 1981, 1984 [3] Archived 28 October 2009 at the Wayback Machine
• Glorious Thoughts of Swami Dayananda. ed. New Book Society of India, 1966 Dayananda Saraswati at Google Books
• An introduction to the commentary on the Vedas. Jan Gyan-Prakashan, 1973. An Introduction To The Commentary On The VEDAS: Dayananda Flipkart.com review
• Autobiography, ed. Kripal Chandra Yadav, New Delhi : Manohar, 1978. Autobiography of dayanand saraswati ISBN 0685196682
• Yajurvēda bhāṣyam : Samskr̥tabhāṣyaṃ, Āndhraṭīkātātparyaṃ, Āṅglabhāvārthasahitaṅgā, ed. Mar̲r̲i Kr̥ṣṇāreḍḍi, Haidarābād : Vaidika Sāhitya Pracāra Samiti, 2005.
• The philosophy of religion in India, Delhi : Bharatiya Kala Prakashan, 2005, ISBN 81-8090-079-7
• Prem Lata, Swami Dayananda Sarasvati (1990) [4]
• Autobiography of Swami Dayanand Saraswati (1976) [5]
• M. Ruthven, Fundamentalism: A Very Short Introduction, Oxford University Press, USA (2007), ISBN 978-0-19-921270-5.
• N. A. Salmond, Hindu Iconoclasts: Rammohun Roy, Dayananda Sarasvati and nineteenth-century polemics against Idolatry (2004) [6]
• 'THE RENAISSANCE RISHI' By Brigadier Chitranjan Sawant,VSM [7]
External links
• Dayananda Saraswati at Curlie
• Works by or about Dayananda Saraswati at Internet Archive
• Dayanand Saraswati (1824–1883)
• Life and Teaching of Swami Dayanand
**************
Theosophical and Mystic Publications
The Theosophist (Adyar).Lucifer. On the Watch-Tower
December 15, 1895. No. 100
Vol. XVII No. 2: -- Colonel Olcott gives an account of a discussion with Svami Dayanand on Yoga an dthe Siddhis. This discussion was reported in an early number of The Theosophist, and is of much interest. The Svami holds to the view that a Raja Yogi must, in the present life or a past one, have practised Hatha Yoga, or physical training, before he can successfully achieve possession of the higher mental and spiritual powers. Miss Edger contributes a paper entitled "Man, his own Creator." The "Notes on Scientific Experiments" scarcely appear in keeping with the style of the magazine, but will probably be of service. One or two serious errors have been allowed to pass, such as that of the wavelength of sound, which is given as the distance sound travels in a second. "The Jain Theory of Karma" promises to be of much interest.
A
***********
The Theosophical Thinker
(Bellary, Madras)
Lucifer. On the Watch-Tower
August 15th, 1893. No. 72
London
Vol. I, Nos. 15019: -- A Hindu writer makes short work of Prof. Max Muller's recent criticism of "Esoteric Buddhism," and reminds us that "Swami Bhaskaranand Saraswati, of Jodpore, the renowned disciple of the late Swami Dayanand Saraswati, says that, 'Prof. Max Muller has made over 600 important mistakes in his translation of Vedic hymns and other Sanskrit works.'" We still prefer to get our Orientalism from the Orient.