Will Sweetman
BA Hons (Lancaster) MPhil PhD (Cambridge)
Professor of Asian Religions
Room: Richardson 5S7
Tel: 64 3 479 8793
Email:
will.sweetman@otago.ac.nz
by University of Otago, New Zealand
-- Church of the SubGenius, by Wikipedia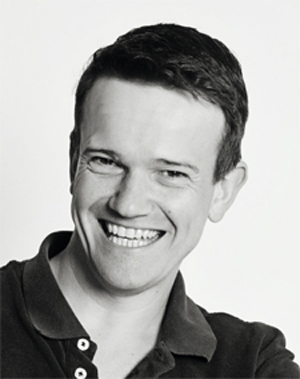 Will Sweetman studied Philosophy, Religious Studies, and Theology at the Universities of Lancaster and Cambridge. He has taught at universities in London and Newcastle, and held research fellowships at the Universities of Cambridge, Halle and Hamburg.
Will has published three books and several articles on historical and theoretical aspects of the study of Hinduism. He is founding editor of the journal Relegere: Studies in Religion and Reception and Associate Director of the New Zealand India Research Institute.
Will is a member of the Heterodox Academy,...
Our Story

Mission

To improve the quality of research and education in universities by increasing open inquiry, viewpoint diversity, and constructive disagreement.

Vision

We aspire to create college classrooms and campuses that

welcome diverse people with diverse viewpoints and that equip learners with the habits of heart and mind to engage that diversity in open inquiry and constructive disagreement.

We see an academy

eager to welcome professors, students, and speakers who approach problems and questions from different points of view, explicitly valuing the role such diversity plays in advancing the pursuit of knowledge, discovery, growth, innovation, and the exposure of falsehoods.

Who we are

Heterodox Academy (HxA) is a nonpartisan collaborative of thousands of professors, administrators, and students committed to enhancing the quality of research and education by promoting open inquiry, viewpoint diversity, and constructive disagreement in institutions of higher learning. All of our members embrace a set of norms and values, which we call "The HxA Way."

All our members have embraced the following statement:

"I support open inquiry, viewpoint diversity, and constructive disagreement in research and education."

HxA's members — professors, administrators, staff, and graduate students — come from a range of public and private institutions, from large research institutions to community colleges. They represented nearly every discipline, and are distributed throughout all 50 states and beyond.

What we do

"No organization in the history of American academic life has done, or is doing, more to promote the basic freedoms of viewpoint diversity we urgently need in our colleges and universities today than Heterodox Academy."

-Robert George, Legal Scholar, Political Philosopher, & HxA Advisory Council member

In order to address society's most intractable problems, learners must weave together the best ideas from a range of perspectives. Yet,

colleges — the intended training ground for the sort of creative and integrative thinking such problem-solving requires — have become increasingly characterized by orthodoxy in what types of questions can be asked and what sort of comments can be shared in the classroom and around campus.

Professors and students alike describe the toll self-censoring and threat of social censure have taken on learning, discovery, and growth. For the sake of higher ed and all the enterprises of life that await students after graduation, now is the time to dig in and fix what's broken.

Heterodox Academy has the expertise, tools, and profile necessary to make change happen. We increase public awareness to elevate the importance of these issues on campus; develop tools that professors, administrators, and others can deploy to assess and then improve their campus and disciplinary cultures; publicly recognizing model institutions; and cultivate communities of practice among teachers, researchers, and administrators.

History

Heterodox Academy was founded in 2015

by Jonathan Haidt, Chris Martin, and Nicholas Rosenkranz, in reaction to their observations about the negative impact a lack of ideological diversity has had on the quality of research within their disciplines. What began as a website and a blog in September of 2015 — a venue for social researchers to talk about their work and the challenges facing their disciplines and institutions — soon grew into an international network of peers dedicated to advancing the values of constructive disagreement and viewpoint diversity as cornerstones of academic and intellectual life...

Heterodox Academy is comprised of nearly 4,000 members from a range of demographic backgrounds and academic disciplines, holding various institutional roles all over the United States and beyond. As would be expected from such a heterogenous network, our members hold a range of views on virtually any topic up for discussion. As an organization, we prize pluralism and we value constructive disagreement.

However, we do not promote viewpoint diversity for its own sake. Our primary goal is to improve research and teaching at colleges and universities. We recognize that institutions of higher learning are not 'public squares' in the traditional sense, but rather sites for the production and dissemination of knowledge. To facilitate these objectives, we embrace a particular set of norms and values, which we have taken to calling the 'HxA Way.' We encourage our members to embody these in all of their professional interactions.

1. Make your case with evidence.

Link to that evidence whenever possible (for online publications, on social media), or describe it when you can't (such as in talks or conversations). Any specific statistics, quotes or novel facts should have ready citations from credible sources.

2. Be intellectually charitable.

Viewpoint diversity is not incompatible with moral or intellectual rigor – in fact it actually enhances moral and intellectual agility. However, one should always try to engage with the strongest form of a position one disagrees with (that is, 'steel-man' opponents rather than 'straw-manning' them). One should be able to describe their interlocutor's position in a manner they would, themselves, agree with (see: 'Ideological Turing Test'). Try to acknowledge, when possible, the ways in which the actor or idea you are criticizing may be right — be it in part or in full. Look for reasons why the beliefs others hold may be compelling, under the assumption that others are roughly as reasonable, informed and intelligent as oneself.

3. Be intellectually humble.

Take seriously the prospect that you may be wrong. Be genuinely open to changing your mind about an issue if this is what is expected of interlocutors (although the purpose of exchanges across difference need not always be to 'convert' someone, as explained here). Acknowledge the limitations to one's own arguments and data as relevant.

4. Be constructive.

The objective of most intellectual exchanges should not be to "win," but rather to have all parties come away from an encounter with a deeper understanding of our social, aesthetic and natural worlds. Try to imagine ways of integrating strong parts of an interlocutor's positions into one's own. Don't just criticize, consider viable positive alternatives. Try to work out new possibilities, or practical steps that could be taken to address the problems under consideration. The corollary to this guidance is to avoid sarcasm, contempt, hostility, and snark. Generally target ideas rather than people. Do not attribute negative motives to people you disagree with as an attempt at dismissing or discrediting their views. Avoid hyperbole when describing perceived problems or (especially) one's adversaries — for instance, do not analogize people to Stalin, Hitler/ the Nazis, Mao, the antagonists of 1984, etc.

5. Be yourself.

At Heterodox Academy, we believe that successfully changing unfortunate dynamics in any complex system or institution will require people to stand up — to leverage, and indeed stake, their social capital on holding the line, pushing back against adverse trends and leading by example. This not only has an immediate and local impact, it also helps spread awareness, provides models for others to follow and creates permission for others to stand up as well. This is why Heterodox Academy does not allow for anonymous membership; membership is a meaningful commitment precisely because it is public.
and an ordained Dudeist priest.
CERTIFICATE OF ORDINATION: THIS DOCUMENT HEREBY AFFIRMS THAT WILL SWEETMAN HAS BEEN ORDAINED BY THE CHURCH OF THE LATTER-DAY DUDE ON THIS DAY MAY 20, 2019

What is Dudeism?

While Dudeism in its official form has been organized as a religion only recently, it has existed down through the ages in one form or another.

Probably the earliest form of Dudeism was the original form of Chinese Taoism, before it went all weird with magic tricks and body fluids. The originator of Taoism, Lao Tzu, basically said "smoke 'em if you got 'em" and "mellow out, man" although he said this in ancient Chinese so something may have been lost in the translation.

Down through the ages, this "rebel shrug" has fortified many successful creeds – Buddhism, Christianity, Sufism, John Lennonism and Fo'-Shizzle-my-Nizzlism.

"fo shizzle ma nizzle" is a bastardization of "fo' sheezy mah neezy" which is a bastardization of "for sure mah nigga" which is a bastdardization of "I concur with you whole heartedly my African american brother".

-- fo' shizzle my nizzle, by Urban Dictionary

The idea is this: Life is short and complicated and nobody knows what to do about it. So don't do anything about it. Just take it easy, man. Stop worrying so much whether you'll make it into the finals. Kick back with some friends and some oat soda and whether you roll strikes or gutters, do your best to be true to yourself and others – that is to say, abide.

Incidentally, the term "dude" is commonly agreed to refer to all genders. Most linguists contend that the diminutive "dudette" is not in keeping with the parlance of our times.

Great Dudes in History

Pillars of Dudeism, these Dudeist prophets and peacemakers have existed throughout history.

Proud we are of all of them.

_____________

Lao Tzu, Creator of Taoism

When things got screwed up in Ancient China Lao Tzu didn't go all Mr. Miyagi and try to fix it. He got on his buffalo and took off for more copacetic pastures. But not before scribbling down a few what-have-yous that helped define Eastern philosophy ever since.

Heraclitus, Greek Philosopher

The man who wrote "you can never step into the same river twice" propagated the idea that everything was in flux, or "burning." Consequently one should make the most of it and spark one up whenever possible. And step into the river from time to time, preferably with a cocktail and an inner tube.

Snoopy, Charlie Brown's Dog

Always living up to the dictum, "It's a dog's life," he also famously said "My life has no purpose, no direction, no aim, no meaning, and yet I'm happy. I can't figure it out. What am I doing right?"

Jeffrey Lebowski, The Dude

The uber-dude. Helped to bring Dudeism to the forefront of modern consciousness. If not for him, we'd still be stuck in the dude dark-ages. He's Dude Vinci, Isaac Dudeton, and Charles Dudewin all rolled into one. Or just, His Dudeness, if you're into that whole brevity thing.

Quincy Jones, Urban Dude/Producer/ Musician/Songwriter

Quincy Jones' nickname was "The Dude," and though his 70s urban cult of Dudeism is slightly different than present-day orthodox Dudeism, it still exalts the groovy over the square, the heartfelt over the phony, and the afro over the buzz-cut. At least it did until he started going bald.

Jennifer Lawrence, Angelic, yet down-to-earth-actor

Despite her endearing good looks and the undying affection of everyone on Earth, Lawrence hasn't let stardom warp her. Deeply down to earth and often refreshingly casual, she's also an outspoken Big Lebowski fangirl. She even played Maude in a high profile public reading of the screenplay.

The Buddha, Nepalese Sage

In keeping with the idea that the ideal Dude abandons the trappings of society and goes it his own way, there is no better candidate for Dudeism than the Buddha. Born a rich prince, he bailed on his birthright and taught that you should go with the flow. Chicks also dug him like crazy but none ever tied him down, cause Nirvana was what he was all about, man. Righteous.

Jesus Christ, Bearded prophet of the meek and early archetype of the 1960s hippie.

Jesus was born Jewish, but then converted to Dudeism after he realized that the Romans and the Pharisees were fucking fascists. Today lots of people think he's the son of the guy who created the universe and that our life is in his hands. But probably he was just a dude who thought people should mellow out and stop getting so worked up about stuff. Sadly, few of his followers seem to actually realize that. Remember: There's not a literal connection.

David Grayson, Alter-ego of Pulitzer-prize winning author Ray Stannard Baker

David Grayson wasn't a real person, but no one knew that for a long time. Intellectual writer Ray Stannard Baker longed for a life out in the pastures and so wrote a series of seemingly-autobiographical books under this nom-de-dude. The series speaks of the comfort of a simple life without too much work, surrounded by nature and good friends. Baker was forced to admit the truth after the character grew in such popularity that others were claiming to be him. The dude will out. To thine own self be dude.

Jerry Garcia, Guitar canoodler extraordinaire

Roll away, the dude. Got a little carried away with the drugs, but it wasn't because of psychic torment or weakness of character. He just liked them and maybe they made him play better. He was universally reknowned as an all-around nice guy with a live and let live attitude and appropriately-dudeish facial hair.

Joni Mitchell, Angel-voiced troubador of the unpaved

While most of the sixties rock revolution was fomented by guys, the ladies seemed to end up as notches in their frayed leather belts of free love, or dead from intemperance like Mama Cass and Janis Joplin. Not so for the quintessentially cool dudeist saint Mitchell who sang smartly about individualism while smoking and cursing like a sailor and living life on her own terms. She paints pretty good too.

Mohandas "Mahatma" Gandhi, Peace-loving subcontinental pacifist

Calmer than you are. Calmer than anyone ever anywhere. Gandhi was never, ever un-dude. He practically invented modern pacifism, not to mention shabby chic – he showed up to stuffy English parliament in nothing more than a ratty sheet. He also invented the sit-in, the hunger strike and the cool 1960s specs. He was the man in the white pajamas.

Walt Whitman, Turned the hobo zero into a boho hero

Never had anything approaching a permanent job. Wandered all over the place. Became a famous poet unexpectedly and accidentally, while poseur contemporaries like Emerson and Thoreau struggled to make sure everyone thought they were hip and bohemian. Was a literate friend to the common man, never really acknowledged his fame, and even though he was probably gay, adamantly refused to iron his clothes.

Julia Child, Brought fine cuisine to the common man

If not for Madame Julia, most Americans afflicted with a bad case of the munchies would only have overboiled 1950s cooking to turn to. But this huge, burly woman proved that you can be working-class and sloppy-looking and still eat good grub. She took the snobbery out of eating well – on one episode of her TV show she accidentally dropped food on the floor and then unceremoniously threw it back in the pan. Right on, Grey Poupon.

Jeff Spicoli, Quintessential Surfer Dude

Surfers are responsible for the resurgence of the term "dude" in the 1970s so it would be downright unholy to omit their pop culture patron saint, Jeff Spicoli, Sean Penn's character in the 1980s movie "Fast Times at Ridgemont High." Spicoli summed up the dude ethos in this perfectly pithy riposte to another character's suggestion that he get a job: "What for? All I need are some tasty waves, a cool buzz, and I'm fine." He also had the brilliant idea of ordering delivery pizza during history class. Though he almost failed history, he totally aced Dudeist Ethics 101. Radical!

Kurt Vonnegut, Modern day Dudeist philosopher

"I tell you, we are here on Earth to fart around, and don't let anybody tell you different." So wroteth one of the greatest writers of Dudeist novels ever. While few of his books really even had plots, they were so packed with witty, quotable sayings and iconoclastic, easygoing ideas to live by that it hardly mattered. In fact, the very idea that plots were a part of life was anathema to him. Consistently imploring the world to shrug rather than assert, his essential philosophy was that life on earth is totally and utterly nonsensical so just try to have as good a time as possible without blowing anything up. So it goes.

Have any suggestions for additional dudes? Please suggest them to us.Check out more Great Dudes in History at Abide University and The Dudespaper.

***

The Take it Easy Manifesto

by Rev. Dwayne Eutsey, Arch Dudeship

[Uncle Sam Says:] I WANT YOU TO TAKE IT EASY

THERE'S A RELIGION for its time and place…It fits right in there, helps us abide

through all the strikes and gutters, the ups and downs of the whole durned human comedy. It really ties your life together.

And the religion for our time and place is Dudeism.

Of course, nihilists and reactionaries will probably dispute that—when they're not throwing marmots into your bathtub or coffee cups at your forehead. That's why

you need to know how to respond when someone who is un-Dude asks you what the fuck you're talking about when you tell them about Dudeism.

Now, it's a basic tenet of the Dudeist ethos to just say "Fuck it," or "Yeah, well, that's just, like, your opinion, man," when someone micturates upon our faith. But we're talking about unchecked theological aggression here, drawing a line in the spiritual sand, Dude.

Across this line you do not—also, Dude, "faith" is not the preferred nomenclature—"worldview," please.

So, What the Fuck am I Talking About?

Lost my train of thought there.

Anyway, in defending whether Dudeism is really a religion, worldview, or what-have-you, a Dudeist must first address a very basic question: What makes a religion? Is it being prepared to do the right thing, whatever the cost? Isn't that what makes a religion? Or is it that along with a pair of testaments?

IF YOU WILL IT, DUDE, IT IS NO DREAM

Well, Dude, we just don't know.

Religion is a very complicated thing. A lotta scriptural ins, a lotta ritual outs…a lot of ecclesiastical strands to keep in your head, man. There is a lot about religion that doesn't make a whole lot of sense to us. It can be quite stupefying, in fact.

But there are some basic tools that can help put you in a unique position to confirm or disconfirm whether Dudeism is a religion.

First off, it's good to define what in God's holy name we're blathering about when we say the word "religion".

A wiser fellah than myself once said that "religion" has its root in the Latin word "ligo," or "to bind together." That's a good place to start, I guess

, because the tenets of Dudeism do indeed bind its diverse adherents together in one big round robin.

But there are other ways that can help you explain how Dudeism is a religion, and in English, too. Here are just a couple.

All Right, Let's Get Down to Cases

The beauty of Dudeism is its simplicity. Once a religion gets too complex, everything can go wrong.

That's why the "To What/From What/By What Means" method of identifying a religion is a great way to summarize the Dudeist ethos for your un-Dude friends.

DUDE, THE CHINAMAN IS NOT THE ISSUE HERE. ALSO, DUDE, CHINAMAN IS NOT THEPREFERRED NOMENCLATURE. ASIAN-AMERICAN, PLEASE.

For example, if you apply this method to Buddhism (a compeer of Dudeism), you can easily answer what the point of it is.

From what is Buddhism trying to liberate us? Suffering
To what state of being is Buddhism trying to bring us? Nirvana
By what means does Buddhism attempt do this? The Noble Eightfold Path.

Isn't that fucking interesting, man? Now let's apply it to Dudeism:

From what is Dudeism trying to liberate us? Thinking that's too uptight.
To what state of being is Dudeism trying to bring us: Just taking it easy, man.
By what means does Dudeism attempt do this? Abiding.

Now, that's fucking ingenious, if I understand it correctly.

If You Define It, It Is a DREEMMS

But what do Dudeists believe? Well, although you have your story and I have mine, there are certain things that bring us together and root us, like the aitz chaim he, in a shared community.

a common term used in Judaism. The expression can be found in Genesis 2:9, referring to the Tree of Life in the Garden of Eden. It is also found in the Book of Proverbs, where it is figuratively applied to "the Torah" Proverbs 3:18, "the fruit of a righteous man" Proverbs 11:30, "a desire fulfilled" Proverbs 13:12, and "healing tongue" Proverbs 15:4.

-- Etz Chaim, by Wikipedia

To help me clarify what I'm blathering about, I'll use the seven dimensions of religion identified by Ninian Smart (another wiser fellah than myself): Doctrinal, Ritual, Ethics, Experiential, Myth, Material, and Social…or, in the parlance of religious studies, DREEMMS).

JUST TAKE IT EASY, MAN! THE TAKE IT EASY MANIFESTO

Doctrinal

(the systematic formulation of religious teachings in an intellectually coherent form): Like Zen, Dudeism isn't into the whole doctrinal thing;

we prefer direct experience of takin'er easy

, and often contemplate two indiscernible Coens to achieve that modest task.

Perhaps the closest Dudeists come to having

a systematic formulation of our religious teachings is: "Sometimes you eat the bear, and, well, sometimes the bear, he eats you."

Is that some sort of Eastern thing? Far from it, Dude.

Ritual

(forms and orders of ceremonies): Dudeists are also not into the whole ritual thing, but there are some things we do for recreation that bring us together, like bowling, driving around, the occasional acid flashback, listening to Creedence. Some Dudeists are shomer shabbas, and that's cool.

a person who observes the mitzvot (commandments) associated with Judaism's Shabbat, or Sabbath, which begins at dusk on Friday and ends after sunset on Saturday.

-- Shomer Shabbat, by Wikipedia

Ethics

(rules about human behavior): Although this isn't 'Nam, there aren't many behavioral rules in Dudeism, either. However, we do recognize that we may enter a world of pain whenever we go over the line and

we are forever cognizant of what can happen when we fuck a stranger in the ass.

Experiential

(the core defining personal experience): Abiding and takin'er easy.

Myth

(the stories that work on several levels and offer a fairly complete and systematic interpretation of the universe and humanity's place in it):

The Big Lebowski is our founding myth

; just as the Christian Gospels, based on the Jesus of history, provide a portrait of the mythical Christ of faith who "died for all us sinners," the film, based on the Dude of history (Jeff Dowd), presents the mythical Dude of film (Jeff Bridges) who "takes it easy for all us sinners."

Material

(ordinary objects or places that symbolize or manifest the sacred or supernatural): That rug really tied the room together, did it not?

Social

(a system shared and attitudes practiced by a group. Often rules for identifying community membership and participation):

Racially we're pretty cool and open to pretty much everyone…pacifists, veterans, surfers, fucking lady friends, vaginal artists, video artists with cleft assholes, dancing landlords, doctors who are good men and thorough, enigmatic strangers, brother shamuses

…And proud we are of all of them.

Those we consider very un-Dude include: Rug-pissers, brats, nihilists, Nazis, human paraquats, pederasts, pornographers, fucking fascists, reactionaries, and angry cab drivers.

Friends like these, huh, Gary?

I CAN HAS IT EASY?

Aw, Hell. I Done Innerduced Dudeism Enough

LIFE IS A CYCLE. SOMETIMES YOU HAVE TO GET OFF. GRANE JACKSON'S FOUNTAIN STREET THEATRE THIS TUESDAY (NOTES WELCOME)

Although Dudeists may lack three thousand years of beautiful tradition, from Moses to Sandy Koufax, we do share the great spiritual insights espoused by many great Dudes throughout the ages. As our Dudely Lama once wrapped it all up for us:

"Life is short and complicated and nobody knows what to do about it. So don't do anything about it. Just take it easy, man. Stop worrying so much whether you'll make it into the finals. Kick back with some friends and some oat soda and whether you roll strikes or gutters, do your best to be true to yourself and others – that is to say, abide."

Knowing that, now you can die with a smile on your face without feelin' like the Good Lord gypped you. And that's what Dudeism's all about.

See ya later on down the trail.

Arch Dudeship Dwayne Eutsey is currently founding a Dudeist monastery for Irish monks: The Brotherhood Shamus

The Brotherhood Shamus: A Monastery for Private Investigations

by Rev. Dwayne Eutsey

Say what you will about the tenets of the Brother Shamus Monastic Order…at least it's an ethos.

St. Da Fino's Virtual Shrine of Our Special Lady is Dudeism's first contemplative order consisting of Brother Shamuses (and special ladies) devoted to following their innermost Dude.

What is a Brother Shamus?

Like our blessed patron St. Da Fino, who set out on his quest to crack the Knudsen Conundrum, Brother Shamuses (not to be confused with Irish monks) endeavor to explore life's most vexing mysteries.

At St. Da Fino's Virtual Shrine of Our Special Lady, Brother Shamuses join together to dig the Dude's work and contemplate Dudeism's enduring questions posed by the Dudester himself, such as:

•"Who the fuck are you, man?"

•"Why the fuck *are* you following the Dude?"

•"How ya gonna keep 'em down on the farm once they seen Karl Hungus?"

As everyone knows, there are no easy answers to these questions, and pondering them alone can sometimes cause a darkness to warsh over you, darker'n a black steer's tookus on a moonless prairie night, as a wiser feller than myself once rambled.

Click HERE to pray!

Why Become a Brother Shamus?

It is in the dark night of our most private snoopings that we unexpectedly encounter the Dude. Like St. Da Fino on the night of his epiphany, we must answer the Dude's call to "get out of that fucking car, man"—or, in the parlance of our times, to let go of the ego's steering wheel—before we can ever come face to face with our deepest Dudeness.

Unless you're adhering to a pretty strict drug regimen, though, you need compeers to help keep your mind limber enough to abide with the Dude.

Becoming a Brother Shamus through St. Da Fino's Virtual Shrine of Our Special Lady provides you with a supportive community that pools its resources, trades information, shares professional courtesies, has some burgers, some beers, a few laughs…and what have you.

How can you become a Brother Shamus?

1. Heed first the Dude's call to "get out of that fucking car, man."

2. Confess that you are indeed a dick.

3. Intend to do no harm.

4. Follow the Dude's admonition to fuck off, but without begrudging the Dude.

Once you have taken these teachings to heart, you may consider yourself a Brother Shamus. Fabulous stuff, man.

If you like, you may now make a prayer to "St. Dafino's Virtual Shrine of Our Special Lady". She is a good shrine, and thurrah.

THE PASSION OF THE JESUS. YOU GOT A DATE ASH WEDNESDAY, BABY

Also, please visit our Facebook Group.

Dwayne can be reached at

dwayne@dudeism.com
Teaching
Every year Will teaches the section on Hinduism in an introductory paper (RELS102). He also teaches papers directly connected with his research interests: religion in the south of India (RELS212/312), and interactions between Asian religions and the West (RELS220/320). His other teaching includes a paper on the culture of the body in Asian religions (RELS209/309), and another on World Christianity (RELS205/305). All of these papers are also offered by distance learning.
***************************
Against Invention: A richer history for 'Hinduism'
by The Religious Studies Project
February 19, 2018
In this interview Associate Professor Will Sweetman talks to Thomas White about the idea that 'Hinduism' and many of the other terms we use to classify religions—including the term religion itself—are modern inventions, emerging out of nineteenth-century inter-cultural contact and European colonialism. Will argues against this critique, and to make his case he draws on historical sources that discuss 'Hinduism' both outside of the anglophone ...
In 1781–82

Antoine-Louis-Henri Polier,

a Swiss Protestant who served in the English East India Company's army until 1775, had had copies of the Vedas made for him at the court of

Pratap Singh

at Jaipur. 122 Polier's intermediary was a Portuguese physician, Don Pedro da Silva Leitão. A doctor named Pedro da Silva Leitão had been present at the court of Jai Singh in 1728 and played a part in the negotiations with the Portuguese regarding the exchange of scientific knowledge, personnel, and equipment. He was long-lived, but Polier's friend may rather have been one of his descendants.

Jai Singh

had assembled a substantial collection of manuscripts from religious sites across India, and in the time of his successor Pratap Singh the library had contained the saṃhitās of all four Vedas in manuscripts dating from the last quarter of the seventeenth century. 123

Although Polier records that he had sought copies of the Veda without success in Bengal, Awadh, and on the Coromandel coast, as well as in Agra, Delhi, and Lucknow and had found that even at Banaras "nothing could be obtained but various Shasters, w.ch are only Commentaries of the Baids," he connects this not with the reluctance of the Brahmins but rather, like Bernier, with "the persecution the Hindous suffered throughout India" under Aurangzeb, noting that Jaipur had been spared because of the services rendered to the Mughal Emperor by Jai Singh.

By this it may be seen how little a dependence is to be placed in the assertions of those who have represented the Brehmans as very averse to the communication of the principles of their Religion—their Mysteries, and holy books.—In truth, I have always found those who were really men of science and knowledge, very ready to impart and communicate, what they knew to whoever would receive it and listen to them with a view of information, and not merely for the purpose of turning into ridicule, whatever was not perfectly consonant to our European Ideas, tenets and even prejudices—some of w.ch I much fear are thought by the Indians to be full as deserving of ridicule as any they have.—At the same time it must be owned, that all the Hindous,— the Brehmans only excepted, are forbidden by their Religion from studying and learning the Baids—the K'hatrys alone being permitted to hear them read and expounded: This being the case, it will naturally be asked—how came an European who is not even of the same faith, to be favoured with what is denied even to a Hindou?—To this the Brehmans readily reply—That being now in the Cal Jog or fourth age, in w.ch Religion is reduced to nought, it matters not who sees or studies them in these days of wickedness. 124

It is perhaps significant that it was in a royal library, rather than in a Brahmin pathasala, that Polier found manuscripts of the Vedas. 125 But the same is not true of the manuscripts acquired in Banaras only fifteen years later by

Henry Thomas Colebrooke

, during the period (1795–97) when he was appointed as judge and magistrate at nearby Mirzapur: "A working scholar, he sought manuscripts that 'had been much used & studied in preference to ornamented & splendid copies imperfectly corrected.'" 126 Moreover, in a letter to his father in February 1797 Colebrooke echoed Polier's sentiments:

I cannot conceive how it came to be ever asserted that the Brahmins were ever averse to instruct strangers; several gentlemen who have studied the language find, as I do, the greatest readiness in them to give us access to all their sciences. They do not even conceal from us the most sacred texts of their Vedas. 127

The several gentlemen would likely have included

General Claude Martin

,

Sir William Jones

, and

Sir Robert Chambers

. These were all

East India Company employees

who obtained Vedic manuscripts (

Jones

from

Polier

) in the last decades of the eighteenth century.

Why was it so much easier for

Polier

,

Colebrooke

, and others to obtain what it had been so difficult for the Jesuits and impossible for the Pietists? There are several differences in the context that might have played a part. Some are geographical: Were Brahmins in the south much more reluctant to transmit the Vedas than those in the north? Or was oral transmission more dominant—and therefore physical copies harder to come by—in the south? Others are historical, political, and economic: Is the lack of resistance encountered by Polier and Colebrooke to be explained by the significant shift in power dynamics as the English East India Company was transformed from a trading company to a territorial power? Anquetil Duperron was offered Vedas he could not afford; Le Gac was restrained by the mission's parlous finances; but the same did not apply to the wealthy men like Martin and Polier. Finally, there are religious considerations: Did it matter—as Polier suggests—that the East India Company men were not in India to convert Hindus to Christianity?

The difficulty the Jesuits experienced in obtaining copies of the Vedas is often exaggerated. Although Bouchet had reported in 1711 that he had been unable to obtain copies of the Vedas, the reluctance of Le Gac to respond to a request for the Vedas in 1726 from his fellow Jesuit Souciet indicates that in the period after Nobili the Jesuits in India did not regard this as a priority. Le Gac did not mention Brahmin secrecy in his responses to Souciet in 1726 and 1727, but rather the likely cost and doubtful utility of obtaining manuscripts or translations of the Vedas. His attitude changed only in 1728, with the intervention of Bignon and Le Noir. From that point, it took only two years for Calmette to obtain the Ṛg and Yajur Veda saṃhitās. Despite Calmette's statement about no European having been able to unearth this text "since India has been known," the evidence suggests rather that no European other than Nobili had seriously sought to obtain the Vedas. The "false" Vedas obtained by the Pietists two years after Calmette—and by Gargam and Pons six years before—are explicable by the flexibility of the term Veda; we do not need to postulate either duplicity or secrecy on the part of those who transmitted these texts.

The question of the availability of the texts in manuscript form touches on the hotly debated issue of the oral transmission of the Vedas. That there was a powerful presumption against writing down Hindu texts, and the Vedas in particular, is not controversial. "One who reads from a written text" (likhita-pāṭhaka) is included among a list of the six worst types of those who recite the Vedas. 128 Nevertheless, in a survey of Vedic manuscripts, mostly of southern provenance, from c. 1650–1850, Cezary Galewicz notes the paradox of a copyist who cites this very verse in the colophon of a manuscript of 1787 containing the fourth aṣṭaka of the Ṛgveda saṃhitā. 129 Of course, the fact that manuscripts of the Vedas existed by this period does not mean that all Brahmins who knew the Vedas would have had them also in manuscript form, still less that they would have been willing to sell or to transcribe them for Europeans. We do not have to fall into what Johannes Bronkhorst calls "the brahmanical trap" 130—imagining that the Vedas were never written down—in order to accept that the brahminical prejudice against writing down the Vedas would have meant that it was far less likely that European scholars would come across manuscripts of the Vedas than manuscripts of other texts. 131 But the Vedas did exist in manuscript, and Calmette's "hidden Christians" found there were also Brahmins prepared to part with, or to produce, manuscripts—even if they thought they were doing so only for other Brahmins.

Europeans were first able to acquire Hindu texts, in the 1540s and 1550s, because of Portuguese control in Goa. The extension of the English East India Company's territorial and military might in the later part of the eighteenth century would have changed the nature of interactions between Europeans and Indians elsewhere. 132 Colebrooke's experience in Mirzapur is perhaps the clearest instance of the effect of a shift in power dynamics, but Polier's success at the court of Pratap Singh in 1781—not yet within the direct ambit of British power—seems to owe more to the character of the court. Since the time of Jai Singh in the 1720s, the court at Jaipur had been involved in the exchange—partly mediated by Jesuits—of materials of scientific and scholarly interest with the Portuguese court. In 1734 Jai Singh invited Jean-François Pons and Claude Boudier, French Jesuits stationed in Bengal, to Jaipur. 133 Pons was also engaged in collecting manuscripts for Bignon, and had their trip not been cut short by illness it seems likely he would have preceded Polier in gaining access Jai Singh's collection of Sanskrit manuscripts.

-- The Absent Vedas, by Will Sweetman