John Lockwood Kipling
by Wikipedia
Accessed: 9/3/20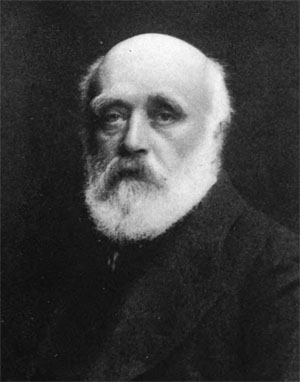 John Lockwood Kipling
Portrait of John Lockwood Kipling, by Hollinger.
Born: 6 July 1837, Pickering, North Yorkshire, England
Died: 26 January 1911 (aged 73), Tisbury, Wiltshire, England
Occupation: Art teacher, illustrator, museum curator
Spouse: Alice McDonald (m. 1865)
Children: Rudyard Kipling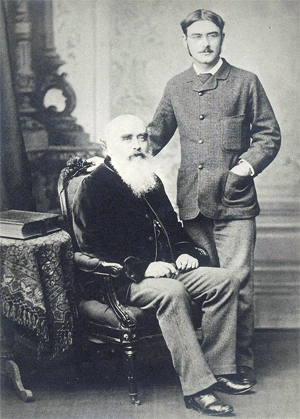 John Lockwood Kipling and Rudyard Kipling, c.1890
John Lockwood Kipling CIE (6 July 1837 – 26 January 1911) was an English
art teacher, illustrator, and museum curator who spent most of his career in India.
He was the father of
the author Rudyard Kipling
.[1]
Life and career
Lockwood Kipling was born in Pickering, North Yorkshire, the son of Reverend Joseph Kipling and Frances nee Lockwood,[2] and was educated at Woodhouse Grove School, a Methodist boarding school. He met his wife Alice MacDonald while working in Burslem, Staffordshire, where his designs can still be seen on the façade of the Wedgwood Institute.[3]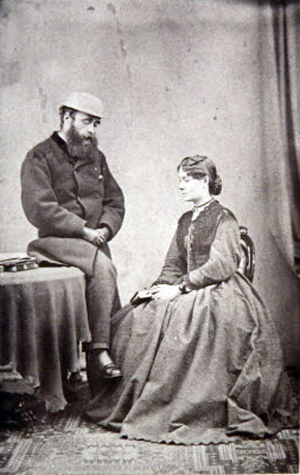 John Lockwood Kipling and Alice Kipling in India during 1870
Alice was the daughter of a Methodist minister, the Reverend George Browne Macdonald.
Kipling married during 1865 and relocated with his wife to India, where he had been appointed as a professor of architectural sculpture in the Jeejeebhoy School of Art in Bombay (now Mumbai), and later became its principal.[3]
Sir Jamsetjee Jeejebhoy and his Chinese secretary (1783–1859) portrait at the Sir J. J. School of Art

The Sir Jamsetjee Jeejeebhoy School of Art (Sir J.J. School of Art) is the oldest art institution in Mumbai

, and is affiliated with the University of Mumbai. The school grants bachelor's degrees in fine art and sculpture, and Master's degrees in fine art.

The School founded in March 1857, was named after Sir Jamsetjee Jeejebhoy, a businessman and philanthropist who donated Rs. 100,000 for its endowment.

Sketch of Jejeebhoy, 1857

Sir Jamsetjee Jejeebhoy, 1st Baronet Jejeebhoy of Bombay, CMG (15 July 1783 – 14 April 1859), also spelt Jeejeebhoy or Jeejebhoy, was a Parsi-Indian merchant and philanthropist. He

made a huge fortune in cotton and the opium trade with China

. He was considered Bombay's most worthy son.

Jejeebhoy was born in Bombay (now Mumbai) in 1783, the son of Merwanjee Mackjee Jejeebhoy and Jeevibai Cowasjee Jejeebhoy.

His father was a textile merchant from Olpad, Gujarat, who migrated to Bombay in the 1770s

. Both of Jeejeebhoy's parents died in 1799, leaving the 16-year-old under the tutelage of his maternal uncle, Framjee Nasserwanjee Battliwala.

At the age of 16, having had little formal education, he made his first visit to Calcutta and then began his first voyage to China to trade in cotton and opium.

Jejeebhoy's second voyage to China was made in a ship of the East India Company's fleet.

Under the command of Sir Nathaniel Dance, this ship drove off a French squadron under Rear-Admiral Charles-Alexandre Léon Durand Linois in the Battle of Pulo Aura.

On Jejeebhoy's fourth voyage to China, the Indiaman in which he sailed was forced to surrender to the French, by whom he was carried as a prisoner to the Cape of Good Hope, then a neutral Dutch possession. After much delay and great difficulty, Jejeebhoy made his way to Calcutta in a Danish ship. Undaunted, Jejeebhoy undertook another voyage to China which was more successful than any of his previous journeys.

By this time Jejeebhoy had established his reputation as an enterprising merchant possessed of considerable wealth.

In 1803, he married his maternal uncle's daughter Avabai (d.1870) and settled in Bombay, where he directed his commercial operations on an extended scale. Around this time, he changed his name from "Jamshed" to "Jamsetjee" to sound similar to names of the Gujarati community.

By the age of 40, he had made over two crore rupees, a staggering sum in those days. Further riches came to him from the cotton trade during the Napoleonic Wars. He bought his own fleet of ships. Lord Elphinstone, then Governor of Bombay, said of him, "By strict integrity, by industry and punctuality in all his commercial transactions, he contributed to raise the character of the Bombay merchant in the most distant markets."

In 1814, his co-operation with the British East India company had yielded him sufficient profits to purchase his first ship, the Good Success, and he gradually added another six ships to this, usually carrying primarily opium and a little cotton to China. By 1836, Jejeebhoy's firm was large enough to employ his three sons and other relatives, and he had amassed what at that period of Indian mercantile history was regarded as fabulous wealth.

Jejeebhoy was known by the nickname "Mr. Bottlewalla". "Walla" meant "vendor", and Jejeebhoy's business interests included the manufacture and sale of bottles on the basis of his uncle's business. Jejeebhoy and his family would often sign letters and checks using the name "Battliwala", and were known by that name in business and society, but he did not choose this assumed surname when it came to the baronetcy.

In 1818, he formed the business, trading and shipping firm "Jamsetjee Jejeebhoy & Co." with two other associates Motichund Amichund and Mahomed Ali Rogay as Jejeebhoy's business associates. He was later joined by a Goan Rogério de Faria. His voyages to China resulted in a long trading partnership with the Canton based company Jardine Matheson & Co. The connection with Jeejeebhoy was instrumental as Jardine and Matheson built up their great firm, continuing the profitable and amiable association with the Parsi entrepreneur. Jeejeebhoy long continued as one of the close associates who served as underwriters to Jardine, Matheson and Company. A tribute to their connection exists even today in a portrait of Jeejeebhoy which hangs in Jardine's Hong Kong office. He was seen as the chief representative of the Indian community in Bombay by the British Imperial authorities.

In the 1920s, the U.S. threw its weight behind Chiang Kai-shek, whose Kuomintang Party was fighting the Communists and several other warlords for control of China. The U.S. was competing with the other colonial nations for control of China, which had a cheap labor force and represented billions in profits for U.S. corporations and investors. The problem was that the Kuomintang supported itself through the opium trade.

It's well documented in the diplomatic cables between the U.S. government and its representatives in China. Historians Kinder and Walker said the Commissioner of the Bureau of Narcotics, Harry Anslinger, "clearly knew about the ties between Chiang and opium dealers."

Anslinger knew that Shanghai was "the prime producer and exporter to the illicit world drug markets," through a syndicate controlled by Du Yue-sheng, a crime lord who facilitated Chiang's bloody ascent to power in 1927

. As early as 1932, Anslinger knew that Chiang's finance minister was Du's protector. He'd had evidence since 1929 that American t'ongs were receiving Kuomintang narcotics and distributing it to the Mafia. Middlemen worked with opium merchants, gangsters like Du, Japanese occupation forces in Manchuria, and Dr. Lansing Ling, "who supplied narcotics to Chinese officials traveling abroad." In 1938 Chiang Kai-shek appointed Dr. Ling head of his Narcotic Control Department.

In October 1934, the Treasury attache in Shanghai "submitted reports implicating Chiang Kai-shek in the heroin trade to North America."

In 1935 the attache reported that the Superintendent of Maritime Customs in Shanghai was "acting as agent for Chiang Kaishek in arranging for the preparation and shipment of the stuff to the United States."

These reports reached Anslinger's desk, so he knew which KMT officials and trade missions were delivering dope to American t'ongs and which American Mafia drug rings were buying it. He knew the t'ongs were kicking back a percentage of the profits to finance Chiang's regime.

After Japanese forces seized Shanghai in August 1937, Anslinger was even less willing to deal honestly with the situation. By then Du was sitting on Shanghai's Municipal Board with William J. Keswick, a director of the Jardine Matheson Shipping Company. Through Keswick, Du found sanctuary in Hong Kong, where he was welcomed by a cabal of free-trading British colonialists whose shipping and banking companies earned huge revenues by allowing Du to push his drugs on the hapless Chinese. The revenues were truly immense: according to Colonel Joseph Stilwell, the U.S. military attache in China, in 1935 there were "eight million Chinese heroin and morphine addicts and another 72 million Chinese opium addicts."

Anslinger tried to minimize the problem by lying and saying that Americans were not affected. But the final decisions were made by his bosses in Washington, and from their national security perspective, the profits enabled the Kuomintang to purchase $31 million worth of fighter planes from arms dealer William Pawley to fight the Communists, and that trumped any moral dilemmas about trading with the Japanese or getting Americans addicted.

It's all documented. Check the sources I cite in my books. Plus, U.S. Congressmen and Senators in the China Lobby were profiting from the guns for drugs business too. They got kickbacks in the form of campaign funds and in exchange, they looked away as long as Anslinger told them the dope stayed overseas. After 1949, the China Lobby manipulated public hearings and Anslinger cooked the books to make sure that the Peoples Republic was blamed for all narcotics coming out of the Far East. Everyone made money and after 1949 the operation was run out of Taiwan, with CIA assistance.

-- The CIA as Organized Crime: How Illegal Operations Corrupt America and the World, by Douglas Valentine

The Keswick family (pronounced with a silent "w", "Kezzick") are a business dynasty of Scottish origin associated with the Far East since 1855 and in particular the conglomerate Jardine Matheson.

As tai-pans of Jardine Matheson & Company, the Keswick family have at some time been closely associated with the ownership or management of the Hongkong and Shanghai Banking Corporation, the Indo-China Steam Navigation Company Ltd., the Canton Insurance Office Ltd, (now the HSBC Insurance Co), The Hongkong and Kowloon Wharf and Godown Company Limited, Star Ferry, Hong Kong Tramway, the Hong Kong Land Investment and Agency Co Ltd, and the Hongkong and Whampoa Dock Co Ltd.

The Hon. William Keswick (1834–1912)

The founder of the dynasty, he was born in 1834, in Dumfriesshire in the Scottish Lowlands. His grandmother, Jean Jardine Johnstone was an older sister of Dr. William Jardine, the founder of Jardine Matheson & Company. His father Thomas Keswick had married Margaret Johnstone, Jardine's niece and daughter of Jean, and entered the Jardine business.

The company operated as opium traders and had a major influence in the First and Second Opium Wars although the company stopped this trading in 1870 to pursue a broad range of other trading interests including shipping, railways, textiles and property development.

William arrived in China and Hong Kong in 1855, the first of five generations of the Keswick family to be associated with Jardines. He established a Jardine Matheson office in Yokohama, Japan in 1859. He returned to Hong Kong to become a partner of the firm in 1862. He became managing partner (Taipan) from 1874 to 1886. He left Hong Kong in 1886 to work with Matheson & Co. in London as a senior director responsible only to Sir Robert Jardine (1825–1905), a son of David Jardine, William Jardine's older brother and the head of Mathesons in London.

-- Keswick family, by Wikipedia

An essentially self-made man, having experienced the miseries of poverty in early life, Jejeebhoy developed great sympathy for his poorer countrymen. In his later life he was occupied with alleviating human distress in all its forms. Parsi and Christian, Hindu and Muslim, were alike the objects of his beneficence. Hospitals, schools, homes of charity and pension funds throughout India (particularly in Bombay, Navsari, Surat, and Poona) were created or endowed by Jejeebhoy, and he financed the construction of many public works such as wells, reservoirs, bridges, and causeways. By the time of his death in 1859, he was estimated to have donated over £230,000 to charity. His philanthropic endeavours began in earnest in 1822, when he personally remitted the debts of all the poor in Bombay's civil jail...

Jejeebhoy's services were first recognised by the British Empire in 1842 by the bestowal of a knighthood and in 1857 by the award of a baronetcy. These were the very first distinctions of their kind conferred by Queen Victoria upon a British subject in India.

On Jejeebhoy's death in 1859, his Baronetcy was inherited by his eldest son Cursetjee Jejeebhoy, who, by a special Act of the Viceroy's Council in pursuance of a provision in the letters-patent, took the name of Sir Jamsetjee Jejeebhoy as second baronet.

-- Jamsetjee Jejeebhoy, by Wikipedia

Operations were managed by a committee headed by the Chief Justice of Bombay. The School's first class was in drawing, and began on 2 March 1857. Classes were held at the Elphinstone Institution.

John Griffiths became Principal of the School in 1865. He later became famous for copying the murals in the Ajanta Caves temple complex, a project which lasted from 1872 to 1891, and which the School's students assisted in.

A portrait from the Welsh Portrait Collection at the National Library of Wales.

John Griffiths (29 November 1837 – 1 December 1918) was a British artist who worked in India,

noted for his Orientalist works

.

He was born in Llanfair Caereinion, Montgomeryshire, on the 29 November 1837, son of Evan Griffiths and his wife Mary Evans of Machynlleth; on his father's death,

his mother became housekeeper to Sir James Clark, physician to Queen Victoria.

The boy was brought up by his uncle Richard Griffiths, of Neuadd Uchaf farm, Llanfair. Noting his artistic leanings,

Sir James had him trained at what is now the Royal College of Art.

He then worked at the South Kensington museum, now the V&A, and was engaged in decorating its buildings.

He became a Professor of Art and moved to Bombay in 1865 as the principal of the Sir Jamsetjee Jeejebhoy School of Art in Bombay. His chief associate and friend there, was John Lockwood Kipling, father of Rudyard Kipling (Griffiths was a godfather to Rudyard)

. It was under Griffiths's superintendence that much of the decoration of the new public buildings of Bombay was designed. Griffiths undertook many commissions, including work on the Victoria Terminus and the High Court. After his decade in Bombay,

Griffiths was appointed Principal of the Mayo School of Art and Curator of the Museum in Lahore

, now in Pakistan.

One of his major works was the copying of paintings in the Buddhist temples at Ajanta which were published in two large folio volumes "The paintings in the Buddhist Cave Temples at Ajanta".

-- John Griffiths (artist), by Wikipedia

In 1866, management of the school was taken over by the Government of India. Also in 1866, Lockwood Kipling, who had become a professor of the School in 1865, established three ateliers for (i) Decorative Paintings, (ii) Modelling; and (iii) Ornamental Wrought Iron Work, and became its first dean. He was the father of the author Rudyard Kipling, who was born on the School's campus. In 1878, the school moved to its own building, where it is currently situated. The building was designed by architect George Twigge Molecey, in neo Gothic architecture. The School campus, including the Kipling House, better known as the Dean's Bungalow, is classified as Grade II heritage structure by the Government of Maharashtra, and underwent a restoration in 2002-2006, and again in 2008.

Drawing instruction as a subject was introduced in 1879 and a programme for training drawing teachers was started in 1893. In 1891 the Lord Reay Art Workshops (now known as the Department of Art-Crafts) were established.

The School had an important tradition in architecture. In 1900, the School offered its first course in architecture, taught by John Begg, later Consulting Architect of Bombay and of the Government of India.

John Begg, commonly known as Jack Begg, (20 September 1866 – 23 February 1937) was a Scottish architect, who practised in London, South Africa and India, before returning to Scotland to teach at Edinburgh College of Art from 1922-1933...

He arrived in India in 1901 as Consulting Architect to Bombay. In 1906 he became Consulting Architect to the Government of India. He, with George Wittet, was responsible for the evolution of the Indo-Saracenic style of architecture. Begg's best-known building is the General Post Office in Bombay.

Madras High Court

The Victoria Memorial

The Chhatrapati Shivaji Maharaj Terminus

Islamia College

The Rambagh Palace

Vidhana Soudha, Bangalore

Kuala Lumpur Railway Station

Ahsan Manzil in Dhaka

Curzon Hall in Dhaka

Tajhat Palace in Rangpur

Rose Garden Palace

Chittagong Court Building

Mysore Palace

Mumbai GPO, reminiscent of the Gol Gumbaz

Khalsa College, Amritsar

Daly College, Indore

Chepauk Palace

Lahore Museum, Lahore

Karachi Metropolitan Corporation Building, Karachi

Patiala Block of King Edward Medical University, Lahore

Indo-Saracenic, also known as Indo-Gothic, was a revival architectural style mostly used by British architects in India in the later 19th century, especially in public and government buildings in the British Raj, and the palaces of rulers of the princely state, reflecting and imitating contemporary and earlier high Indian architecture. It sought to replicate from Imperial Indian architecture, including Rajasthani, Mughal and Maratha eras, which the British regarded as the classic Indian style.

The basic layout and structure of the buildings shared commonalities to that used in contemporary buildings in other styles, such as Gothic revival and Neo-Classical. Saracen was a term used in Europe until the 19th century referring to Muslim and/or Arabic-speaking people and regions of the Middle East and North Africa.

The style drew from western exposure to depictions of Indian buildings from about 1795, such as those by William Hodges and the Daniell duo (William Daniell and his uncle Thomas Daniell). The first Indo-Saracenic building is said to be the Chepauk Palace, completed in 1768, in present-day Chennai (Madras).

Bombay and Calcutta (as they then were), as the main centres of the Raj administration, saw many buildings constructed in the style

, although Calcutta was also a bastion of indigenous European Neo-classical architecture fused with Indic architectural elements. Most major buildings are now classified under the Heritage buildings category as laid down by the Archaeological Survey of India (ASI), and protected.

The style enjoyed a degree of popularity outside British India, where architects often mixed Islamic and European elements from various areas and periods with boldness, in the prevailing climate of eclecticism in architecture. Through architects and engineers transferred from India, the style was adopted in British Ceylon (present-day Sri Lanka) and the Federated Malay States (present-day Malaysia). The British were also keen to transfer the style outside the Indian Empire and the British Far East to the United Kingdom itself, with several examples of Indo-Saracenic architecture going up in the country, for example at the Royal Pavilion in Brighton, and the eccentric Sezincote House in Gloucestershire.

The wider European version, also popular in the Americas, is Moorish Revival architecture, which tends to use specific South Asian features less, and instead those characteristic of the Arabic-speaking countries; Neo-Mudéjar is the equivalent style in Spain.

-- Indo-Saracenic architecture, by Wikipedia

He served as President of the Royal Incorporation of Architects in Scotland in 1932.

-- John Begg, by Wikipedia

A complete 4-year programme was established in 1908 under Begg's assistant George Wittet. In 1917, architect Claude Batley became a visiting professor; he was Principal of the School from 1923 to 1943, and is commemorated in the Claude Batley Architectural Gallery for architectural exhibitions, opened in 1996.

In 1896, the Draughtsman's classes, the nucleus of the Department of Architecture, were added. This Department was later organised for a 3 years Diploma Course which was duly recognised by the R.I.B.A. Board.

In 1910, the Sir George Clarke Studies and Laboratories were built for the advanced study of crafts, pottery being the first craft taken up for study. In 1929, the head of the School was renamed "Director", and in 1935, the Department of Commercial Art was also started.

In 1937 M.R. Acharekar was appointed deputy director and continued his tenure till 1939. Shri. V. S. Adurkar was the first Indian head of the school, succeeding Claude Batley as Director in 1943.

-- Sir Jamsetjee Jeejebhoy School of Art
Their son was born soon after, in December 1865, and was christened Rudyard after Rudyard, Staffordshire, the place where his parents had first met;[3] their daughter Alice Kipling was born in 1868. His life-long friend John Griffiths, whom he had met whilst working together at the South Kensington Museum and worked with him at the Bombay School of Art, became Rudyard's godfather.[4]
During 1870–1872 Kipling was commissioned by the government to tour the Punjab, North-West Frontier and Kashmir and make a series of sketches of Indian craftsmen as well as various sights and antiquities in these regions.[5][6][7] Several of these sketches are presently at the Victoria and Albert Museum whilst others were printed in a number of books.[3]

During 1875, Kipling was appointed the Principal of Mayo School of Arts, Lahore, British India (present day National College of Arts, Pakistan) and also became curator of the old original Lahore Museum which figured as the Wonder House or Ajaib Ghar in Kim,
[8] not to be confused with the present one.[9] He retired back to England in 1893.
Everybody... hurrying up to the Wonder House to view the things that men made in their own province and elsewhere. The Museum was given up to Indian arts and manufactures, and anybody who sought wisdom could ask the Curator to explain...

'Is it true that there are many images in the Wonder House of Lahore?'...

'That is the Government's house and there is no idolatry in it, but only a Sahib with a white beard. Come with me and I will show.'...

The Sahib in the Wonder House has talked to him like a brother...

'And the Sahib of the Wonder House talked to him—yes, this is truth as a brother. He is a very holy man, from far beyond the Hills...

Maybe thou wilt be such a Sahib as he who gave me these spectacles...in the Wonder House at Lahore. That is my hope, for he was a Fountain of Wisdom—wiser than many abbots.

-- Kim, by Rudyard Kipling
Kipling illustrated many of Rudyard Kipling's books, and other works, including Tales of the Punjab by Flora Annie Steel.
He also worked on the decorations for the Victoria and Albert Museum in London and friezes on the Crawford Market in Bombay. The friezes of the Crawford Mark are done in a Romano-gothic style. The west entrance displays trader and sack-scales with porter, planter and water carrier around a well-head, while the east features several bullock carts.[10] John Kipling designed the uniforms and decorations for the Imperial Assemblage at Delhi during 1877, organized by the Viceroy of India, Lord Lytton, at which Queen Victoria was proclaimed Empress of India.
During his tenure as the Principal of the Mayo School of Art, Lahore, he patronised indigenous artisans and by training and apprenticeship transformed them into craftsmen and designers. One of his protégés was Bhai Ram Singh, who assisted him in his imperial commission for decorating the Durbar Room at Osborne House. Kipling also remained editor of the Journal of Indian Art and Industry, which published drawings made by the students of the Mayo School.
He died in 1911, and is buried in the parish of Tisbury, Wiltshire.[11]
During 2017 the Bard Graduate Center had an exhibition of his work: John Lockwood Kipling: Arts & Crafts in the Punjab and London.[1]
Main published works
• Beast and Man in India: A Popular Sketch of Indian Animals in Their Relations with the People, Published by Macmillan and Co, London, 1891.
• Inezilla: A Romance in Two Chapters, by J.L.K. Reprinted from The Chameleon, Allahabad, [1873].
• Across the Border: Or, Pathân and Biloch, by Edward Emmerson Oliver, Illustrations by John Lockwood Kipling. Published by Chapman and Hall, 1890.
• Tales of the Punjab Told by the People, by Flora Annie Webster Steel, Richard Carnac Temple, John Lockwood Kipling. Published by Macmillan and co., 1894.
• The Two Jungle Books, by Rudyard Kipling. Illustrations by J. Lockwood Kipling, C.I.E., and W. H. Drake. Published by Doubleday, Doran & Company, Inc., New York, 1893.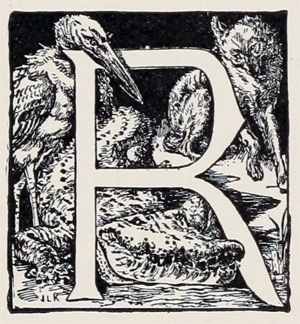 Illustration for a chapter capital in the 1895 edition of The Two Jungle Books (1895), a compilation of The Jungle Book and The Second Jungle Book, both by his son, Rudyard Kipling.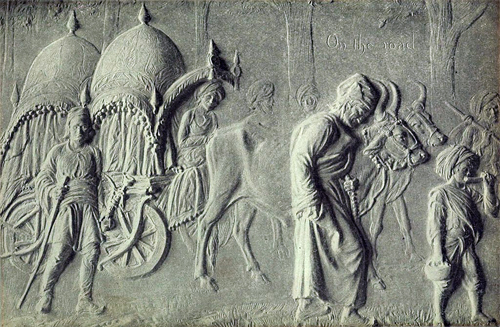 Bas-relief from a series illustrating Kim.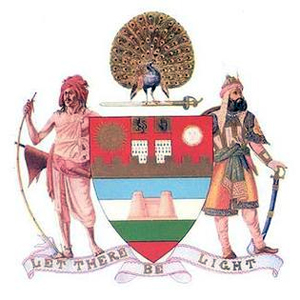 Mayo College, Ajmer, India Coat of Arms designed by (John) Lockwood Kipling.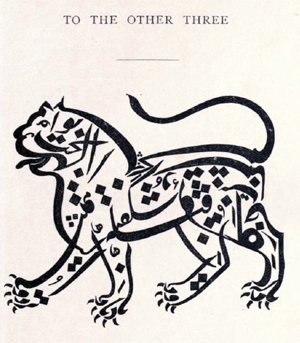 Cryptic dedication page with Arabic inscriptions.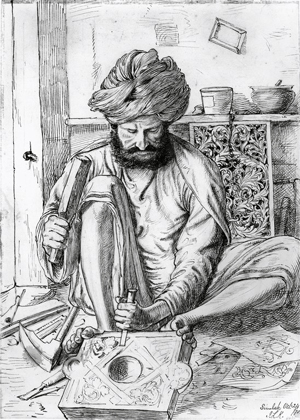 Wood Carver at Shimla, pencil and ink drawing by J. Lockwood Kipling, 1870.
See also
• Lockwood Kipling Fountain
References
1. John Lockwood Kipling, C.I.E. New York Times, 24 January 1892.
2. John Lockwood Kipling thepeerage.com.
3. Drawing by John Lockwood Kipling, and Biography Archived 21 April 2009 at the Wayback Machine Victoria & Albert Museum.
4.
http://collections.vam.ac.uk/item/O1055 ... iths-john/
5. "Lockwood Kipling: Arts & Crafts of Punjab and London". The Heritage Lab. 15 January 2017. Retrieved 31 July 2019.
6. "Book Illustration by John Lockwood Kipling". victorianweb.org. Retrieved 31 July 2019.
7. "Lockwood Kipling: Arts and Crafts in the Punjab and London – Exhibition at V&A Museum". Owlcation. Retrieved 31 July 2019.
8. Tarin, O, in 'The Kipling Journal', June 2008, pp 10–21
9. For details see Peter Hopkirk, Quest for Kim:In Search of Kipling's Great GameLondon: J Murray, 1996
10. Steggles, Mary Ann; Barnes, Richard (2011). British Sculpture in India: New Views and Old Memories. Norfolk: Frontier. p. 235. ISBN 978-1-872914-41-1.
11. Papers of John Lockwood Kipling University of Sussex.
Further reading
• The Pater: John Lockwood Kipling His Life and Times 1837–1911, by Arthur R Ankers, ISBN 1-871044-00-6
• The Kipling Papers: A List of Papers of John Lockwood Kipling 1837–1911, Joseph Rudyard Kipling 1865–1936, and of Some Papers of Josephine, Elsie and John Kipling from Wimpole Hall, Cambridge. by University of Sussex Library. Manuscripts Section, Rudyard Kipling. Published by University of Sussex Library, 1980. ISBN 0-85087-014-3.
• Official Chronicle of the Mayo School of Art: The formative years under Lockwood Kipling. (1875 to 1893), Researched and Introduced by Nadeem Omar Tarar. Samina Choonara (editor). National College of Arts, Lahore, 2003, ISBN 969-8623-00-0
External links
• Kipling Archive University of Sussex.
• Works by John Lockwood Kipling at Project Gutenberg
• Works by or about John Lockwood Kipling at Internet Archive
• Works held by the Victoria and Albert Museum
***********************************
MacDonald sisters
by Wikipedia
Accessed: 9/4/20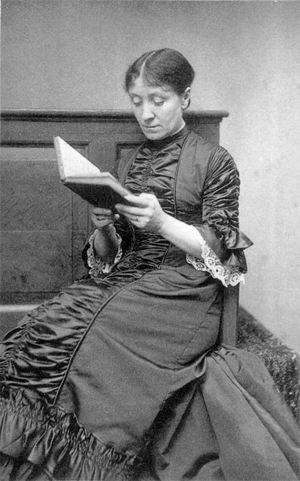 Georgiana Burne-Jones, née Macdonald c.1882, photographed by Frederick Hollyer
The Macdonald sisters were four Scottish women born during the 19th century, notable for their marriages to well-known men. Alice, Georgiana, Agnes and Louisa were the daughters of Reverend George Browne Macdonald (1805–1868), a Wesleyan Methodist minister,[1] and Hannah Jones (1809–1875).
Biographies
There were 11 children in the MacDonald family: seven daughters and four sons. Mary (1834–1836) was the firstborn; followed by Henry (1836–1891), nicknamed Harry, who introduced his younger sisters Georgiana and Agnes to his artistic friends, known as the Birmingham Set (a group of artists which included
William Morris
); then Alice; Caroline (1838–1854); Georgiana; Frederic William (1842–1928); Agnes; Louisa; Walter (1847-1847); Edith (1848–1937), who never married and lived at home until her mother's death; and Herbert (1850–1851).[2]
The Birmingham Set, sometimes called the Birmingham Colony, the Pembroke Set or later The Brotherhood, was a group of students at the University of Oxford in England in the 1850s, most of whom were from Birmingham or had studied at King Edward's School, Birmingham. Their importance as a group was largely within the visual arts, where they played a significant role in the birth of the Arts and Crafts Movement: The Set were intimately involved in the murals painted on the Oxford Union Society in 1857, and members William Morris, Edward Burne-Jones and Charles Faulkner were founding partners of Morris, Marshall, Faulkner & Co. in 1861.

The group initially met every evening in the rooms of Charles Faulkner in Pembroke College

, though by 1856 its dominant figure was Edwin Hatch.

The primary interests of the Birmingham Set were initially literary – they were admirers of Tennyson in particular – and they also read the poetry of Shelley and Keats and the novels of Thackeray, Kingsley and Dickens. The turning point in the group's interests took place when Morris and Burne-Jones, and through them the rest of the group, discovered the writings of John Ruskin and took to visiting English country churches and making pilgrimages to the medieval cities of France and Belgium.

In 1856 members of the Set published twelve monthly issues of the Oxford and Cambridge Magazine, which was created to propagate the group's views on aesthetics and social reform.

-- Birmingham Set, by Wikipedia
Alice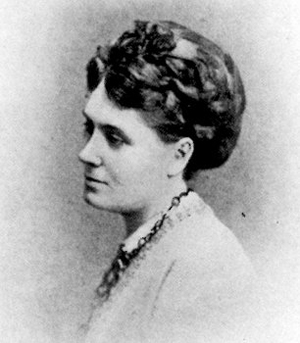 Alice Kipling
Alice (1837–1910) was born on 4 April in Sheffield.[3] She married John Lockwood Kipling whom she had met at Rudyard Lake in Staffordshire. They married in March 1865, after he was made Architectural Sculptor and Professor of Modelling at the School of Art and Industry in Bombay during the preceding January. Alice became the mother of Rudyard Kipling on 30 December 1865.[4] Lord Dufferin once said, "Dullness and Mrs Kipling cannot exist in the same room."[5][6][7]
Georgiana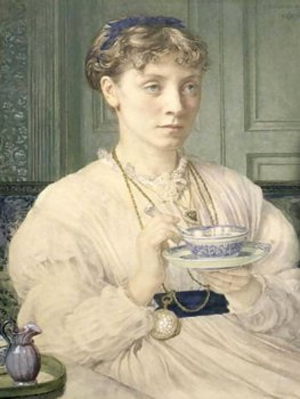 Georgiana Burne-Jones, about 1870, by her brother-in-law Edward Poynter
Georgiana's (1840–1920) father was relocated by the Methodist Conference to a Birmingham circuit and it was here that Georgie was born on 28 July 1840.[8] Agnes (1843–1906) and her sister Georgiana received attention from prospective suitors who were in the Birmingham Set. She married the pre-Raphaelite painter Edward Burne-Jones, a member of the Set, during 1859. They had three children, Philip, Christopher and Margaret - although Christopher died in infancy.[4] She became in time the mother-in-law of John William Mackail and grandmother of Denis Mackail and Angela Thirkell (born Angela Mackail).
Agnes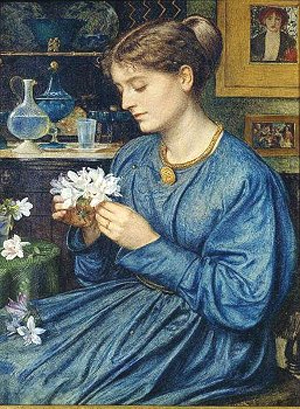 Agnes by her husband
Agnes was a talented pianist and thought to be the best looking of the sisters.[9] She and her sister Georgiana received attention from prospective suitors who were friends of her brother and members of the Birmingham Set.[4] She eventually married the future president of the Royal Academy Edward Poynter during 1866 in a double wedding with her quieter sister Louisa. Poynter appeared to be a manic depressive and he would paint continuously until finally collapsing when a work was finished. He was unemotional and it was Agnes who supplied the affection in their household.[9] Her husband later produced paintings of two of her sisters. She, Jane Morris and her sisters Louisa and Georgiana are thought to be the inspiration for figures of Burne-Jones' 1864 painting Green Summer.[10] Agnes is thought to have died during 1906 from cancer despite an operation in 1903.[9]
Louisa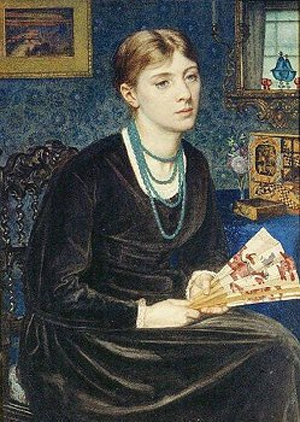 Louisa Baldwin 1868, by her brother-in-law Edward Poynter
Louisa (1845–1925) married the industrialist Alfred Baldwin during 1866 in a double wedding with her sister Agnes and Agnes' fiance Edward Poynter. Alfred and Louisa were the parents of a son who became UK prime minister Stanley Baldwin. After his birth Louisa seemed unhappy with her life in Worcestershire where her husband was an ironmaster. She had at least one miscarriage and spent time in a bath chair and days alone in darkness. Later commentators have noted that she would recover when on holiday and have proposed that her illness was due to hypochondria. She was in time the grandmother to Oliver and Arthur Baldwin, respectively the second and third Earls Baldwin of Bewdley. Louisa wrote novels, short stories, and poetry, sometimes credited as "Mrs Alfred Baldwin."[11][12][13]
Further reading
• Judith Flanders. A Circle of Sisters: Alice Kipling, Georgiana Burne Jones, Agnes Poynter, and Louisa Baldwin. ISBN 0-393-05210-9
• Ina Taylor. Victorian Sisters. (Weidenfeld and Nicolson, 1987) (Shortly to be republished by Ellingham Press)
References
1. Ina Taylor. Victorian Sisters. Weidenfeld and Nicolson, London p6 1987 ISBN 029779065X
2. "Person Page 2925". Thepeerage.com. Retrieved 2015-11-26.
3. Taylor, Ina Victorian sisters 1987 Weidenfeld & Nicolson p13 ISBN 029779065X
4. Jump up to:a b c Jill Berkiminez (15 October 2013). Dictionary of Artists' Models. Routledge. pp. 91–. ISBN 978-1-135-95914-2.
5. "The Life of Rudyard Kipling", Charles Carrington, 1955, p. 51.
6.
http://www.kiplingsociety.co.uk/rg_rival1.htm
7. The Long Recessional: The Imperial Life of Rudyard Kipling - David Gilmour - Βιβλία Google. Books.google.gr. Retrieved 2015-11-26.
8. Taylor, Ina Victorian sisters 1987 Weidenfeld & Nicolson p14 ISBN 029779065X
9. Jump up to:a b c "Macdonald sisters (act. 1837–1925) | Oxford Dictionary of National Biography". doi:10.1093/ref:odnb/9780198614128.001.0001/odnb-9780198614128-e-76071#odnb-9780198614128-e-76071.
10. Living in Wolverhampton, 1862-1867, Historywebsite, Retrieved 7 July 2016
11. "Baldwin, Louisa". Retrieved 2008-06-04.
12. Louisa Baldwin at the Internet Speculative Fiction Database
13. Mrs. Alfred Baldwin at the Internet Speculative Fiction Database