Bureau of Social Hygiene
by The Rockefeller Foundation Digital History
Accessed: 3/5/20
Bureau of Social Hygiene
From 1911 to 1934, the Bureau of Social Hygiene (BSH) funded research and sought to influence public policy on a number of issues related to sex, crime and delinquency. Although the BSH received contributions from a number of organizations, including the Rockefeller Foundation (RF), the Bureau was largely dependent upon the patronage of John D. Rockefeller, Jr. (JDR Jr.), who created the organization to address many of his own personal concerns and interests.
Research and Reform
The idea for the BSH originated in 1910, following JDR Jr.'s participation in a grand jury investigation of white slavery in New York City.
Motivated by frustration with temporary public commissions that could only recommend governmental action, JDR Jr. established a permanent and private body to deal directly with a variety of social ills, including prostitution, corruption, drug use and juvenile delinquency.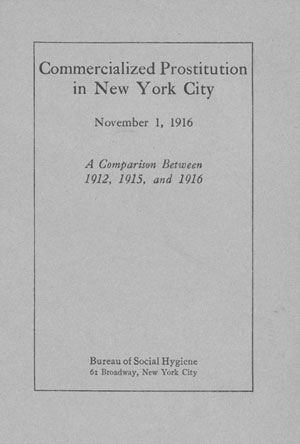 Pamphlet produced by the Bureau of Social Hygiene: "Commercialized Prostitution in New York City" 1916
The goals and projects of the BSH evolved over time.
Its earliest efforts concentrated on surveying the scope of prostitution in New York City and the reform of young women involved in the trade. The BSH commissioned George Kneeland to study various aspects of prostitution in New York City and offered Katherine Bement Davis of the Bedford Hills Women's Reformatory the resources to study the impact of prostitution on young women and the possible paths to reform. The BSH also devoted significant efforts to sex education, sponsoring the publication of materials related to sexual health and working with state departments of health to disseminate these materials among the general public.
The Root of the Problem
In 1917 [Katherine Bement] Davis was named general secretary of the BSH, and her appointment transformed the organization. She believed that prostitution could not be fully addressed without a deeper understanding of human sexuality. To promote this understanding, Davis spent years advocating for more scientific research into human sexuality. This advocacy helped to create a partnership between the BSH and the National Research Council (NRC) and to form the NRC's Committee for Research in the Problems of Sex.
The Committee for Research in Problems of Sex was established in 1921 following a proposal by Davis and Earl F. Zinn "[t]o undertake systematic comprehensive research in sex in its individual and social manifestations, the prime purpose being to evaluate conclusions now held and to increase our body of scientifically derived data."[1] The proposed fields of research included the psychological and physiological aspects of the "sex instinct," abstinence, masturbation, contraception, venereal disease and sexual relationships. Importantly, these fields of research were to be explored not only from medical and biological perspectives but also from a sociological perspective.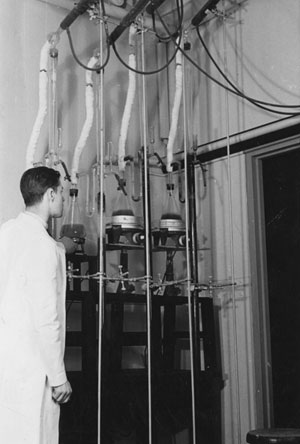 Yale University - endocrinology continuous extractor, 1940
Yet to the dismay of both Zinn and Davis, throughout the 1920s the Committee remained a relatively conservative organization controlled primarily by men trained in the medical sciences rather than the social sciences. The Committee repeatedly funded studies that focused on topics of animal biology and sexuality while ignoring proposed studies on human sexuality. In addition to being uncomfortable with topics of human sexuality and fearing a public backlash, committee members also expressed a general distrust of the social sciences.
Davis encountered significant obstacles from BSH trustees who sought to distance the BSH from its work in sex research and direct it towards topics deemed less controversial. Bowing to internal pressures, Davis retired in 1928, and with her retirement the BSH became more deeply involved in the field of criminology.
Beginning in 1931 the BSH planned its own demise by allowing all of its outstanding grants expire. By 1933 all BSH grants had concluded, and the organization effectively ceased operations, although it was not formally dissolved until 1940. Research into sex, including grants to fund the study of endocrinology and the work of Alfred Kinsey, was subsequently taken up by the RF [Rockefeller Foundation].
Notes:
[1]Outline Presented by Mr. Zinn, Earl F. Zinn, undated, Rockefeller Archive Center (RAC), Rockefeller Family Boards, RG III 2 O, Box 7, Folder 50.
***********************
Bureau of Social Hygiene
by Social Networks and Archival Context (SNAC)
Accessed: 3/5/20
Bureau of Social Hygiene
The Bureau of Social Hygiene resulted from the appointment of John D. Rockefeller, Jr. to a Special Grand Jury to investigate white slavery in New York City in 1910. In conferences taken in the course of this investigation, Mr. Rockefeller, Jr. became convinced that for a lasting improvement of conditions a permanent organization was needed.
On March 22, 1911, The Committee of Three, including Mr. Rockefeller, Paul Warburg and Starr J. Murphy [counsel for the Rockefeller Foundation and personal legal adviser of John D. Rockefeller for 17 years] met. The name "Bureau of Social Hygiene" was first used in October of that year, but was not used consistently until 1913.
In 1913 the Bureau was incorporated and its purpose was stated as " ... the study, amelioration, and prevention of those social conditions, crimes, and diseases which adversely affect the well being of society, with special reference to prostitution and the evils associated therewith." The Bureau would engage in research and education, publish reports, and employ and/or cooperate with other public or private agencies to obtain these goals.
The emphasis in the years from 1911 until the reorganization of 1928 was mainly on prostitution, the control of vice, and their relationships to police organization. Narcotics was also an early interest.

The General Secretary during the early years was Katharine Bement Davis. She resigned in 1928 and Lawrence B. Dunham was appointed Director. In 1929 the certificate of incorporation was amended and the emphasis on prostitution was dropped. From 1929-1934 the Bureau developed an interest in criminology. Studies and projects were still conducted in narcotics and social hygiene during this time.
The Bureau functioned through grants. It was not a foundation and had no set endowment.
In the early years, financial backing came from several sources including Paul Warburg, the New York Foundation, and John D. Rockefeller, Jr. Mr. Rockefeller was always the main contributor. Grants were occasionally channeled through the Bureau from the Spelman Fund of New York and the Rockefeller Foundation.
Grants were most often long range, covering periods of from three to five years. The Bureau did not interfere in the conduct of a project once the money had been granted, but it was careful in its selection of projects and kept in close touch for the duration of the grant.
The Bureau ceased making new appropriations in 1934 and by mid 1937 all the previous commitments had been brought to a close. Annual meetings were held until 1940 when the Bureau was dissolved on November 13th.
Associated With:
• American Birth Control League.
•
American Social Hygiene Association.
• British Social Hygiene Council.
• Bureau of Social Hygiene (New York, N.Y.)
• Flexner, Abraham, 1866-1959.
• Fosdick, Raymond B., 1883-1972.
• Frankfurter, Felix, 1882-1965.
• Glueck, Sheldon, 1896-
• Harrison, Leonard Vance, b. 1891.
• Hoover, J. Edgar 1895-1972.
Subjects:
• Birth control
• Correctional institution
• Crime and criminals
• Criminal behavior, prediction of
• Criminal investigation--Scientific
• Criminal law
• Criminal psychology
• Criminal statistics
• Drug control
• Eugenics