Ramaprasad Chanda
by Wikipedia
Accessed: 4/29/21
That the author of RC did not entertain a favourable opinion about Mahipala II is quite clear from the way in which he describes these two incidents, and specially from the words and phrases used in connection with them to describe the king's character. It is, however, noteworthy, that

while the episode of the great rebellion and the part played by the king therein are alluded to merely by way of a casual reference, in short detached phrases, unintelligible without the help of the commentary, the imprisonment of Ramapala is described at length in six verses

(I. 32-7). This is an important indication that the author's judgment of Mahipala was influenced mainly by the latter event. In other words, he considered Mahipala far more blameworthy for his conduct towards Ramapala than for the folly which led to the loss of Varendra. If we remember the open and professed partisanship of Sandhyakaranandi for his hero Ramapala, we should be cautious in accepting, at its face value, both his judgment of the king and his version of the cause and nature of the imprisonment of Ramapala. As regards the other incident which cost Mahipala his life and throne, if the commentator's view is to be accepted, the gravamen of the charge brought by the author against Mahipala consists of his lack of wisdom and good policy (aniti, durnnaya) and an inordinate passion for war (yuddha-vyasana) which led him to undertake a rash military enterprise in spite of the advice of his ministers to the contrary.

Apart from these two specific incidents the RC contains only one general reference to the character of Mahipala, in which he is described as 'rajapravara' which the commentator explains as nrpatisrestha or excellent king (I. 29). This passing reference, unconnected with any special incident, seems to indicate that Sandhyakaranandi did not fail to appreciate the general merits of Mahipala as a king, although he disapproved of his conduct towards his brothers.

But whatever view we might take of the attitude of the author towards Mahipala,

there is absolutely no justification for the following statement made by MM. Sastri:

"Mahipala by his impolitic acts incurred the displeasure of his subjects ..... The Kaivartas were smarting under oppression of the king. Bhima, the son of Rudoka, taking advantage of the popular discontent, led his Kaivarta subjects to rebellion." (p. 13)

There is not a word in RC to show that Mahipala incurred the displeasure of his subjects by his impolitic acts or that there was a general popular discontent against him. It is an amazing invention to say that "the Kaivartas were smarting under oppression of the king," for the RC does not contain a single word which can even remotely lead to such a belief. It is a travesty of facts to hold that Bhima led his Kaivarta subjects (?) to rebellion. The rebellion was led by a number of feudal vassals and there is no evidence to show that they belonged solely, or even primarily, to the Kaivarta caste. There is again nothing to show that Bhima had anything to do with the rebellion, far less that he led it. Such an assumption seems to be absurd in view of the fact that he was the third king in succession after Divya who occupied the throne of Varendra after the rebellion. There is again nothing in RC to show that during the reign of Mahipala the Kaivartas formed a distinct political entity under Divya or Bhima, so that they might be regarded as the subjects of the latter.

This tissue of misstatements, unsupported by anything in the text of RC, is responsible for a general belief that Mahipala was an oppressive king, and has even led sober historians to misjudge his character and misconstrue the events of his reign. A popular myth has been sedulously built up to the effect that there was a general rising of people which cost Mahipala his life and throne, that it was merely a popular reaction against the oppression and wickedness of the king, and that, far from being rebellious in character, it was an assertion of the people's right to dethrone a bad and unpopular king and elect a popular chief in his place. In other words, in fighting and killing Mahipala the people of Varendra were inspired by the noblest motive of saving the country from his tyranny and anarchy. Some even proceeded so far as to say that this act was followed by a general election of Divya as the king of Varendra, and a great historian has compared the whole episode with that which led to the election of Gopala, the founder of the Pala dynasty, to the throne of Bengal.1 [ A movement has been set on foot by a section of the Kaivarta or Mahisya community in Bengal to perpetuate the memory of Divya, on the basis of the view-points noted above. They refuse to regard him as a rebel and hold him up as a great hero called to the throne by the people of Varendra to save it from the oppressions of Mahipala. An annual ceremony — Divya-smriti-utsava -- is organized by them and the speeches, made on these occasions by eminent historians like Sir Jadunath Sarkar, Rai Bahadur Rama Prasad Chanda, and Dr. Upendranath Ghoshal [1886-1969; President of The Asiatic Society of Bengal 1963-1964; Author of: Studies in Indian history and culture (1957); A History of Hindu Political Theories: From the Earliest Times to the End of the First Quarter of the Seventeenth Century A.D. (1927); A History of Indian Public Life (1966); Ancient Indian culture in Afghanistan (1928); Contributions to the history of the Hindu revenue system (1929); The agrarian syste in ancient India (1930)] who presided over the function seek to support the popular views. On the other hand attempts have been made to show that these popular views are not supported by the statements in Ramacarita (cf. Bharatavarsa, 1342, pp. 18 ff.).]

This is not the proper place or occasion to criticise these views at length, or to refer to many other important conclusions which have been drawn from MM. Sastri's sketch of the life and character of Mahipala. But in view of the deep-rooted prejudices and errors which are still current in spite of the exposition of the unwarranted character of MM. Sastri's interpretation, it is necessary to draw attention to what is really stated in RC about the great rebellion and the part played by Divya. The author of RC did not regard the rising in any other light than a dire calamity which enveloped the kingdom in darkness (I. 22). He describes it as anika dharma-viplava or the unholy or unfortunate civil revolution (1. 24), bhavasya apadam or the calamity of the world, and damaram which the commentator explains as upaplava or disturbance (I. 27). Further, the latter describes it as merely a rebellion of feudal vassals (ananta-samanta-cakra), and not a word is said about its popular character. There is even no indication that the rebels belonged to Varendra or that the encounter between Mahipala and the rebels took place within that province. Such revolts were not uncommon in different parts of the Pala kingdom in those days. Similar revolts placed in power the Kamboja chiefs in Varendra and Radha, and the family of Sudraka in Gaya district.1 [For a detailed discussion of this point and a view of Divya's rebellion in its true perspective cf. Dr. R C. Majumdar's article 'The Revolt of Divvoka against Mahipala II and other revolts in Bengal' in Dacca University Studies Vol. I, No. 2, pp. 125 ff.]

There is not a word in RC to the effect that Divya2 [The name is written variously in RC as Divya (1. 38), Divvoka (1. 38-39 commentary), and Divoka (I. 31 commentary).] was the leader of a popular rebellion, far less that he was elected as king by the people. As a matter of fact his name is not associated in any way even with the fight between Mahipala and his rebellious chiefs (milit-ananta-samanta-cakra) referred to in Verse I. 31. The RC only tells us that "Ramapala's beautiful fatherland (Varendri) was occupied by his enemy named Divya, an (officer) sharing royal fortune, who rose to a high position, (but) who took to fraudulent practice as a vow" (I. 38). The account given in RC is not incompatible with the view that Mahipala met with a disastrous defeat in an encounter with some rebellious vassals in or outside Varendra, and Divya took advantage of it to seize the throne for himself. That the author of RC did not entertain any favourable view of the character and policy of Divya is clear from the two adjectives applied to him, viz., dasyu and upadhivrati. The commentator says 'dasyuna satruna tadbhavapannatvat.' It is obvious that the commentator means that the term dasyu refers to the enemy (Divya) as he had assumed the character of a dasyu (enemy). As to the other expression upadhivrati, the commentator first explains vrata as 'something which is undertaken as an imperative duty,' and then adds 'chadmani vrati.' In other words, Divya performed an act on the plea that it was an imperative duty, but this was a merely false pretension. In any case the two words in the text 'dasyu' and 'upadhi' cannot be taken by any stretch of imagination to imply any good or noble trait in his character.

-- The Ramacaritam of Sandhyakaranandin, by Dr. R. C. Majumdar, M.A., Ph.D., Dr. Radhagovinda Basak, M.A., Ph.D., and Pandit Nanigopal Banerji, Kavyatirtha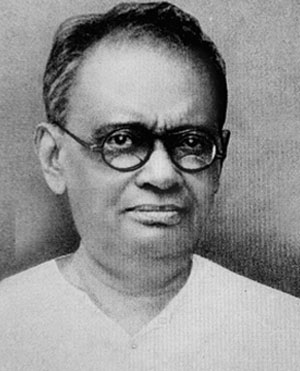 Ramaprasad Chanda
Born: 15 August 1873
Died: 28 May 1942 (aged 68)
Nationality: Indian
Occupation: Historian and archaeologist
Ramaprasad Chanda (15 August 1873 – 28 May 1942) was an Indian anthropologist, historian and archaeologist from Bengal. A pioneer in his field in South Asia, Chanda's lasting legacy is the Varendra Research Museum, he established in Rajshahi (located in present-day Bangladesh), a leading institute for research on the history of Bengal. He was the first head of the Department of Anthropology at the University of Calcutta from 1920- 1921. He was also a professional archaeologist and worked in the
Archaeological Survey of India
. Chanda was one of the founders the Indian Anthropological Institute and was its president during 1938–1942. He represented India in the first International Congress of Anthropology held in London in 1934. He had done original research on the somatic characters of Indian populations [anthropology of the body / anthropometry] by using ancient Indian literature and challenged H.H. Risley's (the first Census Commissioner of India) theory on Indian races.[1]
Anthropometry refers to the measurement of the human individual. An early tool of physical anthropology, it has been used for identification, for the purposes of understanding human physical variation, in paleoanthropology and in various attempts to correlate physical with racial and psychological traits. Anthropometry involves the systematic measurement of the physical properties of the human body, primarily dimensional descriptors of body size and shape.

The history of anthropometry includes and spans various concepts, both scientific and pseudoscientific, such as craniometry, paleoanthropology, biological anthropology, phrenology, physiognomy, forensics, criminology, phylogeography, human origins, and cranio-facial description, as well as correlations between various anthropometrics and personal identity, mental typology, personality, cranial vault and brain size, and other factors.

At various times in history, applications of anthropometry have ranged vastly—from accurate scientific description and epidemiological analysis to rationales for eugenics and overtly racist social movements.

-- Anthropometry, by Wikipeda
Publications
• Gaudarajmala, Rajshahi: Varendra Research Society (1912)
•
Indo Aryan Races, Rajshahi: Varendra Research Society (1916)
The Indo-Aryan Races. A Study of the Origin of Indo-Aryan People and Institutions. By Ramaprasad Chanda. Part i. Pp. xiii + 274. (Rajshahi: The Varendra Research Society, 1916.) Price Rs.6 8a.
Review, by Nature
November 23, 1916
© 1916 Nature Publishing Group

This book, we are told in the preface, was intended to provide "a monograph on the origin of the Bengali people," a useful project which had been supported by the newly founded Varendra Research Society. But his "notes," as the author modestly terms them, have developed into a series of essays on the religion, history, and ethnology of Ancient India. All that is provided as part of the original project is a short series of head measurements, published without commentary, which is intended to settle the question whether certain groups of Bengali Brahmans are, or are not, descendants of a few Brahmans imported from Kanauj. So far as we can judge from these scanty statistics the legend is without foundation; but the subject demands much more careful treatment before it can be finally settled.

The essays, modestly written and creditable to the scholarship of the author, traverse well-trodden ground. The great "Vedic Index" of Profs. Macdonell and Keith has already collected practically all the information that the Vedic literature supplies on Earlky India. But the byways of Sanskrit writings can still furnish some facts, and much still remains to be done, for the interpretation of these materials.

The author might with advantage return in his next venture to the original problem of the origin of the Bengalis. He would probably discard Risley's theory of Mongoloid infusion in favour of some early entry of an Alpine strain. If he can establish this doctrine he would do useful service to Indian ethnology.
• Letters and Documents Relating to the Life of Raja Rammohan Roy
References
1.
https://www.academia.edu/42225080/Obitu ... 2_pp.i-iii
• Chowdhury, Saifuddin (2012). "Chanda, Ramaprasad". In Islam, Sirajul; Jamal, Ahmed A. (eds.). Banglapedia: National Encyclopedia of Bangladesh (Second ed.). Asiatic Society of Bangladesh.
******************************
Obituary of Ramaprasad Chanda
Journal of the Indian Anthropological Institute
Vol. I, nos.1 & 2, pp.i-iii
1938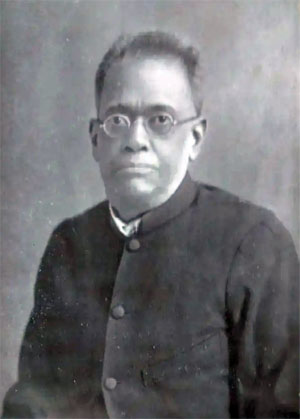 Rai Bahadur Ramaprasad Chanda, President, Indian Anthropological Institute, 1938-42
Born: 15th August, 1873
Died: 28th May, 1942
Late Rai Bahadur Ramaprasad Chanda, President, Indian Anthropological Institute, 1938-1942
We announce with deep regret the death of our President Rai Bahadur Ramaprasad Chanda, from Angina Pectoris, at Allahabad, on the 28th May, 1942, at the age of 69 years. He was one of the founders of the Indian Anthropological Institute and was elected its President in 1938.
For the last four or five years he had been suffering from high blood pressure and heart trouble, but inspite of all these, which at times were almost unbearable, he never lost interest in work and prepared several papers for publication. In him, India has lost a scholar of rare attainments who had devoted his life to the study of Ancient Indian History, Archaeology, Fine Arts and Anthropology.
Ramaprasad Chanda was born at Sridharpur, Dacca, on the 15th August, 1873. He graduated from the Duff College, Calcutta, after finishing his earlky education at Dacca. Through the many hardships and struggles he had to pass, he never lost heart and his confidence in his own ability never left him.
Some years after his graduation -- a period also devoted to research work -- he joined the Hindu School, Calcutta, as an Assistant Teacher and he was later on transferred to Rajshahi Collegiate School. The publication of Sir Herbert Risley's Report on the Census of India for 1901, created his interest in Anthropology and he devoted a great deal of time in investigating from the ancient literature of India the light it threw on the somatic constitution of the Indian people. These interesting researches have been embodied in his well-known work, "Indo-Aryan Races," where he refuted many of the wrong contentions of Risley.
In 1911, the late Rai Bahadur, Kumar Sarat Kumar Roy of Dighapatia and the well-known historian Aleshoy Kumar Maitra founded the Varendra Research Society at Rajsbahi for carrying on researches in the field of Ancient Indian History and Archaeology. They also established one of the finest Museums in Indian run entirelky by private enterprise. While at Rajshahi, he wrote the "Gaura Rajmala," the first scientifically writtenHistory of Bengal published by the aforesaid Society.
In 1917, he was attached to the Archaeological Survey of India and carried on explorations and excavations at various places of Northern and Southern India, and more particularlky at Taxilla, Sarnath and several places in Bengal.
In 1919, he joined the Department of Post-Graduate Studies of the Calcutta University as a Lecturer in Ancient Indian History. Soon after this, the late Sir Asutosh Mookerjee started the Department of Anthropology and placed him at its head where he remained till 1921. He reverted to the Archaeological Survey as Superintendent of the Archaeological Section of the Indian Museum, Calcutta, in the same year. He was closely associated with the Royal Asiatic Society of Bengal, of which he was a Fellow and Anthropological Secretary for many years. He retired from service in 1932 and presided over the Anthropological Section of the Indian Science Congress held at Bombay in 1934.
During this period he re-organised the sculptures of the Indian Museum, Sarnath and Muttra Museums and laid the foundation of the Archaeological Department of the Mayurbhanj State and conducted excavations on its behalf. He also established the Khiching Museum and wrote monographs on various subjects. He was a prolific writer and besides many well written and informative monographs and books he contributed innumerable articles to "Modern Review," "Prabasi" and many other journals.
In 1934, he went to London to attend the First International Anthropological Congress as a Delegate from India. While at London he delivered an illuminating lecture, before a distinguished gathering under the auspices of the India Society, on Dhyan Yoga in which he made clear the characteristics and styles of North and South Indian Sculptures. At the request of the authorities he re-arranged the antiquities of the Indian Section of the British Museum and later on wrote a monograph entitled "Medieval Indian Sculptures in the collection of the British Museum," which was highly spoken of by European scholars.
After his return from Europe and despite his physical ailments, which at times became acute and tiring, he collected and investigated the original documents bearing on the life of
Raja Ram Mohan Roy
in collaboration with Mr. J.N. Mazumdar. His researches resulted in a voluminous work on the life of the Raja, in which new light was thrown on his early life and activities.
It was his ambition to bring out up-to-date editions of "Gaura Rajmala" and "Indo-Aryan Races." He made considerable progress but unfortunately his sudden death left the works unfinished. Near about this time his untiring energy and zeal led him to form an Association for Historical Research in Bengal. The immediate programme of this Association was to bring out the History of Bengal in three volumes, comprising the (1) Hindu, (2) Muhammadan and (3) British periods in the Bengali language. This work, unfortunately, had to be postponed due to the unusual situation resulting from the present war but the late Rai Bahadur published some of the preliminary results of his researches in the form of short well-documented articles in Bengali in various journals and magazines which dealt with the History of Raja Kans Narayan of Gaur and the Twelve Barons of Bengal.
For a period of about 16 years had had been collecting materials and documents throwing light on the History of the Mayurbhanj and other Orissa States from the beginning of the British conquest. Of these the official letters and records relating to the History of the Mayurbhanj State had been edited by him during the last four years of his life and he saw them through the Press.
As a man he was a charming conversationist, a forgiving friend but very outspoken on matters which he considered to be right and just and maintained them with a great deal of warmth and vigour.
His regard for veracity made him very critical even of his own works, and he was untiring in his demands for truth and perfection, both in his literary criticisms and in his scientific researches. The example that he set as an honest and indefatigable worker in Indian History and Culture should inspire all future students in this field.