Part 1 of 2
A Genuine Narrative of the deplorable Deaths of the English Gentlemen, and Others, who were suffocated in the Black Hole in Fort-William, at Calcutta, in the Kingdom of Bengal; in the Night succeeding the 20th Day of June 1756.
In a Letter to a Friend.
from India Tracts, by Mr. J.Z. Holwell, and Friends.
The Second Edition, Revised and Corrected, with Additions.
1767
CONTAINING:
•
I. An Address to the Proprietors of East-India stock; setting forth, the unavoidable Nessssity, and real Motives, for the Revolution in Bengal, 1760.
• II. A Refutation of a Letter from certain Gentlemen of the Council at Bengal, to the Honourable the Secret Committee.
•
III. Important Facts regarding the East India Company's Affairs in Bengal, from the Years 1752 to 1760, with Copies of several very interesting Letters.
•
IV. A Narrative of the deplorable Deaths of the English Gentlemen who were suffocated in the Black Hole in Fort William, at Calcutta, June 1756.
• V. A Defence of Mr. Vansittart's Conduct.
ILLUSTRATED WITH: A FRONTISPIECE, representing the Monument erected at Calcutta, in Memory of the Sufferers in the Black Hole Prison.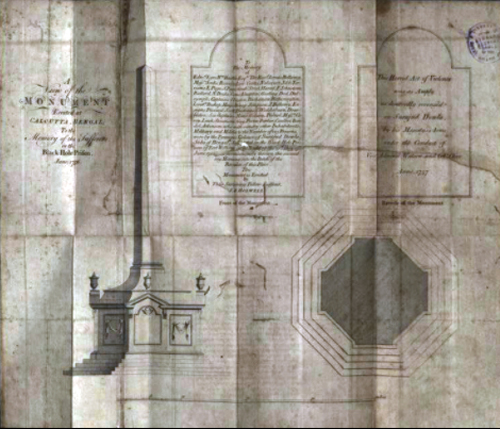 A View of the Monument. This Horrid Act of Violence was as Amply as deservedly revenged on Surajud Dowwla, by his Majesty's Arms, under the Conduct of Vice Admiral Watson and Col! Clive. Anno, 1757.
TO SIR WILLIAM BAKER, Knt., WILLIAM MABBOT, Esqr. and JOHN PAYNE, Esqr.
GENTLEMEN,
THE following small Tracts, in consequence of unprovoked injuries, were hastily thrown together, during the late clamorous disputes between Directors, Proprietors, and Candidates for the management of East-India affairs at home and abroad.-- How they came to be so hastily produced, and as hastily published, it seems requisite I should explain a little more at large.
At the beginning of these intestine broils, I was determined to avoid engaging on either side; and, to shun solicitation, I disposed of all the stock I stood possessed of', without retaining as much as might entitle me to a single vote; so truly desirous I was to enjoy in quiet that peaceful retirement, I had dearly purchased at the expence of so many difficulties, miseries, and heavy misfortunes as fell to my lot, while in the service of the Company.
Such, I say, were my resolutions, to which I should most strictly have adhered, if I had not found my character sirst indirectly, afterwards openly attacked, by the basest calumnies which were levelled against me in a manner, sudden, unmerited and unexpected.
UNDER these circumstances, there was a necessity of speaking for myself, and, which was still more unpleasing, I found myself likewise constrained to enter upon my vindication without delay. -- The pungency of these accusations -- the precipitancy of the times, and a disposition to take every thing for granted that was not immediately refuted; obliged me not only to dispatch them as quickly as was possible, but also to produce them in like hurry to the publick eye.
IT was from these accidents, which I could not either foresee or avoid, that they came into the world not so well digested, and with much less accuracy, than the candid part of mankind have a right to expect in every production that claims their consideration, and is submitted to their judgment.
To the same causes I may very justly refer those errors of the press, which were in some of them so numerous as scarce to to leave the sense intelligible; to say nothing of other mistakes in orthography and diction, all arising from the utter impossibility of allowing me time requisite to revise and correct the proof sheets.
IT is from a just sense of these involuntary imperfections, that I have been led to review, to reform, and to cast into somewhat a different shape, these little pieces, that were thus exposed; and to render them still clearer and more satisfactory, I have added some other Tracts, which, however reasonable, I had not the leisure to prepare, and which, from my observing the obscurity arising from their Omission, I conceived it my duty to add as soon as opportunity would permit.
My narrative of the fatal catastrophe at Calcutta, and that unexampled scene of horror to which so many subjects of Great Britain were exposed in the prison of the Black-Hole, has so close a connection with one of the pieces that precede it, has scarce to require an apology for reprinting it in this edition; presixing, as a frontispiece to the Volume, a Print of the Monument which I erected, at my own expence, to the memory of those unhappy sufferers.
MANY, if not most of the matters contained in these sheets, are to you, Gentlemen, very well known, as having been of- ten the subject of your deliberations; and, therefore, to whom could I so properly address them as to yourselves? -- Two of you sirst incited my endeavours, and directed my labours for the Company's interest. -- Mr. Payne, with the same distinguished zeal, encouraged and supported them; a zeal truely disinterested, for I was a stranger to you all; so that you could have no motive to the favour you bestowed, and the protection you so generously afforded me, except the warm and pure regard which you ever shewed, rather than professed, for that respectable body, whose concerns were then committed to your care.
You have, Gentlemen, frequently done me the honour to say, I did not disgrace your patronage, or disappoint your favourable expectations: to me this was the most ample reward -- but I could not help thinking there yet remained something due on my part; and that I ought to attempt the justifying your choice to the knowing, the ingenuous, and the judicious world.
This became more especially incumbent on me, when I found Envy and Malice arraign the character of him, whom you had espoused, and whom you had so long honoured with your friendship. -- This, I thought, I could not better effect than by publishing the following Pieces.
WITH all possible submission, I lay them in their new dress before you, as thereby I am favoured with what I have long and ardently wished, an opportunity of giving this publick testimony of a grateful heart, for the many and repeated proofs I have received of your respectable patronage.
I am, GENTLEMEN, Your most obliged, and most obedient humble servant,
J.Z. HOLWELL.
Mount Felix, Walton upon Thames, July 3, 1764.
***
Explanation of Certain Persian and Moorish Terms in the Following Sheets.
A.
Amdanny and Russtanny: Imports and Exports.
Arzgee: A Peitition.
Arzdasht: Idem.
Assammees: Dealers in different Branches of Trade.
B.
Banka Bazar: Formerly the Ostend Factory.
Begum: Princess, meaning without Care.
Buxey: A Paymaster of Troops.
Buckserrias: Foot-Soldiers whose common Arms are Sword and Target only.
C.
Chowkeys: Guards at the Stars, or Landing-places.
Chinam: Lime.
Cossid: A Foot-messenger, or Post.
Chubdaar: An Usher.
Cooley: A Porter.
Chout: A Fourth Part.
A Coss, or Corse: A Measure from two Miles to two Miles and Half.
A Corore of Rupees: An hundred Lack, or one Million Sterling.
D.
Dewan: King's Treasurer.
Dewanny: Superintendancy over the Royal Revenues.
Dussutary: An Impost of ten per Cent.
Durbar: Court or Council, and sometimes a Levee only.
Decoyt: A Robber.
Dummadah: A River.
F.
Fowzdar: A Military Officer.
G.
Gomastah: Factor or Agent.
Gwallers: Carriers of Palanquins.
Gunge: Grain Market.
H.
Hackeries: Carts or Coaches drawn by Oxen.
Harkarahs: Spies.
J.
John Nagore: A Village so called.
Jaggemaut: The Gentoo Pagoda.
Jemmautdaar: An Officer of the same Rank with the Roman Centurion.
M.
Mackulka: An Obligation with a Penalty annexed.
Moonskee: A Persian Secretary.
Musnud: Throne.
Moories: Writers.
Maund: A gross Weight between 70 and 80 Pounds.
N.
Negrai: A new Settlement at one of the Pegu Islands.
Nobut: A Drum, a mark of Royalty assumed by the Subahas of Bengal.
P.
Perwannah: An Order or Command, sometimes a Grant.
Purranea: In the Province of Bengal; a Nabobship subordinate to the Suba.
Phirmaund: A Royal Mandate, or Grant.
Pykes: Officers relative to the Service of the Lands.
Ponsways: Guard-Boats.
Podor or Shreff: A Money-changer.
Peons: Infantry.
Pottahs: Grants.
Pondary, Foorea: Farmers distinct Allowances on Grain at the Gunge.
R.
Rumnah: District for the Royal Game.
S.
Seer, Chetac, Maund: Forty Seer is one Maund, and sixteen Chetac one Seer.
T.
Telinga: The Carnatic Country on the Coast of Coromandel.
Tanksal: A Mint for Coinage.
Tanners and Buzbudgea: Forts on the River Ganges.
Tunkabs: Assignments upon Lands.
Tuzsaconna, Ginanah: Wardrobe and Seraglio.
V.
Vaqueel: English Agent or Resident at the Nabob's Court.
Vizerut: The Grant for the Visiership.
W.
Wazeed: A considerable Mahometan Merchant who resided at Houghley upon the Ganges.
Z.
Zemin: Ground; Zemindary; Relative to Lands.
***
An Address To the Proprietors of East India Stock; Setting Forth the Unavoidable Necessity and Real Motives for the Revolution in Bengal, in 1760.
by John Zephaniah Holwell, Esq.
**********************
Mr. Holwell's Refutation of a Letter from certain Gentlemen of the Council at Bengal, to the Honourable the Secret Committee. Serving As a Supplement to His Address to the Proprietors of East-India Stock.
**********************
Important Facts regarding the East India Company's Affairs in Bengal, from the Year 1752 to 1760. This Treatise Contains an Exact State of the Company's Revenues in that Settlement; With Copies of several very interesting Letters Showing Particularly, The Real Causes Which Drew on the Presidency of Bengal the Dreadful Catastrophe of the Year 1767; and Vindicating the Character of Mr. Holwell From Many Scandalous Aspersions Unjustly Thrown Out Against Him, in an Anonymous Pamphlet, Published March 6th, 1764, Entitled, "Reflections on the Present State of Our East-India Affairs."
**********************
A Genuine Narrative of the deplorable Deaths of the English Gentlemen, and Others, who were suffocated in the Black Hole in Fort-William, at Calcutta, in the Kingdom of Bengal; in the Night succeeding the 20th Day of June 1756.
In a Letter to a Friend.
by J.Z. Holwell, Esq.
Queque ipse miserrima vidi,

Et quorum pars magna sui. Quis talia sando,

Myrmidonum, Dolopumve, aut duri miles Ulyssei

Temperet a lachrymis?

[Google translate: And what I myself saw,

And the people with a great part of his reign. Any such Sando;

The Myrmidons, and Dolopians, a soldier, or too hard for Ulysses

Refrain from tears?

-- Virg. Aeneid, Lib. ii.
To the Reader.
The following narrative will appear, upon perusal, to be a simple detail of a most melancholy event, delivered in the genuine language of sincere concern, in a letter to a friend; from whom the greatest kindnesses had been received, and in whom the greatest confidence was placed. It was written on board the vessel in which the author returned from the East-Indies, when he had leisure to reflect, and was at liberty to throw upon paper, what was too strongly impressed upon his memory, ever to wear out. If therefore it appears in some places, a little passionate; in others, somewhat diffuse; and, through the whole, tinctured with that disposition under which it was written; the occasion, and the nature of the performance, will sufficiently excuse what might have been considered as imperfections, if it had been intended for the public view; and which may perhaps be considered in another light, now, that through a train of unforeseen accidents, it comes to appear print.
The subject being of a very mixed nature, and something more than a bare relation of private calamity, rendered many people curious to see it, when it was once known, that such a paper existed; and as there was nothing contained in it, that required either much secrecy, or circumspection,
it has been freely communicated to several, and amongst those, to some persons of the first distinction; who thought it might gratify public expectation, more especially if it appeared in the same natural and undisguised dress, in which they had seen it; for truth, and more especially so affecting a truth, stands little in need of ornament, and appears to more advantage, the less it is assisted by the arts of writing, to which the author being a stranger, he trusted to his feeling, and endeavoured to express by his pen, the emotions of his heart. He the more readily yielded to this request of his friends, from the following motives, which, as they wrought much upon him, may possibly have some weight with you.

It is somewhat rare, to find transactions of an extraordinary nature delivered circumstantially by those who are not only acquainted with, but were also actors in them, whilst the matter is fresh in their minds, and consequently, when they are fittest to give a clear, connected, and impartial account. This therefore having been his original intention, though for the satisfaction only of a private friend; yet, when called upon to make it public, it appeared to him a very persuasive argument, as he was conscious to himself, that he had written it with the strictest regard to veracity, in every point, and to disburthen his thoughts of that load of affliction, which would have been as intolerable as the misfortune itself, if both had not been qualified by the remembrance of that mercy by which he was delivered, and which seemed to claim a grateful return of public acknowledgment, for so peculiar a deliverance.
He was farther moved, by the consideration that there are some scenes in real life so full of misery and horror, that the boldest imagination would not dare to feign them, for fear of shocking credibility. He thought such scenes as these could not be permitted, by a wise, a beneficent Being, but for the sake of their becoming lessens to mankind; and he therefore concluded, that this intention could never be better answered, than by consenting to render them public; that by this means, a door of hope, and of confidence, may be opened, to such as may hereafter fall under like tryals, by giving them an instance (and sure a stronger cannot well be given), that we ought never to despair, when innocence and duty have been the causes of our distress.
***
A Letter From J.Z. Holwell, Esq. to Wm. Davis, Esq. From on Board the Syren-Sloop, the 28th of February, 1757.
Dear Sir,
The confusion which the late capture of the East-India Company's settlements in Bengal must necessarily excite in the city of London, will, I fear, be not a little heightened by the miserable deaths of the greatest part of those gentlemen, who were reduced to the sad necessity of surrendering themselves prisoners at discretion in Fort William.
By narratives made public you will only know, that of one hundred and forty-six prisoners, one hundred and twenty-three were smothered in the Black-Hole prison, in the night of the 20th of June, 1756. Few survived capable of giving any detail of the manner in which it happened; and of these I believe none have attempted it: for my own part, I have often sat down with this resolution, and as often relinquished the melancholy task, not only from the disturbance and affliction it raised afresh in my remembrance, but from the consideration of the impossibility of finding language capable of raising an adequate idea of the horrors of the scene I essayed to draw. But as I believe the annals of the world cannot produce an incident like it in any degree or proportion to all the dismal circumstances attending it, and as my own health of body and peace of mind are once again, in a great measure, recovered from the injuries they suffered from that fatal night, I cannot allow it to be buried in oblivion; though still conscious, that however high the colouring my retentive memory may supply, it will fall infinitely short of the horrors accompanying this scene. These defects must, and I doubt not, will be assisted by your own humane and benevolent imagination; in the exercise of which I never knew you deficient, where unmerited distress was the object.
The sea-air has already had that salutary effect on my constitution I expected, and my mind enjoys a calm it has been many months a stranger to, strengthened by a clear cheerful sky and atmosphere, joined to an unusual pleasant gale, with which we are passing the equinoctial. I can now, therefore, look back with less agitation on the dreadful night I am going to describe; and with a grateful heart sincerely acknowledge, and deeply revere that Providence, which alone could have preserved me through that and all my succeeding sufferings and hazards.
Before I conduct you into the Black-Hole, it is necessary you should be acquainted with a few introductory circumstances. The Suba [Suzajud-Dowla, viceroy of Bengal, Bakar, and Orixa.] and his troops were in possession of the fort before six in the evening. I had in all three interviews with him; the last last in Durbar [In council.] before seven, when he repeated his assurances to me,
on the word of a soldier,
that no harm should come to us; and indeed I believe his orders were only general, That we should for that night be secured; and that what followed was the result of revenge and resentment in the breasts of the lower Jemmaatdaars, [An officer of the rank of Serjeant.] to whose custody we were delivered, for the number of their order killed during the siege. Be this as it may, as soon as it was dark, we were all, without distinction, directed by the guard over us, to collect ourselves into one body, and sit down quietly under the arched Veranda or piazza, to the west of the Black-Hole prison, and the barracks to the left of the court of guard; and just over-against the windows of the governor's easterly apartments. Besides the guard over us, another was placed at the foot of the stairs at the south end of this Veranda, leading up to the south-east bastion, to prevent any of us escaping that way. On the parade (where you will remember the two twenty-four pounders stood) were also drawn up about four or five hundred gun-men with lighted matches.
At this time the factory was in flames to the right and left of us; to the right the Armory and Laboratory; to the left the Carpenter's yard: though at this time we imagined it was the Cotta-warehouses. [The Company's cloth warehouses.] Various were our conjectures on this appearance; the fire advanced with rapidity on both sides; and it was the prevailing opinion, that they intended suffocating us between the two fires: and this notion was confirmed by the appearance, about half an hour past seven, of some officers and people with lighted torches in their hands, who went into all the apartments under the easterly curtain to the right of us; to which we apprehended they were setting fire, to expedite their scheme of burning us. On this we presently came to a resolution, of rushing on the guard, seizing their scymitars, and attacking the troops upon the parade, rather than be thus tamely roasted to death. But to be satisfied of their intentions, I advanced, at the request of Messrs. Baillie, Jenks, and Revely, to see if they were really setting fire to the apartments, and found the contrary; for in fact, as it appeared afterwards, they were only searching for a place to confine us in; the last they examined being the barracks of the court of guard behind us.
Here I must detain you a little, to do honour to the memory of a man, to whom I had in many instances been a friend, and who, on this occasion, demonstrated his sensibility of it in a degree worthy of a much higher rank. His name was
Leech, the Company's smith, as well as clerk of the parish; this man had made his escape when the Moors entered the fort, and returned just as it was dark, to tell me he had provided a boat, and would ensure my escape, if I would follow him through a passage few were acquainted with, and by which he had then entered.

(This might easily have been accomplished, as the guard put over us took but very slight notice of us.)

I thanked him in the best terms I was able; but told him it was a step I could not prevail on myself to take, as I should thereby very ill repay the attachment the gentlemen and the garrison had shewn to me; and, that I was resolved to share their fate, be it what it would: but pressed him to secure his own escape without loss of time; to which he gallantly replied, that "then he was resolved to share mine, and would not "leave me."
To myself and the world I should surely have stood excused in embracing the overture above-mentioned, could I have conceived what immediately followed; for I had scarce time to make him an answer, before we observed part of the guard drawn up on the parade, advance to us with the officers who had been viewing the rooms.
They ordered us all to rise and go into the barracks to the left of the court of guard. The barracks, you may remember, have a large wooden platform for the soldiers to sleep on, and are open to the west by arches and a small parapet-wall, corresponding to the arches of the Veranda without.

In we went most readily, and were pleasing ourselves with the prospect of passing a comfortable night on the platform
, little dreaming of the infernal apartment in reserve for us. For we were no sooner all within the barracks, than the guard advanced to the inner arches and parapet-wall; and, with their muskets presented, ordered us to go into the room at the southermost end of the barracks, commonly called the Black-Hole prison; whilst others from the Court of Guard, with clubs and drawn scymitars, pressed upon those of us next to them. This stroke was so sudden, so unexpected, and the throng and pressure so great upon us next the door of the Black-Hole prison, there was no resisting it; but like one agitated wave impelling another, we were obliged to give way and enter; the rest followed like a torrent, few amongst us, the soldiers excepted, having the least idea of the dimensions or nature of a place we had never seen: for if we had, we should at all events have rushed upon the guard, and been, as the lesser evil, by our own choice cut to pieces.
Amongst the first that entered, were myself, Messrs. Baillie, Jenks, Cooke, T. Coles, Ensign Scot, Revely, Law, Buchanan, &c. I got possession of the window nearest the door, and took Messrs. Coles and Scot into the window with me, they being both wounded (the first I believe mortally). The rest of the abovementioned gentlemen were close round me. It was now about eight o'clock.
Figure to yourself, my friend, if possible, the situation of a hundred and forty-six wretches, exhausted by continual fatigue and action, thus crammed together in a cube of about eighteen feet, in a close sultry night, in Bengal, shut up to the eastward and southward (the only quarters from whence air could reach us) by dead walls, and by a wall and door to the north, open only to the westward by two windows, strongly barred with iron, from which we could receive scarce any the least circulation of fresh air.
What must ensue, appeared to me in lively and dreadful colours, the instant I cast my eyes round, and saw the size and situation of the room. Many unsuccessful attempts were made to force the door; for having nothing but our hands to work with, and the door opening inward, all endeavours were vain and fruitless.
Observing every one giving way to the violence of passions, which I foresaw must be fatal to them, I requested silence might be preserved, whilst I spoke to them, and in the most pathetic and moving terms which occurred, "I begged and intreated, that as they had paid a ready obedience to me in the day, they would now for their own sakes, and the sakes of those who were dear to them, and were interested in the preservation of their lives, regard the advice I had to give them. I assured them, the return of day would give us air and liberty; urged to them, that the only chance we had left for sustaining this misfortune, and surviving the night, was the preserving a calm mind and quiet resignation to our fate; intreating them to curb, as much as possible, every agitation of mind and body, as raving and giving a loose to their passions could answer no purpose, but that of hastening their destruction."
This remonstrance produced a short interval of peace, and gave me a few minutes for reflection: though even this pause was not a little disturbed by the cries and groans of the many wounded, and more particularly of my two companions in the window. Death, attended with the most cruel train of circumstances, I plainly perceived must prove our inevitable destiny. I had seen this common migration in too many shapes, and accustomed myself to think on the subject with too much propriety to be alarmed at the prospect, and indeed felt much more for my wretched companions than myself.
Amongst the guards posted at the windows, I observed an old Jemmautdaar near me, who seemed to carry some compassion for us in his countenance; and indeed he was the only one of the many in his station, who discovered the least trace of humanity. I called him to me, and in the most persuasive terms I was capable, urged him to commiserate the sufferings he was a witness to, and pressed him to endeavour to get us separated, half in one place, and half in another; and that he should in the morning receive a thousand Rupees for this act of tenderness. He promised he would attempt it, and withdrew; but in a few minutes returned, and told me it was impossible. I then thought I had been deficient in my offer, and promised him two thousand. He withdrew a second time, but returned soon, and (with I believe much real pity and concern) told me, it was not practicable; that it could not be done but by the Suba's order, and that no one dared awake him.
During this interval, though their passions were less violent, their uneasiness increased. We had been but few minutes confined, before every one fell into a perspiration so profuse, you can form no idea of it. This consequently brought on a raging thirst, which still increased, in proportion as the body was drained of its moisture.
Various expedients were thought of to give more room and air. To obtain the former, it was moved to put off their clothes. This was approved as a happy motion, and
in a few minutes I believe every man was stripped
(myself, Mr. Court, and the two wounded young gentlemen by me excepted
). For a little time they flattered themselves with having gained a mighty advantage;
every hat was put in motion, to produce a circulation of air;
and Mr. Baillie proposed that every man should sit down on his hams. As they were truly in the situation of drowning wretches, no wonder they caught at every thing that bore a flattering appearance of saving them. This expedient was several times put in practice, and at each time many of the poor creatures, whose natural strength was less than others, or had been more exhausted, and could not immediately recover their legs, as others did,
when the word was given to Rise, fell to rise no more; for they were instantly trod to death, or suffocated.
When the whole body sat down, they were so closely wedged together, that
they were obliged to use many efforts, before they could put themselves in motion to get up again.
Before nine o'clock every man's thirst grew intolerable, and respiration difficult. Our situation was much more wretched than that of so many miserable animals in an exhausted receiver; no circulation of fresh air sufficient to continue life, nor yet enough divested of its vivifying particles to put a speedy period to it. Efforts were again made to force the door, but in vain.
Many insults were used to the guard, to provoke them to fire in upon us
(which, as I learned afterwards, were carried to much greater lengths, when I was no more sensible of what was transacted). For my own part, I hitherto felt little pain or uneasiness, but what resulted from my anxiety for the sufferings of those within.
By keeping my face between two of the bars, I obtained air enough to give my lungs easy play,
though my perspiration was excessive, and thirst commencing. At this period, so strong an urinous volatile effluvia came from the prison, that I was not able to turn my head that way, for more than a few seconds of time.
Now every body, excepting those situated in and near the windows, began to grow outrageous, and many delirious:

Water, Water,

became the general cry. And the old Jemmautdaar, beforementioned, taking pity on us, ordered the people to bring some skins of water, little dreaming, I believe, of its fatal effects. This was what I dreaded. I foresaw it would prove the ruin of the small chance left us, and essayed many times to speak to him privately to forbid its being brought; but the clamour was so loud, it became impossible. The water appeared. Words cannot paint to you the universal agitation and raving the sight of it threw us into. I had flattered myself that some, by preserving an equal temper of mind, might outlive the night; but now the reflection which gave me the greatest pain, was, that I saw no possibility of one escaping to tell the dismal tale.

Until the water came, I had myself not suffered much from thirst, which instantly grew excessive. We had no means of conveying it into the prison, but by hats forced through the bars; and thus myself, and Messrs. Coles and Scot (notwithstanding the pains they suffered from their wounds) supplied them as fast as possible. But those, who have experienced intense thirst, or are acquainted with the cause and nature of this appetite, will be sufficiently sensible it could receive no more than a momentary alleviation; the cause still subsisted. Though we brought full hats within the bars, there ensued such violent struggles, and frequent contests, to get at it, that before it reached the lips of any one, there would be scarcely a small tea-cup full left in them. These supplies, like sprinkling water on fire, only served to feed and raise the flame.
Oh! my dear Sir, how shall I give you a conception of what I felt at the cries and ravings of those in the remoter parts of the prison, who could not entertain a probable hope of obtaining a drop, yet could not divest themselves of expectation, however unavailing! And others calling on me by the tender considerations of friendship and affection, and who knew they were really dear to me. Think, if possible, what my heart must have suffered at, seeing and hearing their distress, without having it in my power to relieve them; for the confusion now became general and horrid.
Several quitted the other window (the only chance they had for life) to force their way to the water, and the throng and press upon the window was beyond bearing; many forcing their passage from the further part of the room, pressed down those in their way, who had less strength: and trampled them to death.
Can it gain belief, that this scene of misery proved entertainment to the brutal wretches without? But so it was; and

they took care to keep us supplied with water

, that they might have the satisfaction of seeing us fight for it, as they phrased it, and held up lights to the bars, that they might lose no part of the inhuman diversion.
From about nine to near eleven, I sustained this cruel scene and painful situation, still supplying them with water, though my legs were almost broke with the weight against them.
By this time I myself was very near pressed to death, and my two companions, with Mr. William Parker, (who had forced himself into the window) were really so.
For a great while they preserved a respect and regard to me, more than indeed I could well expect, our circumstances considered; but now all distinction was lost.
My friend Baillie, Messrs. Jenks, Revely, Law, Buchanan, Simson, and several others, for whom I had a real esteem and affection, had for some time been dead at my feet, and were now trampled upon by every corporal or common soldier,
who, by the help of more robust constitutions, had forced their way to the window, and held fast by the bars over me, till at last I became so pressed and wedged up, I was deprived of all motion.
Determined now to give every thing up, I called to them, and begged, as the last instance of their regard, they would remove the pressure upon me, and permit me to retire out of the window, to die in quiet.

They gave way; and with much difficulty I forced a passage into the center of the prison, where the throng was less by the many dead, (then I believe amounting to one-third) and the numbers who flocked to the windows; for by this time they had water also at the other window.
In the Black-Hole there is a platform [This platform was raised between three and four feet from the floor, open underneath; it extended the whole length of the east side of the prison, and was above six feet wide.] corresponding with that in the barracks:
I travelled over the dead, and repaired to the further end of it, just opposite the other window, and seated myself on the platform between Mr. Dumbleton and Capt. Stevenson, the former just then expiring. I was still happy in the same calmness of mind I had preserved the whole time; death I expected as unavoidable, and only lamented its slow approach, though the moment I quitted the window, my breathing grew short and painful.
Here my poor friend Mr. Edward Eyre came staggering over the dead to me, and with his usual coolness and good-nature, asked me how I did? but fell and expired before I had time to make him a reply. I laid myself down on some of the dead behind me, on the platform; and recommending myself to heaven, had the comfort of thinking my sufferings could have no long duration.
My thirst grew now insupportable, and difficulty of breathing much increased; and I had not remained in this situation, I believe, ten minutes, when I was seized with a pain in my breast, and palpitation of my heart, both to the most exquisite degree. These roused and obliged me to get up again; but still the pain, palpitation, thirst, and difficulty of breathing increased. I retained my senses notwithstanding, and had the grief to see death not so near me as I hoped;
but could no longer bear the pains I suffered without attempting a relief, which I knew fresh air would and could only give me.
I instantly determined to push for the window opposite to me; and by an effort of double the strength I ever before possessed, gained the third rank at it, with one hand seized a bar, and by that means gained the second, though I think there were at least six or seven ranks between me and the window.
In a few moments my pain, palpitation, and difficulty of breathing ceased; but my thirst continued intolerable.
I called aloud for "WATER FOR GOD'S SAKE:" had been concluded dead; but as soon as they heard me amongst them, they had still the respect and tenderness for me, to cry out, "GIVE HIM WATER, GIVE HIM WATER!" nor would one of them at the window attempt to touch it until I had drank. But from the water I found no relief; my thirst was rather increased by it; so I determined to drink no more, but patiently wait the event; and kept my mouth moist from time to time by sucking the perspiration out of my shirt-sleeves, and catching the drops as they fell, like heavy rain from my head and face: you can hardly imagine how unhappy I was if any of them escaped my mouth.
I came into the prison without coat or waistcoat; the season was too hot to bear the former, and the latter tempted the avarice of one of the guards, who robbed me of it when we were under the Veranda.
Whilst I was at this second window, I was observed by one of my miserable companions on the right of me, in the expedient of allaying my thirst by sucking my shirt-sleeve. He took the hint, and robbed me from time to time of a considerable part of my store; though after I detected him, I had ever the address to begin on that sleeve first, when I thought my reservoirs were sufficiently replenished; and our mouths and noses often met in the contest. This plunderer, I found afterwards, was a worthy young gentleman in the service, Mr. Lushington, one of the few who escaped from death, and since paid me the compliment of assuring me, he believed he owed his life to the many comfortable draughts he had from my sleeves.
I mention this incident, as I think nothing can give you a more lively idea of the melancholy state and distress we were reduced to.
Before I hit upon this happy expedient, I had, in an ungovernable fit of thirst, attempted drinking my urine; but it was so intensely bitter there was no enduring a second taste, whereas no Bristol water could be more soft or pleasant than what arose from perspiration.
By half an hour past eleven the much greater number of those living were in an outrageous delirium, and the others quite ungovernable; few remaining any calmness, but the ranks next the windows. By what I had felt myself, I was fully sensible what those within suffered; but had only pity to bestow upon them, not then thinking how soon I should myself become a greater object of it.
They all now found, that water, instead of relieving, rather heightened their uneasinesses; and, "AIR, AIR," was 'the general cry. Every insult that could be devised against the guard, all the opprobrious names and abuse that the Suba, Monickchund, [Rajah Monickchund, appointed by the Suba governor of Calcutta.] &c. could be loaded with, were repeated to provoke the guard to fire upon us, every man that could,

rushing tumultuously

towards the windows with eager hopes of meeting the first shot.
Then a general prayer to heaven, to hasten the approach of the flames to the right and left of us, and put a period to our misery. But these failing, they whose strength and spirits were quite exhausted, laid themselves down and expired quietly upon their fellows: others who had yet some strength and vigour left, made a last effort for the windows, and several succeeded by leaping and scrambling over the backs and heads of those in the first ranks; and got hold of the bars, from which there was no removing them. Many to the right and left sunk with the violent pressure, and were soon suffocated; for now a steam arose from the living and the dead, which affected us in all its circumstances, as if we were forcibly held with our heads over a bowl full of strong volatile spirit of hartshorn, until suffocated; nor could the effluvia of the one be distinguished from the other, and frequently, when I was forced by the load upon my head and shoulders, to hold my face down, I was obliged, near as I was to the window, instantly to raise it again to escape suffocation.
I need not, my dear friend, ask your commiseration, when I tell you, that in this plight, from half an hour past eleven till near two in the morning, I sustained the weight of a heavy man, with his knees in my back, and the pressure of his whole body on my head. A Dutch serjeant, who had taken his seat upon my left shoulder, and a Topaz [A black Christian soldier: usually termed subjects of Portugal.] bearing on my right; all which nothing could have enabled me long to support, but the props and pressure equally sustaining me all around. The two latter I frequently dislodged, by shifting my hold on the bars, and driving my knuckles into their ribs; but my friend above stuck fast, and as he held by two bars, was immoveable.
When I had bore this conflict above an hour, with a train of wretched reflections, and seeing no glimpse of hope on which to found a prospect of relief, my spirits, resolution, and every sentiment of religion gave way. I found I was unable much longer to support this trial, and could not bear the dreadful thoughts of retiring into the inner part of the prison, where I had before suffered so much. Some infernal spirit, taking the advantage of this period, brought to my remembrance my having
a small clasp penknife in my pocket, with which I determined instantly to open my arteries, and finish a system no longer to be borne. I had got it out, when heaven interposed, and restored me to fresh spirits and resolution,
with an abhorrence of the act of cowardice I was just going to commit: I exerted a-new my strength and fortitude; but the repeated trials and efforts I made to dislodge the insufferable incumbrances upon me at last quite exhausted me, and towards two o'clock,
finding I must quit the window, or sink where I was, I resolved on the former, having bore, truly for the sake of others,
infinitely more for life than the best of it is worth.
In the rank close behind me was an officer of one of the ships, whose name was Carey, who had behaved with much bravery during the siege, (
his wife, a fine woman though country-born, would not quit him, but accompanied him into the prison, and was one who survived.
) This poor wretch had been long raving for water and air; I told him I was determined to give up life, and recommended his gaining my station. On my quitting, he made a fruitless attempt to get my place; but the Dutch serjeant who sat on my shoulder supplanted him.
Poor Carey expressed his thankfulness, and said, he would give up life too; but it was with the utmost labor we forced our way from the window, (several in the inner ranks appearing to me dead standing [Unable to fall by the throng and equal pressure round.])
He laid himself down to die: and his death, I believe, was very sudden; for he was a short, full, sanguine man:

his strength was great, and I imagine, had he not retired with me, I should never have been able to have forced my way
.
I was at this time sensible of no pain and little uneasiness: I can give you no better idea of my situation than by repeating my simile of the bowl of spirit of hartshorn.
I found a stupor coming on a-pace, and laid myself down by that gallant old man, the reverend Mr. Jervas Bellamy, who lay dead with his son the lieutenant, hand in hand
, near the southernmost wall of the prison.
When I had lain there some little time, I still had reflection enough to suffer some uneasiness in the thought, that
I should be trampled upon, when dead, as I myself had done to others.
With some difficulty I raised myself, and gained the platform a second time, where I presently lost all sensation: the last trace of sensibility that I have been able to recollect after my lying down, was my sash being uneasy about my waste, which I untied and threw from me.