Thomas Walker Arnold
by Wikipedia
Accessed: 5/10/21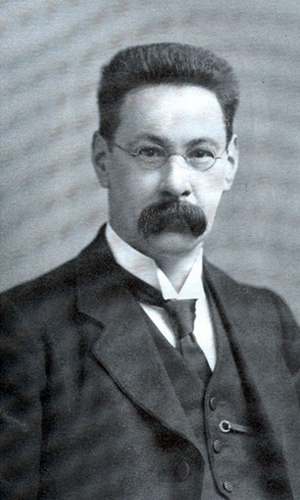 Sir Thomas Walker Arnold, CIE
Sir Thomas Arnold
Born: 19 April 1864, Devonport, Devon, England
Died: 9 June 1930 (aged 66)
Scientific career
Influenced: Muhammad Iqbal
Sir Thomas Walker Arnold CIE FBA (19 April 1864–9 June 1930) was a British orientalist and historian of Islamic art. He taught at Muhammadan Anglo-Oriental College,[1] later Aligarh Muslim University, and Government College University, Lahore.[2]

Arnold was a friend of Sir Syed Ahmed Khan, who influenced him to write the famous book The Preaching of Islam,[2] and of Shibli Nomani, with whom he taught at Aligarh. He taught Syed Sulaiman Nadvi and the poet-philosopher Muhammad Iqbal.[3] He was the first English editor for the first edition of The Encyclopaedia of Islam.[2]
Aligarh Muslim University (abbreviated as AMU) is a public central university in Aligarh, India, which was originally established by Sir Syed Ahmad Khan as the Muhammadan Anglo-Oriental College in 1875. Muhammadan Anglo-Oriental College became Aligarh Muslim University in 1920, following the Aligarh Muslim University Act...

The university was established as the Muhammadan Anglo-Oriental College in 1875 by Sir Syed Ahmad Khan, starting functioning on 24 May 1875.

The movement associated with Syed Ahmad Khan and the college came to be known as the Aligarh Movement, which pushed to realise the need for establishing a modern education system for the Indian Muslim populace. He considered competence in English and Western sciences necessary skills for maintaining Muslims' political influence. Khan's vision for the college was based on his visit to Oxford University and Cambridge University, and he wanted to establish an education system similar to the British model.

A committee was formed by the name of foundation of Muslim College and asked people to fund generously. Then Viceroy and Governor General of India, Thomas Baring gave a donation of ₹10,000 while the Lt. Governor of the North Western Provinces contributed ₹1,000, and by March 1874 funds for the college stood at ₹1,53,920 and 8 ana. Maharao Raja Mahamdar Singh Mahamder Bahadur of Patiala contributed ₹58,000 while Raja Shambhu Narayan of Benaras donated ₹60,000. Donations also came in from the Maharaja of Vizianagaram as well. The college was initially affiliated to the University of Calcutta for the matriculate examination but became an affiliate of Allahabad University in 1885. The 7th Nizam of Hyderabad, HEH Mir Osman Ali Khan made a remarkable donation of Rupees 5 Lakh to this institution in the year 1918...

Before 1939, faculty members and students supported an all-India nationalist movement but after 1939, political sentiment shifted towards support for a Muslim separatist movement. Students and faculty members supported Muhammad Ali Jinnah and the university came to be a center of the Pakistan Movement.

Dr. Sheikh Abdullah ("Papa Mian") is the founder of the women's college of Aligarh Muslim University and had pressed for women's education, writing articles while also publishing a monthly women's magazine, Khatoon. To start the college for women, he had led a delegation to the Lt. Governor of the United Provinces while also writing a proposal to Sultan Jahan, Begum of Bhopal. Begum Jahan had allocated a grant of ₹ 100 per month for the education of women. On 19 October 1906, he successfully started a school for girls with five students and one teacher at a rented property in Aligarh. The foundation stone for the girls' hostel was laid by him and his wife, Waheed Jahan Begum ("Ala Bi") after struggles on 7 November 1911. Later, a high school was established in 1921, gaining the status of an intermediate college in 1922, finally becoming a constituent of the Aligarh Muslim University as an undergraduate college in 1937. Later, Dr. Abdullah's daughters also served as principals of the women's college.

One of his daughters was Mumtaz Jahan Haider, during whose tenure as principal, Maulana Abdul Kalam Azad had visited the university and offered a grant of ₹9,00,000. She was involved in the establishment of the Women's College, organised various extracurricular events, and reasserted the importance of education for Muslim women.

-- Aligarh Muslim University, by Wikipedia
Life
Thomas Walker Arnold was born in Devonport, Plymouth on 19 April 1864,[4] and educated at the City of London School. From 1888 he worked as a teacher at the Muhammadan Anglo-Oriental College, Aligarh. In 1892 he married Celia Mary Hickson,[2] a niece of Theodore Beck.[4] In 1898, he accepted a post as Professor of Philosophy at the Government College, Lahore and later became Dean of the Oriental Faculty at Punjab University.[2] F
rom 1904 to 1909 he was on the staff of the India Office as Assistant Librarian. In 1909 he was appointed Educational Adviser to Indian students in Britain.[4] From 1917 to 1920 he acted as Adviser to the Secretary of State for India.
[5] He was Professor of Arabic and Islamic Studies at the School of Oriental Studies, University of London, from 1921 to 1930.[2]
Arnold was invested as a Companion of the Order of the Indian Empire in 1912, and in 1921 was invested as a knight.[2]
He died on 9 June 1930.[6]
Works
• The preaching of Islam: a history of the propagation of the Muslim faith. Westminster: A. Constable and co. 1896. Retrieved 29 May 2011.
• (trans. and ed.) The little flowers of Saint Francis by Francis of Assisi. London: J.M. Dent, 1898.
• The Court Painters of the Grand Moghuls. Oxford: Oxford University Press, 1921.
• The Caliphate. Oxford: Clarendon Press, 1924. Reissued with an additional chapter by Sylvia G. Haim: Routledge and Kegan Paul, London 1965.
• Painting in Islam, A Study of the Place of Pictorial Art in Muslim Culture. Oxford: Clarendon Press, 1928. Reprint ed. 1965.
• Bihzad and his Paintings in the Zafar-namah ms. London: B. Quaritch, 1930.
• (with Alfred Guillaume) The Legacy of Islam. Oxford: Oxford University Press, 1931.
• The Old and New Testaments in Muslim Religious Art. London: Pub. for the British Academy by H. Milford, Oxford University Press. Schweich Lectures for 1928.
References
1. "Empire in Your Backyard: Imperial Plymouth".
http://www.britishempire.co.uk
. Retrieved 5 May 2016.
2. Robinson, B.W. "ARNOLD, THOMAS WALKER – Encyclopaedia Iranica".
http://www.iranicaonline.org
. Retrieved 8 August 2016.
3. "Sir Thomas Walker Arnold | Aligarh Movement". aligarhmovement.com. Retrieved 8 August 2016.
4. "Thomas W. Arnold | Making Britain".
http://www.open.ac.uk
. Retrieved 8 August 2016.
5. "Thomas Walker Arnold". Goodreads. Retrieved 8 August 2016.
6. Arnold, Thomas Walker (1 January 1913). The preaching of Islam : a history of the propagation of the Muslim faith. London : Constable.
External links
• Arnold, Sir Thomas Walker, School of Oriental and African Studies: home page
• Sir Thomas Walker entry in Encyclopaedia Iranica