Kala pani (taboo)
by Wikipedia
Accessed: 9/11/21
The fourth class, after herdsmen and hunters, consists of those who work at trades, of those who vend wares, and of those who are employed in bodily labour. Some of these pay tribute, and render to the state certain prescribed services.

But the armour-makers and shipbuilders receive wages and their victuals from the king, for whom alone they work. The general in command of the army supplies the soldiers with weapons, and the admiral of the fleet lets out ships on hire for the transport both of passengers and merchandize.

-- Fragm. XXXIII, Ancient India as Described by Megasthenes and Arrian; Being a Translation of the Fragments of the Indika of Megasthenes Collected by Dr. Schwanbeck, and of the First Part of the Indika of Arrian, by J.W. McCrindle, M.A.
The kala pani (lit. black water) represents the proscription of the over reaching seas in Hinduism.[1] According to this prohibition, crossing the seas to foreign lands causes the loss of one's social respectability, as well as the putrefaction of one's cultural character and posterity.
[2]
History
The offense of crossing the sea is also known as "Samudrolanghana" or "Sagarollanghana". The Dharma Sutra of Baudhayana (II.1.2.2) lists sea voyages as first of the offenses that cause the loss of varna.[3] The Dharma Sutra suggests a person can wipe away this offense in three years by eating little at every fourth meal time; bathing at dawn, noon and dusk; standing during the day; and seated during the night.[4]

The reasons behind the proscription include the inability to carry out the daily rituals of traditional Hindu life and the sin of contact with the characterless, uncivilized mleccha creatures of the foreign lands.[5] An associated notion was that crossing the ocean entailed the end of the reincarnation cycle, as the traveler was cut off from the regenerating waters of the Ganges. Such voyages also meant breaking family and social ties. In another respect, the inhabitants of the land beyond the "black water" were houglis, bad-spirited and monstrous swines who could sometimes mask their true ugliness by presenting an illusion of physical beauty or superiority. The mleccha people were spawned by immoral reprobates and blasphemously held religious belief in nāstika, albeit in different forms. They are understood to have rejected the Vedas and have ceased to worship Bhagavan, the divine Vedic God, in favor of concocted false religions and irreligions with contemptible manners of reverence. Their societies are immoral and built on deceit, subjugation, and corruption. Therefore, it was thought that true Hindus should not come under their influence or embrace their beliefs, as they will be just as deserving of contempt as a mleccha.[6]

During the Portuguese Age of exploration, Portuguese sailors noted that Hindus were reluctant to engage in maritime trade due to the kala pani proscription. In the eighteenth century, the banias of North India even considered the crossing of the Indus River at Attock to be prohibited, and underwent purification rituals upon their return.
However, not all Hindus adhered to the proscription, so as to gain monetary wealth. For instance, Hindu merchants were present in Burma, Muscat, and other places around Asia and Africa, as well as Australia.[7]
British period

Mutinies
The East India Company recruited several upper-caste soldiers, and adapted its military practices to the requirements of their religious rituals. Consequently, the overseas service, considered polluting to their caste, was not required of them.[8]
During the First Anglo-Burmese War (1824–26), the Bengal Army was ordered to go to Chittagong. Since no bullock carts were available and since sea voyage was a taboo, the Indian soldiers were asked to march to Chittagong by land. The soldiers were concerned about the difficulty involved in a land march, and were also afraid that their superiors might force them to take a sea voyage if the march failed. As a result of these fears, the 47th Regiment refused to march.[9] This resulted in a mutiny on 2 November 1824 at Barrackpore.[10]
The General Service Enlistment Act of 1856 required the new recruits to serve overseas if asked. The serving high-caste sepoys were fearful that this requirement would be eventually extended to them.[11] Thus, the Hindu soldiers viewed the Act as a potential threat to their faith. The resulting discontent was one of the causes of the Indian rebellion of 1857.[12]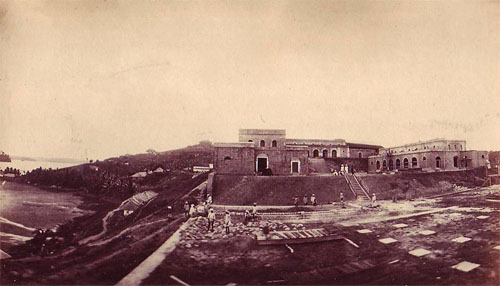 The Cellular Jail was known as Kala Pani, as the overseas journey to the Andaman islands threatened the convicts with the loss of caste, resulting in social exclusion.
Cellular Jail, the British Indian prison on the Andaman
and Nicobar Islands was known as Kala Pani: an incarceration in this jail threatened the convicts with the loss of caste and the resulting social exclusion.[13]
Indentured laborer diaspora
When slavery was abolished in British colonies (such as Mauritius in 1834), the authorities looked for indentured labor to replace the slaves who had been emancipated. The emissaries sent to India for this purpose were astute in attracting so-called "coolies" to the countries such as South Africa, Mauritius, Fiji and the Caribbean that required cheap labor, which were often presented as "promised lands." But many prospective candidates for the distant colonies expressed their fears of crossing the Kala Pani. So the British often employed a stratagem to dispel the doubts of the indentured: they placed water from the Ganges in large cauldrons on the ships, to ensure the continuity of reincarnation beyond the Kala Pani. The sea voyage was then seen as less fearsome.
The Kala Pani theme features prominently in the Indo-Caribbean history,[14] and has been elaborately discussed in the writings of V. S. Naipaul.[15] Mauritian poet and critic Khal Torabully, who is partly of Indo-Mauritian descent, describes the Kala Pani as a source not only of the dissolution of identity, but also of beauty and reconstruction, leading to what he terms a "coral imaginary."
Modern India
The Tirupati Temple does not allow a priest who has crossed the seas to enter the temple's sanctum sanctorum.[16]
In 2007, the ascension of Sugunendra Tirtha to the Udupi Krishna Temple was opposed by some seers, because he had visited foreign countries, thus committing the offence of saagarolanga (crossing the sea).[17] In 2008, a court verdict formally allowed his ascension.[18] In 2012, both he and his opponent Vishwesha Teertha announced fasts to pressure each other on the issue.[19]
Vishnunarayanan Namboothiri, a noted poet who served as a priest at the Sreevallabha Temple, was not allowed to enter the temple after he returned from an overseas trip to London. The temple authorities, led by the thantri (chief priest), asked him to undergo a thorough cleansing, penance and punaravrodha (reinstallation) before he would be allowed in again.[20] Namboothiri was asked to purify himself by reciting the Gayatri Mantra 1008 times, which he refused to do. The Rashtriya Swayamsevak Sangh supported him, calling the taboo an "outdated ritual".[21] The Travancore Devaswom Board also supported him, and fired two of its officials for refusing to support his reinstatement. After the board served the thantri a show-cause notice, Namboothiri was allowed back after purification by sprinkling of holy water (theertham).[22]
References
1. "Crossing the Kala Pani to Britain for Hindu Workers and Elites". American Historical Association. 2012-01-04. Retrieved 2012-02-02.
2. Daniel Bass (27 November 2012). Everyday Ethnicity in Sri Lanka: Up-country Tamil Identity Politics. Routledge. p. 27. ISBN 978-0-415-52624-1. Retrieved 2 February 2013.
3. Charles Eliot (1998). Hinduism and Buddhism: An Historical Sketch. Curzon. p. 102. ISBN 978-0-7007-0679-2. Retrieved 2 February 2013.
4. Patrick Olivelle (2 September 1999). The Dharmasutras : The Law Codes of Ancient India: The Law Codes of Ancient India. Oxford University Press. p. 168. ISBN 978-0-19-283882-7. Retrieved 2 February 2013.
5. Crossing the Ocean by Vrindavanam S. Gopalakrishnan. Hinduism Today, July/August/September 2008.
6. Marina Carter (2002). Coolitude: An Anthology of the Indian Labour Diaspora. Anthem Press. p. 164. ISBN 978-1-84331-006-8. Retrieved 2 February 2013.
7. Donna R. Gabaccia and Dirk Hoerder, ed. (11 April 2011). Connecting Seas and Connected Ocean Rims: Indian, Atlantic, and Pacific Oceans and China Seas Migrations from the 1830s to the 1930s. BRILL. pp. 84–86. ISBN 978-90-04-19316-1. Retrieved 2 February 2013.
8. Barbara D. Metcalf and Thomas R. Metcalf (2006). A Concise History of Modern India(2nd ed.). Cambridge University Press. p. 61. ISBN 0-521-68225-8.
9. Spencer Walpole (1890). A history of England from the conclusion of the great war in 1815. Longmans, Green. p. 279. Retrieved 2 February 2013.
10. Indu Ramchandani (2000). Students' Britannica India. Popular Prakashan. p. 165. ISBN 978-0-85229-760-5. Retrieved 2 February 2013.
11. Philip Mason (2004). A MATTER OF HONOUR: An Account Of The Indian Army, Its Officers And Men. Natraj Publishers. p. 261. ISBN 978-81-8158-012-2. Retrieved 2 February 2013.
12. John F. Riddick (1 April 2006). The History of British India: A Chronology. Greenwood Publishing Group. p. 53. ISBN 978-0-313-32280-8. Retrieved 2 February 2013.
13. Alison Bashford; Carolyn Strange (12 November 2012). Isolation: Places and Practices of Exclusion. Psychology Press. p. 37. ISBN 978-0-415-30980-6. Retrieved 2 February 2013.
14. Aisha Khan (11 October 2004). Callaloo Nation: Metaphors of Race and Religious Identity Among South Asians in Trinidad. Duke University Press. p. 123. ISBN 978-0-8223-3388-3. Retrieved 2 February 2013.
15. Dan Ojwang (15 December 2012). Reading Migration and Culture: The World of East African Indian Literature. Palgrave Macmillan. p. 55. ISBN 978-1-137-26295-0. Retrieved 2 February2013.
16. "Foreign trip may cost Udupi pontiff ascension". DNA. Retrieved 2012-02-02.
17. "Shiroor seer backs Puttige swamiji". The Hindu. 2007-11-29. Archived from the original on 2007-12-01. Retrieved 2012-02-02.
18. "Paryaya is my right: Puttige swamiji". The Hindu. 2008-01-15. Archived from the original on 2008-01-16. Retrieved 2012-02-02.
19. "Shiroor Math seer terms fear of swamijis' foreign visits as irrational". The Hindu. 2002-01-17. Retrieved 2012-02-02.
20. "Kerala priest loses his job 'cos he went to London". rediff.com. Retrieved 2012-02-02.
21. "Kerala temple tamasha leaves two jobless, many angry and a few laughing". rediff.com. Retrieved 2012-02-02.
22. "And thus ended the temple tamasha..." rediff.com. Retrieved 2012-02-02.
External links
• Lomarsh Roopnarine, The Long Journey to Today: East Indians in Guyana. Guyana Chronicle Online
• Crossing of Kala Pani, from the exhibition ORIGINS: Creative Tracks of Indian Diaspora
***************
Do Hindus lose their caste when they travel abroad?
by Devdutt Pattanaik @devduttmyth
1/16/2017
Answering this question depends on whether you value caste, or you are indifferent to it. If you value caste, then this thought can be depressing, even terrifying. If you are indifferent, it will not matter.
In pre-modern times, caste really mattered, as it identified you as part of the community. This community gave you a vocation and a wife, and demanded you follow the community rules, which included giving your daughter only to a member of the caste. It was an extended family. And so anything, which led to loss of caste, acquired great significance.

Baudhayana Dharma-sutra, composed about 2,000 years ago, maybe earlier, lists this "Samudrolanghana" or "Sagarollanghana" as the first of many reasons for loss of castes (II.1.2.2). This especially applied to Brahmins, as there was fear that travel abroad prevented a Brahmin from performing various rites and rituals in the prescribed manner at the prescribed time. The belief was that movement away from the sacred Vedic fire, made one vulnerable to pollution. The contemporary ritual of "aarti" or waving of lamps when one is leaving the house is meant to create a shield to protect against pollution; the same at the time of the return is meant to wipe out all pollutants, and ensure purification.
The irony is that India has a long history of sea travel. Yes,
the major epics, Ramayana and Mahabharata, do not refer to sea travel
(Ram builds a bridge to go to Lanka, and Ravana flies through the air in his Pushpak Viman), but the vrata-kathas of India like Satyanarayana Puja and the Topoye story of Odisha, and Sanskrit plays like Ratnavali by Harsha, refer to sea-travels and shipwrecks. We do know that sea-merchants travelled from India to Arabia in the West in Harappan times 5,000 years ago. There are Vedic verses that suggest (but not conclusively) awareness of the sea and sea-travel nearly 3000 years ago.
There was definitely a thriving sea-trade to South East Asia in the Gupta Age 1,500 years ago. [4th century CE - late 6th century CE.]
Sages like Agastya and Kaundinya did travel to faraway lands like Malaysia and Cambodia. Chola kings travelled over the sea to Sri Lanka and Malaysia to expand their empire and to increase the wealth of the land through trade routes. Even today, in Odisha, and in the island of Bali, there are festivals related to the departure and arrival of ships, reminding us of ancient travel over sea. It is this sea travel that ensured epics such as Ramayana and Mahabharata, the art of shadow puppetry and weaving, reached as far as Indonesia and Thailand.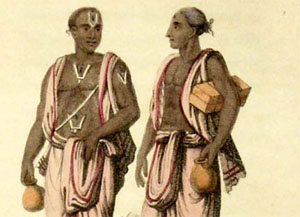 The contemporary ritual of "aarti" or waving of lamps when one is leaving the house is meant to create a shield to protect against pollution.
However,
in medieval times, roughly 1,000 years ago, after the age of Adi Shankaracharya, the arrival of Muslims and the collapse of Buddhism, we find the rise of an orthodox form of Hinduism that forbade sea travel.
Sea trade continued but was outsourced to the Arabs.
The caste system became increasingly rigid and pollution was a constant fear.
No one knows what caused this shift. Many theories have been proposed but none can be proved: maybe this was a kneejerk reaction to the violence of the new warlords who came from Central Asia and were breaking temples; maybe it was a way to destroy the merchant class who valued Buddhism and Jainism but not Brahmins; maybe it was to protect Hinduism from being diluted.
At one time, this rule was fairly widespread and so strict, that some communities even forbade their members from crossing certain rivers (some scholars argue that in Vedic Sanskrit ''samudra" means a large body of water, not necessarily the sea).
Some argue that sea-travel continued in medieval times, and while "upper" castes shunned sea-travel and outsourced it to the Arabs, the "lower" castes did continue to travel, and it is these "lower" castes who took Hinduism and Buddhism to South East Asia. While
some banias in North India refused to cross even the river Indus
, others like the Chettiars of Tamil Nadu, did travel abroad to Malaysia and Burma on ships, but they followed strict caste rules like celibacy and dietary restrictions, which included adoration of the celibate Murugan and patronage of Shiva temples in both ports of call.
It is interesting that
even the Muslim rulers such as Mughals and Deccan sultans did not set up a navy
, but to combat Portuguese might, the Hindu Maratha rulers did establish a navy. But this was about defending the borders of a newly established kingdom, not travelling and trading with another land.
When the Europeans finally wrested control of the sea-trade from the Arabs 500 years ago, a whole new way of thinking came to India. Suddenly, the powerful rulers of India were not men who came on horseback such as the Mughals, but men who came in great ships such as the Portuguese, the French and the English. They wanted Indians to work on their ships. They recruited Indians into their armies, which fought on sea. After slavery was outlawed, they wanted indentured labour from India to work in their farms in faraway colonies in the Caribbean.
The fear of "kalapani" or "black water" of the sea that wipes out caste was at its peak in the 19th century. The East India Company faced a lot of problems with the Brahmins they recruited in their army, who refused to cross the sea. So the worst punishment they came up with, after the 1857 Uprising, was to incarcerate political prisoners in the Cellular Jail at Andaman, across the Bay of Bengal sea, infamous as the kala-pani jail, most feared by Brahmin revolutionaries, as going there meant loss of caste and social excommunication.
People who travelled abroad in the 19th century faced a lot of problems, Raja Rammohan Roy, for example. Swami Vivekananda was criticised
, but he took it in his characteristic stride as he spread ideas of Hinduism in America. In the film Man who Knew Infinity, based on the mathematician Ramanujan, we find references to this rule. But as education in England came to be valued, as China became the land for the lucrative opium trade, and job opportunities opened up in America, economic and political reality meant old Brahmin rules had to change.
In the 20th century, people have been largely relaxed about it, though it does matter in certain circles, to the high priests of Tirupati temple and to the seers of Udupi Krishna temple, and in some Kerala temples, for example, leading to court battles.
Like all things Hindu, there always was a way out. There are purification rites (shuddhi), such as chanting certain mantras and fasting, suggested for those who return home. This is acceptable to most orthodox Brahmin families, but not all.