Firuz Shah Tughlaq
by Wikipedia
Accessed: 10/23/21
I now proceed to lay before the Society the results of my application of the alphabet, developed by

the simple records of Bhilsa

, to the celebrated inscription on Feroz's column, of which facsimiles have been in the Society's possession since its very foundation, without any successful attempt having been made to decipher them. This is the less to be wondered at when we find that 500 years before, on the re-erection of the pillar, perhaps for the second or third time, by the emperor Feroz [r. 1351–1388)], the unknown characters were just as much a mystery to the learned as they have proved at a later period — "Round it" says the author of the Haftaklim, "have been engraved literal characters which the most intelligent of all religions have been unable to explain.

Report says, this pillar is

a monument of renown to the rajas or Hindu princes, and that Feroz Shah set it up within his hunting place:

but on this head there are various traditions which it would be tedious to relate

."

Neither Muhammed Ami'n the author of the Haftaklim [Muhammad Amin Razi, [x], vide Amin Ahmad, author of the Haft Aklim --

The Oriental Biographical Dictionary

], nor Ferishteh, in his account of Feroz's works alludes to the comparatively modern inscription on the same pillar recording the victories of Visala Deva king of Sacambhari (or Sambhar) in the 12th century, of which Sir William Jones first, and Mr. Colebrooke afterwards, published translations in

the first

and

seventh volumes

of the Researches. This was in quite a modern type of Nagari; differing about as much from the character employed on the Allahabad pillar to record the victories of Chanara and Samudra-gupta, as that type is now perceived to vary from the more ancient form originally engraven on both of these pillars; so that (placing Chandra-gupta, in the third or fourth century, midway between Visala, in the Samvat year 1220, and the oldest inscription) we might have roughly deduced an antiquity of fourteen or fifteen centuries anterior to Visala's reign for the original lat alphabet, from the gradual change of form in the alphabetical symbols, had we no better foundation for fixing the period of these monuments.

But in my preceding notice, I trust that this point has been set at rest, and that it has been satisfactorily proved that the several pillars of Delhi, Allahabad, Mattiah and Radhia were erected under the orders of king Devanampiya Piyadasi of Ceylon, about three hundred years before the Christian era.

VI.—Interpretation of the most ancient of the inscriptions on the pillar called the lat of Feroz Shah, near Delhi, and of the Allahabad, Radhia [Lauriya-Araraj (Radiah)] and Mattiah [Lauriya-Nandangarh (Mathia)] pillar, or lat, inscriptions which agree therewith., by James Prinsep, Sec. As. Soc. &c.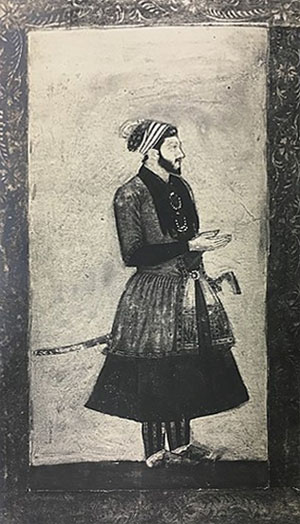 Firoz Shah Tughlaq
Firoz shah Tuglaq ibne Malik Rajjab
Sultan of Delhi
Reign: 23 March 1351 – 20 September 1388
Predecessor: Muhammad bin Tughluq
Successor: Tughluq Khan
Born: 1309
Died: 20 September 1388 (aged 79), Jaunpur
Burial: 20 September 1388, Tomb of Firoz Shah at Jaunpur, Jaunpur
Issue: Fateh Khan, Zafar Khan, Nasir ud din Muhammad Shah III
Names: Firuz Shah Tughlaq
House: Tughlaq
Dynasty: Tughlaq dynasty
Father: Malik Rajab
Mother: Bibi Naila
Religion: Islam
Sultan Firoz Shah Tughlaq (1309 – 20 September 1388) was a Muslim ruler of the Tughlaq dynasty, who reigned over the Sultanate of Delhi[1] from 1351 to 1388.[2][3] He succeeded his cousin Muhammad bin Tughlaq following the latter's death at Thatta in Sindh, where Muhammad bin Tughlaq had gone in pursuit of Taghi the ruler of Gujarat. For the first time in the history of Delhi Sultanate, a situation was confronted wherein nobody was ready to accept the reins of power. With much difficulty, the camp followers convinced Firoz to accept the responsibility. In fact, Khwaja Jahan, the Wazir of Muhammad bin Tughlaq had placed a small boy on throne claiming him to the son of Muhammad bin Tughlaq,[4] who meekly surrendered afterwards. Due to widespread unrest, his realm was much smaller than Muhammad's. Tughlaq was forced by rebellions to concede virtual independence to Bengal and other provinces. He established Sharia across his realm.[1]
Background
His father's name was Rajab (the younger brother of Ghazi Malik) who had the title Sipahsalar. His mother Naila was a Bhati Rajput princess (daughter of Rana Mal) from Dipalpur.[5]
Rule
We know of Firoz Shah Tughlaq in part through his 32-page autobiography, titled Futuhat-e-firozshahi.
[6][7]
Futuhat-i Firuz Shahi bi tashih-i Abdu'r-Rashid
Rashid, Abdur; editor: [Firoz Shah Tughlaq, Sultan of Delhi]
Published by Muslim University, Aligarh, 1954
[

This little work,

the production of the Sultan Firoz Shah

, contains a brief summary of the res gestae [achievements] of his reign, or, as he designates them, his "Victories."

Sir H. Elliot was unable to obtain a copy of it, but considered its recovery very desirable, "as everything relating to the noble character of Firoz is calculated to excite attention." Colonel Lees also speaks of it, but he had never seen it, and was not well informed as to its extent.

1 [Journal Royal Asiatic Society, Vol. IV., New Series, p. 446. See also Briggs' Ferishta, I., 462.] Mr. Thomas was more fortunate, for he possesses

a copy which purports to have been written in 1139 H. (1726 A.D.), but it is quite modern

; the date therefore must be that of the MS. from which it was copied. The work is a mere brochure of thirty-two pages, and the editor has translated the whole of it,

with the exception of a few lines in the preface laudatory of the prophet

. It exhibits the humane and generous spirit of Firoz in a very pleasing unostentatious light, recording his earnest endeavours to discharge the duties of his station with clemency, and to act up to the teaching of his religion with reverence and earnestness.

]

-- XVII. Futuhat-i Firoz Shahi of Sultan Firoz Shah, Excerpt from The History of India As Told By Its Own Historians: The Muhammadan Period, edited from the posthumous papers of the Late Sir H.M. Elliot, K.C.B., East India Company's Bengal Civil Service, by Professor John Dowson, M.R.A.S., Staff college, Sandhurst, Vol. III, P. 374-, 1871
He was 42 when he became Sultan of Delhi in 1351. He ruled until 1388. At his succession, after the death of Muhammad Tughlaq, he faced many rebellions, including in Bengal, Gujarat and Warangal. Nonetheless he worked to improve the infrastructure of the empire building canals, rest-houses and hospitals, creating and refurbishing reservoirs and digging wells. He founded several cities around Delhi, including Jaunpur, Firozpur, Hissar, Firozabad, Fatehabad.[8] Most of Firozabad was destroyed as subsequent rulers dismantled its buildings and reused the spolia as building materials,[9] and the rest was subsumed as New Delhi grew.
Religious and administrative policies
Tughlaq was a fervent Muslim and adopted sharia policies. He made a number of important concessions to theologians. He imposed Jizya tax on all non-Muslims. He tried to ban practices that the orthodox theologians considered un-Islamic, an example being his prohibition of the practice of Muslim women going out to worship at the graves of saints. He persecuted a number of sects which were considered heretical by the Muslim theologians.[citation needed] Tughlaq took to heart the mistakes made during his cousin Muhammad's rule. He decided not to reconquer areas that had broken away, nor to keep further areas from taking their independence. He was indiscriminately benevolent and lenient as a sultan.[10] He decided to keep nobles and the Ulema happy so that they would allow him to rule his kingdom peacefully.
"The southern states had drifted away from the Sultanate and there were rebellions in Gujarat and Sindh", while "Bengal asserted its independence." He led expeditions to against Bengal in 1353 and 1358. He captured Cuttack, desecrated the Jagannath Temple, Puri, and forced Raja Gajpati of Jajnagar in Orissa to pay tribute. He converted Chauhan Rajputs from Hinduism to Islam in the 14th century. They are now known as Qaimkhanis in Rajasthan.
He laid siege to Kangra Fort and forced Nagarkot to pay tribute, and did the same with Thatta.[8] During his time Tatar Khan of Greater Khorasan attacked Punjab multiple times and during final battle in Gurdaspur his face was slashed by the sword given by Feroz Shah Tughlaq to Raja Kailash Pal of Mau-Paithan from Nagarkot region. Feroz Shah Tughlaq married off his daughter with Raja Kailash Pal, embraced him to Islam and sent the couple to rule Greater Khorasan, where eleven sons known by the caste of 'badpagey' were born to the queen.[11]
Rather than awarding position based on merit, Tughlaq allowed a noble's son to succeed to his father's position and jagir after his death.[12] The same was done in the army, where an old soldier could send his son, son-in-law or even his slave in his place. He increased the salary of the nobles. He stopped all kinds of harsh punishments such as cutting off hands. He also lowered the land taxes that Muhammad had raised. Tughlaq's reign has been described as the greatest age of corruption in medieval India: he once gave a golden tanka to a distraught soldier so that he could bribe the clerk to pass his sub-standard horse.[13]
Infrastructure and education
Tughlaq instituted economic policies to increase the material welfare of his people. Many rest houses (sarai), gardens and tombs(Tughluq tombs) were built. A number of madrasas (Islamic religious schools) were opened to encourage the religious education of Muslims. He set up hospitals for the free treatment of the poor and encouraged physicians in the development of Unani medicine.[14] He provided money for the marriage of girls belonging to poor families under the department of Diwan-i-khairat. He commissioned many public buildings in Delhi. He built Firoz Shah Palace Complex at Hisar in 1354 CE, over 300 villages and dug five major canals, including the renovation of Prithviraj Chauhan era Western Yamuna Canal, for irrigation bringing more land under cultivation for growing grain and fruit. For day-to-day administration, Sultan Firoz Shah Tughlaq heavily depended on Malik Maqbul, previously commander of Warangal fort, who was captured and converted to Islam.[15] When Tughlaq was away on a campaign to Sind and Gujarat for six months and no news was available about his whereabouts Maqbul ably protected Delhi.[16] He was the most highly favoured among the significant number of the nobles in Tughlaq's court and retained the trust of the sultan.[17] Sultan Feroze Shah Tughlaq used to call Maqbul as 'brother'. The sultan remarked that Khan-i-Jahan (Malik Maqbul) was the real ruler of Delhi.[18]
Hindu religious works were translated from Sanskrit to Persian and Arabic.[19] He had a large personal library of manuscripts in Persian, Arabic and other languages. He brought 2 Ashokan Pillars from Meerut, and Topra near Radaur in Yamunanagar district of Haryana, carefully cut and wrapped in silk, to Delhi in bullock cart trains. He re-erected one of them on the roof of his palace at Firoz Shah Kotla.[19]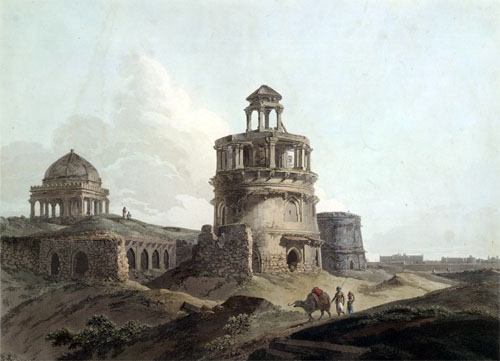 Remains of buildings at Firoz Shah Kotla, Delhi, 1795.
Remains of an Ancient Building near Firoz Shah's Cotilla

Artist and engraver: Daniell, Thomas (1749-1840)

Date: 1795

Plate 7 from the first set of Thomas Daniell's 'Oriental Scenery.' In the 14th Century Delhi was the capital of the Tughluqs, powerful rulers whose kingdom encompassed almost all of the subcontinent. The citadel (Daniell's Cotilla or kotla) of Firuz Shah, on the river Jumna, was built by Firuz Shah Tughluq, who ruled between 1351 and 1388.

The buildings in this aquatint no longer exist and the citadel is now in the south-east of modern Delhi. The course of the Jumna has now shifted eastwards

.

This view was reproduced on a Staffordshire earthenware dish around 1810-20.

-- British Library Online Gallery, bl.uk
The Staff of Firuz Shah, 1788
[10'4" circumference at base / 37' tall / red]-- XXI. Inscriptions on the Staff of Firuz Shah, translated from the Sanscrit, as explained by Radha Canta Sarman. Excerpt from Asiatic Researches, Volume 1, P. 315-317, 1788
I have the pleasure of presenting to the Society a Book of Drawings and Inscriptions prepared under the inspection of their late member, Captain James Hoare, and intended by him (I have reason to believe) for the life of the Society.

Two of the drawings represent elevations, taken on the spot, of the stone building near Dehlee, called the Shikargah, or hunting place, of Feeroz Shah; with the pillar in the center, and above the summit of it, commonly known by the designation of Feeroz Shah's Lat; and described, with an outline of the building and pillar, in the 21st paper of the 1st Vol. of the Society's Transactions.

The Staff of Firuz Shah, 1788
[10'4" circumference at base / 37' tall / red]

-- Translation of one of the Inscriptions on the Pillar At Dehlee, called the Lat of Feeroz Shah, Excerpt from Asiatic Researches, Volume 7, by Henry Colebrooke, Esq., With Introductory Remarks by Mr. Harington, P. 175-182, 1803
Transfer of capital was the highlight of his reign. When the Qutb Minar struck by lightning in 1368 AD, knocking off its top storey, he replaced them with the existing two floors, faced with red sandstone and white marble.
One of his hunting lodges, Shikargah, also known as Kushak Mahal, is situated within the Teen Murti Bhavan complex, Delhi.
The nearby Kushak Road is named after it, as is the Tughlaq Road further on.[20][21]
Legacy
His eldest son, Fath Khan, died in 1376. He then abdicated in August 1387 and made his other son, Prince Muhammad, king. A slave rebellion forced him to confer the royal title to his grandson, Tughluq Khan.[8]
Tughlaq's death led to a war of succession coupled with nobles rebelling to set up independent states. His lenient attitude had strengthened the nobles, thus weakening the his position. His successor Ghiyas-ud-Din Tughlaq II could not control the slaves or the nobles. The army had become weak and the empire had shrunk in size. Ten years after his death, Timur's invasion devastated Delhi. His tomb is located in Hauz Khas (New Delhi), close to the tank built by Alauddin Khalji. Attached to the tomb is a madrasa built by Firoz Shah in 1352–53.
Coin gallery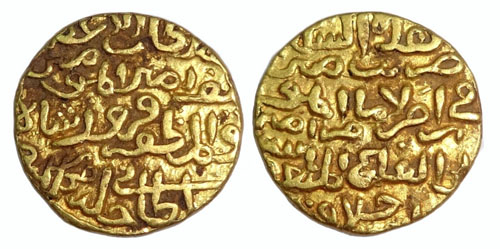 Gold coin of Firuz Shah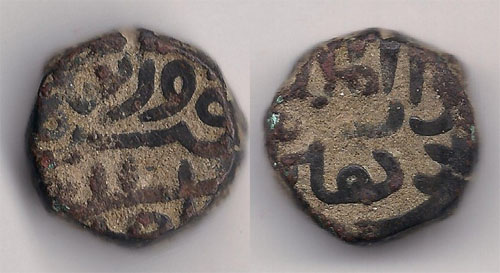 Jital of 40 Rati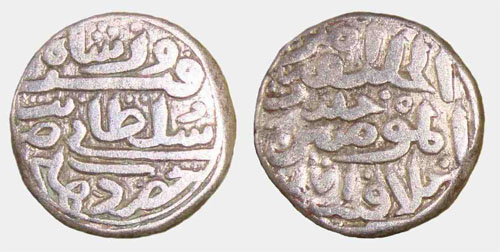 Billon Tanka of Hazrat Dehli Dated AH 771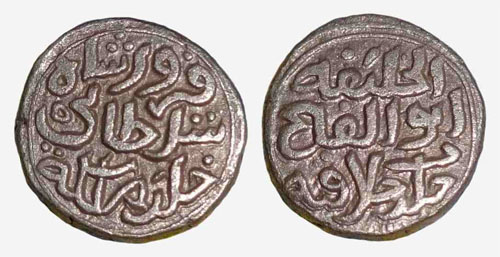 Coin of 32 Rati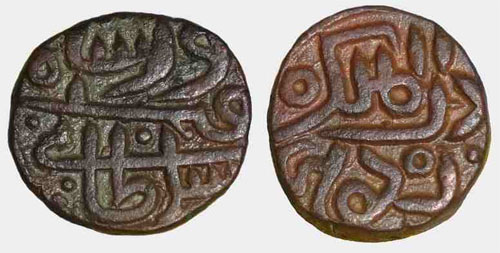 Jital of 40 Rati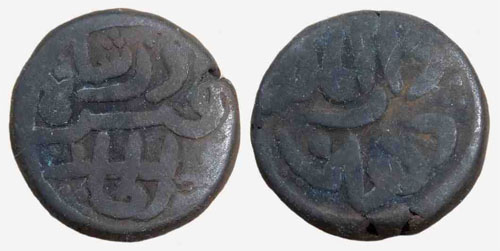 Jital of 40 Rati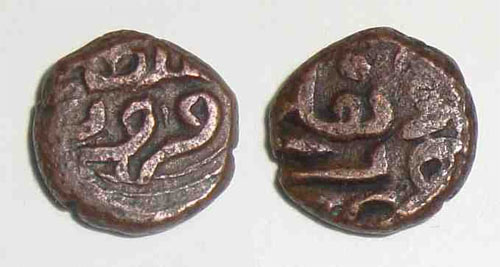 Jital of Firoz Shah
References
1. Peter Jackson. The Delhi Sultanate: A Political and Military History. Cambridge University Press. p. 288.
2. Tughlaq Shahi Kings of Delhi: Chart The Imperial Gazetteer of India, 1909, v. 2, p. 369..
3. Sarkar, Jadunath (1994) [1984]. A History of Jaipur (Reprinted, revised ed.). Orient Blackswan. p. 37. ISBN 978-8-12500-333-5.
4. Banerjee, Anil Chandra (1983). A New History Of Medieval India. Delhi: S Chand & Company. pp. 61–62.
5. Sarkar, Jadunath (1994) [1984]. A History of Jaipur (Reprinted, revised ed.). Orient Blackswan. p. 37. ISBN 978-8-12500-333-5.
6. Tughlaq, Firoz Shah (1949). Futūḥāt-i Fīrūz Shāhī (Reprinted by Aligarh Muslim University ed.). OCLC 45078860.
7. See Nizami, Khaliq Ahmad (1974). "The Futuhat-i-Firuz Shahi as a medieval inscription". Proceedings of the Seminar on Medieval Inscriptions (6–8th Feb. 1970). Aligarh, Uttar Pradesh: Centre of Advanced Study, Department of History, Aligarh Muslim University. pp. 28–33. OCLC 3870911. and Nizami, Khaliq Ahmad (1983). On History and Historians of Medieval India. New Delhi: Munshiram Manoharlal. pp. 205–210. OCLC 10349790.
8. Sen, Sailendra (2013). A Textbook of Medieval Indian History. Primus Books. pp. 97–100. ISBN 978-9-38060-734-4.
9. "West Gate of Firoz Shah Kotla". British Library.
10. Chaurasia, Radhey Shyam (2002). History of Medieval India: From 1000 A.D. to 1707 A.D. New Delhi: Atlantic Publishers. pp. 67–76. ISBN 978-81-269-0123-4.
11. Pathania, Raghunath Singh (1904). Twarikye Rajghrane Pathania. English version, 2004 Language & Culture Department Himachal Pradesh Govt.
12. Jackson, Peter (1999). The Delhi Sultanate: A Political and Military History. Cambridge, England: Cambridge University Press. p. 304. ISBN 978-0-521-40477-8.
13. Chaurasia, Radhey Shyam (2002). History of Medieval India: From 1000 A.D. to 1707 A.D. New Delhi: Atlantic Publishers. p. 75. ISBN 978-81-269-0123-4.
14. Tibb Firoz Shahi (1990) by Hakim Syed Zillur Rahman, Department of History of Medicine and Science, Jamia Hamdard, New Delhi, 79pp
15. Ahmend, Manazir (1978). Sultan Firoz Shah Tughlaq, 1351–1388 A.D. Allahabad: Chugh Publications. pp. 46, 95. OCLC 5220076.
16. Kulke, Hermann; Rothermund, Dietmar (1998). A History of India. Routledge. p. 167. ISBN 0-415-15482-0.
17. Jackson, Peter (1999). The Delhi Sultanate: A Political and Military History. Cambridge, England: Cambridge University Press. p. 186. ISBN 978-0-521-40477-8.
18. Chandra, Satish (2007). Medieval India; From Sultanat to the Mughals. Har Anand Publications. p. 122. ISBN 978-81-241-1064-5.
19. Thapar, Romilla (1967). Medieval India. NCERT. p. 38. ISBN 81-7450-359-5.
20. "Indian cavalry's victorious trysts with India's history". Asian Age. 6 December 2011. Archived from the original on 19 January 2012.
21. "King's resort in the wild". Hindustan Times. 4 August 2012. Archived from the original on 17 June 2013.
External links
• The Dargah Qadam Sharif or Shrine of the Holy Foot, Delhi
***********************
Feroz Shah Kotla
by Wikipedia
Accessed: 10/23/21

Firoz Shah Kotla
Delhi, India
Feroz Shah Kotla Panorama, with Ashokan Pillar (left) and Jami Masjid (right)
Type: Fort
Site information
Condition: Ruins
Site history
Built: 14th century
Built by: Delhi Sultanate
Materials: Granite Stones and lime mortar
The Feroz Shah Kotla or Kotla was a fortress built by Sultan Feroz Shah Tughlaq to house his version of Delhi city called Firozabad.[1]
A pristine polished sandstone Topra Ashokan pillar from the 3rd century BC

rises from the palace's crumbling remains, one of many pillars of Ashoka left by the Mauryan emperor; it was moved from Topra Kalan in Pong Ghati of Yamunanagar district in Haryana to Delhi under orders of Firoz Shah Tughlaq of Delhi Sultanate, and re-erected in its present location in 1356. The original inscription on the obelisk is primarily in Brahmi script but language was Prakrit, with some Pali and Sanskrit added later. The inscription was successfully translated in 1837 by James Prinsep.[2] This and other ancient lats (pillars, obelisk) have earned Firoz Shah Tughlaq and Delhi Sultanate fame for its architectural patronage.[3]
Other than the Ashokan Pillar, the Fort complex also houses the Jami Masjid (Mosque), a Baoli and a large garden complex.
History
Feroz Shah Tughlaq (r. 1351–1388), the Sultan of Delhi, established the fortified city of Firozabad[4] in 1354, as the new capital of the Delhi Sultanate, and included in it the site of the present Feroz Shah Kotla. Kotla literally means fortress or citadel.
The pillar, also called obelisk or Lat is an Ashoka Column, attributed to Mauryan ruler Ashoka. The 13.1 meters high column, made of polished sandstone and dating from the 3rd century BC, was brought from Ambala in the 14th century under orders of Feroz Shah. It was installed on a three-tiered arcaded pavilion near the congregational mosque, inside the Sultanate's fort. In centuries that followed, much of the structure and buildings near it were destroyed as subsequent rulers dismantled them and reused the spolia as building materials.
[5][6]
In the pre-independence era, due to lack of auditoriums in the capital, most classical music performances were staged here or at Qutub complex. Later Ebrahim Alkazi, then head of NSD, staged his landmark production of Dharamvir Bharati's Andha Yug here and its premiere in 1964 was attended by Prime Minister Jawaharlal Nehru.[7]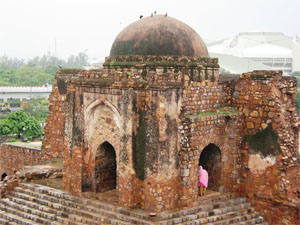 Jami Masjid
Jami Masjid is one of the most ancient and largest surviving mosque and monument, still in use. Architecturally it was built on a series of underground cells made of quartzite stone, covered with limestone. It is surrounded by a large courtyard with cloisters and a Prayer Hall. The Prayer Hall now in complete ruins was once used by the Royal Ladies. The masjid and its architecture is an example of Tughluq architecture.
The entrance of Jami Masjid lies on the northern side. It is connected by a causeway to the pyramidal structure of the Ashokan Pillar. This mosque was visited by Sultan Timur in 1398 AD to say his prayers. He was spellbound by its beauty and constructed a mosque in Samarkand in Mawarannahr imitating the design of this Masjid. This mosque is also known to be the place where Imad ul Mulk, a Mughal Prime Minister, got the Emperor Alamgir II murdered in 1759 AD.[8]
Topra Ashokan Pillar
See also: Topra_Kalan § Topra_Ashokan_Pillar, and Ashokan_Edicts_in_Delhi § Delhi-Topra_pillar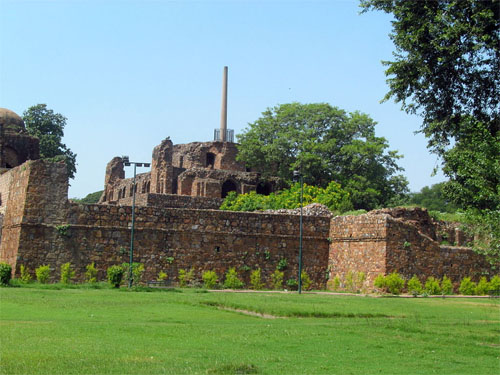 Ashokan Pillar at Firoz Shah Kotla as it stands today.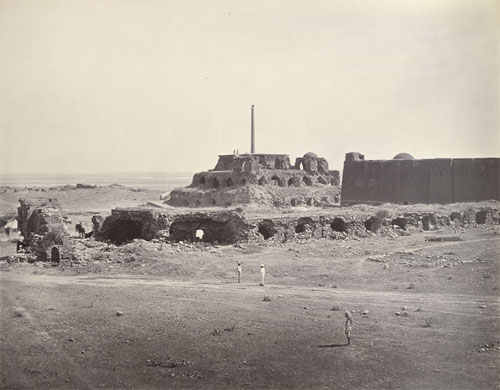 Ashoka Pillar at Feroze Shah Kotla, Delhi, 1861.
Plate IV: Picturesque Elevation of the Shikar-Gah, & the Celebrated Pillar at Dehli in June, 1797

-- Translation of one of the Inscriptions on the Pillar At Dehlee, called the Lat of Feeroz Shah, Excerpt from Asiatic Researches, Volume 7, by Henry Colebrooke, Esq.

Water-colour painting of the Pillar of Firoz Shah at Delhi by an anonymous artist, 1808-1820. Inscribed on the front in pencil is: 'The Lat of Firoz Shah at Delhi.' British Library Online Gallery

A View of Firozabad by William Hodges 1787
The Ashokan Pillar which is now within Feroz Shah Kotla is towards the north of Jama Masjid [Mosque]. The Pillar was first erected by King Ashoka between 273 and 236 BC in Topra Kalan, Yamunanagar district, Haryana.

Of note, there is another Ashokan Pillar, that is seen installed near the Hindu Rao Hospital, also erected by King Ashoka in Meerut. This pillar, however, was unfortunately broken into five pieces after it was damaged during an explosion. The pillar was neglected for a century up till 1838 when after the Revolt of 1857 Raja Hindu Rao took charge to transfer the Ashokan Pillar's broken pieces to Kolkata's Asiatic Society. Within a year, the structure was put together and re-established.
Both the Ashokan Pillars were carefully wrapped with cotton silk and were kept on a bed of reed made of raw silk. These were hence transported on a massive carriage attached with 42 wheels and drawn meticulously by 200 men from their original places to Delhi by Feroz Shah Tughlaq to avoid any damage during the journey. Upon reaching Delhi, they were then transported on huge boats to their final destination, one within Feroz Shah Kotla and the other on the ridge near Delhi University and Bara Hindu Rao Hospital.[8]
Script on stone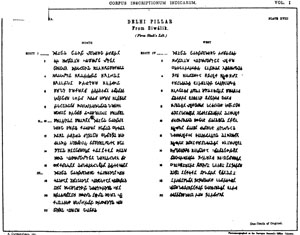 The inscription on Ashoka pillar at Firoz Shah Kotla.
The Sultanate wanted to break and reuse the Ashokan pillar for a minaret. Firoz Shah Tuhglaq, however, decided to erect it near the mosque instead. At the time of re-installation of the obelisk in Delhi, in 1356, no one knew the meaning of the script engraved in the stone.[9]
About five hundred years later, the script (Brahmi) was deciphered by James Prinsep in 1837 with help from scripts discovered on other pillars and tablets in South Asia.[2]
Translation
The inscription on the 3rd-century pillar describes King Devanampiya Piyadasi's[10] policies and appeal to the people and future generations of the kingdom in matters of dharma (just, virtuous life), moral precepts and freedoms. Some extracts of the translation, per James Prinsep, are as follows:[2]
Along the highroads I have caused fig trees to be planted that they may be for shade to animals and men...

— Inscription on Ashoka Pillar[2]
...And let these and others the most skillful in the sacred offices discreetly and respectfully use their most persuasive efforts, acting on the heart and eyes of the children, to impart enthusiasm and instruction in the dharma (religion).

— Inscription on Ashoka Pillar[2]
And whatsoever benevolent acts have been done by me, the same shall be prescribed as duties to the people who follow after me, and in this manner shall their influence and increase be manifest – by service to father and mother, by service to spiritual pastors, by respectful demeanor to the aged and full of years, by kindness to learn, to the orphan and destitute and servants and minstrel tribe.

— Inscription on Ashoka Pillar[2]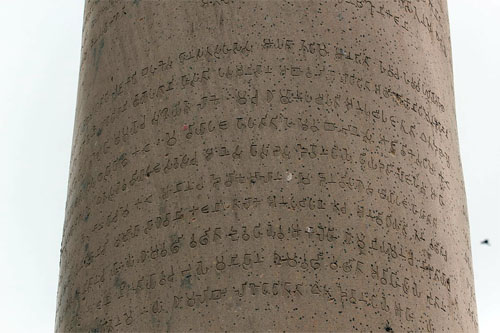 A close up of the inscription on the lat (obelisk).
And religion increaseth among men by two separate processes – by the performance of religious offices, and by security against persecution. (...) And that religion may be free from the persecution of men, that it may increase through the absolute prohibition to put to death (any) living beings or sacrifice aught that draweth breath. For such an object is all this done, that it may endure to my sons and sons' sons – as long the sun and the moon shall last.

— Inscription on Ashoka Pillar[2]
Let stone pillars be prepared and let this edict of dharma (religion) be engraved thereon, that it may endure unto the remotest ages.

— Inscription on Ashoka Pillar, Translated by James Prinsep in 1837[2]
Baoli (The Well)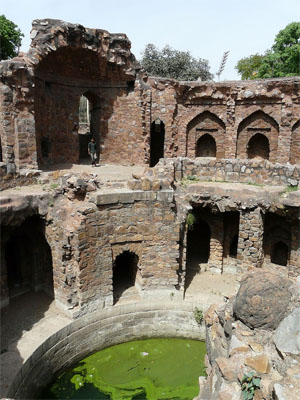 The Baoli
The circular Baoli, which means 'stepwell', lies towards the northwestern side of the Ashokan Pillar. It lies in the heart of a large garden constructed in the form of subterranean apartments and a large underground canal built on its eastern side through which the water runs into the well. This is the only circular Baoli in Delhi, and also one of the 4 Baolis, where the tank is not separated from the well. It once has a roof on it, which collapsed long ago, exposing the tank at the second level.[11] Originally it had an entry from East and West, but now, only the west side is accessible. Due to security reasons, the Baoli is kept locked, but permission to visit can be obtained easily for research purposes from the Delhi circle office of Archaeological Survey of India.
Prayers at the Fort
Every Thursday there is a huge crowd at the fort. It is popularly believed that Jinn(s) descends at the Fort from the Heavens and accepts requests and wishes from people. A lot of wishes, penned down on paper, can be seen on the walls within the premises.
The association to Jinn(s) seems to be not too old. It is only since 1977, a few months after the end of the Emergency, that there are first records of people starting to come to Firoz Shah Kotla in large numbers.[12]
See also
• Delhi Sultanate
• Ashoka
References
1. "Firozabad - Delhi Govt Portal". web.delhi.gov.in. Retrieved 24 September 2021.
2. Prinsep, J (1837). "Interpretation of the most ancient of inscriptions on the pillar called lat of Feroz Shah, near Delhi, and of the Allahabad, Radhia and Mattiah pillar, or lat inscriptions which agree therewith". Journal of the Asiatic Society. 6: 600–609.
3. William Jeffrey McKibben, "The Monumental Pillars of Fīrūz Shāh Tughluq", Ars Orientalis, Vol. 24, (1994), pp. 105–118
4. Sen, Sailendra (2013). A Textbook of Medieval Indian History. Primus Books. p. 98. ISBN 978-9-38060-734-4.
5. "West Gate of Firoz Shah Kotla". British Library.
6. "Pillar of Firoz Shah at Delhi". British Library.
7. "Capital's cultural affair began in 50s". Hindustan Times. 16 November 2011. Archived from the original on 7 January 2013.
8. "Feroz Shah Kotla Monuments – Jami Masjid Ashokan Pillars".
http://www.DelhiInformation.in
. Retrieved 3 April 2016.
9. HM Elliot & John Dawson (1871), Tarikh I Firozi Shahi – Records of Court Historian Sams-i-Siraj The History of India, as Told by Its Historians, Volume 3, Cornell University Archives, pp 352–353
10. another name for Ashoka
11. Vikramjit Singh Rooprai (2019), Delhi Heritage: Top 10 Baolis, Niyogi Books p41
12. "Believe it or not: Inside 14th century Delhi fort, djinns grant wishes". hindustantimes.com/. Retrieved 3 April 2016.
***********************
Qutb Minar
by Wikipedia
Accessed: 10/25/21

Qutb Minar
Minar in Delhi, India
Height 72.5 metres (238 ft)
Architectural style(s) Islamic Architecture
UNESCO World Heritage Site
Type Cultural
Criteria 4
Designated 1993 (17th session)
Reference no. 233
Country India
Continent Asia
Construction Started in 1199 by Qutb-ud-din Aibak / completed in ~ 1220 by his son-in-law Iltutmish[1][2]
Qutb Minar is located in IndiaQutb Minar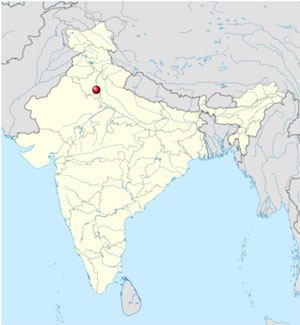 Location of Qutb Minar in India
The Qutub Minar, also spelled as Qutb Minar and Qutab Minar, is a minaret and "victory tower" that forms part of the Qutb complex. It is a UNESCO World Heritage Site in the Mehrauli area of New Delhi, India.[3][4] It is one of most visited tourist spots in the city due to it being one of the earliest that survives in the Indian subcontinent.[5][6][3]
It can be compared to the 62-metre all-brick Minaret of Jam in Afghanistan, of c. 1190, which was constructed a decade or so before the probable start of the Delhi tower.[7] The surfaces of both are elaborately decorated with inscriptions and geometric patterns. The Qutb Minar has a shaft that is fluted with "superb stalactite bracketing under the balconies" at the top of each stage.[8][9][10] In general, minarets were slow to be used in India and are often detached from the main mosque where they exist.[11]
A Synthesis of South Asian and Islamic Architecture
This victory tower is a symbol of the synthesis of traditional Islamic architecture and Southwestern Asian design. Elizabeth Lambourn's Islam Beyond Empires: Mosques and Islamic Landscapes in India and the Indian Ocean studies the introduction of Islam in South Asia and how the region influenced the Islamic religious architecture.[12] These newly arrived Muslims from the Islamic West escaped the Mongol Empire and emigrated to India, where they constructed religious centers. The Qutb Minar serves as a central marker to these new Muslim communities as well as being a reminder of Islam's presence in the area.[12] The architecture of the minaret varies greatly from that of the typical style and design of the mosques constructed in the Middle East. The style of these structures is heavily influenced by the local architecture such as the Indic temples. This affected the different materials, techniques, and decoration that were used in the construction of the Qutb Minar.[12]
The minaret is unique in that historically, these tower minarets were uncommon in South Asian-Islamic design until the 17th century. This lag is due to the slow adoption of the typical Middle Eastern style in India.[12] It is also detached from the main mosque, showcasing how the native culture affected the design of a Middle Eastern structure.[11] The Qutb Minar is seen as the "earliest and best example of a fusion or synthesis of Hindu-Muslim traditions" according to Ved Parkash in his essay The Qutb Minar from Contemporary and Near Contemporary Sources.[12] Like many mosques built in South Asia during this time period, the minaret was constructed by Hindu laborers and craftsmen but overseen by Muslim architects.[12] This led to a construction that synthesized both Hindu and Islamic religious architecture. Since the craftsmen were Hindu and unfamiliar with the Quran, the inscriptions are a compilation of disarranged Quranic texts and other Arabic expressions.[12]
History
The Qutb Minar was built over the ruins of the Lal Kot, the citadel of Dhillika.[6] Qutub Minar was begun after the Quwwat-ul-Islam Mosque, which was started around 1192 by Qutb-ud-din Aibak, first ruler of the Delhi Sultanate.[13]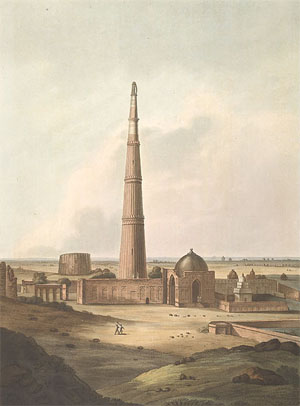 Kuttull Minor, Delhi. The Qutb Minar, 1805.
It is usually thought that the tower is named for Qutb-ud-din Aibak, who began it. It is also possible that it is named after Khwaja Qutbuddin Bakhtiar Kaki a 13th-century sufi saint, because Shamsuddin Iltutmish was a devotee of his.[14]
The Minar is surrounded by several historically significant monuments of the Qutb complex. Quwwat-ul-Islam Mosque, to the north-east of the Minar was built by Qutub-ud-Din Aibak in A.D. 1198. It is the earliest extant - mosque built by the Delhi Sultans. It consists of a rectangular courtyard enclosed by cloisters, erected with the carved columns and architectural members of 27 Hindu and Jaina temples, which were demolished by Qutub-ud-Din Aibak as recorded in his inscription on the main eastern entrance.[15] Later, a lofty arched screen was erected, and the mosque was enlarged, by Shams-ud- Din Itutmish (A.D. 1210-35) and Ala-ud-Din Khalji. The Iron Pillar in the courtyard bears an inscription in Sanskrit in Brahmi script of fourth century A.D., according to which the pillar was set up as a Vishnudhvaja (standard of god Vishnu) on the hill known as Vishnupada in memory of a mighty king named Chandra.[15]
The mosque complex is one of the earliest that survives in the Indian subcontinent.[5][6]
The nearby pillared cupola known as "Smith's Folly" is a remnant of the tower's 19th century restoration, which included an ill-advised attempt to add some more stories.[16][17]
In 1505, an earthquake damaged Qutub Minar; it was repaired by Sikander Lodi.
On 1 September 1803, a major earthquake caused serious damage.

Major Robert Smith of the British Indian Army renovated the tower in 1828 and installed a pillared cupola over the fifth story, creating a sixth.

The cupola was taken down in 1848, under instructions from The Viscount Hardinge, who was the Governor General of India. at the time. It was reinstalled at ground level to the east of Qutb Minar, where it remains. This is known as "Smith's Folly".
[18]
It was added to the list of World Heritage Site by UNESCO in 1993.
The Ghurids
The construction of the Qutb Minar was planned and financed by an Afghani tribe, the Ghurids, who emigrated to India and brought Islam with them. The Ghurids, historically known as the Shansabanis, were a clan of Tajik origin that hailed from Ghur, the mountainous region of modern-day western Afghanistan.[19] In the late eleventh century to the early twelfth century, the different sects of this nomadic clan united, losing its nomadic culture. During this time, they also converted to Islam.[19]
They then expanded into modern-day India and quickly took control of a substantial part of the country.[19]The Ghurids annexed the Multan and Uch in the western Punjab in 1175-76, the northwestern regions around Peshawar in 1177, and the region of Sindh in 1185-86. In 1193, Qutb al-Din Aibek conquered Delhi and implemented a Ghurid governorship in the province, and the congregational mosque, the Qutb Minar complex, was founded in 1193.[19] In the past, scholars believed that the complex was constructed to promote a conversion to Islam amongst the Ghurids' new subjects as well as a symbol of the Ghurids' adherence to a socio-religious system.[19] There is now new information to suggest that conversion to Islam was not a top priority of the new annexes and instead the Ghurid governors sought to make a synthesis of the local culture and Islam through negotiation.[19]
The Patrons and Architects
Qutb-ud-din Aibak, a deputy of Muhammad of Ghor, who founded the Delhi Sultanate after Muhammad of Ghor's death, started construction of the Qutb Minar's first story in 1199. Aibak's successor and son-in-law Shamsuddin Iltutmish completed a further three stories.[14] After a lightning strike in 1369 damaged the then top story, the ruler at the time, Firuz Shah Tughlaq, replaced the damaged story and added one more. Sher Shah Suri also added an entrance while he was ruling and the Mughal emperor Humayun was in exile.[1]
Architecture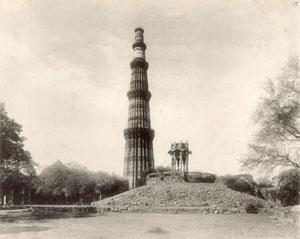 Qutb Minar in Mehrauli in Delhi. Clifton and Co., around 1890
Pesrian-Arabic and Nagari in different sections of the Qutb Minar reveal the history of its construction and the later restorations and repairs by Firoz Shah Tughluq (1351–88) and Sikandar Lodi (1489–1517).[20]
The height of Qutb Minar is 72.5 meters, making it the tallest minaret in the world built of bricks.[2][21] The tower tapers, and has a 14.3 metres (47 feet) base diameter, reducing to 2.7 metres (9 feet) at the top of the peak.[22] It contains a spiral staircase of 379 steps.[13][1]
The whole tower contains a spiral staircase of 379 steps.[13] At the foot of the tower is the Quwat Ul Islam Mosque. The Minar tilts just over 65 cm from the vertical, which is considered to be within safe limits.[23]
Qutb Minar was an inspiration and prototype for many minarets and towers built. The Chand Minar and Mini Qutub Minar bear resemblance to the Qutb Minar and inspired from it.[24]
The Stories of the Qutb Minar
The stories of the Qutb Minar vary in size, style, and material due to varying architects and builders constructing each section.
The Basement Story of the Qutb Minar
The Qutb Minar consists of five stories of red and grey sandstone. The lowest story, also known as the basement story, was completed during the lifetime of Ghiyeth al-Din Muhammad, a sultan during the Ghurid dynasty.[25]
It is revetted with twelve semicircular and twelve flanged pilasters that are placed in alternating order.[25] This story is separated by flanges and by storied balconies, carried on Muqarnas corbels.[26] The story is placed on top of a low circular plinth that is inscribed with a twelve-pointed star with a semicircle placed with each of the angles between the star's points.[25]
There are also six horizontal bands with inscriptions inscribed in naskh, a style of Islamic calligraphy, on this story. The inscriptions are as follows: Quran, sura II, verses 255-60; Quran, sura LIX, verses 22-23, and attributes of God; The name and titles of Ghiyath al-Din; Quran, sura XLVIII, verses 1-6; The name and titles of Mu'izz al-Din; and Qur'anic quotations and the following titles in this much restored inscription: "The Amir, the most glorious and great commander of the army."[25] This level also has inscriptions praising Muhammad of Ghor, the sultan of the Ghurids.[14]
The Second, Third, and Fourth Stories
The second, third, and fourth stories were erected by Sham ud-Din Iltutmish, the first Muslim sovereign to rule from Delhi.[27] He is considered to be the first of the Delhi Sultan dynastic line.[27] The second and third stories are also revetted with twelve semicircular and twelve flanged pilasters that are placed in alternating order.[25] These red sandstone columns are separated by flanges and by storied balconies, carried on Muqarnas corbels.[26] Prior to its reconstruction and reduction, the fourth story was also decorated with semicircular pilasters.[25] It was re-constructed in white marble and is relatively plain.[26]
The Fifth Story
In 1369, the fourth story was repaired after lightning struck the minaret. During reconstruction, Sultan Firuz Shah Tughlaq elected to reduce the size of the fourth story and then separated it into two stories.[27]
Controversy
On 14 November 2000, Delhi newspapers reported that the Hindu nationalist groups, Vishva Hindu Parishad and Bajrang Dal, planned to host a yajna, a ritualistic Hindu ceremony related to cleansing or purification, at the Qutub Minar complex where the minaret is located.[15] The Delhi police detained 80 activists led by Ram Krishan Gaur that were located by the Qutb Minar and were stopped from performing the yajna inside the tower. Due to a police barricade, the activists instead performed the ritual on the streets outside the mosque complex.[28] Since the spolia of Jain and Hindu temples were used to construct the minaret, the right-wing Hindu groups believed that they needed to perform a cleansing at the complex in order to free the Hindu icons that were "trapped" in the minaret and the mosque complex.[15]
Accidents
Before 1976, the general public was allowed access to the first floor of the minaret, via the internal staircase. Access to the top was stopped after 2000 due to suicides. On 4 December 1981, the staircase lighting failed. Between 300 and 400 visitors stampeded towards the exit. 45 were killed and some were injured. Most of these were school children.[29] Since then, the tower has been closed to the public. Since this incident the rules regarding entry have been stringent.[30]
In Literature
Letitia Elizabeth Landon's poem The Qutb Minar, Delhi is a reflection on an engraving in Fisher's Drawing Room Scrap Book, 1833.
In Popular Culture
Bollywood actor and director Dev Anand wanted to shoot the song "Dil Ka Bhanwar Kare Pukar" from his film Tere Ghar Ke Samne inside the Minar. However, the cameras in that era were too big to fit inside the tower's narrow passage, and therefore the song was shot inside a replica of the Qutb Minar[31]
The site served as the Pit Stop of the second leg of the second series of The Amazing Race Australia.[32]
A picture of the minaret is featured on the travel cards and tokens issued by the Delhi Metro Rail Corporation. A recently launched start-up in collaboration with the Archaeological Survey of India has made a 360o walkthrough of Qutb Minar available.[33]
Ministry of Tourism recently gave seven companies the 'Letters of Intent' for fourteen monuments under its 'Adopt a Heritage Scheme.' These companies will be the future 'Monument Mitras.' Qutb Minar has been chosen to part of that list.[34][35]
Gallery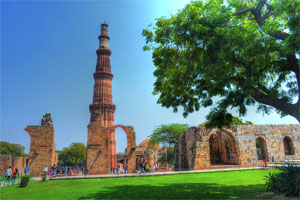 Qutb Minar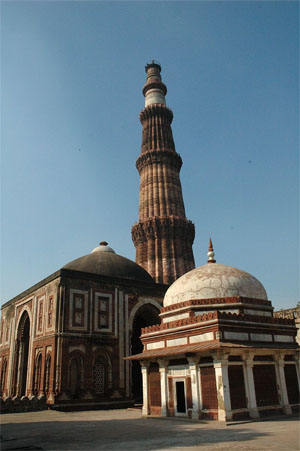 Left to Right:Alai Darwaza, Qutb Minar, Imam Zamin's tomb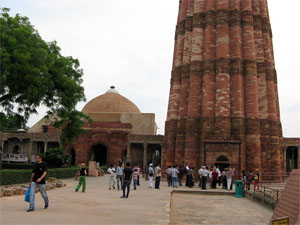 Entrance to Minar
Calligraphy on upper-base section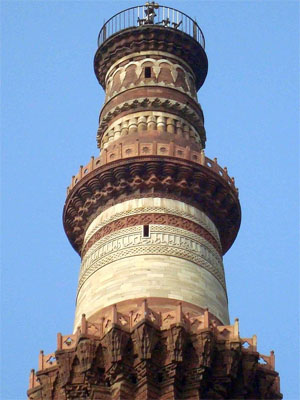 Decorative motifs on upper levels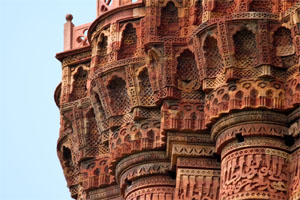 Close-up of balcony
Plaque at Minar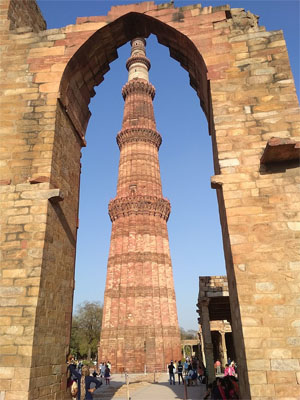 View through arch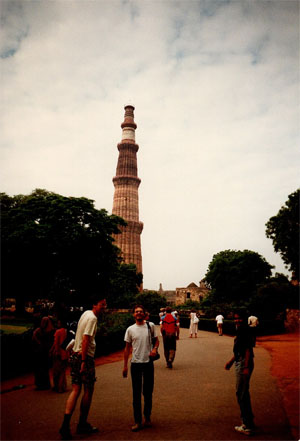 Qutb Minar path view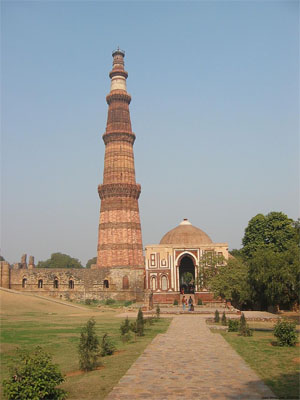 Qutb Minar from the south
See also
• Red Fort
• Agra Fort
• Firoz Minar
• Fateh Burj
• Chand Minar
• Taj Mahal
• List of tallest minarets
Notes
1. "Qutub Minar". qutubminardelhi.com. Archived from the original on 22 June 2015. Retrieved 15 June 2015.
2. History And Civics - Page 40. ISBN 9788131763193.
3. "WHC list". who.unesco.org. 2009. Archived from the original on 27 November 2018. Retrieved 27 October 2011.
4. Singh (2010). Longman History & Civics ICSE 7. Pearson Education India. p. 42. ISBN 978-81-317-2887-1. Archived from the original on 28 May 2013. Retrieved 27 October 2011.
5. "Quwwat-ul-Islam Mosque". qutubminardelhi.com. Archived from the original on 25 July 2015. Retrieved 15 June 2015.
6. Ali Javid; ʻAlī Jāvīd; Tabassum Javeed (1 July 2008). World Heritage Monuments and Related Edifices in India. pp. 14, 105, 107, 130. ISBN 9780875864846. Archived from the original on 7 January 2014. Retrieved 26 May 2009.
7. Also two huge minarets at Ghazni.
8. Ettinghausen, Grabar & Jenkins 2003, p. 164.
9. Harle 1994, p. 424.
10. Blair & Bloom 1996, p. 149.
11. Harle 1994, p. 429.
12. Lambourn, Elizabeth A. (2017). "Islam beyond Empires". A Companion to Islamic Art and Architecture. pp. 755–776. doi:10.1002/9781119069218.ch30. ISBN 978-1-119-06921-8.
13. "Qutub Minar". Archived from the original on 16 January 2018. Retrieved 24 October 2016.
14. "Qutub Minar Height". qutubminardelhi.com. Archived from the original on 29 June 2015. Retrieved 15 June 2015.
15. Rajagopalan, Mrinalini (2012). "A Medieval Monument and Its Modern Myths of Iconoclasm: The Enduring Contestations over the Qutb Complex in Delhi, India". In Kinney, Dale; Brilliant, Richard (eds.). Reuse Value: Spolia and Appropriation in Art and Architecture from Constantine to Sherrie Levine. Ashgate Publishing. pp. 199–221. doi:10.4324/9781315606187. ISBN 978-1-4094-8684-8.
16. Wright, Colin. "Ruin of Hindu pillars, Kootub temples, Delhi".
http://www.bl.uk
. Archived from the original on 30 June 2019. Retrieved 8 July 2019.
17. Wright, Colin. "Rao Petarah's Temple, Delhi".
http://www.bl.uk
. Archived from the original on 8 July 2019. Retrieved 8 July 2019.
18. "Qutub Minar and Smiths Folly - an architectural disaster." Archived7 October 2016 at the Wayback Machine, WordPress.
19. Patel, A. (2004). "Toward Alternative Receptions of Ghurid Architecture in North India (Late Twelfth-Early Thirtheenth Century CE)". Archives of Asian Art. 54: 35–61. doi:10.1484/aaa.2004.0004. JSTOR 20111315.
20. Plaque at Qutb Minar
21. "World's tallest buildings, monuments and other structures".
22. "Qutb Minar Height". qutubminardelhi.com. Archived from the original on 29 June 2015. Retrieved 15 June 2015.
23. Verma, Richi (24 January 2009). "Qutb Minar tilting due to seepage: Experts". The Times of India. Archived from the original on 31 October 2013. Retrieved 30 June 2012.
24. Koch, Ebba (1991). "The Copies of the Quṭb Mīnār". Iran. 100: 95–186. doi:10.2307/4299851. JSTOR 4299851.
25. Pinder-Wilson, Ralph (2001). "Ghaznavid and Ghūrid Minarets". Iran. 39: 155–186. doi:10.2307/4300603. ISSN 0578-6967. JSTOR 4300603.
26. "Qutub Minar". Archived from the original on 16 January 2018. Retrieved 24 October 2016.
27. Shafiqullah, Shah Muhammad (1 January 1993). "The Qutb Minar: An Observation on Its Calligraphy". Islamic Quarterly. 37 (4): 281–286. ProQuest 1304273557.
28. "VHP yajna thwarted". The Tribune. Chandigarh, India. 14 November 2000.
29. "Around the World; 45 Killed in Stampede at Monument in India". The New York Times. 5 December 1981. Archived from the original on 16 February 2018. Retrieved 13 February 2018.
30. Khandekar, Nivedita (4 December 2012). "31 yrs after tragedy, Qutub Minar's doors remain shut". Hindustan Times. Archived from the original on 14 February 2018. Retrieved 13 February 2018.
31. Mehul S Thakkar, Mumbai Mirror 22 Nov 2011, IST (22 November 2011). "30 years later, Qutub ready to face the camera". The Times of India. Archived from the original on 2 September 2013. Retrieved 26 September 2012.
32. "Mehrauli Qutub Minar UNESCO World Heritage Complex Tour Guide - Destination Overview". Holiday Travel. 12 December 2011. Archived from the original on 31 December 2019. Retrieved 31 December 2019.
33. "Qutub Minar in MEHRAULI, Delhi - 360-degree view on WoNoBo.com". Places.wonobo.com. Archived from the original on 3 November 2013. Retrieved 17 May 2014.
34. "Adopt a Heritage Scheme, Qutub Minar, Delhi - to be adopted by Yatra.com". India Today. Archived from the original on 30 December 2019. Retrieved 30 October 2017.
35. "Clean water to free WiFi: What Yatra.com will provide after adopting Qutub Minar". theprint.in. Retrieved 2 November 2018.
References
• Blair, Sheila S.; Bloom, Jonathan M. (1996). The Art and Architecture of Islam 1250-1800. Yale University Press. ISBN 978-0-300-06465-0.
• Harle, James C. (1994). The Art and Architecture of the Indian Subcontinent. Yale University Press. ISBN 978-0-300-06217-5.
• Ettinghausen, Richard; Grabar, Oleg; Jenkins, Marilyn (2003). Islamic Art and Architecture 650-1250: 2nd Edition. Yale University Press. ISBN 978-0-300-08869-4.
External links
• Qutub Minar
• Archaeological Survey of India | Qutb Minar and its Monuments, Delhi
• Qutb Minar Ticket