Constantin François de Chassebœuf, comte de Volney
by Wikipedia
Accessed: 1/31/21
Napoleon's enlistment of several dozen "savants" for his Egyptian Expedition is too well known to require detail here. His idea was to build a sort of living archive for the expedition, in the form of studies conducted on all topics by the members of the Institut d'Égypte, which he founded. What is perhaps less well known is Napoleon's prior reliance upon the work of the Comte de Volney, a French traveler whose Voyage en Égypte et en Syrie appeared in two volumes in 1787. Aside from a short personal preface informing the reader that the sudden acquisition of some money (his inheritance) made it possible for him to take the trip east in 1783, Volney's Voyage is an almost oppressively impersonal document. Volney evidently saw himself as a scientist, whose job it was always to record the "état" of something he saw. The climax of the Voyage occurs in the second volume, an account of Islam as a religion.64 Volney's views were canonically hostile to Islam as a religion and as a system of political institutions; nevertheless Napoleon found this work and Volney's Considérations sur la guerre actuel de Turcs (1788) of particular importance. For Volney after all was a canny Frenchman, and -- like Chateaubriand and Lamartine a quarter century after him -- he eyed the Near Orient as a likely place for the realization of French colonial ambition.

What Napoleon profited from in Volney was the enumeration, in ascending order of difficulty, of the obstacles to be faced in the Orient by any French expeditionary force.

Napoleon refers explicitly to Volney in his reflections on the Egyptian expedition, the Campagnes d'Égypte et de Syrie, 1798-1799, which he dictated to General Bertrand on Saint Helena. Volney, he said, considered that there were three barriers to French hegemony in the Orient and that any French force would therefore have to fight three wars: one against England, a second against the Ottoman Porte, and a third, the most difficult, against the Muslims.65 Volney's assessment was both shrewd and hard to fault since it was clear to Napoleon, as it would be to anyone, who read Volney, that his Voyage and the Considérations were effective texts to be used by any European wishing to win in the Orient. In other words, Volney's work constituted a handbook for attenuating the human shock a European might feel as he directly experienced the Orient: Read the books, seems to have been Volney's thesis, and far from being disoriented by the Orient, you will compel it to you.

Napoleon took Volney almost literally, but in a characteristically subtle way. From the first moment that the Armée d'Égypte appeared on the Egyptian horizon, every effort was made to convince the Muslims that "nous sommes les vrais musulmans," [Google translate: "We are the real Muslims."] as Bonaparte's proclamation of July 2, 1798, put it to the people of Alexandria.66 Equipped with a team of Orientalists (and sitting on board a flagship called the Orient), Napoleon used Egyptian enmity towards the Mamelukes and appeals to the revolutionary idea of equal opportunity for all to wage a uniquely benign and selective war against Islam. What more than anything impressed the first Arab chronicler of the expedition, Abd-al-Rahman al-Jabarti, was Napoleon's use of scholars to manage his contacts with the natives -- that and the impact of watching a modern European intellectual establishment at close quarters.67 Napoleon tried everywhere to prove that he was fighting for Islam; everything he said was translated into Koranic Arabic, just as the French army was urged by its command always to remember the Islamic sensibility. (Compare, in this regard, Napoleon's tactics in Egypt with the tactics of the Requerimiento, a document drawn up in 1513 -- in Spanish -- by the Spaniards to be read aloud to the Indians: "We shall take you and your wives and your children, and shall make slaves of them, and as such sell and dispose of them as their Highnesses [the King and Queen of Spain] may command; and we shall take away your goods, and shall do you all the mischief and damage that we can, as to vassals who do not obey," etc. etc."68) When it seemed obvious to Napoleon that his force was too small to impose itself on the Egyptians, he then tried to make the local imams, cadis, muftis, and ulemas interpret the Koran in favor of the Grande Armée [Google translate: "Great Army"]. To this end, the sixty ulemas who taught at the Azhar were invited to his quarters, given full military honors, and then allowed to be flattered by Napoleon's admiration for Islam and Mohammed and by his obvious veneration for the Koran, with which he seemed perfectly familiar. This worked, and soon the population of Cairo seemed to have lost its distrust of the occupiers.69 Napoleon later gave his deputy Kleber strict instructions after he left always to administer Egypt through the Orientalists and the religious Islamic leaders whom they could win over; any other politics was too expensive and foolish.70-- Orientalism, by Edward W. Said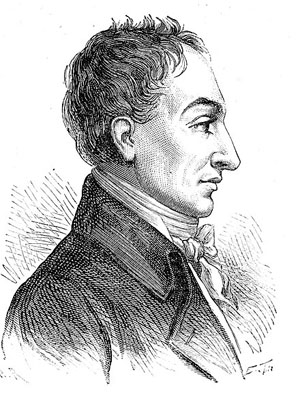 Constantin François de Chassebœuf, comte de Volney
Born: 3 February 1757, Craon, Mayenne
Died: 25 April 1820, Paris
Occupation: Philosopher, historian, orientalist and politician
Constantin François de Chassebœuf, comte de Volney (3 February 1757 – 25 April 1820) was a French philosopher, abolitionist, writer, orientalist, and politician.
He was at first surnamed Boisgirais after his father's estate, but afterwards assumed the name of Volney (which he had created as a contraction of Voltaire and Ferney)
.[1]
From 1759 to 1778 Ferney was home to French writer and philosopher Voltaire, sometimes referred to as "the patriarch of Ferney." His influence on the town was profound. He built the local church and founded cottage industries that produced some of the finest potters and watchmakers of modern France. The town was eventually renamed "Ferney-Voltaire" in his honor.

In 1759, after having lived in Geneva less than two years, Voltaire purchased the estate of Ferney in France, near the Swiss border. A prime reason for his leaving Geneva was that theatre was forbidden in that Calvinist city, so he had decided to become the enlightened "patriarch" of the little village of Ferney, setting up potteries, a watchmaking industry and, of course, theaters, attracting rich people from Geneva to watch his plays.

During Voltaire's residence, the population of Ferney increased to more than 1,000. Voltaire lived there for the last 20 years of his life before returning to Paris, where he died in 1778.

-- Ferney-Voltaire, by Wikipedia
Life

Early life and the French Revolution
He was born at Craon, Anjou (today in Mayenne), of a noble family. Initially interested in Law and Medicine,
he went on to study Classical languages, and his Mémoire sur la Chronologie d'Hérodote (on Herodotus) rose to the attention of the Académie des Inscriptions and of the group around Claude Adrien Helvétius.
Claude Adrien Helvétius ...(26 January 1715 – 26 December 1771) was

a French philosopher, freemason and littérateur

...

[H]is father Jean Claude Adrien Helvétius was first physician to Marie Leszczyńska, queen of France. Claude Adrien was trained for a financial career, apprenticed to his maternal uncle in Caen, but he occupied his spare time with poetry. Aged twenty-three, at the queen's request, he was appointed as a farmer-general, a tax-collecting post worth 100,000 crowns a year. Thus provided for,

he proceeded to enjoy life to the utmost, with the help of his wealth and liberality, his literary and artistic tastes - he attended, for example, the progressive Club de l'Entresol.

The Club de l'Entresol (Mezzanine Club) was a think-tank, club and discussion group founded in 1724 by Pierre-Joseph Alary and Charles-Irénée Castel de Saint-Pierre on the English model for free discussion of political and economic questions. It met every Saturday, between 5:00 and 7:00 p.m., at the home of président Hénault, in place Vendôme in Paris, and was named after the mezzanine there where Alary had an apartment.

It was frequented by 20 of the finest forerunners of the Age of Enlightenment, with regular attendees including Montesquieu, Helvétius, the marquis d'Argenson, Andrew Michael Ramsay, Horace Walpole and Viscount Bolingbroke. It was exclusively male, though other unofficial attendees include Madame du Deffand and the future Madame de Pompadour.

Having got wind of the club's possibly dangerous doctrines, particularly its opposition to mercantilism [Mercantilism is an economic policy that is designed to maximize the exports and minimize the imports for an economy. It promotes imperialism, colonialism, tariffs and subsidies on traded goods to achieve that goal. Historically, such policies frequently led to war and motivated colonial expansion.] and Physiocracy [Physiocracy is an economic theory developed by a group of 18th-century Age of Enlightenment French economists who believed that the wealth of nations derived solely from the value of "land agriculture" or "land development" and that agricultural products should be highly priced. Physiocracy became one of the first well-developed theories of economics.], Louis XV shut it down in 1731. Its closure was also due to pressure from Cardinal Fleury, who had considered its conversion into an academy but finally decided on its closure since it was too critical of his administration.

-- Club de l'Entresol, by Wikipedia

As he grew older, he began to seek more lasting distinctions, stimulated by the success of Pierre Louis Maupertuis as a mathematician, of

Voltaire

as a poet, and of

Montesquieu

as a philosopher.

His wife, Anne-Catherine de Ligniville, Madame Helvétius, maintained a salon attended by the leading figures of the Enlightenment for over five decades.

In 1758 Helvétius published his philosophical magnum opus, a work called De l'esprit (On Mind), which claimed that all human faculties are attributes of mere physical sensation, and that the only real motive is self-interest, therefore there is no good and evil, only competitive pleasures. Its atheistic, utilitarian and egalitarian doctrines raised a public outcry, and the Sorbonne publicly burned it in 1759, forcing Helvétius to issue several retractions...

De l'esprit and its reception

Helvétius' philosophical studies ended in the production of his famous book De l'esprit (On Mind). It was first published in 1758 and was intended to be the rival of Montesquieu's Spirit of the Laws, with

Helvétius arguing strongly against Montesquieu's theory that climate influenced the character of nations.

The work attracted immediate attention and aroused the most formidable opposition, especially from the dauphin Louis, son of King Louis XV. The Advocate General Joly de Fleury condemned it in the Parlement of Paris in January 1759. The Sorbonne condemned the book, while the priests persuaded the court that it was full of the most dangerous doctrines. The book was declared to be heretical -– so atheistic that it was condemned by Church and State and was burned. Helvétius, terrified at the storm he had raised, wrote three separate and humiliating retractions. In spite of his protestations of orthodoxy, the book was publicly burned by the Paris hangman.

It had far-reaching negative effects on the rest of the philosophes, in particular, Denis Diderot, and the great work he was doing on the Encyclopedie.

The religious authorities, particularly the Jesuits and the new Pope, began to fear the spread of atheism and wanted to clamp down on the 'modern thought' hard and quickly.

De l'esprit became almost a scapegoat for this.

This great publicity resulted in the book being translated into almost all the languages of Europe. Voltaire said that it lacked originality. Rousseau declared that the very benevolence of the author gave the lie to his principles. Grimm thought that all the ideas in the book were borrowed from Diderot. Madame du Deffand felt that Helvétius had raised such a storm by saying openly what everyone thought in secret. Madame de Graffigny claimed that all the good things in the book had been picked up in her own salon.

Helvétius' philosophy belongs to the Egoist school:

1. All man's faculties may be reduced to physical sensation, even memory, comparison, judgment. Our only difference from the lower animals lies in our external organization.

2. Self-interest, founded on the love of pleasure and the fear of pain, is the sole spring of judgment, action, and affection. Human beings are motivated solely by the pursuit of pleasure and the avoidance of pain. "These two," he says, "are, and always will be, the only principles of action in man." Self-sacrifice is prompted by the fact that the sensation of pleasure outweighs the accompanying pain and is thus the result of deliberate calculation.

3. We have no freedom of choice between good and evil. There is no such thing as absolute right – ideas of justice and injustice change according to customs.

This view of man was largely Hobbesian -– man is a system deterministically controllable by a suitable combination of reward and punishment, and the ends of government are to ensure the maximization of pleasure.

"All men," Helvétius maintained, "have an equal disposition for understanding." As one of the French Enlightenment's many Lockean disciples, he regarded the human mind as a blank slate, but free not only from innate ideas but also from innate natural dispositions and propensities. Physiological constitution was at most a peripheral factor in men's characters or capabilities. Any apparent inequalities were independent of natural organization, and had their cause in the unequal desire for instruction. This desire springs from passions, of which all men commonly well organized are susceptible to the same degree. We thus owe everything to education. Social engineering is therefore an enterprise unconstrained by the natural abilities of men.

This natural equality applied to all men in all nations, and thus the differences in national characteristics were not the result of innate differences between the people therein, but rather a byproduct of the system education and government. "No nation," wrote Helvétius, "has reason to regard itself superior to others by virtue of its innate endowment."...

Since all men have the same natural potential, Helvétius argued, they all have the same ability to learn. Thus, education is the method by which to reform society, and there are few limits to the drastic social improvements that could be brought about by the appropriate distribution of education. Although people seem to possess certain qualities in greater abundance than their neighbours, the explanation for this comes 'from above' -– it is caused by education, law and government. "If we commonly meet in London, with knowing men, who are with much more difficulty found in France," this is because it is a country where "every citizen has a share in the management of affairs in general." "The art of forming men," he concludes, "is in all countries [...] strictly connected to the form of the government", and thus education via governmental intervention is the method of reform.

The crux of his thought was that public ethics has a utilitarian basis, and he insisted strongly on the importance of culture and education in national development. His thinking can be described as unsystematic.

The original ideas in his system are those of the natural equality of intelligences and the omnipotence of education, neither of which gained general acceptance, though both were prominent in the system of

John Stuart Mill

. Cesare Beccaria states that he was largely inspired by Helvétius in his attempt to modify penal laws. Helvétius also exerted some influence on the utilitarian

Jeremy Bentham.The materialistic aspects of Helvétius, along with Baron d'Holbach, had an influence on Karl Marx, the theorist of historical materialism and communism, who studied the ideas of Helvétius in Paris and later called the materialism of Helvétius and d'Holbach "the social basis of communism"...

British philosopher Isaiah Berlin listed Helvétius, along with Hegel, Fichte, Rousseau, Saint-Simon and Maistre as one of the six "enemies of freedom" who constituted the ideological basis for modern authoritarianism, in his book Freedom and Betrayal: Six Enemies of Human Liberty.

-- Claude Adrien Helvétius, by Wikipedia
Soon after, Volney befriended Pierre Jean George Cabanis, the Marquis de Condorcet, the Baron d'Holbach, and Benjamin Franklin.
He embarked on a journey to the East in late 1782 and reached Egypt, where he spent nearly seven months. Thereafter, he lived for nearly two years in Greater Syria in what is today Lebanon and Israel/Palestine in order to learn Arabic. In 1785 he returned to France, where he spent the following two years compiling his notes and writing his Voyage en Egypte et en Syrie, which was published in 1787, and Considérations sur la guerre des Turcs et de la Russie in 1788.

He was a member both of the Estates-General and of the National Constituent Assembly after the outbreak of the French Revolution.
In 1791 appeared Les Ruines, ou méditations sur les révolutions des empires, an essay on the philosophy of history, containing a vision which predicts the final union of all religions by the recognition of the common truth underlying them all.[2]
The term "natural religion" is sometimes taken to refer to a pantheistic doctrine according to which nature itself is divine. "Natural theology", by contrast, originally referred to (and still sometimes refers to) the project of arguing for the existence of God on the basis of observed natural facts.

In contemporary philosophy, however, both "natural religion" and "natural theology" typically refer to the project of using all of the cognitive faculties that are "natural" to human beings—reason, sense-perception, introspection—to investigate religious or theological matters. Natural religion or theology, on the present understanding, is not limited to empirical inquiry into nature, and it is not wedded to a pantheistic result. It does, however, avoid appeals to special non-natural faculties (ESP, telepathy, mystical experience) or supernatural sources of information (sacred texts, revealed theology, creedal authorities, direct supernatural communication). In general, natural religion or theology (hereafter "natural theology") aims to adhere to the same standards of rational investigation as other philosophical and scientific enterprises, and is subject to the same methods of evaluation and critique. Natural theology is typically contrasted with "revealed theology", where the latter explicitly appeals to special revelations such as miracles, scriptures, and divinely-superintended commentaries and creedal formulations...

[T]his is one over which wars have been fought and throats have been cut.-- Natural Theology and Natural Religion, by Andrew Chignell and Derk Pereboom
Volney tried to put his politico-economic theories into practice in Corsica, where in 1792 he bought an estate and made an attempt to cultivate colonial produce.
Chassebœuf de Volney was thrown into prison during the Jacobin Club triumph, but escaped the guillotine
; he was some time professor of history at the newly founded École Normale.[2]
Volney was a deist.[3][4]
Later life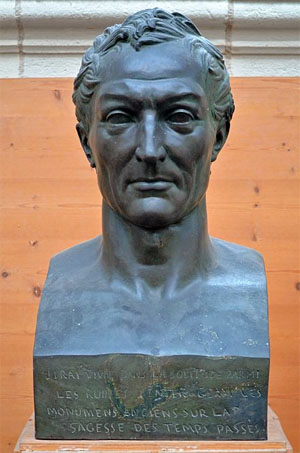 Bust of Volney by David d'Angers (1825).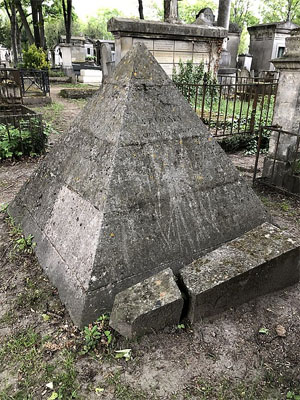 Tomb of Volney, Père Lachaise Cemetery (division 41), Paris
In 1795 he undertook a journey to the United States, where he was accused (1797) by John Adams' administration of being a French spy sent to prepare for the reoccupation of Louisiana by France and then to the West Indies.
Consequently, he returned to France. The results of his travels took form in his Tableau du climat et du sol des États-Unis (1803).[2]
He was not a partisan of Napoleon Bonaparte, but, being a moderate Liberal, was impressed into service by the First French Empire, and
Napoleon made him a count and put him into the senate. After the Bourbon Restoration he was made a Peer of France, upon recognition of his hostility towards the Empire. Chassebœuf became a member of the Académie française in 1795.[2] In his later years he helped to found oriental studies in France, learning Sanskrit from the British linguist Alexander Hamilton, whom he had helped to protect during the Napoleonic era.
He died in Paris and was buried at the Père Lachaise Cemetery.
Thomas Jefferson's translation of Volney's Ruins of Empires
English translations of Volney's Ruins began appearing within a year or so of its first French edition[5] but sometime during Volney's stay in the United States, he and Thomas Jefferson entered into a secret arrangement whereby Jefferson agreed to make a new English translation of the work. Volney visited Monticello for two weeks during June 1796. The two men also met on several occasions at the American Philosophical Society (APS). Jefferson was President of APS at the time and sponsored Volney's induction into the organization. These meetings provided the two men with ample opportunity to conceive and discuss the translation project.[6]
Jefferson, then serving as Vice President under John Adams, appreciated the book's central theme – that empires rise if government allows enlightened self-interest to flourish. This theme, Jefferson believed, represented an excellent summary of the Enlightenment-based principles upon which the U.S. was founded. However, Jefferson insisted that his translation be published only for certain readers, due to the book's controversial religious content. Jefferson was preparing to make a bid for the Presidency of the United States in 1800; he was worried his Federalist opponents would attack him as an atheist, if it were known he translated Volney's supposedly heretical book.[citation needed]
According to the evidence discovered by the French researcher Gilbert Chinard (1881-1972), Jefferson translated the invocation plus the first 20 chapters of the 1802 Paris edition of Volney's Ruins.[7][8] These first 20 chapters represent a review of human history from the point of view of a post-Enlightenment philosopher. Presumably, Jefferson then became too occupied with the 1800 Presidential campaign and didn't have time to finish
the last four chapters of the book. In these chapters Volney describes "General Assembly of Nations," a fictionalized world convention wherein each religion defends its version of "the truth" according to its particular holy book. Since no religion is able to scientifically "prove" its most basic assertions, Volney concludes the book with a call for an absolute separation of church and state:
From this we conclude, that, to live in harmony and peace…we must trace a line of distinction between those (assertions) that are capable of verification, and those that are not; (we must) separate by an inviolable barrier the world of fantastical beings from the world of realities

…[9]
Since Jefferson did not have time to complete the translation project, the last four chapters were translated by Joel Barlow, an American land speculator and poet living in Paris. Barlow's name then became associated with the entire translation, further obscuring Jefferson's role in the project.[10]
Christ myth theory
Volney and Charles-François Dupuis were the first modern writers to advocate the Christ myth theory, the view that Jesus had no historical existence.[11][12] Volney and Dupuis argued that Christianity was an amalgamation of various ancient mythologies and that Jesus was a mythical character.[13][14] However, in his version of the Christ Myth theory Volney allowed for an obscure historical figure whose life was integrated into a solar mythology.
[15][16]
Selected publications
• Travels in Syria and Egypt, During the Years 1783, 1784, & 1785 (Volume 1, Volume 2, 1788)
• The Ruins: Or a Survey of the Revolutions of Empires (1796)
• New Researches on Ancient History (1819)
• The Ruins; Or, Meditation on the Revolutions of Empires: And The Law of Nature (1890)\
Legacy
• Volney, New York was named after him.
• Prix Volney was founded by Constantin Volney in 1803 and was originally a gold medal worth 1,200 francs.
• Hotel Volney Opera was named after Constantin François de Chassebœuf, comte de Volney in France.[17][18]
• The Volney Hotel in New York was named after him.[19]
• Rue Volney was named after him.
See also
• Volney prize
• Les Neuf Sœurs
• Society of the Friends of Truth
References
1.
https://e-monumen.net/patrimoine-monume ... ney-craon/
2. One or more of the preceding sentences incorporates text from a publication now in the public domain: Chisholm, Hugh, ed. (1911). "Volney, Constantin François Chassebœuf, Comte de". Encyclopædia Britannica. 28 (11th ed.). Cambridge University Press. p. 196.
3. Morais, Herbert Montfort. (1960). Deism in Eighteenth Century America. Russell & Russell. p. 120
4. Staum, Martin S. (1996). Minerva's Message: Stabilizing the French Revolution. McGill-Queen's University Press. p. 122. ISBN 0-7735-1442-2
5. The British Library English Short Title Catalogue cites several English translations published in London up to the mid-1790s, the earliest being a 1792 edition published by J. Johnson (ESTC T212858). The earliest American edition cited is that printed by William A. Davis in New York in 1796 (ESTC W22036).
6. Jean Gaulmier's L'Ideologue Volney, Slatkine Reprints, 1980; Gilbert Chinard's Volney et L'Amerique, Johns Hopkins Press, 1923; and minutes of meetings of the American Philosophical Society, Philadelphia, PA (1795-98).
7. Gilbert Chinard, "Volney et L'Amerique," Johns Hopkins Press, 1923.
8. "From Thomas Jefferson to Volney, 17 March 1801,"". Founders Online, National Archives, version of January 18, 2019, [Original source: The Papers of Thomas Jefferson, vol. 33, 17 February–30 April 1801, ed. Barbara B. Oberg. Princeton: Princeton University Press, 2006, pp. 341–342. Retrieved January 28, 2019.
9. See Chapter 24 of the Jefferson-Barlow translation of Ruins of Empires.
10. Levrault of Paris published two editions of the so-called Jefferson-Barlow translation: 1802 and 1817. Bossange Freres of Paris also published an edition in 1820, the year of Volney's death. In the United States, Dixon and Sickles of New York published the first American edition of the Jefferson-Barlow translation in 1828. The Jefferson-Barlow translation then went through several reprints during the 19th and 20th centuries, including: Gaylord of Boston (1830s), Calvin Blanchard of New York (no date), Josiah Mendum of Boston (1880s), Peter Eckler of New York (1890s & 1910s-20s), and The Truth Seeker Press of New York (1950). See: Jean Gaulmier, cited above, and Nicole Hafid-Martin, Volney: Bibliographie Des Ecrivains Francais, 1999. The Jefferson-Barlow edition is easily identifiable by this simple test: turn to the Invocation at the front of the book. The first sentence should read: "Hail solitary ruins, holy sepulchres and silent walls! you I invoke; to you I address my prayer!" A copy of the Jefferson-Barlow edition is also available on-line at Gutenberg.org (
https://www.gutenberg.org/ebooks/1397
)
11. Weaver, Walter P. (1999). The Historical Jesus in the Twentieth Century, 1900–1950. Trinity. pp. 45-50. ISBN 1-56338-280-6
12. Jongeneel, Jan A. B. (2009). Jesus Christ in World History: His Presence and Representation in Cyclical and Linear Settings. Peter Lang. p. 172. ISBN 978-3-631-59688-3 "Charles F. Dupuis and Constantin-Francois Chasseboeuf, Comte de Volney, were the first to openly deny the historicity of Jesus; they regarded him as a mythological figure and the Gospels as presentations of a myth of predominantly astral nature."
13. Van Voorst, Robert E. (2000). Jesus Outside the New Testament: An Introduction to the Ancient Evidence. Eerdmans Publishing. pp. 7-11. ISBN 0-8028-4368-9.
14. App, Urs. (2010). The Birth of Orientalism. University of Pennsylvania Press. p. 458. ISBN 978-0-8122-4261-4
15. Wells, G. A. "Stages of New Testament Criticism," Journal of the History of Ideas, volume 30, issue 2, 1969
16. Roberts, Geoff (2011) Jesus 888 Troubador Publishing pg 144
17.
https://www.facebook.com/countvolney/
18.
http://www.hotelvolney.com/en/
19.
https://streeteasy.com/building/the-vol ... g_detail=1
Further reading
• Caron, Nathalie. "Friendship, Secrecy, Transatlantic Networks and the Enlightenment: The Jefferson-Barlow Version of Volney's Ruines (Paris, 1802)." Mémoires du livre/Studies in Book Culture 11.1 (2019). online
• Furstenberg, François. When the United States Spoke French: Five Refugees Who Shaped a Nation. New York: Penguin (2014).
• Kim, Minchul. "Volney and the French Revolution." Journal of the History of Ideas 79.2 (2018): 221-242.
External links
• Works by Constantin-François Volney at Project Gutenberg
• Works by or about Constantin François de Chassebœuf, comte de Volney at Internet Archive
• Volney's Travels through Syria and Egypt, using the 'short s'. This version of the text does not use the 'long s', and may be easier for contemporary readers to understand.