The Myth of Matriarchal Prehistory: Why an Invented Past Won't Give Women a Future
by Cynthia Eller
© 2000 by Cynthia Eller
NOTICE: THIS WORK MAY BE PROTECTED BY COPYRIGHT
YOU ARE REQUIRED TO READ

THE COPYRIGHT NOTICE AT THIS LINK

BEFORE YOU READ THE FOLLOWING WORK, THAT IS AVAILABLE SOLELY FOR PRIVATE STUDY, SCHOLARSHIP OR RESEARCH PURSUANT TO 17 U.S.C. SECTION 107 AND 108. IN THE EVENT THAT THE LIBRARY DETERMINES THAT UNLAWFUL COPYING OF THIS WORK HAS OCCURRED, THE LIBRARY HAS THE RIGHT TO BLOCK THE I.P. ADDRESS AT WHICH THE UNLAWFUL COPYING APPEARED TO HAVE OCCURRED. THANK YOU FOR RESPECTING THE RIGHTS OF COPYRIGHT OWNERS.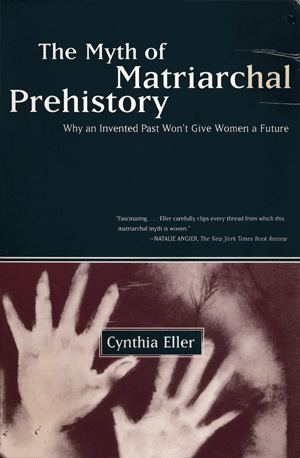 "Fascinating ... Eller carefully clips every threat from which this matriarchal myth is woven." -- Natalie Angier, the New York Times Book Review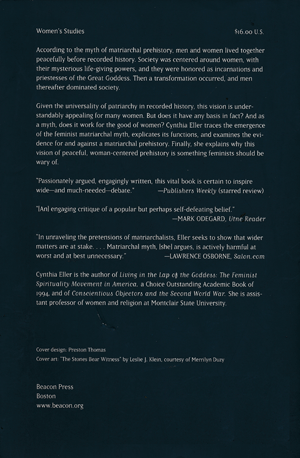 Women's Studies
According to the myth of matriarchal prehistory, men and women lived together peacefully before recorded history. Society was centered around women, with their mysterious life-giving powers, and they were honored as incarnations and priestesses of the Great Goddess. Then a transformation occurred, and men thereafter dominated society.
Given the universality of patriarchy in recorded history, this vision is understandably appealing for many women. But does it have any basis in fact? And as a myth, does it work for the good of women? Cynthia Eller traces the emergence of the feminist matriarchal myth, explicates its functions, and examines the evidence for and against a matriarchal prehistory. Finally, she explains why this vision of peaceful, woman-centered prehistory is something feminists should be wary of.
"Passionately argued, engagingly written, this visual book is certain to inspire wide -- and much-needed -- debate." -- Publishers Weekly (starred review)
"[An] engaging critique of a popular but perhaps self-defeating belief." -- Mark Odegard, Utne Reader
"In unraveling the pretensions of matriarchalists, Eller seeks to show that wider matters are at stake ... Matriarchal myth, [she] argues, is actively harmful at worst and at best unnecessary." -- Lawrence Osborne, Salon.com
Cynthia Eller is the author of Living in the Lap of the Goddess: The Feminist Spirituality Movement in America, a Choice Outstanding Academic Book of 1994, and of Conscientious Objectors and the Second World War. She is assistant professor of women and religion at Montclair State University.
For Jon and Sophie
Over the last few months, this untaught history had become a lump in my throat, a forgotten piece of my female heart that had begun to beat again. Now here in the stone circle I felt it even more, like a sad, sad sweetness, like a sorrow and a hope melded into one.

-- Sue Monk Kidd
The real political question ... as old as political philosophy ... [is] when we should endorse the ennobling lie .... We ... need to show not that ... [these lies] are falsehoods but [that] they are useless falsehoods at best or -- at worst -- dangerous ones.

-- Kwame Anthony Appiah
TABLE OF CONTENTS:
• CHAPTER 1: Meeting Matriarchy
• CHAPTER 2: Popularizing the Past
• CHAPTER 3: The Story They Tell
• CHAPTER 4: The Eternal Feminine
• CHAPTER 5: Finding Gender in Prehistory
• CHAPTER 6: The Case Against Prehistoric Matriarchies I: Other Societies, Early Societies
• CHAPTER 7: The Case Against Prehistoric Matriarchies II: Prehistoric Art and Architecture
• CHAPTER 8: Was There a Patriarchal Revolution?
• CHAPTER 9: On the Usefulness of Origin Myths
• NOTES
• REFERENCES
• ILLUSTRATION CREDITS
• ACKNOWLEDGMENTS
• INDEX
[Meeting Matriarchy]

Once upon a time, the many cultures of this world were all part of the gynocratic age...For five thousand years or more, the gynocratic age had flowered in peace and productivity.

In 1972, Steinem was a voice in the wilderness with her talk of a past gynocratic age; only a handful of feminists had even broached the topic. The second wave of feminism was young then, but for most feminists the patriarchy was old, unimaginably old.

Too old, some would say. The patriarchy is younger now, thanks to growing feminist acceptance of the idea that human society was matriarchal -- or at least "woman-centered" and goddess-worshipping -- from the Paleolithic era, 1.5 to 2 million years ago, until sometime around 3000 BCE. There are almost as many versions of this story as there are storytellers...

For those with ears to hear it, the noise the theory of matriarchal prehistory makes as we move into a new millennium is deafening...

[In the] early 1980s, when I was in graduate school doing research on feminist goddess-worship, [I encountered it again]. I heard the theory constantly then, from everyone I interviewed, and in virtually every book I read that came out of the feminist spirituality movement...

[T]he existence of prehistoric matriarchies meant everything to the women I met through my study of feminist spirituality. In both conversation and literature, I heard the evangelical tone of the converted: the theory of prehistoric matriarchy gave these individuals an understanding of how we came to this juncture in human history and what we could hope for in the future. It underwrote their politics, their ritual, their thealogy (or understanding of the goddess), and indeed, their entire worldview...

Here was a myth that, however recently created, wielded tremendous psychological and spiritual power...

I was intrigued with the idea of female rule or female "centeredness" in society. It was a reversal that had a sweet taste of power and revenge. More positively, it allowed me to imagine myself and other women as people whose biological sex did not immediately make the idea of their leadership, creativity, or autonomy either ridiculous or suspect. It provided a vocabulary for dreaming of utopia, and a license to claim that it was not mere fantasy, but a dream rooted in an ancient reality...

But if I was intrigued with the newness and power of the myth, and with its bold gender reversals, I was at least as impressed by the fact that anyone took it seriously as history.

Poking holes in the "evidence" for this myth was, to rely on cliche, like shooting fish in a barrel.

After a long day of research in the library, I could go out with friends and entertain them with the latest argument I'd read for matriarchal prehistory, made up entirely -- I pointed out -- of a highly ideological reading of a couple of prehistoric artifacts accompanied by some dubious anthropology, perhaps a little astrology, and a fatuous premise ... or two or three.

When I picked up my research on feminist spirituality again in the late 1980s and early 1990s, I got to know many women involved in the movement, and I felt largely sympathetic toward their struggles to create a more female-friendly religion. But I continued to be appalled by the sheer credulousness they demonstrated toward their very dubious version of what happened in Western prehistory. The evidence available to us regarding gender relations in prehistory is sketchy and ambiguous, and always subject to the interpretation of biased individuals. But even with these limitations, what evidence we do have from prehistory cannot support the weight laid upon it by the matriarchal thesis...

I have been a close observer of the myth of matriarchal prehistory for fifteen years now and have watched as it has moved from its somewhat parochial home in the feminist spirituality movement out into the feminist and cultural mainstream. But I haven't been able to cheer at the myth's increasing acceptance. My irritation with the historical claims made by the myth's partisans masks a deeper discontent with the myth's assumptions. There is a theory of sex and gender embedded in the myth of matriarchal prehistory, and it is neither original nor revolutionary. Women are defined quite narrowly as those who give birth and nurture, who identify themselves in terms of their relationships, and who are closely allied with the body, nature, and sex -- usually for unavoidable reasons of their biological makeup. This image of women is drastically revalued in feminist matriarchal myth, such that it is not a mark of shame or subordination, but of pride and power. But this image is nevertheless quite conventional and, at least up until now, it has done an excellent job of serving patriarchal interests.

Indeed,

the myth of matriarchal prehistory is not a feminist creation

, in spite of the aggressively feminist spin it has carried over the past twenty-five years. Since the myth was revived from classical Greek sources in 1861 by

Johann Jakob Bachofen

, it has had -- at best -- a very mixed record where feminism is concerned.

The majority of men who championed the myth of matriarchal prehistory during its first century (and they have mostly been men) have regarded patriarchy as an evolutionary advance over prehistoric matriarchies

, in spite of some lingering nostalgia for women's equality or beneficent rule. Feminists of the latter half of the twentieth century are not the first to find in the myth of matriarchal prehistory a manifesto for feminist social change, but this has not been the dominant meaning attached to the myth of matriarchal prehistory, only the most recent...

Why then take the time and trouble to critique this myth, especially since it means running the risk of splitting feminist ranks, which are thin enough as it is? Simply put, it is my feminist movement too, and when I see it going down a road which, however inviting, looks like the wrong way to me, I feel an obligation to speak up. Whatever positive effects this myth has on individual women, they must be balanced against the historical and archaeological evidence the myth ignores or misinterprets and the sexist assumptions it leaves undisturbed. The myth of matriarchal prehistory postures as "documented fact," as "to date the most scientifically plausible account of the available information." These claims can be -- and will be here -- shown to be false.

Relying on matriarchal myth in the face of the evidence that challenges its veracity leaves feminists open to charges of vacuousness and irrelevance that we cannot afford to court. And the gendered stereotypes upon which matriarchal myth rests persistently work to flatten out differences among women; to exaggerate differences between women and men; and to hand women an identity that is symbolic, timeless, and archetypal, instead of giving them the freedom to craft identities that suit their individual temperaments, skills, preferences, and moral and political commitments...

The enemies of feminism have long posed issues of patriarchy and sexism in pseudoscientific and historical terms. It is not in feminist interests to join them at this game

, especially when it is so (relatively) easy to undermine the ground rules...

Discovering -- or more to the point, inventing -- prehistoric ages in which women and men lived in harmony and equality is a burden that feminists need not, and should not bear. Clinging to shopworn notions of gender and promoting a demonstrably fictional past can only hurt us over the long run as we work to create a future that helps all women, children, and men flourish....

[Popularizing the Past]

[I]t is fair to say that

the myth [of matriarchal prehistory] is most at home in white, middle-class, well-educated circles, and particularly among women who are interested in religion and spirituality.

Matriarchal myth is primarily a Western phenomenon, most popular in the United States, England, Germany, and, to a lesser extent, Italy. The story itself is almost always centered on European prehistory…

Partisans of the myth usually resist the term ["matriarchy"] because of its connotations of "rule by women" -- a mirror image of patriarchy. As Mary Daly puts it succinctly, matriarchy "was not patriarchy spelled with an 'm.'" Most feminist matriarchalists are quick to explain that matriarchy should be understood instead as "the ascendancy of the Mother's way," or as "a realm where female things are valued and where power is exerted in non-possessive, non controlling, and organic ways that are harmonious with nature."…

"Matriarchal" can be thought of then as a shorthand description for any society in which women's power is equal or superior to men's and in which the culture centers around values and life events described as "feminine."…

Probably the most commonly intended meaning of "myth," at least when it is used casually, is "not true."… But the theory that prehistory was matriarchal and goddess-worshipping is presented as fact, not fiction. It is only omitted from standard history texts, feminist matriarchalists say, because academics are trapped in a patriarchal worldview, suffering the consequences of a huge cover-up of matriarchy that started with the patriarchal revolution and has continued right up to the present…

But is the myth of matriarchal prehistory plausible to those not already ardently hoping that it is true? I will argue that it is not. It does not represent historical truth; it is not a story built or argued from solid evidence, and it presents a scenario for prehistory that, if not demonstrably false, is at least highly unlikely. But to stop at this is to miss a much deeper truth about the kind of story that feminist matriarchalists are constructing. ..It is a narrative designed to grasp hold of an audience's consciousness and thereby fulfill certain social and psychological functions: in this case, feminist functions….

As precedents go, the one offered by the myth of matriarchal prehistory is remarkable. It does not say that in the very distant past, there was a small group of people who were able for a short time to construct a society that gave women status and freedom and did not make war on other people or the natural world. Quite the contrary: according to feminist matriarchal myth, matriarchy was universal, it endured for all the millennia in which we were human, and was only supplanted very recently. It positively dwarfs the patriarchy, which is, in contrast, a "relatively short, albeit melodramatic, period."

This is the preeminent way in which feminist matriarchalists combat the terrible strength of the patriarchy: they set it alongside the matriarchal era and comment on its diminutive size.

Heide Gottner-Abendroth, author of a four-volume opus on matriarchal prehistory, imagines a timeline of human history two meters long, on which "man's rule" occupies only the last millimeter… [and] feminist matriarchalists seem to experience an unstoppable desire to expand it even farther. In their voluminous work The Great Cosmic Mother, Monica Sjoo and Barbara Mor tell us on page 46 that "the mysteries of female biology dominated human religious and artistic thought, as well as social organization, for at least the first 200,000 years of human life on earth." By page 235, "the original Goddess religion" is said to have "dominated human thought and feeling for at least 300,000 years." On page 424, as they arrive at the end of their recounting of the myth of matriarchal prehistory, this number has increased to 500,000 years. Some … go even farther. Diane Stein says the matriarchal era began on the lost continent of Mu, when "people began incarnating on the earth plane ten and a half million years ago." … Matthew Fox contrasts the "original blessing" of the 18 billion years of the cosmos's existence as over against the appearance of sin "with the rise of the patriarchy some four thousand to six thousand years ago." Patriarchy is thus reduced to a veritable blip on the radar screen, inspiring in feminists great hope for its future overthrow…

Young women have told me that the myth of matriarchal prehistory has been presented to them as historic truth in high school classes in world history, religion, and women's studies

. Women's Roots, by June Stephenson, now in its fourth edition, is a rendition of matriarchal prehistory designed to be read by high school students. At the college level, courses are offered about or with the premise of matriarchal prehistory, with titles like "Reclaiming the Goddess," "Herstory of the Goddess," and "The Goddess and the Matriarchy Controversy."…

This use of matriarchal myth is especially prominent among environmentalists. It can be found in books like Thomas Berry's The Dream of the Earth, Jim Mason's An Unnatural Order, and even in Vice President Al Gore's book, Earth in the Balance: Healing the Global Environment….

Given that this story has become (if mainly by default) the feminist account of prehistory, and given too its increasing currency among environmentalists, Afrocentrists, and even cultural theorists like Shlain, it is imperative that we take the time to see how this story developed and found its way into feminist circles, and to examine the picture feminist matriarchalists paint of prehistory, the explanations they offer for its demise, and the hopes they hold out for the future…

[The Story They Tell]

[A]n enormous array of individuals turned out to have spent some time -- or a lot of time -- with matriarchal myth… J.J. Bachofen, Friedrich Engels, E. B. Tylor, Elizabeth Cady Stanton, Matilda Joslyn Gage, Erich Fromm, Wilhelm Reich, Robert Graves… Julius Lippert, Lothar Dargun, August Bebel, Alfred Baumler, Uberto Pestalozza, Iu. I. Semenov. From the shadowy background of matriarchal myth in medieval cartographers' efforts to sketch presumed matriarchal lands onto their maps, through to late-twentieth-century feminist workshops on the sacred symbols of prehistoric goddess religions, stretches a vast territory of conservatism and radicalism, archaeology and poetry, economic determinism and mystical goddess worship, all embodied in a recognizably single myth.

The myth of matriarchal prehistory has found adherents among socialists, anthropologists, communists, fascists, psychoanalysts, sexologists, folklorists, religionists, and a whole host of other notable characters. It has been used to justify patriarchy and to overthrow it, to hustle women back to hearth and home and to place them at the helm of the ship carrying us into the future.

Until the late nineteenth century in Western Europe, matriarchy served more as an occasional literary trope than a purported history. All this changed in 1861 with the publication of Johann Jakob Bachofen's Das Mutterrecht (Motherright). Drawing on classical Greek sources (which, as we will later see, were full of references to women's rule), Bachofen postulated an era of matriarchy ending in classical times with the rise of men and the "male principle."…

Karl Marx had become interested in anthropology in the last few years of his life and was apparently, at the time of his death, working his way toward his own view of prehistory. His fragmentary notes were taken up by Friedrich Engels, and between these notes and a wholesale adoption of Morgan's earlier Ancient Society,

Engels produced The Origin of the Family, Private Property, and the State. This, along with a handful of other works, served to institutionalize the myth of matriarchal prehistory as a socialist origin story.

Soon after … Matilda Joslyn Gage, and later, Charlotte Perkins Gilman -- wrote their own accounts of matriarchal myth, based on the anthropological treatises of the time…

The rough consensus that now reigns -- the consensus that, for example, names Catalhoyuk matriarchal and Mycenaean Greece patriarchal -- took on its characteristic form under the pressure of three key developments: (1) the steadfast rejection of matriarchal myth by most feminist anthropologists; (2) a burgeoning feminist spirituality movement intent on placing goddess worship in prehistory; and (3) the pioneering archaeological work of Marija Gimbutas…

Around the same time that Elizabeth Gould Davis was enticing readers with her descriptions of the great women-ruled empires of prehistory, Sherry Ortner, in her highly influential article "Is Female to Male as Nature Is to Culture?" was calling women's secondary status "one of the true universals, a pan-cultural fact," and asserting that "the search for a genuinely egalitarian, let alone matriarchal, culture, has proven fruitless." Anthropological denials of matriarchy extended as well to prehistory. "Males are dominant among primates," a group of feminist anthropologists noted in 1971, "and at the 'lowest' level of human social evolution now extant, males are still dominant. There is no reason to assume that in the intervening stages of human evolution the same situation did not prevail."…

But this version of matriarchal myth was, in the final analysis, far too tepid to feed appetites whetted by the early women's movement. The best these anthropologists could serve up was the notion that human beings in small-scale "band" societies treated women and men equally, until property ownership, an incipient state, agricultural technologies, or even intergroup trade came into existence…

The feminist spirituality movement offered something far more attractive. The position spiritual feminists envisioned for women in prehistory was not the "relative equality" stipulated by socialist feminist anthropologists. On the contrary, prehistoric woman was said to have been respected for her special feminine contributions to the human economy, if not positively revered as an embodiment of the great goddess … [

Suffice it to say that feminist spirituality is a strong cultural force within the women's movement and a significant presence in New Age circles.

] …

Introducing religion into the matriarchal equation, as spiritual feminists did, freed up an enormous amount of imaginative energy for feminist matriarchal myth…

But one link was missing: credibility … Real archaeological confirmation … remained a scarce commodity until spiritual feminists discovered and adopted the work of Marija Gimbutas -- who in turn adopted them.

Born in Lithuania,

Marija Gimbutas did her graduate work in folkore and archaeology in Lithuania and Germany in the 1940s, and in 1949 immigrated to the United States. Unemployed for a time, she eventually found work translating Eastern European archaeological publications for Harvard University's Peabody Museum.

She received numerous grants, published lengthy works on Central and Eastern European archaeology, and directed her own excavations there…

Among the artifacts that these and other excavations uncovered were a wealth of female figurines which Gimbutas identified as goddesses. Her first book-length attempt to interpret these artifacts was published in 1974 under the title The Gods and Goddesses of Old Europe…

Some feminist matriarchalists find hopeful glimpses of protomatriarchy among nonhuman primates, and from there make the claim that all species situated evolutionarily between our primate ancestors and modern human beings (australopithecenes, Homo habilis, Homo erectus, and so on) had a gynocentric social orientation.

Others suggest that the so-called Acheulean hand axes (teardrops of quartz or flint) produced in great numbers by Homo erectus from roughly 1.5 million years ago to 200,000 BCE were actually goddess images rather than the stone tools archaeologists typically take them to be…

In general though, feminist matriarchalists find little in this long era of human beginnings to interest them. They are not envisioning bands of near-chimps when they imagine matriarchal prehistory, but rather people like us, creating stable and prosperous societies with women at their center. As a result,

feminist matriarchalists typically claim human origins as matricentric, but then fast-forward to the European Upper Paleolithic (beginning around 40,000 BCE), when quite suddenly far more extensive archaeological remains appear, including carved and painted images of women. It is in the Neolithic era, however -- after the development of farming, but before the development of advanced metallurgy, between roughly 8000 and 3000 BCE -- that matriarchalists most often locate the height of matriarchal culture.

Geographically, in its actual tellings, the myth of matriarchal prehistory almost always confines itself to Old (southeastern) Europe, the Near East, and the Mediterranean.

Old Europe, though painstakingly treated site by site in Marija Gimbutas's work, generally becomes an amorphous mass in the work of other feminist matriarchalists. In the Near East, several sites are mentioned, but there is only one of any consequence, and that is Catalhoyuk, dating to roughly 6500 BCE and located in Anatolia (present-day Turkey). Finally, the Mediterranean yields up the jewel of matriarchal culture, Minoan Crete, and also Malta, which is increasingly being adopted as another matriarchal homeland. On the infrequent occasions when the myth of matriarchal prehistory moves off this familiar turf, it is most often to Western Europe, especially England and Ireland. The only other place that is mentioned consistently is India, which is said to have been invaded by the same patriarchal tribes that destroyed the goddess-worshipping matriarchies of Old Europe.

It is easy to see the ethnocentrism in these choices: most of the narrators of the myth of matriarchal prehistory are Europeans or Americans of European extraction, and these are the lands they came from or that they regard as their proper cultural origin.

[P]rehistory is still a huge, and, as I will later argue, largely blank canvas. Thus incredibly diverse scenarios can be painted upon it, depending on the predilections of individual thinkers. Amid this diversity, however,

a number of themes appear repeatedly in feminist descriptions of prehistoric matriarchal societies: peace, prosperity, harmony with nature, appropriate use of technology, sexual freedom (including reproductive freedom), and just and equitable roles for women and men. These are all thought to be the products of values engendered by the religion of the goddess. Some matriarchalists refer unapologetically to this era as a "utopia" or the "golden age."…

As Vicki Noble explains, "without class stratification, centralized government, taxation, technology, warfare, or slavery, these early Goddess-loving people were able to invent everything we consider relevant today

(except plastic and toxic chemicals)." Frequently, the invention of these technologies (including that of written language) is credited specifically to women.

The most important thing women are said to have invented during matriarchal times is agriculture…

One thing we usually associate with advanced technologies is said to have been lacking in matriarchal societies: private property … Perhaps more important to feminist matriarchalists is the belief that people pooled their children together

… In other words, the

distinction between public and private

, which many late-twentieth-century feminists have considered a central characteristic of (if not a precondition for) the oppression of women, was utterly lacking in prehistory…

What is probably more universally appealing is how people had sex in prehistory: which is to say, a lot, with whomever they wanted, and with no harm to their reputation…

Orgasms -- for women, at least -- were multiple and intense, and attained, at times, religious heights. Lesbianism was as easily accepted as heterosexuality, sometimes more so. Certainly rape and sexual abuse were unknown.

Like matriarchal women, the goddess herself was worshipped as a sexual being … As Merlin Stone enthuses, "among these people the act of sex was considered to be so sacred, so holy and precious that it was enacted within the house of the Creatress of heaven, earth and all life."…

The goddess had many roles, but she is identified most often as mother. She is the divine creatrix, she who gives birth to the universe and everything in it…

Matriarchal societies are typically portrayed as being centered around mothers, with households consisting first of a mother and her children, and then possibly extending to include her brothers or her husband. Children took their mother's name and kinship status (matriliny); husbands went to live with their wives or mothers-in-law (matrilocality); women owned or controlled their family's property, insofar as it existed. ..

As Heide Gottner-Abendroth explains, "In the matriarchal world the man is at once son, husband, and hero and completely embedded in the universe of women, who lovingly direct everything."…

The narrative of matriarchal myth wheels around abruptly to unmitigated disaster with the rise of the patriarchy, as catastrophic an event as one could imagine.

Obviously, the difficult question is the simplest one: Why? Why did this golden age fall, only to see the world plunged into barbarism and misery? Feminist matriarchalists offer two basic types of explanations for what caused the patriarchal revolution: internal and external. In the first model, critical things -- economy, the family -- changed within matriarchal cultures, giving rise to male dominance. In the second model, matriarchal cultures were attacked and eventually defeated by patriarchal invaders, who then substituted their own social institutions for those of the cultures they conquered. These models are often mixed --

certain factors predisposed matriarchal peoples toward patriarchy, but armed attack by patriarchal invaders tipped the balance. In either case, the patriarchal revolution is dated to roughly the same time: 3000 BCE…

Male discontent -- in this particular explanation for the patriarchal revolution -- turns out to be a bit of a worm in the apple, since men were supposed to be content with their lot in matriarchal societies. Men were happy in matriarchal societies, feminist matriarchalists say, but they were also beseiged with a nagging sense of their own dispensability. They felt "marginal" or "empty," like outsiders; they lacked "the rich sense of herself that women had in those early times, because she was the childbearer"; they suffered a "primal jealousy" of "a woman's total commitment to her infant"; they "felt themselves to be essentially different" from women, not quite "flesh of the mothers' flesh, after all"; and they envied women's ability to menstruate, since it was associated with heightened "psychic awareness and inner vision." Under matriarchal conditions, feminist matriarchalists say, men's sense of inadequacy was carefully contained....

The other leading internal explanation for the patriarchal revolution attributes it to the changeover from small-scale farming techniques (horticulture or "hoe agriculture") to large-scale agriculture ("plow agriculture") and herding. Plow agriculture generally required the use of irrigation systems and domesticated animals to pull plows, and, so the story goes, the superior upper-body strength of men. With the means of production thus effectively placed in men's hands, and farming raised to a level where surpluses could be produced and traded, all the conditions for patriarchal revolution were in place…

And yet narrators of the myth are generally reluctant to blame men

-- at least not all men, or men as a class -- for the patriarchal revolution, if only to leave room for a future which will include men without allowing them to dominate. Ironically, when faced with this dilemma,

feminist matriarchalists most often turn to external explanations for the patriarchal revolution, particularly invasion theories, in which villains abound.

When it comes to patriarchal invaders, none can rival the popularity of the Kurgans from the Russian steppes … the Kurgans were large, blue-eyed, and blond-haired, while the people of the matriarchies were smaller and darker

… Though there were clearly men in the matriarchal societies, it was women who were central, whereas in Kurgan society, at least as it is narrated by feminist matriarchalists, women rarely surface at all….

Gimbutas has brought great precision to questions of the Kurgan homeland. She centers it in southwestern Russia where the Don and Volga rivers approach one another most closely, extending downward from there toward the northern shores of the Black Sea and eastward toward Kazakhstan and the northern shores of the Caspian Sea. Rhetorically speaking -- apart from any archaeological data confirming or disconfirming this theory -- this is a terrific place to locate the patriarchal homeland. What is required is a territory big enough to be home to a largish population of marauding warriors; a place from which one can, without crossing enormous geographical barriers (such as oceans) reach Europe and the Near East; a region whose prehistory is neither noble nor well documented; and, finally, since no one wants to come from the place where patriarchy began, a land that is sparsely populated today. On all counts, the Russian steppes -- "no man's land" -- fit the profile. [I think it significant that feminist matriarchalists, writing mainly from North America and Europe during the Cold War era, place the patriarchal homeland in Russia -- already, by common Western consensus, the source of world evil.] …

Perhaps truer to the spirit of the myth of matriarchal prehistory is Riane Eisler's frequent insistence that the patriarchal invaders came from "the barren fringes of the globe," a place securely off the map of anywhere we might want to call home…

The Kurgans are the star players in invasion theories, but they did not have to patriarchalize the world all by themselves. They had help, occasionally from nameless nomads in other parts of the world, but most often from the Semites; specifically, the Hebrews. As Elizabeth Gould Davis explains, "it was these people, cultureless and semicivilized, who first upset civilization in the ancient East by overthrowing the city states and later by dethroning the ancient goddess and enthroning male strife in the form of Yahweh."

Feminist matriarchalists speculate that the Hebrews, like the Kurgans, suffered the ill effects of nomadic pastoralism and a harsh climate. But they also accuse the Hebrews of having taken especially cruel steps to destroy goddess religion. The anti-Semitism implicit in this thesis -- "blaming the Jews for the death of the Goddess" -- has been much commented upon, but the belief that Semitic invaders helped to crush matriarchal cultures is still very much a part of the myth of matriarchal prehistory…

Matriarchal culture is sometimes said to have fallen apart owing to "famine, disease, [and] natural cataclysm," when "a series of violent volcanic eruptions, earthquakes, and tidal waves rocked the Mediterranean world." Men, with their superior physical strength, took on a new importance as economic scarcity produced intertribal warfare. A few feminist matriarchalists offer astrological explanations: patriarchy arises in the martial age of Aries and flourishes in the Piscean Age (which is "concerned with duality"), or else patriarchy is nothing more than the "dark moon phase of the Goddess"… Another theory, offered rarely, and more in desperation than in earnestness, is that extraterrestrials landed on Earth in 3000 BCE. They either taught us all how to behave badly, or else joined us, becoming the males of the human species. More common, though still unusual, is the theory that men … are the result of an unfortunate genetic mutation … Kurgan men, she suggests, mutated toward "a higher level of androgen and androgen sensitivity" and became more violent and aggressive than the men in the matriarchal cultures to the south, whom they were thus able to defeat with ease…

Some claim that the patriarchal revolution was, quite simply, an accident: a very big, very bad accident...

[F]eminist matriarchalists often struggle to find some way of comprehending the patriarchy that makes it, while terrible, nevertheless necessary or useful … patriarchal institutions "served their purposes, or they wouldn't have lasted as long as they did."

More often, the whole question of how -- and why -- the patriarchy came to be is put off as mysterious or irrelevant. Indeed, some claim that dwelling on this question is a diversion, one that serves patriarchal interests…

Once the patriarchal revolution was under way, it proceeded by means of warfare, slavery (including sexual slavery), and religion

, through which the patriarchy consolidated its power and staked a claim in Western consciousness that is still deeply ingrained five thousand years later.

What guaranteed short-term victory for the Kurgans was the monopoly of force they commanded. According to feminist matriarchal myth, matriarchal peoples did not manufacture weapons of war; their villages and towns were undefended

; and, perhaps most critical, they did not have the moral will to wage war: it went against everything in their value system…

With warfare comes slavery, and with slavery, a more perfect means of oppression. According to Gerda Lerner, when large-scale warfare first began, men who were caught in war were killed, while women, who were easier to control and who could be used to breed children, were enslaved. Gradually, this basic form of relationship -- that of master and slave -- came to infect all relationships between men and women…

The final mechanism for perpetrating a patriarchal revolution was religion. Patriarchal religion developed in two directions: the construction of a male-dominated pantheon and worship of a single male god … the patriarchs sapped female deities of their power, then later eradicated them … The Kurgans insinuated their propaganda into the psyches of matriarchal peoples by splitting the matriarchal great goddess into dozens of goddesses, each with her own "department." These goddesses were then married to Kurgan sky gods (or raped by them) to form a dual-gendered, male-dominated pantheon…

There is a very strong apocalyptic strain in feminist matriarchal myth that shows itself in dire comments about the possible death of the planet. But there is also some confidence that "patriarchal structures are cracking at the seams," that we are reaching "an evolutionary dead end."…

[S]ome feminist matriarchalists do not wish to return to prehistoric matriarchies because they regard them as being "out of balance" in a feminine direction, just as patriarchy is imbalanced in a masculine direction. Matriarchy and patriarchy are thought to represent extremes, while the future has the potential of bringing a new, superior synthesis…

The future feminist matriarchalists seek is most commonly a recreation of prehistoric matriarchy on a "higher," more technologically advanced level…

[F]ocus on childbirth has been troublesome to many feminists

, even to those who are strongly attached to the myth of matriarchal prehistory. At one level it seems to suggest that unless and until women give birth, they are excluded from this most essential of female "mysteries." This has the potential to become quite a problem, since many feminist matriarchalists -- probably more than the national average -- are childless …

[Sex Differences in Matriarchal Myth]

Since a female identity centered on childbearing is problematic, feminist matriarchalists have at times attempted to center it elsewhere, typically on menstruation…

Another matriarchalist vision casts

men in a considerably more sinister role

. In this view, men have no "energy" of their own and so must pirate it from women. They "literally and figuratively plug into" women, casting women in the role of "batteries" or "the Vampire's energy source."…

[A]rranging the world into dualisms (like feminine and masculine) is said by feminist matriarchalists to be a patriarchal practice. Indeed, some feminist matriarchalists claim that this was the key patriarchal innovation that put an end to the matriarchal way of thinking, which was "wholistic" and "deliberately non-dualistic."

In spite of this, the entire premise of feminist matriarchal myth is dualistic:

there was a time in the past, associated with women, when people lived and thought one way; now there is a time, associated with men, when people live and think in another way. Furthermore, matriarchy and patriarchy are not simply two ways of being in the world, existing in a complementary balance (the sort of relationship feminist matriarchalists sometimes envision for women and men, "feminine" and "masculine"); they are polar opposites, one good and the other evil. In feminist matriarchal thought, the goddess, who abjures dualisms, is constantly pitted in direct opposition to the patriarchal god of western cultures, whose primary failing is his penchant for separating "us" from "them," "good" from "bad," "mind" from "body," and, of course, "women" from "men." In a remarkable piece of double-think, Elizabeth Judd tells us that "the recognition of rigid gender distinctions is characteristic of males but not females"; and yet here she is, female, marking out rigid gender distinctions upon which her entire theory of human life and history rests…

[The Pitfalls of "Difference Feminism"]

The first thing one notices about the matriarchalist vision of femininity is how very familiar it is: nurturance, relationality, embodiedness, and links to the earth and nature are hardly new connotations for femaleness.

Surely it is reasonable to want to rehabilitate activities and values habitually defined as -- and denigrated as -- feminine. But to do so by keeping these activities and values affixed to women is problematic. For one thing,

it is not as though this collection of gender stereotypes has never cast women in a positive light before: it is a staple of right-wing antifeminist rhetoric to stress the nurturing, affiliative qualities of women, along with their undoubted ability to give birth and lactate. The valorization of motherhood -- as an ideal type separate from individual women's experiences of it -- is a tactic that has served patriarchal cultures very well

… Romantics have hailed "Woman" as the avatar of "nature" for centuries now, as a being that could rescue us all from "the artificiality of civilization." But

such views have typically left women firmly in their traditional places, not significantly disrupting the public, patriarchal world or its policies.



It is hard to believe that staying within a patriarchal culture's lexicon of femininity can provide a hardy alternative to the present order.

Falling back into the traditional meanings of these stereotypes will be the path of least resistance…

In their creation of a "feminist femininity," matriarchalists have done remarkably little to move off the territory of patriarchal femininity…

[I]t seems that human beings have a hard time making a clear distinction without at the same time being tempted to make a differentiation in value. This has long been the case with gender, where distinctions between women and men devolve effortlessly into assertions of superiority and inferiority...

[Negotiating Sex Difference]

If gender exists only (or primarily) as the means through which oppression is achieved, surely there can be no merit in reifying it, as feminist matriarchalists do. The obvious option seems to be, as feminist scholar Denise Riley suggests, "to stand back and announce that there aren't any 'women.''' And yet there are...

It seems to me that it is more productive to recognize this reality, to call these people women, just as they have been named in the service of a male dominant ideology, but at the same time to insist that what makes them women is, not their genitalia or any sex differences that may or may not follow from their biological sex, but simply their secondary status in a male dominant culture. Women are not then a sex, as we commonly understand the term, or even a gender, but a group of people who have been placed in a sometimes idealized, often despised category. The gendered category in which women have been placed has formed their experience. But they are not the rightful occupiers of this category; they are merely the product of the category's existence...

[Finding Gender in Prehistory]

[M]atriarchal myth fails completely on historical grounds. Evidence from prehistoric times is comparatively sparse, and hard to interpret conclusively. However, even taking these difficulties into account, what evidence we do have does not support the thesis that prehistory was matriarchal and goddess-worshipping, or even that it was sexually egalitarian.

Probably the greatest challenge for the myth of matriarchal prehistory is, of course, the fact that matriarchies are said to have occurred prehistorically, before written records of any kind. Thus one very important source for reconstructing the human past -- texts -- is absent. [

On the face of it, it seems suspicious that literate cultures, which by their very nature are better documented, should all turn out to be male dominated, while pre-literate, more poorly documented cultures are supposed to have been matriarchal. Feminist matriarchalists never suggest that the skill of writing can only develop under social conditions of male dominance -- in fact some suggest it was already in use in matriarchal societies -- so it seems a peculiar coincidence that matriarchies should turn out to be preliterate.

In The Alphabet Versus the Goddess, Leonard Shlain suggests that there is a direct correlation between literacy and patriarchy, which would explain why matriarchal cultures are not documented textually. I suspect that this view will soon be adopted by feminist matriarchalists, since it provides an explanation of the coincidence of literacy and the patriarchal revolution that is not demeaning to women.] …

HIGHLIGHTS FROM BOOK CONT'D HERE:-- The Myth of Matriarchal Prehistory: Why an Invented Past Won't Give Women a Future, by Cynthia Eller