Appendix A

HOW WELL ARE THE NEW AUTOMOBILES ENGINEERED FOR VISUALLY SAFE DESIGN? RATE THEM YOURSELF.
The visual design requirements listed below are some that can be evaluated easily as a car sits on the show room floor. A failure to meet one or more of these requirements means that needless hazards to life and limb have been engineered into the car.
Does the automobile you wish to rate meet each of the requirements listed below for visually safe design? If not, score it off by circling the corresponding number in box below.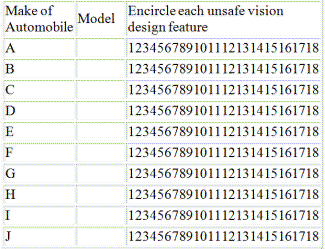 1. The windshield wiper assemblies should not be bright chromium.

2. The windshield should not be tinted. (Standing outside, compare the appearance of your hands when the one is outside and the other is viewed through the windshield. If no tint is present your hands will look almost the same color and brightness.)

3. Stand In front and look through the car at objects behind it. There should be no major distortions, waves or other irregularities In the objects.

4. Each of the front turn signals should be at least 12 square inches in area.

5. Both front turn signals should be visible from every possible angle In front of the car. For example: You should be able to see them both while standing slightly in front and 6 feet to the side of the car.

6. There should be an outside rearview mirror.

7. Both red tail and brake lights should be clearly visible from every possible angle behind the car. For example: You should be able to See both the left and right sets of lights from a position 10 feet to one side of the car and slightly behind the rear bumper.

8. The top of the dash panel should be finished in a dull black or non-glossy dark color.

9. The instrument panel should not be darkly shaded by a wide long hood or deep covered well.

10. The numerals and pointers on the instrument panel should be large, of good contrast and readable at a glance.

11. The gear that the transmission is in should be instantly readable at a quick glance.

12. You should be able to identify all controls at a glance and to reach them easily.

13. The windshield should be free of distortions. These can be observed from the driver's seat by moving your head and noticing if outside objects bend or move irregularly. Move head up, down, and sideways.

14. The windshield should he free of internal reflections. These appear as ghost images around bright lights.

15. The windshield corner posts should be thin enough that with both eyes open an object 10 feet away, no matter how small, would not be hidden.

16. There should be no chromium on the inside of the windshield corner posts, on window trim or on the hood or fenders that can be seen by the driver behind the wheel.

17. There should be vision reference marks at the left and right front corners of the car. These may be fender ornaments or body contours that help the driver know the width and position of his car. They must not be shiny chromium. And they should be designed in a manner that does not present a hazard to any pedestrian struck by a vehicle.

18. In rearward view there should be no blind spots to interfere with backing or with perception at a glance of the location of other cars near you in freeway driving.
Form designed by Merrill J. Allen, O.D., Ph.D., Professor of Optometry, Indiana University, Bloomington, Indiana.