PART 1 OF 2
Chapter 3: The Second Collision: When Man Meets Car
In the fall of 1917, two Canadian "Jennies" -- small airplanes technically known as JN-4's -- collided seven hundred feet above a small Texas airstrip. Of the four flyers who were manning the two-seated planes, the only survivor was a young air cadet named Hugh De Haven.
As he lay in the hospital recovering from serious internal injuries -- caused, paradoxically, by a poorly designed six-inch- ide seat belt with a six-inch bronze buckle -- he wondered why he had not been killed. When he recovered he inspected the wreckage of the two planes and observed that, of the four cockpits, the one in which he had been seated had remained substantially intact, while the other three bad disintegrated.
From this one man's sense of wonder evolved a major life-saving concept of the twentieth century: that the human body can withstand tremendous decelerative forces inflicted by crashes or falls. To be capable of tolerating such impacts in transport vehicles the human needed a "crashworthy" structure around him.
For the next twenty years De Haven could not find anyone who agreed with him. In this interval, while free-lancing as a successful designer of automatic equipment, he continued to press his belief that accidents can be made far safer through rational investigation of the mechanisms of injury in air crashes, many of which occurred during this period at speeds well under one hundred miles per hour. De Haven was turned away repeatedly by government and university people who called him a "crackpot." In the twenties and thirties, he recalls, "The saying used to be, 'If you want to be safe, don't fly.'"
De Havens curiosity was not dampened. He began to study cases of spectacular suicide plunges or accidental falls by people who "miraculously" survived.
A forty-two-year-old woman jumped from the sixth floor of a building and fell fifty-five feet onto fairly well-packed earth in a garden plot. The building superintendent rushed over to the victim right after she struck the ground, saw her raise herself on her elbow and remark, "Six stories and not hurt." A subsequent examination showed no evidence of material injuries or shock.
A man fell 108 feet from a tenth story window and landed on the hood and fenders of an automobile, face downward. He bounced off the car to the pavement. His chief injury was a depressed frontal fracture of the skull. He did not lose consciousness and recovered in short order.
A twenty-seven-year-old man jumped from the roof of a fourteen-story building, falling 146 feet onto the top and rear of the deck of an automobile and landing in a semi-supine position. He suffered numerous fractures• but did not lose consciousness and incurred no chest or head injuries. Two months later he was back at work.
A woman fell 144 feet from a seventeenth floor and landed on a metal ventilator box. She crushed the structure up to a depth of eighteen inches, fractured both bones of both her forearms and the bone of her left upper arm, and injured her left foot. She sat up and asked to be taken back to her room. Subsequent examination revealed no other internal injuries or fractures.
Hugh De Haven pointed out that any of the injuries suffered in these documented cases could have been the results of a five-foot fall. He saw these cases of survival as evidence that the objects and surfaces struck by the body do less damage if the forces involved are spread over time and area. This is elementary physics. A fall on a surface that "gives," such as a pile of hay, spreads the force over time. Poking someone with the end of a baseball bat instead of an ice pick spreads the force over area. Dr. Carl Clark of the Martin Company put the distinction neatly: "Damage is done not by the force, but by the distortions produced as a consequence of this force."
This relationship between the surface hit and the injury that results was recognized by Hippocrates in about 400 B.C. In his treatise on head injuries he wrote, "Of those who are wounded in the parts about the bone, or in the bone itself, by a fall, he who falls from a very high place upon a very hard and blunt object is in most danger of sustaining a fracture and contusion of the bone, and of having it depressed from its natural position; whereas he that falls upon more level ground, and upon a softer object, is likely to suffer less injury in the bone, or it may not be injured at all ..." From his own studies and these basic principles, De Haven concluded, "A person who escapes in a high speed crash, fatal to many others, owes his life to some decelerative interval and to a favorable distribution of pressure.... It is significant that crash survival without injuries in aircraft and automobiles occurs under conditions which are seemingly extreme and that fatal injuries are often sustained under moderate and controllable circumstances. It is reasonable to assume that structural provisions to reduce impact and distribute pressure can enhance survival and modify injury within wide limits in aircraft and automobile accidents."
Centuries ago, men had put these principles into practice in preparing for combat and in transporting fragile goods. They used shields and armor to dissipate force, and spears and knives to concentrate it For carrying pottery and porcelains over great distances and rugged terrains by ships and caravans, they used effective packaging techniques to avoid "crash impacts."
But something happened to men's rationality when they placed themselves in vehicles -- chariots, wagons, carriages, boats, trains, automobiles and aircraft. Death and injury from crash impacts in these carriers were called "acts of God" or "bad luck;" escape from casualties in accidents was called "a miracle." Even people whose training should have made them receptive to empirical explanations believed that forces involved in automobile or air crashes were too severe for the human body to absorb under any circumstances. So they concentrated on preventing accidents rather than on preventing injuries when accidents do occur.
The advent of World War II provided a little more receptive climate for De Haven's findings, especially as they might be applied to aircraft. With the strong backing of Dr. Eugene D. DuBois of the Cornell University Medical College, De Haven began a study of the causes of injury in aircraft accidents. He found that wounds of the heart and lungs, punctured by fractured ribs, and brain damage with and without skull fracture were prominent categories of injuries. Such injuries were sustained not just in completely disintegrated aircraft, but also in cockpits and aircraft cabins which had remained intact with little damage. De Haven called the latter kind of crashes "survivable accidents" in order to focus attention on the need for deliberate engineering for crash-survival. The first important outcome of his work was the development of improved restraining equipment to keep the pilot from striking rigid metal surfaces and instruments inside the cockpit. Aircraft manufacturers producing war planes began to pick up the safety implications of De Haven's work. Under the leadership of such dogged safety engineers as Republic Aviation's William Stieglitz and Douglas Aircraft's A. M. Mayo and John R. Poppen, fighter and light civil aircraft began to appear with more strongly moored seat structures, less lethal instrument panels, and more crash-resistant cockpit and cabin structures.
Stieglitz described the crash of a fighter airplane which went off the end of the runway at about 170 knots, flew for about 1200 feet, hit the ground, skidded for about 500 feet, and then went nose first into a six-foot earth embankment, cartwheeled, and disintegrated. The pilot crawled out by himself and rolled on the ground to put out the flames of his burning flying suit. Aside from minor burns, his total physical injury consisted of a cut on his little finger. Inspection of the wreckage showed the plane to be sheared off right down the back wall of the cockpit. But the cockpit had remained intact and the pilot, who had been restrained only by a standard lap seat belt and shoulder harness, was flying again in three months.
Dr. John Lane of the Australian Department of Civil Aviation, a pioneer in the field of crash protection, told a group of crash specialists in 1961, "We have a whole stack of thoroughly investigated accidents (involving military and light aircraft), thoroughly documented, in which the aircraft will do something like this: they will run through a power line -- a high tension line -- catch fire in the air, and impact the ground vertically at something on the order of seventy or eighty knots. The pilot will emerge from the debacle and simply go to call up and say, 'Send me a new aircraft.'"
De Haven was sure that if collision protection engineering could be so effective in aircraft design, it would also be applicable to the automobile. During the late forties, substantiation of his belief was furnished by others. A perceptive Indiana state policeman, Sergeant Elmer Paul, thought of it as the problem of the "second collision." In his analysis, most accident situations involved the impact of the vehicle with whatever it hit (the first collision), followed instantaneously by the impact of the occupants with the inside of the vehicle (the second collision). This second collision was what caused killing and maiming. To find out what objects inside the vehicle were responsible for injuries, and in what severity and frequency, Paul persuaded the Indiana authorities to establish the first systematic investigation of injury occurrence in automobiles wrecked on the state's highways. Close contact was established with De Haven's Cornell crash injury research project, which was beginning to turn its attention to automobile accident injury problems. The Cornell project unfortunately was plagued by the lack of financial support. Since it focused on vehicle design, it involved evaluating the products of Detroit, and this was dangerous territory, not trespassed for nearly half a century. But in 1951 the Air Force made a simple statistical comparison which revealed that it was losing more men-dead and injured-in automobile accidents than in combat in Korea. Other branches of the armed forces looked over their rolls and found similarly shocking comparisons. So the first grant to the Cornell project came in 1953 from the Army under the technical guidance of the Armed Forces Epidemiological Board. The initial grant was $54,000, and over the next eight years the total went up to $500,000. The Cornell group began a nationwide data-collection system about the second collision. This was achieved largely through the cooperation of about twenty states and five cities, which arranged for the dispatch of special accident reports, photographs, and medical reports showing vehicular damage, the nature and extent of injuries, and the vehicle features or components that were believed to have caused the injuries.
Military foresight made one other great contribution to crash injury research. Colonel John Paul Stapp of the United States Air Force risked his life to prove how tough the human anatomy can be in tolerating tremendous forces. True to the best heritage of his two professions, medicine and physics, Stapp devised the experimental equipment and chose himself as the guinea pig. In 1954 he culminated a series of tests begun in the late forties. Strapping himself into a giant sled powered by four solid-fuel Jato-type rocket motors and capable of supersonic speeds, he shot forward to a speed of 632 miles per hour-and stopped in 1.4 sec. at decelerations in excess of 40 g. (This means that the force on his body was equivalent to forty times his weight.) No other human being in history had "pulled down" so many "g's" voluntarily for such a period. With this historic demonstration, Stapp proved that if the human body had such tremendous tolerance for abrupt deceleration, it could also survive even the most severe vehicle collisions with little or no injury if the vehicle environment was safely designed.
During this same seminal period of the early fifties, the third phase of crash protection research was launched at the University of California at Los Angeles under the leadership of J. H. Mathewson and D. M. Severy. This involved the experimental crashing of automobiles to determine deceleration rates, vehicle damage, and the effects on instrument-laden anthropomorphic dummies strapped in the seats. In 1954 the UCLA group concluded that "there has been no significant automotive engineering contribution to the safety of motorists since about the beginning of World War II .... On the basis of mounting accident-injury data Bowing into it from areas throughout the country, the Cornell Automotive Crash Injury Research (ACIR) annual report in 1955 provided statistical confirmation: "The newer model automobiles (1950-1954) are increasing the rate of fatalities in injury-producing accidents.
Until Stapp, UCLA, and Cornell began their tests and collected data, the public had no choice but to rely upon the automobile manufacturers as its sole source of information about the second collision. The industry had the field to itself and chose to dispense no information whatever.
The opening of independent sources of information on automobile hazards and their relation to injuries inflicted by the second collision is giving this country its first detailed critical look at what happens when cars crash, and what is needed to make them crashworthy. The Cornell Aeronautical Laboratory, which became the heir to ACIR in 1961, lists three general requirements for collision protection in a vehicle: 1) a sound outer shell structure which will retain its structural integrity under impact -- and absorb as much energy as possible -- without allowing undue penetration of the striking object into the passenger compartment; 2) elimination from the interior surfaces of the shell any hard, sharp projections Or edges and the prevention of vehicle components (such as steering columns and engines) from penetrating into the compartment; also the application of energy-absorbing materials to reduce impact forces on the human body at all probable points of contact with these surfaces; and 3) provision of passenger restraint systems, not necessarily restricted to seat belt devices, to prevent or minimize relative body motion and abrupt contact with the interior of the automobile, at the same time inducing little or no physiological damage to the passenger due to the operation of these restraint systems.
These Cornell criteria might seem to be based simply on common sense, but they are formulated on the basis of over 70,000 accident cases from which the processed data (see Fig. 3) has produced a ranking of leading causes of injury-the cause in this study, being whatever particular feature or component of the vehicle inflicts the injury when the car is stopped and the occupant keeps going.
The steering assembly
'The most flagrant instrument of trauma in Cornell's automobile autopsy is the steering assembly. It caused approximately twenty per cent of the injuries in the data sample taken during the past decade. As would be expected, it is the driver who is most often injured by the steering assembly, either by being thrown forward into it or by being impaled on a ramming steering column. 'The latter kind of impact is the less common of the two but represents a disproportionate cause of serious injury. [1]
For years, the most common feature of crumpled automobiles has been a rearward displaced or arched steering column with broken spokes and bent wheel rims. Led by Ford, in 1956-1957 the auto makers introduced the recessed-hub steering wheel. The purpose of setting the hub below the plane of the wheel rim was to allow the rim to absorb the first force of impact before the driver struck the rigid and frequently sharp-edged hub. But Cornell follow-up data analysis, comparing the relative effectiveness of this new design and the old Hat wheel type, has shown only a "weak tendency" toward a reduction in chest injury.
Robert A. Wolf, Director of Automotive Crash Injury Research, urges the automobile designers "to turn their talents toward developing an improved form of energy-absorbing steering wheel -- something with several times the effectiveness of the present family of wheels." He has prepared sketches of various proposed wheels which would absorb energy and still protect the driver from the instrument panel and windshield. (See Fig. 4)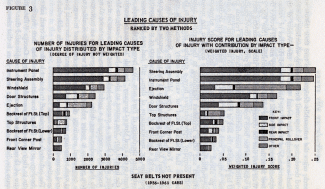 FIGURE 3: LEADING CAUSES OF INJURY RANKED BY TWO METHODS: (1) NUMBER OF INJURIES FOR LEADING CAUSES OF INJURY DISTRIBUTED BY IMPACT TYPE (DEGREE OF INJURY NOT WEIGHTED), (2) INJURY SCORE FOR LEADING CAUSES OF INJURY WITH CONTRIBUTION BY IMPACT TYPE (WEIGHTED INJURY, SCALE)
SEAT BELTS NOT PRESENT (1956-1961 CARS)
Wolf notes that the concept behind such shock-absorbing steering wheels has not been accepted in actual product development by automobile manufacturers. His evaluation of the reasons for this lag points to the lack of systematic search to find the best solutions. Actually, such a search needs only a management decision to go ahead. Patents that incorporated increasingly advanced energy-absorbing steering assemblies were issued to the manufacturers and other inventors beginning in the twenties. Automobile company representatives have a standard answer to, the assertion that patents exist for various safety features. It was voiced by Ford president Arjay Miller when Senators Ribicoff and Robert Kennedy pressed him at the 1965 Senate hearings to explain why a number of his company's patents of such steering assemblies, or modifications of them, still had not been incorporated into the design of Ford cars. "We have got thousands of patents in the Ford Motor Company," he said, "that are not worthy of the light of day. You patent an idea you have." Clearly, as Mr. Miller should know, a company-held patent represents a stage of knowledge concerning a useful invention. The patents, along with their predecessors, define with some precision an important safety problem in motor vehicle crashes. It would be insulting to the suppressed creativity of auto industry engineers to suggest that such technology could not have been perfected for mass produced automobiles over a decade ago. This is an area where safer alternatives are "on the shelf."
The industry's shrugging off its patent holdings in crash safety technology as just "ideas" contrasts with what their engineers write in their professional journals. In 1953, George Willits, director of General Motors' patent section, emphasized that "GM patents are distinguished from the ordinary run in that almost all of them cover practical ideas. Our inventors know the practical possibilities in the fields in which they work."
Industry reaction to findings by Cornell and others about the hazards of steering columns is revealing. Cornell's data analysis showed great differences in the frequency of steering column penetration among different types of cars. ACIR reports that "in accidents of similar severity some classes of cars are about twice as likely as others to have steering column penetration. These findings emphasize the need for drastic corrective action by the automobile industry." At one point in 1963, Mr. Wolf showed rare exasperation when he told an audience of automobile safety specialists, "There is no point in endless descriptions of the possible spectrum of engineering solutions to the problem of steering column penetration. I have no doubt whatsoever that the ingenuity of the engineers will rise to the occasion if they are given a clear directive, by management, to solve the problem."
Dr. Horace Campbell, a Denver surgeon with many articles on auto design hazards to his credit, noticed during his investigations of automobile accidents that the Corvair steering shaft was routinely driven backward and upward in even minor left front-end collisions. He noted that the steering shaft extends from a point about two inches in front of the leading surface of the front tire -- a design unique among American cars. He wrote to Harry Barr, now General Motors' vice president for engineering on October 26, 1962, inquiring about the apparent likelihood of impaling the driver on a steering shaft that takes all the impact not absorbed by the bumper and sheet metal. .Barr replied that Chevrolet had conducted tests which showed to its satisfaction that there was no problem. What kinds of tests and with what results Barr did not mention. Campbell could find no One anywhere in the country, certainly not a governmental agency, who could provide an answer to his question. Consumer Reports in April 1965 took specific note of the danger of the Corvair's steering shaft position and indicated it was trying to set up tests with Automotive Crash Injury Research to find an answer. But nothing had materialized as of August 1965. ACIR has been reluctant to disclose the make and model names of vehicle performance in data analysis of steering shaft penetration.
Dr. Campbell had a specific reason to pursue his quest for information about the Corvair shaft. On January 19, 1962, Milford Horn, a Denver engineer, driving at a slow speed, skidded in his Corvair on an icy road into the side of a slowly moving locomotive. Dr. Campbell investigated the accident and gave the following report to the Seventh Stapp Car Crash Conference in November 1963: "Horn had died instantly at the scene with a completely broken neck. The state patrolman told me to go and see the car and I would then understand why. The man's character [Horn's] was revealed on my inspection of the car. There were four seat belts; his widow told me later that every belt had to be fastened before he would start the engine. There were four electric flashing Signal lights, to be placed on the road in case a tire change became necessary.
"His car, a 1961 Corvair, was extensively damaged at the left front comer. The huh of the steering wheel was displaced, by actual measurement against another car of the same make, two feet upward and backward. It broke his neck. He had no other injuries of consequence.
"The man who towed his car in told me that in every car of this make which he brought in with left front deformation, the steering shaft is driven backward, often more than a foot."
In a final attempt at communication, in March 1965, Dr. Campbell wrote an acquaintance, Kenneth A. Stonex of General Motors, asking him to provide crash data on a question that literally was one of life and death. Mr. Stonex, General Motors' leading automotive safety engineer, wrote back that "as a longstanding policy, engineering details of General Motors developments have a degree of confidence equivalent to that between you and your patients." Then he added, as if suddenly aware of the inverted engineering ethic he had voiced, "The best I can do is refer your request to people responsible for policy for their consideration." Dr. Campbell never heard further.
In recent years the data coming to Cornell has continued to show the pre-eminent danger of the steering assembly in collisions. Since the introduction of the recessed-hub steering concept by the industry in 1956-1957, the only changes in the steering wheel's configuration appear to have been drawn from the stylist's inspiration. (See Fig. 4) Industry engineers did claim minor improvements but could not reveal even experimentally in what way these changes were safer. Certainly the Cornell data showed no supporting evidence. The most generous comment about the so-called "safety steering wheel" which a Harvard collision investigator, Murray Burnstine, could make was: "In many cases, they function only well enough to allow the motorist to die in the hospital instead of in the road."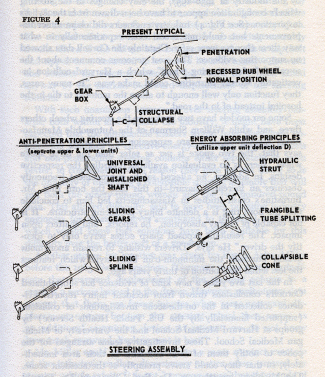 FIGURE 4. STEERING ASSEMBLY
Some car models have two spokes on the steering wheel, others three, and while William Sherman of the Automobile Manufacturers Association, in a rare expression of his safety judgment, says that "the two spoke is per se safer than the three spoke wheel," there is no evaluation available regarding the respective designs. In addition, an alleged safety improvement frequently obscures an increased hazard -- in this case the horn ring. Mr. Burnstine's crash studies in Massachusetts led him to conclude that the horn ring is a definite injury-producing structure. "It is not capable of energy absorption," he reports, "and shatters upon impact. The resultant exposed sharp edges serve only to identify the driver." He says, "Drivers wishing to remain anonymous usually purchase the minimum-trim body style which features the less lethal horn button of thirty years ago."
In the last five years a new kind of evidence has substantiated Cornell's conclusions drawn from accident injury reports: evidence collected in the on-the-scene investigations of collisions (supported financially by the U.S. Public Health Service) by groups at Harvard Medical School and the University of Michigan Medical School. These investigative teams arranged for the police to notify them of fatal accidents in their area immediately, so that they could arrive promptly at the accident scene. The Michigan investigators, Dr. Paul Gikas and Dr. Donald Huelke, reported on their investigation of 104 accidents involving fatal injuries to 136 victims, in January 1965, before a Society of Automotive Engineers convention.
Twenty-live of the victims died from injuries sustained on the steering assembly. The report, confirming fully a finding by the Harvard team a few years earlier, concluded: "Invasion of the driver occupant area by the steering assembly is seen very often. The ramrod effect produced the majority of steering assembly deaths. Even if the driver had been restrained with a lap belt and upper torso restraint, so as not to be able to move forward and contact the steering assembly, he would have been killed anyway by the marked backward displacement of the steering column."
With such unanimous agreement over steering assembly hazards, both within and without the industry, it might have been expected that the automobile makers would have developed engineering solutions for effective energy-absorbing steering wheels and non-penetrating steering columns either separately or, even better, in combination. One reason they give for not doing so is the difficulty of designing a collapsible steering assembly that will suit both the ninety-pound woman and the two-hundred-pound man. This alleged difficulty, said to have been puzzling industry engineers for years, is never mentioned to technical audiences, which would know that solutions have been available for this difficulty over the better part of a generation.
Another excuse for inaction was given by Ford's Arjay Miller before the 1965 Senate hearings: "Common sense seems to indicate that rearward displacement of the steering column in a crash is a serious hazard to the driver. However, preliminary data suggest that there are fewer injuries when some rearward displacement occurs, because the steering wheel then serves as an additional restraining device. At present, we do not know how much rearward displacement is best."
Mr. Miller could scarcely have given a more succinct example of the industry's endless diversionary tactics when pressed for greater vehicle safety. It is not "common sense" but thousands of cases processed by Cornell and accidents investigated and documented by university teams and state troopers identify the steering column as a serious hazard. Mr. Miller neglected to specify what the "preliminary data" were, and when Senator Ribicoff gave him an opportunity to elaborate, Mr. Miller remained silent. Finally, Mr. Miller's statement that not enough is known about rearward displacement seems inconsistent with his proud exposition of Ford's pioneering and intensive collision research and development over the past fifteen years. "Preliminary data" in 1965 suggests that Ford's highly advertised collision tests at company proving grounds produced more advertising copy than data.
If Ford and the other car makers perpetuate the traditional steering wheel assembly, that assembly should be made more energy-absorptive so as to deflect under impact forces but not to allow direct body contact with the instrument panel or windshield by "giving" all the way. Mr. Miller's testimony suggested that he believed the problem to be beyond the capabilities of the world's second largest automobile manufacturer.
A significant complaint against the Ford president's position was made by Senator Robert Kennedy, who ended an exchange on steering assemblies with Mr. Miller and Ford's vice president for engineering, Herbert Misch, by saying, "Really the automobile industry has been derelict in this area. You come up here and say what we need is this kind of equipment and I ask you if you have the equipment, and you say, 'No, we do not.' You know, it does make one think that perhaps you could do better."
Miller answered simply, "Yes, sir."
Shortly afterward, Kennedy said, "It is difficult for me to understand why, after we have been talking about a collapsible steering column for ten years, knowing what the problem is, that the Ford Motor Company and the rest of the automotive industry cannot come up with the answer. If everybody wanted to come up with an answer to this problem, they could find the answer to it. Do you not agree?" Misch admitted, "Yes, sir, if the right talents are applied to it, we can get these answers."
Senator Kennedy hardly overstated it when he said, "I think that progress has been slow; it has been very, very slow, really. That is, I think, the problem."
The Instrument panel
On the Cornell list of leading causes of injury, the instrument panel stands first in frequency and second, behind the steering assembly, in seriousness of injury. This comes as no surprise to policemen and other accident investigators. The stylist who has been given great leeway to determine panel shape bas devised a great variety of designs that have managed to provide spectacular dangers. Hugh De Haven told a House of Representatives subcommittee in 1959, "It bas been my opinion for many years that we are putting into automobiles an instrument panel that has the Characteristics that are not too different, so far as the head and face are concerned, from a steel beam or an anvil." De Haven's point was amply illustrated by Dr. William Haddon of the New York Department of Health in an address before the Society of Automotive Engineers: "A friend of mine, a prominent physician who bas long served on one of the committees concerned with this area, saw not many months ago a case of a young child which lost one of its eyes because the vehicle in which it was riding decelerated unexpectedly, with the result that the child was thrown forward, as one knows happens with children riding in cars when cars, as is common, decelerate. The reason why this child lost its eye was that there was placed in the target area- -- n anticipated target area well known to all of us -- a knob. Now the eye, through evolution, or nature, or creation, as each of you will have it, has been very nicely recessed, so that in hitting Hat surfaces no damage, unless the impact is overwhelming, results. It has little chance, however, in landing on a protrusion. There was a protrusion, placed, by design, literally at the impact point at which children often hit."
What is wrong with instrument panels in a collision can be understood readily by considering what could be right with them. A reasonably safe instrument panel would not have sharp, unyielding edges, would have more and better application of padding materials or alternative absorptive surfaces, would recess knobs and controls or otherwise make them yield on impact, and would not have a protruding panel before the right front passenger area.
Beginning in 1956 the automobile makers, confronted with Cornell's statistical proof on instrument panel hazards, began to offer padding on an optional basis at extra cost. Some of this padding was no more than one-eighth of an inch thick. A Cornell study of padding effectiveness, based on accident data for model-year cars between 1956 and 1962., showed padding to be beneficial in reducing or preventing minor injuries, but making little difference in the class of accidents that resulted in fatal or serious injury. The study concluded that "More improvement will be necessary before the instrument panel will be changed from its prominent position [on the charts] associated with deaths and severe injury in automobile accidents."
Existing padding offers no protection from knobs, glove compartment doors, and sharp metal hoods projecting above various groups of instruments. Fatal injuries ranging from simple fracture of the pelvis to a crushed chest are found in the Cornell data to be the result of glove compartment doors opening on collision. Striking this compartment door even when it remains closed has resulted in serious injuries, but the protrusion of the open door is obviously a more serious hazard, and one remediable by any number of safer door or latch designs.
Even less engineering ingenuity would be required to eliminate dangerous protrusions above the instrument panel. Dr. Haddon recounts a case which he observed: "In a head-on off-center collision at relatively low speed, a practical nurse who had been driving in one of the cars was thrown diagonally across to the right and caught the front of her scalp on a small screw which was projecting perhaps only an eighth of an inch from the bracket which in that make and model holds on the sun visor. She left a piece of her scalp and her grey hair on it as it ripped her scalp almost from her hairline back to the back of her head. I think it is reasonable to say that someone placed that screw there by design not with injury production in mind, but that nevertheless its placement there undoubtedly in this case, as in probably many others, resulted in unnecessary injury."
In the other car involved in this accident, the woman riding in the right front seat was thrown diagonally across to the left behind the steering wheel and into the very sharply hooded projections above several of the instruments. She suffered serious injuries because of this impact and the localization of the forces produced by the projections. Dr. Haddon says, "'These injuries were undoubtedly much more severe than they needed to be, and they were produced in substantial part by inadequate attention to crash design."
Instrument panel design varies with manufacturers, and the variation, however influenced by annual stylistic considerations, has been found to be significant for safety. There are indications that the safety factor has been involved in some Chrysler and Studebaker designs. But at General Motors the stylist luxuriates. The Corvair instrument panel hood, for example, in the model-years 1960 to 1964, extends to the right front section solely for symmetry with the pattern in front of the driver. Dr. Horace Campbell says flatly, "'The General Motors instrument panels are the most dangerous in the world."
ACIR director Robert Wolf has offered a basic approach to instrument panel hazards. "I would like to suggest," he has said, "that the automobile designers re-examine this traditional form of configuration and ask, 'Is the instrument panel a truly functional component of the car, or is it just an accepted hangover from the good old days? What can be done to redesign it or remove it entirely in order to improve crashworthiness?"
The challenge laid down by Mr. Wolf would be a modest undertaking for a giant industry. Eliminating the center and right sections of the panel and shelf presents no engineering difficulty. The radio and glove compartment could be placed elsewhere conveniently. Mr. Wolf adds, "Were ready for a breakthrough and it would be a tragedy if the industry failed to recognize its opportunity."
But such a basic redesign is not appealing to company management, which sees little reason to eliminate a structure solely for safety purposes. Automobile industry engineers prefer to discuss the instrument panel problem on the assumption that the panel must keep its traditional configuration; on this assumption, they will gladly talk about safety -- and at needless, time-consuming length.
A recent industry position on instrument panel hazards and what to do about them provides a fine example of how sophisticated delaying and diversionary tactics can become. This position was made clear at the first specification development conference held by the General Services Administration in Washington On November 12th and 13th, 1964, to consider what safety standards the agency should establish for passenger vehicles purchased for the federal government.
GSA officials expressed their concern about several dangers of present instrument panel design. William Sherman of the Automobile Manufacturers Association raised the issue that it is necessary to determine how and where the vehicle occupant strikes the instrument panel. Ford's Robert Fredericks noted a general tendency for the body to strike downward on the top surface of the panel. Mr. Fredericks said that though the panel can be designed so that the occupant would not strike the top surface, style dictated that the "cluster hood" on the driver's side, which was necessary "to prevent reflections into the windshield from instruments and lighted controls," must be "carried in general across the car in the same general shape." Mr. Sherman broadened the dimensions of the problem. "The question here is the combination of surface structure under the surface and padding or whatever is on top of the surface and contours." In reply to an assertion by Colonel Stapp that enough is known now about the impact forces the human skull can safely absorb to give designers a basis for providing greater padding protection and diminished projections, Fredericks added to the industry's case for no action by explaining, "We know these sort of ball-park figures as to what will cause fracture, minimal concussion and things of that nature. But primarily when hitting flat surfaces. We do not know, for example, as a function of radius of curvature of a piece of sheet meta1 and padding combination what radii are tolerable and not tolerable. We know if it is a flat plate that naturally this is the best you can get."
While Fredericks and his industry colleagues were talking, a Federal Aviation Agency researcher in Oklahoma City was nearing the final phase of a project to determine the tolerances of the human face and skull of impact forces against a deforming surface. John Swearingen, a physiologist and chief of the protection and survival laboratory at the Civil Aeromedical Research Institute, concentrated on injuries to car occupants from dozens of different automobile instrument panel designs stretching back over a decade. With the rigor that has made him one of the most brilliant safety researchers in the aviation field, Swearingen studied over one hundred cases to correlate the injuries received with the forces necessary to duplicate the dents made in the particular dashboard panel. This was done in a variety of ways, but principally by the use of a small catapult with a speed capability of one hundred miles per hour. Dummies bearing instruments were shot down the track in aircraft seats with head and torso swinging forward freely to determine the force and time elements in deformation of the dashboard metal. By a meticulous process of comparing indentations with those on the panels struck by the victims, he was able to determine how much force produced how much head and facial injury. He further checked his data by using cadavers and measuring the results of forty-five head impacts against panels.
Swearingen's conclusions showed that under conditions easily within engineering accomplishment, the human head could take much greater impacts than previously thought possible. These conditions are two: proper padding to distribute the load over the facial area and the proper resilience in the metal underneath to dissipate the impact energy. With such a "transportation environment," as Swearingen terms it, "we should be able to eliminate hundreds of thousands of facial injuries." But with contemporary panel design, even forces generated by five-mile-an-hour impacts can be fatal, says Swearingen. With proper design, a person could hit his head on a panel at forty feet per second with no injuries at all, while presently people are dying from impacts at fifteen feet per second. Even a two-"g" impact on a sharp knob or metal projection such as the comer of a glove compartment door or the compartment latch could be fatal. Such pressure points can concentrate force into thousands of pounds per square inch.
Swearingen believes that the importance of the dashboard panel will increase as lap-type seat belts come into greater use. Passengers who would ordinarily have been hurled through the windshield would, when belted, be more likely to strike the panel. His tests indicate that the auto makers remain indifferent. Despite all the notice of panel hazard and despite explicit recognition of the problem by their safety engineers, the corporate decision-makers chose instrument panels for the 1965 models that were the most hazardous investigated by Swearingen. His instruments showed the highest "g" forces generated were those by impacts on several 1965 instrument panels.
Swearingen says the padding that has gone on autos in this decade has made very little difference in the safety the motorist gets. He concurs with Cornell's finding that the protection is primarily in the very low impacts; but he adds to it a more ominous finding: that "adding a padded lip to some panels has actually about doubled the hazard by using heavy reinforced channel iron to attach the pad." Other panels have a heavy brace beneath the metal which raises the "g" force to as much as one hundred. The so-called padded dash-provided only at extra cost-was offering, in some ways, pressure points far exceeding the unpadded dashboard designs.
The outcome of Swearingen's study was a specific list of design standards for the dashboard panel that will protect the knees and legs as well as the head:
1. No portion of the dashboard panel should be less than ten inches in radius of curvature. (A flat surface would be the best.)

2. The dashboard panel must be entirely covered with at least one-inch-thick, firm, slow-return padding.

3. The thickness of the metal in the dashboard panel should not exceed .030 inches.

4. There should be no metal bracing within three inches of the inside surface of the panel.

5. The glove compartment door along with its rigid frame should be eliminated.

6. All knobs, controls, etc., should be eliminated from the middle and right dashboard sections.

7. Heavy instruments such as the radio, speedometer and clock must be recessed at least three inches with lightweight yokes connecting them to the instrument panel.
Swearingen has systematic data on the maximum tolerable impact forces which the various portions of the face and head can absorb when striking a padded deformable surface. His is the first published study on the subject. Though later research may refine his recommendations, they answer a good many questions for industry engineers. The automobile makers have shown no reaction publicly to Swearingen's data, which they had told the General Services Administration were so badly needed, and which they had supposedly been working so long to obtain. Their position concerning the GSA deliberation over instrument panel standards remained the same after the Swearingen data were released in March, 1965, as it was at the November 1964 meeting. (See Fig. 5)
Swearingen's project -- including salaries, materials, and equipment -- cost an estimated $25,000. It was the first of its kind, and it was instituted and supported by a governmental aviation safety research facility -- not by the twenty-five- billion-dollar automobile industry.
The windshield
The windshield ranks third in frequency and fourth in severity as a cause of injuries in automobile accidents. The Cornell study shows that 11.3 per cent of all people injured in automobile accidents were hurt by windshield glass. Of this class of injuries, almost ninety per cent are injuries to the head, with neck injuries being rarer but usually more severe. Less severe windshield glass injuries often cause permanent facial disfigurement with psychological consequences that have not been coded in the data-processing machines.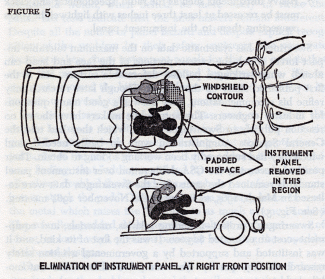 FIGURE 5. ELIMINATION OF INSTRUMENT PANEL AT RIGHT FRONT POSITION
In order to minimize injury, a windshield that is struck by a vehicle occupant must have two important qualities: it must not be so hard that the head snaps back with a concussion or fracture, nor must it yield so easily that the blow breaks it, with resultant hideous lacerations. All American automobiles use laminated glass (a plastic core with glass bonded to it) in contrast to tempered glass (solid glass, heat treated) employed on some European vehicles. The principal experimental research on windshield safety is being conducted at Wayne State University in Detroit and at the University of California at Los Angeles's Institute of Transportation and Traffic Engineering. The conflict over laminated versus tempered glass that rages between commercial groups here and in Europe has not yet been resolved by either of these projects, and a Cornell data analysis released in December 1964 does not indicate any significant differences in injuries from the two types of glass. Since all American cars use laminated glass, the bulk of the injury experience and consequently research attention bas been with that type. Dr. Allan Nahum of UCLA points out that the laminated windshield hinges open to let the head through but closes like a razor-sharp jaw on the driver's head and face when his own weight pulls him back inside the car when the vehicle bas come to a stop. It is this kind of injury that produces the severe and often fatal neck injuries. Evidence from dozens of crash tests using cadavers at Wayne State's department of engineering mechanics bas shown the need for increased resistance to penetration, while at the same time retaining or increasing the yielding characteristics of the glass that are associated with a reduction in concussions.
According to the Cornell study, in cases where the windshield was struck, the severity of the injuries increased sharply with the severity of the damage to the glass. When the glass remains intact, injuries are generally mild. Injuries are twice as severe when the glass is "web-cracked," and twice as severe again when the glass is "web-broken" -- using a rough index of progression.
Before the Senate traffic safety hearings in July 1965, General Motors took the occasion to announce that "an intensive research and development program" in this area, launched in 1962 with the cooperation of other automobile companies, had proved that a thicker layer of laminate between the glass would reduce the severity of head lacerations. (Actually, the major research and development work was done by the glass suppliers.) The Cornell data pointing to windshield hazards, alluded to by General Motors in the testimony as a motivating factor for developing safer glass, was first released in 1955. General Motors representatives told the Senators that "the result of this work is a new windshield glass which nearly doubles occupant-penetration protection." All companies introduced this windshield for their 1966 models.
There was one gap, however, in General Motors' testimony about safety and windshields; namely, that numerous Wayne State laboratory crash tests showed penetration to have occurred in the standard windshields at vehicle speeds down to approximately 12.5 miles per hour. The new windshields, according to this finding, would prevent penetration up to 24 mph. It is not likely that many motorists were aware that the "safety glass" they have been looking through for years could take no more than a 12.5-miles-per-hour impact without threatening the victim with a jagged glass collar. This is not the sort of finding about its automobiles that the industry reveals to the public; nor have car buyers a legally protected right to obtain such critical information.
There is one point on which all specialists concur. The best way to avoid windshield injury is to avoid striking the windshield. At the present time the only available means of passenger restraint is the seat belt. In its way the history of this device tells the engineering and political story of the second collision better than any other vehicle feature.
Passenger restraint
Early in his search for greater automobile safety, Hugh De Haven asked, "Can people be packaged for transport in a manner assuring a better degree of protection against injury and death than is provided by our present vehicles of transportation?" One of the cardinal principles in "packaging" the passenger is that he be firmly but comfortably anchored, so as not to be thrown against the inside of the vehicle or ejected through it.
Seat belts were adopted for airplanes in the early years of aviation just before World War I, when staying in his craft was one of the pilot's biggest challenges. Turbulent air currents or acrobatic maneuvers could easily throw the pilot from an open-cockpit plane; in one instance a pilot named Lieutenant Towers, later to be a Navy admiral, lost control of his airplane and was hurled from his seat. With luck and agility, he managed to grab hold of part of the plane as be plummeted downward, and he hung on until it crashed.
By the late twenties federal regulations required seat belts installed and worn on all civilian passenger aircraft. With advancing airplane design, it was recognized that such restraints protected occupants from injury in the event of a crash, a sudden stop on land, or a sudden drop in the air.
The transfer of safety knowledge and attitudes from airplanes to automobiles lagged greatly then, as it has ever since. In the thirties and early forties racing drivers rarely used seat belts; the man who did was considered to lack courage. But the work of De Haven at Cornell and the work of Colonel Stapp and his associates changed that attitude: racing associations began to require racing drivers to wear seat belts in the late forties and early fifties. A growing number of physicians, sickened at the sight of highway victims, began writing detailed descriptions for medical journals of injuries that were related to the lack of seat belts.
In 1954 and 1955 Cornell released data showing that ejection from the vehicle accounted for about twenty-live per cent of serious and fatal injuries. The risk of fatal injury was increased fivefold if the occupant was thrown from the car in car crashes. In addition, automobile crash testing done in 1951 by the Cornell Aeronautical Laboratory's collision researcher, Edward Dye (with the support of the Liberty Mutual Insurance Company), recorded the extraordinary path of motion the human body took even at low impact speeds. One set of slides showed a dummy the size and weight of a six-year-old child in the back seat of a vehicle that was crashed at twenty miles an hour. At .30 seconds, the dummy hit the back of the seat, and at .53 seconds it struck the windshield and again bounced back into the rear seat. The industry finally showed a reaction to these findings. Chrysler and Ford announced in the late summer of 1955 that they would make seat belts available to car buyers as an optional extra -- at extra cost. It was not until January 1964 that the auto-industry, prodded by legislation and overwhelming public pressure, accepted the proposition that seat belts should be standard equipment with all new cars.
General Motors played the central role in this delay. The company's chief spokesmen on the issue were engineering vice president Charles Chayne and vehicle safety engineer Howard Gandelot. Mr. Chayne publicly stated that he thought seat belts offered little promise, and that General Motors did not plan to provide them. Mr. Gandelot constructed his opposition around two themes: (1) "There is not sufficient factual information on the protective value of seat belts in automobiles to form any definite conclusions" and, (2) "There is little interest on the part of the motoring public in actual use of seat belts."
He was particularly resourceful in giving what he thought were valid illustrations. One of his favorites was the experience of Nash Motors which offered a "seat belt" with its optional reclining seat for the Statesman and Ambassador models. Nash provided about fifty thousand of these reclining seats and found customers -- as the story goes -- so little interested in this so-called seat belt that it was dropped before the end of the 1950-model run. The Nash experience has been cited in one context or another by every automobile manufacturer up to the present day as proof of how little public interest there is in seat belts. The present president of American Motors, Roy Abernethy, remarked in July 1965, "We were the first company -- in 1949 -- to attempt to make seat belts standard. We ran into so much apathy-and actual resistance-that we were forced to drop the feature."