AN ARMY OF DAVIDS: HOW MARKETS AND TECHNOLOGY EMPOWER ORDINARY PEOPLE TO BEAT BIG MEDIA, BIG GOVERNMENT, AND OTHER GOLIATHS
by Glenn Reynolds
© 2006 by Glenn Reynolds
NOTICE: THIS WORK MAY BE PROTECTED BY COPYRIGHT
YOU ARE REQUIRED TO READ

THE COPYRIGHT NOTICE AT THIS LINK

BEFORE YOU READ THE FOLLOWING WORK, THAT IS AVAILABLE SOLELY FOR PRIVATE STUDY, SCHOLARSHIP OR RESEARCH PURSUANT TO 17 U.S.C. SECTION 107 AND 108. IN THE EVENT THAT THE LIBRARY DETERMINES THAT UNLAWFUL COPYING OF THIS WORK HAS OCCURRED, THE LIBRARY HAS THE RIGHT TO BLOCK THE I.P. ADDRESS AT WHICH THE UNLAWFUL COPYING APPEARED TO HAVE OCCURRED. THANK YOU FOR RESPECTING THE RIGHTS OF COPYRIGHT OWNERS.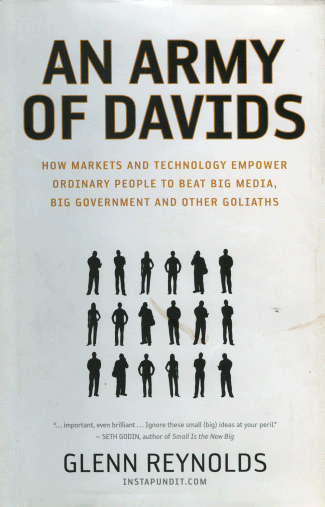 To my wife and daughter
Table of Contents:
•
Acknowledgments
•
Introduction: Do It Yourself
•
1. The Change
•
2. Small Is the New Big
•
5. A Pack, Not a Herd
•
4. Making Beautiful Music, Together
•
5. A Pack, Not a Herd
•
6. From Media to We-dia
•
Interlude: Good Blogging
•
7. Horizontal Knowledge
•
8. How the Game is Played
•
9. Empowering the Really Little Guys
•
10. Live Long -- and Prosper!
•
11. Space: It's Not Just for Governments Anymore
•
12. The Approaching Singularity
•
13. Conclusion: The Future
•
Notes
•
Index
•
Inside and Back Cover
THE KIDS ARE ALRIGHT

It may be making a difference. At the very least,

the fears of the video-game critics seem to be stillborn

. American teenagers are doing better than ever, and people are trying to figure our why. Games just might have something to do with it; at the very least, they don't seem to be hurting.

Teen pregnancy is down, along with teen crime, drug use, and many other social ills. There's also evidence that teenagers are more serious about life in general and are more determined to make something worthwhile of their lives. Where just a few years ago the "teenager problem" looked insoluble, it now seems well on the road to solving itself. [8] But why?

Reading about this change, it suddenly occurred to me that I had the answer: porn and video games. That's what's making American teens healthier!

It should have been obvious. After all, one of the great changes in teenagers' social environments over the past decade or so has been far greater exposure to explicit pornography, via the Internet; and violence, via video games. Where twenty or thirty years ago teenagers had to go to some effort to see pictures of people having sex, now those things are as close as a Google query. (In fact, on the Internet it takes some small effort to avoid such pictures.) Meanwhile, video games have gotten more violent, with efforts to limit their content failing on First Amendment grounds.

But, despite continued warnings from concerned mothers' groups, teenagers are less violent, and -- according to some, if not all, studies -- they're having less sex, notwithstanding the predictions of many concerned people that such exposure would have the opposite effect.

More virtual sex and violence would seem to go along with less real sex and violence

; certainly with less pregnancy and violence. [9]

The solution is clear -- we need a massive government program to ensure that no American teenager goes without porn and video games. Let no child be left behind! Well, no. Not even I'm ready to argue for that kind of legislation, though I suppose candidates interested in the youth vote might want to give it a thought. But the real lesson is that complex social problems are, well, complex, and that the law of unintended consequences continues to apply.

When teen crime and pregnancy rates were going up, people looked at things that were going on -- including increased availability of porn and violent imagery -- and concluded that there might be something to that correlation. It turned out that there wasn't. Porn and Duke Nukem took over the land, and yet teenagers became more responsible and less violent.

Maybe the porn and the video games provided catharsis, serving as substitutes for the real thing. Maybe. And maybe there's no connection at all. (Or maybe it's a different one -- the research indicates that teenagers, though safer and healthier, are also fatter -- so perhaps the other improvements are the result of teens sitting around looking at porn and video games until they're too out-of-shape and unattractive for the real thing.) Most likely, the lesson is that -- once again -- correlation isn't causation, despite policy entrepreneurs' efforts to claim otherwise.

Regardless, the fears of the doomsayers have not come to pass. People can continue to claim that psychological research suggests that video games lead to violence and that porn leads to promiscuity, but in the real world the evidence suggests otherwise. So perhaps we should reconsider regulating video games. And we should definitely take claims of impending social doom with a grain of salt. (Hey, while we're at it, why not encourage surfing porn and playing shoot-'em-up games? After all, as the activists say, if it saves just one child, it's worth it!)

More seriously, such a lack of evidence is reason enough not to shut down the virtual worlds that kids are inhabiting. Instead, we may want to look at the lessons they learn. I don't think that Duke Nukem or Grand Theft Auto are particularly harmful, but it would be useful for people to think about ways of making those games teach productive real-world lessons, and I think that can be done without making them uninteresting. The real world is interesting, after all, and it's very, very good at teaching real-world lessons. The advantage of the virtual world is that those lessons can be learned without bloodshed, bankruptcy, or jail. Seems like a good thing to me.

***

The challenge in coming decades will be to take advantage of the ability for self-organization and horizontal knowledge that the Internet and other communications technologies provide without letting our entire political system turn into something that looks like an email flamewar on Usenet. I think we'll be able to do that -- most people's tolerance for flaming is comparatively low, and in a democracy, what most people tolerate matters -- but things are likely to get ugly if I'm wrong.
.