Part 1 of 3
Florence Farr [Mary Lester]
by Wikipedia
Accessed: 12/2/19
NOTICE: THIS WORK MAY BE PROTECTED BY COPYRIGHT
YOU ARE REQUIRED TO READ

THE COPYRIGHT NOTICE AT THIS LINK

BEFORE YOU READ THE FOLLOWING WORK, THAT IS AVAILABLE SOLELY FOR PRIVATE STUDY, SCHOLARSHIP OR RESEARCH PURSUANT TO 17 U.S.C. SECTION 107 AND 108. IN THE EVENT THAT THE LIBRARY DETERMINES THAT UNLAWFUL COPYING OF THIS WORK HAS OCCURRED, THE LIBRARY HAS THE RIGHT TO BLOCK THE I.P. ADDRESS AT WHICH THE UNLAWFUL COPYING APPEARED TO HAVE OCCURRED. THANK YOU FOR RESPECTING THE RIGHTS OF COPYRIGHT OWNERS.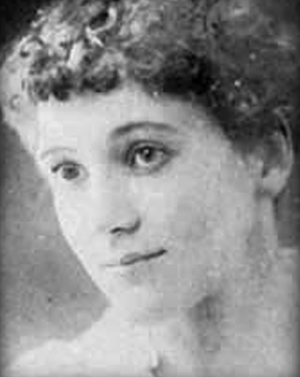 Florence Farr
Born: Florence Beatrice Farr, 7 July 1860, Bickley, Kent, UK
Died: 29 April 1917 (aged 56),
Colombo, Ceylon (Sri Lanka)
Other names: Mary Lester
Florence Beatrice Emery (née) Farr (7 July 1860 – 29 April 1917)[1] was a British West End leading actress, composer and director. She was also a women's rights activist, journalist, educator, singer, novelist, and leader of the occult order, the Hermetic Order of the Golden Dawn.[2] She was a friend and collaborator of Nobel laureate William Butler Yeats, poet Ezra Pound, playwright Oscar Wilde, artists Aubrey Beardsley and Pamela Colman Smith, Masonic scholar Arthur Edward Waite, theatrical producer Annie Horniman, and many other literati of London's Fin de siècle era, and even by their standards she was "the bohemian's bohemian".[3] Though not as well known as some of her contemporaries and successors, Farr was a "First Wave" Feminist of the late 19th and early 20th centuries; she publicly advocated for suffrage, workplace equality, and equal protection under the law for women, writing a book and many articles in intellectual journals on the rights of "the modern woman".
Early life
Florence Beatrice Farr was born in Bickley, Kent, England (nowadays a suburb of London) in 1860, the youngest of the eight children of Mary Elizabeth Whittal and Dr. William Farr.
She was named after nursing pioneer Florence Nightingale by her father, a physician and hygienist who was a friend and colleague of Nightingale's. Dr. Farr was known as an advocate of equal education and professional rights for women,[4] who doubtlessly influenced his daughters' attitudes in their later lives.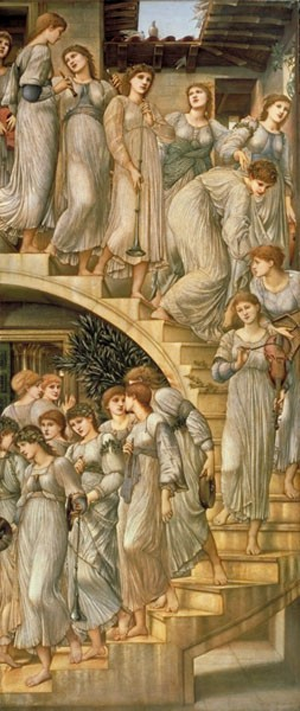 "The Golden Stairs" by Burne-Jones
Her family sent her to school at Cheltenham Ladies' College in 1873. One of her childhood friends was May Morris, the daughter of Jane Morris, the renowned Pre-Raphaelite artist's model, who introduced her to the artistic and intellectual circles of London society.
Farr, May Morris and other friends posed for Sir Edward Burne-Jones' Pre-Raphaelite painting "The Golden Stairs" when she was 19 years old.
The painting is exhibited at the Tate Gallery in London.[3] From 1877 to 1880, Farr attended Queen's College, the first women's college in England. After leaving college, she took a teaching position, but soon her aspirations turned to theatre.
Theatrical career
Farr's first acting experience was in amateur productions with the Bedford Park Dramatics Club, in which her sister Henrietta and brother-in-law Henry were active members. Beginning in 1882, Farr served an eight-month apprenticeship under actor-manager J. L. Toole at the Folly Theatre on King William IV Street near Charing Cross.
She adopted the stage name Mary Lester in deference to her father's wishes, who did not want the Farr name associated with the theatre.
Her first professional stage appearance was as "Kate Renshaw", a schoolgirl, in Henry J. Byron's Uncle Dick's Darling.[5]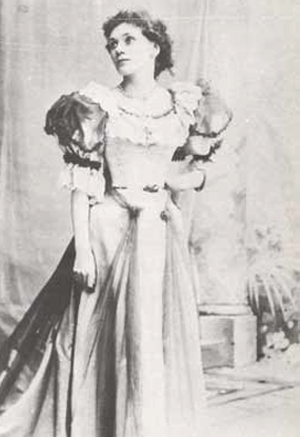 Farr at the Folly Theatre
In 1883 her father died, leaving her a modest inheritance to live on.[4] She continued taking minor roles at the Folly, but
changed her stage name back to Florence Farr
when she began performing at the Gaiety Theatre in May. Her commanding presence and beautiful speaking voice were noted by
George Bernard Shaw
. She soon attained modest success on London's West End stages. In 1884 she married fellow actor Edward Emery. It turned out to be a disastrous marriage, and she chafed under the restrictions expected of a Victorian wife.[5] In 1888, her husband left for an extended tour of America, and they never saw each other again. She eventually obtained a divorce in 1895 on the grounds of abandonment and never remarried.[3]
In early 1890, Farr moved in with her sister, Henrietta, and brother-in-law, painter and stage designer Henry Marriott Paget, to Bedford Park, a bohemian London enclave of intellectuals, artists and writers. Bedford Park was known for its "free thinkers" and the "New Woman"(a term coined by Sarah Grand), where women participated in discussions on politics, art, literature and philosophy on an equal basis with men.
[6] An early feminist, Farr was known for advocating equality for women in politics, employment, wages, etc., amongst her intellectual circle of acquaintances.[4] Yeats also lived in Bedford Park, and it's likely she first made his acquaintance when
her brother-in-law was painting Yeats' portrait.
[3]
While in Bedford Park,
Farr starred in the play A Sicilian Idyll: A Pastoral Play in Two Scenes by John Todhunter (an associate of Yeats and fellow member of the Golden Dawn) in the part of "Priestess Amaryllis", who summons the Goddess Selene to wreak revenge on her unfaithful lover. Shaw was in the audience to review the play, which he called "an hour's transparent Arcadian make-believe",[7] but was greatly impressed with Farr's performance, as well as her "startling beauty, large expressive eyes, crescent eyebrows, and luminous smile."[6]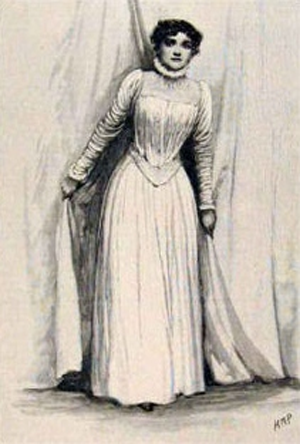 H. M. Paget's illustration of Florence Farr as Rebecca West in Ibsen's Rosmersholm
Shaw wished to mold her into his idealized vision of "The New Woman" and be the star of his plays. Shaw wrote that she reacted vehemently against Victorian sexual and domestic morality and was dauntless in publicly championing unpopular causes such as campaigning for the welfare of prostitutes.[4] In a letter to Shaw she wrote, "…a race is likely to become degenerate so long as the sex question resolves itself ultimately into the question of how women can make the best bargain and, in so doing, deny themselves the liberty of free choice."

[8]
ANN. I love my mother, Jack.

TANNER. [working himself up into a sociological rage] Is that any reason why you are not to call your soul your own? Oh, I protest against this vile abjection of youth to age! look at fashionable society as you know it. What does it pretend to be? An exquisite dance of nymphs. What is it? A horrible procession of wretched girls, each in the claws of a cynical, cunning, avaricious, disillusioned, ignorantly experienced, foul-minded old woman whom she calls mother, and whose duty it is to corrupt her mind and sell her to the highest bidder. Why do these unhappy slaves marry anybody, however old and vile, sooner than not marry at all? Because marriage is their only means of escape from these decrepit fiends who hide their selfish ambitions, their jealous hatreds of the young rivals who have supplanted them, under the mask of maternal duty and family affection. Such things are abominable: the voice of nature proclaims for the daughter a father's care and for the son a mother's. The law for father and son and mother and daughter is not the law of love: it is the law of revolution, of emancipation, of final supersession of the old and worn-out by the young and capable. I tell you, the first duty of manhood and womanhood is a Declaration of Independence: the man who pleads his father's authority is no man: the woman who pleads her mother's authority is unfit to bear citizens to a free people....

ANA. You see you have to confess that marriage is necessary, though, according to you, love is the slightest of all the relations.

DON JUAN. How do you know that it is not the greatest of all the relations? far too great to be a personal matter. Could your father have served his country if he had refused to kill any enemy of Spain unless he personally hated him? Can a woman serve her country if she refuses to marry any man she does not personally love? You know it is not so: the woman of noble birth marries as the man of noble birth fights, on political and family grounds, not on personal ones....

And so, if the Superman is to come, he must be born of Woman by Man's intentional and well-considered contrivance. Conviction of this will smash everything that opposes it. Even Property and Marriage, which laugh at the laborer's petty complaint that he is defrauded of "surplus value," and at the domestic miseries of the slaves of the wedding ring, will themselves be laughed aside as the lightest of trifles if they cross this conception when it becomes a fully realized vital purpose of the race....

One fact must be faced resolutely, in spite of the shrieks of the romantic. There is no evidence that the best citizens are the offspring of congenial marriages, or that a conflict of temperament is not a highly important part of what breeders call crossing....But mating such couples must clearly not involve marrying them. But mating such couples must clearly not involve marrying them. In conjugation two complementary persons may supply one another's deficiencies: in the domestic partnership of marriage they only feel them and suffer from them. Thus the son of a robust, cheerful, eupeptic British country squire, with the tastes and range of his class, and of a clever, imaginative, intellectual, highly civilized Jewess, might be very superior to both his parents; but it is not likely that the Jewess would find the squire an interesting companion, or his habits, his friends, his place and mode of life congenial to her. Therefore marriage, whilst it is made an indispensable condition of mating, will delay the advent of the Superman as effectually as Property, and will be modified by the impulse towards him just as effectually....

The only fundamental and possible Socialism is

the socialization of the selective breeding of Man

: in other terms, of human evolution. We must eliminate the Yahoo, or his vote will wreck the commonwealth....

That may mean that we must establish a State Department of Evolution, with a seat in the Cabinet for its chief, and a revenue to defray the cost of direct State experiments, and provide inducements to private persons to achieve successful results. It may mean a private society or a chartered company for the improvement of human live stock. But for the present it is far more likely to mean a blatant repudiation of such proposals as indecent and immoral, with, nevertheless, a general secret pushing of the human will in the repudiated direction; so that all sorts of institutions and public authorities will under some pretext or other feel their way furtively towards the Superman. Mr. Graham Wallas has already ventured to suggest, as Chairman of the School Management Committee of the London School Board, that the accepted policy of the Sterilization of the Schoolmistress, however administratively convenient, is open to criticism from the national stock-breeding point of view; and this is as good an example as any of the way in which the drift towards the Superman may operate in spite of all our hypocrisies....

Let those who think the whole conception of intelligent breeding absurd and scandalous ask themselves why George IV was not allowed to choose his own wife whilst any tinker could marry whom he pleased? Simply because it did not matter a rap politically whom the tinker married, whereas it mattered very much whom the king married. The way in which all considerations of the king's personal rights, of the claims of the heart, of the sanctity of the marriage oath, and of romantic morality crumpled up before this political need shews how negligible all these apparently irresistible prejudices are when they come into conflict with the demand for quality in our rulers. We learn the same lesson from the case of the soldier, whose marriage, when it is permitted at all, is despotically controlled with a view solely to military efficiency....

On the other hand a sense of the social importance of the tinker's marriage has been steadily growing. We have made a public matter of his wife's health in the month after her confinement. We have taken the minds of his children out of his hands and put them into those of our State schoolmaster. We shall presently make their bodily nourishment independent of him. But they are still riff-raff; and to hand the country over to riff-raff is national suicide, since riff-raff can neither govern nor will let anyone else govern except the highest bidder of bread and circuses. There is no public enthusiast alive of twenty years' practical democratic experience who believes in the political adequacy of the electorate or of the bodies it elects. The overthrow of the aristocrat has created the necessity for the Superman. Englishmen hate Liberty and Equality too much to understand them. But every Englishman loves and desires a pedigree....

-- Man and Superman: A Comedy and a Philosophy, by George Bernard Shaw
For Yeats she was, like Maud Gonne, a poetic muse, whose resonate voice was perfect for reciting his poetry. He found in her "a tranquil beauty like that of Demeter's image near the British Museum reading-room door, and an incomparable sense of rhythm and a beautiful voice, the seeming natural expression of the image."[9] In his review of A Sicilian Idyll, Yeats wrote, "Mrs. Edward Emery (Florence Farr) …won universal praise with her striking beauty and subtle gesture and fine delivery of the verse. Indeed her acting was the feature of the whole performance that struck one most, after the verse itself. I do not know that I have any word too strong to express my admiration for its grace and power…I have never heard verse better spoken."[5] Both men wrote leading parts in their plays for Farr, who used her influence with Annie Horniman to have them produced.
Annie Elizabeth Fredericka Horniman CH (3 October 1860 – 6 August 1937) was an English theatre patron and manager. She established the Abbey Theatre in Dublin and founded the first regional repertory theatre company in Britain at the Gaiety Theatre in Manchester. She encouraged the work of new writers and playwrights, including W. B. Yeats, George Bernard Shaw and members of what became known as the Manchester School of dramatists.

-- Annie Horniman, by Wikipedia
Farr was also the first woman in England to perform in Ibsen's plays, in particular the role of Rebecca West in the first English production of Rosmersholm, at the Vaudeville Theatre in 1891, which gained her critical acclaim.[7] The character of Rebecca West is a 'New Woman' who rejects the ethical systems of Victorian Era Christianity, which for Florence Farr was a virtual typecast role.
As in Ibsen ego-mania has found its poet, so in Nietzsche it has found its philosopher. The deification of filth by the Parnassians with ink, paint, and clay; the censing among the Diabolists and Decadents of licentiousness, disease, and corruption; the glorification, by Ibsen, of the person who 'wills,' is 'free' and 'wholly himself'—of all this Nietzsche supplies the theory, or something which proclaims itself as such....

Hence the real source of Nietzsche's doctrine is his Sadism. And I will here make a general remark on which I do not desire to linger, but which I should like to recommend to the particular attention of the reader. In the success of unhealthy tendencies in art and literature, no quality of their authors has so large and determining a share as their sexual psychopathy. All persons of unbalanced minds—the neurasthenic, the hysteric, the degenerate, the insane—have the keenest scent for perversions of a sexual kind, and perceive them under all disguises. As a rule, indeed, they are ignorant of what it is in certain works and artists which pleases them, but investigation always reveals in the object of their predilection a veiled manifestation of some Psychopathia sexualis. The masochism of Wagner and Ibsen, the Skoptzism of Tolstoi, the erotomania (folie amoureuse chaste) of the Diabolists, the Decadents, and of Nietzsche, unquestionably obtain for[452] these authors and tendencies a large, and, at all events, the most sincere and fanatical fraction of their partisans. Works of a sexually psychopathic nature excite in abnormal subjects the corresponding perversion (till then slumbering and unconscious, perhaps also undeveloped, although present in the germ), and give them lively feelings of pleasure, which they, usually in good faith, regard as purely æsthetic or intellectual, whereas they are actually sexual. Only in the light of this explanation do the characteristic artistic tendencies of the abnormals, of which we have proof,[413] become wholly intelligible.

-- Degeneration, by Max Nordau
Producer and director
In 1893, Horniman anonymously financed Farr's first venture as a director, a series of plays at the Avenue Theatre on the Embankment. She commissioned her friend, artist Aubrey Beardsley, to create the poster for the season. Farr had starred as Blanche, a slumlord's daughter, in Shaw's first play, Widowers' Houses, and she approached both Shaw and Yeats to write plays for her production at the Avenue.
Yeats delivered the short play The Land of Heart's Desire, but Shaw had not finished his play in time for the series opening. A Comedy of Sighs by John Todhunter was quickly substituted, with Farr in the leading role, but the play was badly received and the entire venture was nearly a disaster.[3]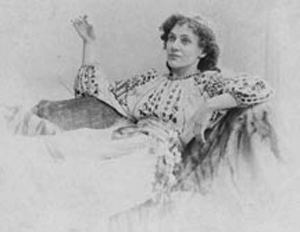 Production photograph of Farr for Shaw's Arms and the Man
After receiving a desperate cable from Farr, Shaw delivered his Arms and the Man. With only one week of rehearsal, Farr originated the supporting soubrette role of Louka, the vivacious and insolent servant girl who steals the affections of the hero from the play's lead ingenue, which Farr had conceded to the well-known actress Alma Murray. A bold satire of romantic idealism, the play was a great success with both audiences and critics, and still stands as one of Shaw's greatest works.[3] But
Farr was growing closer to Yeats (that they became lovers is speculated but not proven) and distancing herself from Shaw, so Arms was the last play by Shaw she ever performed in.
[3]
Throughout the 1890s, Yeats used Farr's 'golden voice' as part of his quest to encourage the rebirth of spoken poetry. In 1898,
in Yeats' The Countess Cathleen, she played Aleel, a bard and seer who could see into the spirit realm
, and sang all of her lines in verse while accompanying herself on the psaltery.
Farr became a regular contributor to the performance of Yeats' metrical plays, and in 1898 he made her the stage manager for his Irish Literary Theatre.[3] But during that same period of her life Farr was sidetracked from her theatrical career, much to the chagrin of Shaw ("...and now you think to undo the work of all these years by a phrase and a shilling's worth of esoteric Egyptology," he wrote her in 1896)[10] by her involvement with Yeats in the secret occult society The Hermetic Order of the Golden Dawn.