CHAPTER XLIX. Meeting with the Incarnate Bodhisattva.
This healing made me an object of much talk, and I soon found myself surrounded by many patients. I now began to fear that I should thus be prevented from studying, and so fail to accomplish my chief end. So I tried every means to keep the patients from me, but the more I declined, the more patients I found brought to me, and I was at last obliged to get some medicines from Thien-ho-thang (a Chinese druggist) in Lhasa. I gave the medicines to these patients, most of whom recovered either through their faith in me or through the efficacy of the drugs; for I had studied the rudiments of medical science (of the old school, it is true) and this enabled me to use the medicines. There is one disease which is most feared as fatal by the Tibetans. It is dropsy, little, if at all different from beri-beri. No one in the neighborhood of Lhasa seemed to know how to cure the disease. I prepared for it a medicine of which I had been told by a Tibetan hermit, and gave it to some patients suffering from dropsy. I am glad to say that this medicine cured six or seven patients out of every ten, though I could not heal cases that were far gone.
This made me quite famous and my name, known only in my own monastery at first, began to be known in the whole city of Lhasa and in the country as far as Shigatze. Often two horses were sent on for me from places of three days' journey distant to take me to patients. I took no reward from the poor, but gave them medicine gratis. This may have had a great deal to do with my popularity, and I came to be regarded as a God of medicine.
There are many cases of consumption in Tibet. I gave my medicine to those patients who were in the first stages of the disease, but chronic cases I left without any medicine, to meditation or religious services that they might gain salvation, and die at ease. This, I was told, made some patients fear to come to me, for it was said that those to whom medicine was given recovered, while the others, whom I taught about death and the future, without giving them any medicine, were sure to die. Some did not like to be told that death was near them, and women especially were frightened to come before me. The Tibetans have a strange habit. When they fall ill, before any doctor is sent for, a sorcerer is asked to see which doctor is best and what kind of medicine is good. Some doctors, therefore, are so wicked as to bribe the sorcerer to recommend them to the patients. The sorcerer, too, being pleased enough to see the patients cured by the doctor whom he suggested, began to recommend me to his patients when he saw my name was making so great a stir in Tibet. He would tell his patients to be sure to come to me. I never asked him to mention me, nor even saw him in person; nor is it probable that he ever saw me. His recommendation must have come out of his love of fame. When, therefore, a high officer or priest fell ill and was told by his sorcerer to see me, I was sure to be sent for. A horse was sent to bring me, generally with a letter of introduction. Often I received a letter politely requesting me to come, and wherever I went, therefore, I was very kindly received, for the life of the patient was supposed to depend entirely on me.
Fame travels surprisingly fast, and at last mine reached the Royal Court, so that I was one day called there. The Dalai Lama was not in reality ill, but desired to see what I looked like. In Tibet it is no easy matter[313] to see His Holiness. He may be seen while passing, but no ordinary priests or even high priests can have the privilege of talking to him. This was, therefore a great honor to me, and I took the liberty of riding the horse sent to take me to the Royal palace. The Grand Lama was not then at Potala, but at his country palace called Nolpu Lingka, in a forest along the Kichu, south-west of Potala. This palace is much newer than the other, and the Pope enjoys the coolness there in summer.
I rode along a wide road in the forest for about three hundred and fifty yards, till I came to a high stone wall over twenty feet high and three hundred and fifty yards square. I went west through the large gate in the wall, and found on both sides of the road inside the gate many white boxes in the shape of post pillars about six yards apart. In them incense is burned when the Dalai Lama goes along the road. Lofty trees are grown in the courtyard on both sides of the road, though there is a very wide lawn within the court. After about a hundred yards, I came to a square piece of ground enclosed by stone fences about one hundred and fifty yards square, along which were seen many beautiful stone houses for the priest officials to live in. These houses have each a flower garden which is beautifully decorated with as many trees and plants as can be found in Tibet. What is stranger still, at the four corners as well as some other parts of the stone fences are found little kennels, in which two or three score strong Tibetan dogs are chained. They bark terribly from their high pens. The Dalai Lama is said to be so fond of dogs that whoever brings him a strong hound is treated very kindly and receives great rewards. Hence many dogs are brought from great distances. None of his predecessors, however, have had such a liking for dogs. The gates to the Papal palace are at the east and west corners of the walls and face south. About thirty[314] yards from the gate was a large house into which my horse was led. Then I was taken to the house of the Court Physician.
This residence of the Court Physician has four large rooms, parlor, study, servants' room and kitchen. The house is approached through a garden full of beautiful flowers, and one then comes to a curtain of white linen. Going under the curtain, one enters another garden, at one side of which is the entrance to the parlor.
The parlor has Chinese sliding doors in white, with panes of glass. In the room were two images, one of Buḍḍha and the other of Tsong-kha-pa, the founder of the New Sect, set on a gilt stand, with pictures of dragons, peacocks, and flowers. Such images are found in most shrines of the New Sect. Before the images were Tibetan candlesticks of silver, with three butter-candles that were left burning both day and night. The Physician was sitting on a Tibetan carpet with painted flowers, and there were two beautiful high desks before him, in front of which there was a fur cushion for the guest to sit upon. I was told to sit on this fur cushion, and very soon a servant priest brought in the very best tea, which he poured into the physician's cup and then into mine on the desk. The physician was said to be very kind and gentle, and his face resembled mine so much that we might be taken for brothers.
The physician told me that the Dalai Lama was not seriously ill and that it was because I had healed so many patients that he wished to see me. But, he added, as he was very busy, I must not talk long with him. He said that the Dalai Lama might have something that the physician must consult me about.
After this talk with the physician, I was led by him to the Palace, and we went north towards the gate mentioned above. There was a guard-priest at the gate, who was[315] dressed in a tight-sleeved priestly cloak, which no common priests are allowed to put on. He keeps guard with a club. Inside the gate there was a stone pavement some twenty yards square, surrounded by covered ways, where there were some things in the shape of stools. There was another gate about nine yards wide in front of this. The inner gate was guarded by four priests, each with a short club instead of a long one. Walking about ten yards from the inner gate into the inner court, I found on both walls a picture of a fierce looking Mongolian leading a tiger by a rein; and the walls, which were roofed over, had a court between them. Instead of going straight through the court, I went left along the covered way till I came to the end of the western wall, when the Dalai Lama appeared from his inner chamber.
He was preceded by Dunnyel Chenmo the Lord Chamberlain, and Choe Bon Kenbo the Papal Chaplain. After His Holiness came Yongjin Rinpoche the Papal Tutor. The Dalai Lama took his seat on the right hand chair in front, and the two former attendants stood on each side, while the Tutor sat on the chair a little below them. Seven or eight high priests sat before His Holiness. The Court Physician leading me a little to one side, in front of the Dalai Lama, saluted him. I saluted him three times, and taking my robe off one of my shoulders I stepped before him, when His Holiness stretched out his right hand to put it on my head. Then I withdrew about four yards and stood beside the physician.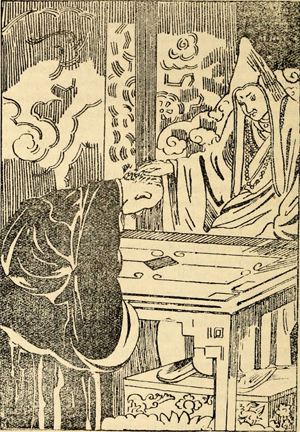 AN AUDIENCE WITH THE DALAI LAMA.
The Dalai Lama then began by praising me for having healed many poor priests at Sera. He told me to stay long at Sera and to do as I had done, and I answered that I would do with pleasure as he wished me. I had been told that the Pope was well versed in Chinese, and I feared that he might speak in Chinese, for then my imposture would be discovered. I had made up my mind, therefore, that I[317] would in that case frankly tell him to what nationality I belonged, that I might be worthy of a Japanese, for I deemed it to be a great honor to be granted an interview with him.
Luckily, however, he did not talk Chinese, but instead inquired in Tibetan about Buḍḍhism and Buḍḍhists in China, which I answered to his satisfaction. He was pleased to tell me that he was thinking of appointing me to some high office. After the talk I was honored by a cup of tea in the presence of the Dalai Lama and drank it with much ceremony, though he retired to his chamber before I had finished drinking.
The Dalai Lama was dressed in a cloak different from that of a common priest. He had on a silk hood and a great robe called saṅghāṭi and under it a fine putuk of Tibetan wool about his waist. His under dress was what is called tema woven of the best Chinese sheep wool. He wore a fine Papal crown on his head though he is said to be often bare-headed, with no crown at all. He held a rosary in his left hand. He was then aged twenty six. He is about five feet eight inches high, a moderate height in Tibet.
The Dalai Lama looks very brave. His eye-brows are very high, and he is very keen-eyed. Once a Chinese phrenologist remarked that the Tibetan Pope would bring about war one day, to the great disturbance of the country, for though brave-looking, he had an unlucky face. Whether the prophesy comes true or not, he really looks the very man of whose face a phrenologist would be sure to say something. He has a very sharp and commanding voice, so that one could not but pay reverence in his presence. From my long acquaintance with the Dalai Lama, during which I heard and saw much of him and had frequent interviews with him, I judge that he is richer in thoughts political than[318] religious. He was bred in Buḍḍhism, and in it he has great faith, and he is very anxious to clear away all corruption from the Buḍḍhism and Buḍḍhists in Tibet.
But political thoughts are working most busily in his mind. He seems to fear the British most, and is always thinking how to keep them from Tibet. He seems to give full scope to all designs calculated to check the encroaching force of the British. I could plainly see this while remaining near him. Had he not been on his guard, however, which he always is, he must have been poisoned by his retainers. He has often been on the point of being poisoned, and each time his caution has detected the conspiracy and the intriguers were put to death.

None of the five Dalai Lamas from the fourth to the ninth in Tibet reached their twenty fifth year; all were poisoned when eighteen or twenty-two years old. This is almost an open secret in Tibet, and the reason is that, if a wise Dalai Lama is on the throne, his courtiers cannot gratify their selfish desires. Some of these seem to have been wise Dalai Lamas, for they received special education until they were twenty-two or three years old. History proves that they have written books to instruct the people.

I could not help shedding tears when the ex-Papal Minister of Finance, at whose house I was staying at one time, told me about the fate of the predecessors of the present Dalai Lama. The Papal Court is a den of disloyal thieves who go by the name of courtiers, and they do all they can to neutralise the force of the few loyal courtiers, who are too weak to do anything against them. The ex-Minister for Finance was among the ill-fated party driven out of the court by these toadies, who pretended to pay great reverence to the sacred Monarch before the people, simply because they could not otherwise stay in their offices. When anything happened against their [319]interests, they conspired to communicate with one another and to accuse falsely the loyal courtiers. They would often go so far as to slander them shamelessly, and say that such and such a person had been guilty of a disrespectful act against the Dalai Lama.

In this subtle way some wicked courtiers turned honest scholars or priests out of the court, and the Dalai Lama is surrounded by these pretended loyalist devils. Hence he is so dangerously situated, that he is obliged to pay the greatest attention to what is offered him to eat, lest some poison should have been put in it. I could not but shed tears for him, when I thought that there could be no court on earth so full of wicked courtiers. But the present Dalai Lama is so prudent and particular that these evil doers can get no chance of doing anything against him. Still, he is really in great danger. He is wise for his age, for, young as he is, he seems to have great sympathy with the afflicted, and is much respected, and indeed almost worshipped, by his people, though much disliked by the evil local governors, whom he has been known to punish, to deprive of their estates, and to imprison for their evil deeds.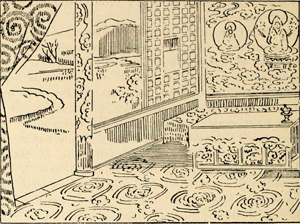 INNER ROOM OF THE DALAI LAMA'S COUNTRY HOUSE.
I often had occasion to see the inner chamber of the palace and found that it was magnificent. It is built in the Indian, Chinese and Tibetan styles. The garden has an artificial hill in it after the Chinese fashion, while, as is seen in a Indian garden, it has a lawn outside with some charming flowers. The place seems very good for walks. The inside of the palace is built after the Tibetan style, while a part of the roof is Chinese and the rest purely Indian. The royal garden has various rocks and has here and there such trees as willows, peaches, elms and many other strange trees found only in Tibet. In Tibet only few flowers bloom in summer, though there are many in winter. A variety of flowers, such[320] as chrysanthemums, poppies, magnolias, tulips, and others are planted in front of the palace veranda. The pavement is decorated here and there with glittering jewels, and the walls are painted by the best painters in Tibet. The papal throne stands on two Tibetan mats at the farther side of the room, and beside the throne is spread a thick Tibetan carpet, over which is a Chinese carpet of wool. A table of costly wood is set on the carpets. There is a tea-bureau, over which hangs a picture of Je Rinpoche, painted on a gold-dusted canvas. There are many such rooms, besides, which I was not allowed to enter, but which looked very beautiful from the outside. I was often invited to the chief physician's to talk about medicine with him. He taught me several things about medicine that I did not know, though the medical knowledge which I had gained from my own books enabled me to keep up with him in the talk. This must have done a great deal to make the chief physician welcome me so much.[321] He even said he would be most glad to recommend me as a Court Physician.
He said that he would do his best to that end, telling me at the same time to see the premier and some other Ministers of State. My answer was however that I could not very well stay long in Lhasa, for I was most earnest to study Buḍḍhism. I told him also that I intended to go to India to study Samskṛṭ, and at this he felt very sorry, for when I left there would be no good doctor in the city. When I said that my object was not medicine, but to study Buḍḍhism, the physician very plausibly argued that as it was the ultimate object of Buḍḍhism to save men, I might as well stay in the city as a doctor to practise medicine. The doctor, I said, only relieved men of earthly pains, but could hardly do anything toward the salvation of souls. What doctor, however skilful, could save a dying patient? Besides, I feared I might do them more harm than good, for I had only a smattering of medicine after all. I might heal them of their diseases, but I could not give peace to their souls, while a priest could free them from the most painful and durable of all diseases. It was more urgent to study how to heal this. Buḍḍha was the greatest doctor, who had given eighty-four thousand religious medicines to eighty-four thousand mental diseases, and we, as His disciples, I said, must study His ways of healing. On these grounds I declined his offer. Finding me so firm in my resolution, the physician went on to say that, if I ever tried to leave the city for India, or some other far-off country, the Dalai Lama would give orders to keep me in the country, and that my only happiness lay in staying to work among the priests. When I heard this I began to repent that I had been telling him my secrets rather too plainly. I feared it would put me to some inconvenience to insist on going to India, and soon changed the subject of our talk. So far about my[322] medical practice; but now, something took place of which I had never dreamed.