CHAPTER III: LINDBERGH: SPREADER OF HITLER'S LIES
"For the combating of 'racism' before it sinks its poison fangs deep into our body politic, the scientist has both a special motive and a special responsibility. ... Only he can give the people the truth. Only he can clean out the falsities which have been masquerading under the name of science in our colleges, our high schools and our public prints. Only he can show how groundless are the claims that one race, one nation, or one class has any God-given right to rule."
-- Henry A. Wallace.

"The deepest sin against the human mind is to believe things without evidence."
-- Thomas Huxley.
ONE OF THE truly important features of Fascism which neither the great psychologists nor the newspaper vulgarizers have mentioned is the hoodlum minds of so many of its leaders. It is of course natural for all the gangsters of both Germany and Italy to gravitate to a Duce or Fuehrer who proclaimed the greatness of lying and the moral virtues of street fighting, and it is just as natural for the mental criminals to join movements led by these types. In America, however, Fascism has been propagated by persons who may be brilliant, even geniuses in their own field, but political, economic and social hoodlums.
We have had Ford exposed as a mental hoodlum; Westbrook Pegler had been a good sports writer before he developed mental ulcers; and Charles A. Lindbergh, Jr. was an excellent mail pilot and had the good luck to land his plane in Paris and capture the emotions of the world although his feat was not nearly as perilous as that of Hawker and Alcock and Brown who flew the Atlantic before him.
One may even want Lindbergh the right to enjoy the title of genius for his flight, and sympathize with him on the raw deal the yellow press gave him on later occasions, notably his marriage and honeymoon, and the kidnapping of his baby, and the Hearst campaign which drove him out of the country for several years, but there can be no forgiveness for Lindbergh as a mental hoodlum who spread the three following Hitler lies in America:
1. The Nazi-Coughlin lie of the Jewish ownership or control of the American press.
2. The lie of Nazi air invincibility, and general military supremacy.
3. The Nazi lie of race, color and blood superiority.
The word "lie" in this case is used advisedly. Hoodlum minds cannot be excused. Ford and Pegler and Lindbergh have done America untold harm by spreading falsehood, and thereby confusing the American people at a time the one clear issue -- the democratic world against Fascism -- should have been stated.
No one, not even Machiavelli, has recognized the value of outright lying as a social, economic and political weapon, as deeply as Adolf Hitler. In the original 1935 German edition of Mein Kampf Hitler wrote a passage which begins:
"In der Groesse der Luege liegt immer ein gewisser Faktor des Geglaubtwerdens, da die breite Masse eines Volkes ..." etc. The reader will find it on page 252. [Here is the passage in translation:]

"The size of the lie is a definite factor in causing it to be believed, because the vast masses of a nation are in the depths of their hearts more easily deceived than they are consciously and intentionally bad.

"The primitive simplicity of their minds renders them more easily victims of a big lie than a small one, because they themselves often tell little lies but would be ashamed to tell big ones.

"Such a form of lying would never enter their heads. They would never credit others with the possibility of such great impudence as the complete reversal of facts. Even explanations would long leave them in doubt and hesitation, and any trifling reason would dispose them to accept a thing as true.

"Something therefore always remains and sticks from the most impudent lies, a fact which all bodies and individuals concerned in the art of lying in this world know only too well, and therefore they stop at nothing to achieve this end."
Hitler not only admits "the value of the big lie" but admits aiming Nazi propaganda at the lowest, or moron intelligence. He writes in Mein Kampf (the numbers are the pages in the 14th German edition):
"All propaganda must be so popular and on such an intellectual level that even the most stupid of those toward whom it is directed will understand it. Therefore the intellectual level of the propaganda must be the lower, the larger the number of people who are to be influenced by it." (197)

"Propaganda must not serve the truth, especially not insofar as it might bring out something favorable for the opponent." (260)

"Through clever and constant application of propaganda people can be made to see paradise as hell, and also the other way round, to consider the most wretched sort of life as paradise." (376)
1. THE LINDBERGH LIE ABOUT THE PRESS
Proof that Lindbergh lied regarding Jews and the press is given in Editor & Publisher, unofficial spokesman for the publishers of America, its statistical publications and handbooks. The weekly is reactionary, as venal as the newspapers it defends, but its statistics, facts and figures are authoritative. For many years Arthur Robb, liberal Catholic editor of Editor & Publisher, has been exposing Coughlin and other falsifiers so far as the press is concerned. According to Editor & Publisher, there are some 1,900 dailies, published by 1,700 men and corporations, of whom just 15 are Jews -- or less than 1%. No Jew directs the three national news services. So far as editorial policy is concerned, Mr. Robb says, the department stores and other advertisers do not control it. It is true that advertisers, department stores and others suppress news unfavorable to themselves, as for example, during the Gimbel strike in New York. But there is no evidence that department store owners, Jews, Catholics or Protestants, have ever used their pressure for religious or racial purposes. All they are after is money.
Following Lindbergh's Des Moines attack on the Jews, Mr. Robb wrote in Editor & Publisher:
"War hysteria has created the opportunity for the malicious and wicked crackpots who revel in race prejudice to get their faces out of the mud which is their natural habitat. Determined efforts have been noted to inflame the American people against the Jewish race and religion, charging that through the 'control' exercised by Jewish people over the press, the radio, and the films, the country is being drummed to war. As Editor & Publisher has demonstrated by citing the facts, it is absolutely false that there is any Jewish control of the daily newspapers. [Here statistics are given.] The case for control of news and editorials by Jews is a chimera. (October 11, 1940.)

"This page has often expressed detestation for intolerance and for propaganda against any race or religion in America. There is no 'Jewish question' of any importance except in the minds of the bigoted, the ignorant and those who use anti-religious agitation of all kinds as a cloak for even less creditable aims. We have stated, and proved, that there is no Jewish control of the American press. The facts on that are easily ascertainable by anyone who wants to know the truth; the repetition, after repeated disproof, of the lie about 'Jewish control of the news,' has come from many sources with many possible motives. Whatever their motives, and no matter how great their sincerity, their promotion of this falsehood tends toward one result -- the forwarding of Fascist-Nazi propaganda in a land where it can have no place." (June 15, 1940.)
The second quotation was occasioned by the exposure by the Birmingham News of a letter from the Deutsche Fichte-Bund, Hamburg, sent to many Americans in which the phrase "Jew-controlled American press" is used; also the distribution of a sheet signed "Francis P. Moran, director Christian Front," during the Yankee Division parade, Boston.
La Follette's Progressive pointed out (March 11, 1939) that an examination of the facts disproves Father Coughlin, then using the radio for anti-Semitism. "Father Coughlin," said the Progressive, "is too realistic to believe that statement [that Jews control the press] but he finds the attack useful in his plan of utilizing anti-Semitism to attain his ends."
Going down the list of cities, it is found that New York, the metropolis, with a larger Jewish population than any other city, has 2 out of 9 papers owned by Jews, the Times, which is Tory, and the Post, pro-New Deal. The biggest paper is the News with a circulation more than three times that of the Post and Times combined. The News was isolationist, has been pro-Japanese. Hearst's Mirror, with more than Times and Post circulation combined, has urged a Mussolini for America. Most embattled win-the-war newspaper is Reid's Herald Tribune.
"In Chicago," continues the Progressive, "there is not a single daily newspaper which is controlled by Jews. ... In St. Louis one ... out of three is owned by Jews. ... There is no Jewish newspaper owner in St. Paul or Minneapolis. Ditto for Kansas City. In Washington, the national capital, where if what Father Coughlin says is true, Jewry would attempt to dominate the newspapers, there is only one newspaper out of five which is owned by a Jew. This is the Washington Post, whose proprietor is the wealthy financier Eugene Meyer. But the circulation of the Post represents a small minority. ... The cities outlined above are typical of the general situation throughout the country."
In Lindbergh's Des Moines speech, his most anti-Semitic, he used the same phrase which the Columbia shortwave listening station had picked up in a Berlin Propaganda Ministry broadcast at the same time. The Berlin propaganda said: "There are too many Jews who control the North American radio and the North American press. ..." Lindbergh said that "the British, Jewish and Administration groups" are the only important interventionists in America, and that "the greatest danger to this country lies in the large Jewish ownership and influence in our motion pictures, our press, our radio, and our government." Are both statements true, or are they false?
Miss Dorothy Thompson (whose politics are no concern here but whose record as a journalist publishing facts is unequaled) has taken every line of Lindbergh's quoted above (which is also the content of the Nazi broadcast) and shown in her syndicated column that Lindbergh spoke falsehood and propaganda rather than facts.
"Among the more influential radio commentators," she writes, are "Raymond Gram Swing, H.V. Kaltenborn, Elmer Davis, Walter Winchell, William B. Shirer. Among journalists: Leland Stowe, H. R. Knickerbocker, Edmond C. Taylor, Edgar Ansell Mowrer, John Gunther, Vincent Sheean, John Whitaker, William Stoneman, Quentin Reynolds ... Hamilton Fish Armstrong. Among columnists: Walter Lippmann, Jay Franklin, Raymond Clapper, Samuel Grafton and myself, of these 30 names [including government officials] who would certainly be the first people to be suppressed if interventionism were being suppressed, exactly three are Jewish. The others are racially of Dutch, British, Irish and German extraction -- there are three of pure German extraction to two of Jewish."
Of the movies, the ownership "is in the hands of banks, and there are few Jewish banks in America. None of the big three is Jewish: Chase National, Guaranty Trust, National City."
Of the press :
"There is an amazingly small amount of Jewish ownership of newspapers. The big news services, A.P., U.P., I,N.S., are not Jewish. The largest chains are Scripps-Howard, and Hearst -- not Jewish. ... The most powerful interventionist newspapers in the country are the New York Herald Tribune, Chicago Daily News, Baltimore Sun, Louisville Courier-Journal, Denver Post, Atlanta Constitution, Kansas City Star, San Francisco Chronicle, Des Moines Register, Washington Post and New York Post. Only the last two are Jewish-owned. The most powerful interventionist weekly press is the Luce press. Not Jewish. The two monthly magazines with the strongest interventionist policy are the Ladies Home Journal and the Atlantic Monthly. Not Jewish."
Only a very small percentage of the advertisers is Jewish. It could be added that the richest and biggest papers in America, the New York Daily News and Chicago Tribune, were isolationist. It is true that bankers, advertisers, big money, control the press, causing suppression, distortion, anti-labor bias, venality and corruption. But no one except the Coughlinites and other anti-Semites has tried to propagate a falsehood that department store advertisers dictate the politics of papers. They merely look after their profits.
2. THE LIE OF NAZI INVINCIBILITY
From June 22, 1941, to Stalingrad, the newspaper headlines told the story of Hitler's attack on Russia. The historic fact has already been written and officially admitted by the Germans, that the foe was strong, stubborn, brave, knew no fear, and returned blow for blow. By October 24, 1941, the Germans had claimed 14,000 Russian airplanes destroyed and on that same day they reported Russian air attacks. Both sides admitted that the Germans were superior in numbers of men, guns, tanks and planes but the Germans never claimed that the Russian air force was inferior, the airplanes worthless, the fighting capacity of Russian aviators not worth mentioning, the personnel untrained, and the whole Russian air service a walkover for Germany.
Lindbergh had done just that.
Lindbergh was decorated by the Nazis. He stated he received the medal merely as a gesture. Those who years ago warned against Lindbergh said he received the decoration for services to the Nazis. The official citation which goes with Nazi medals (such as Henry Ford and other pro-Nazi Americans have received) shows it is for help to the Hitler regime. No one but Lindbergh himself can answer the question whether he got the medal for spreading the Hitler propaganda lie of the invincibility of the German air force and the uselessness of the Russian air force. The facts about his spreading this lie appeared in the daily press of Britain in 1938.
1. In the House of Commons, October 10, Ellen Wilkinson, Labor member, said:
"It is a very serious thing that when a very prominent American airman was being lunched by these people [Lady Astor and Clivedeners] and all sorts of official people invited to meet him, he assured them it was impossible for this country to do anything because Germany's air force was better than the Russian, British and French combined."
2. London Sunday Times, October 2:
"Colonel Lindbergh has recently returned from a visit to Russia and apparently he was not favorably impressed by the rate of progress there."
3. Lord Beaverbrook's Express, October 16:
"What is the mysterious, secretive, over-publicized Col. Lindbergh up to? Always when trouble has been bubbling, his black and orange airplane has flown him to the storm center. ... He paid another visit to Germany early this year and in between these visits he has busied himself spreading alarming stories here about Germany's air strength compared with ours.

"Germany's machines, he tells all ears that listen here, are better than ours. She has more of them. Her production is fivefold ours. And when these facts are firmly planted in the listener's mind, the Colonel will then, it is said, strongly advocate some sort of pact between Britain and Germany as the only way Britain can avoid disaster.

"He always insists firmly that he is anti-Nazi himself, but those who are favored with his views say that he never hesitates to voice his glowing admiration for Hitler and the German State.

"Early this year he was in Russia as an honored guest and he was given unusual facilities to see the Russian air force, Russia's flying men took him fully into their confidence.

"Then he returned to Britain and began to spread the story that the Russian air force was useless.

"When the crisis was developing, too, he took himself to France and spread the same story there. That story shook France and may have considerable influence on the vital decisions that France in common with Britain had to make."
4. The Week, October 13, declared that Lindbergh called on Lloyd George to persuade him that the Russian air service was useless. The Week reported that Lloyd George asked Lindbergh if he had talked with War Commissar Voroshilov, and that Lindbergh replied:
"No. Voroshilov? Who's Voroshilov, anyway?"
It was also reported that Lloyd George found Lindbergh personally "quite a charming fellow."
The Hitler decoration to Lindbergh, a "distinguished foreigner who has deserved well of the Reich," was presented October 19, about a week after Lindbergh's Russian hosts, eleven noted aviators, signed a statement accusing Lindbergh of "providing Chamberlain with arguments for handing over parts of Czechoslovakia to Adolf Hitler." The statement also accused Lindbergh of "calumnies and insolent attacks" and quoted Lindbergh as telling Lady Astor: "Germany possesses such a strong air force it is capable of defeating the combined air fleets of England, France, Russia and Czechoslovakia." This is called "a colossal lie. ..." Another unbridled lie followed. Lindbergh declared the Soviet air fleet is without leadership and is in a chaotic condition. ... Lindbergh plays the role of stupid liar, lackey and flatterer of German Fascists and their English aristocratic protectors. He had an order from English reactionary circles to prove the weakness of Soviet aviation and give Chamberlain an argument for capitulation at Munich in connection with Czechoslovakia.
"The bribed liar, Lindbergh, fulfilled the order of his masters. That explains everything."
Who was lying, Lindbergh or the Russians?
Here is what the Nazi official handbook of contemporary military science (Handbuch der Neuzeitlichen Wehrwissenschaften), issued in Berlin in May, 1939, said half a year after Lindbergh's propaganda trip to the British Clivedeners and Hitlerites, and before the attack on Russia gave final proof:
"In the past 16 years the Russians have built up a military air force which leads the world in numbers. ... The powerful Soviet aviation industry is based on some 50 factories producing planes and engines and another 50 spare parts. These factories furnish six to seven thousand planes annually and 7,000 engines.

"In a short time Russia has become an air power of the first order."
Major Al Williams of the Scripps-Howard newspaper chain endorsed Lindbergh. Major George Fielding Eliot said the opposite. Captain Bossoutrot, who had inspected Russian aviation as head of a delegation of the air commission, French Chamber of Deputies, said regarding Lindbergh's statement that: "I can only repeat that in 1936 the Soviet air force was the most powerful in the world, and since then even German technicians agree that its production has increased."
C. C. Grey, editor of Aeroplane (London), agreed with Lindbergh. Grey also came out for Hitler and Mussolini politically.
These are the facts in the case. In view of the written pages of history of the Global War, there can now be no question that Lindbergh carried the Nazi air invincibility lie to Britain. Of course, the fact that the inferior British air fleet in September, 1940, held its own against -- and some say it defeated -- the German air fleet, is further evidence that Lindbergh was just another agent of the Hitler theory of the colossal lie when he mingled with the Cliveden Set. The purpose, of course, was to help defeat the democracies, to help the triumph of world Fascism.
3. THE RACE, BLOOD AND COLOR LIE
Regarding the myth of superiority of blood, race or color, the ancient saying that "a lie can travel half way round the world while truth is putting on her shoes" also holds good. The men whose writings Hitler and Lindbergh have adopted are not scientists; they are Houston Chamberlain, a renegade Englishman who worked for the Kaiser in the first World War; the Count de Gobineau, a fiction writer; Madison Grant and Lothrop Stoddard, two American journalists whose writings are absolutely without scientific backing, German scientists since the coming of Hitler and Italian scientists of the past two years have on orders revised their views. But free scientists have denounced as lies, frauds and myths the entire output of the race, blood and color superiority propagandists.
Lindbergh's adaptation of the Hitler-Mussolini Nordic myth is expressed by him in his article, "Aviation, Geography, and Race" (Reader's Digest, November, 1939), in which he says:
"Aviation ... is a tool specially shaped for Western hands, a scientific art which others only copy in a mediocre fashion, another barrier between the teeming millions of Asia and the Grecian inheritance of Europe -- one of the priceless possessions which permit the White race to live at all in a pressing sea of Yellow, Black, and Brown. ...

"While we stand poised for battle, Oriental guns are turning westward, Asia presses towards us on the Russian border, all foreign races stir restlessly. It is time to turn from our quarrels and to build our white ramparts again. ...

"Our civilization depends on a united strength among ourselves; on a strength too great for foreign armies to challenge; on a Western wall of race and arms which can hold back either a Genghis Khan or the infiltration of inferior blood; on an English fleet, a German airforce, a French army, an American nation, standing together as guardians of our common heritage, sharing strength, dividing influence. ...

"We can have peace and security only so long as we band together to preserve that most priceless possession, our inheritance of European blood, only so long as we guard ourselves against attack by foreign armies and dilution by foreign races."
This is the stuff that Hitler's Rosenberg wrote and Hitler and Hess adapted in Mein Kampf. But scientists before and after this publication have united in showing up this nonsense and falsehood.
In August, 1934, the Congress of Anthropological and Ethnological Sciences discussed racial theories and political action. Sir Grafton Elliot Smith, J. B. S. Haldane, Professor of Genetics in the University of London, and scientists from many parts of the world, united in showing scientifically that the Hitler theory, now propagated by Lindbergh, was a total falsehood. One of the most interesting statements was that of Professor Haldane from which the following is a quotation:
"Whatever innate differences in ability may exist between races, they are clearly of an overlapping type.

"If South African Negroes are ever afforded equal cultural opportunities with Whites, it may be found that a smaller proportion of them can reach a given standard, but it is already certain that some Negroes can reach higher cultural levels than most of the Whites.

"The doctrine of the equality of man, although clearly untrue as generally stated, has this much truth: that on a knowledge of their ancestry we cannot yet say one man will and another will not be capable of reaching a given cultural standard.

"The so-called races within Europe have a much more dubious status. In respect to physical characters, they overlap to a considerable extent. Any population may be 'racially homogeneous' in the sense that its genes have been thoroughly mixed by random mating, but there is no reason to believe such populations differ in any but a statistical sense -- the same genes being found throughout, though in different proportions.

"Within such a population a man of a given type -- for example, a 'Nordic' with a long head, blond hair and blue eyes, is no more likely to have a high proportion of Scandinavian ancestry than a relative not possessing those characters. Nor is it possible in the present state of our knowledge to determine the proportions of ancestry in a given population which belonged to various hypothetical races in the past."
The European race theory was studied by two noted scientists, Julian S. Huxley and A.C. Haddon. In reviewing their work (We Europeans), H.S. Jennings, professor at Johns Hopkins, states:
"The keystone of modern genetics is the gene. Genes are substances present in small amount which are precisely located in certain structures (chromosomes) of every cell in the body and are transmitted from parent to offspring. ...

"Apparently man developed in early times by alteration of some of his genes ... some three or four or five geographical varieties ... the white, black, yellow and brown varieties. ...

"Almost, or quite from the beginning of differentiation, these different varieties began to intermingle; to exchange genes; so that it is doubtful if any human group now represents any one of these varieties in 'pure' condition -- without admixture of genes from another. Whether the genes of these different primary varieties differ in their capabilities for mental and cultural development has never been demonstrated.

"In Europe ... they have exchanged genes to such an extent that it is doubtful whether there exist any 'pure' representatives of any of them. Every nation in Europe is an inextricable mixture of the genes of these secondary varieties. ... In Germany Nordics and Alpines are intermixed. ...

"These conditions apply to Jews as well as to existing nations. The Jews are shown both in history and by anthropological evidence to be a much mixed group, carrying genes from many diverse sources."
There is no evidence, the scientists find, that the chief European groups differ in cultural capabilities; "the nations of the present time are not racial units."
The eminent scientist, the late Professor Franz Boaz of Columbia, wrote that there is no Aryan people or race, there is only an Aryan language. ... It is fiction to speak of a German race. ... The East German is close to his Polish neighbor. There is no more a Semitic than there is an Aryan race, since both terms define linguistic groups, not human beings. ... In some cases the Tyrolese (Hitler folks) and the Armenoid (Jews) can hardly be distinguished with certainty.
The word "Aryan" dates from 1794 when Sir William Jones introduced the word "Arya" for people who spoke one of the Indo-European languages. Professor Max Mueller, German professor of Philosophy at Oxford, in 1853 promulgated the theory that Aryan languages must have originated with an Aryan race. Many Germans leaped upon this idea to boast of a superior Aryan German people. By 1888 Prof. Mueller, who was a scientist and therefore open-minded, confessed his error. He wrote:
"I have declared again and again that if I say Aryan I mean neither blood nor bones nor hair nor skull; I mean simply those who speak an Aryan language. ... To me an ethnologist who speaks of Aryan race, Aryan blood, Aryan eyes and hair, is as great a sinner as a linguist who speaks of a dolichocephalic dictionary or a brachycephalic grammar."
Professor Mueller protested for years, but nothing could stop the falsehood. Again it was proven that a lie can travel half way round the world while truth is putting on her shoes. It also proved that whereas the quest for knowledge and scientific truth produces great enlightenment, and this truth is placed in books and kept in libraries, it does not prevail against something like a Goebbels propaganda machine when a cog as famous as Lindbergh is placed in it. Readers will find every scientific book denies the Hitler-Lindbergh myth, and that its only supporters are crackpots, fiction-writers, and hired journalists.
If Lindbergh, as his friends claim, is not a pro-Nazi, it is very easy for him to say so and to prove it by action. The following open letter to Lindbergh is a fair challenge. A similar challenge was made to Wendell Willkie by this writer when Coughlin and other anti-Semites endorsed him and he immediately repudiated them and Social Justice, naming them by name. This one was written by L.M. Birkhead, national director, Friends of Democracy, Fidelity Building, Kansas City, Missouri; it is the concluding page of the pamphlet Is Lindbergh a Nazi?:
"Dear Mr. Lindbergh:

"On the basis of the evidence presented in this pamphlet we are forced to believe that you accept Hitler's 'New Order' as the future pattern of the world. Moreover, the evidence indicates that you are attempting to extend the 'New Order' to the U.S.

"If it is not true that you are working toward a Hitlerized world, you are the victim of the most gigantic coincidence in the history of the world, for in your speeches and writings you have repeated almost word for word the Nazi propaganda line.

"So great has been the coincidence, if it is coincidence, that you have fooled a majority of American Nazis. They look upon you as their 'leader.'

"If you are the victim of a coincidence, and if you wish to clear up the matter, once and for all, you must do these things:

"1. Return your Nazi decoration to Hitler.

"2. Repudiate Naziism as forthrightly as you have condemned Communism.

"3. Condemn Nazi aggression.

"4. Disavow the support of those American Nazis who have declared you to be their 'leader.'

"5. Insist that the America First Committee, under whose auspices you speak, dissociate itself from the pro-Nazi, anti-Semitic elements which make up a large part of its membership.

"6. Repudiate as Nazi propaganda all theories of racial or 'Aryan' supremacy.

"7. Declare anti-Semitism to be a Nazi propaganda trick, a device of power politics.

"8. Reaffirm your faith in democracy and declare your willingness to fight for its preservation.

"In order to counteract the effects of the extensive distribution of your speeches and writings by Nazi propagandists, and their repeated assertion that you are in agreement with them, you must see to it that your repudiation of Naziism is widely publicized. Otherwise your name will continue to be used to sell an un-American, anti-democratic ideology. No single American must be left in doubt concerning your choice between democracy and Naziism.

"If you do not see fit to speak, Mr. Lindbergh, your silence will testify that you are, indeed, a disciple of Hitlerism."
Lindbergh remained silent.
INTERNATIONAL BANKERS ARE FOR HITLER
Another colossal Hitlerian lie which Goebbels, Coughlin and other falsifiers of fact have spread for decades is the charge the international bankers are Jews. Curiously enough it was one of the leading America Firsters, Senator Nye, who proved conclusively who the international bankers were and what part they had in bringing America into the World War. Nye proved it was the House of Morgan which must take most of the blame.
Nye's partner in America First leadership, Senator Wheeler, in one of his pre-war speeches said: "Now we find these same international bankers ... with the Sassoons of the Orient and the Rothschilds and Warburgs of Europe in another theme song ... 'Our investments in India, Africa and Europe must be preserved.'"
Wheeler apologized. "I have repeatedly called attention to the Morgans and the Chase and other international bankers and particularly Tom Lamont ..." he said in his apology. Nevertheless the listing of Jewish names was heard throughout the nation, the apology appeared in a small Jewish newspaper.
Every intelligent person knows that bankers are bankers, that their object is to make money, and that "race, religion, blood," nationality, patriotism, etc., etc., have never interfered with international or national banking. The fact that J.P. Morgan had no Jewish partner and was an Episcopalian does not indicate an "Episcopalian plot" in the First World War to anyone but crackpots. And because there was money in it, Zacharoff, a Greek Catholic who was incidentally a director of the Chase National Bank, armed Turkey to fight Greece. (The love of money is the root of all evil. )
The Jewish bankers are no better and no worse than the Episcopalian bankers or the Catholic bankers or the Mohammedan bankers.
For a long time several Jewish bankers dealt with Hitler and the Nazis. They said anti-Semitism was all right because it was directed against the poor, the refugee, the Jewish workingmen, not the rich bankers. They showed no "race" or "blood" ties with the poor. To this day a Jewish banker works for Hitler. (Baron Max von Oppenheim, who said Hitler was fighting only Bolshevism, that nice people need not be afraid of him. Hitler has raised Baron Max to Honorary Aryan status. -- Time, June 16, 1941.) Banker Giuseppi Toeplitz of Milan collected funds which paid for Mussolini's blackshirt army and put the Duce in power. He too was a Jew.
For the sake of the factual record, here is a list of the leading American international bankers and the money they have out in international loans: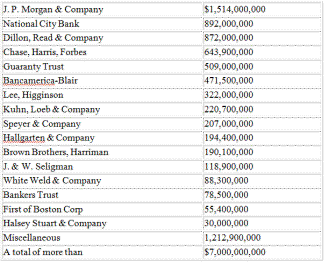 J. P. Morgan & Company: $1,514,000,000
National City Bank: 892,000,000
Dillon, Read & Company: 872,000,000
Chase, Harris, Forbes: 643,900,000
Guaranty Trust: 509,000,000
Bancamerica-Blair: 471,500,000
Lee, Higginson: 322,000,000
Kuhn, Loeb & Company: 220,700,000
Speyer & Company: 207,000,000
Hallgarten & Company: 194,400,000
Brown Brothers, Harriman: 190,100,000
J. & W. Seligman: 118,900,000
White Weld & Company: 88,300,000
Bankers Trust: 78,500,000
First of Boston Corp: 55,400,000
Halsey Stuart & Company: 30,000,000
Miscellaneous: 1,212,900,000
A total of more than : $7,000,000,000
Any person able to read a book can obtain Poor's Register of Directors and other financial manuals which print the facts. Poor's, for example, lists some 80,000 persons as directors of American corporations of whom 3,825 or 4.8% are Jews. Of the 919 members of the Stock Exchange (according to Fortune's 1936 survey) 148 were Jews; of 420 listed directors of the New York Clearing House 30 were Jews. Kuhn Loeb is the only Jewish firm with any substantial international banking business, and had foreign loans outstanding March 1, 1935, amounting to 2.88% of the total compared to National City's 11.71% and Morgan's 19.87%.
It is a fact that J.P. Morgan financed Mussolini. One loan amounted to $100,000,000. On the other hand, the Jewish banker, Clarence Dillon of Dillon, Read, a firm including Catholics and Protestants, financed Thyssen, who in turn was the chief backer of Hitler. He also issued loans to Italian fascist cities.
Factual evidence shows that bankers, international or whatnot, are without exception on the side of money; they always invest to make profits, and they are without exception on the reactionary or fascist side, no matter what church, nation, "race" or "blood" they belong to. When Wheeler, Coughlin, Hitler, Goebbels and others make statements to the contrary such statements are propaganda, if not plain falsehood.
Curiously enough, no less an authority than Fritz Thyssen, the man who bought and paid for the Nazi Party, believes the rumor that Hitler is partly Jewish.
Every official trace of evidence concerning Hitler's ancestry has now disappeared. It has been destroyed by order, just as were Mussolini's police record in Italy and his record for forgery in Switzerland (as well as his political arrests). However, Thyssen writes: "According to the published records, Hitler's grandmother had an illegitimate son, and this son was to become the father of Germany's present leader." An inquiry by Chancellor Dollfuss of Austria "disclosed that the Feuhrer's grandmother became pregnant during her employment as a servant in a Viennese family ... none other than that of Baron Rothschild." Thyssen insists that Hitler learned of this document and that it was one of the reasons for the murder of Dollfuss. Thyssen believes the British secret service has a copy. The original, he says, Hitler got from Chancellor Schuschning and destroyed.
If Thyssen's rumors turn out to be fact, it would appear that the world's greatest anti-Semite, the greatest liar and the greatest propagandist of the "international bankers" myth, is himself a Rothschild.
_______________
Books on the Race Myth:
We Europeans, by Julian S. Huxley and A. C. Haddon.
Race, by Jacques Barzan.
Man's Most Dangerous Myth: The Fallacy of Race, by Professor M. F. Ashley Montagu (with a foreword by Aldous Huxley).
Race: Science and Politics, by Ruth Benedict.
General Anthropology, Franz Boas, editor.
The Mind of Primitive Man, by Franz Boas.
Race, Language and Culture, by Franz Boas.
Heredity and Politics, by Professor J. B.S. Haldane.
The Genetic Basis for Democracy, by Vice-President Wallace.