AN END AND A BEGINNING
DURING THOSE SIX STORMY MONTHS with Marievna, I had done almost no work. Now I put all my energy again into my painting. Unfortunately, the painting I was now doing found no buyers. Angeline and I were down and out. Our flat was bitingly cold. When our little son, born just before my affair with Marievna, became sick, there was no money for doctors or medicine or, for that matter, for food, and the baby died.
This innocent death terribly depressed me. I had looked forward to the birth of Angeline's child. In 1917 I had done a series of three portraits of her to commemorate her motherhood, the first showing her before her pregnancy, her sensitive face tilted at an angle above her long, slender neck in a characteristic attitude for which our friend Serna had affectionately nicknamed her "The Blue- bird." The second showed her during pregnancy and accentuated the maternal roundness of her belly. In the third portrait, I painted her with our son Diego, Jr., her breast exposed, and the child suckling.
Only once before had a death moved me so strongly. Shortly before the war, a major political figure emerged from the French left. Everybody, myself included, went to hear the speeches of Jean Jaures. Jaures was an orator of incendiary vigor, with a mind like a steel trap. Seeing and hearing Jaures address the masses and watching the response of the many thousands who composed his audience, had been an inspiration. When Jaures died at the hands of a "patriot assassin," it was as if a part of me had also been struck down.
With the memory of Jaures, I associate the day I saw for the first time, in Paris, a huge mass of people all moving together, enthusiastic but orderly, in a powerful solidarity of faith and purpose. This vision I later transposed in many ways in heroic murals where, also, the hero was not an individual but a mass. Particular leaders emerged from this mass but only as its antennae and speakers, to receive, formulate and transmit the collective thoughts, aspirations and dreams of their unnumbered fellows.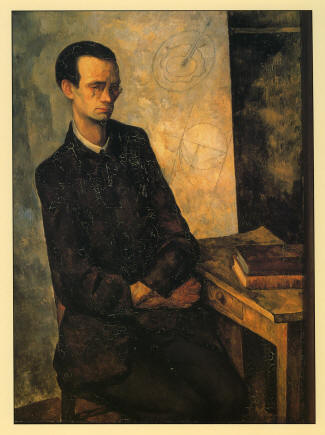 The Mathematician. c. 1918. Oil on canvas, 45-1/2 x 31-5/8" (114.4 x 80.5 cm). Museo Dolores Olmedo Patino, Mexico City
Following the death of my son, I intensified my labors to rid myself of modernist residues in my work. By the end of 1919 I felt that I had cleansed myself sufficiently to take the next step and, by research and study, prepare myself for my new career as a mural painter. To obtain the money I needed to live and travel, I turned to a brother Mexican, the engineer Alberto Pani, then serving as Mexican Minister to France. Pani, who was later to figure in one of the great Rivera art scandals, bought my portrait "The Mathematician," and commissioned portraits of himself and his wife. With the money I received for these, I went to Italy to study the frescoes of the old masters.