Re: Charles Carreon, The Arizona Kid

Posted:
Sat Oct 05, 2013 5:54 am
A LEGEND IN HIS OWN MIND -- MICHAEL RUPPERT SOLDIERS ON, by Charles Carreon
Met At The Goose
I first met Michael Ruppert on a karaoke night in the smoky Wild Goose bar, where he was sitting with some friends of mine. I'd watched one of his DVDs, a recording of a talk he gave explaining his status as a former LA cop who got bounced out of the corps after a run-in with CIA drug-runners. He was explaining why no planes were shot down on September 11, 2001, despite the proximity of many airbases staffed with throttle jocks ready to mount their aerial steeds and blow airliners out of the sky. He had then explained that America's military might had been deliberately tied up in knots by a spate of overlapping training exercises with names like "Vigilant Guardian" and "Vigilant Warrior." So I figured I should interview him and we would discuss 911. He gave me his email address, and told me to send him an email, but to write "met at the Wild Goose" in the subject line, so he would know to give it the attention it deserved. I made a note to do that.
What Columbo Would Ask
I have had a lot of questions about 911 for five years now. It looked so much like a controlled demolition, which I remember being an absolute marvel of engineering – far more impressive really than a moon walk. I mean, tearing a skyscraper down when I was a kid was a big deal. They had these things called wrecking balls that were a blast to watch, smacking away at a wall all day long to bring it down. It could take months to take down a big building, and now thanks to dynamite and human ingenuity, they could do it all in just a few seconds, whammo. So I didn't figure if the WTC towers burned down that they would do it neatly. I also knew that during the grisly firebombings of Tokyo, Hamburg, and other "Axis" civilian populations, huge firestorms with heats above two-thousand degrees had not melted the steel-frame skyscrapers, but merely turned them into enormous ovens in which their occupants were baked. Skyscrapers have flammable contents, so they can have nasty fires, but they don't catch on fire, which was always considered one of the advantages of steel and concrete construction. So from an engineering standpoint I had a problem with the whole scenario of Buildings One and Two being brought down by misdirected airliners, whether being flown by remote control or otherwise.
Fortunately my puzzlement about why Buildings One and Two came down was resolved when I saw Building Seven suddenly collapsing just like Buildings One and Two, without having been hit by anything, but rather upon the command of several bigwigs who agreed that it was time to "pull it," as Larry Silverstein, the building's owner said on national TV. The meaning of "pulling it" has not been explored to my satisfaction, but seems obvious – the building was full of explosives, and had to come down. Presumably it did have to come down, and Silverstein's weird excuse that Seven was pulled to prevent further loss of life flew in the face of reason. The collapse of Buildings One and Two didn't save any lives, so why would the collapse of Building Seven? Could it perhaps be significant that the New York City Emergency Command Center, the State Department, the CIA and the FBI were located in Building Seven? Assuming, for argument's sake, that the same people used the same methods to destroy all three buildings, and staged it from a base inside Building Seven, then it would be logical to destroy all the evidence in the command post – evidence that would simply be too explosive, given the "loss of life," i.e., the number of murder charges that would be leveled against whoever pulled it off. If I were Columbo, I would want to talk to Larry Silverstein. Talk about somebody at ground zero. I would have to ask him, why did Building Seven have bombs in it? Do you tell your tenants you can blow them up? Is it the ultimate eviction threat? Why were all those bombs in Building Seven ? Did he plant similar bombs in Buildings One and Two, that he also owned? These are my big 911 questions, and I was looking forward to getting Mike Ruppert's take on them.
When Ruppert and I met again, it was at the Wild Goose, this time for lunch and the official AFP interview. Not yet having read Mike's book, and therefore not realizing that he was pursuing a particular tack on the issue of 911, I sat down thinking we would have a rollicking discussion about the basic non-credibility of the government's position and the likely reasons why Bush, Cheney, Ashcroft, Gonzales, Condi, Rumsfeld and their pet Congress worked so hard to block a real investigation. But politeness takes first position, so I started by exploring Ruppert's background.
Born Cop
Ruppert was born and raised in a family steeped in police tradition. His father was a defense insider at Martin-Marietta, and his mother was an NSA cryptographer and a secretary to Cordell Hull. Ruppert placed meaningful emphasis on this connection – Hull was a man of immense power and influence, who raised himself from barefoot Kentucky beginnings by becoming a lawyer, a judge, a Congressman, and ultimately, FDR's Secretary of State for nearly twelve years. Ruppert's love of authority runs deep. He had so many other relatives in the CIA and OSS, the CIA's predecessor-agency, that "everybody had clearances." He cultivates the mystique of having government contacts in his blood, and name-drops compulsively. As a UCLA undergrad, Ruppert interned as a police-student worker under Chief Ed Davis, which I could see putting him in charge of donuts and briefcases. To hear Ruppert tell it, he had all the marks of a fast track career officer. When he graduated from UCLA in 1973, he had a single-minded career goal – to be an LAPD detective.
Narcs Don't Cry
He started in patrol and was on loan to the Wilshire Division undercover narcotics unit when a woman he calls "Teddy" ravaged him body and soul in an effort to get him to join the CIA. As Ruppert explained to me, before narcotics cops request a warrant to search a drug-dealing location, or to arrest a known drug dealer, they have to put their request into a national database. This request lets all the other narcs know if one of their informants is about to get busted. In principle, this means that the Ashland Police Department won't execute a warrant on a known coke dealer if the DEA is using the coke dealer as one of their informants. In practice, it means that the CIA takes the heat off their people by claiming that they are working as informants. Additionally, it means that the CIA can finger people who are troublesome drug dealers, thus eliminating competition, maintaining high drug prices, and keeping everyone on a string. Teddy said it was a sweet deal, and lots of other cops were working for "The Company" holding down jobs at police agencies all over the country, keeping the Company's government-sheltered narcotics network running smoothly by keeping the heat off their pet dealers and putting the competition in jail.
In short, Ruppert had fallen for the wiles of a femme fatale working for the "Dark Alliance," as Gary Webb, the San Jose Mercury reporter whose career was ended by two bullets in his head, called the international web of drug dealers and intelligence agents. Webb proved that in order to buy weapons to wage a war of attrition against the Sandinistas, the Nicaraguan contras, remnants of the fascist Somoza regime, had shipped hundreds of tons of cocaine in US government aircraft for sale in American cities as crack cocaine – a drug literally engineered for its addictive power. Webb's accusations also gain support from the book by former Defense Intellegence Agency operative Lester Coleman, "
Trail of the Octopus – From Beirut to Lockerbie -- Inside the DIA
," that explains how a group of rogue CIA drug smugglers blew up PanAm flight 103 over Lockerbie, Scotland by planting the bomb in a special suitcase that was normally used by the DEA for the monthly "controlled delivery" of 40 pounds of heroin to Chicago. Since PanAm and the German airport authorities were in on this arrangement, the bomb was thought to be the usual dope shipment, wasn't inspected, and killed everyone on board. PanAm was sued by the families of dead passengers for negligently allowing a bomb on board, and responded by issuing subpoenas to the CIA, that refused to produce any information, successfully invoking the "state secrets privilege" that the Bush administration is now trying to use to block lawsuits over NSA domestic spying. As a result PanAm, the world's largest airline, so big that it its logo appears on a building in Ridley Scott's futuristic movie "Blade Runner," no longer exists. That's what can happen to the largest company if it runs afoul of "national security."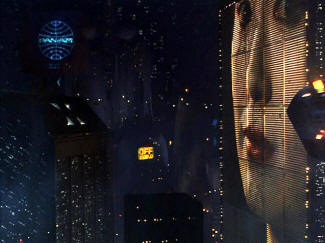 Blade Runner, directed by Ridley Scott
Ruppert eventually got permission from his boss in Wilshire Division to go to New Orleans to find Teddy, who had disappeared from LA, and investigate her activities. He says that what he found in New Orleans was outrageous – the CIA and the Mafia were locked in an embrace so tight that it encompassed virtually all of the heroin trade, and Teddy was a major player, watching through binoculars from her apartment as drug-loaded boats docked and unloaded, setting prices, calling in hits, and generally being a major drug kingpin. Not surprisingly, Ruppert's LAPD career came to a screaming halt when he reported what he'd learned. He went from being the Wilshire Division's fair-haired boy to being perceived as a mental case, and in an effort to abort a plan to ease him off the force for medical reasons, he checked himself into a private mental hospital and underwent a battery of psychological tests administered by a doctor who tested the mental health of the people who babysit the nation's ballistic missiles in their iron silos. Ruppert says he got a clean bill of health from the superdoctor, and slowed the speed of his descent from the upper reaches of cop hierarchy, finding a perch as an instructor at the Police Academy for awhile, but eventually leaving in the midst of a career that had stalled before it started.
Career Wreckage
I used to do a lot of "wrongful termination" cases in LA when I worked for Mazursky, Schwartz & Angelo, and had represented lots of people fired from managerial positions in the LA area. So I tend to evaluate someone like Mike Ruppert in that light: Had he been screwed? Was he a fruitcake? Should I take his case on? If I'd still been sitting in my office at MS&A in Century City, the answers would have been yes, maybe, and no. My standard for determining whether someone had been screwed was not hard to meet. I'm sympathetic by nature, even toward people who are stupid enough to want to be LAPD detectives, then discover what a bag of shit they've bought. Having subjected himself to the psychological testing routine, however, seemed suspicious, and would certainly cause a jury to wonder why he did it. I definitely wouldn't take the case, because downtown juries would probably not respond warmly to an LAPD cop complaining that he'd been treated shabbily. I would have been put off by Ruppert's tendency to shade over the fact that he'd never been promoted to detective, and would question his inclination to live in his cop role for the rest of his life in a state of arrested development. Of course, there would be no way to corroborate the Teddy story or the New Orleans adventure, because the LAPD would strenuously deny any knowledge, the CIA would invoke state secrets, and the entire adventure would be an unhappy and unprofitable one.
Mike Ruppert probably tried to sue the LAPD, and probably received many sympathetic refusals from other wrongful termination lawyers, some possibly sitting in the same building I was sitting in. In its own way, LA's a small town. In any event, Ruppert didn't sue the LAPD, and found himself blackballed by his former employer. He couldn't get a job at a Seven-11, or if he did, he'd soon be fired, after Wilshire Division narcotics cops dropped by to ask his new boss if he had actually hired Mike Ruppert. Hounded into the one employment he couldn't be fired from, he became the notorious author of "From The Wilderness," a publication dedicated to – well, dedicated to Mike Ruppert. "FTW" is emblazoned on the company logo, an eight-pointed star that resembles the CIA logo. Cops often see the initials "FTW," which stand for "Fuck The World," a common prison tattoo.
The Gary Webb Un-Story
After we finished our lunch at the Wild Goose, Mike invited me back to his office. I was kind of surprised to find him sharing space next to the Forest Service. He showed me his office proudly, and I admired the huge secured parking lot out back that was used only by the federal government. Strange place for an anti-government crusader to shack up, but what the hey, I wasn't trying to ask a lot of difficult questions. There was a poster of Gary Webb on the wall, autographed to Mike Ruppert, saying something like "To Mike Ruppert, who was on the story before I was." Ruppert said Webb had been a very good friend. I felt so bad to be wondering if Ruppert had forged the inscription. I volunteered that most people didn't think Gary Webb shot himself twice in the head, just because it's so hard to do, and this provoked a firestorm of contempt from Ruppert. God, how he hated hearing that crap. No one knew, like Mike, how much Gary had suffered from depression, and as far as a double-shot suicide, they were hardly unheard of. Oh, I explained, they were heard of, they were just implausible. No, no, no, insisted Mike, with so much disgust in his face that I just dropped the subject.
The Dangers of Physical Evidence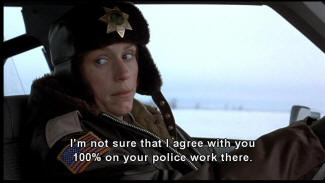 Fargo, directed by Joel Coen
About that time, I thought it would be a good idea to start discussing 911. I started by saying I just didn't think that buildings One and Two could collapse that fast without being intentionally detonated. He grimaced, and said that was really not the thing to focus on – there was too much speculation involved in dealing with engineering concepts. I insisted that I thought based on the laws of physics, combined with the information available from the building plans and the precise specifications of all the materials that went into the structure, and the completely anomalous nature of the event in the history of architecture, it didn't seem very speculative. I had even seen the video taken in January 2001 of one of the top engineers on the WTO project, who die in the September 11th disaster, saying that the buildings were built of such a dense net of enormous steel that an airliner, even multiple airliners, would not meaningfully damage the essential structure, because it would be like "poking a pencil into a screen door." Ruppert didn't seem to like hearing this type of discussion, and it rapidly became more than he could bear. Grimacing really earnestly, he explained that he avoided all of this dangerously non-provable stuff, because, he warned me, expert witnesses on the mechanical causes of structural collapse would be vulnerable on cross examination. I couldn't buy that story. In a twenty-year career as a trial lawyer, I've questioned a few hundred experts, many of them mechanical engineers, and actually when they've got their numbers right, they're pretty hard to cross up. And I think that, thanks to physics being such an old field of study, what with Galileo and Newton having worked on the falling problem, most of these numbers are available or derivable to figure out everything in units of load-bearing capacity, explosive force, distance, and time. Given the availability of detailed architectural drawings, and the whole project being executed with materials of known strength, I would expect the numbers to bear out what the eye perceives – the towers were an inside job.
Oil-Centered Reality
Having exhausted all my reasonable efforts to discuss 911 from my own direction, I was ready to give in to Ruppert's approach. Since he clearly wanted to deal with it as if he were a journalist-cop setting out to convict somebody with a litany of uncontrovertible statements, I asked him, who was guilty of 911? Cheney, he responded, without hesitation. Suddenly I felt as if the gates of speculation had boomed wide again, so I asked him where Cheney was when the towers were hit. Down in a bunker, running the whole show. What show? All of the overlapping military defense exercises that were being conducted to keep military aircraft tied up, so no one would shoot down any terrorist planes. What evidence was there of that? As hijacked planes still prowled the skies, Transportation Secretary Norman Mineta heard Cheney tell an underling, when asked whether "the orders still stood," that of course they still stood, and why was he asking? That was interesting, but why would Cheney want there to be a terrorist attack on the US? In order to provoke the war with Iraq. Why? Because Iraq has an immense amount of oil. So it all came down to Peak Oil, the driver of history.
Many Words, Not Always Well-Chosen
Mike wrapped up our interview nicely, by autographing a copy of his enormous book, "Crossing The Rubicon – The Decline of the American Empire and The End of the Age of Oil" with the inscription "Bruins Rule!" to commemorate our status as fellow-UCLA-alumni. Chapter One, entitled "Petroleum Man," enunciates a disturbing assumption in Ruppert's reasoning:
"But it comes to this: first, in order to prevent the extinction of the human race, the world's population must be reduced by as many as four billion people."
This fearful article of faith has been repeated throughout my lifetime by the "Limits to Growth" people, "The Club of Rome," and their hysterical cheerleader Dr. Paul Ehrlich, author of the now-forgotten pessimist prophecy, "The Population Bomb," that visualized mass extinction through nuclear war well before the end of the last millennium. The repeatedly disproven notion that there are just too many people on the planet has been used to whip up anti-immigrant sentiment, to justify forced sterilization campaigns, and to denigrate the humanity of those who "breed too much." Adolf Hitler, for one, took the need to get rid of extra people very seriously, so when says we must rid the planet of some four-billion souls to assure our planetary survival, I take notice.
As I kept pushing through the book, I discovered that it is a loosely strung-together narrative in which Ruppert plays the part of a super-sleuth with deep insight into the workings of high government officials, covert operations, financial systems, national economies, and courtroom procedure. We wouldn't know that Ruppert is incredibly insightful if he didn't keep reminding us with lines like, "From my knowledge of covert operations this had to be a cover story." He regales us with quotes from smarmy emails to CIA officers stuffed with allusions to his military pedigree: "I pulled out all my aces and namedropped shamelessly. I mentioned that I was good friends with the widow of famed CIA pilot Francis Gary Powers, shot down over Russia and captured in 1960." Ruppert's hyperbole about the all-knowing powers of intelligence agencies serves his thesis that the FBI and the CIA were lying when they said they couldn't "connect the dots" before 911.
The PROMIS software
, Ruppert asserts, is a virtual eye-of-God, so how can the government claim ignorance of anything? Mike has a naive faith in computers, believing them capable of turning Arabic speech "into substantively reliable English automatically." For this dubious claim, Ruppert's cites only an online article in Technology Review that falls far short of supporting his novel assertion.
Ruppert makes the going difficult by adopting the tone of a lecturer on police procedure, inflating his credentials with unctuous sermons like this one: "In a sound investigation, the simplest explanation must also encompass the known facts without any of those facts being disregarded as a measure of expedience." It would be less annoying if he would at least follow the rules of police work he so earnestly announces, and not exclude, for example, engineering evidence from his analysis.
For Ruppert, the really important facts are learned by schmoozing people in the know, asking questions of highly-placed government officials, comparing the pronouncements of various politicians, and trying to find the person in authority who is pulling the strings. Logically, he shines best when he is working on deconstructing someone else's theory, and his attack on the official Congressional 911 Commission report is excellent. In aid of that attack, he marshals much of the evidence that the Commission refused to consider, including the large bets against American Airlines and United that were made in the stock market just before their planes were hijacked, the simultaneous military exercises that distracted the Air Force from protecting the East Coast on September 11th, and the persistent lying by the North American Air Defense Command (NORAD) about when the FAA told NORAD about the hijackings.
Ruppert often reminds us of the impact he has on important events, introducing one of the many reprinted articles with great modesty as "the October 2001 From The Wilderness story … that ground the propaganda machine to a halt." Since the publication of that article, he claims, "the entire United States government – as well as the entire world financial system – has gone completely silent about the insider trading." Well, that just might be a slight overstatement. Many writers continue to discuss insider trading in American Airlines and United sell-options, wondering aloud why nobody picked up the cash when the bets came in. Maybe Mike just stopped reading about it.
FTW Suffers Extensive Property Damage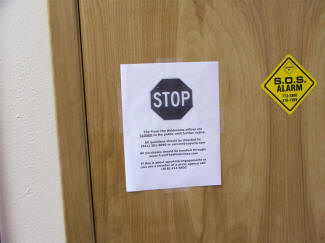 The FTW offices after the mysterious break-in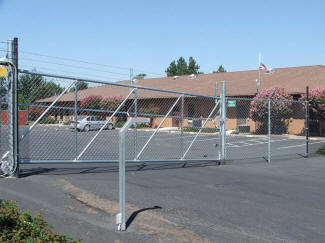 Apparently, a secure area.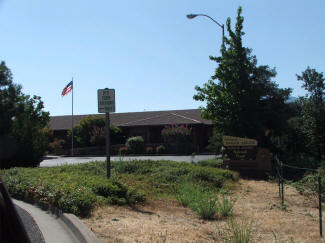 Mike had a cozy relationship with the Feds.
I guess the big question about the credibility of Mike's role as a counterspy for the forces of freedom is, if he's so damaging to the powers that be, why isn't he dead? Mike's friends sometimes die, of course. There's Gary Webb, who Mike is so sure accomplished the amazing feat of shooting himself twice in the head. There's Bill McCoy, investigator for Bill and Nancy Hamilton, the folks who had their PROMIS software stolen by Ed Meese. Ruppert seems to opine that McCoy was likely murdered, although he had a heart condition. And the list of people who have died, often by supposed suicide, when they dug too deep into the mysteries of drug money and the CIA is fairly lengthy.
On the night of June 25th, Ruppert's office was vandalized by a person or persons unknown, destroying seven computers, and thereafter many curious circumstances came to light. One of the odd things was that Ruppert's office was in a building that was otherwise occupied entirely by a Federal agency, the Forest Service, which meant that the entire parking lot outside Ruppert's back door was secured with a ten-foot chain link and barbed wire fence with an electronic gate with key-card entry. Investigation by the AFP disclosed that none of the other Southern Oregon Forest Service offices share their space with non-governmental entities. However, in what seems an odd lack of surveillance in these terrorized times, there were no security cameras anywhere. Rather strange for government offices, and for Ruppert, who goes on at length at his website and in person about how many times government infiltrators have tried to destroy his publishing business.
Mike Investigates Himself Thoroughly
The police investigation was apparently a bit of an embarrassment to Ruppert, because one of his employees speculated aloud that Ruppert might have destroyed his own computers, and the police didn't rule out that possibility. The employee, young and female, also accused Ruppert of sexual harassment, a claim that Ruppert seemed to acknowledge when he admitted that he had danced around his office in his underwear while the employee was in the room, explaining of course that it was a bold investigative tactic intended to flush out the woman's true intentions, trying to get her to "show her hand," as Ruppert puts it in his own spoutings on the matter. These were, as you might expect, voluminous and filled to overflowing with closely-argued cop-logic, complete with compelled conclusions and obvious cant. In mounting his defense, Ruppert demonstrates a cop's expert ability to interpret facts in the light most favorable to himself, and uses the old trick of making evidence do double duty. For example, watch how he turns an uncorroborated alibi into a basis for accusing his employees of the crime: "It is almost certain that the burglary was perpetrated, at minimum, based upon inside information provided by recently fired or resigned FTW staff members. There is – or was – only one television program I cared about, HBO's Deadwood. It was common knowledge in FTW's new offices that I was obsessed with the show, and on June 25th I was certain to be home watching one of the first episodes of the new season I had been anticipating for a year." In other words, he had been alone when the crime occurred, and no one could confirm his whereabouts, which for most people would be a disadvantage, but not for Ruppert – it proves that his employees did it!
Ruppert is sure that three motorhomes full of road people were spying on him, because for months they parked down on Washington Street, that runs parallel to the freeway out where the cops rarely go, and they all disappeared right after the break-in. Although Ruppert says he assumed the motorhomes were stuffed with spies put on his tail by people who want to silence him, he apparently took no photographs of the vehicles, never wrote down their license numbers, and never reported their presence to the police. Now he bemoans that these, the only witnesses, have disappeared! And who is to blame for failing to record the evidence?
Never fear, Clouseau is on the case. He is certain there were two perpetrators, because the work required to destroy seven computers with a sledgehammer would be "physically exhausting." Although he admits that the office was on little-traveled Washington Street, where the vandalism took place in the middle of the night, he argues vociferously that someone would certainly have spotted his "Blue and Gold, 1996 Ford Bronco" that "stands out like a sore thumb." Similarly, he places it in the realm of impossibility that "I could have walked a block or two with a sledge hammer over my shoulder without risking being noticed." It is obvious that whoever broke into the building would have been equally likely to be noticed, as there is nothing about Ruppert, who has an unremarkable rotund profile, or about a blue and gold Bronco, that would evoke particular notice. AFP investigation, conducted from an unmarked car parked in front of Ruppert's office for eleven minutes at 10:30 pm on a weeknight, resulted in sightings of no vehicles, pedestrians, or domestic animals for the entire eleven-minute time period. Thus, it is no surprise that whoever smashed the computers did so undetected.
What stood out like a sore thumb was Ruppert's panicked response – issuing elaborate denials of his own culpability, analyzing the crime with pseudo-expertise, and throwing accusations of drug use at an employee whom he had assaulted with a rather gross impropriety. Like small town cops are likely to say of such stories – I don't know how you do it in LA, but here in Ashland, we keep our pants on around the employees.
When Mike posted on his website that he was going to Venezuela to avoid being hit, I thought, yeah right, by a sexual harassment lawsuit. Who knows who smashed his computers? Maybe it was a desperate gambit to refuel his crisis-powered career, or maybe the breakin just caused Ruppert to crack, broke his nerve, after all those years. Once again, he'd let a woman get under his skin, and everything just blew apart. Suddenly, he's sweating, crazy fearful that they'll get him, like they got Gary Webb. No of course, they didn't get Gary Webb. But maybe they got Hunter Thompson. Well I tell you what, Mike, you're no Hunter Thompson.