When Archie Comics Promoted Charity Fraud, by Rich Johnston

Posted:
Tue Jun 24, 2014 3:11 am
When Archie Comics Promoted Charity Fraud
by Rich Johnston
NOTICE: THIS WORK MAY BE PROTECTED BY COPYRIGHT
YOU ARE REQUIRED TO READ

THE COPYRIGHT NOTICE AT THIS LINK

BEFORE YOU READ THE FOLLOWING WORK, THAT IS AVAILABLE SOLELY FOR PRIVATE STUDY, SCHOLARSHIP OR RESEARCH PURSUANT TO 17 U.S.C. SECTION 107 AND 108. IN THE EVENT THAT THE LIBRARY DETERMINES THAT UNLAWFUL COPYING OF THIS WORK HAS OCCURRED, THE LIBRARY HAS THE RIGHT TO BLOCK THE I.P. ADDRESS AT WHICH THE UNLAWFUL COPYING APPEARED TO HAVE OCCURRED. THANK YOU FOR RESPECTING THE RIGHTS OF COPYRIGHT OWNERS.
December 12, 2011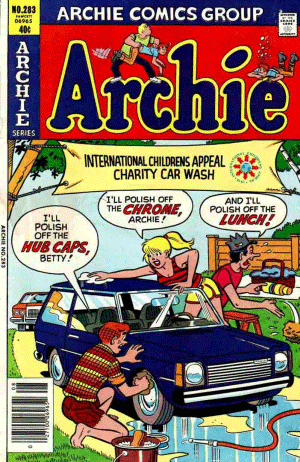 ARCHIE COMICS GROUP, No. 283: International Children's Appeal Charity Car Wash
[Archie] I'll polish off the hub caps, Betty!
[Betty] I'll polish off the chrome, Archie!
[Man] And I'll polish off the lunch!
In 1969, ABC News's 20/20 investigative program exposed a scam from habitual conman, government informant and convicted felon, John Ellsworth and his International Children's Appeal, linked to the United Nations and coinciding with the International Year of The Child.
Once again Eppolito found himself tempted by the kindness of mobsters. The death of his grandfather, Diamond Louie, at the age of ninety-one, affected Eppolito deeply, putting him in close contact with his family as well as the Gambino family. At Diamond Louie's funeral, Jimmy the Clam Eppolito, Eppolito's uncle and a Gambino associate, gave his nephew Louie an envelope containing $3,000 cash to take his family on a vacation to Disney World. Taking money from a known organized criminal was against NYPD regulations, Eppolito knew, but he didn't care. The money would give his family a well-deserved holiday, he felt. The pay of an NYPD detective was too modest to partake of such luxuries. He felt entitled to the extra cash; the rules did not apply to him. When he returned to New York and his duties in the Six-Two, Eppolito began to routinely drink sambuca with Uncle Jimmy and his son Jim-Jim. "I didn't give a shit about the surveillance," Eppolito wrote. ''I'd played by the Department's rules long enough."

A month after Eppolito's Disney World holiday, Jimmy the Clam and Jim-Jim Eppolito were murdered. Lured to the Gemini Club in Brooklyn, headquarters of the lethal crew known as Murder Inc., the two were driven to a service road off the Belt Parkway and shot to death in cold blood. The reason for the double murder was political. Jim-Jim had been involved in an elaborate con run under the guise of a charitable organization called the International Children's Appeal. The fund was supposed to raise money for city schools during the International Year of the Child. It was in fact a money-laundering front for drug and weapons merchants. When the scam was exposed on the ABC News show 20/20, Gambino boss Big Paul Castellano grew concerned the story would bring unwanted attention to the Gambinos. President Jimmy Carter's wife, Rosalynn, had posed with Jim-Jim for a photograph taken at a gala reception in Washington. Senator Edward Kennedy had also been taken in by the con. Powerful people made to appear foolish would, in the mind of a mafioso, use their power to exact revenge. Castellano feared that President Carter would sic a thousand more FBI agents on the Gambinos in retribution. He ordered the double hit.

--

The Brotherhoods: The True Story of Two Cops Who Murdered for the Mafia, by Guy Lawson & William Oldham
Instead, it was a way for Ellsworth to launder drugs and gun money, and a way to gather money against written cheques that would then bounce.
Those conned included then-First Lady Rosalynn Carter, Ted Kennedy, Roosevelt Grier, Jane Russell and Archie Comics' John Goldwater.
To the extent that Goldwater promoted the charity in the Archie comics.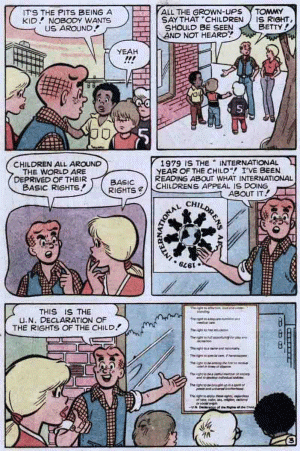 [Boy] It's the pits being a kid! Nobody wants us around!
[Tommy] Yeah!!! All the grown-ups say that "children should be seen and not heard"!
[Archie] Tommy is right, Betty! Children all around the world are deprived of their basic rights!
[Betty] Basic rights?
[Archie] 1979 is the "international Year of the Child"! I've been reading about what International Children's Appeal is doing about it! This is the U.N. Declaration of The Rights of the Child!
[img]http://rapeutation.com/whenarchiecomicscharityfraud.1c_small.gif/img]
[Archie] To help them get a better education!
[Betty] Where does the money come from to do all this, Archie?
[Archie] Through contributions from T.V. Telethons, and money collected by donations in coin cards displayed in stores around the country!
[Betty] Is money the only way people can help?
[Archie] Heck no, Betty! There are many things people can do to help the I.C.A.!
You can volunteer for after school children's service organizations or at local hospitals and children's institutions! Be a big brother or big sister!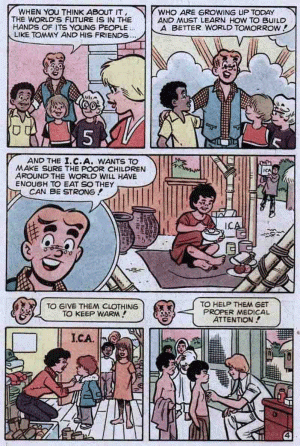 [Archie] When you think about it, the world's future is in the hands of its young people ... like Tommy and his friends ...
Who are growing up today and must learn how to build a better world tomorrow!
And the I.C.A. wants to make sure the poor children around the world will have enough to eat so they can be strong!
To give them clothing to keep warm!
To help them get proper medical attention!
Ellsworth disappeared, but continued his fraudulent activity passing bad cheques. He was eventually jailed again in the eighties, but released in 1992. He died a couple of years later.
Thanks to Magic Whistle.