Re: Mindfulness Meditation Research: Issues of Participant S

Posted:
Fri Feb 22, 2019 3:44 am
Single Case Study: Transcendental Meditation, Altered Reality Testing, and Behavioral Change: A Case Report
by Alfred P. French, M.D.1, Albert C. Schmid, Ph.D.2, and Elizabeth Ingalls, MLS3
The Journal of Nervous and Mental Disease, Vol. 161. No.1
Copyright © 1975 by The Williams & Wilkins Co.
NOTICE: THIS WORK MAY BE PROTECTED BY COPYRIGHT
YOU ARE REQUIRED TO READ

THE COPYRIGHT NOTICE AT THIS LINK

BEFORE YOU READ THE FOLLOWING WORK, THAT IS AVAILABLE SOLELY FOR PRIVATE STUDY, SCHOLARSHIP OR RESEARCH PURSUANT TO 17 U.S.C. SECTION 107 AND 108. IN THE EVENT THAT THE LIBRARY DETERMINES THAT UNLAWFUL COPYING OF THIS WORK HAS OCCURRED, THE LIBRARY HAS THE RIGHT TO BLOCK THE I.P. ADDRESS AT WHICH THE UNLAWFUL COPYING APPEARED TO HAVE OCCURRED. THANK YOU FOR RESPECTING THE RIGHTS OF COPYRIGHT OWNERS.
This paper presents the case of a 39-year-old woman who, several weeks following initiation into transcendental meditation (TM), experienced altered reality testing and behavior.
We discuss the course of this episode, present evidence for a causal relationship between her practice of TM and altered behavior, and discuss the appropriate treatment of such phenomena.
The past decade has seen an increasing awareness of the value of each individual's subjective experiences, including an interest in "altered states of consciousness," induced by various means. Of these, the most prominent meditation form to be represented in this movement is transcendental meditation (TM) in which 200,000 people have been trained in this country (6).
TM consists of the correct utilization of a mantra, or "sacred sound," to facilitate a state of consciousness characterized by physiological and psychological quiescence (4, 5).

The objectives of this paper are to present a case of psychosis-like behavior, which occurred in direct conjunction with the use of TM,
and to discuss the theoretical and therapeutic implications of this case.
CASE REPORT
Mrs. M., a 38-year-old woman who had never previously experienced any behavioral or thought disorder of any kind, experienced a radical "expansion" of her state of consciousness within days after beginning TM according to approved methodology. This state was initially characterized by sustained optimism, moderate euphoria, and a strong sense of the inherent goodness and value of her experience. In a letter to her teacher, written after 1 month of TM, she described "mental and creative energy at a peak .... Soaking up creative energy like earth drinking rain. Beautiful people everywhere. Life is so rich I have to keep expanding to hold my portion." She later explained, "I was in a state of openness and readiness for new growth; I felt that there were unreached areas in my mind and that there must be more to life. When, through meditation, I began reaching new areas of myself, I was delighted."

Two weeks after beginning meditation, but not during meditation itself, she began to experience compelling fantasies, which were euphoric in quality. These led to unusual behavior which would have been described clinically as psychotic. Soon she actively sought these experiences. Later, she described them as "waking dreams in which I created and experienced fantastic cosmic and inner adventures. I was able through them to fulfill my meta-need to help relieve the world's tensions by astrologically correcting a planetary gravitational imbalance that was deeply troubling the human race."
(It should be noted that, although there was continuity between the initial euphoric response to TM and the quality of the first of the compelling "waking dreams," this sustained exploration of an affective state. and its associated content. are not part of TM.)
We interviewed Mrs. M. at the end of the 3-month period during which she had experienced euphoria. She was an attractive, neatly dressed and young looking woman who was immediately congenial upon our arrival. She displayed substantial use of intellectual processes, particularly abstractions and analogies, and seemed clearly above average in intellectual functioning. She was oriented in all spheres, and her discourse was coherent but at times circumstantial. She spoke freely about herself and her unusual experiences. She seemed to be experiencing a fixed level of moderate euphoria reflected in frequent laughter, a virtually constant smile, and an attitude of cheerful optimism toward all events, including her recent experiences. The unusual finding was the lack of variation in her affect and general manner over the 3 hours we interviewed her. She later explained, "I was not totally there. I was operating also on other levels and couldn't completely return to the here and now that you were experiencing."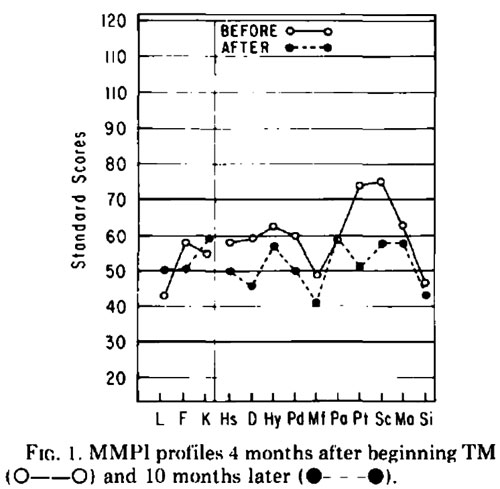 Fig. 1. lMMPI profiles 4 months after beginning TM [x] and 10 months later [x].
Psychological test results at this point indicate a moderate thought disorder. The Minnesota Multiphasic Personality Inventory (MMPI) profile (Figure 1) indicates excessive pressure from unconscious material, resulting in anxiety, social and emotional alienation and withdrawal, and ruminative and obsessive qualities. The Rorschach performance was characterized by tension, depressive content, concern about death, and obsessive attempts to integrate percepts of the blots. With respect to the latter, Mrs. M. was only partially successful at perceptual integration and at times displayed moderately loosened associations. Her performance also reflected rather primitive sexual content. The initial Adjective Check List (ACL) profile (Figure 2) (1) is that of a somewhat inhibited individual who was both anxious and actively seeking help from others, while at the same time seeking independence and new experience.
During the 2 months following our interview, there was a dramatic shift in the nature of Mrs. M.'s experience. The affect became dysphoric, and the intensity increased until it was "unbearable." Simultaneously, there was a loss of control. "The process took me over. I was on such a precarious balance, that it would have been dangerous to change direction or stop." She experimented occasionally with shorter meditation times, and with eliminating meditation altogether, with no perceptible decrease in the rush or intensity of the experience. "I was afraid to stop altogether lest I lose the link that kept my feet on the ground."
During this interval, only inexperienced TM teachers were available. Although clearly aware that Mrs. M. was in severe distress, they could offer no advice except the standard "meditate your allotted time and come in for checking." She sought a psychiatric evaluation to ascertain "whether I was in my right mind." The young Szaszian psychiatrist described her experiences as "unusual," but not indicative of mental illness. He suggested further counseling, which was a financial impossibility, and recommended medication.
"I turned to psychological and religious literature when new experiences began to occur to ascertain that I was going through a positive and natural process and to answer my questions about what was happening. Rossi's theories of psychosynthesis and growth, Maslow's metamotivation, metaneed, peak experience, and self-actualization concepts, Jung's symbols and archetypes, Lilly's rules for observing inner experiences, Ellenberger's "creative illness," and Maharishi's discussions of evolution and levels of consciousness became incorporated into my experience."
The entire episode finally ended when, "in a state of complete physical and emotional exhaustion, I knew I had reached my limit." The rush gradually subsided, and "I began to sleep again. I had to sleep or die."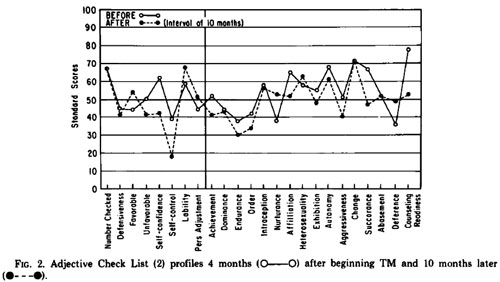 Fig. 2. Adjective Check List (2) profiles 4 months [x] after beginning TM and 10 months later [x]
The MMPI and ACL were repeated 10 months after the initial testing and our interview. The second MMPI profile (Figure 1) indicates no evidence of thought disorder, in contrast to the initial profile. The validity scales indicate a defensive posture, and reflect a response set of "faking good" (F-K = 14). The shift in the ACL profile (Figure 2) over the 10-month period is toward less self-confidence, increased impulsiveness, and a marked decrease in the subjective sense of discomfort and need for outside assistance, while autonomy and active interest in new experience remain high. This might be summarized as a shift toward being both more "loose" and more comfortable.
DISCUSSION
The challenge of any process designed to catalyze adaptive change may be to facilitate access to repressed material without excessive hazard, while simultaneously facilitating the integration of emerging material into the personality structure. Derepression, by itself, is readily obtained by a wide variety of methods but cannot by itself lead to adaptive change. Some meditation forms appear to decrease repression, while providing various means for reintegration of material. TM involves experiencing "a thought at 'subtler' or more abstract levels of thinking, in an easy and natural manner" (4, p. 8). This occurs because "the nature of the mind is such that allowing the mind to remain lively, in a non-directed manner, spontaneously minimizes mental and physiological activity."4 We hypothesize that this shift in mental function is often accompanied by derepression.
TM, now widely popularized, is generally considered to be a remarkably simple and benign meditation method. While the method is not commonly described as potentially dangerous, precautions include limitation of meditation to 20 minutes, twice a day, and follow-up with trained teachers. In contrast, numerous reports abound of the hazards of Zazen, the meditation form used in Zen Buddhism, which may lead to terrifying experiences and which must be handled carefully.
These "makyo" are "a mixture of the real and the unreal, not unlike ordinary dreams. [The student must] never be tempted into thinking that these phenomena are real or that the visions themselves have any meaning ... above all, do not allow yourself to be enticed by visions of the Buddha or of gods blessing you or communicating a divine message. This is to squander your energies in the foolish pursuit of the inconsequential"
(2, pp. 40-41). The similarity of TM and Zazen is supported by EEG studies (4).
While proposing a causal relationship between TM and the psychosis-like episodes, we cannot rigorously exclude the possibility that a disorder of thought or mood might have occurred without TM. In any case, the continued presence of an altered state of consciousness within days after beginning TM, and the occurrence of the "waking fantasies" shortly thereafter, leave little doubt of some causal relationship between the use of TM and the subsequent psychosis-like experience. In fact, we would expect the occurrence of powerfully compelling fantasies in some portion of normal individuals utilizing derepressive procedures of any form.
Despite enjoying the euphoria of her initial "waking dreams," Mrs. M. was capable of effectively grieving the loss of her expanded world-view. It is in this area, rather than in the area of the occurrence of such phenomena, that the issues of risk, and the appropriate response by TM teachers and psychiatrists, are significant. Anyone may experience a makyo, just as we all experience powerful dreams. Our hypothesis that TM has the potential of markedly decreasing repression carries several immediate therapeutic implications. First, interaction with an experienced "guide" is in general to be preferred to indiscriminate use of medication; second, such "trips," while often clinically psychosis-like, are distinct clinical entities from functional psychoses. Our scientific-medical prejudice leads us to label any unusual behavior as "sick." Tart (3) has outlined the basis for an alternate view. Mrs. M. states, "my faith in my own system's ability to guide and safeguard, my sense of identity, and my mind/body system are greatly strengthened. Life has a depth it didn't have before. I am operating at new levels of knowledge and understanding, and I have not yet discovered the boundaries of my mind."
In retrospect, it appears that appropriate management of the present case would have included decrease in or cessation of meditation time; frequent contact with an experienced teacher, whose function would be process rather than content oriented; contact with a mental health professional to assist in the grief work and suicidal ideation involved in the process of giving up the fantasy world; and use of medication to facilitate sleep and, if necessary, repression. While all these elements were present in Mrs. M.'s case, earlier recognition of the type of process involved might have decreased Mrs. M.'s suffering and risk over a period of several months. The usefulness of TM, like any process which seeks to facilitate adaptive change through decreased repression, appears to be not altogether without potential risk. The very nature of the mind and of this form of meditation carries the risk of psychosis-like and potentially dangerous regression. Appropriate recognition of inappropriate response to meditation should lead to intervention which protects without over-repression.
_______________
Notes:
1 Department of Psychiatry. University of California. Davis-Sacramento Medical Center. 4430 "V" Street. Sacramento. California 98517.
2 Department of Mental Health. Sacramento County Health Agency; and Division of Mental Health. School of Medicine. University of California. Davis.
3 Medical Learning Resources, University of California. Davis.
4 Kersey, R. Teacher of Transcendental Meditation. Personal communication.
REFERENCES
1. Gough, H., and Heilbrun, A. Adjective Check List. Consulting Psychologists Press. Palo Alto, California, 1965.
2. Kapleau, P. The Three Pillars of Zen. Beacon Press. Boston. 1965.
3. Tart, C. States of consciousness and state-specific sciences. Science. 176: 1203-1210. 1972.
4. Wallace, R. The Physiological Effects of Transcendental Meditation. Students' International Meditation Society. Los Angeles. 1970.
5. Wallace, R. The physiology of meditation. Sci. Am., 226: 84-90, 1972.
6. Whitman, A. The art of meditation. Reader's Digest, September: 130-134. 1973.