John N. Abrams
by Wikipedia
Accessed: 12/16/17
NOTICE: THIS WORK MAY BE PROTECTED BY COPYRIGHT
YOU ARE REQUIRED TO READ

THE COPYRIGHT NOTICE AT THIS LINK

BEFORE YOU READ THE FOLLOWING WORK, THAT IS AVAILABLE SOLELY FOR PRIVATE STUDY, SCHOLARSHIP OR RESEARCH PURSUANT TO 17 U.S.C. SECTION 107 AND 108. IN THE EVENT THAT THE LIBRARY DETERMINES THAT UNLAWFUL COPYING OF THIS WORK HAS OCCURRED, THE LIBRARY HAS THE RIGHT TO BLOCK THE I.P. ADDRESS AT WHICH THE UNLAWFUL COPYING APPEARED TO HAVE OCCURRED. THANK YOU FOR RESPECTING THE RIGHTS OF COPYRIGHT OWNERS.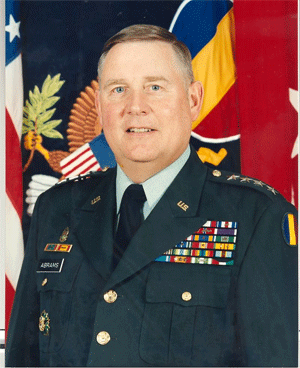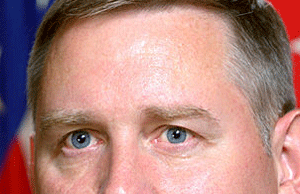 John N. Abrams
General John N. Abrams
Born September 3, 1946 (age 71)
Cumberland, Maine
Allegiance United States United States of America
Service/branch United States Army
Years of service 1966–2002
Rank US-O10 insignia.svg General
Commands held Training and Doctrine Command
11th Armored Cavalry Regiment
Joint Task Force Kuwait
2nd Infantry Division
V Corps
Battles/wars Vietnam War
Relations GEN Creighton Abrams (father)
BG Creighton W. Abrams III (brother)
GEN Robert B. Abrams (brother)
Other work Military analyst, Associated Press
General John Nelson Abrams (born September 3, 1946) is a retired United States Army four-star general who commanded the United States Army Training and Doctrine Command from 1998 to 2002. He is the son of former Army Chief of Staff, General Creighton W. Abrams, Jr. and his two brothers were also Army general officers.
Military career
Abrams was born on September 3, 1946 in Cumberland, Maine.[1] He received his commission through Officer Candidate School in 1966, after enlisting as a tank crewman in 1966.[2] His commands have included the 11th Armored Cavalry Regiment, Joint Task Force Kuwait, 2nd Infantry Division, V Corps.,[2] and US Army Training and Doctrine Command.
As a young armor officer, Abrams served two years in Vietnam, rising from platoon leader to troop commander. Toward the end of his tour, Abrams commanded an armored cavalry troop in the Mang Yang Pass, where he established such good relations with the Montagnard villagers that a local village chief gave him an elephant. "Isn't that great, Dad?" he asked his father Creighton, who at the time was commander of all U.S. forces in Vietnam. "Well, let me tell you, I knew he was in trouble," Creighton Abrams recounted later. "I asked him if he knew what it meant for a Montagnard village chief to give someone an elephant, and of course he just thought it was a nice thing for the guy to do. Well, sir, I told him in no uncertain terms, 'John, you better pack up and leave that area quick, 'cause you are now engaged to be married to a Montagnard woman. That elephant is a wedding gift!'" John Abrams married Cecilia Bosico in 1969, after a courtship that did not involve an elephant.[3]
In his tour as Commander of the Second Infantry Division he was promoted to Major General and stationed at Camp Red Cloud, near Uijeongbu, Republic of Korea near the Olympic Velodrome. During Operation Desert Storm he could view the combat area by live satellite imaging and see his brother's unit, Gen Creighton Abrams, III, who was the Artillery Commander for Desert Storm.
Major General Abrams was active in community affairs and worked with the Amerasian Children's Fund, The Pearl Buck Association and the American Red Cross. He redesigned the 2nd Infantry Division (2nd ID) logo to depict a "handsome Indian" and placed this design on another of his creations, the 2nd ID sports jacket. He also designed and produced a 2nd ID sports cap. He was instrumental in improving morale to this combat unit and community support from the Korean civilians. The original drawings, art work, and first production runs were kept by Col. G F (Coach) Sweetman, who was responsible for their production.
After completing his tour in Korea, he was promoted to Lieutenant General and assigned as commander of V Corps in Germany, a unit also commanded by Lt. Gen Colin Powell. He was the second officer in U.S. Army history to command the same unit as his father, the other being General George Smith Patton.
In 1998 he was promoted to general and assigned as Commander, United States Army Training and Doctrine Command (TRADOC), which oversees all training in the U.S. Army. He held this position until his retirement in 2002.
Abrams received his Bachelor of Science degree in Business Administration from Bowling Green University, a Master of Science degree in Public Administration from Shippensburg University, and an honorary Doctor of Education degree from Norwich University.[4]
Awards and Decorations
Army Staff Identification Badge
11th Armored Cavalry Regiment Distinctive Unit Insignia[2]
Army Distinguished Service Medal with oak leaf cluster
Silver Star with oak leaf cluster
Legion of Merit with two oak leaf clusters
Bronze Star with Valor Device and three oak leaf clusters
Purple Heart
Meritorious Service Medal
Air Medal with award numeral 2
Army Commendation Medal with oak leaf cluster
Army Achievement Medal with oak leaf cluster
National Defense Service Medal with two bronze service stars
Vietnam Service Medal with one silver and one bronze service star
Southwest Asia Service Medal with 1 bronze service star
Armed Forces Service Medal
Army Service Ribbon
Overseas Service Ribbon with Award numeral 5
NATO Medal for Former Yugoslavia
Vietnam Gallantry Cross with silver star and two bronze stars
Gallantry Cross Unit Citation Ribbon
Civil Actions Unit Citation Ribbon
Vietnam Campaign Medal
Kuwait Liberation Medal (Kuwait)
Post military
After retiring, Abrams became a military analyst for the Associated Press.[2] He is the President and Chief Executive Officer of Abrams Learning & Information Systems, Inc., a consulting and technology firm.[4]
See also
The first father-son U. S. Army Generals to command the same unit were George S. Patton, Jr. and George S. Patton IV, commanding the 2nd Armored Division.
Another Link between Patton and Abrams families was that Creighton, John's father, was Patton's spearhead commander in World War II, where Patton praised him as being the only tank commander equal to himself.[5]
Images gallery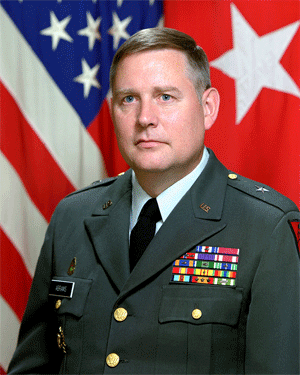 General Abrams, 1990
References
1. "General Officer Announcement 334-98". U.S. Department of Defense. June 30, 1998.
2. "AP Signs Four-Star General for Military Expertise".
3. Sorley, Lewis (1992). "Thunderbolt - From the Battle of the Bulge to Vietnam and Beyond: General Creighton Abrams and the Army of His Times". New York: Simon & Schuster: 294–295
4. ALIS Inc. Management Team Archived 2012-03-28 at the Wayback Machine.
5. "Nation: Pattern's Peer". Time. 14 April 1967.