Silent Spring, by Rachel Carson

Posted:
Mon Aug 03, 2015 11:44 pm
Silent Spring
by Rachel Carson © 1962 by Rachel L. Carson
Copyright © renewed 1990 by Roger Christie
Introduction copyright © 2002 by Linda Lear
Afterword copyright © 2002 by Edward O. Wilson
NOTICE: THIS WORK MAY BE PROTECTED BY COPYRIGHT
YOU ARE REQUIRED TO READ

THE COPYRIGHT NOTICE AT THIS LINK

BEFORE YOU READ THE FOLLOWING WORK, THAT IS AVAILABLE SOLELY FOR PRIVATE STUDY, SCHOLARSHIP OR RESEARCH PURSUANT TO 17 U.S.C. SECTION 107 AND 108. IN THE EVENT THAT THE LIBRARY DETERMINES THAT UNLAWFUL COPYING OF THIS WORK HAS OCCURRED, THE LIBRARY HAS THE RIGHT TO BLOCK THE I.P. ADDRESS AT WHICH THE UNLAWFUL COPYING APPEARED TO HAVE OCCURRED. THANK YOU FOR RESPECTING THE RIGHTS OF COPYRIGHT OWNERS.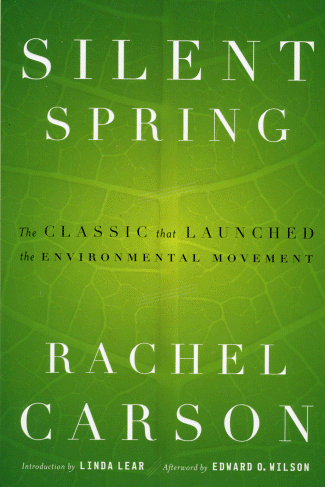 To Albert Schweitzer who said "Man has lost the capacity to foresee and to forestall. He will end by destroying the earth."
Table of Contents:
• Acknowledgments
• Introduction by Linda Lear
• 1 A FABLE FOR TOMORROW
• 2 THE OBLIGATION TO ENDURE
• 3 ELIXIRS OF DEATH
• 4 SURFACE WATERS AND UNDERGROUND SEAS
• 5 REALMS OF THE SOIL
• 6 EARTH'S GREEN MANTLE
• 7 NEEDLESS HAVOC
• 8 AND NO BIRDS SING
• 9 RIVERS OF DEATH
• 10 INDISCRIMINATELY FROM THE SKIES
• 11 BEYOND THE DREAMS OF THE BORGIAS
• 12 THE HUMAN PRICE
• 13 THROUGH A NARROW WINDOW
• 14 ONE IN EVERY FOUR
• 15 NATURE FIGHTS BACK
• 16 THE RUMBLINGS OF AN AVALANCHE
• 17 THE OTHER ROAD
• List of Principal Sources
• Afterword by Edward O. Wilson
• Index
"Perhaps no community has suffered more for the sake of a beetleless world than Sheldon, in eastern Illinois, and adjacent areas in Iroquois County. In 1954 the United States Department of Agriculture and the Illinois Agriculture Department began a program to eradicate the Japanese beetle along the line of its advance into Illinois, holding out the hope, and indeed the assurance, that intensive spraying would destroy the populations of the invading insect. The first "eradication" took place that year, when dieldrin was applied to 1400 acres by air. Another 2600 acres were treated similarly in 1955, and the task was presumably considered complete. But more and more chemical treatments were called for, and by the end of 1961, some 131,000 acres had been covered. Even in the first years of the program it was apparent that heavy losses were occurring among wildlife and domestic animals. The chemical treatments were continued, nevertheless, without consultation with either the United States Fish and Wildlife Service or the Illinois Game Management Division. (In the spring of 1960, however, officials of the federal Department of Agriculture appeared before a congressional committee in opposition to a bill that would require just such prior consultation. They declared blandly that the bill was unnecessary because cooperation and consultation were "usual." These officials were quite unable to recall situations where cooperation had not taken place "at the Washington level." In the same hearings they stated clearly their unwillingness to consult with state fish and game departments.)

Although funds for chemical control came in never-ending streams, the biologists of the Illinois Natural History Survey who attempted to measure the damage to wildlife had to operate on a financial shoestring. A mere $1100 was available for the employment of a field assistant in 1954 and no special funds were provided in 1955. Despite these crippling difficulties, the biologists assembled facts that collectively paint a picture of almost unparalleled wildlife destruction -- destruction that became obvious as soon as the program got under way.

Conditions were made to order for poisoning insect-eating birds, both in the poisons used and in the events set in motion by their application. In the early programs at Sheldon, dieldrin was applied at the rate of 3 pounds to the acre. To understand its effect on birds one need only remember that in laboratory experiments on quail dieldrin has proved to be about 50 times as poisonous as DDT. The poison spread over the landscape at Sheldon was therefore roughly equivalent to 150 pounds of DDT per acre! And this was a minimum, because there seems to have been some overlapping of treatments along field borders and in corners.

As the chemical penetrated the soil the poisoned beetle grubs crawled out on the surface of the ground, where they remained for some time before they died, attractive to insect-eating birds. Dead and dying insects of various species were conspicuous for about two weeks after the treatment. The effect on the bird populations could easily have been foretold. Brown thrashers, starlings, meadowlarks, grackles, and pheasants were virtually wiped out. Robins were "almost annihilated," according to the biologists' report. Dead earthworms had been seen in numbers after a gentle rain; probably the robins had fed on the poisoned worms. For other birds, too, the once beneficial rain had been changed, through the evil power of the poison introduced into their world, into an agent of destruction. Birds seen drinking and bathing in puddles left by rain a few days after the spraying were inevitably doomed.

The birds that survived may have been rendered sterile. Although a few nests were found in the treated area, a few with eggs, none contained young birds.

Among the mammals ground squirrels were virtually annihilated; their bodies were found in attitudes characteristic of violent death by poisoning. Dead muskrats were found in the treated areas, dead rabbits in the fields. The fox squirrel had been a relatively common animal in the town; after the spraying it was gone.

It was a rare farm in the Sheldon area that was blessed by the presence of a cat after the war on beetles was begun. Ninety per cent of all the farm cats fell victims to the dieldrin during the first season of spraying. This might have been predicted because of the black record of these poisons in other places. Cats are extremely sensitive to all insecticides and especially so, it seems, to dieldrin. In western Java in the course of the antimalarial program carried out by the World Health Organization, many cats are reported to have died. In central Java so many were killed that the price of a cat more than doubled. Similarly, the World Health Organization, spraying in Venezuela, is reported to have reduced cats to the status of a rare animal.

In Sheldon it was not only the wild creatures and the domestic companions that were sacrificed in the campaign against an insect. Observations on several flocks of sheep and a herd of beef cattle are indicative of the poisoning and death that threatened livestock as well. The Natural History Survey report describes one of these episodes as follows:

The sheep ... were driven into a small, untreated bluegrass pasture across a gravel road from a field which had been treated with dieldrin spray on May 6. Evidently some spray had drifted across the road into the pasture, for the sheep began to show symptoms of intoxication almost at once ... They lost interest in food and displayed extreme restlessness, following the pasture fence around and around apparently searching for a way out ... [They] refused to be driven, bleated almost continuously, and stood with their heads lowered; they were finally carried from the pasture ... They displayed great desire for water. Two of the sheep were found dead in the stream passing through the pasture, and the remaining sheep were repeatedly driven out of the stream, several having to be dragged forcibly from the water. Three of the sheep eventually died; those remaining recovered to all outward appearances.

***

Incidents like the eastern Illinois spraying raise a question that is not only scientific but moral. The question is whether any civilization can wage relentless war on life without destroying itself, and without losing the right to be called civilized.

These insecticides are not selective poisons; they do not single out the one species of which we desire to be rid. Each of them is used for the simple reason that it is a deadly poison. It therefore poisons all life with which it comes in contact: the cat beloved of some family, the farmer's cattle, the rabbit in the field, and the horned lark out of the sky. These creatures are innocent of any harm to man. Indeed, by their very existence they and their fellows make his life more pleasant. Yet he rewards them with a death that is not only sudden but horrible. Scientific observers at Sheldon described the symptoms of a meadowlark found near death: "Although it lacked muscular coordination and could not fly or stand, it continued to beat its wings and clutch with its toes while lying on its side. Its beak was held open and breathing was labored." Even more pitiful was the mute testimony of the dead ground squirrels, which "exhibited a characteristic attitude in death. The back was bowed, and the forelegs with the toes of the feet tightly clenched were drawn close to the thorax ... The head and neck were outstretched and the mouth often contained dirt, suggesting that the dying animal had been biting at the ground."

By acquiescing in an act that can cause such suffering to a living creature, who among us is not diminished as a human being?

***

"The means by which insects resist chemicals probably vary and as yet are not thoroughly understood. Some of the insects that defy chemical control are thought to be aided by a structural advantage, but there seems to be little actual proof of this. That immunity exists in some strains is clear, however, from observations like those of Dr. Briejer, who reports watching flies at the Pest Control Institute at Springforbi, Denmark, "disporting themselves in DDT as much at home as primitive sorcerers cavorting over red-hot coals."

Dr. Briejer says:

'It is more than clear that we are traveling a dangerous road. ... We are going to have to do some very energetic research on other control measures, measures that will have to be biological, not chemical. Our aim should be to guide natural processes as cautiously as possible in the desired direction rather than to use brute force . ...

We need a more high-minded orientation and a deeper insight, which I miss in many researchers. Life is a miracle beyond our comprehension, and we should reverence it even where we have to struggle against it.... The resort to weapons such as insecticides to control it is a proof of insufficient knowledge and of an incapacity so to guide the processes of nature that brute force becomes unnecessary. Humbleness is in order; there is no excuse for scientific conceit here.'"

-- "Silent Spring," by Rachel Carson