WAR, PROGRESS, AND THE END OF HISTORY, INCLUDING A SHORT STO

Posted:
Thu Jul 16, 2015 8:28 am
War, Progress, and the End of History, Including a Short Story of the Anti-Christ: Three Discussions
by Vladimir Soloviev
Translated from the Russian by Alexander Bakshy
With a biographical notice by Dr. Hagberg Wright
University of London Press, 1915
NOTICE: THIS WORK MAY BE PROTECTED BY COPYRIGHT
YOU ARE REQUIRED TO READ

THE COPYRIGHT NOTICE AT THIS LINK

BEFORE YOU READ THE FOLLOWING WORK, THAT IS AVAILABLE SOLELY FOR PRIVATE STUDY, SCHOLARSHIP OR RESEARCH PURSUANT TO 17 U.S.C. SECTION 107 AND 108. IN THE EVENT THAT THE LIBRARY DETERMINES THAT UNLAWFUL COPYING OF THIS WORK HAS OCCURRED, THE LIBRARY HAS THE RIGHT TO BLOCK THE I.P. ADDRESS AT WHICH THE UNLAWFUL COPYING APPEARED TO HAVE OCCURRED. THANK YOU FOR RESPECTING THE RIGHTS OF COPYRIGHT OWNERS.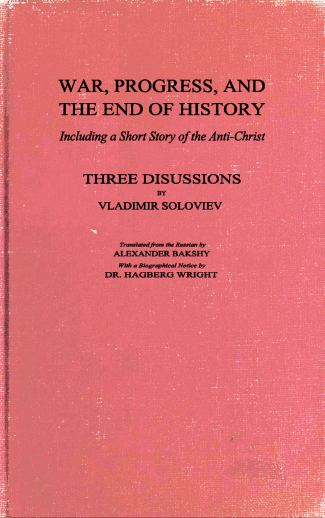 Table of Contents:
• Biographical Notice
• Translator's Preface
• Author's Preface
• First Discussion
• Second Discussion
• Third Discussion
• A Short Story of the Anti-Christ
Through all the works of Soloviev there runs one cardinal thought: the idea of the evolution of the world which has made humanity a factor in the life of Deity itself, has imbued it with God's spirit in the form of

"God-human-ness"

and has destined it for a final union with God "the all-unity" by overcoming that power which, though emanating from God, has severed itself from Him, has created the material world, and has been the cause of existing evil....Soloviev was not alone in these hopes of God's Kingdom on Earth, and of the mission of Russia in their realisation. He shared them and, moreover, practically worked them out in close co-operation with his friend, Dostoievsky, who, for his own part, gave expression to them in his famous novel, "The Brothers Karamazov." But towards the close of his life, Soloviev began to see things differently. No longer could he believe in the realisation of God's Kingdom in this world. Only by a complete victory over the world that is sunk in evil, only by a general resurrection of all living beings could the unity with the "All-One" be achieved. And this end will be attained, not through the union of the State and the Church, led and headed by the spiritual power of Russia, as he previously believed, but by means of the union of true Christians of all persuasions, fighting against those who regard this world as the only Kingdom of God.

***

MR. Z. By what logic would it be possible to appraise highly the moral victories of Socrates' good over the moral microbes of bad passions within him and over the social microbes of the Athenian agora, if the real victors would after all be the much worse, baser, and coarser microbes of physical decomposition? Here no moral verbiage will protect you against utter pessimism and despair.

POLITICIAN. We have heard this before. What is your remedy against despair?

MR. Z. Our remedy is one: actual resurrection. We know that the struggle between good and evil is not confined only to soul or society, but is carried on in the deeper spheres of the physical world. We already have recorded in the past one victory of the good power of life -- the personal resurrection of One, and we are looking forward to future victories of the congregate resurrection of all. Here even evil is given its reason or the final explanation of its existence in that it serves to enhance the triumph, realisation, and power of good: if death is more powerful than mortal life, resurrection to external life is even more powerful than both of them. The Kingdom of God is the kingdom of life triumphing through resurrection -- in which life there lies the real, actual, and final good. In this rests all the power and work of Christ, in this His real love to us and ours to Him; whereas all the other things are only the condition, the path, the preliminary steps. Without the faith in the accomplished resurrection of One, and without cherishing the future resurrection of all men, all talk of some Kingdom of God remains nothing but words, whilst in reality one finds only the Kingdom of Death.... The real victory over evil in the real resurrection. Only this, I repeat, opens the real Kingdom of God, whereas without it you have only the kingdom of death and sin and their creator, the Devil. The resurrection, and not in its metaphorical, but in its literal meaning -- here is the testimony of the true God.

-- War, Progress and the End of History, by Vladimir Soloviev