THE PRACTICE OF THE ANCIENT TURKISH FREEMASONS: THE KEY TO T

Posted:
Mon Sep 21, 2015 11:49 pm
The Practice of the Ancient Turkish Freemasons: The Key to the Understanding of Alchemy. A Presentation of the Ritual, Doctrine and Signs of Recognition Among the Oriental Freemasons
by Baron Rudolf von Sebottendorf
1924
translated from the German by Stephen E. Flowers,
Translation © 2000, by Runa-Raven Press
NOTICE: THIS WORK MAY BE PROTECTED BY COPYRIGHT
YOU ARE REQUIRED TO READ

THE COPYRIGHT NOTICE AT THIS LINK

BEFORE YOU READ THE FOLLOWING WORK, THAT IS AVAILABLE SOLELY FOR PRIVATE STUDY, SCHOLARSHIP OR RESEARCH PURSUANT TO 17 U.S.C. SECTION 107 AND 108. IN THE EVENT THAT THE LIBRARY DETERMINES THAT UNLAWFUL COPYING OF THIS WORK HAS OCCURRED, THE LIBRARY HAS THE RIGHT TO BLOCK THE I.P. ADDRESS AT WHICH THE UNLAWFUL COPYING APPEARED TO HAVE OCCURRED. THANK YOU FOR RESPECTING THE RIGHTS OF COPYRIGHT OWNERS.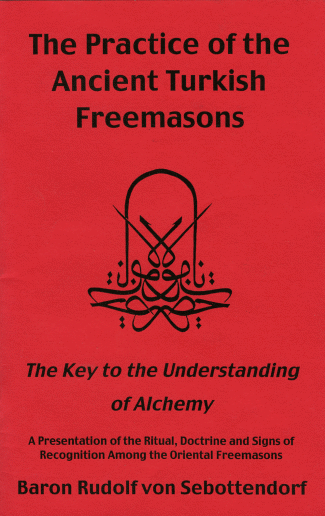 Dedicated to the Memory of the Former Secretary of the Turkish Embassy in Bern, Mr. P. Schwidtal
Table of Contents:
• Introduction
• I. Practice
• II. Theory
• III. Theory and Practice
• Conclusion
• Translator's Notes
The Main Work: Daily 5 to 10 minutes. Repeat the indicated exercises of the preliminary work for seven days. After the sixth day move the index finger of your angled hand, after it has been animated by Sa, to your nose. If you smell a slight sulphurous odor, you can proceed. If such is not the case, you must exercise for seven days longer.

Daily 10 minutes, 14 days long: The I is formed and animated by Si, Si, Si. When warmth is felt the hand is dropped and the A is formed, animated by the formula alam. The hand is moved into the Neck-grip at the neck, constantly repeating the formula. After a while remove the hand sharply. Then the O is formed again as before. After 14 days the bitter taste of mercuric chloride will be perceived if the index finger of the angled hand is placed on the tongue.

Daily 10 minutes, 14 days. The student forms the I sign, which he animates with Si, then the A-sign, which he animates with:

two days Alam
two days alamas
seven days alar
three days alamar

After the first four days there will be a perceptible slaty taste when one puts the index finger of the angled hand on the tongue. Then it is time to sharpen one's vision. If the student perceives a black shadow, this part of the work is finished....

Once the student has glimpsed the blackish shadow, this day is to be celebrated as the beginning of a new life -- the student receives his lodge-name....

The colors that the student slowly begins to see are: out of the blackish shadow evolves a blue, then a light red that soon fades into a pale green that becomes fresher from day to day. Once the green appears very clearly, this work is finished.

The student changes to the Middle-grip, with which the formulas alam, yas, sa, cham come into use. The developing colors show an intricate interplay and finally fade into a yellowish white. By means of the Master-grip and the formulas: cham, cham asak, ka this yellowish white is transformed into a brilliant white, which the mystics of the Orient cannot praise enough. The Pursuant Work shall turn this white into a magnificent red....

With this the work of the Oriental Mason is finished (the work upon one's self). From a raw, uneven stone he has become a cubical one....

The words of recognition are: key, water, fire, level, black, white, red, rose, stone. As will be understood later, these words describe the entire work....

We must only further discuss the pronunciation of the Arabic words. They are to be pronounced as they are written, the transcription is very precise. The S is pronounced like a Z, as is the Z also. So one does not say natzim but rather nazim. With words of more than one syllable the emphasis is on the second syllable, alam - alám. The CH is a guttural which may cause some difficulties. It is harder than the ch in German ach, and tends more toward the k-sound. In Arabic the Science of the Key is also called the Science of the Scale: Ilm el Nazan....

In order to forestall the idea that the present book is any sort of betrayal, it must be said that it has been written by command of the chiefs of the order. The reason is as follows: The so-called civilized world has been overcome by a great organization of infidels -- monstrous in extent -- and religious institutions have already been undermined by this to such a degree that they are not able to mount any unified resistance. In this emergency the Islamic brothers remembered that the tradition says that in earlier times the science was known in Europe. They sought and investigated -- and found -- in the writings of the Rosicrucians and those of the alchemists that these exemplified the Science of the Key in their books perfectly. The assignment is to make people aware of this and to show seekers the way; the requirements of the times allows any consideration against publication to vanish. May the truth of the process of victory begin and the clouds of darkness slowly, but all the more surely, disperse, "alam."

-- The Practice of the Ancient Turkish Freemasons, by Baron Rudolf von Sebottendorf