Being and Time, by Martin Heidegger

Posted:
Sun Mar 04, 2018 2:27 am
Being and Time
by Martin Heidegger
Translated by John Macquarrie & Edward Robinson
Copyright Blackwell Publishers Ltd 1962
NOTICE: THIS WORK MAY BE PROTECTED BY COPYRIGHT
YOU ARE REQUIRED TO READ

THE COPYRIGHT NOTICE AT THIS LINK

BEFORE YOU READ THE FOLLOWING WORK, THAT IS AVAILABLE SOLELY FOR PRIVATE STUDY, SCHOLARSHIP OR RESEARCH PURSUANT TO 17 U.S.C. SECTION 107 AND 108. IN THE EVENT THAT THE LIBRARY DETERMINES THAT UNLAWFUL COPYING OF THIS WORK HAS OCCURRED, THE LIBRARY HAS THE RIGHT TO BLOCK THE I.P. ADDRESS AT WHICH THE UNLAWFUL COPYING APPEARED TO HAVE OCCURRED. THANK YOU FOR RESPECTING THE RIGHTS OF COPYRIGHT OWNERS.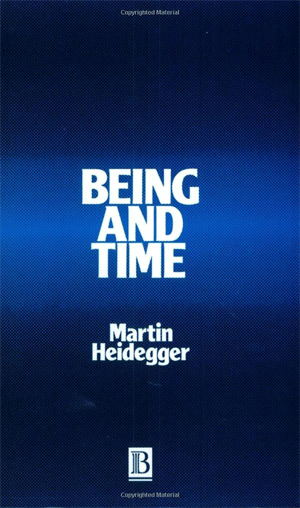 Dedicated to Edmund Husserl in friendship and admiration, Todtnauberg in Baden, Black Forest, 8 April 1926
Table of Contents:
[
PDF HERE
]
[Page references marked 'H' indicate the pagination of ihe later German editions, as shown in the outer margins of the text.]
• Translators' Preface
• Author's Preface to the Seventh German Edition
• Introduction: Exposition of the Question of the Meaning of Being H. 2
• I. THE NECESSITY, STRUCTURE, AND PRIORITY OF THE QUESTION OF BEING H. 2
• 1. The necessity for explicitly restating the question of Being H.2
• 2. The formal structure of the question of Being H.5
• 3. The ontological priority of the question of Being H.8
• 4. The ontical priority of the question of Being H.11
• II. THE TWOFOLD TASK IN WORKING OUT THE QUESTION OF BEING. METHOD AND DESIGN OF OUR INVESTIGATION H. 15
• 5. The ontological analytic of Dasein as laying bare the horizon for an Interpretation of the meaning of Being in general H. 15
• 6. The task of Destroying the history of ontology H. 19
• 7. The phenomenological method of investigation H. 17
A. The concept of phenomenon H. 27
B. The concept of the logos H. 32
• C. The preliminary conception of phenomenology H. 34
• 8. Design of the treatise H. 39
• Part One: The Interpretation of Dasein in Terms of Temporality, and the Explication of Time as the Transcendental Horizon for the Question of Being
• DIVISION ONE: PREPARATORY FUNDAMENTAL ANALYSIS OF DASEIN
• I. EXPOSITION OF THE TASK OF A PREPARATORY ANALYSIS OF DASEIN H. 41
• 9. The theme of the analytic of Dasein H. 41
• 10. How the analytic of Dasein is to be distinguished from anthropology, psychology, and biology H. 45
• 11. The existential analytic and the Interpretation of primitive Dasein. The difficulties of achieving a 'natural conception of the world' H. 50
• II. BEING-IN-THE-WORLD IN GENERAL AS THE BASIC STATE OF DASEIN H. 52
• 12. A preliminary sketch of Being-in-the-world, in terms of an orientation towards Being-in as such H. 52
• 13. A founded mode in which Being-in is exemplified. Knowing the world H. 59
• III. THE WORLDHOOD OF THE WORLD H. 63
• 14. The idea of the worldhood of the world in general H. 63
A. Analysis of environmentality and worldhood in general H. 66
• 15. The Being of the entities encountered in the environment H. 66
• 16. How the worldly character of the environment announces itself in entities within-the-world H. 72
• 17. Reference and signs H. 76
• 18. Involvement and significance: the worldhood of the world H. 83
B. A contrast between our analysis of worldhood and Descartes' Interpretation of the world H. 89
• 19. The definition of the 'world' as res extensa H. 89
• 20. Foundations of the ontological definition of the 'world' H. 92
• 21. Hermeneutical discussion of the Cartesian ontology of the 'world' H. 95
C. The aroundness of the environment, and Dasein' s spatiality H. 101
• 22. The spatiality of the ready-to-hand within-the-world H. 102
• 23. The spatiality of Being-in-the-world H. 104
• 24. Space, and Dasein's spatiality H. 110
• IV. BEING-IN-THE-WORLD AS BEING-WITH AND BEING ONE'S-SELF. THE 'THEY' H. 113
• 25. An approach to the existential question of the "who" of Dasein H. 114
• 26. The Dasein-with of Others, and everyday Being-with H. 117
• 27. Everyday Being-one's-Self and the "they" H. 126
• V. BEING-IN AS SUCH
• 28. The task of a thematic analysis of Being-in H. 130
A. The existential Constitution of the "there" H. 134
• 29. Being-there as state-of-mind H. 134
• 30. Fear as a mode of state-of-mind H. 140
• 31. Being-there as understanding H. 142
• 32. Understanding and interpretation H. 148
• 33. Assertion as a derivative mode of interpretation H. 153
• 34. Being-there and discourse. Language H. 160
B. The everyday Being of the "there"' and the falling of Dasein H. 166
• 35. Idle talk H. 167
• 36. Curiosity H. 170
• 37. Ambiguity H. 173
• 38. Falling and thrownness H. 175
• VI. CARE AS THE BEING OF DASEIN H. 180
• 39. The question of the primordial totality of Dasein's structural whole H. 180
• 40. The basic state-of-mind of anxiety as a distinctive way in which Dasein is disclosed H. 184
• 41. Dasein's Being as care H. 191
• 42. Confirmation of the existential Interpretation of Dasein as care in terms of Dasein's pre-ontological way of interpreting itself H. 196
• 43. Dasein, worldhood, and Reality H. 200
(a) Reality as a problem of Being, and whether the 'external world' can be proved H. 202
(b) Reality as an ontological problem H. 209
(c) Reality and care H. 211
• 44. Dasein, disclosedness, and truth H. 212
(a) The traditional conception of truth, and its ontological foundations H. 214
(b) The primordial phenomenon of truth and the derivative character of the traditional conception of truth H. 219
(c) The kind of Being which truth possesses, and the presupposition of truth H. 226
• DIVISION TWO: DASEIN AND TEMPORALITY
• 45. The outcome of the preparatory fundamental analysis of Dasein, and the task of a primordial existential Interpretation of this entity H. 231
• I. DASEIN'S POSSIBILITY OF BEING-A-WHOLE, AND BEING-TOWARDS-DEATH H. 235
• 46. The seeming impossibility of getting Dasein's Being-a-whole into our grasp ontologically and determining its character H. 235
• 47. The possibility of experiencing the death of Others, and the possibility of getting a whole Dasein into our grasp H. 237
• 48. That which is still outstanding; the end; totality H. 241
• 49. How the existential analysis of death is distinguished from other possible Interpretations of this phenomenon H. 246
• 50. Preliminary sketch of the existential-ontological structure of death H. 249
• 51. Being-towards-death and the everydayness of Dasein H. 252
• 52. Everyday Being-towards-the-end, and the full existential conception of death H. 255
• 53. Existential projection of an authentic Being-towards-death H. 260
• II. DASEIN'S ATTESTATION OF AN AUTHENTIC POTENTIALITY-FOR-BEING, AND RESOLUTENESS H. 267
• 54. The problem of how an authentic existentiell possibility is attested H. 267
• 55. The existential-ontological foundations of conscience H. 270
• 56. The character of conscience as a call H. 272
• 57. Conscience as the call of care H. 274
• 58. Understanding the appeal, and guilt H. 280
• 59. The existential Interpretation of the conscience, and the way conscience is ordinarily interpreted H. 289
• 60. The existential structure of the authentic potentiality-for-Being which is attested in the conscience H. 295
• III. DASEIN'S AUTHENTIC POTENTIALITY-FOR-BEING-AWHOLE, AND TEMPORALITY AS THE ONTOLOGICAL MEANING OF CARE H. 301
• 61. A preliminary sketch of the methodological step from the definition of Dasein's authentic Being-a-whole to the laying-bare of temporality as a phenomenon H. 301
• 62. Anticipatory resoluteness as the way in which Dasein's potentiality-for-Being-a-whole has existentiell authenticity H. 305
• 63. The hermeneutical situation at which we have arrived for Interpreting the meaning of the Being of care; and the methodological character of the existential analytic in general H. 310
• 64. Care and selfhood H. 316
• 65. Temporality as the ontological meaning of care H. 323
• 66. Dasein's temporality and the tasks arising therefrom of repeating the existential analysis in a more primordial manner H. 331
• IV. TEMPORALITY AND EVERYDAYNESS H. 334
• 67. The basic content of Dasein's existential constitution, and a preliminary sketch of the temporal Interpretation of it H. 334
• 68. The temporality of disclosedness in general H. 335
(a) The temporality of understanding H. 336
(b) The temporality of state-of-mind H. 339
(c) The temporality of falling H. 346
(d) The temporality of discourse H. 349
• 69. The temporality of Being-in-the-world and the problem of the transcendence of the world H. 350
(a) The temporality of circumspective concern H. 352
(b) The temporal meaning of the way in which circumspective concern becomes modified into the theoretical discovery of the present-at-hand within-the-world H. 356
(c) The temporal problem of the transcendence of the world H. 364
• 70. The temporality of the spatiality that is characteristic of Dasein H. 367
• 71. The temporal meaning of Dasein's everydayness H. 370
• V. TEMPORALITY AND HISTORICALITY H. 372
• 72. Existential-ontological exposition of the problem of history H. 372
• 73. The ordinary understanding of history, and Dasein's historizing H. 378
• 74. The basic constitution of historicality H. 382
• 75. Dasein's historicality, and world-history H. 387
• 76. The existential source of historiology in Dasein's historicality H. 392
• 77. The connection of the foregoing exposition of the problem of historicality with the researches of Wilhelm Dilthey and the ideas of Count Yorck H. 397
• VI. TEMPORALITY AND WITHIN-TIME-NESS AS THE SOURCE OF THE ORDINARY CONCEPTION OF TIME H. 404
• 78. The incompleteness of the foregoing temporal analysis of Dasein H. 404
• 79. Dasein's temporality, and our concern with time H. 406
• 80. The time with which we concern ourselves, and within-time-ness H. 411
• 81. Within-time-ness and the genesis of the ordinary conception of time H. 420
• 82. A comparison of the existential-ontological connection of temporality, Dasein, and worldtime, with Hegel's way of taking the relation between time and spirit H. 428
(a) Hegel's conception of time H. 428
(b) Hegel's Interpretation of the connection between time and spirit H. 433
• 83. The existential-temporal analytic of Dasein, and the question of fundamental ontology as to the meaning of Being in general H. 436
• Author's Notes
• Glossary of German Terms
• Index