Re: Hitler's Mentor: Dietrich Eckart, His Life, Times, & Mil

Posted:
Sat Dec 01, 2018 9:00 pm
7: The Thule Society: Precursor of Nazism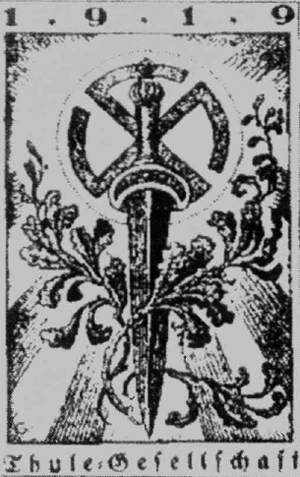 The Thule Society's Insignia
"Must Germans give the world a new species? It ... seems like it!"

-- Rudolf von Sebottendorf
Germany's Secret Orders
A case can be made that Nazism lasted from Walpurgis Night (April 30th,) 1919 when communists shot Thule Society hostages, to Walpurgis Night, 1945, the date of Hitler's suicide. The Nazi Party grew out of Rudolf von Sebottendorf's Die Thule Gesellschaft, which combined Pan-German racism, the occult, and a working class political movement. This organization was a secret lodge that pretended to trace its roots from the mystery cults of Atlantis.
According to popular tradition the Knights Templar and Hospitallers rediscovered "Atlantean" rites through Moslem sources during the Crusades. After Philip the Fair of France colluded with Pope Clement V to massacre the Knights Templar in 1313, some of its survivors went underground. They passed on esoteric lore that eventually resurfaced in Freemasonry, Rosicrucianism, and Ariosophy.
The first German secret society to adopt a code of conduct similar to the Knights Templar was The Holy Vehm, whose name derived from the Arab word Fehm (Divine Wisdom). The Vehm began operating in Westphalia during the late Middle Ages. Principally a guerilla organization, it meted out swift, draconian justice in war-torn 16th Century Germany. Members held tribunals in the woods. They punished "outlawry" with summary execution. Crimes meriting death included murder, rape, sacrilege, robbery, treason, vagrancy, and "arbitrary eccentricity," a catch-all category which enabled vigilantes to "whack" any non-conformists who rubbed them the wrong way. Vehm "law" condemned fleeing offenders in absentia as follows:
"The neck of the convict is consigned to the halter... his body to the birds and wild beasts. His estates are declared forfeit, his wife a widow, his children orphans ... Any three initiated that meet him are ... enjoined to hang him on the nearest tree." [1]
The Vehm's gang culture resembled such organizations as the Indian Thugs, Chinese Tongs, and Sicilian Mafia. Men with family or tribal ties formed a shadow government which opposed a state run by foreigners. Sicily's conquest by Greeks, Romans, and the French spurred natives to develop their own secret order bound by an internal hierarchy, blood ties, rituals, custom, and "Omerta," the code of silence. Most oppressed countries spawn similar orders. Both the Thule Society and Dietrich Eckart's Onoldia dueling fraternity were vestiges of the old German Vehm. Hitler would later characterize Judaism as a worldwide "Vehm."
Because of their "Ku Klux Klan" character, German lodges were more militant than English and French counterparts. Prussian officers swelled the ranks of northern chapters. In the 19th Century these patriots worked first for the unity of the Reich and then for Pan-German domination of Middle Europe. With defeat in the air toward the end of 1917 German Order grandmasters bolstered German patriotism and punished defeatists.
In his book Before Hitler Came, Rudolf von Sebottendorf contended that modern Freemasonry had abandoned its mystical values by adopting the Scottish Rite's humanistic reforms in 1717. He argued for a return to the powerful "alchemical magic" of Muslim secret societies.
"It must be shown that Eastern Freemasonry still retains faithfully even today the ancient teachings of wisdom forgotten by modern Freemasonry, whose Constitution of 1717 was a departure from the true way ... No one can accuse me of profanation ... in uncovering these mysteries (which) communities of dervishes use in order to acquire special strength by means of unusual techniques... This high rite is the practical basis of Freemasonry .. .It inspired the work of the alchemists and Rosicrucians." [2]
Sebottendorf tried to model the Thule Society on his conception of Eastern Freemasonry. Like Guido von List he believed that the initiated could contact the Aryan race's "Spiritual Masters" by using ceremonial magic rituals. In this respect, Sebottendorf diverged from Theosophy. Helena P. Blavatsky, a self-described Buddhist, ultimately condemned both spiritualism and ceremonial magic as witchcraft, or misuse of occult forces. She denounced such magi as Eliphas Levi, Joseph Peladan, and Gerard Encausse as sorcerers. Her Mahatmas (Spiritual Masters of the White Brotherhood) chose their disciples and mediums from birth, and would not deign to communicate with bounders like Aleister Crowley who burned incense, mumbled incantations, and waved wands while garbed in capes and conical hats.
Although both Hitler and Eckart adopted Ariosophical doctrines into their belief systems, neither of them lent credence to ceremonial magic. Accounts which characterize Eckart as a shaman who ordained Hitler as a black priest may be dismissed as fabrications.
The Thule Society and National Socialist Party both emanated from the Germanen Orden founded by Theodore Fritsch, Philipp Stauff, Hermann Pohl, and others in 1912. The German Order attempted to unite various anti-Semitic splinter groups so that they could more effectively battle "the worldwide Jewish conspiracy." Hitler read Fritsch's Hammer Magazine and Handbook on the Jewish Question during his years as a struggling artist in Vienna, and Philipp Stuaff's racist articles while serving on the Western Front.
Der Hammerbund (Hammer Union), which Fritsch founded in 1905, anticipated Nazi ideology in many respects. Fritsch (1852-1934) was a Leipzig milling engineer who edited The Small Mills Journal in the 1880's. He became absolutely convinced of an international Jewish conspiracy by 1881 when he published Fire Balls, a collection of anti-Semitic articles. After writing The Anti-Semitic Catechism and Handbook on the Jewish Questions, he launched Hammer Magazine in 1902, and established the Hammer Union three years later. Like his disciple Dietrich Eckart, Fritsch claimed to be "above politics." He strove to counteract the "Jewish Plot" to take over Germany's economy by unifying anti-Semites of various regions, political persuasions, and religions into one body. On April 5, 1911 Fritsch and his compatriots founded the Grand German Lodge, a secret society of Pan-German anti-Semites dedicated to fighting "the Jewish Menace." They authorized Hermann Pohl, a sealer of weights and measures from Magdeburg, to rename this organization the German Order of Teutons and Volsungs a year later. The order copied rituals, secret passwords, fraternal handshakes, and regalia from other secret societies. Pohl promoted the Ariosophic theories of Guido von List, an Austrian crank who held that marriages between Germans and Jews cut off Aryans from their racial memory and innate psychic powers. Philipp Stauff published a directory of small anti-Semitic groups earmarked for absorption into the Germanen Orden, as well as a genealogical manual purporting to "expose" German noble families with Jewish blood.
Lawyer Johannes Hering of Munich belonged to Fritsch's Hammer Union, the German Order, and List Society. A Mason since 1894, he complained to his friend Philipp Stauff that Freemasonry had been infiltrated by Jews who introduced such seditious notions such as liberty, equality, and universal brotherhood.
The German Order did not enjoy much success prior to World War I, being dismissed by critics as a middle-aged men's lodge that met monthly to don funny-looking costumes, gab about elves and "the Jewish peril" over beers, then stumble home to bed. German Order chapters were concentrated in the northern cities. Nuremberg, the traditional hub of anti-Jewish sentiment in Bavaria, had less than fifty members.
In 1916 lawyer Georg Gaubatz showed his client Rudolf von Sebottendorf a newspaper ad for the German Order. Sebottendorf immediately contacted Hermann Pohl and soon met with him in Berlin. Pohl took his new acquaintance to a Germanen Orden meeting and initiated him. Sebottendorf obtained Pohl's nationalist mailing list and letter of introduction to Johannes Hering. With the help of wounded war veteran Walter Nauhaus, Sebottendorf began building up membership in Bavaria. He advertised, held meetings, lectured, and wrote articles for Runen Magazine and Alegemein Ordens Nachrichten, a newsletter he subsidized out of his own pocket. As a result of these efforts the Order's numbers in Munich increased to more than two hundred by spring, 1918. In fall of 1919 Sebottendorf's Bavarian province signed up over fifteen hundred "brothers." Bad times heightened receptivity to his message. Germany's 1918 defeat, communist uprisings, and the return of disgruntled veterans all contributed to the Germanen Orden's popularity.
To combat the "Jewish-Bolshevik Terror" Sebottendorf founded the Thule Society in July, 1918, first calling it the Study Group for German Antiquity. This organization promulgated anti-Semitism and an extreme brand of Aryan racism. Die Thule Gesellschaft's members consisted mostly of the same middle class businessmen, lawyers, doctors, and teachers who belonged to the German Order. When the Spartacist Revolt broke out in March 1919, Thulists backed the Friekorps, a counterrevolutionary army of demobilized soldiers. The Thule Society functioned as Germanen Orden's ad hoc committee for opposing socialistic anarchy.
To win over Germany's laboring classes to the volkisch cause, Sebottendorf directed Thulist associate Karl Harrer to start a workmen's discussion group hosted by railroad locksmith Anton Drexler in October, 1918. At the Furstenfelder Hof tavern on January 5, 1919 this "worker's circle" officially became The German Worker's Party, predecessor of the National Socialist Party. The Thule Society's Nuremburg branch simultaneously instituted the German Socialist Party under the leadership of Georg Grassinger and Julius Streicher (which later merged with the Nazis.)
Sebottendorf purchased the Munchener Beobachter (Munich Observer) from Franz Eher's estate in August, 1918. His shareholders sold it to Adolf Hitler and Dietrich Eckart of the German Workers Party in December, 1920. They renamed it the Volkischer Beobachter (People's Observer), chief Nazi tabloid from 1920 until 1945.
The Thule Society strongly influenced National Socialism. Thulists coopted the swastika from the Theosophical Society and used it as their logo. They constantly harped on the Aryan race's superiority and characterized Bolshevism as part of the "International Jewish Conspiracy." Sebottendorf raised money to supply Freikorps paramilitary legions with arms. Hitler used the Freikorps as a paradigm for his storm troopers (Sturmabteiling, or S.A.) Many Freikorps fighters, such as Ernst Rohm, Rudolf Hess, Hermann Goering, and Julius Streicher, eventually became Nazis.
The Baron's Peregrinations
"Baron" Rudolf Freiherr von Sebottendorf, the son of a Silesian locomotive engineer, was born Adam Alfred Rudolf Glauer in Hoyerswerda on November 9, 1875. Itching to escape from dreary working class surroundings in Dresden, young Glauer ran away at age thirteen to become a sailor, but soon returned home. By his own account, he attended Ilenau Technical School and Berlin-Charlottenburg Polytechnic Institute before being forced to drop out due to his father's death in 1893. He worked as an apprentice railroad mechanic from 1894 to 1896. After being rejected by the Navy because of a hernia, he managed to land a tutoring job with a well-to-do family. According to Sebottendorf's highly embellished memoirs, he took a fancy to his pupil's thirty-something mother, and eloped with her on a romantic holiday to Nice, Monte Carlo, Genoa, and Lucerne in February, 1898. After being fired, and nearly arrested, for this escapade, Glauer moved speedily from deck chair to engine room — signing aboard the H. H. Meier as boiler stoker on April 2, 1898. Thus began his two year stint as a merchant seaman. The Meier sailed from Bremerhaven to New York, and points south. In February, 1900 he joined the crew of S.S. Prinz Luitpold as an electrician. Glauer and another mate jumped ship in Sydney, Australia to prospect for gold. His friend's death in June cut this misadventure short. In July he shipped out on a vessel sailing from Freemande to Egypt.
While in Alexandria in 1900, Glauer secured an introduction to Pasha Hussein. Impressed by the confident young German, who passed himself off as an engineer, the Pasha hired him as manager of his country estate in Turkey. Glauer debarked for Istanbul, then Bursa. Naturally handy, his technical proficiency extended to gun-smithing, automotive mechanics, ship and steam locomotive repair, road surveying, electrical construction, and farming.
Glauer combined the mechanical with the mystical during his stay in Bursa. Like Dietrich Eckart and Adolf Hitler, he was a self-taught seeker with eclectic tastes. In his spare time Glauer studied Sufi lore, Atlantean prehistory, astrology, and Norse mythology. He learned the Turkish language and some Islamic doctrine from the Imam of Beykoz Mosque. He took lessons in the Kabbalah from a Salonikan Jewish banker named Termudi, who was also a leading Freemason. When Termudi died a few years later, he willed his occult library to Glauer. In addition to Islamic and Kabbalistic researches Glauer read Helena Petrovna Blavatsky's Secret Doctrine, H. S. Chamberlain's Foundations of the 19th Century, and Gobineau's Inequality of the Races.
Rudolf Glauer returned to Germany in September, 1902. Though he preached that one should renounce carnal pleasures in order to progress on the spiritual path, "Rudi" still found pretty women impossible to resist. On March 25, 1905 he married Klara Voss, but divorced her two years later when another lady caught his eye.
In 1908 a get-rich-quick scheme landed him in jail on charges of forgery and fraud. After his release from prison he went back to Turkey where he resumed teaching spiritualism. In 1910 Glauer organized a religious studies group and wrote a paper on the dervishes of Baktashi. One of his lodge brothers, an Austrian nobleman named Heinrich von Sebottendorf, "adopted" him in 1911. From this time on he passed himself off as "Baron" Rudolf von Sebottendorf. Although a phony aristocrat himself, associates recalled that Glauer-Sebottendorf indignantly disparaged Jews who "wormed" their way into the nobility.
In 1911 Sebottendorf applied for Turkish citizenship. He was wounded while fighting in the Balkan War of 1912-1913 with Turkey's Red Crescent. His extensive knowledge of firearms enabled him to operate a lucrative gunrunning venture on the side.
The "baron" traveled to Weisbaden to visit "cousins," Siegfried and Maria von Sebottendorf in 1913. He captivated them and gained entree to their circle of aristocratic friends, including writer Gustav Meyrink. Sebottendorf impressed Meyrink at first, but the novelist later complained of suffering bad effects from his "spiritual exercises."
Sebottdendorf's elbow-rubbing with the upper crust paid off by July 15, 1915 when he married rich divorcee Berta-Anna Iffland in Vienna, daughter of Berlin merchant Friedrich Wilhelm Muller. The couple settled near Dresden, but soon encountered trouble. To obtain easier access to Berta's trust fund, Sebottendorf fired her lawyer, Max Alsberg, and hired his friend Georg Gaubatz. Alsberg went down fighting, notifying Dresden police that Glauer-alias- Sebottendorf was a crooked ex-boilermaker impersonating a baron, who had renounced his German citizenship and now sold armaments to Ottoman Turks. Furthermore, his investigation had uncovered this "nobleman's" criminal record, which included a fraud conviction. These revelations set the Dresden gossip mill in motion. Police questioned Sebottendorf, who accused Alsberg of being a transvestite. No charges were filed, but the baron elected to leave town. Within the next two years he and Berta-Anna moved to Frankfurt, Berlin, Bad Aibling, and Munich to shake pursuing detectives.
Sebottendorf had a twofold mission in mind when he entered Munich in 1917. He wanted to interest the German general staff in an armored vehicle invented by his friend Friedrich Gobel, and also revive Theodor Fritsch's flagging German Order. Gobel's "tank car" never panned out, but interest in the German Order flourished. The Russian Revolution erupted that November in Moscow, nullifying Germany's victory over the Tsarist Empire. American, British, and French forces pounded German forces on the Western Front. Liberals urged the Kaiser to surrender. Recognizing the gravity of the situation, Sebottendorf became a leading spokesman for the volkisch reaction against "Jewish Bolshevism."
By the summer of 1918 Sebottendorf and army veteran Walter Nauhaus rented a small office on Zweigstrasse for the Thule Society, political branch of The German Order. These Aryan patriots pledged to fight against Marxist aliens. The Thule Society's name reflected its occult orientation. Ultima Thule had been the capital of Hyperborea, ancient polar land of the Nordic gods. Like Guido von List, the father of Ariosophy, Sebottendorf believed that blonde, blue-eyed giants with super powers lived in northern climes long ago. The unfortunate Hyperboreans lost their good looks and psychic abilities because of intermarriage with lower races. Mingling with "sub-men" cost proto-Aryans their "third eye," a spiritual receptor which could perceive the "etheric continuum."
According to The Thule Society's charter, which Sebottendorf wrote, "the fundamental cause of all sickness and misery (is) the mixing of races." In order to weaken Aryandom, half-breed freethinkers promoted the fallacy of egalitarianism.
"With the encouragement of Christianity people had disseminated the doctrine of equality of all men. Gypsies, Hottentots, Botocudos, Teutons are said to be equal. Unfortunately, Nature ... teaches otherwise. To equate Chandalas with Aryans ... is to commit a crime against mankind. For to attain higher development, man needs leaders as well as leading nations. Of all the races on this earth it is the Teutonic race ... which is called upon to play the leading role." [3]
Sebottendorf espoused the leadership principle (Fuhrerprinzip) rather than democracy. Initiates had to obey all commands of their spiritual masters. Novices strove for totally passive obedience, an attainment later prized by the SS. Sebottendorf advised his students to be "like a cadaver in the hands of ... your sheikh ... " [4] Thule Society leaders, like Muslim clerics, must assume full moral responsibility, and absolve underlings for crimes committed while under the spell of "zombie-obedience."
After the destruction of Ultima Thule a few of its refugees withdrew to Asgard -- variously described as a subterranean town in the Himalayas and a celestial city joined to earth by a rainbow. These Hyperborean masters telepathically communicated with Ariosophic prophets such as Guido von List and "Tarnhari" to help them prepare the way for "The Coming Great One," a warrior-priest who would lead Aryandom to victory over the Chandalas ("Untouchables.") Sebottendorf instructed his lodge brothers to break through "the small self," limited by material reality and Judeo-Christian conscience, and "become divine." He recommended that seekers-of-wisdom ("god-men") greet each other with a stiff-armed salute and the words "Sieg, Heil!" ("Glory, Hail!") to honor the divine presence dwelling within them.
Sebottendorf proved to be a gifted huckster. Where Hermann Pohl had fallen short in the prewar years, he succeeded spectacularly. Many army officers, businessmen, and professionals heeded his pleas to close ranks against Bolshevism. By August, 1918 he amassed enough money from the German Order and army to purchase a small local paper from Franz Eher Verlag called the Munchener Beobachter. Along with sportswriter Karl Harrer, Sebottendorf turned the Beobachter into an anti-Semitic scandal sheet with sports section.
On August 17, 1918 Sebottendorf rented five club rooms at Munich's posh Four Seasons Hotel to stage Die Thule Gesellschaft's founding ceremony. In a fervent speech before 300, he proclaimed Germany's mission to upgrade humanity. Sebottendorf promised to fight the forces of International Jewry with his last ounce of strength. Wielding a ceremonial gavel, he shrieked:
"I intend to commit the Thule Society to this combat, as long as I hold the Iron Hammer ... I swear it on this swastika, on this sign which for us is sacred." [5]
He concluded his talk by reciting an Ariosophical poem by Philipp Stauff.
According to Sanskrit folklore the swastika ("forked cross," or "fire whisk") stirred the world into existence eons ago. Since ancient times it symbolized creativity, dynamism, transmutation, destruction of the "unproductive," rebirth, and spiritual force applied to the physical world. For his National Socialist Workers Party Hitler adopted a black swastika symbol in white circle on a red background. He explained its significance as follows:
"In red we see the social idea of the movement, in white the nationalistic idea, in the swastika (our) mission of Aryan man's struggle for victory." [6]
Interestingly, Hitler reversed the traditional counterclockwise (left-moving) swastika. Occult doctrine held that the Nazis' clockwise-moving fire whisk upset nature's order and allowed chaotic forces to be unleashed.
Sebottendorf emphasized that the present emergency called for united action from all the scattered Pan-German societies. He invited Heinrich Class's Alldeutsche Verband, Josef Rohmeder's Schulverein, Theodore Fritsch's Hammerbund, Hans Dahn's National Liberal Party, The Iron Fist, Old Reich Flag Association, Der Stahlhelm (Steel Helmet Society), and other volkisch groups to make common cause against the forces of darkness now engulfing Germany. Before winding up his speech, he provided tips on how to acquire second sight by using pendulums.
When Jewish pundit Kurt Eisner took over the government in a bloodless coup on November 7, 1918, Sebottendorf's worst fears were confirmed. Two days later he issued a "plangent call to arms against Judah."
"(Recently) we experienced the collapse of everything which was familiar, dear, and valuable to us. In place of our prince of Germanic blood rules our deadly enemy: Judah ... Now we shall declare the Jew to be our mortal enemy ... and from today we will begin to act." [7]
New members continued to flock to the German Order. Included among them were Gottfried Feder, Alfred Rosenberg, Rudolf Hess, and Dietrich Eckart, who gave a speech before the group on May 30, 1919. Due to this influx, Sebottendorf relaxed entrance requirements. Candidates no longer had to undergo a year's probation, provide footprints to a committee of elders, or permit inspectors to view the color of their pubic hair.
The baron's missionary zeal paid off by March 19, 1919 when the northern German Order lodges officially formed a Thule Society chapter of their own. Through his efforts the traditionally incompatible Prussian Protestants and Bavarian Catholics agreed to cooperate on the basis of a shared racial heritage and a "common enemy." Sebottendorf succeeded in forging a coalition which cut across party, territorial, and religious lines. Due to a national crisis "blood affinity" won out over class, religious persuasion, and geographical differences. Hitler's National Socialist Party later duplicated Sebottendorf's accomplishment on a larger scale.
Bavaria had its own Communard Revolt between April and May of 1919. The foolish antics of the Spartacists won support for Die Thule Gesellschaft. The Spartacist Revolt actually occurred in two stages:. a harmless "writers' uprising" initiated by intellectuals such as dramatist Ernst Toller, novelist Gustav Landauer, and poet Erich Muesam -- then the Bolshevik follow-through punch orchestrated by Russian agents Eugene Levine, Max Levien, and Tobias Axelrod. With Soviet funds this trio raised a rag-tag army, which preyed on Munich's populace. The worst nightmare of Pan-German nationalists became reality: a "Jewish" revolution in Bavaria. To encourage enlistments and keep morale high the Reds offered free liquor and prostitutes to their troops. The disheveled Levien drank excessively and supposedly earned cash on the side by pimping his wife in bars. Spartacists arrested private citizens without cause, printed counterfeit money, confiscated rents, and limited bank withdrawals. They required all private citizens to turn in firearms under penalty of death. The communists organized looting parties, confiscated fuel (then charged double for it on the black market,) prohibited the baking of cakes, banned newspapers, imposed curfews, and outlawed milk. Their Munich Soviet decreed that students would now run universities. An ordinance was passed requiring living rooms to be built above kitchens. More ominously, the Soviet took fifty hostages and threatened to execute three for every communist killed.
The revolutionaries appointed Dr. Franz Lipp Commissar of Foreign Affairs. He immediately dictated a flood of incoherent letters to Lenin, the Pope, and various heads of state. He complained to Lenin that Johannes Hoffman, the bourgeois politician whose office he now occupied, had taken the men's room key with him. Ernst Toller discovered that Lipp had been a mental patient, and quietly carted him back to the asylum.
Newspapers commandeered by the Spartacists published poems as headlines, as well as celebrations of the Revolution. Levine and company forced The Bavarian Catholic Courier's editor to print atheistic articles. One day the front page of Der Munchener Post declared: "Come Out of the Slums! Flats Available!" Cranks of all stripes contributed newspaper articles advocating offbeat panaceas, including raw food, a universal language, abandonment of the gold standard, and abolition of department stores. To cure all ills a local shoemaker recommended defecating outdoors and substituting natural moss for toilet paper. One Sunday some drunken communists turned the Frauenkirche (Roman Catholic Church of Our Lady) into a "Revolutionary Temple," presided over by a whore dressed-up as "The Goddess of Reason."
These outrages sparked pandemonium. Jewish journalist Sigmund Fraenkl prophetically wrote that "the association of revolution and Jewry in the minds of the German masses ... (will) threaten the very existence of German Jews." [8] As Moscow's chief rabbi recently remarked: "The Trotskys make the revolutions, but the Bronsteins pay the bill." [9]
All this Bolshevik sound and fury disguised the fact that they did not have the numbers. Germany's 1920 general election registered 16,000,000 center and right votes, 11,500,000 for Social Democrats, but only 2,300,000 ballots for communist candidates. Of course, Lenin and Trotsky never had a majority in Russia either. They prevailed at gun point.
Munich's middle-class citizens admired Sebottendorf's fearless defiance of communist misrule. He risked life and limb to print denunciations of the Spartacists. His Thule Society funneled money to the Freikorps, set up arms depots, and went all-out to recruit more paramilitary troops. Sebottendorf sent a letter to police chief Ernst Pohner demanding immunity from arrest for counterrevolutionary fighters. He threatened to mob local Jews.
"My men will pick up the first Jew who comes along, drag him through the streets, and let it be known he has stolen a consecrated wafer. Then, my dear sir, you'll have a pogrom on your hands." [10]
Sebottendorf drew on his Turkish gun-running experience to supply Freikorps units with arms during the Spartacist insurgency. On April 6th he traveled to Bamberg with Dietrich Eckart in an effort to persuade General Haas to restore order in Munich. A week later the Thule Kampfbund attempted an unsuccessful putsch against the communists. In retaliation, armed Spartacists raided Thule Society's office in the Four Seasons Hotel on April 26, 1919 and kidnapped thirteen people, including Walter Nauhaus, Countess Heila von Westarp, Prince Gustav von Thurn und Taxis, Baron Friedrich Wilhelm von Seydlitz, Baron von Tilart, Walter Deicke, Anton Daumelang, and Professor Ernst Berger. Four days later Navy mutineer Rudolf Egelhofer ordered his Red Army soldiers to shoot all hostages in Luitpold Gymnasium's basement. Though Sebottendorf, Eckart, and others nationalists branded this slaughter a "Jewish atrocity," Egelhofer and his accomplices were all gentiles. One victim, Dr. Berger, had been Jewish.
Weimar Republic President Friedrich Ebert, a Social Democrat, feared that leftist anarchy would erupt after the Armistice of November 11, 1918. General Wilhelm Groner phoned him from the Kaiser's temporary headquarters in Spa, offering to maintain civil order with his 400,000 troops if he would approve police actions against Bolsheviks and promised to provision the army. With sighs of gratitude and relief, Ebert immediately consented to those terms.
In March, 1919 Ebert's Minister of War, fellow Social Democrat Gustav Noske, sent government troops into Bavaria. Those divisions, along with Freikorps units, soon struck back with atrocities against suspected communists. They fought skirmishes with the Spartacist's near Dachau in mid-April, then battled them street-by-street in Munich for the next two weeks. Noske's legions "liberated" the city on May 4, 1919, then went on a rampage. Undisciplined soldiers shot twenty-one members of the Catholic St. Joseph's Association, twelve innocent Social Democrats in Perlach, and a group of medics treating wounded citizens. Not wanting to bother with prisoners, the Freikorps gunned down any insurgents who surrendered.
Noske ordered his men to shoot Reds on sight. Fortified by truckloads of beer, they ran amok -- indiscriminately killing Bolsheviks and innocent bystanders. "With bestial cruelty they clubbed, shot, or stabbed their victims regardless of whether these were communists, Russians, or innocuous citizens." [11] One Freikorps unit herded fifty-three Russian prisoners of war to a quarry and shot them all. A government inquiry reported that counterinsurgency forces had killed 606 people, 335 of them civilians, but subsequent research revealed that more than 2,000 non-combatants had lost their lives.
Sebottendorf's prestige waned by May, 1919. He attended his last Thule Society meeting on June 22, 1919, and left Munich for Bad Sachsa shortly thereafter. Some blamed his provocations and poor security arrangements for the deaths of Thule Society hostages. Fritz von Trutzschler accused him of shedding "crocodile tears" for the thirteen martyrs. Others associated him with the Freikorps' violent reaction against both revolutionaries and citizens. Johannes Hering, who had been disenchanted by Sebottendorf's flamboyance for some time, expressed relief that "this artist rather than pedant, ... sybarite rather than Platonist" — decided to resign. His pomposity, unpunctual ways, and unabashed paganism turned off conservative patrons. The baron outraged Hering and others with an idiotic plot to kidnap Chancellor Kurt Eisner at Bad Aibling, then embarrassed them again on Easter Sunday, 1919 by distributing hand-outs to church-attenders advertising the Thule Society's "mystical politics." As James Webb observed, "even the extreme irrationalists became disillusioned with his overloaded esotericism." [12] The heirs of Sebottendorf's occult legacy within Nazism were few and far between. Only a few functionaries in Heinrich Himmler's Ahnenerbe (Ancestral Heritage Bureau) such as Wolfram von Sievers, Hermann Wirth, and Karl Maria Wiligut perpetuated his tradition. Their shenanigans will be treated in this work's sequel, The Surreal Reich.
Freikorps officers regarded Sebottendorf as a charismatic eccentric who excelled in dreaming up new schemes, but fell short on follow-up. Moreover, his Turkish citizenship made him susceptible to immediate deportation as an undesirable alien. A more reliable person had to be found -- a man who could speak to army veterans and working men in their own language without going off on tangents about Volsungs or Chandalas.
The German Workers Party was conceived by Rudolf von Sebottendorf. He and his aristocratic friends realized that the upper classes could not beat communism without the help of patriotic workers. An army needed enlisted men as well as officers. In October, 1918, Sebottendorf implemented the program which brought National Socialism into being by instructing Karl Harrer and Anton Drexler to start the "Worker's Circle," which shortly evolved into the Nazi Party. Its working class constituents wanted native German rule, not a "Jewish Republic." Thule's program called for a "Socialism of German Blood," which would improve the proletariat's lot, while avoiding class warfare. The party platform advocated a moratorium on immigration, abrogation of Jewish civil rights, seizure of war profits, nationalization of monopolies, a prohibition against real estate speculation, an increase in old age pensions, the dissolution of department stores, renunciation of the Versailles Treaty, censorship of decadent art, and nationalization of Jewish-owned newspapers. Sebottendorf and his affluent cronies closed one eye to the plank recommending the abolition of unearned income. Harrer, Drexler, and their followers met weekly in beer halls to discuss politics. Harrer persuaded Gottfried Feder, Professor Karl Alexander von Muller, and the poet Dietrich Eckart to address the little "Skat Club." On September 12, 1919 young army intelligence instructor Adolf Hitler appeared, and stole the show with an impromptu tirade against Bavarian separatism. Drexler nudged his work buddy Michael Lotter and said: "he's got a big mouth; we can use him."
Hitler never enrolled in the Thule Society and did not meet Sebottendorf, who left Munich in July, 1919. Though the two men had several mutual acquaintances -- including Harrer, Drexler, Feder, and Eckart -- they remained at a distance. Hitler aspired to political activism and regarded "wandering scholars" with contempt.
'The characteristic thing about these people is that they rave about old German history ... dim prehistory, stone axes, spears, and shields, but in reality are the greatest poltroons that can be imagined. For the same people who brandish scholarly imitations of old tin swords, and wear (padded) bearskins with bullhorns over their bearded faces run away as fast as they can from every communist blackjack." [13]
Despite this bluster, Hitler remained an Ariosophist until his dying day. His National Socialist Party never abandoned the Thule Society's swastika symbol, stiff arm salute, or "heil" greeting.
For his part, Sebottendorf berated Hitler as "an Austrian vagabond." This big-mouthed corporal might wow the plebes, but he could never attract upper class support -- despite what that souse Dietrich Eckart might bellow to the contrary from his perch at the Stinging Nettle Wine Cellar.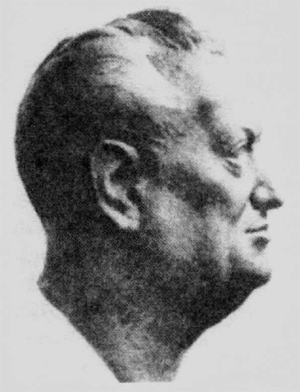 Adam Alfred Rudolf Glauer alias Baron Rudolf von Sebottendorf
Exeunt from the Stage
The Thule Society disintegrated after Sebottendorf's departure, leaving only the ineffectual German Order in its place. Very few middle class German Order members signed up for the little German Workers Party. Most of them simply abandoned their uncomfortable fling with street revolution and went back to researching Valkyries, Nibelungs, and the Sand Castles of Bad Aibling.
Sebottendorf separated from Berta-Anna Iffling in early 1919, and took the attractive Kathe Bierbaumer as his mistress. Disillusioned by his fall from grace, Sebottendorf and Kathe moved to Bad Sachsa in the Harz Mountains, where the baron became a recluse. He refused social invitations and worked full time as editor of a popular astrology magazine, Die Astrologishche Rundschau. During this time he wrote his novel Erwin Haller (1919), as well as books for Hugo Vollrath's Astrological Library in Leipzig, including Die Hilfhoroskopie (1921), The History of Astrology (1923), and a German translation of Max Heindel's Message of the Stars. After a short stay in Switzerland he returned to Turkey in 1923 and published The Practice of Old Turkish Freemasonry (1923), and The Talisman of the Rosicrucians (1925.)
In 1926 the Turkish government appointed Sebottendorf consul to Mexico. Between 1929 and 1931 he traveled to the United States and Central America as Turkey's official representative. He visited Germany in 1933 and wrote his controversial Before Hitler Came (1933), which the Nazis quickly suppressed. Himmler had Sebottendorf imprisoned for a few days in 1934. While escorting him to the border an SS agent supposedly offered him a position as a spy, which he turned down. Five years later economic necessity impelled him to reconsider, and he ended up as a part-time German Intelligence operative in Istanbul with the code name "Hakawaki" (teller of tales.) Istanbul bureau chief Ritdinger liked the "penurious old gentleman," but thought him ill-suited to espionage because of his brash and open manner.
Depressed over Germany's World War II defeat and his deteriorating financial situation, Sebottendorf committed suicide by jumping into the Bosporus Strait on May 10, 1945, the day of Germany's surrender.
______________
Endnotes
1 Arkon Daraul, A History of Secret Societies, Citadel Press, Secaucus, NJ, 1961, p. 207.
2 Jean-Michel Angebert, The Occult and the Third Reich, trans. Lewis Sumberg, McGraw Hill, New York, 1974, p. 166.
3 Dusty Sklar, Gods & Beasts: The Nazis & the Occult, Thomas Y. Crowell Co., New York, 1977 p. 34.
4 Werner Maser, Hitler: Legend, Myth, and Reality, trans. Peter & Betty Ross, Harper & Row, New York, p. 111, op. cit. Munchener Beobachter, 8/18/18.
5 Angebert, p. 169.
6 Brigitte Hamann, Hitler's Vienna: A Dictator's Apprenticeship, trans. Thomas Thornton, Oxford University Press, New York, 1999, p. 210.
7 Maser, p. 1 10, op. cit. Rudolf von Sebottendorf, Bevor Hitler Kam, Deufula- Verlag Grassinger & Co., Munich, 1933, p. 60.
8 Engleman, p. 137.
9 Michael Burleigh, The Third Reich, Hill and Wang, New York, 2000, p. 28.
10 Maser, p. 110, op cit. Sebottendorf, p. 92.
11 John Toland, Adolf Hitler, Ballantine Books, New York, 1976, p. 117.
12 Webb, p. 310.
13 Adolf Hitler, Mein Kampf, trans. Ralph Manheim, Houghton, Mifflin, Boston, 1943, p. 361. (Reprint of 1924 German edition.)