Abu Nidal: A Gun for Hire -- The Secret Life of the World's

Posted:
Tue Jun 09, 2015 2:58 am
ABU NIDAL: A GUN FOR HIRE -- THE SECRET LIFE OF THE WORLD'S MOST NOTORIOUS ARAB TERRORIST
by Patrick Seale
© 1992 by Patrick Seale
YOU ARE REQUIRED TO READ

THE COPYRIGHT NOTICE AT THIS LINK

BEFORE YOU READ THE FOLLOWING WORK, THAT IS AVAILABLE SOLELY FOR PRIVATE STUDY, SCHOLARSHIP OR RESEARCH PURSUANT TO 17 U.S.C. SECTION 107 AND 108. IN THE EVENT THAT THE LIBRARY DETERMINES THAT UNLAWFUL COPYING OF THIS WORK HAS OCCURRED, THE LIBRARY HAS THE RIGHT TO BLOCK THE I.P. ADDRESS AT WHICH THE UNLAWFUL COPYING APPEARED TO HAVE OCCURRED. THANK YOU FOR RESPECTING THE RIGHTS OF COPYRIGHT OWNERS.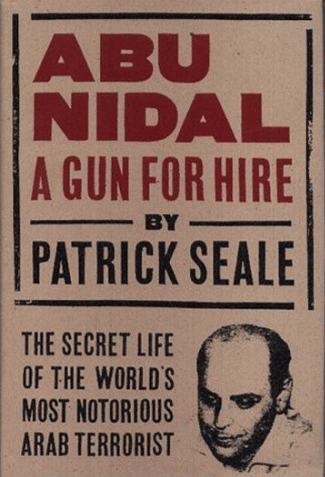 For Farah in the hope she will be freed from fear
It was soon clear that [Abu Iyad, PLO Intelligence Chief] had something else on his mind. He wanted to talk about terrorism -- and in particular about Abu Nidal.

The Western world, he said with a frown, was not yet persuaded that the PLO was the indispensable partner for Middle East peace. It had underestimated the importance of the historic resolutions passed by the Palestine National Council in November 1988 that, for the first time, never so much as mentioned "armed struggle" and spelled out with absolute clarity the PLO's readiness to negotiate a peaceful settlement with Israel.

But how to get the West to see this? To his mind, the great obstacle was terrorism, an issue with which Israelis confronted every mention of peaceful compromise. If there was one man responsible for blackening the reputation of all Palestinian factions, it was, Abu Iyad believed, the arch-terrorist Abu Nidal.

The Israelis, Abu Iyad continued, were masters at penetration and deception. He had been sparring with the Mossad for a quarter of a century, and since the early 1980s, he had begun to suspect that the Israelis had infiltrated Abu Nidal's organization and were making use of him. "Every Palestinian who works in intelligence," he told me, "is convinced that Israel has a big hand in Abu Nidal's affairs." His suspicions had now hardened into a conviction: Abu Nidal was not just an extreme rejectionist who sold his services to Arab regimes. Israel had gained control of him. That was the key to his persistent sabotage of Palestinian interests.

In Abu Iyad's mind there was no great mystery about it: Israel wanted to destroy the PLO and prevent negotiations that might lead to a peaceful solution involving an autonomous Palestinian state on the West Bank. Any genuine negotiations would necessarily involve the surrender of territory, which is why Israel had gone to such lengths to persuade the world that the Palestinians were terrorists with whom no deal could be contemplated. Abu Nidal, he believed, was Israel's prime instrument for this purpose, central to its strategy. Until Abu Nidal was exposed and defeated, he said, the PLO's credibility would continue to be questioned and the peace process could get nowhere.

Leaning forward and talking very fast as was his habit, he told me that there was no other plausible explanation for the evidence that had accumulated over the years. Abu Nidal had killed the PLO's most accomplished diplomats: Hammami, in London; Qalaq, in Paris; Yassin, in Kuwait; he had slaughtered hundreds of Palestinian fighters; he had debased the Palestinian national struggle with his senseless and savage terrorism and succeeded in alienating the Palestinians' best friends. He had made the word Palestinian synonymous with terrorist. He was either deranged or he was a traitor, and Abu Iyad did not think he was deranged. Abu Nidal, he told me, was the greatest enemy of the Palestinian people.

"He is a man wholly without principle!" he exploded angrily. "He would ally himself with the devil in order to stay alive and drink a bottle of whiskey every night!

"Try to see Abu Nidal," he urged me. "Go to Libya. Ask him to explain himself, and then make up your own mind."

He then made an extraordinary admission: "I feel very guilty that I was responsible for not facing up sooner to the threat from Abu Nidal. I should have killed him fifteen years ago. I confess this now. I wanted to believe that he was a patriot who had strayed from the path and that I could win him back. For far too long I was reluctant to accept that he was a traitor."

Abu Iyad's diatribe rather took my breath away. Abu Nidal an Israeli agent?

***

At about this time I was visited in London by a former general in Aman, Israel's military intelligence service, who was doing research on a quite different topic. After our talk I asked him pointblank whether Israel penetrated and manipulated Palestinian groups. He looked at me carefully. "Penetration, yes," he said, "but manipulation, no." He paused, then added with a little smile, "No one would admit to that."

***

A former CIA officer, who had served as station head in several Arab countries and whose attitude toward the Arab-Israeli conflict was detached and professional, was more explicit: "It's as easy," he said, "to recruit the man at the top as it is someone lower down the ladder. It's quite likely that Mossad picked up Abu Nidal in the late 1960s, when it was putting a lot of effort into penetrating the newly formed Palestinian guerrilla groups. My guess is that they would have got him in the Sudan when he was there with Fatah in 1969. Once they had set him up, funded, and directed him, he would have had nowhere else to turn. If he had tried to quit, he would have been a dead man."

***

In 1987, during a meeting between Abu Iyad and Abu Nidal in Algiers, Abu Iyad would bring up Fatah's main grievance: the long list of PLO men murdered by Abu Nidal -- or, as he believed, by some secret hand inside his organization. Abu Iyad later told me what he and Abu Nidal had said:

"'Why did you kill Isam Sartawi?' I asked him. 'He was your lifelong friend!' I told him I believed this was an operation in which the Israelis had pulled the strings. The whole affair stank of penetration and manipulation -- the way the weapons had been smuggled in, the escape of the killer, the arrest of a young accomplice traveling on a false passport whom the Moroccans could not charge with the murder. 'I know Israel is playing games with you,' I told him."

Abu Iyad told Abu Nidal that he began to suspect Israeli penetration when a Moroccan intelligence officer had given him a list of Abu Nidal's members in Spain -- nineteen names in all -- and said his source was the Mossad. Abu Iyad then checked out the list himself and found it accurate: Seventeen of the men on it, most of them students, were still living in Spain; two had graduated and returned home.

Abu Iyad told me: "I was amazed by Abu Nidal's answer. 'Yes,' he had responded calmly. 'You are right. Israel has penetrated us in the past. I discovered this from my Tunisian and Moroccan members. Israel used to plant them on me. But let me tell you that I send my own North African members -- the ones I really trust -- to France to turn and recruit Israel's North African agents! The flow of intelligence is sometimes to my advantage. These people have supplied me with truly astonishing information.'

"'Take for example the Sartawi case. They gave me all the detailed information I needed for the operation!'"

As he recollected their conversation, Abu Iyad could still hardly believe what he had heard: "Israeli agents were present in his organization. They had fed him information. He admitted it! His matter-of-fact tone astounded me. He added that he was trying to liquidate the Israeli agents one by one. That is what he said!" Though the admissions implied no more than penetration, Abu Iyad was convinced they also indicated collaboration between the Mossad and Abu Nidal.

Abu Iyad told me that he had thought about Israel's manipulation of Abu Nidal with North African agents. He knew for a fact that Khudr had been killed by a Tunisian member of Abu Nidal's organization. So had Hammami and Qalaq.

"We stopped terrorism in 1974," he insisted, "but the Israelis did not, although they convinced the world of the contrary. They continued to attack us. Sometimes they did so quite blatantly, as when they killed Abu Jihad in Tunis in 1988. More often they mounted operations that could be read in different ways. I must admit it confused us. On several occasions we weren't sure whether Abu Nidal or Mossad was responsible."

The Mossad agents that Abu Iyad had in mind were probably trained in Morocco, where the Moroccan government and the CIA run an unusual intelligence school that specializes in Palestinian affairs. I learned about this school from several intelligence sources, both Arab and Western. They told me that the CIA, which works closely with Israel on Palestinian matters, had brought the Mossad into the arrangement as well. The students are mostly young North Africans who are recruited in Europe and brought back to the Moroccan school to be trained as spies. They are put through courses on the various Palestinian factions, studying their leading personalities, their structure, ideology, and operations -- so that by the end of the course, they are able to use the arcane jargon of these organizations. All the principal groups -- Fatah, the PFLP, the Democratic Front, the PFLP-General Command, the Arab Liberation Front, and Abu Nidal's organization -- are studied.

Once their course is completed, the youths are taken back to Europe and instructed to hang about in cafes, meet other Arabs, and speak to them in the language they have been taught. The hope is that they will eventually get taken on by the groups they have learned to mimic, so that the Moroccans, the CIA, or the Mossad can use them. Some of the graduates of the school become informers, some plan operations, and some are even schooled to become ideologues for the groups on which they are planted. Some are killers.

-- "Abu Nidal: A Gun for Hire," by Patrick Seale
Table of Contents:
1. The Story of Jorde
2. Abu Iyad's Obsession
3. Childhood Traumas
4. A Black September
5. Made in Baghdad
6. The Sponsors
7. The Colonel's Crony
8. Murder of the Moderates
9. The Organization
10. Invisible Strings
11. Operation Terror
12. Foreign Affairs
13. The Great Purge
14. Duel to the Death
15. Epilogue
Appendix
Index