Acid Dreams: The Complete Social History of LSD: The CIA

Posted:
Sun Jun 14, 2015 10:09 pm
ACID DREAMS, THE COMPLETE SOCIAL HISTORY OF LSD: THE CIA, THE SIXTIES, AND BEYOND
by Martin A. Lee & Bruce Shlain
Copyright © 1985 by Martin A. Lee and Bruce Shlain
Introduction copyright © 1992 by Andrei Codrescu
Afterword copyright © 1992 by Martin A. Lee and Bruce Shlain
YOU ARE REQUIRED TO READ

THE COPYRIGHT NOTICE AT THIS LINK

BEFORE YOU READ THE FOLLOWING WORK, THAT IS AVAILABLE SOLELY FOR PRIVATE STUDY, SCHOLARSHIP OR RESEARCH PURSUANT TO 17 U.S.C. SECTION 107 AND 108. IN THE EVENT THAT THE LIBRARY DETERMINES THAT UNLAWFUL COPYING OF THIS WORK HAS OCCURRED, THE LIBRARY HAS THE RIGHT TO BLOCK THE I.P. ADDRESS AT WHICH THE UNLAWFUL COPYING APPEARED TO HAVE OCCURRED. THANK YOU FOR RESPECTING THE RIGHTS OF COPYRIGHT OWNERS.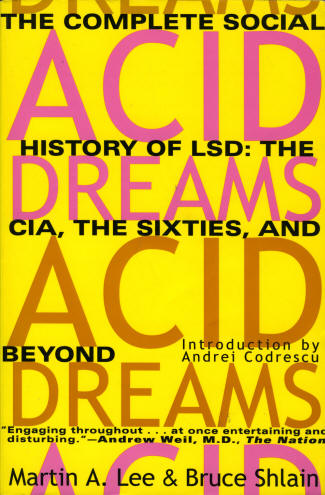 TABLE OF CONTENTS:
Cover Pages
Photo Gallery
Acknowledgements
Introduction: Whose Worlds Are These?, by Andrei Codrescu
Prologue
PART ONE, THE ROOTS OF PSYCHEDELIA
1. IN THE BEGINNING THERE WAS MADNESS
• The Truth Seekers
• Enter LSD
• Laboratories of the State
• Midnight Climax
• The Hallucination Battlefield
2. PSYCHEDELIC PIONEERS
• The Original Captain Trips
• Healing Acid
• Psychosis or Gnosis?
3. UNDER THE MUSHROOM, OVER THE RAINBOW
• Manna From Harvard
• Chemical Crusaders
• The Crackdown
4. PREACHING LSD
• High Surrealism
• The Psychedelic Manual
• The Hard Sell
5. THE ALL-AMERICAN TRIP
• The Great Freak Forward
• Acid and The New Left
PART TWO, ACID FOR THE MASSES
6. FROM HIP TO HIPPIE
• Before the Deluge
• Politics of the Bummer
• The First Human Be-In
7. THE CAPITAL OF FOREVER
• Stone Free
• The Great Summer Dropout
8. PEAKING IN BABYLON
• A Gathering Storm
• Magical Politics
• Gotta Revolution
9. SEASON OF THE WITCH
• Armed Love
• The Acid Brotherhood
• Bad Moon Rising
10. WHAT A FIELD DAY FOR THE HEAT
• Prisoner of LSD
• A Bitter Pill
• The Great LSD Conspiracy
Postscript: Acid and After
Afterword
References
Bibliography
Index
"History is hard to know, because of all the hired bullshit."

-- Hunter S. Thompson [Re: "The CIA is not an omniscient, monolithic organization, and there's no hard evidence that it engineered a great LSD conspiracy. (As in most conspiracy theories, such a scenario vastly overestimates the sophistication of the alleged perpetrator.)"]
Burroughs was acutely aware of the darker side of American politics, and he had some ominous premonitions about the impending psychedelic revolution. Despite rampant enthusiasm for hallucinogens among his peers, he suspected that sinister forces were also interested in these drugs and that Leary and his sidekicks might be playing right into their hands. Burroughs feared that psychedelics could be used to control rather than liberate the vision-starved masses. He understood that the seeker of enlightenment was especially vulnerable to manipulation from without, and he sounded an urgent warning to this effect in the opening passages of Nova Express, published in 1964.

At the immediate risk of finding myself the most unpopular character of all fiction -- and history is fiction -- I must say this.

Bring together state of news -- Inquire onward from state to doer -- Who monopolized Immortality! Who monopolized Cosmic Consciousness! Who monopolized Love Sex and Dream! Who monopolized Time Life and Fortune! Who took from you what is yours! ... Listen: Their Garden of Delights is a terminal sewer.... Their Immortality Cosmic Consciousness and Love is second-run grade-B shit.... Stay out of the Garden of Delights.... Throw back their ersatz Immortality.... Flush their drug kicks down the drain -- They are poisoning and monopolizing the hallucinogenic drugs -- learn to make it without any chemical corn.

***

Despite all the changes they had undergone, Leary and his associates were still basically psychologists who felt compelled to figure it all out. But acid had overturned their dogmas and left them dangling precariously in an intellectual limbo that was reinforced by the hermetic environment of the Millbrook estate. As far as they were concerned, nothing less than the entire history of human thought had to be reconsidered in light of the psychedelic experience. Kleps parodied their dilemma in his chronicle of the Millbrook years, describing the arrival of LSD as "The Big Crash" in whose wake the intellectual history of mankind fluctuated madly on the cosmic exchange.

Zen and Buddhist stock rose sharply while Yoga, Brahmanist and Vedantist issues plummeted.... In London, Blake enjoyed a mild rise, Hume skyrocketed, Aldous Huxley weakened, then held, and penny-a-share issues such as Aleister Crowley and Yeats disappeared entirely from view ... In Paris, former glamor stocks like Sartre and Camus began to look a little green around the gills.... such superficially disparate stocks as Thoreau, Nabokov, Borges, and Norman O. Brown were driven to undreamed of levels.... All the Zen masters spiralled into the blue.... Freud and Jung went through wild gyrations resembling an aerial dogfight, before both sank gradually to earth.... the I Ching went through the roof. The Gita crashed.... Shakespeare, unlike almost every other stock being traded, remained absolutely stable.

The sense of psychic displacement was felt most acutely by Timothy Leary. Even though years had passed since his first acid trip, he could still say, "I have never recovered from that shattering ontological confrontation. I have never been able to take myself, my mind, and the social world around me seriously." Now that he was aware of "countless realities," routine existence had been revealed to him as "illusory"; but that did not make it any less problematic. He confided to Kleps that at times he had the uncanny sensation that his head was running down his shoulders, and that he had even considered having himself committed. Whenever Leary took LSD, he relived a "recurring science fiction paranoia. Suddenly I am on camera in an ancient television show.... All my life routines a pathetic clown act."

-- Acid Dreams. History of LSD: The CIA, the Sixties, and Beyond, by Martin A. Lee & Bruce Shlain