Erwin Baur
by Wikipedia
Accessed: 10/28/19
NOTICE: THIS WORK MAY BE PROTECTED BY COPYRIGHT
YOU ARE REQUIRED TO READ

THE COPYRIGHT NOTICE AT THIS LINK

BEFORE YOU READ THE FOLLOWING WORK, THAT IS AVAILABLE SOLELY FOR PRIVATE STUDY, SCHOLARSHIP OR RESEARCH PURSUANT TO 17 U.S.C. SECTION 107 AND 108. IN THE EVENT THAT THE LIBRARY DETERMINES THAT UNLAWFUL COPYING OF THIS WORK HAS OCCURRED, THE LIBRARY HAS THE RIGHT TO BLOCK THE I.P. ADDRESS AT WHICH THE UNLAWFUL COPYING APPEARED TO HAVE OCCURRED. THANK YOU FOR RESPECTING THE RIGHTS OF COPYRIGHT OWNERS.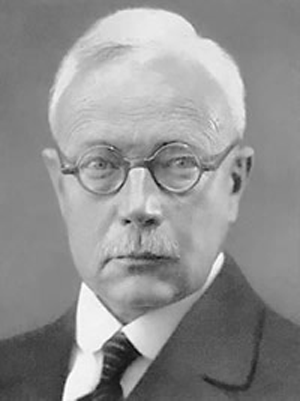 Erwin Baur (16 April 1875, Ichenheim, Grand Duchy of Baden – 2 December 1933) was a German geneticist and botanist. Baur worked primarily on plant genetics. He was director of the Kaiser Wilhelm Institute for Breeding Research (since 1938 Erwin Baur-Institute).
Baur is considered to be the father of plant virology. He discovered the inheritance of plastids.[1]
In 1908 Baur demonstrated a lethal gene in the Antirrhinum plant. In 1909 working on the chloroplast genes in Pelargonium (geraniums) he showed that they violated four of Mendel's five laws. Baur stated that
1. plastids are carriers of hereditary factors which are able to mutate.
2. in variegated plants, random sorting out of plastids is taking place.
3. the genetic results indicate a biparental inheritance of plastids by egg cells and sperm cells in pelargonium.
Since the 1930s and the work of Otto Renner, plastid inheritance became a widely accepted genetic theory.
In 1921 and 1932 Baur co-authored with Fritz Lenz and Eugen Fischer two volumes that became the book Human Heredity, which was a major influence on the racial theories of Adolf Hitler. The work served a chief inspiration for biological support in Hitler's "Mein Kampf".
[2]
References
1. Hagemann, R. 2000. Erwin Baur or Carl Correns: who really created the theory of plastid inheritance? Archived 2005-03-16 at the Wayback Machine. Journal of Heredity 91:435-440.
2. "Human biodiversity: genes, race, and history", Jonathan M. Marks. Transaction Publishers, 1995. p. 88. ISBN 0-202-02033-9, ISBN 978-0-202-02033-4.
External links
Short Biography, bibliography, and links on digitized sources in the Virtual Laboratory of the Max Planck Institute for the History of Science
Erwin Baur

[Born] Ichenheim, Germany, 16.04.1875

[Died] Berlin, Germany, 02.12.1933

Degrees:

Dr. med., University of Kiel, 1900; Dr. phil., University of Freiburg i. Br., 1903

Career:

1894 studies of medicine at the universities of Heidelberg, Freiburg im Breisgau and Strassburg; 1897 medical studies at the University of Kiel and at the same time attendance at lectures in botany and biology; 1900 state examination and M.D. from the University of Kiel; for some time work as ship's doctor and as assistant physician at psychiatric clinics in Kiel and Emmendingen; abandoned medicine and psychiatry for doctoral work in botany at Freiburg; 1903 doctorate under Oltmanns with a study of the developmental aspects of fructification in lichens; 1903 first assistant to Simon Schwendener at the University Botanical Institute, Berlin; 1904 qualification as Privatdozent with a work on the fungal bacteria; 1911 professorship in botany at the Landwirtschaftliche Hochschule, Berlin;

1914 opening of the Institute for Genetic Research at Berlin-Friedrichshagen; 1923 new Institute for Genetic Research opened at Berlin-Dahlem; 1928 director of the new Kaiser Wilhelm Institute for Plant Breeding and Genetic Research at Müncheberg; 1931 lectures on evolution, applied genetics and eugenics in London, Sweden and South America

; editor of Zeitschrift für induktive Abstammung- und Vererbungslehre (from 1908 onward) and founder of Der Züchter (1929); co-founder of the Deutsche Gesellschaft für Vererbungswissenschaft with C. Correns and R. Goldschmidt; president of the Fifth International Congress of Genetics (1927).

Selected works:

Baur, Erwin. 1911. Einführung in die experimentelle Vererbungslehre. Berlin

Baur, Erwin, Eugen Fischer and Fritz Lenz. 1921. Grundlagen der menschlichen Erblichkeitslehre und Rassenhygiene. München

Baur, Erwin. 1921. Die wissenschaftlichen Grundlagen der Pflanzenzüchtung: Ein Lehrbuch für Landwirte, Gärtner und Forstleute. Berlin

Baur, Erwin. 1910. Vererbungs- und Bastardisierungsversuche mit Antirrhinum. Zeitschrift für Induktive Abstammungs- und Vererbungslehre 3: 34-98

search the library or the technology database

Sources:

DSB ; Schmidt ; Image: Museum für Naturkunde, Berlin: Collection of Portraits - HBSB ZM B I/502

-- Erwin Baur, by Virtual Laboratory of the Max Planck Institute for the History of Science