Re: D.T. Suzuki, Zen and the Nazis, by Brian Daizen Victoria

Posted:
Fri Aug 09, 2019 12:51 am
Part 1 of 4
A Zen Nazi in Wartime Japan: Count Dürckheim and his Sources—D.T. Suzuki, Yasutani Haku'un and Eugen Herrigel
by Brian Victoria
The Asia Pacific Journal
Volume 12 | Issue 3 | Number 2
January 13, 2014
Introductory Note: This is the final article in a three part series on the relationship of D.T. Suzuki and other Zen figures in wartime Japan to Count Karlfried Dürckheim and other Nazis. Part I of this series, "D.T. Suzuki, Zen and the Nazis" is available here. Part II, "The Formation and Principles of Count Dürckheim's Nazi Worldview and his interpretation of Japanese Spirit and Zen" is available here. Readers who have not yet done so are urged to read at least Part II of this series that provides crucial background information for understanding Part III.
Introduction
By the late 1930s Japan was well on the way to becoming a totalitarian society. True, in Japan there was no charismatic dictator like Hitler or Mussolini, but there was nevertheless a powerful "divine presence," i.e., Emperor Hirohito. Although seldom seen and never heard, he occasionally issued imperial edicts, serving to validate the actions of those political and military figures claiming to act on his behalf. At least in theory, such validation was absolute and leftwing challenges to government policies, whether on the part of Communists, socialists or merely liberals, were mercilessly suppressed. For example, between 1928 and 1937 some 60,000 people were arrested under suspicion of harboring "dangerous thoughts," i.e., anything that could conceivably undermine Japan's colonial expansion abroad and repressive domestic policies at home. Added to this was the fact that Japan had begun its full-scale invasion of China on July 7, 1937.
Japan's relationship with Germany was in flux according to the changing political interests of both countries.1 Because of negative international reactions to the Anti-Comintern pact of November 1936, resistance against it increased in Japan soon after it was made, and the Japanese froze their policy of closer ties. However, in 1938 it became clear to Japan that the war against China would last longer than expected. Thus, Japanese interest in a military alliance with Germany and Italy reemerged. On the German side, Joachim von Ribbentrop had become Foreign Minister in February 1938, and as he had long been a proponent of closer ties with Japan, negotiations between the two countries resumed in the summer of 1938.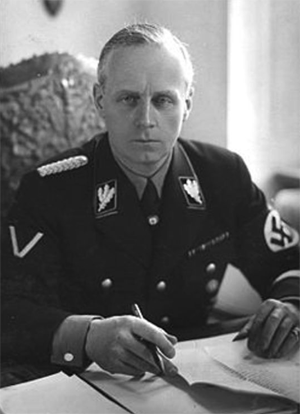 Joachim von Ribbentrop
Count Karlfried Dürckheim´s first Japan trip was probably connected with the beginning of this thaw in German-Japanese relations. The birth of "total war" in the wake of World War I and even earlier had demonstrated that victory could not be achieved without the strong support and engagement of civilian populations, one aspect of which was not simply knowledge of potential adversaries but of one's allies as well. This meant enhanced cultural relations and mutual understanding between the citizens of allied nations.
It was under these circumstances that Dürckheim undertook what was portrayed as an education-related mission to Japan, a mission that would impact on him profoundly for the remainder of his life. This was not the first such mission Dürckheim had undertaken on behalf of Foreign Minister Von Ribbentrop and Education Minister Bernhard Rust, for he had previously made somewhat similar trips to other countries, including South Africa and Britain. Dürckheim's trip to South Africa took place from May thru October 1934 on behalf of Rust. He conducted research on the cultural, political and educational situation of Germans in South Africa while at the same time promoting the new regime.
During his work in Ribbentrop's office from 1935 to 1937, Dürckheim was a frequent visitor to Britain, around 20 times altogether. His task was to gather information about the image of National Socialism in Britain while at the same time promoting the "new Germany." Toward this end, he met such notables as King Edward VII and Winston Churchill and arranged a meeting between Hitler and Lord Beaverbrook, the owner of the Evening Standard. This was part of Hitler's ultimately unsuccessful plan to form a military alliance with Britain directed against the Soviet Union. Dürckheim's work officially ended on December 31, 1937.
Dürckheim's First Visit to Japan
Dürckheim began his journey to Japan on June 7, 1938 and did not return to Germany until early 1939. According to his biographer, Gerhard Wehr, Dürckheim initially received a research assignment from the German Ministry of Education that consisted of two tasks: first, to describe the development of Japanese national education including the so-called social question,2 and second, to investigate the possibility of using cultural activities to promote Germany's political aims both within Japan and those areas of Asia under Japanese influence.3 Dürckheim arrived by boat and travelled extensively within Japan as well as undertaking trips to Korea, Manchukuo (Japan's puppet state in Manchuria) and northern China. During his travels Dürckheim remained in close contact with the local NSDAP (Nazi) offices and the Japan-based division of the National Socialist Teachers Association.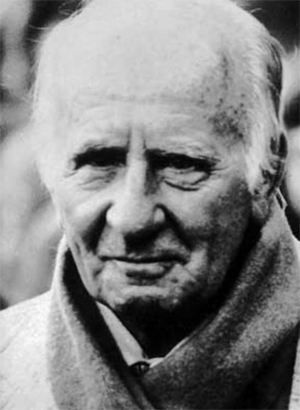 Count Karlfried Dürckheim
Dürckheim Meets D.T. Suzuki
Dürckheim described his arrival in Japan as follows:
I was sent there in 1938 with a particular mission that I had chosen: to study the spiritual background of Japanese education. As soon as I arrived at the embassy, an old man came to greet me. I did not know him. "Suzuki," he stated. He was the famous Suzuki who was here to meet a certain Mister Dürckheim arriving from Germany to undertake certain studies.

Suzuki is one of the greatest contemporary Zen Masters. I questioned him immediately on the different stages of Zen. He named the first two, and I added the next three. Then he exclaimed: "Where did you learn this?" "In the teaching of Meister Eckhart!" "I must read him again..." (though he knew him well already). . . . It is under these circumstances that I discovered Zen. I would see Suzuki from time to time.4
Although the exact sequence of events leading up to their meeting is unknown, a few points can be surmised. First, while Dürckheim states he had been sent to Japan on an educational mission, specifically to study "the spiritual foundations of Japanese education,"5 it should be understood that within the context of Nazi ideology, education referred not only to formal academic, classroom learning but, more importantly, to any form of "spiritual training/discipline" that produced loyal citizens ready to sacrifice themselves for the fatherland. Given this, it is unsurprising that following Dürckheim's return to Germany in 1939 the key article he wrote was entitled "The Secret of Japanese Power" (Geheimnis der Japanisher Kraft).
Additionally, it should come as no surprise to read that Dürckheim was clearly aware of, and interested in, Suzuki's new book. Wehr states: "In records from his first visit [to Japan] Dürckheim occasionally mentions Zen including, among others, D. T. Suzuki's recently published book, Zen Buddhism and Its Influence on Japanese Culture. In this connection, Dürckheim comments: 'Zen is above all a religion of will and willpower; it is profoundly averse to intellectual philosophy and discursive thought, relying, instead, on intuition as the direct and immediate path to truth.'"6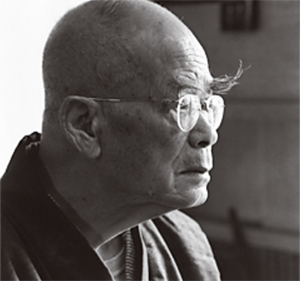 D.T. Suzuki
In claiming this is it possible that Dürckheim had misunderstood the import of Suzuki's writings? That is to say, had he in fact begun what might be called the 'Nazification' of Zen, i.e., twisting it to fit the ideology of National Socialism. In fact he had not, for in his 1938 book, Suzuki wrote: "Good fighters are generally ascetics or stoics, which means to have an iron will. When needed Zen supplies them with this."7 Suzuki futher explained: "From the philosophical point of view, Zen upholds intuition against intellection, for intuition is the more direct way of reaching the Truth...Besides its direct menthod of reaching final faith, Zen is a religion of will-power, and will-power is what is urgently needed by the warriors, though it ought to be enlightened by intuition."8
In light of these quotes, and many others like them, whatever other faults the wartime Dürckheim may have had, misunderstanding Suzuki's explication of Zen was not one of them.
And, significantly, Suzuki was not content in his book to simply link Zen as a religion of will to Japanese medieval warriors. He was equally intent to show that the same self-sacrificial, death-embracing spirit of the samurai had become the modern martial spirit of the Japanese people as a whole:
The Japanese may not have any specific philosophy of life, but they have decidedly one of death which may sometimes appear to be that of recklessness. The spirit of the samurai deeply breathing Zen into itself propagated its philosophy even among the masses. The latter, even when they are not particularly trained in the way of the warrior, have imbibed his spirit and are ready to sacrifice their lives for any cause they think worthy. This has repeatedly been proved in the wars Japan has so far had to go through for one reason or another. A foreign writer on Japanese Buddhism aptly remarks that Zen is the Japanese character.9
Given these words, Dürckheim could not fail to have been interested in learning more about a Zen tradition that had allegedly instilled death-embracing values into the entire Japanese people. Hitler himself is recorded as having lamented, "You see, it's been our misfortune to have the wrong religion. Why didn't we have the religion of the Japanese, who regard sacrifice for the Fatherland as the highest good?"10 Thus Dürckheim's mission may best be understood as unlocking the secret of the Japanese people's power as manifested in the Zen-Bushidō ideology Suzuki promoted. No doubt, his superiors were deeply interested in duplicating, within the context of a German völkisch faith, this same spirit of unquestioning sacrifice for the Fatherland.
It is unlikely that Dürckheim had read Suzuki's book prior to his arrival. Written in English, the Eastern Buddhist Society of Ōtani College didn't publish it in Japan until May 1938. Suzuki reports that he first received copies of his book on May 20, 1938.11 This suggests that it was Embassy personnel, knowing of Dürckheim's interests and Suzuki's reputation, who requested Suzuki's presence. Yet another possibility is that Dürckheim had heard about Suzuki during his frequent trips to Britain, since much of the material in Suzuki's 1938 book consisted of lectures first delivered in Britain in 1936.
It is noteworthy that the first conversation between the two men centered on Meister Eckhart, the thirteenth century German theologian and mystic. On the surface this exchange seems totally innocuous, the very antithesis of Nazism. Yet, as discussed in Part II, Meister Eckhart was the embodiment of one major current in Nazi spirituality. That is to say, within German völkisch religious thought Eckhart represented the very essence of a truly Germanic faith.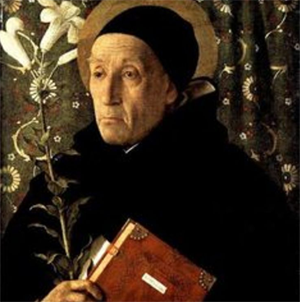 Meister Eckhart
Meister Eckhart's reception in Germany had undergone many changes over time, with Eckhart becoming linked to German nationalism by the early 19th century as a result of Napoleon's occupation of large parts of Germany. Many romanticists and adherents of German idealism regarded Eckhart as a uniquely German mystic and admired him for having written in German instead of Latin and daring to oppose the Latin speaking world of scholasticism and the hierarchy of the Catholic Church.
In the 20th century, National Socialism - or at least some leading National Socialists - appropriated Eckhart as an early exponent of a specific Germanic Weltanschauung. In particular, Alfred Rosenberg regarded Eckhart as the German mystic who had anticipated his own ideology and thus represented a key figure in Germanic cultural history. As a result, Rosenberg included a long chapter on Eckhart, entitled "Mysticism and Action," in his book The Myth of the Twentieth Century.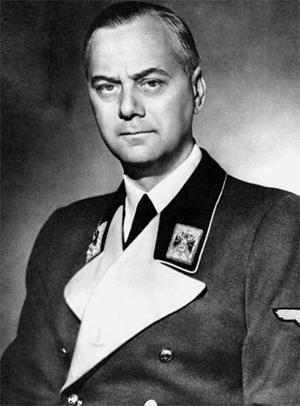 Alfred Rosenberg
Rosenberg was one of the Nazi's chief ideologists and The Myth of the Twentieth Century was second in importance only to Hitler's Mein Kampf. By 1944 more than a million copies had been sold. Rosenberg was attracted to Eckhart as one of the earliest exponents of the idea of "will" as supreme:
Reason perceives all things, but it is the will, Eckhart comments, which can do all things. Thus where reason can go no further, the superior will flies upward into the light and into the power of faith. Then the will wishes to be above all perception. That is its highest achievement.12
Suzuki would no doubt have readily agreed with these sentiments, for, as we have already seen, he, too, placed great emphasis on will, identifying it as the very essence of Zen.
Rosenberg also included this almost Zen-like description of "Nordic Germanic man":
Nordic Germanic man is the antipode of both directions, grasping for both poles of our existence, combining mysticism and a life of action, being borne up by a dynamic vital feeling, being uplifted by the belief in the free creative will and the noble soul. Meister Eckhart wished to become one with himself. This is certainly our own ultimate desire.13
This said, the fact that there were similarities between Rosenberg's description of Eckhart and Suzuki's descriptions of Zen by no means demonstrates that Suzuki's interest in Eckhart was identical with Rosenberg's racist or fascist interpretation. In fact, Suzuki's interest in Eckhart can be traced back to his interest in Theosophy in the 1920s.
Nevertheless, there is a clear and compelling parallel in the totalitarian nature of völkisch Nazi thought as represented by Rosenberg, as well as Dürckheim, and Suzuki's own thinking. As pointed out in Part II, one of the key components of Nazi thought was that "individualism" was an enemy that had to be overcome in order for the "parts" (i.e., a country's citizens) to be ever willing to sacrifice themselves for the Volk, i.e., the "whole," as ordered by the state. Rudolph Hess, Hitler's Deputy Führer, not only recognized the importance of this struggle but also admitted that the Japanese were ahead of the Nazis in this respect. Hess wrote:
We, too, [like the Japanese] are battling to destroy individualism. We are struggling for a new Germany based on the new idea of totalitarianism. In Japan this way of thinking comes naturally to the people.14
Just how "naturally" (or even whether) the Japanese people rejected individualism and embraced totalitarianism is open to debate. Yet, we find Suzuki adopting an analogous position beginning with the publication of his very first book in 1896, i.e., Shin Shūkyō-ron (A Treatise on the New [Meaning of] Religion). Suzuki wrote:
At the time of the commencement of hostilities with a foreign country, then marines fight on the sea and soldiers fight in the fields, swords flashing and cannon-smoke belching, moving this way and that. In so doing, our soldiers regard their own lives as being as light as goose feathers while their devotion to duty is as heavy as Mt. Tai in China. Should they fall on the battlefield they have no regrets. This is what is called "religion in a national emergency."15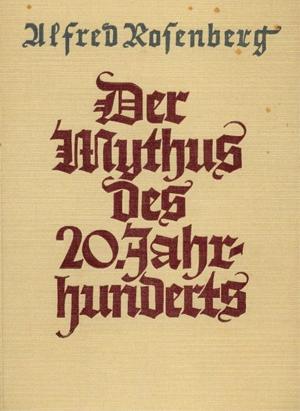 The Myth of the 20th Century, by Alfred Rosenberg
Suzuki was only twenty-six years old when he wrote these lines, i.e., long before the emergence of the Nazis. Yet, he anticipated the Nazi's demand that in wartime all citizens must discard attachment to their individual well-being and be ever ready to sacrifice themselves for the state, regarding their own lives "as light as goose feathers." During the Russo-Japanese War of 1904-5, Suzuki exhorted Japanese soldiers as follows: "Let us then shuffle off this mortal coil whenever it becomes necessary, and not raise a grunting voice against the fates. . . . Resting in this conviction, Buddhists carry the banner of Dharma over the dead and dying until they gain final victory."16 Given these sentiments there clearly was no need for the Nazis to inculcate völkisch values, emphasizing self-sacrifice for the state, into Suzuki's thought, for they had long been present.
In any event, the content of the initial conversation between Suzuki and Dürckheim does suggest why, from the outset, these two men found they shared so much in common. For his part, like "Nordic man" in the preceding quotation, Suzuki frequently equated Zen with the Japanese character.17 In other words, within one of the two major strands of Nazi religiosity, Dürckheim would perhaps have understood, and welcomed, Suzuki as a völkisch proponent of a religion, i.e., Zen, dedicated to, and shaped by, the Japanese Volk. This may well explain what initially drew the two men together and led to their ongoing relationship.
It should also be noted that Suzuki was not the first to recognize affinities between Eckhart and Buddhism. In the 19th century the German philosopher Arthur Schopenhauer had postulated this connection. He wrote:
If we turn from the forms, produced by external circumstances, and go to the root of things, we shall find that [Buddha] Shākyamuni and Meister Eckhart teach the same thing; only that the former dared to express his ideas plainly and positively, whereas Eckhart is obliged to clothe them in the garment of the Christian myth, and to adapt his expressions thereto.18
As for Dürckheim, his interest in Eckhart, as noted in Part II, can be traced back to the 1920s when he began to practice meditation together with his friend Ferdinand Weinhandl, the Austrian philosopher who later became a professor in Kiel and another strong proponent of National Socialism. Additionally, the Swiss psychologist C. G. Jung identified Eckhart as the most important thinker of his time.
Suzuki's View of Nazi Germany
There is one vital question that warrants our attention, i.e., why had Suzuki accepted an invitation to come to a German Embassy so firmly under Nazi control? In the context of the times, this may not seem so surprising, but it is in fact a very surprising turn of events. Very surprising, that is, if one believes the testimony of Satō Gemmyō Taira, a Shin (True Pure Land) Buddhist priest who, readers of Part I of this article will recall, identifies himself as one of Suzuki's disciples in the postwar period.
Satō claims:
Although Suzuki recognized that the Nazis had, in 1936, brought stability to Germany and although he was impressed by their youth activities (though not by the militaristic tone of these activities), he clearly had little regard for the Nazi leader, disapproved of their violent attitudes, and opposed the policies espoused by the party. His distaste for totalitarianism of any kind is unmistakable.19
If, as Satō asserts, Suzuki "opposed the policies espoused by the [Nazi] party," etc. why would he have agreed to meet a Nazi researcher like Dürckheim on his arrival in Japan? And why would he subsequently have continued to meet him "from time to time"? Still further, why would the German Embassy have invited a known critic of the Nazis, someone whom Satō claims had publicly expressed his anti-Nazi views in October 1936, to meet a visiting Nazi researcher less than two years later? While these questions may seem unrelated to Dürckheim's wartime activities in Japan, they do point to a striking parallel between the two men in the postwar period, a parallel that will become apparent below.
First, however, it should be noted that there is an alternate narrative that readily explains Suzuki's willingness to assist a Nazi-affiliated researcher like Dürckheim. This narrative begins by noting that in his 1938 book, Zen Buddhism and Its Influence on Japanese Culture, Suzuki wrote:
Zen has no special doctrine or philosophy with a set of concepts and intellectual formulas, except that it tries to release one from the bondage of birth and death and this by means of certain intuitive modes of understanding peculiar to itself. It is, therefore, extremely flexible to adapt itself almost to any philosophy and moral doctrine as long as its intuitive teaching is not interfered with.

It may be found wedded to anarchism or fascism, communism or democracy, atheism or idealism, or any political and economical dogmatism. It is, however, generally animated with a certain revolutionary spirit, and when things come to a deadlock which is the case when we are overloaded with conventionalisms, formalism, and other cognate isms, Zen asserts itself and proves to be a destructive force.20
Given that Suzuki, at least in 1938, claimed that Zen could be wedded to almost any political ideology, fascism included, he would have had no reason for refusing to meet Dürckheim at the German Embassy. As Part I of this article revealed, Suzuki's staunch defender, Satō Gemmyō Taira, was willing to go so far as to fabricate part of his translation of Suzuki's October 1936 newspaper description of the Nazis in order to make it appear his master was critical of this movement. This bears repeating because a similar phenomenon occurred on the part of those who were close to Dürckheim, including his family members.
If in Dürckheim's case it was impossible to deny outright his Nazi connection, then the least his admirers could do was minimize the significance of that connection, for example, by describing his role in wartime Japan as that of a "Kulturdiplomat" (cultural diplomat). This title suggests that Dürckheim did nothing more than engage in "cultural activities" during his nearly eight-year residence in Japan. However, as this article makes clear, Dürckheim was in fact an indefatigable propagandist for the Nazis, anything but a mere cultural envoy. This point will be touched upon again below.
In part, this attempt to disguise Dürckheim's actions as being cultural in nature can be explained by the fact that for the Nazis "culture," like "education," was an all-embracing concept subsumed into the overall struggle for a totalitarian society and state. Thus, the primary focus of Dürckheim's "cultural activities," including his interest in Zen, was his mission to promote the cultural, educational and political policies of the Third Reich in Japan as a part of the overall struggle to ensure the triumph of National Socialism.
As for the frequency of Suzuki's meetings with Dürckheim during his first visit to Japan we know relatively little. However, Suzuki did include the following entries in his English language diary: (January 16, 1939), "Special delivery to Durkheim (sic), at German Embassy";21 (January 17, 1939), Telegram from Dürkheim";22 (January 18, 1939), "Went to Tokyo soon after breakfast. Called on Graf. [Count] Durkheim at German Embassy, met Ambassador [Eugen] Otto [Ott], and Dr. [space left blank] of German-Japanese Institute. Lunch with them at New Grand [Hotel]."23 It is likely that this flurry of activity in early 1939 was connected to Dürkheim's impending return to Germany. If so, Dürkheim's luncheon invitation may well have been by way of thanking Suzuki for the latter's assistance during his stay.
Suzuki's assistance appears to have extended to aiding Dürckheim indirectly during a sightseeing visit he made to Kyoto on November 20-24, 1938. Wehr informs us that while in Kyoto Dürckheim met ikebana master Adashi and participated in a tea ceremony. In describing his visit Dürckheim wrote in his diary: "My loyal companion, Mr. Yanasigawa, was – what a happy coincidence! – Suzuki's secretary."24
Dürckheim's Second Visit to Japan
Dürckheim returned to Japan in January 1940 and remained there throughout the war. It was during this time that his most important work for the Nazis was undertaken. This time Dürckheim travelled to Japan by train through Russia, taking advantage of the new, and once unthinkable, non-aggression pact between Germany and the Soviet Union. It was, however, this very treaty that had produced a crisis in Germany's relationship with Japan. That is to say, the promising negotiations of 1938 between the two countries had led to nothing, mostly because of Japan's hesitant attitude. As a result, Germany changed its plans and on August 23, 1939 Foreign Minister Ribbentrop signed a "Treaty of Non-Aggression between Germany and the Union of Soviet Socialist Republics," thereby allying itself with Japan's archenemy. This ruptured the Anti-Comintern pact, and the relationship between the two countries hit rock bottom.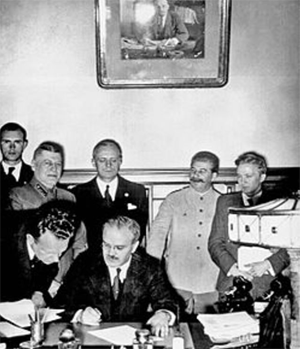 Signing of the Nazi-Soviet Non-aggression Pact
Interestingly, Dürckheim appears to have had advance knowledge of this development. That is to say, in his 1992 book, Der Weg ist das Ziel (The Way is the Goal), Dürckheim recalls:
As soon as I had returned to Germany [from Japan in 1939], Ribbentrop summoned me. In the meanwhile he had become foreign minister, yet he never abandoned people he had worked with. He said to me: "I would like to conclude a treaty with Russia. Here is the draft. You are the first one I'm showing it to. What will the Japanese say?" "Well," I replied, "of course they will not be very happy about it, Mr. von Ribbentrop."25
This incident suggests just how important Dürckheim had already become, at least concerning Japanese affairs.
By the spring of 1940 Germany had achieved an impressive list of military victories leading to the occupation of Denmark, Norway, the Netherlands, and, most important, France. The defeat of England seemed to be only a matter of time. This led Japan to approach Germany with the goal of ensuring protection of its own sphere of influence in East Asia. As for Germany, as it became clear that the defeat of England would take longer than expected, especially in the face of possible US intervention in Europe as well as East Asia. Thus, Germany, too, once again became interested in a military alliance with Japan. This time renewed negotiations bore fruit in the form of the Tripartite Pact between Germany, Japan and Italy, signed on September 27, 1940.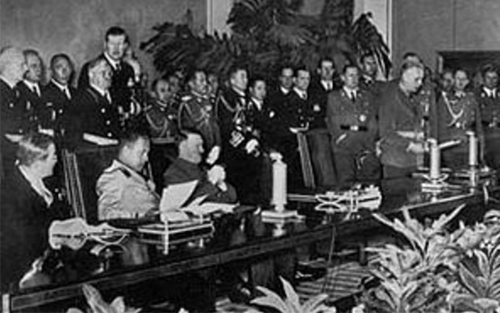 Signing of the Tripartite Pact
Dürckheim continued to work for Ribbentrop during his second stay in Japan. This time his work included collecting information about Japanese opinion concerning Germany and its policies as well as organizing propaganda for the Nazis, especially at the academic level. About this, Dürckheim recalls:
Then the war started. The day after [Germany's invasion of Poland on September 1, 1939] Ribbentrop summoned me and said: "We need somebody to maintain contact with scientists in Japan." I answered: "Mr. Von Ribbentrop, I can't wait to return to Japan." "OK," he answered, "then come back tomorrow and tell me what you want to have [to carry out this task]." The next day I said to him: "I want eighty libraries consisting of one hundred volumes each." "What do you mean?" "Eighty libraries with one hundred volumes in each is a library for every teacher at German schools [in Japan]." He said "OK, approved. I think this is reasonable."26
In addition, Dürckheim sought to place pro-Nazi articles in important Japanese journals while supplying the German Foreign Office's propaganda magazine, Berlin-Rom-Tokyo, with articles about Japan. He also claims to have played a role in the preparation of the Tripartite Pact signed on September 27, 1940.27 Despite his lack of official status in Germany's Foreign Ministry, Dürckheim was clearly an important, even key, figure in promoting the wartime relationship between the two countries.
Gerhard Wehr's View of Dürckheim in Japan
A major divergence in viewpoints is evident in the available descriptions of Dürckheim's activities during his second residence in Japan. This divergence might best be characterized as a divergence between those in Europe who described Dürckheim's residence in Japan from outside Japan, and without knowledge of Japanese, and those who described him from within Japan, primarily from Japanese sources.
Among those in the first category is Gerhard Wehr, Dürckheim's biographer and admirer. Wehr acknowledges that his subject eagerly embraced his new duties as a Nazi emissary: "In the wave of enthusiastic nationalism, Dürckheim saw himself as a useful representative of the 'new Germany' for his people and his employers in Berlin, for the Minister of Foreign Affairs Von Ribbentrop, and for the Minister of Education, Bernhard Rust."28
Wehr further states: "And as his biography shows, it was not hard for him to obey the orders of his superiors." Yet, Wehr immediately adds: "But in the background, there was always this other tendency toward the spirituality of the East, and especially toward Zen Buddhism; later it will be for Zen as a trans-religious attitude in universal man, the practice of spiritual exercise and disciplines."29
Wehr also informs us: "From the outside, in the years 1930 to 1940, Professor Karlfried Graf [Count] Dürckheim seemed to be a cultural envoy of the Third Reich. At the same time, a subterranean process of transformation of which he was hardly conscious was taking place."30
Thus, on the one hand, Wehr admits that, at the very least, Dürckheim was in the employment of the Nazis, but on the other hand he claims that from the very outset of his residence in Japan, Dürckheim was drawn toward the spirituality of the East, most especially Zen.
Yet, what exactly was this transformational "subterranean process" Dürckheim was undergoing? Wehr introduces a quote from Dürckheim describing how his spiritual journey after arriving in Japan led him to practice not only Zen but also traditional Japanese archery and painting as well:
Out of personal preference, I came to know many Zen exercises. I even worked outside of meditation (zazen), especially in archery and painting. It is surprising to notice that from the point of view of Zen, the most varied arts have the same purpose, whether it be archery or dance, song or karate, floral decoration or aikido, the tea ceremony or spear throwing. . . . Done in the spirit of Zen, they are merely different ways aiming toward the same thing: the breakthrough toward the nature of Buddha, toward "Being."31
Wehr goes on to inform his readers that "the thought at the foundation of this special exercise [i.e., archery] . . . is Zen. Further, through his practice of Zen and Zen-influenced arts Dürckheim feels that he is able to approach "the Japanese character," the ultimate expression of which is that "a person realizes himself completely, discovering in his way the Divine. And that is of course what man feels most directly."32 Yet, throughout the entire period Dürckheim pursues his spiritual interests he remains in the service of the Nazis.
The preceding comments raise two interesting questions. First, is Zen practice, especially as it is allegedly found in Japanese arts like archery, really in conflict with the ideology of National Socialism? And second, are all of these arts, particularly archery, really connected to Zen in the first place?
Dürckheim and Eugen Herrigel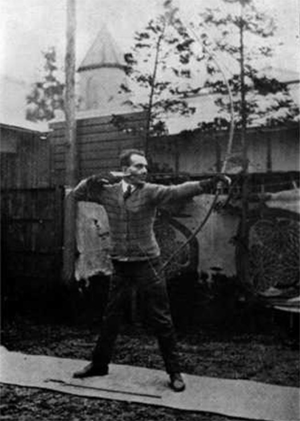 Eugen Herrigel
Dürckheim tells us that he was drawn to the practice of archery thanks to Eugen Herrigel, the well-known author of the short classic, Zen in the Art of Archery. According to Wehr:
Dürckheim remembers having read an article by his colleague Eugen Herrigel dealing with the martial arts. He is therefore already familiar with the thought at the foundation of this special exercise that is Zen. And as this master of archery follows the same tradition as Herrigel, it is an added incentive to become initiated in this discipline. "That is what led me to begin this activity. I knew that I would learn things about Japan which would be useful to me and which cannot be found in books or in any other way."33
The first problem with Wehr's description is that subsequent research has shown that Dürckheim did not study archery with a teacher in the lineage of Awa Kenzō, i.e., someone who "follows the same tradition as Herrigel." However, Dürckheim may not have been aware of this. Dürckheim provides a more detailed description in his book Der Weg ist das Ziel (The Way is the Goal): "One day in 1941 a Japanese friend invited me, 'Come with me, my master is here. What master? The master of archery.' This is how I got to know master Kenran Umechi [Umeji]."34
The Japanese scholar Yamada Shoji emphasizes that Umeji was not in Awa's lineage. Instead, he was simply another archery instructor of that era. The only known connection between the two men was that Awa once visited Umeji to query him about a fine point of archery technique. In the aftermath of his visit Umeji's disciples claimed that their master was the greater of the two, going so far as to suggest that Awa was one of Umeji's students. Unsurprisingly, Awa's students adamantly rejected this claim.35
Be that as it may, there nevertheless appears to be a genuine connection between Dürckheim and the martial art of archery. Additionally, Zen is identified as the "foundation of this special exercise." There is, however, yet another problem with this scenario, for as Yamada Shoji has demonstrated, the connection of Zen to archery is, historically speaking, little more than a modern myth, primarily created even in Japan itself by Herrigel:
Looking back over the history of kyūdō [archery], one can say that it was only after World War II that kyūdō became strongly associated with Zen. To be even more specific, this is a unique phenomenon that occurred after 1956 when Zen in the Art of Archery was translated and published in Japanese. . . . This suggests that the emphasis on the relationship between the bow and Zen is due to the influence of Zen in the Art of Archery.36
Yamada reveals moreover that Herrigel himself never underwent any formal Zen training during his five-year stay in Japan from 1924-29. Yamada also informs us that Awa "never spent any time at a Zen temple or received proper instruction from a Zen master."37 Awa did, however, teach something he called Daishadōkyō (Great Doctrine of the Way of Shooting) that included a religious dimension he expressed using elements of Zen terminology. Awa's Japanese students noted this Great Doctrine consisted of "archery as a religion" in which "the founder of this religion is Master Awa Kenzō."38 Herrigel also refers to the "Great Doctrine" but, as Yamada notes: "Herrigel offered no explanation of what the "Great Doctrine" might be, so readers of Zen in the Art of Archery had no way of knowing that this was simply Awa's personal philosophy."39
Yet another key component of Herrigel's archery training was the mystical spiritual experience he claimed to have had, expressed verbally as "'It' shoots" rather than the familiar "I shoot (an arrow)." The spiritual connection came from Herrigel's identification of "It" with "something which transcends the self."40 Inasmuch as this expression appears to resonate with Zen teaching the question must be asked, what's the problem?
The problem is, as Yamada explains: "There is no record of Awa ever having taught: "'It' shoots" to any of his disciples other than Herrigel."41 How is this possible? Yamada's painstaking research led him to the following conclusion:
When Herrigel made a good shot, Awa cried, "That's it!". . . . "That's it" was mistakenly translated to Herrigel [in German] as "'It' shoots," and Herrigel understood "It" to mean "something which transcends the self." If that is what happened, then the teaching of "'It' shoots" was born when an incorrect meaning filled the void created by a single instance of misunderstanding.42
The relevance of this alleged "misunderstanding" to Dürckheim is that the latter shared the same misunderstanding, albeit under a different master with only a tenuous connection to Awa. During an interview with German television at the age of eighty-seven Dürckheim said:
I still remember the day, in the presence of the master, when I shot an arrow and it left on its own. "I" had not shot it. "It" had shot. The master saw this and took the bow in his hands, then took me in his arms (which is very rare in Japan!) and said: "That's it!" He then invited me to tea. That is how archery taught me so much, for the mastery of a traditional Japanese technique does not have as goal a performance, but on the contrary requires the achievement of a step forward on the inner path.43
Dürckheim thus used nearly the same words as Herrigel to describe his mystical experience, i.e., "'It' had shot." Yet, unlike Herrigel, Dürckheim did not claim that his archery master had used these words. Instead, he states that, upon seeing Dürckheim's accomplishment, his archery master said, "That's it!" Not only does this episode provide strong evidence that Yamada's conclusion is correct, but it also suggests that, since neither Herrigel nor Dürckheim were fluent in Japanese, Dürckheim, at least, had the superior interpreter.
That said, where had Dürckheim first learned the expression, "'It' shoots" if not from Herrigel's writings? As noted above, Awa did not employ this expression in his teaching which, in any case, was not based on any Zen training but rather on his own personal philosophy that included Zen expressions. This forces us to recognize that there was no "Zen" in the "art of archery" other than that first created in Herrigel's mind based on a mistaken translation of Awa's words.
For his part, Dürckheim subsequently accepted this mistaken translation at face value. Further, as we have seen, Dürckheim mistakenly believed his archery master "follow[ed] the same tradition as Herrigel."44 Thus, it can be said that while Dürckheim had the superior interpreter, there was nothing "superior" or even "accurate" in either man's understanding of their practice of archery or its non-existent historical relationship to Zen.45
Be that as it may, the importance of this discussion is that the connection of archery to Zen was not an ancient tradition that Herrigel encountered while in Japan, nor was the practice of archery understood as an alternate form or expression of Zen practice. As Yamada, himself an accomplished student of archery, states, Zen's connection to archery is primarily a postwar "myth" that Herrigel himself promoted.46
Finally, it is not surprising that Dürckheim would have also embraced this myth in light of the fact that Herrigel, in his writings from 1936, promoted a völkisch religious understanding very similar to that of Dürckheim. Further, Dürckheim was aware of these 1936 writings before he started his own practice of archery. This völkisch understanding was, however, not the only thing the two men shared in common.