100 Years Later, Dearborn Confronts The Hate Of Hometown Hero Henry Ford
by Bill McGraw
January 24, 2019, 11:45 PM
NOTICE: THIS WORK MAY BE PROTECTED BY COPYRIGHT
YOU ARE REQUIRED TO READ

THE COPYRIGHT NOTICE AT THIS LINK

BEFORE YOU READ THE FOLLOWING WORK, THAT IS AVAILABLE SOLELY FOR PRIVATE STUDY, SCHOLARSHIP OR RESEARCH PURSUANT TO 17 U.S.C. SECTION 107 AND 108. IN THE EVENT THAT THE LIBRARY DETERMINES THAT UNLAWFUL COPYING OF THIS WORK HAS OCCURRED, THE LIBRARY HAS THE RIGHT TO BLOCK THE I.P. ADDRESS AT WHICH THE UNLAWFUL COPYING APPEARED TO HAVE OCCURRED. THANK YOU FOR RESPECTING THE RIGHTS OF COPYRIGHT OWNERS.
Deadline Detroit publishes "Henry Ford and 'The International Jew'" with permission from The Dearborn Historian, a city-funded quarterly magazine of the Dearborn Historical Commission. The story appears in the Historian's current issue, which marks the 100th anniversary of Dearborn native Henry Ford buying the weekly Dearborn Independent, which he used to attack Jews.

The Historian story is Dearborn's first detailed examination of Ford's anti-Jewish crusade, whose content lives on today in the online world of anti-Semites and other hate groups as anti-Semitic incidents are on the rise. While Ford's dark side has been off-limits in Dearborn, the city has taken steps in recent years to come to terms with its other symbol of hate, Orville Hubbard, the segregationist mayor from 1942-78.

The story's author and editor of The Historian is veteran Detroit journalist Bill McGraw, a Dearborn resident who co-founded Deadline Detroit with Allan Lengel. The Historian has no online presence; the story has been edited for posting on a website.
Chapter 1: Mass-Producing Hate
Henry Ford was peaking as a global celebrity at the conclusion of World War I, having introduced the $5 workday, assembly line and Model T -- revolutionary changes that transformed the way people lived. Reporters staked out the gates of his Fair Lane mansion. Ford loved the limelight and he constantly made news, even running for the U.S. Senate in Michigan as a Democrat in 1918. He narrowly lost.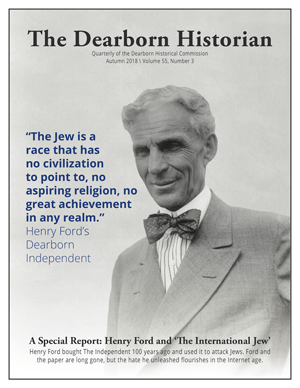 Cover design: Lauren Davies
In the midst of his fame, Ford became a media mogul of sorts, forming the Dearborn Publishing Company and purchasing the sleepy Dearborn Independent weekly newspaper, which was dying of red ink. He published the paper under his name for the first time 100 years ago, in January 1919.
Under Ford, the Independent became notorious for its unprecedented attacks on Jews. But Ford's anti-Semitism traveled far beyond the Dearborn borders. Showing the marketing expertise that had catapulted Ford Motor into one of the world's most famous brands, Henry Ford's lieutenants vastly widened the reach of his attacks by packaging the paper's anti-Semitic content into four books.
Experts say "The International Jew," distributed across Europe and North America during the rise of fascism in the 1920s and '30s, influenced some of the future rulers of Nazi Germany.
In 1931, two years before he became the German chancellor, Adolf Hitler gave an interview to a Detroit News reporter in his Munich office, which featured a large portrait of Ford over the desk of the future führer. The reporter asked about the photo.
"I regard Henry Ford as my inspiration," Hitler told the News.
Ford's anti-Jewish campaign provoked protests and a boycott of Ford Motor automobiles in the 1920s. Ford offered an apology -- received by the public with great skepticism -- and closed the paper in 1927. It was too late, though, as copies of "The International Jew" spread widely before and after World War II, influencing generations of anti-Semites. The glowing imprimatur of Henry Ford lent credibility to the preposterous charges against Jews the books contained.
But what might have been lost to history as an ugly curiosity has proven to be a Pandora's box, as the Internet age has given Ford's anti-Semitic literature a powerful new life. Today, a century after Ford purchased the Dearborn Independent and 72 years after his death, his legacy of hate is stronger than ever -- it flourishes on the websites and forums of white nationalists, racists and others who hate Jews.

Today, "The International Jew" by Henry Ford plays a significant role in fomenting resentment as the United States grapples with rising numbers of hate crimes and anti-Semitic incidents, ascendant white nationalism and a gunman armed with an AR-15-style assault rifle who massacred 11 people at a Pittsburgh synagogue in October. When he surrendered, the gunman told police he "wanted all Jews to die."

An essay posted by the Anti-Defamation League on its website says that by resurrecting decades-old texts such as "The International Jew," today's anti-Semites demonstrate the longevity of their beliefs, legitimizing them to both dedicated followers and potential recruits.

Because of Ford's fame, "The International Jew" has been a "particularly powerful tool for haters trying to validate their hostile beliefs," the essay adds.

Two examples of Ford's influence online today: On Stormfront, a white nationalist online forum, a contributor has taken the screen name Dr. Ford and uses a photo of Henry Ford as a profile image. On the same forum, a participant whose screen name is AllisonRM wrote last year:
"I'm currently reading The International Jew: Essays from the Dearborn Independent (Ford)… Read these great books!...We, the white race, need to encourage ourselves and our children."
Heidi Beirich, an expert on extremism in the United States at the Alabama-based Southern Poverty Law Center, said extremist websites contain thousands of references to Ford and "The International Jew."

"In the world of the racist right, Henry Ford is almost a living, breathing human being, " Beirich said in an interview. She added that extremist leaders use Ford "as an inspiration" and "validator" to impress people while enlisting them to join the movement.
It's not just extremist websites that are peddling Ford's books. Shoppers can buy "The International Jew" by Henry Ford on the websites of Amazon, Barnes & Noble and Walmart.
"This is a wonderful book that should be required reading for all Americans," wrote Tara, in a five-star Amazon review. "Sadly, many people like to label Henry Ford as an anti-Semite, when nothing could be further from the truth."
This is a wonderful book that should be required reading for all Americans. Sadly, many people like to label Henry Ford as an anti-Semite, when nothing could be further from the truth. Ford was a deeply moral man, to whom honesty, work, and sobriety were sacred concepts. He was a gentle man who shared a love of all living things, a man who was so gentle that he postponed a hay harvest because ground birds were brooding in the field. Ford was a man of peace, saying that he would give his entire fortune if he could shorten World War I by a single day. The workers in his factories loved and revered him.

Henry Ford devoted years of his life and a substantial part of his fortune to awakening the American people to the enemies of our nation. Ford had become convinced that there was an organized, dangerous, largely secret, and incredibly powerful menace to the United States, almost completely Jewish at its highest levels, and he was determined to do something about it. He earnestly believed that if this menace was exposed to the light of day, that moral and responsible Jews would cast out this cancerous group from their midst. He was honestly surprised by the abuse he received from most of his Jewish friends and business associates after his educational work had begun.

Henry Ford believed that if the press would not tell the truth on what he termed the Jewish Question, then it was his duty to his God and his country to do it himself. He purchased what was at the time a small weekly newspaper in his hometown in Michigan, The Dearborn Independent, and turned it into his national voice, with nationwide distribution. His espousal of traditional values combined with a practical populism struck a chord with many Americans, for soon the humble weekly had turned into an influential giant, with a circulation at one point of nearly half a million. Ford lost money on the paper, selling it for five cents per copy or one dollar a year. When Jewish censorship kept it off the newsstands in some cities, Ford made it available through the local Ford agencies. He neither solicited nor accepted advertising because he would not have the paper subject to Jewish or any other outside influence. The masthead meant exactly what it said – Independent.

Ford gathered around him some of the most talented writers and researchers in the business, virtually cleaning out the editorial staff of the Detroit News. He hired the best private investigators. He employed the services of patriotic Congressmen and diplomats. He dispatched his agents to foreign countries in order to dig up the facts.

1920 marked the beginning of the publication, in serial form, of Henry Ford's research series in the Dearborn Independent. Each week, the paper carried a major story exposing an aspect of Jewish power and influence. One of the men Ford had hired away from the Detroit News, who would eventually become the head of the Dearborn Independent, was the brilliant editor and columnist William J. Cameron. At first, Cameron protested bitterly at the subject matter of the articles on the Jewish Question and almost bolted with a few other staffers who didn't want to touch this "forbidden" subject. But as the evidence began piling up, he became convinced that Ford was absolutely right. He was the author of most of the Independent's articles in this series, and stayed with Ford for the next 20 years. These articles would eventually be collected in book form under the title The International Jew. The articles were a sensation and the book became a nationwide success, in fact one of the greatest best-sellers of all time.

While Ford's educational series on Jewish power was running, the Independent had a circulation of between a quarter million and a half million copies per week. When the articles were reprinted in book form, eventually to fill four volumes, it was not unusual for each press run, of which there were many for each volume, to total over 200,000 copies. It is estimated that more than 10 million copies of the book were sold in the United States alone. The International Jew was translated into sixteen languages, including Arabic, and was distributed by the millions in Europe, South America, and the Middle East. Each of the 4 volumes was a full-sized book of about 250 pages, and was sold for a mere 25 cents. Ford lost nearly $5 million on this venture, and that does not count the losses to his business to several Jewish boycotts and lawsuits.

In this book, which is backed up by irrefutable evidence, Ford exposes Jewish financial and commercial control, usurpation of political power, monopoly of necessities, and autocratic direction of the very news that the American people read.

The motive of his work was simply to make the facts known to the people. The motive of prejudice or any form of antagonism doesn't have a leg to stand on, especially when the irrefutable evidence, which is presented in the book, speaks for itself.

This book is a magnificent piece of work, a priceless distillation of many thousands of man-hours of expensive research and compilation, a magnifying glass applied to the hidden sources of immorality, vice, degeneracy, and subversion. The International Jew was available in libraries and bookstores all across America. As already pointed out, it was one of the biggest best-sellers of all time. Henry Ford felt that his book was so important that at one point a copy was presented to all purchasers of new Ford automobiles. Yet today this book is almost impossible to find. You will not be able to buy it in your local bookstore, nor check it out at your local library. If it were not for a few courageous Americans keeping it in print and available to you, you would not be able to find it at all.

The truth is that here in a so-called "democratic, pluralist" America this book had been nakedly suppressed. Is it because this book is a hate-filled anti-Jewish polemic? No, not at all. The book's tone is not at all anti-Jewish, and again and again it appeals to the reason and moral sense of its Jewish readers to put a stop to the abuses of their leaders. It is scrupulously fair, even-handed, and factual. It is because of its extensive documentation and the unassailable facts which it presents that it has been suppressed. For The International Jew is a threat – it's a threat to those men of money and power who would put a sack over our heads and force us unknowingly and unwillingly into the "New World Order" they have been preparing for us for decades. This book is a threat to those who would take away our weapons of self-defense, and who would take away our freedom and the future of our children.

Henry Ford did not have to do what he did. He was the living incarnation of success. He was by far the richest industrialist of his day. He was loved and admired by millions. Among the common people, he was ranked with the greatest men of all time. Political power could have been his had he wanted it. But he did go forward with his investigation and explication of the Jewish Question at the cost of a large portion of his wealth, at the cost of much of the time and energy of an aging older man, and at the cost of the alienation of many friends, associates, and even family members. He well knew that he was potentially putting his life in peril by opposing those powerful moneyed interests. Henry Ford did this because he felt a higher duty, a duty that transcended all of those considerations. Henry Ford acted in obedience to a duty which we of our generation must rediscover if our children are to have a future. Wherever we find it, and whatever disguise it wears – we must oppose evil.

-- A Book for All Americans, by Tara (Delran, NJ)
As a Roman Catholic, I did not agree with everything that was written in this book, but I must say that I find it refreshing to see that there are still a handful of Christians in the world who truly understand what it means to die to the world in order to live for God. I absolutely admire the Botkin family and would do anything to have them for my next door neighbors.

God gives children to parents, not primarily that they may assist the family, but that they may be brought up in the fear of God and be directed in the way of eternal salvation. This book is a confirmation to me of my lifelong belief that my role as a parent is not to prepare my children for careers in the world,(as the world and most people in the Church suppose) but to prepare them for Heaven. Parents who have expended all of their time, energy, and finances in an effort to launch their children into successful careers, while completely neglecting their chief role, which is to bring their children up in the fear of God and to direct them in the way of eternal salvation have failed miserably and have completely lost sight of the reason why God entrusted children to them in the first place.

God has entrusted parents with a deposit, and not just any deposit; He has entrusted parents with the eternal souls of their sons and daughters. Whether parents want to reflect on this sobering reality or not, the truth is that when they stand before the judgment seat of Christ, the souls of their children will be required of them by God. In that day, parents will not answer to God for the type of career they prepared their children for; they will answer to Him for the religious instruction which they personally gave to their children day in and day out, as well as the manner in which they raised them to fear and serve the Lord.

The sad reality is that most parents will be eternally damned along with their children because of their gross negligence in this regard. Most parents are not bringing their children up in the fear of God, and they certainly are not directing them in the way of eternal salvation. Children have not been given to parents as a present, which they may dispose of as they please, but as a trust, for which if lost through their negligence, they must render an account to God.

Here in the United States, we have a very twisted, distorted, warped, and erroneous view of what Christianity and a life of penance are supposed to look like. We have "Church - America Style," not Christianity, as Christ has decreed. We have men and women who want discipleship on their terms, not on those set forth by the Master. We know nothing - absolutely nothing - of what it means to deny oneself, take up one's cross, live a life of penance, and to detach ourselves completely from the disordered values and priorities of this world. Instead of taking our cue from Eternal and unchanging Word of God, we take it from the culture and from the people of this world who live in open rebellion against God.

Many of the people who harshly criticized the authors of this book did so, not because the authors were in ignorance, but because they themselves were ignorant of what God requires of parents when it comes to the raising of their children. Mr. and Mrs. Botkin have it right, and they have done what is right in the sight of God. It could very well be that in seeing the proper way in which Mr. and Mrs. Botkin have raised their children, some of the harsh critics were pricked in their own consciences regarding areas in which they may have been negligent.

St. Augustine once said, "People usually hate the truth for the sake of whatever it is that they love more than the truth."

If more women would take their responsibilities as wives and mothers seriously, our world would not be in the deplorable shape that it is in. I blame the condition of this country on married women who work outside the home more than on any other group of people. Ladies, your vocation is your family. The Botkin daughters understand this, and they have remained true to it. It seems to me that many of the harsh critics may have abandoned and neglected their true vocation, and they are angry at females like the Botkin girls, who love God too much to do the same.

This is a wonderful book, which I highly recommend to all who are not afraid to walk alone with God in a world that is enslaved, not only to sin, but to conformity as well.

-- A Wonderful Book (So Much More, by Anna Sofia Botkin), by Tara (Delran, NJ)
And then there are the ads. After I explored the availability of Ford's anti-Semitic books on Amazon in connection with this story, ads for "The International Jew" by Henry Ford began popping up on my Facebook page. They appeared next to ads for what I was actually shopping for -- a winter coat.
Chapter 2: Transforming a Country Weekly
Starting with the issue of May 22, 1920, Ford began using the Independent to attack Jews.
Every week for nearly two years, the paper published articles that assailed Jews for being sneaky and treacherous and conspiring to control the global financial system, a common Jewish stereotype
.
Ford also accused Jews of scheming to dominate such American industries
as Hollywood, farming and liquor distribution.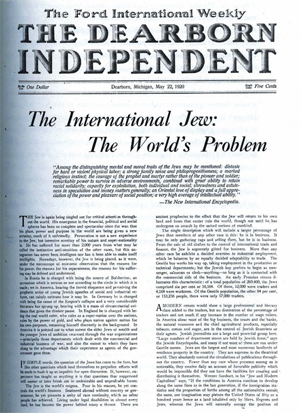 Hot Off the Press: Starting with the issue of May 22, 1920, Ford's Independent began attacking Jews.
"There is no other racial or national type which puts forth this kind of person," the Independent said in June 1920.
"It is not merely that there are a few Jews among international financial controllers -- it is that these world controllers are exclusively Jews."
While anti-Semitism goes back centuries,
Ford's salvos were likely the most sustained printed attacks on Jews the world had ever seen. With his wealth and resources, Ford remains the most formidable anti-Semite in American history.
In 2019, many educated Americans have a vague understanding that Ford had anti-Semitic sentiments. Few people are aware of the details, though, of how Ford spent millions on his paper and the "International Jew" series of books.
The books spread like a virus, translated into 12 languages and distributed on three continents in the years after World War I. The books appeared as fascist forces were organizing, especially in Germany, one of the countries targeted by Ford's agents.
In its first couple of years, Ford sold more than 2 million copies of "The International Jew." His underlings deliberately declined to copyright the content, so other anti-Semites were free to publish the books. That is one reason Ford's paper and books are widely available today, in printed form and online. With no copyright, it's nearly impossible to stop their proliferation.
Chapter 3: Henry Ford, Publisher
After paying $1,000 for the Independent (about $18,000 in today's dollars), Ford named his closest aide, Ernest Liebold, the newspaper's general manager. Liebold was a hardcore anti-Semite.
"He hated everything Jewish, and he saw the publication as a vehicle for promoting his agenda," Steven Watts wrote in "The People's Tycoon: Henry Ford and the American Century."
Ford and Liebold then assembled a crack editorial team by raiding the Detroit News.
For top editor, Ford hired News' executive Edwin Pipp, a liberal Catholic who had been a muckraking Detroit reporter known as a soft touch because he wrote stories about people down on their luck. William Cameron, a Canadian immigrant who was a star reporter and editorial columnist for the News, came aboard as the lead writer.
Experts have long debated the roles of these three in the production of the Independent, but a general consensus has emerged that Ford, not a skilled writer, talked over ideas with Liebold, who ordered Pipp and Cameron to transform them into stories. Some historians believe Cameron "undertook his assignment disgustedly," as David Lewis wrote in "The Public Life of Henry Ford," adding that Cameron "was either unable or did not try to dissuade Ford from launching the attack." However disgusted he might have been, Cameron remained a Ford aide into the 1940s.
In serving as the link between Ford and the rest of the world, Leibold was strategic and menacing.
With Ford's money, Liebold organized a network of spies, many with government intelligence backgrounds, to snoop around outposts of Jewish life in America, paying special attention to community leaders.
The agents funneled the information to Liebold in Dearborn as grist for the Independent's anti-Jewish campaign.
Henry Ford ordered that the Independent not be used to publicize him or the company, though
the paper's nickname was "The Ford International Weekly" and Ford forced his dealers to conduct subscription campaigns. Some dealerships threw a copy of the Independent into newly sold Model Ts. Circulation eventually reached 900,000, making it one of the biggest periodicals in the country.
The Independent carried a weekly column by Ford -- verbosely ghost-written by Cameron -– that filled "Mr. Ford's Page." Ford commented on many everyday subjects, but virtually never used his column for the most blatant anti-Semitic content. The Independent's attacks on Jews ran separately, often starting on page one, almost always without a byline.
Under Ford, the Independent was tabloid in form, cost five cents and ran 16 pages. Its motto: "Chronicler of the Neglected Truth."
At the beginning, the Independent was unremarkable, filled with long-winded feature articles on national and international subjects such as farming in Europe, the Smithsonian Institute or a cure for leprosy. Most critics found the paper soporific, a Saturday Evening Post without the pizazz.
It was only months, though, before the Independent took a sinister tack. Ford's pet peeves -– distant capitalists, aliens who refuse to assimilate, Bolsheviks (all code words for Jews) -- began creeping into the Independent's pages, according to Neil Baldwin's 2001 book, "Henry Ford and the Jews: The Mass Production of Hate."
"His own page took on a strident tone as Ford lashed out against unnamed, hidden influences that continued to trouble him," Baldwin wrote.
Circulation lagged in the early going and Ford lost the equivalent of $3.5 million in today's dollars in the first year. Staffers knew changes had to be made. "Find an evil to attack," Joseph J. O'Neil, a veteran New York newspaperman, urged Liebold in a memo. "LET'S FIND SOME SENSATIONALISM," he typed with emphasis.
Beginning with the issue of May 22, 1920, Ford found his target. That issue of the Dearborn Independent kicked off a 91-week campaign of insults, criticism and lies directed at Jews from Dexter and Davison to Krakow, Poland.
"The International Jew: The World's Problem," read the inaugural page-one headline.
"There is apparently in the world today a central financial force which is playing a vast and closely organized game with the world for its table and universal control for its stakes," the article said.
In subsequent weeks, the Independent hammered Jews for scheming to take over Broadway theater, baseball, American agriculture and countless other domains.
Ford's paper also popularized an early 20th-Century forgery from Russia, "The Protocols of the Elders of Zion," which similarly purports to show Jews are bent on world domination.
Chapter 4: Jews and Others Fight Back
The Independent -- put out by Henry Ford, Dearborn-born and bred, legendary Tin Lizzie wizard, American folk hero and one of the world's richest men --
shocked Jewish Americans and many other citizens of diverse backgrounds. It wasn't long before they began to counterattack. The Independent was controversial from coast to coast in its day.
Pipp, whose Catholic conscience would not allow him to run an anti-Semitic journal, quit and began publishing his own paper, Pipp's Weekly, that was often critical of Ford. Cameron took Pipp's place.
Ford's wife, Clara, and Edsel, his only child, put off by the anti-Jewish articles, reportedly distanced themselves from the Independent.
The Ford family and company executives in Dearborn repeatedly congratulated the management of Ford Werke on the fine work they were doing under the Nazis. In October of 1940 Edsel Ford wrote to Heinrich Albert to say how pleased he was that the company's plants in occupied lands were continuing to operate. "It is fortunate that Mr. Schmidt is in such authority as to be able to bring out these arrangements," said Edsel, who died of cancer during the war. The same letter indicates that Ford was quite prepared to do business with the Nazis if Hitler won the war. Though it was difficult to foresee what would happen after the fighting ended, Edsel told Albert, "a general rearrangement of the ownership of our continental businesses may be required. You will no doubt keep as close to this subject as possible and we will have the benefit of your thoughts and suggestions at the proper time."....

The Treasury Department found that Ford headquarters in Dearborn was in regular contact with its properties in Vichy France. In one letter, penned shortly after France's surrender, Dollfus assured Dearborn that "we will benefit from the main fact of being a member of the Ford family which entitles us to better treatment from our German colleagues who have shown clearly their wish to protect the Ford interest as much as they can." A Ford executive in Michigan wrote back, "We are pleased to learn from your letter…that our organization is going along, and the victors are so tolerant in their treatment. It looks as though we still might have a business that we can carry on in spite of all the difficulties."

The Ford family encouraged Dollfus to work closely with the German authorities. On this score, Dollfus needed little prodding. "In order to safeguard our interests -- and I am here talking in a very broad way -- I have been to Berlin and have seen General von Schell himself," he wrote in a typed note to Edsel in August of 1940. "My interview with him has been by all means satisfactory, and the attitude you have taken together with your father of strict neutrality has been an invaluable asset for the protection of your companies in Europe." (In a handwritten note in the margin, Dollfus bragged that he was "the first Frenchman to go to Berlin.") The following month Dollfus complained about a shortage of dollars in occupied France. This was a problem, however, that might be merely temporary. "As you know," he wrote Dearborn at the time, "our [monetary] standard has been replaced by another standard which -- in my opinion -- is a draft on the future, not only in France and Europe but, maybe, in the world." In another letter to Edsel, this one written in late November of 1940, Dollfus said he wanted to "outline the importance attached by high officials to respect the desires and maintain the good will of 'Ford' -- and by 'Ford' I mean your father, yourself and the Ford Motor Company, Dearborn."

All this was to the immense satisfaction of the Ford family. In October of 1940, Edsel wrote to Dollfus to say he was "delighted to hear you are making progress…. Fully realize great handicap you are working under." Three months later he wrote again to say that Ford headquarters was "very proud of the record that you and your associates have made in building the company up to its first great position under such circumstances."

Dearborn maintained its communication with Ford of France well after the United States entered the war. In late January of 1942, Dollfus informed Dearborn that Ford's operations had the highest production level of all French manufacturers and, as summed up by the Treasury report, that he was "still relying on the French government to preserve the interests of American stockholders."

During the following months, Dollfus wrote to Edsel several times to report on damages suffered by the French plant during bombing runs by the Royal Air Force. In his reply, Edsel expressed relief that American newspapers that ran pictures of a burning Ford factory did not identify it as a company property. On July 17, 1942, Edsel wrote again to say that he had shown Dollfus's most recent letter to his father and to Dearborn executive Sorenson. "They both join me in sending best wishes for you and your staff, and the hope that you will continue to carry on the good work that you are doing," he said.-- [Henry] Ford and the Führer, by Ken Silverstein
As the Independent launched its anti-Semitic campaign and sent the paper, unsolicited, to libraries and school across the nation, protests broke out. Some cities attempted to ban the paper, but such moves raised First Amendment issues.
Jews organized Ford Motor boycotts. Former President William Howard Taft, a future U.S. Supreme Court chief justice, slammed Ford in a speech. Later, he joined outgoing President Woodrow Wilson and dozens of other VIPs in signing a petition that denounced the Independent.
"God help Henry Ford. God forgive him," said well known New York Rabbi Stephen Wise, who called Ford the "most contemptible little liar that ever lived."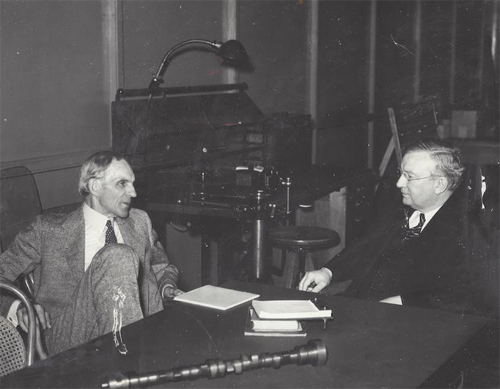 Henry Ford with his ghostwriter, William Cameron.
Louis Marshall, a New York lawyer and towering figure in the American Jewish community, played a key role in combatting Ford and the Independent. His first move was to send Ford a telegram, saying the articles "constitute a libel upon an entire people."

The Independent was unimpressed. "Your rhetoric is that of a Bolshevik orator," it fired back, linking Jews and Bolshevism, a common anti-Semitic trope.
In Detroit, Rabbi Leo Franklin, the head of Temple Beth El and an outspoken foe of discrimination, found himself caught between Ford and Marshall. Franklin was a Ford friend and former neighbor who had received yearly Model T's as a gift. Marshall, in Manhattan, urged a more militant approach toward Ford in Detroit that Franklin was slow to adopt. Franklin eventually returned his 1920 Model T and told the Detroit News that Ford "has fanned the flames of anti-Semitism throughout the world."
Chapter 5: An Independent Target Sues and Ford Shuts the Paper
After nearly two years, Ford suddenly halted the attacks in December 1922. Just as unexpectedly, he resumed them
in 1924 when he went after Aaron Sapiro, a young Jewish activist from California who had become a leader in the farm co-op movement.

Sapiro fought back. He filed a $1 million libel suit against Ford, igniting weeks of sensational coverage in the national press. The case came to trial in 1927, though juror misconduct led to a mistrial.

Ford, freed from being forced to testify under oath, a position from which he had embarrassed himself in the past, issued an apology to Sapiro. Ford also took back all of his attacks on Jews
and withdrew "The International Jew," though that proved to be much easier promised than done. He settled out of court with Sapiro.
In his apology, Ford called himself "deeply mortified" by the attacks, but blamed underlings, denying he knew about the articles in advance. He relieved Liebold and Cameron from their posts at the Independent, but kept them on the company payroll for years.
Few close observers -- or average Americans -- believed Ford was so removed that he hadn't been aware of prominent articles in his own newspaper that had sparked an international outcry.
In an editorial headlined "Forgiveness without Fawning," the Detroit Jewish Chronicle echoed many other papers in casting doubt on Ford's claim that he had been unaware of the paper's content.
"That Mr. Ford does not accept personal responsibility for the anti-Semitic articles is also obvious," the editorial said. "His action in this respect is what is commonly known as 'passing the buck.'"
Ford closed the Independent in December 1927. But the damage had been done.

"Ford's well-publicized decision was disingenuous," wrote Victoria Saker Woeste in "Henry Ford's War on Jews," because he knew that even after closing the paper, his hate literature already lived on in hundreds of thousands of copies of "The International Jew."
Chapter 6: Why?
Why did Henry Ford -- the entrepreneur Fortune magazine in 1999 named "Businessman of the 20th Century" -- spend so much time and money attacking Jews?
Searching for clues, because Ford never discussed his anti-Semitism in depth, historians often have focused on his childhood amid the farms of what is now the streets of east Dearborn. While only a long walk from Detroit in the 1860s and '70s, Ford grew up isolated from Jews and most other minorities, and 19th-Century rural America was a place where ancient Jewish stereotypes were widespread.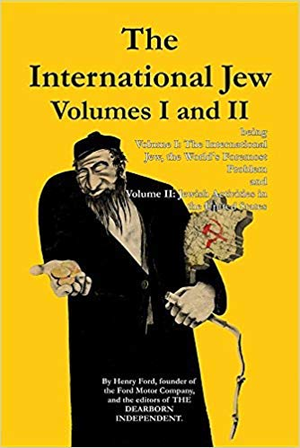 The International Jew, Volumes I and II
Experts also point to Ford's close friend, Thomas Edison, an anti-Semite who approved of the Independent's campaign, and Ford's close relationship with Ernest Liebold, whose anti-Semitic views were well known. Historian Douglas Brinkley wrote that Ford's "increasingly vicious anti-Semitism appears to have grown out of his antipathy toward powerful bankers."
Ford's criticism of Jews and hatred of Wall Street were "the foibles of the Michigan farm boy who had been liberally exposed to Populist notions," wrote historian Richard Hofstadter.
"Ford disliked Jews who he believed exercised disproportionate control over the institutions that were vital to the rural-mercantile economy he wanted to build," wrote Victoria Saker Woeste.
Chapter 7: Ford Family and Company Win Praise for Reparations
The response to Henry Ford's anti-Semitism by the Ford family and Ford Motor Co. has received considerable praise from Jewish organizations and other observers.
"The Ford family and Ford Motor Company embarked upon correctives even before the Old Man passed away, Neil Baldwin wrote in "Henry Ford and the Jews: The Mass Production of Hate."
On its website, the Anti-Defamation League says:
In the decades following Ford's death in 1947, the Ford family and the Ford Motor Company have engaged in numerous projects and endeavors in the public interest, including many that have been supportive of Jewish concerns.
In 1997, for example, the Ford Motor Company sponsored the first screening of Steven Spielberg's "Schindler's List," commercial-free, on national television. Ford Motor is credited with extending economic credit to the young state of Israel and supporting Jewish charities at home and abroad.
Today, two generations of the Ford family are well represented on the board of one of the country's most elaborate historical complexes, The Henry Ford, in Dearborn, formerly called Greenfield Village, which Henry Ford founded. The chairman of the board is S. Evan Weiner, of the Edward C. Levy Co. in Detroit, who is Jewish.
In November, Weiner welcomed a largely Jewish crowd of several hundred people in the museum during a one-day collaboration with the Jewish Historical Society of Michigan: "The Henry Ford…Through a Jewish Lens." The program examined Ford's bigotry and, through pop-up exhibits, celebrated Jews as American innovators.
Steven Watts, a historian at the University of Missouri and author of "The People's Tycoon: Henry Ford and the American Century," spoke about Ford's exalted place in American culture, but added: "It's hard to find a more blatant anti-Semite in American history."
Larry Gunsberg, an officer at the Jewish historical society, told the Jewish News that he found the event "an excellent way for the community to embrace the generational change in the Ford family."
On the "My Jewish Detroit" website, historical society President Risha B. Ring said, "This monumental conversation is long overdue."
Chapter 8: Ford and the Führer
Henry Ford's hate campaign took a disturbing turn in the 1920s and '30s, when it intersected with Adolf Hitler's path to power. The collision produced what the 21st Century calls synergy.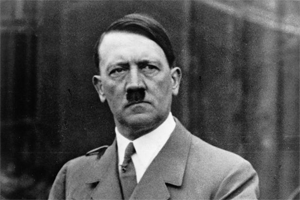 Ford's books inspired Adolph Hitler, scholars say.
Copies of "The International Jew" began re-appearing in the 1930s in the U.S., South America and Europe, especially in Germany, where the Nazi Party was poised to take power. Books wound up on a table in the office of Hitler's National Socialist German Workers' Party in Munich.

"Hitler's ravings and public speeches against Jews frequently were based on Ford's anti-Semitic literature," Ford expert David Lewis wrote.

One leading Nazi, Baldur von Shirach, the Reichsjugendführer (Hitler Youth leader) in the 1930s, became an anti-Semite after he read "The International Jew" in German, von Shirach testified at the Nuremburg war-crime trials. Found guilty of crimes against humanity for helping to send thousands of Viennese Jews to their deaths, von Shirach served 20 years in Spandau prison.

"If Henry Ford said that Jews were to blame, why, naturally we believed him," von Shirach is quoted as saying in Baldwin's "Henry Ford and the Jews."

Von Shirach added: "You have no idea what a great influence this book had on the thinking of German youth."

Numerous historians have noted that Ford is the only American mentioned in Hitler's "Mein Kampf" memoir. After asserting that Jews were increasingly exerting control over American labor, Hitler wrote, "one great man, Ford, to their exasperation, still holds out independently."

Experts on Hitler have noted Ford's literature influenced Hitler's writing in "Mein Kampf." Reading "The International Jew," which became a hit in Germany after being published in German in 1922, helped push Hitler further into "conspiratorial anti-Semitism," Thomas Weber wrote in "Becoming Hitler: The Making of a Nazi."

"Henry Ford is important for having provided to Hitler confirmation, coming from the very heart of America, of an idea that had been brewing in his mind," Weber wrote. The idea was that Jews' control of global finance was behind the world's problems.

"Henry Ford thus turned into an anti-Semitic icon for Hitler."

In summer 1938, with the German Wehrmacht having marched into Austria, and despite years of deflecting charges he was an anti-Semite, Ford accepted a 75th birthday present from Hitler. It was the Grand Cross of the Supreme Order of the German Eagle, the highest award the regime bestowed on foreigners.

The golden Maltese cross, surrounded by four small swastikas, was presented to Ford in Ford Motor's Dearborn offices by Fritz Haller, the German vice consul in Detroit.

News reports about the birthday present from Hitler triggered a bitter backlash across the nation. Ford apologized, again. And again, people laughed when they read his words.

"Acceptance of a medal from the German people does not, as some people seem to think, involve any sympathy on my part with Nazism," Ford said.

"Those who have known me for many years realize that anything that breeds hate is repulsive to me."
We can't know what was in Ford's heart when he said those words.
Perhaps he was genuinely remorseful.
Perhaps he accepted the medal to avoid embarrassing an international diplomat, or for business reasons.
In addition to scheming to overthrow the Soviet Union in league with National Socialists, Aufbau played a pivotal role in coordinating Hitler's preparations for a putsch against the Weimar Republic. Aufbau helped the National Socialist Party to build a substantial war chest for its intended coup by contributing funds from Aufbau members or allies such as Kirill as well as by channeling funds from Henry Ford, the wealthy American industrialist and politician....

Some White emigre Aufbau members possessed valuable American connections. Colonel Boris Brazol resided in New York, where he played a leading role in the Russkoe natsionalnoe obschestvo (Russian National Society). This organization supported Grand Prince Kirill Romanov's candidacy for Tsar. As we shall see, Aufbau increasingly backed Kirill for Tsar. Brazol also worked on the staff of the American industrialist and politician Henry Ford's anti-Semitic newspaper, The Dearborn Independent. In particular, Brazol provided information on the "Jewish question." Scheubner-Richter praised Brazol as "one of the leading personalities in the Russian emigre circles of America." Brazol also spent much time in Munich, though he was not officially registered there. He collaborated with Scheubner-Richter and furthered Aufbau's cause by writing anti-Semitic literature. ...

The primary American connection to the German far right was most likely the anti-Semitic industrialist and politician Henry Ford.-- The Russian Roots of Nazism: White Emigres and the Making of National Socialism, 1917-1945, by Michael Kellogg
That Ford and a number of other American firms -- including General Motors and Chase Manhattan -- worked with the Nazis has been previously disclosed

. So, too, has Henry Ford's role as a leader of the America First Committee, which sought to keep the United States out of World War II. However, the new materials, most of which were found at the National Archives, are far more damning than earlier revelations. They show, among other things, that up until Pearl Harbor, Dearborn made huge revenues by producing war matériel for the Reich and that the man it selected to run its German subsidiary was an enthusiastic backer of Hitler. German Ford served as an "arsenal of Nazism" with the consent of headquarters in Dearborn, says a US Army report prepared in 1945.

Moreover, Ford's cooperation with the Nazis continued until at least August 1942 -- eight months after the United States entered the war -- through its properties in Vichy France. Indeed, a secret wartime report prepared by the US Treasury Department concluded that the Ford family sought to further its business interests by encouraging Ford of France executives to work with German officials overseeing the occupation. "There would seem to be at least a tacit acceptance by [Henry Ford's son] Mr. Edsel Ford of the reliance…on the known neutrality of the Ford family as a basis of receipt of favors from the German Reich," it says....

Ford Motor set up shop in Germany in 1925, when it opened an office in Berlin. Six years later, it built a large plant in Cologne, which became its headquarters in the country. Ford of Germany prospered during the Nazi years, especially with the economic boom brought on by World War II. Sales increased by more than half between 1938 and 1943, and, according to a US government report found at the National Archives, the value of the German subsidiary more than doubled during the course of the war.

Ford eagerly collaborated with the Nazis, which greatly enhanced its business prospects and at the same time helped Hitler prepare for war (and after the 1939 invasion of Poland, conduct it). In the mid-thirties, Dearborn helped boost German Ford's profits by placing orders with the Cologne plant for direct delivery to Ford plants in Latin America and Japan. In 1936, as a means of preserving the Reich's foreign reserves, the Nazi government blocked the German subsidiary from buying needed raw materials. Ford headquarters in Dearborn responded -- just as the Nazis hoped it would -- by shipping rubber and other materials to Cologne in exchange for German-made parts. The Nazi government took a 25 percent cut out of the imported raw materials and gave them to other manufacturers, an arrangement approved by Dearborn.

According to the US Army report of 1945, prepared by Henry Schneider, German Ford began producing vehicles of a strictly military nature for the Reich even before the war began. The company also established a war plant ready for mobilization day in a "'safe' zone" near Berlin, a step taken, according to Schneider, "with the…approval of Dearborn." Following Hitler's 1939 invasion of Poland, which set off World War II, German Ford became one of the largest suppliers of vehicles to the Wehrmacht (the German Army). Papers found at the National Archives show that the company was selling to the SS and the police as well. By 1941 Ford of Germany had stopped manufacturing passenger vehicles and was devoting its entire production capacity to military trucks. That May the leader of the Nazi Party in Cologne sent a letter to the plant thanking its leaders for helping "assure us victory in the present [war] struggle" and for demonstrating the willingness to "cooperate in the establishment of an exemplary social state."

Ford vehicles were crucial to the revolutionary Nazi military strategy of blitzkrieg. Of the 350,000 trucks used by the motorized German Army as of 1942, roughly one-third were Ford-made. The Schneider report states that when American troops reached the European theater, "Ford trucks prominently present in the supply lines of the Wehrmacht were understandably an unpleasant sight to men in our Army." Indeed, the Cologne plant proved to be so important to the Reich's war effort that the Allies bombed it on several occasions. A secret 1944 US Air Force "Target Information Sheet" on the factory said that for the previous five years it had been "geared for war production on a high level."

While Ford Motor enthusiastically worked for the Reich, the company initially resisted calls from President Roosevelt and British Prime Minister Churchill to increase war production for the Allies. The Nazi government was grateful for that stance, as acknowledged in a letter from Heinrich Albert to Charles Sorenson, a top executive in Dearborn. Albert had been a lawyer for German Ford since at least 1927, a director since 1930 and, according to the Treasury report, part of a German espionage ring operating in the United States during World War I. "The 'Dementi' of Mr. Henry Ford concerning war orders for Great Britain has greatly helped us," Albert wrote in July of 1940, shortly after the fall of France, when England appeared to be on the verge of collapse before the Führer's troops....

"there could be no doubt about the complete incorporation, as regards personnel, organization and production system, of Ford Werke into the German national economy, in particular, into the German armaments industry."...

As 1941 progressed, the board of Ford Werke fretted that the United States would enter the war in support of Britain and the government would confiscate the Cologne plant. To prevent such an outcome, the Cologne management wrote to the Reich Commission that year to say that it "question[ed] whether Ford must be treated as enemy property" even in the event of a US declaration of war on Germany. "Ford has become a purely German company and has taken over all obligations so successfully that the American majority shareholder, independent of the favorable political views of Henry Ford, in some periods actually contributed to the development of German industry," Cologne argued on June 18, 1941, only six months before the bombing of Pearl Harbor....

The Nazis never nationalized Ford's German property...

By 1943 half of Ford Werke's work force comprised foreign captives, including French, Russians, Ukrainians and Belgians. In August of 1944 a squad of SS men brought fifteen prisoners from the Buchenwald concentration camp to Ford Werke. The German researcher Karola Fings, co-author of Working for the Enemy, a book on Nazi slave- and forced-labor programs, to be published this spring, says Ford's worker-inmates toiled for twelve hours a day with a fifteen-minute break. They were given 200 grams of bread and coffee for breakfast, no lunch and a dinner of spinach and three potatoes or soup made of turnip leaves.

An account by Robert Schmidt, the man appointed to run Ford Werke in 1939, states that the company used forced laborers even before the Nazis put the plant in trusteeship....Schmidt said that the Gestapo began to play an important role at Ford Werke after the first foreign workers arrived. With the assistance of W.M. Buchwald, a Ford employee since the mid-thirties, the Gestapo carefully monitored plant activities. "Whenever there was the slightest indication of anti-Nazi feeling, be it amongst foreigners or Germans, the Gestapo tramped down as hard as possible," Schmidt told the Army.

Meanwhile, Ford Werke offered enthusiastic political support for Hitler as well. The fraternal ties between Ford and the Nazis is perhaps best symbolized by the company's birthday gift to the Führer of 35,000 Reichsmarks in April of 1939. Ford Werke's in-house publication couldn't have been more fanatically pro-Nazi if Josef Goebbels had edited it.

-- [Henry] Ford and the Führer, by Ken Silverstein
Or perhaps
anti-Semitism infected him to the bone, and his apology was as cynical as it seems to us. What we do know is that this chapter of his life, which lasted less than a decade, reverberates a century later in a crude hatred that seems impossible to eradicate.
It's an ugly side of the patriarch of one of America's greatest families and founder of one of its best-known companies.
And the ugliness won't go away. In November, a reader left this Amazon review of "The International Jew":
"It's just amazing how enlightened Henry Ford became while living in a world of jew contrived deception ramping up in the USA. The European converted (fake) zionist jew has conquered amerika. Judaism = communism."
[/quote]
The reader gave "The International Jew" five stars.