Re: Neuschwanstein: A fairy tale darling's dark Nazi past

Posted:
Fri Sep 20, 2019 4:17 am
Part 1 of 2
SRI International [Stanford Research Institute]
by Wikipedia
Accessed: 9/19/19
NOTICE: THIS WORK MAY BE PROTECTED BY COPYRIGHT
YOU ARE REQUIRED TO READ

THE COPYRIGHT NOTICE AT THIS LINK

BEFORE YOU READ THE FOLLOWING WORK, THAT IS AVAILABLE SOLELY FOR PRIVATE STUDY, SCHOLARSHIP OR RESEARCH PURSUANT TO 17 U.S.C. SECTION 107 AND 108. IN THE EVENT THAT THE LIBRARY DETERMINES THAT UNLAWFUL COPYING OF THIS WORK HAS OCCURRED, THE LIBRARY HAS THE RIGHT TO BLOCK THE I.P. ADDRESS AT WHICH THE UNLAWFUL COPYING APPEARED TO HAVE OCCURRED. THANK YOU FOR RESPECTING THE RIGHTS OF COPYRIGHT OWNERS.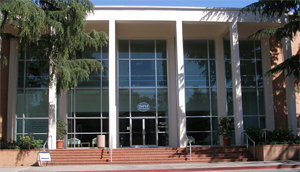 SRI International
Entrance to SRI International headquarters in Menlo Park
Formerly: Stanford Research Institute (1946–1970)
Type: 501(c)(3) nonprofit scientific research institute
Industry: Research and development
Founded: Menlo Park, California (1946; 73 years ago)
Founder: Trustees of Stanford University
Headquarters: 333 Ravenswood Avenue, Menlo Park, California, United States
Area served: Worldwide
Key people: William A. Jeffrey (President & CEO); Manish Kothari (President, SRI Ventures)
Services: Scientific research
Revenue: US$540 million (in 2014)[1]
Number of employees: 2100 (as of February 2015)[1]
Website sri.com
SRI International (SRI) is an American nonprofit scientific research institute and organization headquartered in Menlo Park, California.
The trustees of Stanford University established SRI in 1946 as a center of innovation to support economic development in the region.

The organization was founded as the Stanford Research Institute. SRI formally separated from Stanford University in 1970 and became known as SRI International in 1977. SRI performs client-sponsored research and development for government agencies, commercial businesses, and private foundations. It also licenses its technologies,[2] forms strategic partnerships, sells products,[3] and creates spin-off companies.[4]
SRI's annual revenue in 2014 was approximately $540 million. SRI's headquarters are located near the Stanford University campus. William A. Jeffrey has served as SRI's president and CEO since September 2014.
SRI employs about 2,100 people.[1] Sarnoff Corporation, a wholly owned subsidiary of SRI since 1988, was fully integrated into SRI in January 2011.[5]
SRI's focus areas include biomedical sciences, chemistry and materials, computing, Earth and space systems, economic development, education and learning, energy and environmental technology, security and national defense, as well as sensing and devices.[6] SRI has received more than 4,000 patents and patent applications worldwide.[7]
History

Foundation
In the 1920s, Stanford University professor Robert E. Swain proposed creating a research institute in the Western United States. Herbert Hoover, then a trustee of Stanford University, was also an early proponent of an institute, but became less involved with the project after he was elected president of the United States. The development of the institute was delayed by the Great Depression in the 1930s and World War II in the 1940s,[8] with three separate attempts leading to its formation in 1946.
In August 1945, Maurice Nelles, Morlan A. Visel, and Ernest L. Black of Lockheed made the first attempt to create the institute with the formation of the "Pacific Research Foundation" in Los Angeles.[9] A second attempt was made by Henry T. Heald, then president of the Illinois Institute of Technology. In 1945, Heald wrote a report recommending a research institute on the West Coast and a close association with Stanford University with an initial grant of $500,000 (equivalent to $5,638,000 in 2018).[10][11] A third attempt was made by Fred Terman, Stanford University's dean of engineering. Terman's proposal followed Heald's, but focused on faculty and student research more than contract research.[10]
The Roots of Bay Area High Technology: Communications

The Silicon Valley electronics industry has its roots in radio hobbyists at the turn of the twentieth century (Sturgeon, 2000; Lecuyer, 2006; Rao and Scaruffi, 2011).

In 1908, Cyril Elwell, a radio enthusiast and graduate from Stanford University, acquired the U.S. patent rights for the arc transmitter, which had been invented in Denmark. The arc transmitter produced clearer signals at greater distance than existing radio technologies, just ten years after Marconi's first transmission in England. Elwell's company, the Federal Telegraph Company (FTC), partly funded by Stanford University, had stolen a march on other radio producers in the United States and was in a position to provide the U.S. Navy with their key ship-to-ship and ship-to-land communication system during World War I

(Sturgeon, 2000; Lecuyer, 2006).

Four years after inventing the vacuum tube in Chicago in 1906, kicking off the "age of electronics," Lee de Forest moved to San Francisco, where he would further develop his technology. His invention overcame many of the problems of range and quality of arc transmitters.

During the 1930s, Eitel-McCullough and Litton Industries emerged as the major producers of power tubes and, later, microwave tubes. These electrical components had become the basis of radar systems, in addition to their use in radio communications (Lecuyer, 2006). Frederick Terman – a central actor in the nurturing of Silicon Valley, about whom we say more shortly – was close friends with Charles Litton, Sr. and developed a program at Stanford University in vacuum tube engineering. Terman hired Litton to teach courses about vacuum tube making, while Litton supported the program by donating $1,100 to Stanford's electrical engineering department. Terman also financed two of his students – David Packard and William Hewlett – to start up their own firm.

During his time at Stanford, as a professor and then as the dean of engineering, Terman pioneered three major institutional changes in academia. First, he encouraged Stanford to create the Stanford Research Institute (today renamed SRI International), whose purpose was "to pursue science for practical purposes [which] might not be fully compatible internally with the traditional roles of the university" (Saxenian, 1884:23). However,

the first attempt to create the institute occurred in August 1945 in Los Angeles, when Maurice Nelles, Morlan A. Visel, and Ernest L. Black of Lockheed proposed creating it under the name Pacific Research Foundation. A second attempt was made by Henry T. Heald, then president of the Illinois Institute of Technology. In 1945, Heald wrote a report recommending the establishment of a research institute on the West Coast in close association with Stanford University, with an initial grant of $500,000 (15 million today), but the idea was not implemented. The third and successful attempt was made by Terman at Stanford, creating the SRI.

-- The Rise and Fall of Urban Economies: Lessons from San Francisco and Los Angeles, by Michael Storper, Thomas Kemeny, Naji Makarem, Taner Osman
The trustees of Stanford University voted to create the organization in 1946. It was structured so that its goals were aligned with the charter of the university—to advance scientific knowledge and to benefit the public at large, not just the students of Stanford University.
[10] The trustees were named as the corporation's general members, and elected SRI's directors (later known as presidents); if the organization were dissolved, its assets would return to Stanford University.[12]
Research chemist William F. Talbot became the first director of the institute.
[12] Stanford University president Donald Tresidder instructed Talbot to avoid work that would conflict with the interests of the university, particularly federal contracts that might attract political pressure.[12] The drive to find work and the lack of support from Stanford faculty caused the new research institute to violate this directive six months later through the pursuit of a contract with the Office of Naval Research.[13] This and other issues, including frustration with Tresidder's micromanagement of the new organization, caused Talbot to repeatedly offer his resignation, which Tresidder eventually accepted.[14] Talbot was replaced by
Jesse Hobson, who had previously led the Armour Research Foundation
, but the pursuit of contract work remained.[15]
Implementing the Reforms

Shortly after returning from his visit to Harvard, Tresidder began to implement the reforms that he and others had been discussing over the past few years. Between 1944 and 1946 he attempted to elaborate an administrative structure, to create institutes and other organizations to attract industrial patronage, and to reorient particular university departments to serve better the interests of regional industry, particularly the aeronautics, electronics, and oil companies. While his ideas were already well formulated, Tresidder could not have succeeded in making these changes without the assistance of a few faculty members who, for various reasons, were also highly desirous of change. They supported the premise underlying Tresidder's proposed reforms: that the tradition of departmental autonomy and disciplinary distinctions should be undermined.

Tresidder's first act was to create a new administrative post, that of vice president for academic affairs, in early 1944. Prior to this, there had been no administrative position intermediate between the deans and the university's president. Tresidder chose for the new position Alvin Eurich, an assistant professor of education who had attended the pre-war meeting in Yosemite and, during the war, had been in charge of administering the navy's testing program. The choice momentarily disappointed Lewis Terman, who wrote dismissively to his son, "I think his [Eurich's] I.Q. is about 120 or 125 … However, he seems to function a little above his I.Q. level."20 But Eurich and Tresidder shared Terman's interest in improving the efficiency of the university. They were soon promulgating rules intended both to rationalize university operations and to govern faculty members' use of their time. Faculty members were required to notify the administration and fill out a form if they planned to be absent from the campus; department chairpersons were required to use preprinted forms, rather than letters, to communicate with the administration.21

Eurich and Tresidder also began considering ways to reorganize research within the university and to develop industrial patronage. While acting as an advisor to the navy during the war, Eurich had met the president of the Illinois Institute of Technology, Henry T. Heald. The institute's professors conducted a large amount of research that was sponsored by industry through the institute-affiliated

Armour Research Foundation

. At Eurich's encouragement, Tresidder visited Heald and came away impressed. Armour, he learned, had $1.6 million in industry-financed projects in 1944 and a total of $2.5 million worth of research projects, all financed outside the Illinois Institute's budget. Stanford, in contrast, had a research fund of $835 in 1944; the total expenditure for research in the 1943-44 academic year, including research sponsored by the government and industry, was a mere $333,558. To Tresidder, creating

a research institute similar to Armour

offered a way to meet several of his administration's goals – expanding research opportunities, resolving Stanford's financial problems, and providing service to industry. An institute would "pay for itself many times over," Tresidder believed, "because it's easier to sell to industry, and is more efficient" than a university.22

A similar plan for creating an industrial research institute had been proposed in the late 1930s at Stanford by chemistry chair Robert Swain, and Tresidder soon involved Swain and Philip Leighton, another chemist, as well as wealthy alumni and regional businessmen, in the planning of the institute.

Particularly influential was Atholl McBean, a wealthy industrialist and member of the board of Standard Oil of California. He promised to raise funds to create the institute provided that Tresidder appoint his friend William Talbot, the technical director of the Sun Chemical Corporation, as the institute's director. McBean also wanted Stanford's board of trustees to provide a low-interest loan of $1 million to get the institute started. The creation of the Stanford Research Institute was approved in February 1946 by Stanford's board of trustees. Tresidder envisioned the new institution as a division of the university that would devote itself to industrial research and turn over to Stanford a portion of its profits as well as provide research opportunities for Stanford faculty members.23

At the same time that Tresidder began exploring ways to organize industry-sponsored research, he also began to encourage some departments in the university to develop contacts with industry, asking the heads of departments to produce specific plans for soliciting industrial support. The initial results disappointed Tresidder. As he complained to trustee Paul Edwards in the spring of 1944, a large number of faculty members were not interested in industrial patronage; those that were had produced plans that were "so hazy as to be almost valueless."24

Tresidder was particularly concerned about the plans of Stanford's aeronautical engineers. The airplane manufacturing industry had expanded tremendously during the war as a result of federal investment and military demand, and as William Durand, a Stanford engineer who had worked for the NACA during the war, had pointed out, most travel would be done by air after the war. Tresidder initially suggested that Stanford's aeronautical engineers should develop further their connections with the NACA, proposing that the department seek use of the NACA's Ames Laboratory, located in the nearby town of Sunnyvale. But Durand strongly opposed the suggestion, pointing out that the Ames Laboratory did research for the military and private industry and insisting that the research and facilities of the aeronautical engineers should remain "under the immediate and sole control of the Department" at Stanford.25

The aeronautical engineers wanted unrestricted funds to expand their department's research facilities and support research of their own choosing. They thus proposed soliciting five major aircraft companies for donations of $100,000 each. The department planned to use the money to modernize its wind tunnel and provide fellowships for students; in turn, the aircraft companies would gain a pool of well-trained engineers as potential employees. To Elliott Reid, the author of the proposal, drawing on industrial support in this way was preferable to doing commercial testing for fees, as the engineers had been doing since 1940. Even so, the proposal, which promised the aircraft companies first use of the department's facilities, signified to him that the engineers were being "sold into bondage."26

To Tresidder, who agreed that the department should turn to industry for financial support, the engineers' proposal was "immature and inadequate." It represented the same mistaken idea that had been embodied in Hoover's National Research Fund in the 1920s – that industrial firms would provide money for research on the faith that research was the basis of industrial advancement, rather than with the guarantee that they would receive something for their money. Only by promising to undertake research of specific interest to aircraft companies and presenting them with estimated costs and clear objectives could the engineers hope to attract financial support from the industry, Tresidder insisted. Although the engineers stressed to Tresidder that they preferred to work on general questions related to airplane structures rather than on problems specified by industrial patrons, they agreed to modify their proposal to include a list of proposed projects with the specified costs attached.27

Tresidder, Davis, Terman, and others had also determined that Stanford should enhance its contacts with the oil industry and develop strengths in all fields related to the industry's interests. With this in mind, Tresidder turned his attention in late 1944 to Stanford's geology department. Headed by Eliot Blackwelder, the department had downplayed the practical applications of geological research and training that the oil industry considered purely "academic and impractical."28 In the fall of 1944 Blackwelder had indicated an interest in retiring; to Tresidder, this was an opportunity to reorient the department's interests.

Tresidder made it immediately clear to Blackwelder that he hoped the department would choose a professor of petroleum geology as its next chairperson. Blackwelder, who had studied and published widely on the origin and evolution of landforms in the United States and China, assured the president that he had no opposition to appointing a petroleum geologist. He did point out, however, that if the department appointed a petroleum geologist, a field previously unrepresented, Blackwelder's own field of geomorphology would be neglected. Such a decision was an important one – it would influence the complexion of the department for many years. For the sake of department morale, the decision should be made only after discussions with all of the department's members, Blackwelder stressed to Tresidder. And since so many of them were away on war assignments, Blackwelder urged Tresidder to postpone selection of a new chairperson until after the war.29 Blackwelder was interested in maintaining a departmental tradition of consulting the faculty about decisions affecting the fate of the department. But Tresidder, like Davis, was eager to make changes at Stanford while many of the university's faculty members were away. As Davis had shrewdly noted, at the end of the war there would be a "tendency to revert to the old status"; if the university were to be transformed, the war was "the ideal time" to act.30

Moreover, Tresidder already knew whom he wanted as head of the department – Arville Levorsen. Levorsen was not an academic geologist and had never taught before; he was the chief geologist for the Tidewater Oil Company in Tulsa, Oklahoma, and an independent oil operator who was known for his work in the science of finding oil. His name had been suggested to Tresidder by one of Stanford's geologists, Aaron C. Waters, who was working for the U.S. Geological Survey during the war. Extremely ambitious, Waters hoped that after the war he and Levorsen could build a strong program in petroleum geology at Stanford. Levorsen would attract money from the oil industry; Waters hoped to interest the State Department in funding a program to teach petroleum geology to South American students. Waters warned Tresidder that because of Levorsen's interests and his lack of teaching experience, the geology department might be "undersold" on having him as department chairperson. But he encouraged Tresidder not to be dissuaded by opposition. Members of the oil industry had "been sniping at [Stanford's] department and criticizing it" for years because the department was "truly deficient in the one field of most interest to these men, namely petroleum geology," Waters complained. Hiring Levorsen would correct this deficiency. Moreover, there would be a direct "payoff"; Levorsen was well known to the oil industry and Stanford could expect industrial patronage.31

To make certain that this would indeed be the result, Tresidder contacted Stanford alumni in the oil industry. According to Harold Hoots of Richfield Oil, they were "highly enthusiastic" about Levorsen. Hoots, a friend of Levorsen, arranged a meeting between Levorsen and representatives of the oil industry in California to assure him that they wanted him to take the job at Stanford. Levorsen accepted Tresidder's offer. To ensure further the development of good relations between the department and the oil industry, Tresidder advised Levorsen to outline a program for Stanford's geology department and send it to members of the oil industry for comments. "If you folks think best, it might be well to revise [the program] or change it," Levorsen wrote accommodatingly to California oilman L.L. Aubert.32 Upon hearing of Levorsen's appointment, Waters, who was more interested in his own career than in the procedural details of the proposed appointment, was elated. Before Tresidder became president, "I would have labeled this program 'castles in the air,'" he wrote, but the new administration was proving admirably decisive.33

Frederick Terms was also pleased by the appointment of Levorsen. It was, in his view, "a real start toward solving one of our major problems." Terms had just accepted Tresidder's offer of the deanship of Stanford's school of engineering, succeeding Samuel Morris, who had resigned from the position in late 1944 to assume the directorship of the Los Angeles Municipal Water and Power Company. Ambitious and full of plans, Terman now had an opportunity both to advance his career at Stanford and to implement the reforms that he, Davis, and Tresidder had discussed.34

Terman's appointment was not received with unanimous enthusiasm by Stanford's engineers, who met to discuss the appointment and then offered Tresidder their reservations. Terman, they warned, was difficult to get along with and was "impatient of others' opinions, and set in his own," according to the acting chairperson of the civil engineering department, who reported the group's opinion. More important, many of the faculty members believed that Terman was too narrow in his interests to be an effective dean. His expertise was in a subfield of electrical engineering; a dean, they argued, needed to be familiar with several engineering fields if he were to guide the school and play an important role in appointments and promotions.35 But it was, in part, this narrowness that made Terman an appealing candidate for the deanship. Tresidder knew well that Terman was interested in building a strong program at Stanford in communications and radio engineering that would have close ties to the electronics industry, and Tresidder wanted him as dean precisely for this reason. The members of the engineering school, however, worried that Terman was interested only in developing a particular facet of engineering and was dismissive of other engineering traditions. Some feared that the school's tradition of breadth of coverage would be lost with Terman as dean.

Their concern was apt. Terman was soon making clear to the acting chair of the electrical engineering department, Hugh Skilling, the particular focus his administration of the engineering school would have. Terman was planning to hire the former director of research for Caterpillar Tractor to fill a new position with responsibility for developing and managing the engineering school's contacts with industry. The job would involve developing industrial patronage as well as "steering our younger people … into fields which are going to have a big rather than a small future," he explained.36 The interests of industry were, of course, playing a large role in determining what fields would have a "big" rather than a "small" future.

Fields that were "big," in Terman's mind, were those that were of interest to expanding industries and that were perceived as having contributed significantly to the development of war technologies. Electronics was one such field; it would be "big" after the war primarily because the electronics industry would rapidly exploit for commercial purposes the technologies that had been developed during the war. One field with a "small" future, Terman had already made clear, was illumination. This was an area of "rather limited opportunities," Terman had indicated in early 1941 to President Wilbur, recommending that two professors in his department be let go. Firing them would be "disagreeable, messy, and not entirely in accord with usual traditions of academic tenure," Terman admitted, but he rationalized that the university could get "more for its money" with other professors.37 Wilbur did not take Terman's advice, but some in the school of engineering may well have feared that with Terman as dean, similar attempts would be made to give preference to some engineering work and to deemphasize or even eliminate other kinds.

By early 1945, then, Tresidder had placed new people at the head of two divisions within the university in the belief that they would draw engineering and geology firmly toward cooperation with industrial concerns interested in sponsoring academic research. He also hoped that the university's aeronautical engineers would develop strong ties to the aeronautics industry. In addition, Tresidder wanted to effect changes in Stanford's physics department. Terman and Davis had convinced him that research related to microwaves was a field that, like its allied field, electronics, was sure to have a "big" future after the war. The physicists involved in work on the klystron had succeeded in attracting substantial industrial patronage in the late 1930s; Tresidder was eager to renew the department's ties to industry after the war.

So were some, but not all, of Stanford's physicists. The suggestion that Stanford creative a microwave laboratory and solicit support from industrial patrons stirred considerable controversy among the physicists and between some physicists and the Tresidder administration. The physicists debated not only whether industry was an appropriate patron but also how patronage and new institutional forms might affect the role of the academic scientist and alter academic traditions. These concerns were not singular to the physics department but were very much related to the broader transformation being wrought at Stanford and other universities at the end of World War II. In the disputes over the microwave laboratory, it is possible to see clearly what was being lost and what others hoped to gain by establishing new institutions, eroding the tradition of departmental autonomy, and developing new forms of patronage.

-- Creating the Cold War University: The Transformation of Stanford, by Rebecca S. Lowen
Early history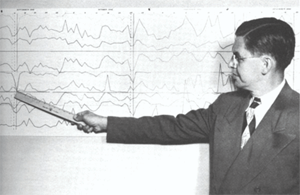 SRI participant Paul Magill discussing the smog on Black Friday in Los Angeles at the first National Air Pollution Symposium in 1949
SRI's first research project investigated whether the guayule plant could be used as a source of natural rubber.[16] During World War II, rubber was imported into the U.S. and was subject to shortages and strict rationing.[16] From 1942 to 1946, the United States Department of Agriculture (USDA) supported a project to create a domestic source of natural rubber. Once the war ended, the United States Congress cut funding for the program; in response, the Office of Naval Research created a grant for the project to continue at SRI, and the USDA staff on the project worked through SRI until Congress reauthorized funding in 1947.[16]
SRI's first economic study was for the United States Air Force. In 1947, the Air Force wanted to determine the expansion potential of the U.S. aircraft industry; SRI found that it would take too long to escalate production in an emergency.[17] In 1948, SRI began research and consultation with Chevron Corporation to develop an artificial substitute for tallow and coconut oil in soap production; SRI's investigation confirmed the potential of dodecylbenzene as a suitable replacement. Later, Procter & Gamble used the substance as the basis for Tide laundry detergent.[18]
The institute performed much of the early research on air pollution and the formation of ozone in the lower atmosphere.[19] SRI sponsored the First National Air Pollution Symposium in Pasadena, California, in November 1949.[19] Experts gave presentations on pollution research, exchanged ideas and techniques, and stimulated interest in the field. The event was attended by 400 scientists, business executives, and civic leaders from the U.S.[19] SRI co-sponsored subsequent events on the subject.[20]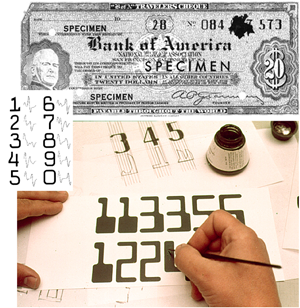 The ERMA system, which uses magnetic ink character recognition to process checks, was one of SRI's earliest developments.
In April 1953, Walt and Roy Disney hired SRI (and in particular, Harrison Price) to consult on their proposal for establishing an amusement park in Burbank, California.[21] SRI provided information on location, attendance patterns, and economic feasibility. SRI selected a larger site in Anaheim, prepared reports about operation, and provided on-site administrative support for Disneyland and acted in an advisory role as the park expanded.[21][22][23] In 1955, SRI was commissioned to select a site and provide design suggestions for the John F. Kennedy Center for the Performing Arts.[24]
In 1952, the Technicolor Corporation contracted with SRI to develop a near-instantaneous, electro-optical alternative to the manual process of timing during film copying.[25] In 1959, the Academy of Motion Picture Arts and Sciences presented the Scientific and Engineering Award jointly to SRI and Technicolor for their work on the design and development of the Technicolor electronic printing timer which greatly benefited the motion picture industry.[26] In 1954, Southern Pacific asked SRI to investigate ways of reducing damage during rail freight shipments by mitigating shock to railroad box cars. This investigation led to William K. MacCurdy's development of the Hydra-Cushion technology, which remains standard today.[27][28]
In the 1950s, SRI worked under the direction of the Bank of America to develop ERMA (Electronic Recording Machine, Accounting) and magnetic ink character recognition (MICR). The ERMA project was led by computer scientist Jerre Noe, who was at the time SRI's assistant director of engineering.[29] As of 2011, MICR remains the industry standard in automated check processing.[30][31][32]
Rapid expansion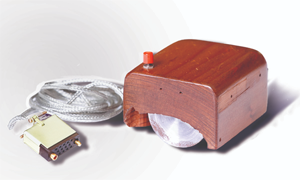 The first prototype of a computer mouse, as designed by Bill English
Douglas Engelbart, the founder of SRI's Augmentation Research Center (ARC), was the primary force behind the design and development of the multi-user oN-Line System (or NLS), featuring original versions of modern computer-human interface elements including bit-mapped displays, collaboration software, hypertext, and precursors to the graphical user interface such as the computer mouse.[33] As a pioneer of human-computer interaction, Engelbart is arguably SRI's most notable alumnus. He was awarded the National Medal of Technology and Innovation in 2000.[34]
Bill English, then chief engineer at ARC, built the first prototype of a computer mouse from Engelbart's design in 1964.[35][36] SRI also developed inkjet printing (1961) and optical disc recording (1963).[37] Liquid-crystal display (LCD) technology was developed at RCA Laboratories in the 1960s, which later became Sarnoff Corporation in 1988, a wholly owned subsidiary of SRI. Sarnoff was fully integrated into SRI in 2011.[38]
In the early 1960s, Hewitt Crane and his colleagues developed the world's first all-magnetic digital computer,[39] based upon extensions to magnetic core memories. The technology was licensed to AMP Inc., who then used it to build specialized computers for controlling tracks in the New York City Subway and on railroad switching yards.[40]
In 1966, SRI's Artificial Intelligence Center began working on "Shakey the robot", the first mobile robot to reason about its actions.[41] Equipped with a television camera, a triangulating rangefinder, and bump sensors, Shakey used software for perception, world-modeling, and acting. The project ended in 1972.[42] SRI's Artificial Intelligence Center marked its 45th anniversary in 2011.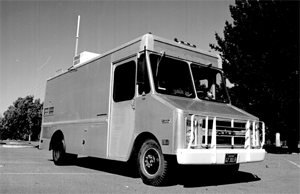 The Packet Radio Van, developed by Don Cone, was the site of the first three-way internetworked transmission.
On October 29, 1969, the first connection on a wide area network to use packet switching, ARPANET, was established between nodes at Leonard Kleinrock's laboratory at University of California, Los Angeles (UCLA) and Douglas Engelbart's laboratory at SRI using Interface Message Processors at both sites.[43][44] The following year, Engelbart's laboratory installed the first TENEX system outside of BBN where it was developed. In addition to SRI and UCLA, University of California, Santa Barbara and the University of Utah were part of the original four network nodes. By December 5, 1969, the entire four-node network was connected. In the 1970s, SRI developed packet-switched radio (a precursor to wireless networking),[45] over-the-horizon radar,[46][47] Deafnet,[48][49] vacuum microelectronics, and software-implemented fault tolerance.
This first true Internet transmission occurred on November 22, 1977, when SRI originated the first connection between three disparate networks. Data flowed seamlessly through the mobile Packet Radio Van between SRI in Menlo Park, California and the University of Southern California in Los Angeles via London, England, across three types of networks: packet radio, satellite, and the ARPANET.[50] In 2007, the Computer History Museum presented a 30th anniversary celebration of this demonstration, which included several participants from the 1977 event.[51] SRI would go on to run the Network Information Center under the leadership of Jake Feinler.[52]
Split and diversification
The Vietnam War (1955–1975) was an important issue on college campuses across the United States in the 1960s and 1970s. As a belated response to Vietnam War protesters who believed that funding from the Defense Advanced Research Projects Agency (DARPA) made the university part of the military–industrial complex,[53] the Stanford Research Institute split from Stanford University in 1970. The organization subsequently changed its name from the Stanford Research Institute to SRI International in 1977.[1][54][55]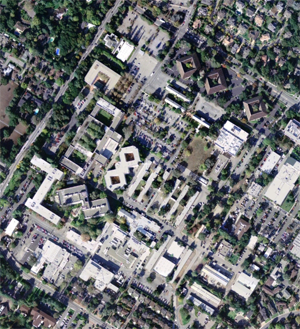 Aerial image of SRI's Menlo Park campus
In 1972, physicists Harold E. Puthoff and Russell Targ undertook a series of investigations of psychic phenomena sponsored by the CIA, for which they coined the term remote viewing.[56][57][58] Among other activities, the project encompassed the work of consulting "consciousness researchers" including artist/writer Ingo Swann, military intelligence officer Joseph McMoneagle, and psychic/illusionist Uri Geller.[59] This ESP work continued with funding from the US intelligence community until Puthoff and Targ left SRI in the mid-1980s.[60][61] For more information, see Parapsychology research at SRI.
Social scientist and consumer futurist Arnold Mitchell created the Values, Attitudes and Lifestyles (VALS) psychographic methodology in the late 1970s to explain changing U.S. values and lifestyles.[62] VALS was formally inaugurated as an SRI product in 1978 and was called "one of the ten top market research breakthroughs of the 1980s" by Advertising Age magazine.[63]
Throughout the 1980s, SRI developed Zylon,[64] stealth technologies, improvements to ultrasound imaging,[26] two-dimensional laser fluorescence imaging,[65] and many-sorted logic. In computing and software, SRI developed a multimedia electronic mail system, a theory of non-interference in computer security, a multilevel secure (MLS) relational database system called Seaview,[65] LaTeX,[66] Open Agent Architecture (OAA), a network intrusion detection system, the Maude system, a declarative software language, and PacketHop, a peer-to-peer wireless technology to create scalable ad hoc networks.[67] SRI's research in network intrusion detection led to the patent infringement case SRI International, Inc. v. Internet Security Systems, Inc.[68] The AI center's robotics research led to Shakey's successor, Flakey the robot, which focused on fuzzy logic.[69][70]
In 1986, SRI.com became the 8th registered ".com" domain.[71] The Artificial Intelligence Center developed the Procedural Reasoning System (PRS) in the late 1980s and into the early 1990s. PRS launched the field of BDI-based intelligent agents.[72] In the 1990s, SRI developed a letter sorting system for the United States Postal Service and several education and economic studies.[73]
Military-related technologies developed by SRI in the 1990s and 2000s include ground- and foliage-penetrating radar, the INCON and REDDE command and control system for the U.S. military,[74] and IGRS (integrated GPS radio system)—an advanced military personnel and vehicle tracking system. To train armored combat units during battle exercises, SRI developed the Deployable Force-on-Force Instrumented Range System (DFIRST), which uses GPS satellites, high-speed wireless communications, and digital terrain map displays.[75]
SRI created the Centibots in 2003, one of the first and largest teams of coordinated, autonomous mobile robots that explore, map, and survey unknown environments.[76][77][78][79] It also created BotHunter, a free utility for Unix, which detects botnet activity within a network.[80][81]