The Invisible Pyramid, by Loren Eiseley

Posted:
Thu Jul 16, 2015 11:22 pm
THE INVISIBLE PYRAMID -- A NATURALIST ANALYSES THE ROCKET CENTURY
by Loren Eiseley
© 1970 by Loren Eiseley
Illustrated by Walter Ferro
Sections III and IV of the chapter entitled "The Spore Bearers" appeared first as part of an article entitled "The Invisible Pyramid" in Science Year, The World Book Science Annual © 1967 Field Enterprises Educational Corporation; these sections are used by permission of Field Enterprises Educational Corporation
NOTICE: THIS WORK MAY BE PROTECTED BY COPYRIGHT
YOU ARE REQUIRED TO READ

THE COPYRIGHT NOTICE AT THIS LINK

BEFORE YOU READ THE FOLLOWING WORK, THAT IS AVAILABLE SOLELY FOR PRIVATE STUDY, SCHOLARSHIP OR RESEARCH PURSUANT TO 17 U.S.C. SECTION 107 AND 108. IN THE EVENT THAT THE LIBRARY DETERMINES THAT UNLAWFUL COPYING OF THIS WORK HAS OCCURRED, THE LIBRARY HAS THE RIGHT TO BLOCK THE I.P. ADDRESS AT WHICH THE UNLAWFUL COPYING APPEARED TO HAVE OCCURRED. THANK YOU FOR RESPECTING THE RIGHTS OF COPYRIGHT OWNERS.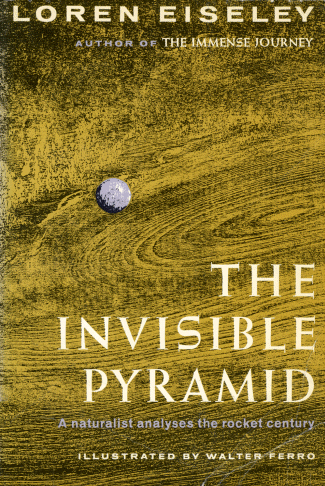 Table of Contents:
• INSIDE COVER
• PREFACE
• PROLOGUE
• ONE: THE STAR DRAGON
• TWO: THE COSMIC PRISON
• THREE: THE WORLD EATERS
• FOUR: THE SPORE BEARERS
• FIVE: THE TIME EFFACERS
• SIX: MAN IN THE AUTUMN LIGHT
• SEVEN: THE LAST MAGICIAN
• BIBLIOGRAPHY
• INDEX
The word "invention" can denote ideas far removed from the machines to which the people of our mechanically inclined era seek constantly to limit the word. Let us take one refined example. The zero, invented twice in the mists of prehistory, once by the Hindus and once by the Maya, lies at the root of all complicated mathematics, yet it is not a "thing." Rather, it is a "no thing," a "nothing," without which Roman mathematics was a heavy, lumbering affair. In our time that necessary zero leaps instantaneously through the circuits of computers, helping to guide a rocket on the long pathway to Mars. One might say that an unknown mathematical genius seeking pure abstract understanding was a necessary prehistoric prelude to the success of the computer. He was also, and tragically, the possible indirect creator of world disaster in the shape of atomic war.

"Traveling long journeys is costly, at all times troublesome, at some times dangerous," warned a seventeenth-century writer. These were true words spoken of great seas and unmapped continents. They can also be spoken of the scientific journey itself. Today, magnified beyond the comprehension of that ancient wayfarer, we contemplate roads across the planetary orbits, the penetration of unknown atmospheres, and the defiance of solar flares. This effort has become the primary obsession of the great continental powers. Into the organization of this endeavor has gone an outpouring of wealth and inventive genius so vast that it constitutes a public sacrifice equivalent in terms of relative wealth to the building of the Great Pyramid at Giza almost five thousand years ago. Indeed, there is a sense in which modern science is involved in the construction of just such a pyramid, though an invisible one.

Science, too, demands great sacrifice, persistence of purpose across the generations, and an almost religious devotion. Whether its creations will loom to future ages as strangely antiquated as the sepulchres of the divine pharaohs, time alone will tell. Perhaps, in the final reckoning, only understanding will enable man to look back upon his pathway. For if inventions of power outrun understanding, as they now threaten to do, man may well sink into a night more abysmal than any he has yet experienced. Understanding increasingly begets power, but, as perceptive statesmen have long observed, power in the wrong hands has a way of corrupting understanding.

There is an eye atop Palomar Mountain that peers at fleeing galaxies so remote that eons have elapsed since the light which reaches that great lens began its journey. There is another eye, that of the electron microscope, which peers deep into our own being. Both eyes are important. They are eyes of understanding. They balance and steady each other. They give our world perspective; they place man where he belongs. Such eyes, however, are subject to their human makers. Men may devise or acquire, and use beautiful or deathly machines and yet have no true time sense, no tolerance, no genuine awareness of their own history. By contrast, the balanced eye, the rare true eye of understanding, can explore the gulfs of history in a night or sense with uncanny accuracy the subtle moment when a civilization in all its panoply of power turns deathward. There are such troubled seers among us today -- men who fear that the ramifications of the huge industrial complex centering upon space is draining us of energy and wealth for other enterprises -- that it has about it a threatening, insensitive, and cataclysmic quality.

***

It is a thing to consider, because with understanding arise instruments of power, which always spread faster than the inventions of calm understanding. The tools of violence appeal to the fanatic, the illiterate, the blindly venomous. The inventions of power have grown monstrous in our time. Man's newfound ingenuity has given him health, wealth, and increase, but there is added now the ingredient of an ever-growing terror. Man is only beginning dimly to discern that the ultimate menace, the final interior zero, may lie in his own nature.

-- The Invisible Pyramid, by Loren Eiseley