MOTHS OF THE LIMBERLOST -- WITH WATER COLOR AND PHOTOGRAPHIC ILLUSTRATIONS FROM LIFE
by Gene Stratton-Porter
© 1912, by Doubleday, Page & Company
YOU ARE REQUIRED TO READ

THE COPYRIGHT NOTICE AT THIS LINK

BEFORE YOU READ THE FOLLOWING WORK, THAT IS AVAILABLE SOLELY FOR PRIVATE STUDY, SCHOLARSHIP OR RESEARCH PURSUANT TO 17 U.S.C. SECTION 107 AND 108. IN THE EVENT THAT THE LIBRARY DETERMINES THAT UNLAWFUL COPYING OF THIS WORK HAS OCCURRED, THE LIBRARY HAS THE RIGHT TO BLOCK THE I.P. ADDRESS AT WHICH THE UNLAWFUL COPYING APPEARED TO HAVE OCCURRED. THANK YOU FOR RESPECTING THE RIGHTS OF COPYRIGHT OWNERS.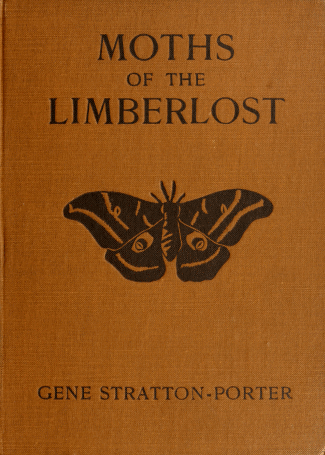 Table of Contents:
• Books by Gene Stratton-Porter
• Opening Pages
• Moths of the Limberlost
1. Moths of the Limberlost
2. Moths, Eggs, Caterpillars, Winter Quarters
3. The Robin Moth: Cecropia
4. The Yellow Emperor: Eades Imperialis
5. The Lady Bird: Deilephila Lineata
6. Moths of the Moon: Actias Luna
7. King of the Hollyhocks: Protoparce Celeus
8. Hera of the Corn: Hyperchira Io
9. The Sweetheart and the Bride: Catocala Amatyix -- Catocala Neogama
10. The Giant Gamin: Telea Polyphemus
11. The Garden Fly: Protoparce Carolina
12. Bloody-nose of Sunshine Hill: Hemaris Thysbe
13. The Modest Moth: Triptogon Modesta
14. The Pride of the Lilacs: Attacus Promethea
15. The King of the Poets: Citheronia Regalis
• List of Illustrations
1. Our Rarest Moth
2. All Diamonded with Panes of Quaint Device
3. Developing Regalis
4. At the Edge of the Limberlost
5. Under No Restraint
6. A Moth Worth Knowing
7. Study the Ensuing Illustrations
8. Citheronia Regalis Scattering Pearls
9. Modest and Lovely Modesta
10. Moth Mullein
11. Cocoon Inside Hollow Log
12. Eggs
13. Caterpillar at Maturity
14. Pupa Case of Feeder and Non-Feeder
15. Winter Quarters
16. Life-Size Pupa Case of Earth
17. The Robin Moth
18. My First Cecropia
19. Slender Cocoons
20. Baggy Twin Cocoons
21. Where Philip Found a Girl of the Limberlost
22. Cecropia Life History Begins with Eggs
23. Cecropia Caterpillar Ready to Spin
24. Interwoven Twin Cocoons
25. Twin Cecropia Emerging
26. Male Out and Female Coming
27. Both Out
28. Expanding and Drying Wings
29. Ready to Travel
30. Interior of Winter Quarters
31. Moths of the Carnival
32. Facing the Audience
33. "On the Banks of the Wabash"
34. The Lady Bird
35. Lineata Moth
36. Works of Art
37. Favourite Haunt of the Lady Bird
38. The Trailed Aristocrat
39. Luna Moth
40. A Luna Courtship
41. Good Luna Hunting
42. Luna Caterpillar
43. King of the Hollyhocks
44. Celeus Moth
45. A Limberlost Cabin
46. No Other Celeus So Big and Beautiful
47. Gold Io Seeking a Mate
48. Io Moth
49. My Childhood Enemy of the Corn
50. Io Pupa Case
51. "One for the Blackbird," Etc.
52. The Sweetheart and Bride of Limberlost Cabin
53. Hiding Among the Roses
54. The Home of the Sweetheart and Bride
55. Sweethearts and Brides Come to Light
56. Velvet Robed and Jewel Bedecked
57. New Polyphemus Cocoon
58. The Home of My First Giant
59. Occupied and Deserted Tenements
60. Leaving Home
61. Waiting for Wings
62. Garden Fly
63. A Pair of Garden Flies
64. Where Elnora Found Garden Flies
65. Bloody-Nose of Sunshine Hill
66. Thysbe Resembles a Big Bumblebee
67. The Crest of Sunshine Hill
68. The Modest Moth
69. Soft Grays and Browns
70. In the Valley of the Wood Robin
71. The Pride of the Lilacs
72. Three Promethea Cocoons
73. The River Bridge
74. Promethus Bound
75. King Citheronia
76. Preliminary Exercise
77. King of the Wild Tiger Lilies
78. A Royal Couple
79. The Queen Gives Us Her Jewels
80. High Piled Treasure
81. Full-Fed and Ready to Transform
82. Changing to Pupa
83. Encased for Winter
84. Leaving Winter Quarters
85. An Hour Later
Cocoon gathering in the fall is one of the most delightful occupations imaginable. When flowers are gone, when birds have migrated, when brilliant foliage piles knee deep underfoot, during those last few days of summer, zest can be added to a ramble by a search for cocoons. Carrying them home with extreme care not to jar or dent them, they are placed in the conservatory among the flowers. They hang from cacti spines and over thorns on the big century plant and lemon tree. When sprinkling, the hose is turned on them, as they would take the rain outside. Usually they are placed in the coolest spots, where ventilation is good.

If they are kept cool enough that they do not emerge until May or June, then you have one of the most exquisite treats nature has in store for you, in watching the damp spot spread on the top of the cocoon where an acid is ejected that cuts and softens the tough fibre, and allows the moth to come pushing through in the full glory of its gorgeous birth. Nowhere in nature can you find such delicate and daintily shaded markings or colours so brilliant and fresh as on the wings of these creatures of night.

If you want to photograph them, do it when the wings are fully developed, but before they have flown. They need not be handled; their wings are unbroken; their down covering in place to the last scale; their colours never so brilliant; their markings the plainest they ever will be; their big pursy bodies full of life; and they will climb with perfect confidence on any stick, twig, or limb held before them. Reproductions of them are even more beautiful than those of birds. By all means photograph them out of doors on a twig or leaf that their caterpillars will eat.

-- Moths of the Limberlost, by Gene Stratton-Porter