MARTIAL LAW IN POLAND
Martial law was declared in Poland on 13 December 1981. The independent trade union Solidarity was suspended, as were other independent trade union and student organizations, and thousands of Solidarity activists and others were interned. The following extracts come from the 'Amnesty International Report 1983' (which each year includes a country-by- country survey of human rights abuses of concern to Amnesty International) and from a paper entitled 'Internment in Poland' issued in 1982.
Internment, introduced with martial law, was most widely applied during the first month, when some 6,800 people were officially acknowledged to have been interned. Although some internees were released in December 1981 and there were releases throughout 1982, new internments continued to take place as late as November. According to official statements, internees were not suspected or accused of any crime; they were interned because their past conduct gave rise to 'justified suspicion that if they remained at liberty they would not observe legal order or would engage in activities endangering the interests of the security or defence of the State'. Internment was enforced by the militia with no court supervision. There was no fixed term for internment, which could, and in some cases did, last for the duration of martial law. Those interned included most members of the National Commission of the independent trade union Solidarity, Solidarity advisers, regional officials, members and supporters, members of independent farmers' and students' unions, members of civil and human rights groups and other people officially regarded as opponents of the government. Lech Walesa, Solidarity's leader, was placed under house arrest.
Internees were held in 'isolation centres' in prisons, reformatories and in worker and army holiday accommodation. With the exception of women detainees and well-known intellectuals held in holiday centres, most internees experienced conditions described as cold, unhygienic and overcrowded. Internees frequently reported that they were interrogated by the state security police and pressed to collaborate with police, to emigrate or to sign a statement that they would not engage in anti-state activity, as a condition for release. A number of internees complained that they had been denied medical treatment or that this had been delayed. There were also allegations that internees had been beaten by guards; such incidents, for instance, were reported to have taken place on 13 February at Wierzchowo Pomorskie, on 25 March at Ilawa and on 14 August at Kwidzyn. In the last case six internees were said to have been badly injured and hospitalized. Priests and delegates from the International Committee of the Red Cross were allowed to visit internees throughout the year.
The majority of people imprisoned for political offences during 1982 had expressed opposition to martial law by strikes, demonstrations, leaflets or clandestine trade union activity. Most were convicted of 'martial law offences', that is, of violating Articles 46-48 of the Martial Law Decree of 12 December 1981. This penalized participating in a suspended trade union or association, organizing strikes or protest actions and printing or disseminating 'false information liable to arouse public anxiety or riots'. Most such cases reported to Amnesty International were tried by special summary proceedings introduced under martial law. In these proceedings pre-trial detention was compulsory and most detainees did not have access to a lawyer during investigation; various procedural time limits were reduced and heavier penalties imposed: a minimum of three years' imprisonment and loss of civil rights for up to 10 years. The accused had no right of appeal. In some cases, however, sentences were increased after an 'extraordinary appeal' by the Procurator General. Certain martial law offences were tried by military courts, involving further restrictions, for example on public access to the court and on the accused's choice of lawyer. The majority of sentences imposed under summary proceedings for martial law offences in cases known to Amnesty International were for three to four years' imprisonment. Some lower sentences were imposed under normal proceedings, and there were also acquittals.
Amnesty International was also concerned about allegations that political prisoners had been severely beaten by prison guards. Prisoners in Gdansk prison, including some 15 prisoners of conscience, were reported to have been attacked and beaten by guards on 23 July after rumours had circulated within the prison that inmates were about to start a hunger-strike. Some 20 younger prisoners were forced to take a very hot shower and beaten again. Police dogs were alleged to have been set on certain prisoners.
Published 1984
***
Conditions of internment
Initial reports received by Amnesty International stated that many internees were held in harsh, cold and overcrowded conditions in internment centres located in evacuated prisons, investigation centres, barracks, reformatories (social rehabilitation centres) and worker and army holiday accommodation.
Several reports indicate that some of the worst hardships initially suffered by internees were due to the fact that local authorities had not made preparations for their reception. On 9 January, the army newspaper Zolnierz Wolnosci quoted an interview with the regional prison chief of Wroclaw who (referring to some 920 people locally interned) confirmed reports of internees being kept in a prison courtyard poorly clothed in sub-zero temperatures. 'Unfortunately such facts did take place ... we were simply not prepared for quickly receiving and accommodating such a number of people. We, too, were surprised by the proclamation of martial law. We did ... everything in our powers to alleviate the hardships of waiting.'
On 21 December an official government spokesman insisted that internees were held in 'bearable conditions and have the right to visits by close relatives, may receive food parcels, have access to religious practices, are receiving books and periodicals and are provided with means of personal hygiene and have medical care. Those who want to can work. Some of the internees are staying at holiday homes. All have the right to contact one another.'
While other reports indicate that by this date conditions in certain internment centres had somewhat improved, most reports agreed that conditions varied considerably from one centre to another and that prominent intellectuals generally had much better conditions than workers. This is also indicated by the experience of Teresa Bogucka, head of Solidarity's Cultural Committee in Warsaw, who was interned following the imposition of martial law but was released on New Year's Eve. Her account was published in the Guardian (London) on 20 January 1982:
'Q What happened the night you were informed?
A: It was late at night. The bell of the door rang very loudly. (Police) explained the situation was 'special', and they would show me a paper in a moment. It was an order for internment in Bialoleka (camp) in connection with martial law ... They played an easy trick on my intelligence. They said 'You know, it is probably a misunderstanding. So after two hours you will come back' ... As a result I took almost nothing with me. At 12.30 I was at the police headquarters in Wilcza street. There was an incredible crowd ... At around 3 am we reached a prison. The staff were upset. They asked us what had happened. They let us into a cell where there were only mattresses. They said the store was closed so they couldn't get us anything. The cell was not heated. It had broken windows through which snow blew in ... In the morning a guard came, took pity on us and gave us blankets. It became clear that there was no water. During the whole time I was there - three days - not once was I brave enough to take off my coat or to undress. We asked to be able to wash our hands and faces at least. So they brought us snow, explaining that the water was cut off. . .'
After three days, she was transferred by helicopter to an army holiday house at Jaworzno, together with a group of other internees, mostly university professors and writers.
'As a vacation house it was poor, as a prison it was luxurious. We found ourselves in a camp, undoubtedly for the chosen few, where we could move between rooms . Complete freedom in the rooms, ... excellent food, . walks. It was served by the normal militia, I think, with police badges, and they treated us politely and even with embarrassment that such amazing people like scientists were here. And that's how it generally looked. We immediately became aware that the intelligentsia was separated from the workers who were left in Bialoleka and Olszynka.'
By contrast, a declaration by internees in Bialoleka, printed in an underground publication of Solidarity in early January, stated: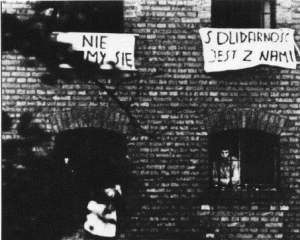 Bydgoszez prison, Poland, September 1981. The banner on the left reads "We will not give up" and on the right "Solidarity is with us."
'We hereby declare that, despite the assurances issued by the so-called Military Council of National Salvation, our detention is not designed to keep us isolated from society, but most of all is an act of repression and revenge. There are among us gravely ill people. Our repeated demands that they be freed, or at least assured proper medical care, have been ignored .... The conditions in which we are being held do not differ significantly from the conditions existing in the majority of Polish prisons. Our group, of almost 300 people, has been placed in twelve-person cells of 18 square metres each, in unsanitary conditions. There is no hot water or laundry detergents, except soap, which helps disease to spread. There is a flu epidemic in the camp. The prison rules read to us are more severe than those in the Nazi POW camps. We are deprived of the right to move freely within the camp, to maintain contact with prisoners in other cells, and to take part in educational and cultural activities or recreation. Daily collective prayer is also forbidden. The rules are set up so that the camp commandant has unlimited powers. Despite repeated requests, we have not been allowed to study the texts of the international conventions -- especially the Hague and Geneva conventions, ratified by Poland, which regulate the procedures concerned with interned persons -- in order to compare these texts with the prison rules. We have demanded contact with representatives of the authorities and of the International Red Cross -- also to no avail.
'We were granted the opportunity to have our families visit us between Christmas and the New Year. Presently the camp commandant limited the number of family visits to one per month, and only on a weekday during normal working hours. Our families are being misinformed about the dates and possibility of visits. Letters sent by us do not reach their addresses. Letters mailed from outside do not come to us.
'Despite the fact that no criminal proceedings are pending against any of us, we are subject to informal interrogations by secret police. They threaten us with the prolongation of detention if we do not sign the loyalty oath.'
On 8 January the foreign press reported that prisoners in Bialoleka were taking turns to go on hunger strike in support of this protest. Nonetheless, according to some unofficial accounts, conditions in Bialoleka are good in comparison with certain other centres; those at a centre on He! peninsula are described as particularly harsh.
There have been isolated reports of internees having been beaten on arrest or after their internment, but the limited information available at present to Amnesty International suggests that this has not been widespread or
Published February 1982
***
'THE WORD "FRIEND" GIVES US THE STRENGTH TO GO ON'
Batlle Olandabarat Scarrone often took part in the marches of the sugarcane cutters from the north of Uruguay to the capital, Montevideo, to claim better working conditions and wages. During a long and distinguished history of trade union activity he became President of the regional branch of the main trade union confederation in the country, the Confederacion Nacional de Trabajadores (CNT). As such, he was arrested on 20 June 1972, charged with 'Attack on the Constitution' and sentenced to 13 years' imprisonment. As part of a general clamp-down on left-wing organizations, the government banned the CNT itself in June 1973. He was left alone following the death of his brother in 1979 -- his sister having fled into exile in Barcelona.
An Amnesty International group in the federal Republic of Germany took up his case. Apart from the campaigning work they undertook to call for his release, they also offered their moral support to Batlle and his family, continuing to write to him regularly during the years he was incarcerated. When he was released, the group paid for his airline ticket from Montivideo to Barcelona so that they could be reunited.
following his release on 10 March 1985, Batlle wrote to the group: 'To begin this letter, .. it has been shown that there is no distance, nor place or race which can stop human relationships being established and developed through the means of communication which are within our reach. All we have to do is to think and be aware that there are millions of others ... and that one can be of use to a fellow human being from a distance. Through the means of a letter, .. to receive the word "friend" and "brother" comforts us and gives us strength to go on with our principles - to construct a more just and humane world. Today, happily, in freedom and in Spain with my family, censorship cannot prevent me from communicating my gratitude for everything you have done for me.'