Dragon Thunder: My Life with Chogyam Trungpa by Diana Mukpo

Posted:
Sat Jul 27, 2019 7:44 am
Dragon Thunder: My Life with Chogyam Trungpa
by Diana J. Mukpo with Carolyn Rose Gimian
© 2006 by Diana J. Mukpo and Carolyn R. Gimian
NOTICE: THIS WORK MAY BE PROTECTED BY COPYRIGHT
YOU ARE REQUIRED TO READ

THE COPYRIGHT NOTICE AT THIS LINK

BEFORE YOU READ THE FOLLOWING WORK, THAT IS AVAILABLE SOLELY FOR PRIVATE STUDY, SCHOLARSHIP OR RESEARCH PURSUANT TO 17 U.S.C. SECTION 107 AND 108. IN THE EVENT THAT THE LIBRARY DETERMINES THAT UNLAWFUL COPYING OF THIS WORK HAS OCCURRED, THE LIBRARY HAS THE RIGHT TO BLOCK THE I.P. ADDRESS AT WHICH THE UNLAWFUL COPYING APPEARED TO HAVE OCCURRED. THANK YOU FOR RESPECTING THE RIGHTS OF COPYRIGHT OWNERS.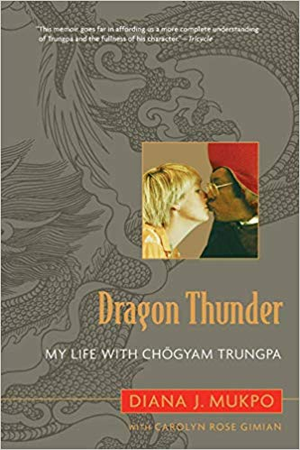 To my family
Bringing together sun and moon,
Dragon thunder proclaims
Let us rejoice in the name of the Great Eastern Sun.

-- CHOGYAM TRUNGPA, FROM THE UNPUBLISHED MANUSCRIPT "THE MEMOIRS OF SIR NYIMA SANGPO, W.O.D.S."
TABLE OF CONTENTS:
•
About Chogyam Trungpa and Diana Mukpo
•
Dragon Thunder
•
Chapter 1
•
Chapter 2
•
Chapter 3
•
Chapter 4
•
Chapter 5
•
Chapter 6
•
Chapter 7
•
Chapter 8
•
Chapter 9
•
Chapter 10
•
Chapter 11
•
Chapter 12
•
Photographs
•
Chapter 13
•
Chapter 14
•
Chapter 15
•
Chapter 16
•
Chapter 17
•
Chapter 18
•
Chapter 19
•
Epilogue
•
Publisher's Afterword
•
Coauthor's Afterword and Acknowledgments
•
Notes
At the end of the seminary, just a day or so before we were preparing to return to Boulder, Rinpoche said to me, "You know, I might die soon." I said to him, "What do you mean?" He responded, "Well,

now that I've finished the seminary, I've taught everything I have to teach. There's nothing left for me to present. So I might die soon."

He'd been in the United States for just three years. Now, he was saying that he'd done all he could. I told him, "That can't possibly be true. There must be something more." He paused for a minute, and then he said, "Yes, well,

I have been having dreams about being a general. I had one last night. I was a general and I was leading the troops in battle. That was fantastic."

Then he said,

"I'd love to be a general."

Finally, he said,

"I guess if I could become a king and rule a nation, then I would have something to live for!"

***

Rinpoche wanted Naropa to be known as the premier place for Buddhist studies in North America, but

he also wanted to encourage other religious and spiritual traditions to find a home there. Thus, a few years later, he inaugurated a Christian-Buddhist contemplative conference that has sponsored an interfaith dialogue for many years now.

***

As the summer progressed, Rinpoche began to focus on the next big event. He had invited the head of his lineage, His Holiness the Karmapa, to come to America in the fall to visit Rinpoche, to see his students, and to make his first teaching tour in America. His Holiness was due to arrive in September. They had not seen each other since 1968, when Rinpoche briefly visited His Holiness's monastery in Sikkim.

Rinpoche was nervous about the visit because he knew that His Holiness had heard stories about what Rinpoche was up to, and the version he had been told had been heavy on the outrageous, wild side and light on the "working for the dharma" side. Rinpoche did not know whether His Holiness would fully appreciate what he was trying to do in America.

Lecturing to more than a thousand scantily garbed hippies at Naropa that summer gave him pause as to how to present his students to His Holiness. Rinpoche might be able to see past the long beards, cutoff jeans, and tank tops, but this was not the image he wanted to present to his lineage. He wanted His Holiness to be able to appreciate the mind and heart connection he had made with all these Westerners. He feared that His Holiness would think that Rinpoche was consorting with barbarians, somewhat like having moved into the zoo with a bunch of jungle animals. Sometimes, if you looked around the room when Rinpoche was lecturing that first summer at Naropa, especially with the influx of Ramdassians at the beginning, you would see a menagerie of topless men with matted hair and long beards and long-haired girls sporting white robes or showing lots of cleavage. What to do?

In addition to concerns about their appearance, Rinpoche was faced with the challenge of introducing decorum to his students, in terms of how they would behave around the Karmapa. When Rinpoche first came to America, he was careful not to create a barrier between himself and others. He wanted to experience fully the world he was entering and meet people at eye level. He gave up his robes because he did not want to create an exotic impression where people would indulge their fantasies about him. He wanted them to see him not as a mystery man from Tibet but as a human being.

Rinpoche had grown up with attendants who treated him as a spiritual prince, but when he came to the West, he let all of that go. He didn't demand or expect special treatment. For one thing, there was no cultural reference point for the Western students to provide service to him. However, what he accepted for himself was not what he wanted to present to His Holiness. In preparation for His Holiness's visit, Rinpoche made it clear to his students how he himself wanted to receive the Karmapa and how he expected them to treat His Holiness as well. He described this later as follows:

In 1974, His Holiness the 16th Gyalwa Karmapa, the head of the Karma Kagyu lineage of Buddhism to which I belong, was to arrive for his first visit to North America. A group of us had a meeting, and we talked about protocol and other arrangements. Quite a number of people said, "Couldn't we just take His Holiness to a disco and feed him a steak? Do we really have to vacuum the floor? Maybe he should sleep on a waterbed. Couldn't he just come along and see what America is like?" In the end, that wasn't the approach we decided to take! ... That approach is bloated with arrogance.

1

....

Rinpoche also asked me to take a drive around Boulder with His Holiness and show him various local landmarks. Rinpoche instructed me that whenever His Holiness admired a building or noted that it was impressive or anything like that, I was to tell the Karmapa that the building belonged to us.....

While in Boulder, His Holiness also performed a special ceremony in the newly renovated shrine hall at Karma Dzong, officially acknowledging Rinpoche's work to plant the Buddhist teachings in America and encouraging him as a vajra master to go further, especially in presenting the Vajrayana tradition. From this time forward, Rinpoche was known by the titles Vajracharya, or "holder of the Vajrayana teachings," and later as Vidyadhara, or "holder of wisdom."

The Karmapa thus made a public statement of his appreciation for Rinpoche's efforts and achievements, and he wrote a special proclamation to this effect. I think everyone in His Holiness's party was amazed by what Rinpoche had accomplished

, especially in light of how little time had passed since Rinpoche had arrived in America.....

At the end of April 1975, Rinpoche and I went on a trip to Europe with the two older boys, Taggie and Osel, leaving Gesar in the care of friends. This was partially to be our vacation, but we were also

traveling to Samye Ling to retrieve the official seals of office of the Trungpas, which were still in Akong's possession. With the recent recognition of Rinpoche's achievements by His Holiness the Karmapa, Akong could hardly justify keeping them any longer....

For the meeting with Akong, we all dressed in our best business suits, even the children. Akong was very polite; there was no outward sign of conflict. After a long preamble, in which Rinpoche talked about his work in America and his family and inquired about Akong's work and his family, he told Akong that he had come to get his seals back, as well as other treasures that belonged to him from Tibet.

Rinpoche was no longer somebody that Akong could mistreat. Within a few short years in America, Rinpoche was already much more influential than Akong would ever be. Rinpoche manifested that confidence and power, yet without any bravado. He demanded what was rightfully his....

From Samye Ling, we went down to London.

To celebrate our victory, Rinpoche wanted to stay at one of the most posh, old-fashioned hotels in London, the Ritz in Piccadilly. Our room was beautifully appointed, with exquisite pink silk linens and bedspreads. Taggie proceeded to have diarrhea all over the bedspread

, which I found beyond embarrassing. Later, when we went down to the Palm Court to have tea, Taggie was completely out of control, racing down the corridors. We had dressed him in a beautiful outfit, but this little child was a whirling dervish flying around the tearoom. He was becoming more and more hyperactive, which was especially apparent in this situation.

While we were in London, Rinpoche enjoyed shopping for clothes. He wanted to get a Jaeger suit for each of us, and he also bought himself a nice suit at Harrods. In later years, when we had more income, Rinpoche would get his clothes hand-tailored on Savile Row. Rinpoche had always enjoyed shopping for ties. During this era, he liked striped ties a lot. Later he had quite a collection of Japanese brocade ties. In general, he was rather conservative in his clothing tastes. He often wore pinstriped suits, and he also built up a collection of sports jackets. He especially liked French cuffs on his shirts, and he bought a number of pairs of cufflinks while we were in London.

We had so much extra clothing that it wouldn't fit in our luggage.

Instead of buying another suitcase, I simply took a garbage bag and put our dirty laundry and casual clothing in it. When we checked out, the uniformed doorman at the Ritz pushed the trolley containing our luggage out to the street, where we were going to hail a cab to the airport. The garbage bag was sitting on top of the luggage. As we approached the curb, the bag was jostled and a pair of my underwear fell out onto the street. I was mortified. The doorman, however, didn't skip a beat. He leaned over, picked up my underwear with his white-gloved hands, and put it back in the bag. That was our departure from the Ritz.

From London we flew to Nice for several days of holiday. Having had such a lovely time the year before, we both wanted to return. While we were in France, I convinced Rinpoche that we should go to Vienna so that I could visit the Spanish Riding School. Now that I was riding regularly again, I had started to develop a great interest in the discipline of dressage, a classic form of horsemanship whose pinnacle was achieved at the school.

We visited a number of places in Vienna, including Schonbrunn Palace.

Rinpoche liked to spend long hours in the restaurants in Vienna

, and Taggie was very difficult to manage throughout all of this.

Luckily, we were able to obtain tickets for one of the dressage performances at the Spanish Riding School, known as "the Spanish."

The day of the performance, we stood outside the Winter Palace in Vienna, where the Spanish is located. We waited in line a long time to get in to see the performance. When they finally opened the doors, people started pushing and shoving all around us. We finally made our way through the crowd and into the building. To get to our seats, we had to walk up a narrow flight of wooden stairs to the balcony overlooking the arena.

The hall is magnificent, with enormous crystal chandeliers hanging from the ceiling. The arena can hold several thousand spectators. It's an extraordinary environment.

We settled ourselves in our seats, and then classical music began to play over the speakers, signaling the beginning of the performance.

In rode the most majestic white horses in formation, their bridles inlaid with gold and the saddle pads trimmed in gold braid. The riders rode impeccably in their brown uniforms and become hats. It was like watching a completely synchronized ballet performed by horses and riders.

Five or ten minutes into the performance, Rinpoche started sobbing. I couldn't imagine why, and I said to him, "What's the matter with you? Is something wrong?" He answered, "There's nothing wrong. It's so beautiful. It's a magnificent expression of windhorse." (Windhorse is the uplifted expression of dignity that is described in the Shambhala teachings.) Rinpoche wept throughout the performance. I also was moved by this display of horse and rider so nobly joined in the art of dressage.

Afterward, when we discussed our experience,

I told Rinpoche that the fulfillment of my dreams as a rider would be to study the classical approach to dressage with one of the teachers from the Spanish Riding School. Although I was still very new to this discipline, Rinpoche took me quite seriously. He said to me, "You know, it's too soon right now, but I would imagine that within a couple of years you're going to find a way to come here and study."

-- Dragon Thunder: My Life with Chogyam Trungpa, by Diana J. Mukpo with Carolyn Rose Gimian