The Life and Letters of The Right Hon. Friedrich Max Muller

Posted:
Thu Sep 10, 2020 10:18 am
The Life and Letters of The Right Honourable Friedrich Max Muller
In Two Volumes, With Portraits and Other Illustrations
Edited by His Wife
1902
NOTICE: THIS WORK MAY BE PROTECTED BY COPYRIGHT
YOU ARE REQUIRED TO READ

THE COPYRIGHT NOTICE AT THIS LINK

BEFORE YOU READ THE FOLLOWING WORK, THAT IS AVAILABLE SOLELY FOR PRIVATE STUDY, SCHOLARSHIP OR RESEARCH PURSUANT TO 17 U.S.C. SECTION 107 AND 108. IN THE EVENT THAT THE LIBRARY DETERMINES THAT UNLAWFUL COPYING OF THIS WORK HAS OCCURRED, THE LIBRARY HAS THE RIGHT TO BLOCK THE I.P. ADDRESS AT WHICH THE UNLAWFUL COPYING APPEARED TO HAVE OCCURRED. THANK YOU FOR RESPECTING THE RIGHTS OF COPYRIGHT OWNERS.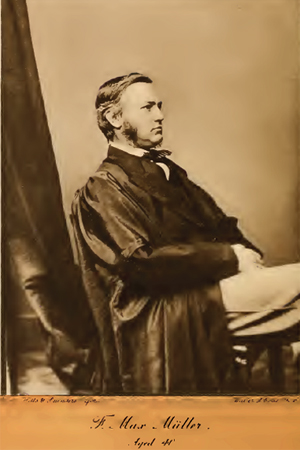 Blessed is he who has found his work: let him ask no other blessedness.

-- Carlyle
DEDICATED TO TO THE BELOVED MEMORY OF A GREAT AND GOOD MAN
CONTENTS: [PDF HERE]
• PREFACE
• CHAPTER I. 1823-1841. Parentage. Father's death. Dessau. Musical training. School. Poetical tendencies. Nicolai School, Leipzig. Dr. Carus. Music. Letters to his mother. Examination at Zerbst
• CHAPTER II. 1841-1844. University life at Leipzig. Studies. Sanskrit. Friends. University life at Berlin. Hensels. Lectures. Hagedorn. Humboldt, Bunsen 16-29
• CHAPTER III. 1845-1846. Paris. Lonely, struggling life. Gathy. Burnouf. Rig-veda. Rachel. Dvarkanath Tagore. Boehtlingk
• CHAPTER IV. 1846-1847. London. W. H. Russell. Bunsen. Visit to Germany. East India Company and the Rig-veda. British Association
• CHAPTER V. 1848. Visit to Paris. Revolution. Settles at Oxford. Friends there. Letters to Burnouf and Bunsen
• CHAPTER VI. 1849. Death of sister's children. Froude. Visit to Lakes. Prix Volney. Publication of first volume of Rig-veda. Carus. Visit to Germany
• CHAPTER VII. 1850-1851. Dinner at Potsdam. Morier's illness. Return to Oxford. Ranch. Waagen. Appointed to lecture at Oxford. Letters from Professors Cowell and Story-Maskelyne. Visit to Froude. Article in Edinburgh Review. Made Deputy Professor and Honorary M.A
• CHAPTER VIII. 1852-1853. Member of Bavarian Academy. Summer in Germany. The George Butlers. Arrival and baptism of Dr. Aufrecht. Essay on Turanian Languages for Bunsen. Visit to Scotland. First meeting with future wife. Missionary Alphabet
• CHAPTER IX. 1854-1855. Professor of Modern Languages. Second volume of Rig-veda. Death of Burnouf. Crimean War. Languages of the Seat of War. Bunsen's resignation. Nehemiah Goreh. Visit to Germany. Froude. Kingsley. Macaulay. Visit to Malvern. Indian Civil Service Examinations. Paris. Dresden. M.A. by decree. Renan
• CHAPTER X. 1856-1857. Comparative Mythology. Commemoration. His mother in England. Vol. III of Rig-veda. Curator of Bodleian. Christmas at Glasgow. Deutsche Liebe, Buddhist Pilgrims. Examination at Exeter. Visit to Froude. Germany. Manchester Exhibition
• CHAPTER XI. 1858-1859. Letters of Philindus. Canterbury. German Classics. Fellow of All Souls. Jenny Lind. Birmingham Festival. Correspondent of French Institute. Death of Manuel Johnson. Ancient Sanskrit Literature. Marriage. Germany. Life at Oxford. Mother's illness. Correspondent of Turin Academy
• CHAPTER XII. 1860-1861. Mother's illness. Death of Wilson. Move to High Street. Sanskrit election. Birth of first child. Wife's illness. Spring at Ray Lodge. Lectures on the 'Science of Language.' Visit from his mother. Death of Prince Consort
• CHAPTER XIII. 1862-1863. Birth of second child. Exhibition. Stay in London. Ewald. Ranke. Fourth volume of Rig-veda. Second course of lectures on 'Science of Language.' Paris. Germany. North Italy. Lectures at Edinburgh. First visit to Windsor
• CHAPTER XIV. 1864- 1865. Lectures at Osborne. Schleswig-Holstein war. Birth of third child. Member of Royal Irish Academy. Weymouth. Visit of his mother. Lecture at Leeds. Member of Turin Academy. Last visit to Ray Lodge. Sub-Librarianship of Bodleian
• CHAPTER XV. 1866-1867. Easter in Paris. Sanskrit Grammar. War between Prussia and Austria. Cornwall. 'My Brother.' Gold medal from Duke of Anhalt. Illness. Bournemouth. Letter on Brahma Somaj. Death of niece. 'Parks End' bought. Cure at Ems. Chips, Vols. I and II
• CHAPTER XVI. 1868-1869. Death of sister. Visit of mother. Letter to Duke of Argyll. LL.D. at Cambridge. Professorship of Comparative Philology. Visits to Frogmore, Fulham, and Gloucester. Isle of Wight. Tennyson. Illness of children. Member of French Institute. Translations from the Vedic Hymns, Vol. I. Soden. Kiel. Denmark
• CHAPTER XVII. 1870. Lectures on the 'Science of Religion.' Keshub Chunder Sen. Franco-German War. LL.D. at Edinburgh. Letters to Dean Stanley. To 'the English People.' Work for sick and wounded. North Wales. Letters to Dr. Abeken and Mr. Gladstone. Chips, Vol. III
• CHAPTER XVIII. 1871. King of Burma. Correspondence with Abeken and Gladstone. Taine's Lectures. Peace Festival. Letter from Crown Prince. Death of father-in-law. Ems. Interviews with Emperor and Crown Prince. Dr. Stainer. New edition of Lectures on Language
• CHAPTER XIX. 1872. Memorial to Bishop Patteson. Offer of Professorship at Strassburg. Rig-veda, Vol. V. Death of sister-in-law. Strassburg. Baden. Munich. Life of Stockmar. Switzerland. Dr. Stanley Select Preacher. Freiligrath's poem
• CHAPTER XX. 1873-1874. German University finances. Strassburg Professorship declined. Schliemann. Lectures on Darwin's Philosophy of Language. Emerson. Veddahs. Cromer. Lecture in Westminster Abbey. Order pour le Merite. Member of Hungarian Academy. Prince and Princess of Roumania. Oriental Congress. Last volume of Rig-veda. American attack on Max Muller
• CHAPTER XXI. 1875. Death of Charles Kingsley. Visit to Italy. Windsor. Last visit of mother. Chips, Vol. IV. The Mumbles. Manchester. Plans for return to Germany. Maximilian Order. Oxford Girls' High School
• LIST OF ILLUSTRATIONS
• Portrait of F. Max Muller, aged 40 . . . Frontispiece (From a Photograph by Hills & Saunders, Oxford)
• No. 7, NORHAM Gardens, Oxford . . . To face p. 335 (From a Photograph by Hills & Saunders, Oxford)
• F. Max Muller, aged 50 . ... p. 453 (From a Medallion by Bruce Joy)