Man and Superman, by George Bernard Shaw

Posted:
Sat Jul 18, 2015 9:06 am
Man and Superman: A Comedy and a Philosophy
by George Bernard Shaw
© 1903 by G. Bernard Shaw
NOTICE: THIS WORK MAY BE PROTECTED BY COPYRIGHT
YOU ARE REQUIRED TO READ

THE COPYRIGHT NOTICE AT THIS LINK

BEFORE YOU READ THE FOLLOWING WORK, THAT IS AVAILABLE SOLELY FOR PRIVATE STUDY, SCHOLARSHIP OR RESEARCH PURSUANT TO 17 U.S.C. SECTION 107 AND 108. IN THE EVENT THAT THE LIBRARY DETERMINES THAT UNLAWFUL COPYING OF THIS WORK HAS OCCURRED, THE LIBRARY HAS THE RIGHT TO BLOCK THE I.P. ADDRESS AT WHICH THE UNLAWFUL COPYING APPEARED TO HAVE OCCURRED. THANK YOU FOR RESPECTING THE RIGHTS OF COPYRIGHT OWNERS.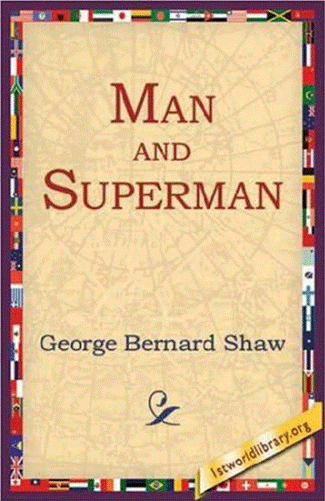 Table of Contents
• EPISTLE DEDICATORY TO ARTHUR BINGHAM WALKLEY
• ACT I
• ACT II
• ACT III
• ACT IV
• The Revolutionist's Handbook and Pocket Companion, by John Tanner, M.I.R.C.
I do not know whether you have any illusions left on the subject of education, progress, and so forth. I have none. Any pamphleteer can show the way to better things; but when there is no will there is no way. My nurse was fond of remarking that you cannot make a silk purse out of a sow's ear, and the more I see of the efforts of our churches and universities and literary sages to raise the mass above its own level, the more convinced I am that my nurse was right. Progress can do nothing but make the most of us all as we are, and that most would clearly not be enough even if those who are already raised out of the lowest abysses would allow the others a chance. The bubble of Heredity has been pricked: the certainty that acquirements are negligible as elements in practical heredity has demolished the hopes of the educationists as well as the terrors of the degeneracy mongers; and we know now that there is no hereditary "governing class" any more than a hereditary hooliganism. We must either breed political capacity or be ruined by Democracy, which was forced on us by the failure of the older alternatives. Yet if Despotism failed only for want of a capable benevolent despot, what chance has Democracy, which requires a whole population of capable voters: that is, of political critics who, if they cannot govern in person for lack of spare energy or specific talent for administration, can at least recognize and appreciate capacity and benevolence in others, and so govern through capably benevolent representatives? Where are such voters to be found to-day? Nowhere. Promiscuous breeding has produced a weakness of character that is too timid to face the full stringency of a thoroughly competitive struggle for existence and too lazy and petty to organize the commonwealth co-operatively. Being cowards, we defeat natural selection under cover of philanthropy: being sluggards, we neglect artificial selection under cover of delicacy and morality.

***

ANN. I love my mother, Jack.

TANNER. [working himself up into a sociological rage] Is that any reason why you are not to call your soul your own? Oh, I protest against this vile abjection of youth to age! look at fashionable society as you know it. What does it pretend to be? An exquisite dance of nymphs. What is it? A horrible procession of wretched girls, each in the claws of a cynical, cunning, avaricious, disillusioned, ignorantly experienced, foul-minded old woman whom she calls mother, and whose duty it is to corrupt her mind and sell her to the highest bidder. Why do these unhappy slaves marry anybody, however old and vile, sooner than not marry at all? Because marriage is their only means of escape from these decrepit fiends who hide their selfish ambitions, their jealous hatreds of the young rivals who have supplanted them, under the mask of maternal duty and family affection. Such things are abominable: the voice of nature proclaims for the daughter a father's care and for the son a mother's. The law for father and son and mother and daughter is not the law of love: it is the law of revolution, of emancipation, of final supersession of the old and worn-out by the young and capable. I tell you, the first duty of manhood and womanhood is a Declaration of Independence: the man who pleads his father's authority is no man: the woman who pleads her mother's authority is unfit to bear citizens to a free people.

***

THE DEVIL. [heartily] Have I the pleasure of again receiving a visit from the illustrious Commander of Calatrava? [Coldly] Don Juan, your servant. [Politely] And a strange lady? My respects, Senora.

ANA. Are you—

THE DEVIL. [bowing] Lucifer, at your service.

ANA. I shall go mad.

***

DON JUAN. My dear Ana, you are silly. Do you suppose heaven is like earth, where people persuade themselves that what is done can be undone by repentance; that what is spoken can be unspoken by withdrawing it; that what is true can be annihilated by a general agreement to give it the lie? No: heaven is the home of the masters of reality: that is why I am going thither.

ANA. Thank you: I am going to heaven for happiness. I have had quite enough of reality on earth.

DON JUAN. Then you must stay here; for hell is the home of the unreal and of the seekers for happiness. It is the only refuge from heaven, which is, as I tell you, the home of the masters of reality, and from earth, which is the home of the slaves of reality. The earth is a nursery in which men and women play at being heros and heroines, saints and sinners; but they are dragged down from their fool's paradise by their bodies: hunger and cold and thirst, age and decay and disease, death above all, make them slaves of reality: thrice a day meals must be eaten and digested: thrice a century a new generation must be engendered: ages of faith, of romance, and of science are all driven at last to have but one prayer, "Make me a healthy animal." But here you escape the tyranny of the flesh; for here you are not an animal at all: you are a ghost, an appearance, an illusion, a convention, deathless, ageless: in a word, bodiless. There are no social questions here, no political questions, no religious questions, best of all, perhaps, no sanitary questions. Here you call your appearance beauty, your emotions love, your sentiments heroism, your aspirations virtue, just as you did on earth; but here there are no hard facts to contradict you, no ironic contrast of your needs with your pretensions, no human comedy, nothing but a perpetual romance, a universal melodrama. As our German friend put it in his poem, "the poetically nonsensical here is good sense; and the Eternal Feminine draws us ever upward and on"—without getting us a step farther. And yet you want to leave this paradise!

***

DON JUAN. Since you have endured so much you may as well endure to the end. Long before this sterilization which I described becomes more than a clearly foreseen possibility, the reaction will begin. The great central purpose of breeding the race, ay, breeding it to heights now deemed superhuman: that purpose which is now hidden in a mephitic cloud of love and romance and prudery and fastidiousness, will break through into clear sunlight as a purpose no longer to be confused with the gratification of personal fancies, the impossible realization of boys' and girls' dreams of bliss, or the need of older people for companionship or money. The plain-spoken marriage services of the vernacular Churches will no longer be abbreviated and half suppressed as indelicate. The sober decency, earnestness and authority of their declaration of the real purpose of marriage will be honored and accepted, whilst their romantic vowings and pledgings and until-death-do-us-partings and the like will be expunged as unbearable frivolities....

ANA. You see you have to confess that marriage is necessary, though, according to you, love is the slightest of all the relations.

DON JUAN. How do you know that it is not the greatest of all the relations? far too great to be a personal matter. Could your father have served his country if he had refused to kill any enemy of Spain unless he personally hated him? Can a woman serve her country if she refuses to marry any man she does not personally love? You know it is not so: the woman of noble birth marries as the man of noble birth fights, on political and family grounds, not on personal ones.

***

THE DEVIL. What is the use of knowing?

DON JUAN. Why, to be able to choose the line of greatest advantage instead of yielding in the direction of the least resistance. Does a ship sail to its destination no better than a log drifts nowhither? The philosopher is Nature's pilot. And there you have our difference: to be in hell is to drift: to be in heaven is to steer....

THE DEVIL. Well, well, go your way, Senor Don Juan. I prefer to be my own master and not the tool of any blundering universal force. I know that beauty is good to look at; that music is good to hear; that love is good to feel; and that they are all good to think about and talk about. I know that to be well exercised in these sensations, emotions, and studies is to be a refined and cultivated being. Whatever they may say of me in churches on earth, I know that it is universally admitted in good society that the prince of Darkness is a gentleman; and that is enough for me. As to your Life Force, which you think irresistible, it is the most resistible thing in the world for a person of any character. But if you are naturally vulgar and credulous, as all reformers are, it will thrust you first into religion, where you will sprinkle water on babies to save their souls from me; then it will drive you from religion into science, where you will snatch the babies from the water sprinkling and inoculate them with disease to save them from catching it accidentally; then you will take to politics, where you will become the catspaw of corrupt functionaries and the henchman of ambitious humbugs; and the end will be despair and decrepitude, broken nerve and shattered hopes, vain regrets for that worst and silliest of wastes and sacrifices, the waste and sacrifice of the power of enjoyment: in a word, the punishment of the fool who pursues the better before he has secured the good.

DON JUAN. But at least I shall not be bored. The service of the Life Force has that advantage, at all events. So fare you well, Senor Satan....

THE DEVIL. [gloomily] His going is a political defeat. I cannot keep these Life Worshippers: they all go....There is something unnatural about these fellows. Do not listen to their gospel, Senor Commander: it is dangerous. Beware of the pursuit of the Superhuman: it leads to an indiscriminate contempt for the Human. To a man, horses and dogs and cats are mere species, outside the moral world. Well, to the Superman, men and women are a mere species too, also outside the moral world. This Don Juan was kind to women and courteous to men as your daughter here was kind to her pet cats and dogs; but such kindness is a denial of the exclusively human character of the soul.

THE STATUE. And who the deuce is the Superman?

THE DEVIL. Oh, the latest fashion among the Life Force fanatics. Did you not meet in Heaven, among the new arrivals, that German Polish madman—what was his name? Nietzsche?

***

Every genuine religious person is a heretic and therefore a revolutionist....Any person under the age of thirty, who, having any knowledge of the existing social order, is not a revolutionist, is an inferior.

***

IF there were no God, said the eighteenth century Deist, it would be necessary to invent Him. Now this XVIII century god was deus ex machina, the god who helped those who could not help themselves, the god of the lazy and incapable. The nineteenth century decided that there is indeed no such god; and now Man must take in hand all the work that he used to shirk with an idle prayer. He must, in effect, change himself into the political Providence which he formerly conceived as god; and such change is not only possible, but the only sort of change that is real. The mere transfiguration of institutions, as from military and priestly dominance to commercial and scientific dominance, from commercial dominance to proletarian democracy, from slavery to serfdom, from serfdom to capitalism, from monarchy to republicanism, from polytheism to monotheism, from monotheism to atheism, from atheism to pantheistic humanitarianism, from general illiteracy to general literacy, from romance to realism, from realism to mysticism, from metaphysics to physics, are all but changes from Tweedledum to Tweedledee: plus ça change, plus c'est la même chose [Google translate: The more things change, the more they stay the same]. But the changes from the crab apple to the pippin, from the wolf and fox to the house dog, from the charger of Henry V to the brewer's draught horse and the race-horse, are real; for here Man has played the god, subduing Nature to his intention, and ennobling or debasing Life for a set purpose. And what can be done with a wolf can be done with a man....

The cry for the Superman did not begin with Nietzsche

, nor will it end with his vogue. But it has always been silenced by the same question: what kind of person is this Superman to be? You ask, not for a super-apple, but for an eatable apple; not for a superhorse, but for a horse of greater draught or velocity. Neither is it of any use to ask for a Superman: you must furnish a specification of the sort of man you want. Unfortunately you do not know what sort of man you want. Some sort of goodlooking philosopher-athlete, with a handsome healthy woman for his mate, perhaps....

For example, we agree that we want superior mind; but we need not fall into the football club folly of counting on this as a product of superior body....If we must choose between a race of athletes and a race of "good" men, let us have the athletes....

No doubt it is easy to demonstrate that property will destroy society unless society destroys it. No doubt, also, property has hitherto held its own and destroyed all the empires. But that was because the superficial objection to it (that it distributes social wealth and the social labor burden in a grotesquely inequitable manner) did not threaten the existence of the race, but only the individual happiness of its units, and finally the maintenance of some irrelevant political form or other, such as a nation, an empire, or the like. Now as happiness never matters to Nature, as she neither recognizes flags and frontiers nor cares a straw whether the economic system adopted by a society is feudal, capitalistic, or collectivist, provided it keeps the race afoot (the hive and the anthill being as acceptable to her as Utopia), the demonstrations of Socialists, though irrefutable, will never make any serious impression on property....

But we have now reached the stage of international organization. Man's political capacity and magnanimity are clearly beaten by the vastness and complexity of the problems forced on him....

And so, if the Superman is to come, he must be born of Woman by Man's intentional and well-considered contrivance. Conviction of this will smash everything that opposes it. Even Property and Marriage, which laugh at the laborer's petty complaint that he is defrauded of "surplus value," and at the domestic miseries of the slaves of the wedding ring, will themselves be laughed aside as the lightest of trifles if they cross this conception when it becomes a fully realized vital purpose of the race.

That they must cross it becomes obvious the moment we acknowledge the futility of breeding men for special qualities as we breed cocks for game, greyhounds for speed, or sheep for mutton. What is really important in Man is the part of him that we do not yet understand. Of much of it we are not even conscious, just as we are not normally conscious of keeping up our circulation by our heart-pump, though if we neglect it we die. We are therefore driven to the conclusion that when we have carried selection as far as we can by rejecting from the list of eligible parents all persons who are uninteresting, unpromising, or blemished without any set-off, we shall still have to trust to the guidance of fancy (alias Voice of Nature), both in the breeders and the parents, for that superiority in the unconscious self which will be the true characteristic of the Superman....

But pray are we to try to correct our diseased stocks by infecting our healthy stocks with them? Clearly the attraction which disease has for diseased people is beneficial to the race. If two really unhealthy people get married, they will, as likely as not, have a great number of children who will all die before they reach maturity. This is a far more satisfactory arrangement than the tragedy of a union between a healthy and an unhealthy person. Though more costly than sterilization of the unhealthy, it has the enormous advantage that in the event of our notions of health and unhealth being erroneous (which to some extent they most certainly are), the error will be corrected by experience instead of confirmed by evasion.

One fact must be faced resolutely, in spite of the shrieks of the romantic. There is no evidence that the best citizens are the offspring of congenial marriages, or that a conflict of temperament is not a highly important part of what breeders call crossing....But mating such couples must clearly not involve marrying them. But mating such couples must clearly not involve marrying them. In conjugation two complementary persons may supply one another's deficiencies: in the domestic partnership of marriage they only feel them and suffer from them. Thus the son of a robust, cheerful, eupeptic British country squire, with the tastes and range of his class, and of a clever, imaginative, intellectual, highly civilized Jewess, might be very superior to both his parents; but it is not likely that the Jewess would find the squire an interesting companion, or his habits, his friends, his place and mode of life congenial to her. Therefore marriage, whilst it is made an indispensable condition of mating, will delay the advent of the Superman as effectually as Property, and will be modified by the impulse towards him just as effectually....

At certain moments there may even be a considerable material advance, as when the conquest of political power by the working class produces a better distribution of wealth through the simple action of the selfishness of the new masters; but all this is mere readjustment and reformation: until the heart and mind of the people is changed the very greatest man will no more dare to govern on the assumption that all are as great as he than a drover dare leave his flock to find its way through the streets as he himself would. Until there is an England in which every man is a Cromwell, a France in which every man is a Napoleon, a Rome in which every man is a Cæsar, a Germany in which every man is a Luther plus a Goethe, the world will be no more improved by its heroes than a Brixton villa is improved by the pyramid of Cheops. The production of such nations is the only real change possible to us....

The need for the Superman is, in its most imperative aspect, a political one. We have been driven to Proletarian Democracy by the failure of all the alternative systems; for these depended on the existence of Supermen acting as despots or oligarchs; and not only were these Supermen not always or even often forthcoming at the right moment and in an eligible social position, but when they were forthcoming they could not, except for a short time and by morally suicidal coercive methods, impose superhumanity on those whom they governed; so, by mere force of "human nature," government by consent of the governed has supplanted the old plan of governing the citizen as a public-schoolboy is governed....

At all events Australia and Canada, which are virtually protected democratic republics, and France and the United States, which are avowedly independent democratic republics, are neither healthy, wealthy, nor wise; and they would be worse instead of better if their popular ministers were not experts in the art of dodging popular enthusiasms and duping popular ignorance....

The only fundamental and possible Socialism is the socialization of the selective breeding of Man

: in other terms, of human evolution. We must eliminate the Yahoo, or his vote will wreck the commonwealth....

That may mean that we must establish a State Department of Evolution, with a seat in the Cabinet for its chief, and a revenue to defray the cost of direct State experiments, and provide inducements to private persons to achieve successful results.

It may mean a private society or a chartered company for the improvement of human live stock.

But for the present it is far more likely to mean a blatant repudiation of such proposals as indecent and immoral, with, nevertheless, a general secret pushing of the human will in the repudiated direction; so that all sorts of institutions and public authorities will under some pretext or other feel their way furtively towards the Superman. Mr. Graham Wallas has already ventured to suggest, as Chairman of the School Management Committee of the London School Board, that the accepted policy of the Sterilization of the Schoolmistress, however administratively convenient, is open to criticism from the national stock-breeding point of view; and this is as good an example as any of the way in which the drift towards the Superman may operate in spite of all our hypocrisies....

Even a joint stock human stud farm (piously disguised as a reformed Foundling Hospital or something of that sort) might well, under proper inspection and regulation, produce better results than our present reliance on promiscuous marriage. It may be objected that when an ordinary contractor produces stores for sale to the Government, and the Government rejects them as not up to the required standard, the condemned goods are either sold for what they will fetch or else scrapped: that is, treated as waste material; whereas if the goods consisted of human beings, all that could be done would be to let them loose or send them to the nearest workhouse. But there is nothing new in private enterprise throwing its human refuse on the cheap labor market and the workhouse; and the refuse of the new industry would presumably be better bred than the staple product of ordinary poverty....

It will have to be handled by statesmen with character enough to tell our democracy and plutocracy that statecraft does not consist in flattering their follies or applying their suburban standards of propriety to the affairs of four continents. The matter must be taken up either by the State or by some organization strong enough to impose respect upon the State....

Let those who think the whole conception of intelligent breeding absurd and scandalous ask themselves why George IV was not allowed to choose his own wife whilst any tinker could marry whom he pleased? Simply because it did not matter a rap politically whom the tinker married, whereas it mattered very much whom the king married. The way in which all considerations of the king's personal rights, of the claims of the heart, of the sanctity of the marriage oath, and of romantic morality crumpled up before this political need shews how negligible all these apparently irresistible prejudices are when they come into conflict with the demand for quality in our rulers. We learn the same lesson from the case of the soldier, whose marriage, when it is permitted at all, is despotically controlled with a view solely to military efficiency....

On the other hand a sense of the social importance of the tinker's marriage has been steadily growing. We have made a public matter of his wife's health in the month after her confinement. We have taken the minds of his children out of his hands and put them into those of our State schoolmaster. We shall presently make their bodily nourishment independent of him. But they are still riff-raff; and to hand the country over to riff-raff is national suicide, since riff-raff can neither govern nor will let anyone else govern except the highest bidder of bread and circuses. There is no public enthusiast alive of twenty years' practical democratic experience who believes in the political adequacy of the electorate or of the bodies it elects. The overthrow of the aristocrat has created the necessity for the Superman. Englishmen hate Liberty and Equality too much to understand them. But every Englishman loves and desires a pedigree....

A conference on the subject is the next step needed. It will be attended by men and women who, no longer believing that they can live for ever, are seeking for some immortal work into which they can build the best of themselves before their refuse is thrown into that arch dust destructor, the cremation furnace.

-- Man and Superman, by George Bernard Shaw