Re: Freda Bedi Cont'd (#2)

Posted:
Mon Mar 16, 2020 5:18 am
The Dalai Lama and his [Rolex] watches
by Manuel Lütgens
watchmaster.com
September 4, 2018
Alongside this noticeable success, Freda faced some acute disappointments. She made enemies as well as friends, and sometimes these rivalries became vicious.

Lois Lang-Sims

commented, without saying what prompted the observation, that Freda's enemies 'were not only numerous but of an almost incredible malevolence'. That intense animosity seems to have been behind the most wounding public assault on Freda and her integrity. The stiletto was wielded by

D.F. [Dosabhai Framji] Karaka

, an Oxford contemporary of the Bedis. He was a writer and journalist of some distinction, though by the early 1960s he was the editor of a not-so-distinguished Bombay-based tabloidstyle weekly, the Current. This was awash with brash, sensationalist stories, reflecting Karaka's fiercely polemical style, his crusading anticommunism and his impatience with Nehru, India's prime minister, for his supposed lack of zeal in standing up for the national interest. The weekly paper bore the slogan 'God Save the Motherland' on its front page.

In September 1963, Freda's photograph graced the front-page of the Current, accompanying a story which also took up much of the following page. It was a hatchet job. Under his own byline, Karaka asserted that 'an Englishwoman, married to an Indian, is attempting to express a great deal of anxiety to help the Buddhist cause as a screen for her Communist activities'. He insisted that 'Mrs Freda Bedi ... will always, in my opinion, be a Communist first, irrespective of her outwardly embraced Buddhism.' This was an absurd accusation.

Freda's days as a communist sympathiser had come to a close almost twenty years earlier. Her husband had abandoned communism a decade previously.

But the accusation of being a concealed communist was deeply wounding especially when the Tibetan refugees regarded communist China as their arch enemy -- the occupiers of their homeland and destroyers of their culture, faith and tradition -- and when India had recently been at war with China.

'Freda has dabbled with Communism ever since my student days in Oxford,' Karaka reported. 'She was, in fact, at Oxford at the same time as myself. Later, she married Bedi, a well known Indian Communist. They both came out to India and plunged themselves into the Communist movement.' The article resorted to innuendo, suggesting that 'the alleged indoctrination of Sheikh Abdulla [sic] was largely to be traced to his very close association with Freda Bedi'. It suggested that some former associates of the Bedis in Kashmir had 'mysteriously disappeared'. Freda was alleged to have been caught up in controversy about Buddhist property and funds before turning, 'with the active encouragement of Shri J. Nehru, the Prime Minister', to the running of the Young Lamas' Home School. The article suggested that Freda was getting money from the Indian government, and using government headed paper to appeal for funds from supporters in America and elsewhere. Karaka suggested that the Tibetan Friendship Group was a 'Communist stunt' and he alleged that 'noted Communists, with the usual "blessings" of Mr. Nehru, are using the excuse of helping Tibetan refugees and Buddhist monks for furthering the cause of Communism in strategic border areas.'

Aside from the venomous smears, the only evidence of inappropriate conduct that the article pointed to was her use of official notepaper to appeal for funds for her school and other Tibetan relief operations. It cited a letter of complaint, sent by an unnamed Buddhist organisation which clearly was antagonistic to Freda, stating that she had been using the headed paper of the Central Social Welfare Board which bore the Government of India's logo. A civil servant's response was also quoted: 'Mrs Bedi is not authorised to use Government of India stationery for correspondence in connection with the affairs of the "Young Lama's Home" or the "Tibetan Friendship Group". This has now been pointed out to Mrs. Bedi.'

Even if Freda has been using government headed paper to help raise money -- which those who worked with her say is perfectly possible -- it was hardly a major misdemeanour. But detractors were able to use this blemish to damage her reputation. She was, it seems, distraught at this vicious personal attack and took advice about whether to take legal action. She was advised, probably wisely, to do nothing, as any riposte would simply give further life to accusations so insubstantial that they would quickly fade away. 'The accusation was that Freda was a communist in nun's clothing -- not that Freda was a nun at that time,' recalls Cherry Armstrong. 'I remember her being particularly distressed and "beyond belief' when she believed she had identified the culprit. Freda was totally dumbfounded about it.'

Freda was convinced that another western convert to Buddhism,

Sangharakshita (earlier Dennis Lingwood)

, was either behind the slur or was abetting it. They had much in common -- including a deep antipathy to each other. Lingwood encountered Theosophy and Buddhism as a teenager in England and was ordained before he was twenty by

the Burmese monk U Titthila, who later helped Freda towards Buddhism

. During the war, he

served in the armed forces in South and South-east Asia

and from 1950 spent about fourteen years based in Kalimpong in north-east India, where he was influenced by several leading Tibetan Buddhist teachers. In the small world of Indian Buddhism, the two English converts rubbed shoulders. More than sixty years later, Sangharakshita -- who established a Buddhist community in England -- recalls coming across Freda, then new to Buddhism, living at the Ashoka Vihar Buddhist centre outside Delhi. 'She was tall, thin, and intense and wore Indian dress. She had a very pale complexion, with light fair hair and very pale blue eyes. In other words, she looked very English! I also noticed, especially later on, that she was very much the Memsaheb ... During the time that I knew Freda she knew hardly anything about Buddhism, having never studied it seriously .... She had however developed what I called her "patter" about the Dalai Lama, compassion, and the poor dear little Tulkus. So far as I could see, Freda had no spiritual awareness or Enlightenment.[/size] She may, of course, have developed these later.'

His view of the Young Lamas' Home School is also somewhat jaundiced -- 'some of [the tulkus] developed rather expensive tastes, such as for Rolex watches.'

-- The Lives of Freda: The Political, Spiritual and Personal Journeys of Freda Bedi, by Andrew Whitehead
At one retreat [Sogyal] Rinpoche blessed a devotee who was wearing a Rolex watch. It is said he told the man: "You have to put this in the offering bowl at the end."

-- The Bad Buddha: Dark side of celeb guru Sogyal Rinpoche who 'sexually abused' the beautiful young women dubbed his 'Dakinis', by Oliver Harvey, The Sun, 9/22/18
[Tai] Situ [Rinpoche] was already a thirty-something sell out, his generations folly, the first of the Rolex Rinpoches. known for his embrace of the "greed is good" ethos of what has has become thirty years later as today's one percent.

-- Keeping the Faith in the Age of the Rolex Rinpoches, by Tinfoil Ushnisha
In 1989 he was awarded with the Nobel Peace Prize, he is the spiritual head of Tibetan Buddhism -– and he, himself is a self-confessed watch lover. The speech is of course by Tenzin Gyatso, the 14th Dalai Lama.
Granted, the ascetic monk is not the first name that comes to mind in connection with luxury watches. But the Dalai Lama has a weakness for mechanical watches and has been happy to disassemble and reassemble them for years. His personal collection consists of over 15 watches, about which, however, little is known.
The native Tibetan wears his watches usually turned inwards on cheap elastic stainless steel bracelets, so that the housing and dial remain hidden.
However, three of his watches can be clearly seen in photos and we are able to identity them. In addition to a Patek Philippe pocket watch, given to him as a young boy from U.S. President Franklin D. Roosevelt, the monk also has two Rolex models whose origin is unknown.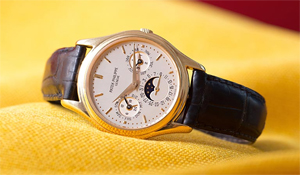 The first watch of the Dalai Lama, a Patek Philippe Ref. 658
His love of mechanical watches began very early: At the age of 6 or 7, the Dalai Lama received his first watch, from none other than the U.S. American President Franklin D. Roosevelt.
Rumours and assumptions grew around the watch itself and its reference, as the Dalai Lama's headquarters in Dharamsala always rejected journalistic questions. It was known for a long time that it was a Patek Philippe pocket watch -– but then in 2016, pictures appeared on the internet for the first time. They were posted on US Senator Patrick Leahy's Facebook page, who is known by cameo appearances in some Batman films (including Batman & Robin, Batman vs. Superman: Dawn of Justice and The Dark Knight Rises). They show the watch presented by the Senator to Dalai Lama.
Eric Wind identified the watch 2016 in a Hodinkee article as a pocket watch with Ref. 658, of which only 15 were made between 1937 and 1950, a truly special gift!
But the watch is probably just as special as its story, which Thomas Laird tells in his book Tibet -– The History of a Country: The Dalai Lama in Conversation with Thomas Laird.
Roosevelt did not hand over the gift personally. Two agents of the Office of Strategic Services (OSS), the predecessor of today's CIA, offered the watch along with a letter from the president. Brooke Dolan and his colleague Ilia [Ilya Andreyevich]Tolstoy, who was allegedly the grandson of the famous author Leo Tolstoy, strictly followed the protocol: visitors silently handed over their presents and received a so-called 'katha', a prayer shawl traditionally handed over. The two had a mission to find out more about the possibility of building a road from India to China, which was strategically important to the United States for supplying China during the war with Japan.
The OSS and the Dalai Lama

by Rob Crotty

National Archives Office of Strategy and Communications staff writer

February 8, 2011

OSS spies Brooke Dolan and Ilia Tolstoy traveling to Lhasa (still from "Inside Tibet", Records of the Office of Strategic Services)

In the summer of 1942, the Allies' war against Japan was in dire straits. China was constantly battling the occupying Japanese forces in its homeland, supplied by India via the Burma Road. Then Japan severed that supply artery. Planes were flown over the Himalayan mountains, but their payloads were too little, and too many pilots crashed in the desolate landscape to continue the flights.

The Allies were desperate to find a land route that would reconnect China and India. The task fell to two OSS men—Ilia Tolstoy, the grandson of Leo Tolstoy, and explorer Capt. Brooke Dolan. To complete the land route would require traversing Tibet, and to traverse the hidden country required the permission of a seven-year-old boy, the Dalai Lama.

When the two men arrived in Lhasa, the remote capital of Tibet, these spies were received as ambassadors. A military brass band played, and they were treated as guests of honor in a city that only a few decades earlier had forbidden Westerners to enter.

They came carrying a message from President Franklin Delano Roosevelt. On December 20, at 9:20 in the morning, they were granted an audience with His Holiness. As a further sign of his respect for these two emissaries, the men were allowed to ride horses up the Potala to the quarters of the Dalai Lama. After a brief wait, they entered the highest room in Lhasa. Lt. Col. Ilia Tolstoy wrote of his first glimpse of Tibet's leader in a 1946 National Geographic:

His Holiness was seated cross-legged, a high-peaked yellow hat on his head. We were immediately impressed by his young but stern face and not at all frail constitution. His cheeks were a healthy pink.

Tolstoy proceeded through the tradition of offering gifts to the Dalai Lama—bread and butter followed by an image of Buddha, a religious book, and a chorten (a Buddhist reliquary). Then, for the first time in history, he made direct contact between the Dalai Lama and the President of the United States by passing a letter written by FDR to the young leader.

After half an hour of discussion, the men left. A week later, they received the permission they were seeking to cross Tibet. It was the first such permission granted in 22 years, according to Tolstoy.

Five months later, they crossed the Tibetan plateau, and the two men arrived in northern China, completing their journey. They had traveled over a thousand miles and spent over a hundred days in the saddle to pioneer a route to connect allied supplies with allied fighters across some of the world's harshest terrain. Their mission was complete.

While the route was never employed during the war—a diplomatic crisis prevented its use, and planes continued to fly "the hump" across the Himalayan mountains—Tolstoy and Brooke made history, bridging two cultures that before had never formally met. Brooke Dolan filmed the entire journey, and the reels are now housed in the motion picture holdings of the National Archives. The video is below.

For more on spies and the National Archives, join us at 7 p.m. tonight at the International Spy Museum for "Spies and Conspiracies: Espionage in the Civil War." For more footage from the OSS, CIA, and FBI, you can pick up our latest offering from the National Archives eStore: FBI/CIA Films Declassified.

http://www.youtube-nocookie.com/v/cBgP9 ... n_US&rel=0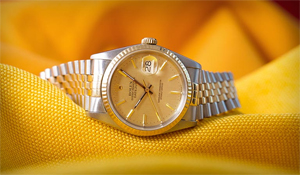 Rolex Datejust 16233
The Dalai Lama's watch is a complex and rare specimen that displays the moon phases, date, day of the week and months. It aroused his enthusiasm for mechanical watches and watchmaking. A well-known photograph shows him working on watches. But he was sometimes more, sometimes less successful. For example, in one of his books he tells the anecdote: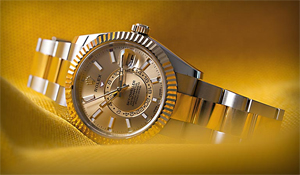 Rolex Sky Dweller 326933
"Me as an example, I've always liked to repair watches. But from my boyhood I can remember a number of situations in which I completely lost the temper in dealing with the tiny, fine parts. I then picked up the movement and slammed it on the table. Of course, later on I was ashamed of my behaviour and regretted it, especially when I had to return one watch to its owner in a condition worse than their original one." (Dalai Lama: The Book of Humanity: A New Ethic for Our Time)
Such a rare watch, of course, also raises questions of its value. Hodinkee cites two sales of the same reference, which valued at $ 253,605 and $ 357,909. According to the Dalai Lama, the watch was sent to Switzerland several times for repair, so it is functional, but bears some signs of wear. However, considering its famous owner and the history behind it, it is probably worth a whole lot more.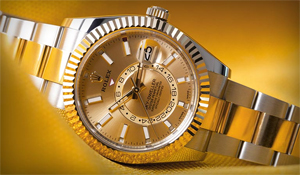 Rolex Sky Dweller 326933
Tenzin Gyatso's Rolex watches
If you are interested in mechanical watches, there is no way around a classic Rolex. The Dalai Lama owns two models that are well-known: A Rolesor Rolex Datejust made of gold and stainless steel with a Jubilee bracelet and a Rolex Day-Date, both presumably gifts. The latter is made of yellow gold and has a blue dial, as seen in some photographs. Some people say that they are a sign of proudness among a monk, but if you look at the meaning of the colours in Tibetan Buddhism, you will see a beautiful picture: blue stands for heaven and spiritual insights, yellow for earth and the experiences of the real world. Thus, the watch purely by chance reflects the teachings of Tibetan Buddhism.
The Dalai Lama shows that the rejection of consumer culture can still be accompanied by respect for outstanding craftsmanship. However, he does not fail to emphasise that objects can not replace interpersonal relationships for him. "Watches have always fascinated me," he writes, "and although I particularly appreciate the one I wear most of the time, it never brings me any affection." (Dalai Lama: The Book of Humanity: A New Ethic for Our Time)