Re: Freda Bedi Cont'd (#2)

Posted:
Wed Mar 18, 2020 6:15 am
Anna Louise Strong
by Wikipedia
Accessed: 3/17/20
In Old Tibet there were small numbers of farmers who subsisted as a kind of free peasantry, and perhaps an additional 10,000 people who composed the "middle-class" families of merchants, shopkeepers, and small traders. Thousands of others were beggars. A small minority were slaves, usually domestic servants, who owned nothing. Their offspring were born into slavery. (13)

In 1953, the greater part of the rural population -- some 700,000 of an estimated total population of 1,250,000 -- were serfs. Tied to the land, they were allotted only a small parcel to grow their own food. Serfs and other peasants generally went without schooling or medical care. They spent most of their time laboring for the monasteries and individual high-ranking lamas, or for a secular aristocracy that numbered not more than 200 wealthy families. In effect, they were owned by their masters who told them what crops to grow and what animals to raise. They could not get married without the consent of their lord or lama. A serf might easily be separated from his family should the owner send him to work in a distant location. Serfs could be sold by their masters, or subjected to torture and death. (14)

A Tibetan lord would often take his pick of females in the serf population, if we are to believe one 22-year old woman, herself a runaway serf: "All pretty serf girls were usually taken by the owner as house servants and used as he wished." They "were just slaves without rights." (15) Serfs needed permission to go anywhere. Landowners had legal authority to capture and forcibly bring back those who tried to flee.

A 24-year old runaway serf, interviewed by Anna Louise Strong, welcomed the Chinese intervention as a "liberation." During his time as a serf he claims he was not much different from a draft animal, subjected to incessant toil, hunger, and cold, unable to read or write, and knowing nothing at all. He tells of his attempts to flee:

The first time [the landlord's men] caught me running away, I was very small, and they only cuffed me and cursed me. The second time they beat me up. The third time I was already fifteen and they gave me fifty heavy lashes, with two men sitting on me, one on my head and one on my feet. Blood came then from my nose and mouth. The overseer said: "This is only blood from the nose; maybe you take heavier sticks and bring some blood from the brain." They beat then with heavier sticks and poured alcohol and water with caustic soda on the wounds to make more pain. I passed out for two hours. (16) [16. Strong, Tibetan Interviews, 31.]

In addition to being under a lifetime bond to work the lord's land -- or the monastery's land -- without pay, the serfs were obliged to repair the lord's houses, transport his crops, and collect his firewood. They were also expected to provide carrying animals and transportation on demand. "It was an efficient system of economic exploitation that guaranteed to the country's religious and secular elites a permanent and secure labor force to cultivate their land holdings without burdening them either with any direct day-to-day responsibility for the serf's subsistence and without the need to compete for labor in a market context." (17)

The common people labored under the twin burdens of the corvée (forced unpaid labor on behalf of the lord) and onerous tithes. They were taxed upon getting married, taxed for the birth of each child, and for every death in the family. They were taxed for planting a new tree in their yard, for keeping domestic or barnyard animals, for owning a flower pot, or putting a bell on an animal. There were taxes for religious festivals, for singing, dancing, drumming, and bell ringing. People were taxed for being sent to prison and upon being released. Even beggars were taxed. Those who could not find work were taxed for being unemployed, and if they traveled to another village in search of work, they paid a passage tax. When people could not pay, the monasteries lent them money at 20 to 50 percent interest. Some debts were handed down from father to son to grandson. Debtors who could not meet their obligations risked being placed into slavery for as long as the monastery demanded, sometimes for the rest of their lives. (18)

The theocracy's religious teachings buttressed its class order. The poor and afflicted were taught that they had brought their troubles upon themselves because of their foolish and wicked ways in previous lives. Hence they had to accept the misery of their present existence as an atonement and in anticipation that their lot would improve upon being reborn. The rich and powerful of course treated their good fortune as a reward for -- and tangible evidence of -- virtue in past and present lives....

For the Tibetan upper class lamas and lords, the Communist intervention was a calamity. Most of them fled abroad, as did the Dalai Lama himself, who was assisted in his flight by the CIA. Some discovered to their horror that they would have to work for a living. Those feudal elites who remained in Tibet and decided to cooperate with the new regime faced difficult adjustments. Consider the following:

In 1959, Anna Louise Strong visited the Central Institute of National Minorities in Beijing which trained various ethnic minorities for the civil service or prepared them for entrance into agricultural and medical schools. Of the 900 Tibetan students attending, most were runaway serfs and slaves. But about 100 were from privileged Tibetan families, sent by their parents so that they might win favorable posts in the new administration. The class divide between these two groups of students was all too evident. As the institute's director noted:

Those from noble families at first consider that in all ways they are superior. They resent having to carry their own suitcases, make their own beds, look after their own room. This, they think, is the task of slaves; they are insulted because we expect them to do this. Some never accept it but go home; others accept it at last. The serfs at first fear the others and cannot sit at ease in the same room. In the next stage they have less fear but still feel separate and cannot mix. Only after some time and considerable discussion do they reach the stage in which they mix easily as fellow students, criticizing and helping each other.

(42)

The émigrés' plight received fulsome play in the West and substantial support from U.S. agencies dedicated to making the world safe for economic inequality. Throughout the 1960s the Tibetan exile community secretly received $1.7 million a year from the CIA, according to documents released by the State Department in 1998. Once this fact was publicized, the Dalai Lama's organization itself issued a statement admitting that it had received millions of dollars from the CIA during the 1960s to send armed squads of exiles into Tibet to undermine the Maoist revolution. The Dalai Lama's annual share was $186,000, making him a paid agent of the CIA.

-- Friendly Feudalism: The Tibet Myth, by Michael Parenti
Anna Louise Strong Book

A more dramatic piece of evidence — and a reason why the CPSU at this time may have been unwilling to publish the seemingly innocuous statement above, which in subsequent years has been repeated many times by Moscow — was provided by the case of Anna Louise Strong and her book, "Tomorrow's China." This book, based on a year's stay in China from July 1946 to July 1947 and on repeated conversations with the top CCP leaders, was published by the Communist press of many countries late in 1948 and early in 1949. In India, it was published by the CPI's People's Publishing House of Bombay in the fall of 1948 under the title "Dawn Out of China." In this work Miss Strong paid repeated tribute to the experience and authority of the Chinese Communist party and Mao and the particular and unique relevance of Mao's teachings to the revolutions of Asia. She even went so far as to state explicitly that "it is to Mao Tse-tung and to Communist China much more than to present-day Moscow that the nationalist revolutions of Indonesia, Indo-China, Burma, look for their latest, most practical ideas," and that Mao's strategy was made to fit such peoples because China's problems are similar to theirs. Mao's analysis of China's revolution, she said, "is studied eagerly in the colonial lands of Southeast Asia;" and she thought that "Marxists all over the world agree that in order to understand the modern problems of Asia, it is necessary to study Mao's thought," since Mao was the "first Marxist in Asia" to succeed in applying Marxist principles to new conditions and in giving those principles a new development.

One aspect of the Maoist teachings thus lauded by this book is the "New Democracy" line calling for an alliance with the middle bourgeoisie and preservation of some native capitalism for the sake of the common struggle against imperialism and its adherents. In a later private conversation, Anna Louise Strong stated that in her last interview with Mao in 1947, she declared her intention to bring this Maoist line for the anti-imperialist struggle to the attention of other Asian Communist parties; thereupon, according to her account, Mao interrupted her to urge that she bring it to the attention of the Russians as well. In fact, after her book had already been published by a number of Communist parties, she did visit the Soviet Union in an effort to get the work published there, and appears to have been naively surprised at the insistence of the Moscow publishing house that drastic changes be made in the text. Finally, she was arrested in Moscow in February in 1949, charged with espionage, and subsequently expelled from the country. Her old friend Borodin, who had attempted to help her in dealing with the Moscow publishers, was also arrested and later died in prison.

-- The Indian Communist Party and the Sino-Soviet Dispute, by Office of Current Intelligence, Central Intelligence Agency
Resolutions... Through a Child's Eyes, by Dr. Anna Louise Strong...Strong, Dr. Anna Louise, National Child Welfare Exhibition Com., New York, N. Y.

-- Proceedings of the first National Conference on Race Betterment, Battle Creek, Michigan, January 8, 9, 10, 11, 12, 1914, published by the Race Betterment Foundation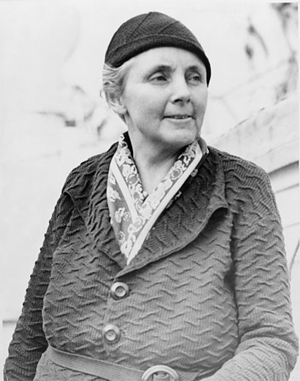 Anna Louise Strong
Ms. Strong in Moscow, 1937
Born: November 24, 1885, Friend, Nebraska, U.S.
Died: March 29, 1970 (aged 84), Beijing, China
Alma mater: Bryn Mawr College; Oberlin College; University of Chicago
Spouse(s): Joel Shubin (1931–1942)
Anna Louise Strong (November 24, 1885 – March 29, 1970) was a 20th-century American journalist and activist, best known for her reporting on and support for communist movements in the Soviet Union and the People's Republic of China.
[1][2][3][4] She wrote over 30 books and varied articles.[5]
Biography

Early years
Strong was born on November 14, 1885, in a "two-room parsonage" in Friend, Nebraska, the "Middle West," to parents who were middle class liberals active in the Congregational Church and missionary work.
[6][7][4][8][9] She lived with her family from 1887 to 1891 in Mount Vernon, Ohio and in Cincinnati beginning in 1891.[7] Her father, Sydney Dix Strong, was a Social Gospel minister in the Congregational Church, active in missionary work, and dedicated pacifist.[10][1][9]
Strong worked quickly through grammar and high school, and then studied languages in Europe.[6]
She first attended Pennsylvania's Bryn Mawr College from 1903 to 1904, then graduated from Oberlin College in Ohio in 1905 where she later returned to speak many times.[6][7][8] I
n 1908, at the age of 23, she finished her education and received a PhD in philosophy from the University of Chicago with a thesis later published as The Social Psychology of Prayer.[1][7][4][11][12][8][9] Being an advocate for child welfare while she worked for the United States Education Office, joining the National Child Labor Committee around the same time, she organized an exhibit and toured it extensively throughout the United States and abroad.
[1][6][7] When she brought it to Seattle, in May 1914, 6,000 people came to visit it every day, culminating with an audience, on May 31, of 40,000 people.[6]
At this point, Strong was still convinced that capitalism was responsible for poverty, and sufferings of the working class.
[6] She was 30 years old when she returned to Seattle to live with her father, then pastor of Queen Anne Congregational Church.[4] Living with her father from 1916 to 1921, she favored the political climate there, which was pro-labor and progressive, with "radicalizing events" like the Seattle General Strike and Everett massacre.[1][6][4]
Strong also enjoyed mountain climbing. She organized cooperative summer camps in the Cascades and led climbing parties up Mt. Rainier, leading to the Washington Alpine Club, formed in 1916.
[6][13]
Political career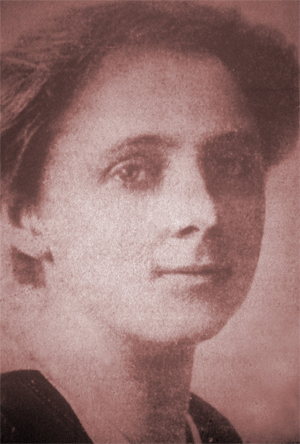 Anna Louise Strong at the time of her recall from the Seattle School Board in 1918.
In 1916, Strong ran for the Seattle School Board and won easily due to the support she garnered from women's groups and organized labor and to her work on child welfare.[6][7][4][9] She was the only female board member.[1][6] She argued that the public schools should offer social service programs for underprivileged children, with these schools serving as community centers, but other members wanted to "devote meetings to mundane matters like plumbing fixtures."[6][4]
The year she was elected to the Seattle School Board, the Everett massacre happened. The New York Evening Post hired her as a stringer to report on the conflict between armed guards, hired by Everett mill owners, and the Industrial Workers of the World (or "Wobblies").[6][4] Quickly dropping her neutrality, she soon became an dedicated spokesperson for workers' rights.[6][4]

Strong's endorsement of left-wing causes set her apart from her colleagues on the school board.[6] She opposed war as a pacifist. When the United States entered World War I in April 1917, she spoke out against the draft.
[6][4] On one hand,
the Parent-Teacher Association and women's clubs
joined her in opposing military training in the schools, but the former military veterans of the Spanish–American War, the Seattle Minute Men, took a jingoistic tone, branding her as "unpatriotic."[6][4] The same year, she wrote a letter to the Department of Justice, saying[14]
...it is quite commonly felt in this vicinity that persons with personal grudges need only call in the Department of Justice and lodge complaint, in order to make life miserable for the person they complain against...it has become increasingly evident, however, at least in this vicinity, that the activities of the Department of Justice are doing more than any other one thing to create distrust, suspicion, and dissension among the American people...Wild accusations and attempts to injure persons and organizations who cannot be prosecuted because of lack of evidence does not tend to create confidence in the government...it is my hope that somewhere in your department I may reach some person who sincerely desires to create within this country the unity of democratic loyalty, rather than the hidden disunion of fear.
The pacifist stance of the Wobblies led to mass arrests at the Seattle office where Louise Olivereau was a typist. Olivereau had been mailing mimeographed circulars to draftees urging them to become conscientious objectors.[6] [4] In 1918, Strong stood by Olivereau's side in the courtroom as she was found guilty of sedition and sent to prison.[6][4]
After this, Strong's fellow school board members were quick to launch a recall campaign against her due to her association with the IWW, and won by a narrow margin.[1][6][9] She appeared at their next meeting to argue that they must appoint a woman as her successor. Her former colleagues acceded to her request, but they made it clear that they wanted a mainstream, patriotic representative, a mother with children in the schools. They replaced Anna Louise Strong with Evangeline C. Harper, a prominent country club woman in 1918.[6][4][9] As a result, Strong went "elsewhere in search of socialism in practice" with her search bringing her first to the Soviet Union where she stayed from 1921 to 1940 for part of the year, returning to the U.S. "for a lecture tour, usually between January and April."[1][3]
Journalistic career
Strong became openly associated with the Seattle's labor-owned daily newspaper, The Union Record, writing forceful pro-labor articles and promoting the new Soviet government.[1][6][7][4][9] On February 6, 1919, two days before the beginning of the Seattle General Strike of 1919, she proclaimed in her famous editorial: "We are undertaking the most tremendous move ever made by labor in this country, a move which will lead — NO ONE KNOWS WHERE!"[6][4][15][16] The strike shut down the city for four days and then ended peacefully and with its goals still unattained.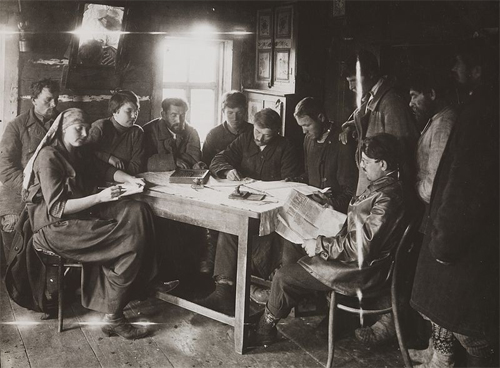 1921 in Samara, Russia, for the American Friends Service Committee.
At a loss as to what to do she took her friend Lincoln Steffens' advice and in 1921 traveled to Poland and Russia serving as a correspondent for
the American Friends Service Committee.
[6][9] The purpose of going was to provide the first foreign relief to the Volga famine victims. After a year of that, she was named Moscow correspondent for the International News Service.[4][9] Strong drew many observations while in Europe which inspired her to write. Some of her works are The First Time in History (preface by Leon Trotsky) (1924), and Children of Revolution (1925).[4][17][18]
After remaining in the area for several years, Strong grew to become an enthusiastic supporter of socialism in the newly formed Soviet Union, supporting herself as a foreign correspondent for varying "radical American newspapers" and others such as The Nation.[6][19][20] In 1925, during the era of the New Economic Policy in the USSR, she returned to the United States to arouse interest among businessmen in industrial investment and development in the Soviet Union. During this time Strong also lectured widely and became well known as an authority on "soft news" (e.g. How to get an apartment) about the USSR. As she continued to "wave the banner for the needy and downtrodden" wherever there was a revolution there was "Ms. Strong," and she became further convinced that "socialism might be the answer" to problems in the world.[7] There were even invitations sent out to "hear Anna Louise Strong discuss her travels in Russia."[21]
In the late 1920s, Strong travelled in China and other parts of Asia. She became friends with Soong Ching-ling and Zhou Enlai. As always her travels led to books: China's Millions (1928), Red Star in Samarkand (1929). It was during this time that she became friends with "Communist leader Zhou Enlai."[4] She would visit China in 1925, meeting with Feng Yuxiang and Soong Qing-ling and again in 1927, witnessing the failure of KMT-CPC cooperation, leading to her book, " China's Millions" which was published in the United States.[11]
In 1930 she returned to Moscow and helped found Moscow News, the first English-language newspaper in the city.[4][7][9] She was managing editor for a year and then became a featured writer. In 1931 she married fellow socialist and journalist Joel Shubin, and they remained married until his death in 1942.[22] While Shubin often accompanied Strong during her return trips to the United States, the two were often separated due to work commitments. According to Rewi Alley's account, Strong later said: "perhaps we married because we were both so doggone lonely ... but we were very happy."[1]
While living in the Soviet Union she became more enthused with the Soviet government and wrote many books praising it. They include: The Soviets Conquer Wheat (1931), an updated version of China's Millions: The Revolutionary Struggles from 1927 to 1935 (1935), the best-selling autobiographical I Change Worlds: the Remaking of an American (1935), This Soviet World (1936), and The Soviet Constitution (1937).[4][9] She also wrote several articles for The American Mercury praising Soviet life.[23]
In 1936 she returned once again to the United States. Quietly and privately distressed with developments in the USSR (The "Great Purges"), she continued to write for leading periodicals, including The Atlantic Monthly, Harper's, The Nation and Asia.[4][9][24]
A visit to Spain resulted in Spain in Arms (1937); visits to China, visiting anti-Japanese "base areas," leading to her book, One Fifth of Mankind (1938).[11] In 1940 she published My Native Land, the same year that she journeyed to China and met Zhou Enlai several times.[11] The following year, she exposed the plot by Chiang Kai-Shek to divide the "united front" against Japan in the 15-page article, "The Kuomintang-communist crisis in China; a first-hand account of one of the most critical periods in Far Eastern history" published in March.[11][25] Other books include The Soviets Expected It (1941); the novel Wild River (1943), set in Russia; Peoples of the U.S.S.R. (1944), I Saw the New Poland (1946) (based on her reporting from Poland as she accompanied the occupying Red Army); and three books on the success of the early Communist Party of China in the Chinese Civil War.[4] In her book, "The Soviets Expected It," Strong wrote that "the unbroken rise of Stalin's prestige for twenty years both within the Soviet Union and beyond its borders is really worth attention by students of politics."[26]
While in the USSR she travelled throughout the huge nation, including the Ukraine, Kuznetsk, Stalingrad, Kiev, Siberia, Central Asia, Uzbekistan, and many more.[4] She also travelled into Poland, Germany, and Britain. While in the Soviet Union, Strong met with Joseph Stalin, Vyacheslav Molotov, and many other Soviet officials.[4] She also interviewed farmers, pedestrians, and factory workers.[27] She wrote articles for newspapers and magazines, along with pamphlets as well, gaining "many friends and to become very popular throughout the world."[7] At the same time, she created "suspicion regarding her political loyalties" among the Soviets and the FBI who gained a large file on Strong herself.[7][3][9] Through all this, she stayed committed to the Soviet political project, defending the USSR from anti-communism, but favoring the Chinese more than the Soviets as time went on, especially after the Soviets expelled her.[3][9][28]
In World War II, when the Red Army began its advance against Nazi Germany, Strong stayed in the rear following the soldiers through Warsaw, Łódź and Gdańsk. Her overtly pro-Chinese Communist sympathies, which had been fostered by her visits to China in 1925 and until 1947 in which she interviewed Chinese Communist leaders like Mao Zedong, may have led to her "arrest, imprisonment and expulsion" from the USSR in 1949, reportedly claiming she was an "American spy," a charge which was reportedly repeated years later, in 1953, by a Soviet newspaper, Izvestia.[1][4][8][9][29] After this, she was cut off from the USSR, shunned by Communists in the United States, and denied a passport by the U.S. government, settling in California where she wrote, lectured, and "invested in real estate."[1] In 1955, she was finally cleared of Soviet charges against her, which the CIA thought was a "gesture to the Chinese Communists." By 1958 her passport was restored, after she won a case at the U.S. Supreme Court, and she immediately went back to China, where she remained until her death.[1][11][8][9][30][31] She was one of the only Westerners to gain "the admiration of Mao Tse-tung."[6]
Living in China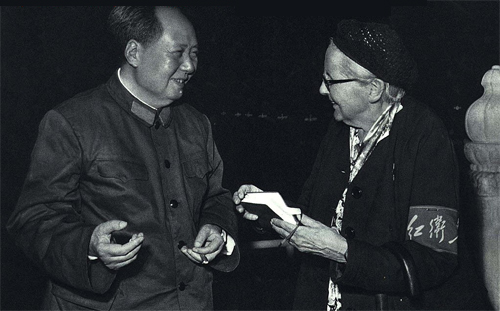 Strong with Mao Zedong in 1967
Strong met W. E. B. Du Bois, who visited Communist China during the Great Leap Forward in the late 1950s, with a photograph of Mao Zedong, Anna Louise Strong, and W. E. B. Du Bois taken on one of Du Bois's trips in circa 1959.[32] Neither Du Bois or Strong ever supported famine-related criticisms of the Great Leap. Strong wrote a book titled When Serfs Stood Up in Tibet based on her experience during this period, which include the Chinese incorporation of Tibet, and criticized individuals such as Allen Dulles, calling him "a man bound by dull words."[11][33] By 1966, Strong had become an "honorary member of the Red Guards" who returned to the Soviet Union from time to time.[3][8][9]
Partly from fear of losing her passport should she return to the USA, she settled permanently in China until her death, publishing a "Letter from China."[3][4] During that time she fostered a close relationship with Zhou Enlai and was on familiar terms with Mao Zedong.[34] It was in an interview with her, in August 1946, that Mao propagated his famous catchphrase of "paper tigers".[35][11][36][37]
Two years after that, she made a keynote speech on China's realities and tried to change the stance of the U.S. government in backing the Chinese nationalists.[11] Strong lived in the old Italian Legation in Beijing which had been converted into flats for the leading "foreign friends". They were allocated on the "bleak basis" of seniority; New Zealand civil servant Gerald Hensley recalled that when he visited Rewi Alley in 1973 Alley was living in the best downstairs front apartment which had been allocated to Strong until she died, at which time Alley moved into it and everyone else moved on one place.[34] Through all of this, she became "disaffected with political systems and people" but did not lose her zeal for justice, continuing to write, with Chinese publishers republishing "much of her writing as a Works set."[7][3] She was not stopped, even by her old age, in her dedication to "Marxist doctrine," especially in China and across the world, writing emotional and colorful accounts which were very popular.[8]
In the later part of her life, Strong was "honored and revered by the Chinese," despite reports in the Toronto Star that the Red Guards were calling her an "imperialist agent," and even remained "in the good graces of the Chinese through the cultural revolution" with Chinese leaders considering her "their unofficial spokesperson to the English speaking world."[1][8][38]
Strong died in a hospital in Beijing (then Peking) on March 29, 1970, pulling out her "intravenous tubes and had refused to eat and take medication." Before her death, she had important visitors like Premier Zhou Enlai who encouraged her to cooperate with the doctors in the hospital because "you have important things to do for us and the rest of the world," Guo Moruo and other "high government officials.[7][4][8][9] After her death, there was "mourning and memorial throughout China" with Strong buried in Beijing's "Revolutionary Martyrs' Cemetery."[39][11]
Legacy
Strong's papers reside at the Libraries Special Collections at the University of Washington in Seattle.[4] Within the papers of Eleanor Roosevelt are "reports from Anna Louise Strong during and after her visits to Russia and China" although this does not mean there was any relationship, professionally, between Strong and Eleanor.[40] Strong's distant cousin Maurice Strong, would play an important role in the environmental movement, including in the United Nations Environment Programme (UNEP).[41]
Selected works

Fiction
• - (1904). Storm Songs and Fables. Chicago: Langston Press.
• - (1908). King's Palace. Illinois: Oak Leaves. (one-act play)
• - (c. 1908). The Song of the City. Oak Park, Illinois: Oak Leaves Company.
• - (1937). Ragged Verse. Seattle: Piggott-Washington. (poems, by Anise)
• - (1943). Wild River. Boston: Little, Brown. (novel, set in Ukraine)
• - (1951). God and the Millionaires. Montrose, California: Middlebury College. (poems, by Anise)
Religious tracts and social work
• - (1906). Biographical Studies in the Bible. Pilgrim Press. (co-author with Sydney Strong, her father)
• - (1906–1908). Bible Hero Classics. Hope Publishing Company. (co-author with Sydney Strong, her father), including The story of Jacob in words of the Scripture (found in Genesis) and likely the
• - (1909). The Psychology of Prayer. Chicago: University of Chicago Press.
• - (1911). Boys and Girls of the Bible. Chicago: Howard-Severance.
• - (1914). On the Eve of Home Rule: snapshots of Ireland in the momentous summer of 1914. Austin: O'Connell Press.
• - (1915). Child-welfare Exhibits: Types and Preparation. Washington: Government Printing Office.
Reportage and travelogues
• - (1924). The First Time in History: Two Years of Russia's New Life. New York: Boni & Liveright. (with preface by Leon Trotsky), also on Internet Archive.
• - (1925). Children of Revolution; story of the John Reed Children's Colony on the Volga, which is as well a story of the whole great structure of Russia. Seattle: Sydney Strong.
• - (1930). Modern Farming – Soviet Style: The Revolution in the Russian Village. Boston: International Publishers., also available at Hathi Trust.
• - (1931). The Road to the Grey Pamir. Boston: Little, Brown & Company.
• - (1931). The Soviets Conquer Wheat. New York: Henry Holt and Company.
• - (1935). China's millions: the revolutionary struggles from 1927 to 1935. New York: Knight Publishing Company.
• - (1936). The Soviet World. New York: Henry Holt and Company.
• - (1937). Spain in Arms, 1937. New York: Henry Holt and Company.
• - (1937). The New Soviet Constitution: A Study in Socialist Democracy. New York: Henry Holt and Company.
• - (1938). One-fifth of mankind. New York: Modern Age Books.
• - (1941). Lithuania's New Way. Boston: Lawrence and Wishart.
• - (1942). The Soviets Expected It. New York: The Dial Press.
• - (1944). Peoples of the USSR. New York: The Macmillan Company., second printing in 1945.
• - (1946). I Saw The New Poland. Boston: Little, Brown, and Company.
• - (1948). Tomorrow's China. New York: Committee for a Democratic Far Eastern Policy.
• - (1949). Inside North Korea: an Eye-witness Report. Montrose, California.
• - (1956). The Stalin Era. New York: Mainstream Publishers., also in a PDF format.
• - (1959). The rise of the Chinese people's communes. Peking: New World Press.
• - (1959). Tibetan interviews. Peking: New World Press.
• - (1960). When Serfs Stood Up in Tibet. Peking: New World Press., also on Internet Archive
• - (1962). Cash and Violence in Laos and Vietnam. New York: Mainstream Publishers.
• - (1963). Letters from China, Numbers 1–10. Peking: New World Press.
Autobiography
• - (1935). I Change Worlds: the Remaking of an American. New York: Holt, Rinehart and Winston. (republished 1979 by The Seal Press, Seattle—the Introduction by Barbara Wilson contains the statement: "She left behind a second volume of autobiography which, so far, has remained in China.")
See also
• Agnes Smedley
• Edgar Snow
• Mikhail Borodin
• Rewi Alley
• Helen Foster Snow
Notes
• See Judith Nies. Nine Women: Portraits from the American Radical Tradition, University of California Press, 2002, ISBN 0-520-22965-7 p. 166
References
1. Archives West, "Anna Louise Strong papers, 1885-1971," deriving from this page, accessed January 26, 2018. Archived here.
2. The Editors of Encyclopaedia Britannica, "Anna Louise Strong: American journalist and scholar, accessed January 26, 2018.
3. John Cory, "TV: 'WITNESS TO REVOLUTION,' ANNA LOUISE STRONG, The New York Times, March 22, 1986.
4. "Today in history: Anna Louise Strong is born, changes worlds," People's World, November 24, 2015.
5. University of Pennsylvania, "Online Books by Anna Louise Strong," accessed January 26, 2018.
6. Mildred Andrews, "Strong, Anna Louise (1885-1970)," HistoryLink, November 7, 1998.
7. B. K. Clinker, "Anna Louise Strong (1885-1970)," Knox Historical Society, 2004, accessed January 26, 2018.
8. Reuters, "Anna Louise Strong Dies in Peking at 84," reprinted in The New York Times, March 30, 1970, accessed January 26, 2018.
9. Darren Selter, "Witness to Revolution: The Story of Anna Louise Strong," University of Washington, accessed January 26, 2018.
10. Hughes, Heather. First President: A Life of John Dube, Founding President of the ANC. Auckland Park, South Africa: Jacana Media. p. 116. ISBN 1770098135.
11. China Daily, "Anna Louise Strong," September 29, 2010, accessed January 26, 2018.
12. Anna Louise Strong, "A Consideration of Prayer from the Standpoint of Social Psychology," 1908, accessed January 26, 2018.
13. Dave Galvin, "Sahalie Historical Note #9:Our Neighbors, Washington Alpine Club," January 2011, accessed January 26, 2018.
14. Anna Louise Strong, "Letter to the Department of Justice in Washington, DC from Anna Louise Strong in Seattle, Dec. 14, 1917," Marxist History, accessed January 26, 2018.
15. Anna Louise Strong, "No One Knows Where," The Seattle Union Record, February 4, 1919, p. 1; Marxists Internet Archive, accessed January 26, 2018.
16. Rebecca G. Jackson, "The Politics of Gender in the Writings of Anna Louise Strong," Seattle General Strike Project, 1999, accessed January 26, 2018.
17. Anna Louise Strong, "Children of Revolution," Piggott Printing, 1925; Marxists Internet Archive, accessed January 26, 2018.
18. Anna Louise Strong, "The First Time in History," Boni & Liveright, 1925; Marxists Internet Archive, accessed January 26, 2018.
19. Anna Louise Strong, "Stalin 'The Voice of the Party' Breaks Trotsky: The Rubber-Stamp Secretary Versus the Fiery Idealist Sidelights on the Russian Revolution," Gateway, mid-December 1925, pp. 18-24; Marxists Internet Archive, accessed January 26, 2018.
20. Anna Louise Strong, "Moscow Looks at Dumbarton Oaks," The Nation, accessed January 26, 2018.
21. Invitation to meet Miss Anna Louise Strong, University of Massachusetts Amherst Libraries Special Collections and University ArchivesW. E. B. Du Bois Papers, 1803-1999 (bulk 1877-1963), accessed January 26, 2018.
22. Cattoi, Louise (February 26, 1984). "Strong live, strongly written". The Milwaukee Journal via Google News Archive Search. Retrieved March 10, 2016.
23. See, e.g., "We Soviet Wives,"(August 1934), "The Soviets Fight Bureaucracy," (September 1934), and "The Soviet 'Dictatorship'" (October 1934).
24. Anna Louise Strong, "The Terrorists' Trial," Soviet Russia Today, Vol. 5 No. 8, October 1936, accessed January 26, 2018.
25. Anna Louise Strong, "The Kuomintang-communist crisis in China: a first-hand account of one of the most critical periods in Far Eastern history," Reprinted from 'Amerasia,' March 1941, accessed January 26, 2018.
26. Strong, "Stalin," The Soviets Expected It, The Dial Press, New York, 1941, pp. 46-64; Marxists Internet Archive, accessed January 26, 2018.
27. Anna Louise Strong, "Women in The Stalin Era," accessed January 26, 2018.
28. Jack Brad, "Peking versus Moscow: the case of Anna Louise Strong, part 1," Worker's Liberty, October 8, 2009, accessed January 26, 2018.
29. "SOVIET AUTHOR BARES RECORD OF U.S. SPIES AGAINST USSR," CIA reprint of article, February 9, 1953, accessed January 26, 2018.
30. CIA, "SOVIET REVERSAL OF CHARGES AGAINST ANNA LOUISE STRONG SEEN AS GESTURE TO PEIPING," 1955, accessed January 26, 2018.
31. "Strong, Anna Louise," Nebraska Historical Society, accessed January 26, 2018.
32. University of Massachusetts Amherst, "Mao Zedong, Anna Louise Strong, and W. E. B. Du Bois, ca. 1959," University of Massachusetts Amherst, accessed January 26, 2018.
33. CIA, "Anna Louise Strong," 1958, accessed January 26, 2018.
34. Final Approaches: A Memoir by Gerald Hensley, page 171 (2006, Auckland University Press)
35. Lary, Diana (2015). China's Civil War: A Social History, 1945-1949. Cambridge: Cambridge University Press. p. 80. ISBN 978-1-107-05467-7.
36. Anna Louise Strong, "Talk with Mao," Selected Works of Mao-Tse Tung Vol. IV, Peking: Foreign Languages Press, 1969; Marxists Internet Archive, accessed January 26, 2018.
37. Wilson Center, "Talk with the American Correspondent Anna Louise Strong," August 1946, accessed January 26, 2018.
38. Toronto Star, "Red Guard Accuses Anna Louise Strong," CIA reprint, June 16, 1968, accessed January 26, 2018.
39. Find A Grave, Anna Louise Strong memorial, accessed January 26, 2018.
40. Frances M. Seeber, ""I Want You to Write to Me": The Papers of Anna Eleanor Roosevelt," Summer 1987 issue of Prologue, accessed January 26, 2018.
41. Maurice Strong biography, mauricestrong.net, accessed January 26, 2018.
Further reading
• Cattoi, Louise, "Strong life, strongly written," Milwaukee Journal, February 24, 1984, book review about the life of Anna Louise Strong.
• Herken, Gregg (2002). Brotherhood of the Bomb: The Tangled Lives and Loyalties of Robert Oppenheimer, Ernest Lawrence, and Edward Teller. New York: Henry Holt and Company.
• Jackson, Rebecca, The Politics of Gender in the Writings of Anna Louise Strong, Seattle General Strike Project, 1999.
• Kim Il-sung (August 8, 1947). Talk to American Journalist Anna Louis [sic] Strong (PDF).
• Mao Zedong (August 1946). "Talk with the American Correspondent Anna Luise Strong". Selected Works of Mao Tse-tung. IV. Beijing: Foreign Languages Press. OCLC 898328894.
• — (July 14, 1956). "U.S. imperialism is a paper tiger". Selected Works of Mao Tse-tung. V. Beijing: Foreign Languages Press. OCLC 898328894.
• — (November 18, 1957). "All reactionaries are paper tigers". Selected Works of Mao Tse-tung. V. Beijing: Foreign Languages Press. OCLC 898328894.
• Strong, Tracy B.; Keyssar, Helene (1983). Right in Her Soul: the Life of Anna Louise Strong. New York: Random House.
External links
• Anna Louise Strong Archive at marxists.org
• Newspaper clippings about Anna Louise Strong in the 20th Century Press Archives of the ZBW